Let's taste Mandala Tea's 2004 Big Leaf Yiwu Gushu Raw Puer! This tea was handed picked from ancient tea trees in the Yiwu area of China. Ohhh yeah I love a good ancient tree raw pu'er and what a treat as it is from 2004!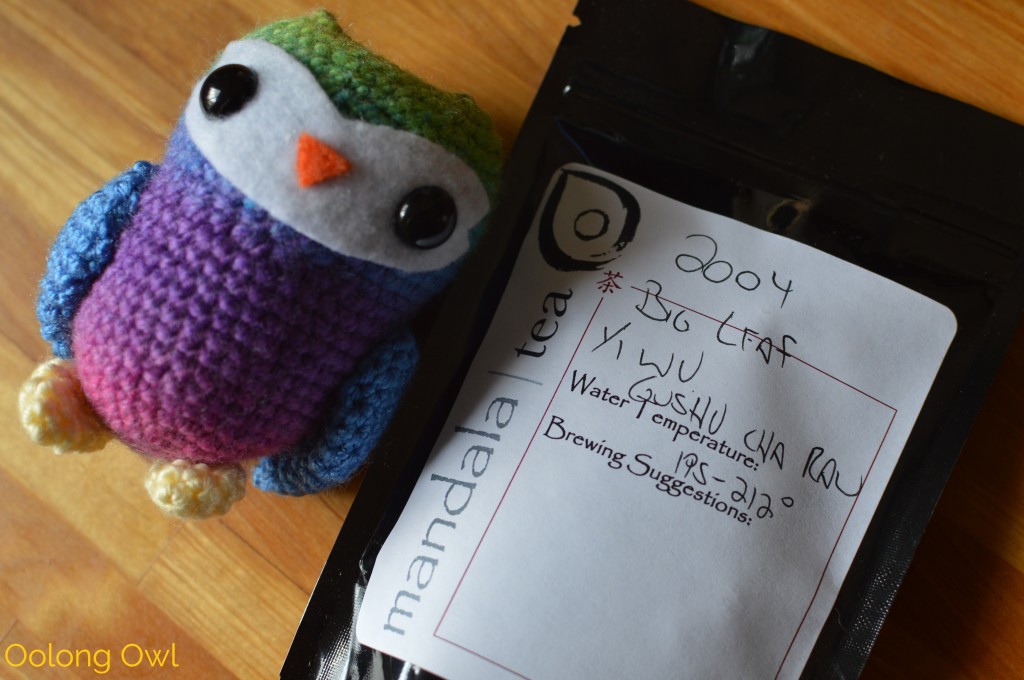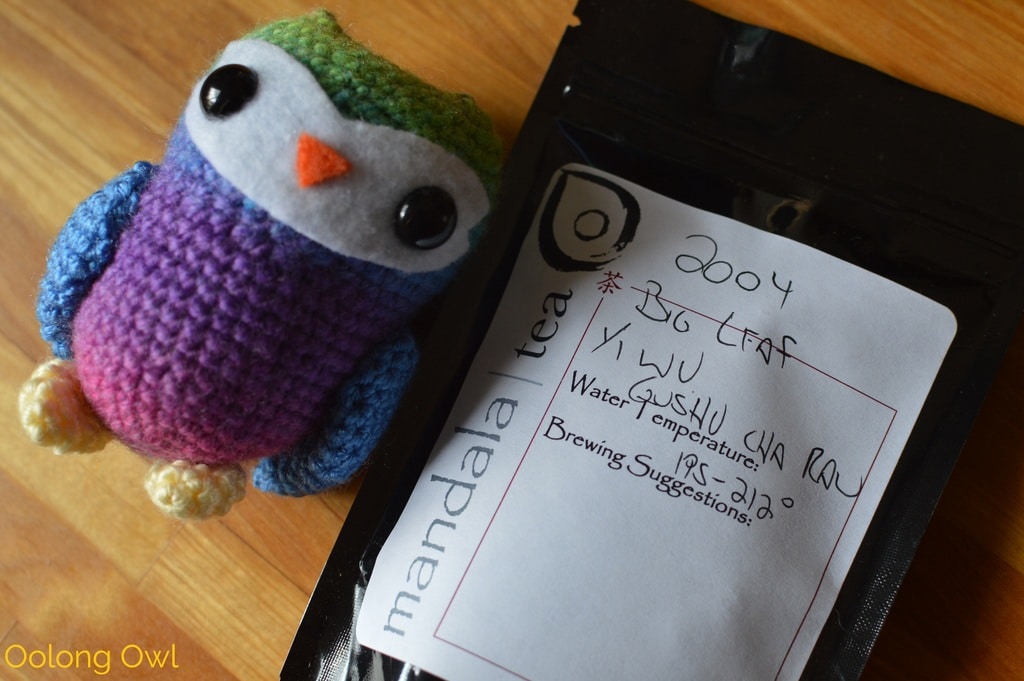 Dry Leaf
This tea comes in bricks that are being aged away, but Mandala Tea will break off pieces for you when you purchase. I bought 1 oz to sample. To my surprise, one of the chunks of tea I got is the size of the packaging, a big honking piece of tea!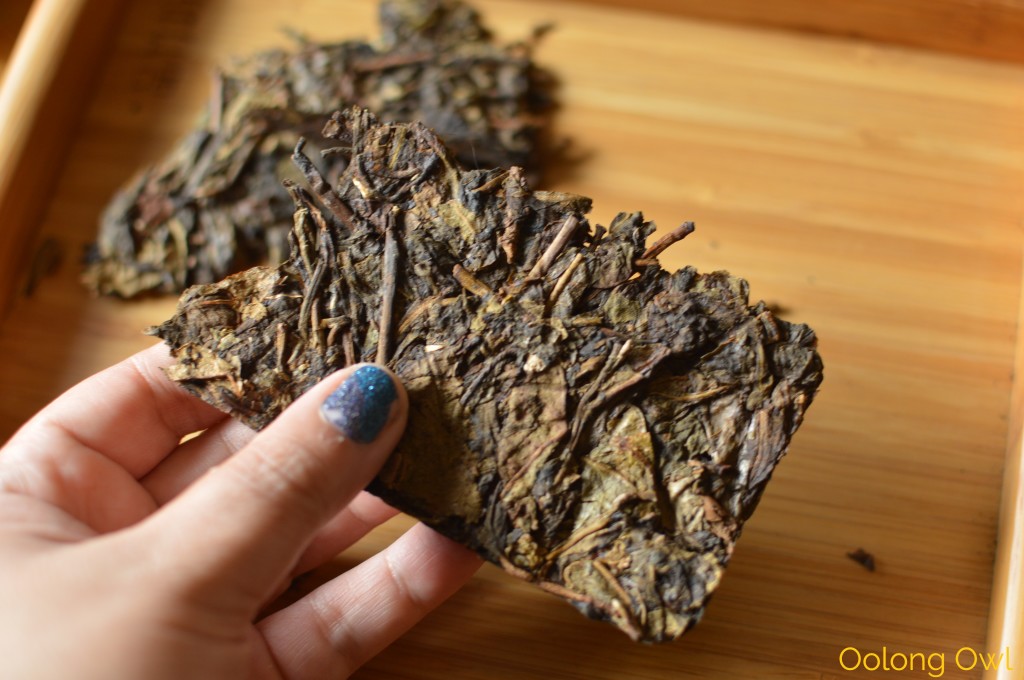 The dry leaf of 2004 Big Leaf Yiwu Gushu Raw Puer seems pretty leafy with some long thick veining through the compressed cake. The color is a lovely dark autumn feel of reddish browns and camouflage greens.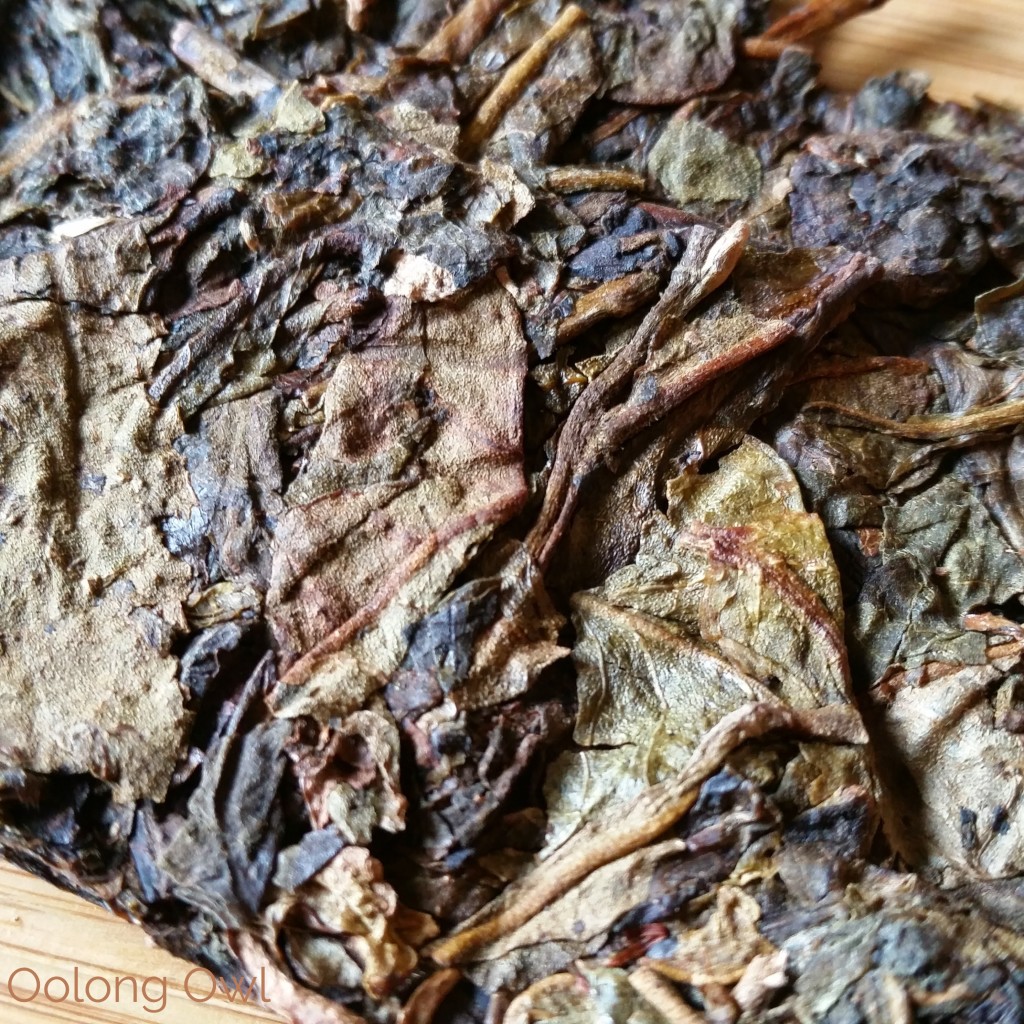 Steeping Instructions
For 2004 Big Leaf Yiwu Gushu Raw Puer I went with boiling water, using 1 gram of dry leaf per 15ml of vessel space in my gaiwan.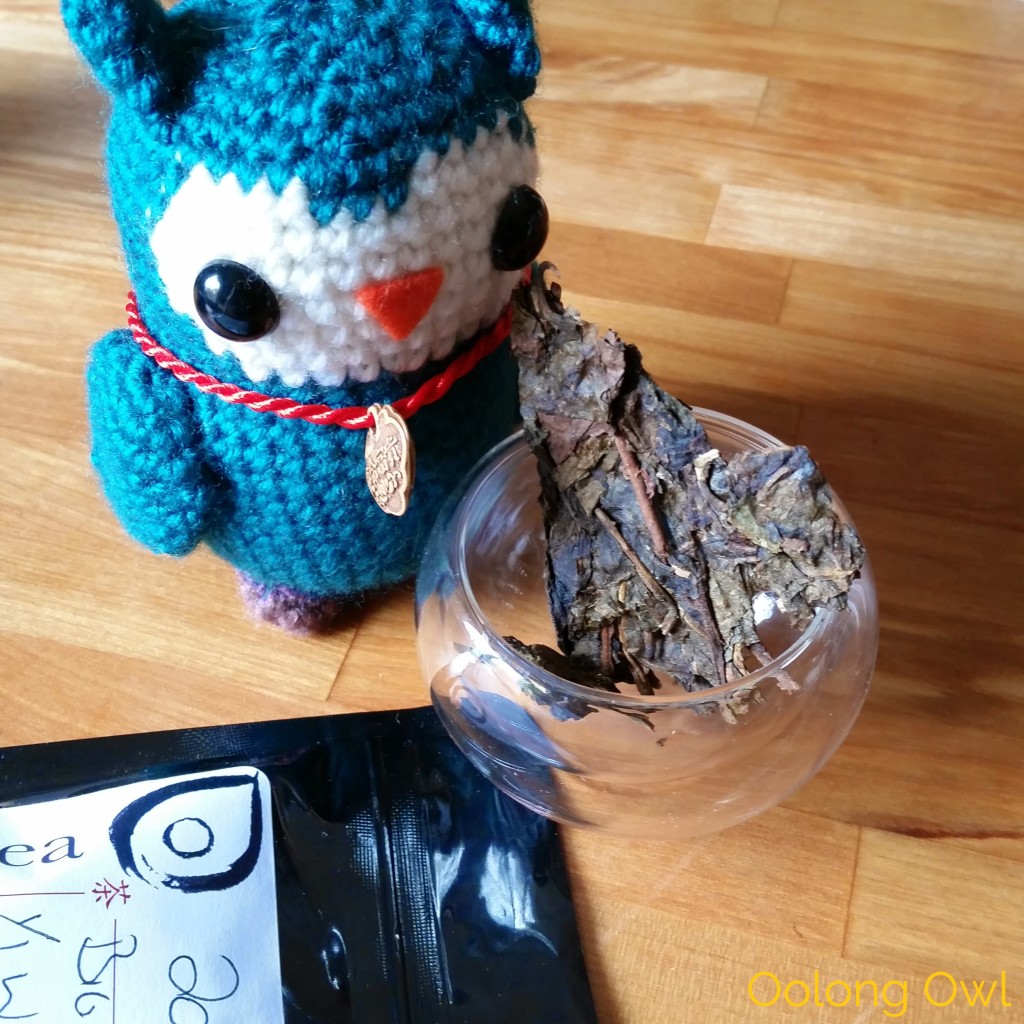 I did a rinse and started with 30 second steepings, adding an additional 15 seconds along the way. With the piece of tea I'm steeping, it kind of looks like a star destroyer.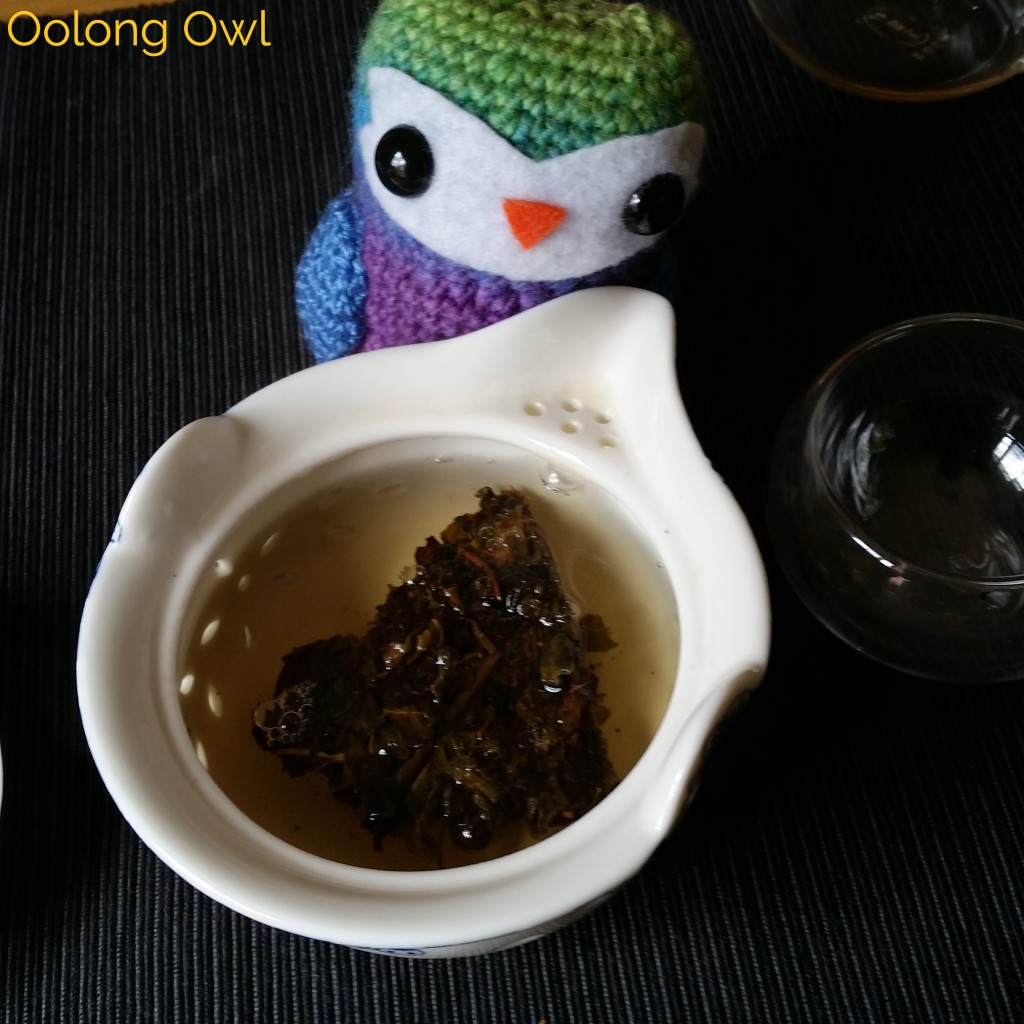 Tasting of Mandala Tea's 2004 Big Leaf Yiwu Gushu Raw Puer
First Infusion: My first cup of 2004 Big Leaf Yiwu Gushu Raw Puer came out gorgeously clear with a glow of light orange. The scent is very fragrant with forest and a light wisps of smoke.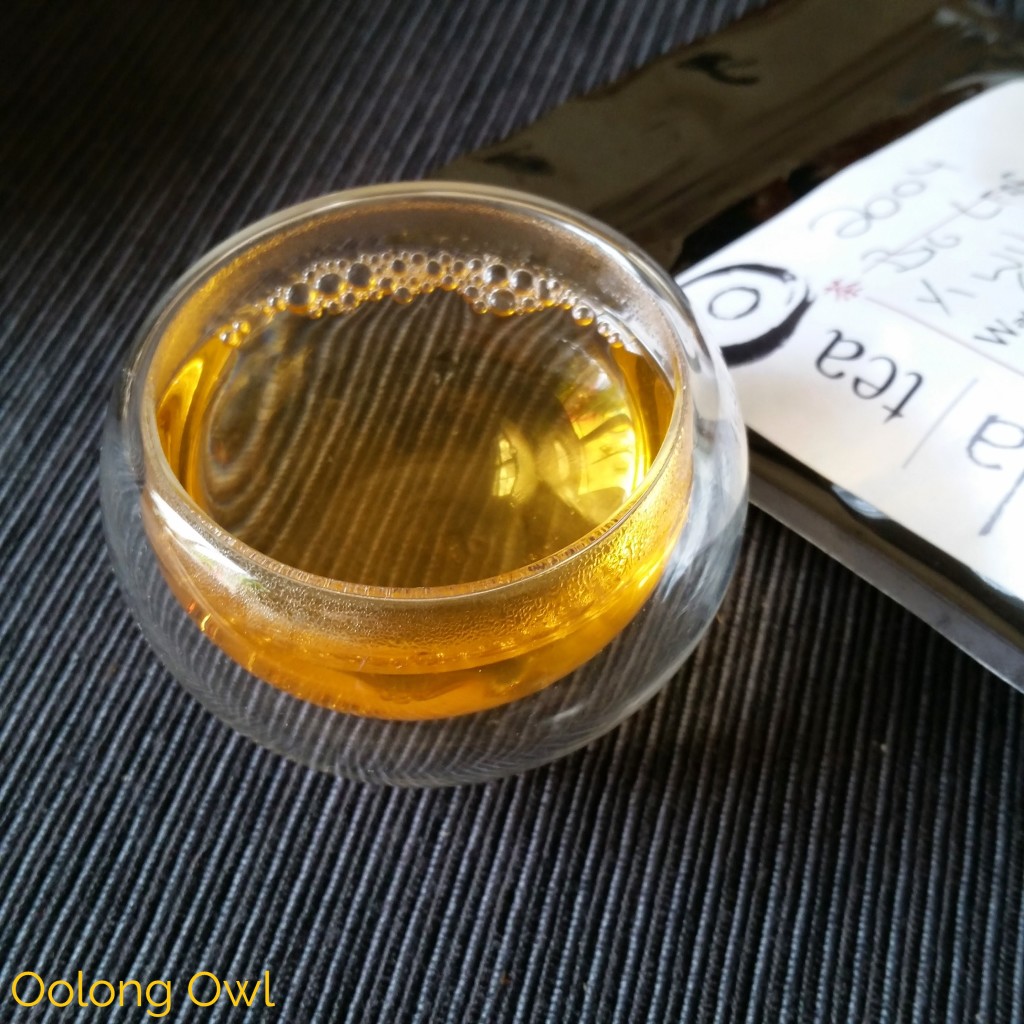 2004 Big Leaf Yiwu Gushu Raw Puer sips in amber sweet with a moderate amount of flavor. Mid sip I'm getting forest floor notes and leafy – like I'm chilling in a damp mossy tree with fallen, lightly charred leaves. There is a teeny hint of smoke on top of the leaf notes. Finally, the after taste is a deliciously floral peachy.
Second Infusion: WHOA! This tea now has a mutant nuclear orange color! This tea glows!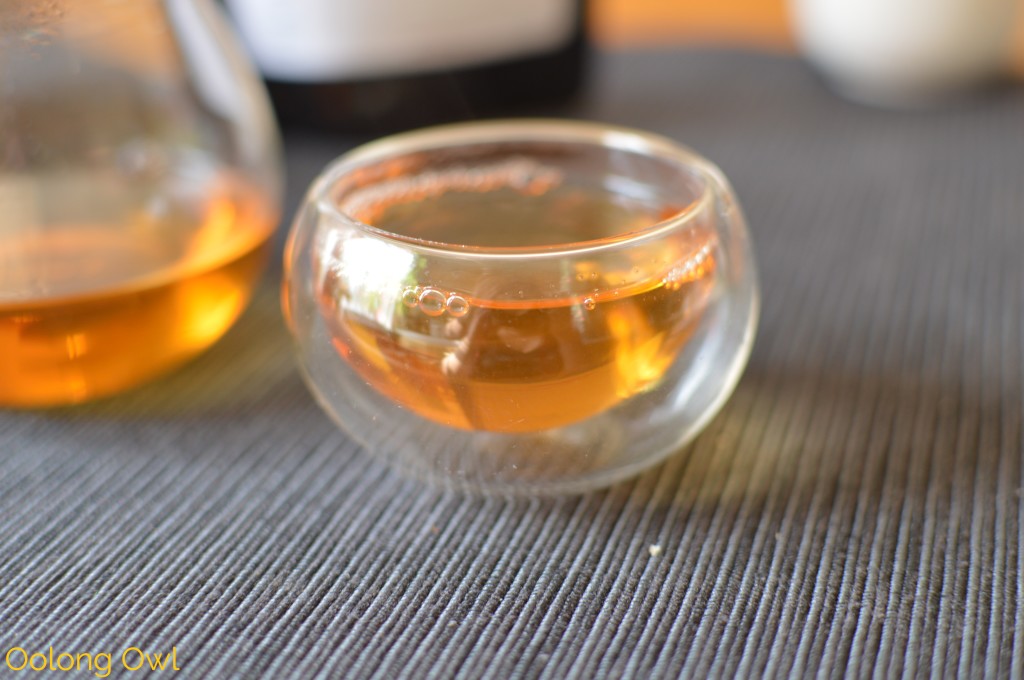 The flavor is strong and intense. Very earthy in flavor with sap amber sweet, sticky tree bark, dried lightly sun charred autumn leaves and moss notes. 2004 Big Leaf Yiwu Gushu Raw Puer finishes with a quick aftertaste of floral and peaches.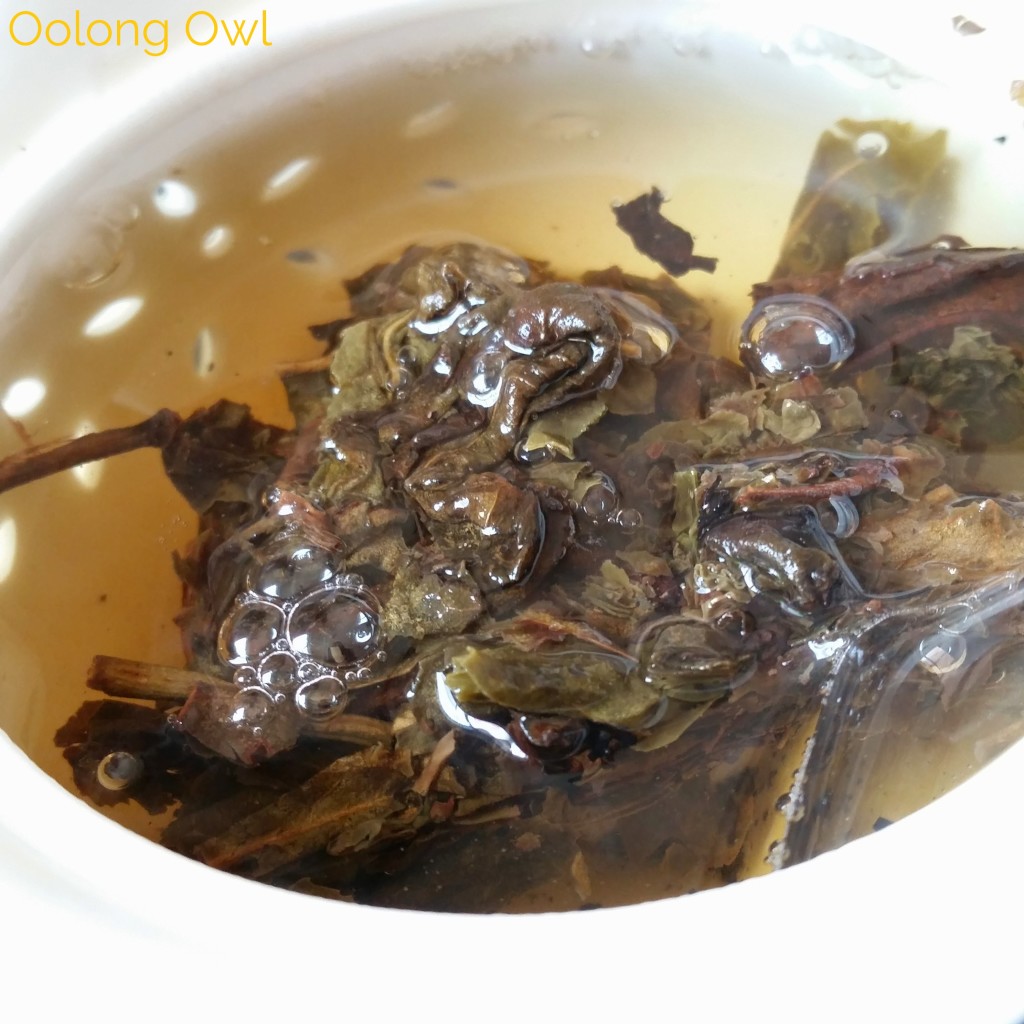 Third, Fourth, and Fifth Infusion: Another flavor shift and darker mutant vibrant pumpkin color!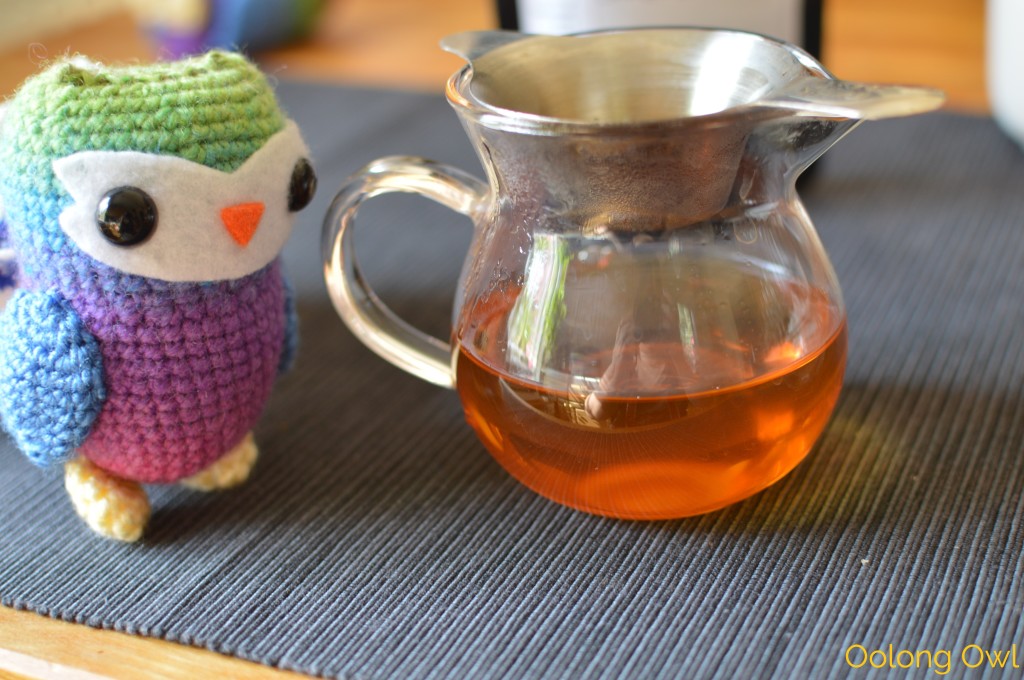 I think I steeped this one a bit too long as the flavor is mega BAM strong, but quite nice. Next time I steep this tea I will add 10 second additional infusions instead of 15 seconds, or maybe start at 15 seconds. To slow down, I did these 3 steepings with the same steep time to slow down. The flavor is still very earthy moss forest floor peach, but now with a refreshing minty camphor note. It sounds weird, but the camphor notes really ties the tea together!
Sixth, Seventh, Eighth, and Ninth Infusion: As the steepings go on the camphor note gets stronger. With that said, sipping in Mandala Tea's 2004 Big Leaf Yiwu Gushu Raw Puer at this stage is a refreshing experience. There is also a light dryness, 1/10 on the astringency meter as there is a feeling of dryness sticking to the teeth. The camphor perks you up , while the earth and forest taste mellows you. I love how relaxing and chill this series of infusions are! I am one with the forest, hoot!
Hey Mandala tea, you weren't joking about the big leaf. These leaves are huge!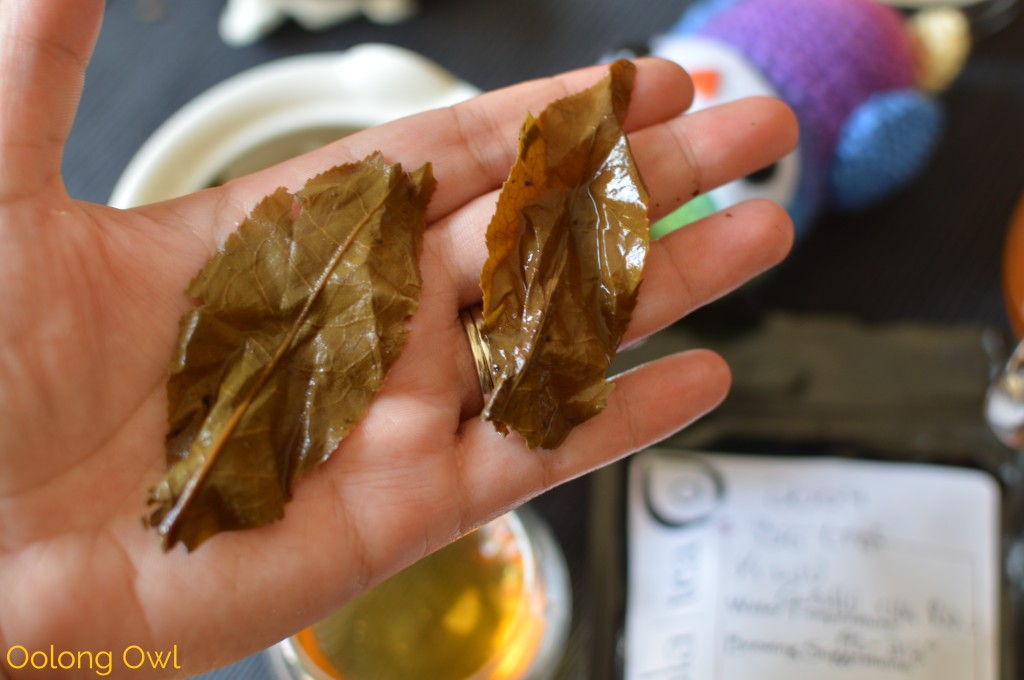 Honestly, these are the biggest leaves I've seen for a puer. It is an impressive leaf size for an oolong, I'm impressed! I only found a couple big leaves, mixed in with smaller leaf bits.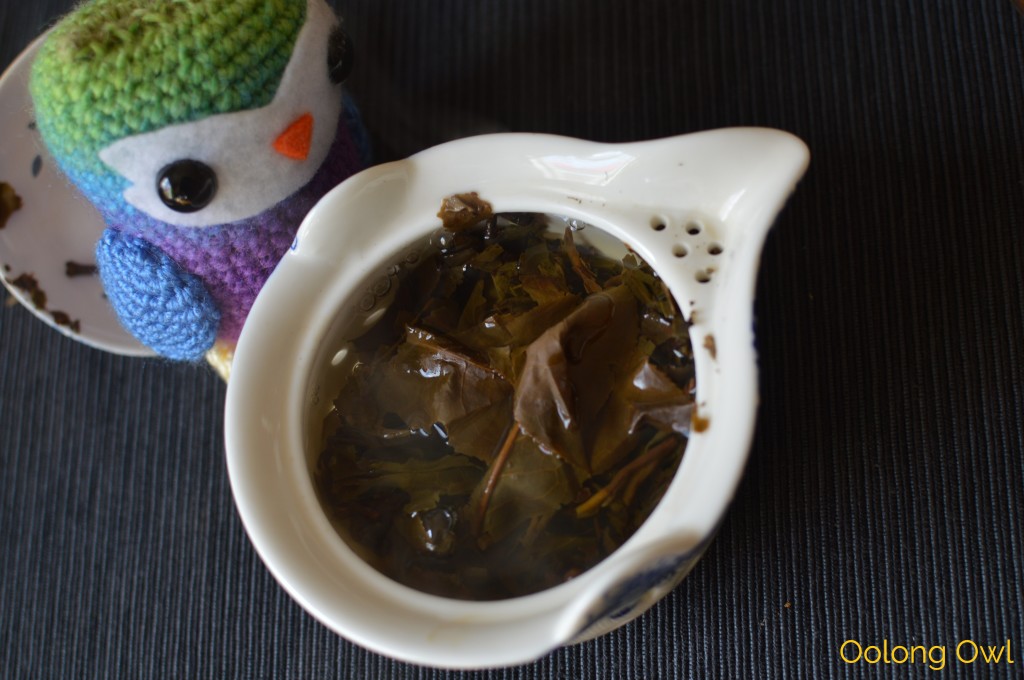 Tenth and Eleventh Infusion: I've increased steep time, now adding 30 seconds to the timer. The flavor is getting lighter now, still camphor, mellow earth, with a sweet finish. There is a little more dryness, now 3/10 astringency, but very enjoyable.
Tweltfth, Thirteenth, Fourteeth and Fifiteenth Infusion: Mandala Tea's 2004 Big Leaf Yiwu Gushu Raw Puer is light and mellow. Little amber sweet again with a camphor note finish, carrying the tea longer. I feel I could get a bunch more steepings, as the camphor seems to want to stick around, but this tea has outlasted me. I feel really chill and focused – nicely grounded from drinking this tea.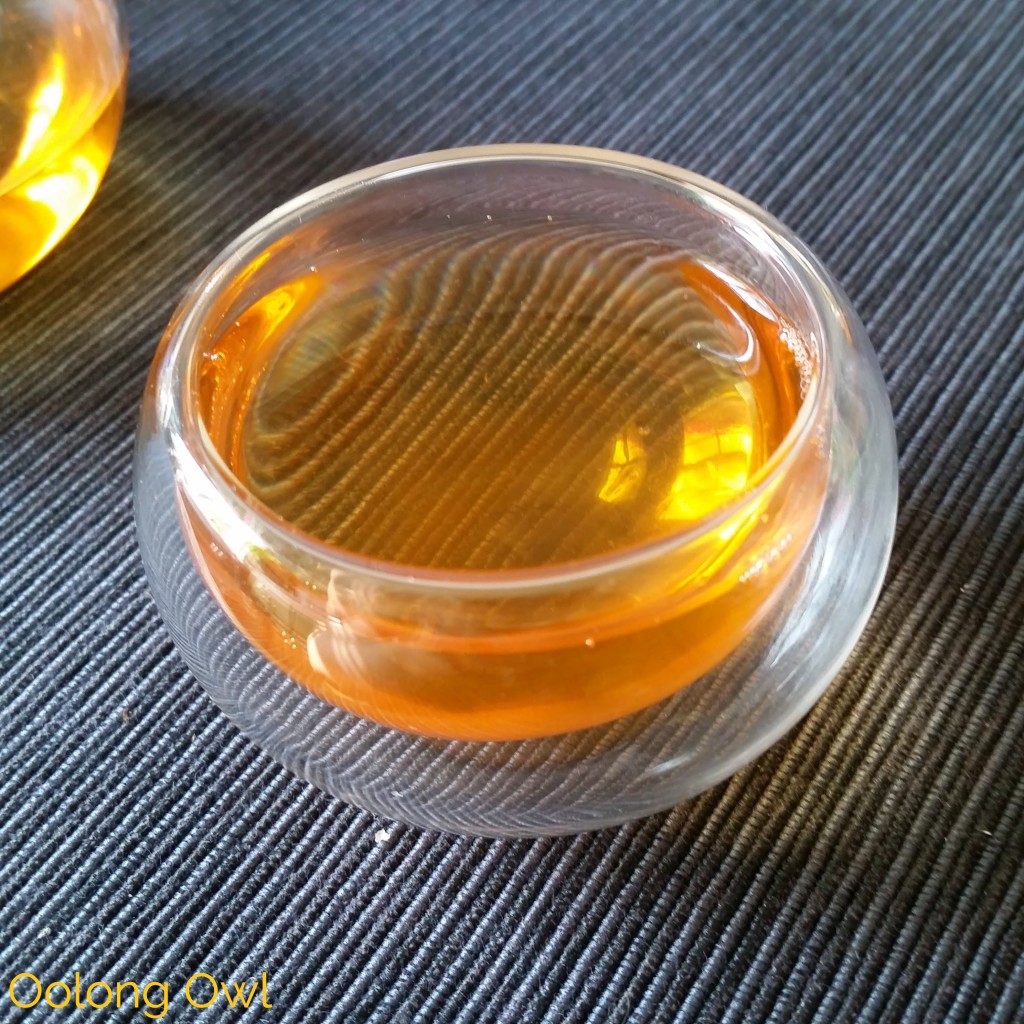 Comments
Mandala Tea's 2004 Big Leaf Yiwu Gushu Raw Puer is the perfect autumn tea for color and woodsy experience. Drinking this tea makes me feel like it is a chilly autumn evening, carved pumpkins with candles in them in the background, or I'm outside walking through the park (back home in Vancouver) with the falling leaves of fall. I love the comforting and snuggly notes of woodsy earth in 2004 Big Leaf Yiwu Gushu Raw Puer, with the perky grounding of the camphor notes.
The low down – 2004 Big Leaf Yiwu Gushu Raw Puer has a really nice price for an aged sheng. At the time I write this, $8 an oz! I know if you are on a tight budget, one ends up buying the newer pu'er teas as they tend to be cheaper. With that said, if you want to try an aged sheng for a really nice price, I'd snag Mandala Tea's 2004 Big Leaf Yiwu Gushu Raw Puer before the price goes up!