I purchased 2004 Denong Ripe Pu'er from Bana Tea Company back at the last Los Angeles International Tea Festival and have been drinking it since without telling anyone! All the pu'er samples I tried were really good but I got this particular ripe pu'er for interesting notes as well as it was popular and the last one. Haha!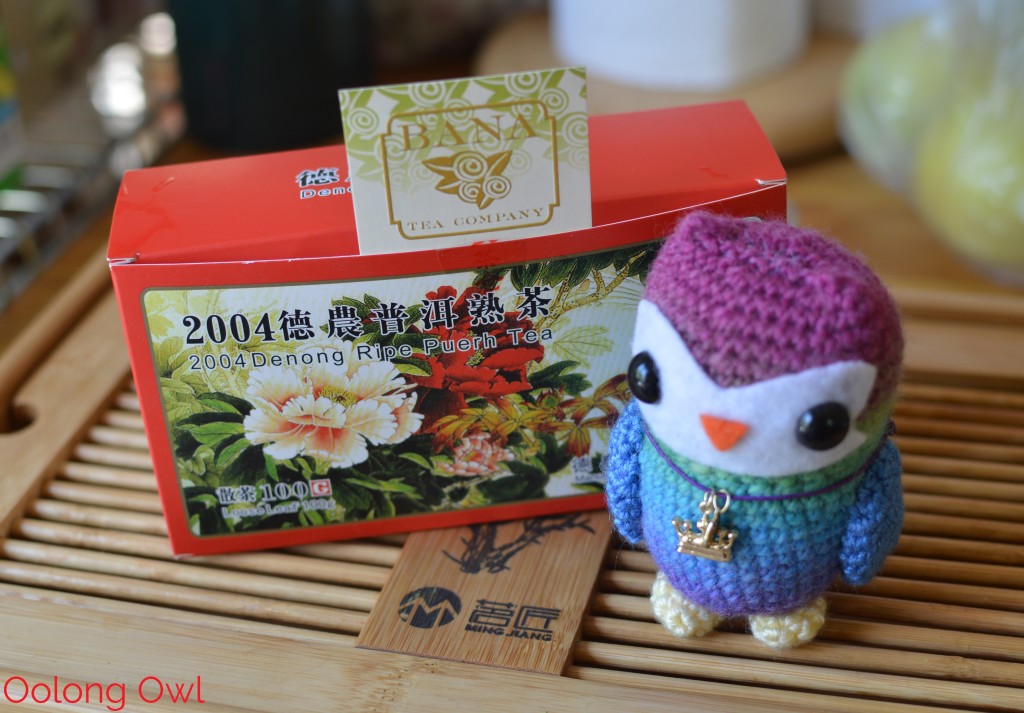 Dry Leaf
2004 Denong Ripe Pu'er ss presented in broken cake pieces as flat chunks. The pu'er is dark in colour and weighs light too.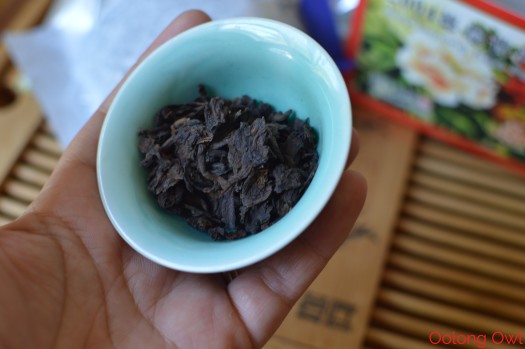 Steeping Instructions
I need to switch it up as I usually use a gaiwan from Oolong Owl, so I used my ripe pu'er yixing pot. My water temperature is 212F and I did 2 rinses. I did short infusions, starting at 15 seconds and adding an additional 5 to 10 seconds early on.
Tasting of Bana Tea Company's 2004 Denong Ripe Pu'er
2004 Denong Ripe Pu'er brews up really clear. So clear I can see through my pitcher and read the writing on the tea table. The color is a warm brown. The steeped scent of 2004 Denong Ripe Pu'er is unique as it is earthy, savory and tamarind.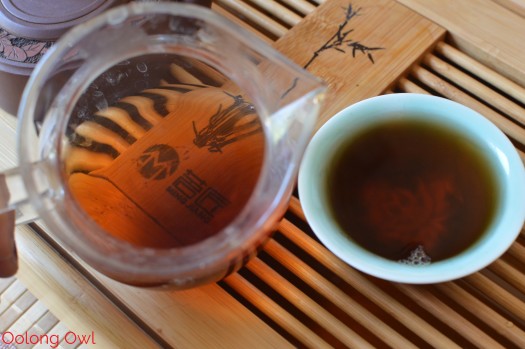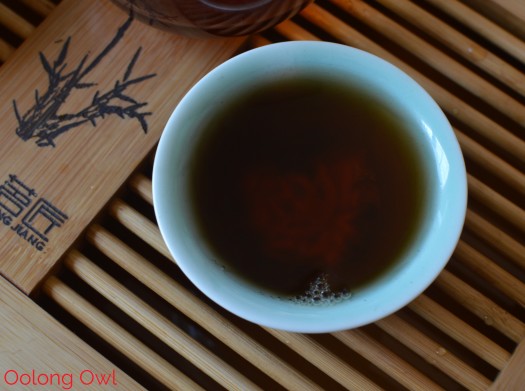 In case you were thinking your eyes were playing tricks on you, here is the tea cup I'm using without any tea in it.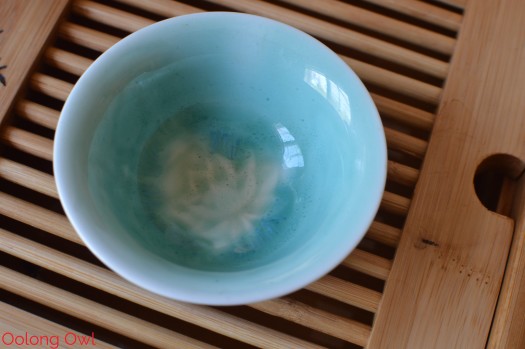 First Infusion: 2004 Denong Ripe Pu'er sips in a little light and mellow but with earthly floor. There is an an interesting cool and refreshing sensation end of sip, an indicator of things to come?
Second, Third, Fourth and Fifth Infusion: 2004 Denong Ripe Pu'er is now dark dark color humming in between black and brown. The color is so deep but is still clear.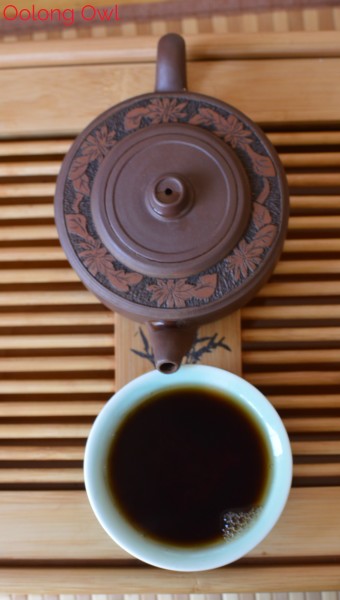 2004 Denong Ripe Pu'er sips in rich without being heavy or overpowering, with notes of walnuts and earth. The finish is a stronger, more refreshing camphor that mysteriously cools me despite drinking boiling hot tea. With each infusion, the cooling camphor flavor and sensation gets stronger. Each sip is very clean too without any dryness.
Sixth, Seventh, Eighth, Ninth, and Tenth Infusion: 2004 Denong Ripe Pu'er has finally lightened here. The scent has also change to minty camphor instead of savory.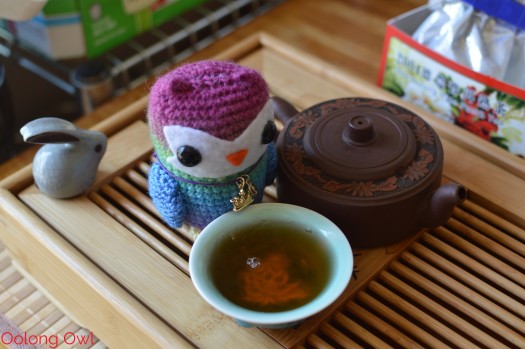 The sip is super smooth in texture, gliding in as I sip. The camphor won, becoming the main flavor of minty refreshing with a hint of sweetness. In the background is the earthy and amber, grounding you back to earth. The sweetness slightly grows with each infusion. I'm not sure whether it is the length of session, but I'm now getting an aftertaste lingers as a nice fresh breath and I bet I smell fantastic!
Eleventh and Twelfth Infusion: For these final infusions I steeped them long, 30 minutes long! 2004 Denong Ripe Pu'er is finally losing its camphor flavor, so it mostly tastes like mineral and amber notes.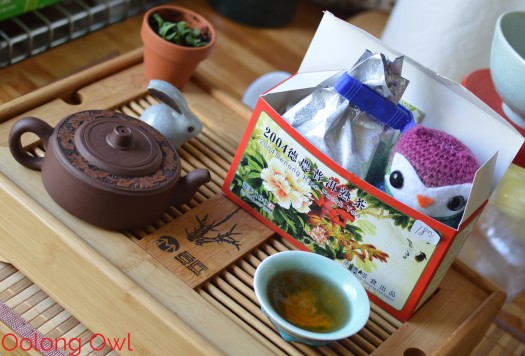 Comments
2004 Denong Ripe Pu'er from Bana Tea Company is really good – it is flavorful without packing a crazy punch, and the notes are an interesting mix of earth, savory, walnuts and amber, with a powerful camphor refreshing experience and growing sweetness. The fresh, clean, smooth and sweet notes make this one an addicting sip!
The experience of this tea is enlightening – the refreshing feeling is amazing, it is like being relaxed and recharged at the same time! I tend to drink 2004 Denong Ripe Pu'er in the morning or early afternoon to get inspired for the day!
If you are a pu'er lover, be sure to check out Bana Tea Company!