This tea was another Bana Tea Company purchase during my time at the 2015 Los Angeles Tea Festival. I don't remember whether I sampled the 2008 Bana Tea Company Limited Edition sheng at the festival, but I'm not a hard upsell on a cake that is in the $50 range. The 2008 Bana Tea Company Limited Edition Sheng is a 200gram cake of Jinngu Mountain material.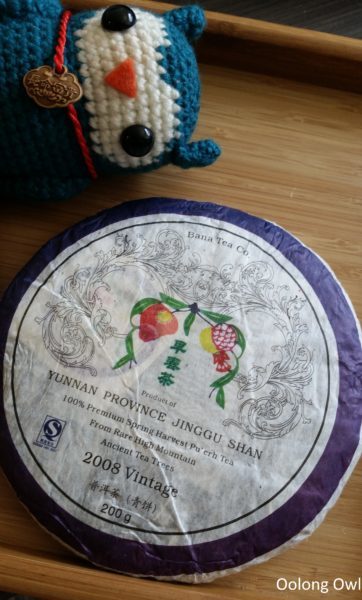 Dry Leaf
The Limited Edition Sheng has a light sweet dry scent. This cake is also lightly pressed so it was fairly easy to break pieces off.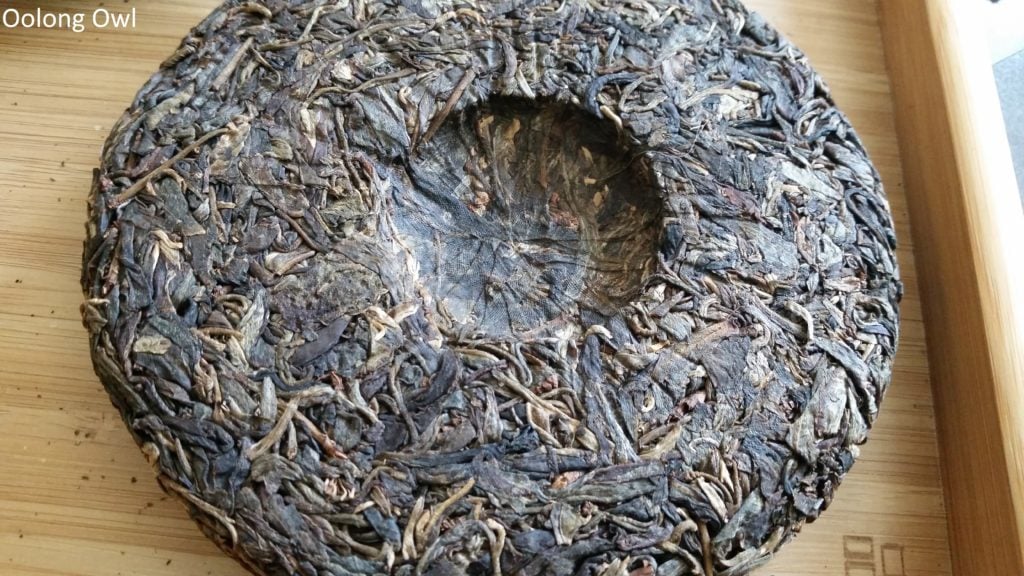 The ticket wasn't pressed with the tea but also came with more info.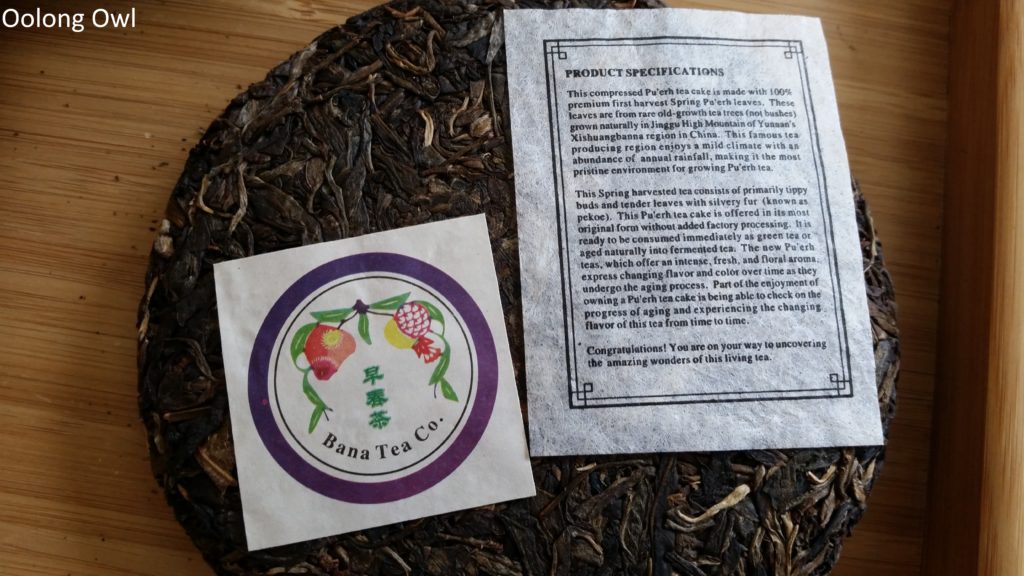 Steeping Instructions
I used boiling Seattle tap water and my tea vessel of choice was a gaiwan. I did a ratio of 1 gram to 15ml, a rinse, and started with 10 second infusions.
Tasting of 2008 Bana Tea Company Limited Edition Sheng
First and Second Infusion: My tea has a tangy and smokey scent. It steeped up beautifully clear with a light tine of white peach.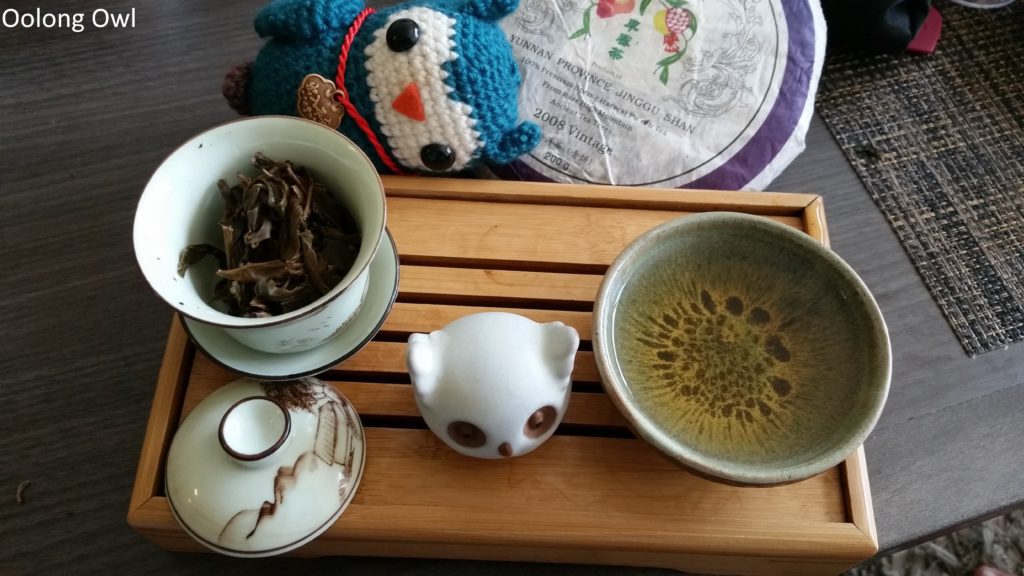 These early steeps are delicate in flavor. The flavor is sweet, light fruity, savory brothy mellow grass, with a hint of char and browned butter. The aftertaste is sweet, like a smokey peach. The texture is thick and oily.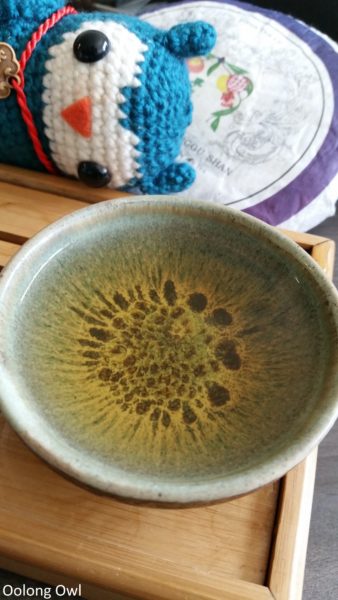 Third, Fourth, Fifth, and Sixth Infusion: Dang, such an oily texture, this has to be the more slick tea I've drank so far. The flavor has shifted to pure savory – it's green peppery, amber incense, lick of smoke, with a sharp finish of sweet hay. The tasting notes took a while for me to figure out as the oily texture is quite nice and I was too busy enjoying that to figure out what I was tasting.
Seventh, Eighth, Ninth, Tenth, Eleventh, and Twelfth Infusion: The 2008 Bana Tea Company Limited Edition sheng flavor is on the light side. Still very slick, but the flavor shifted to cream, linen and bit of sweet hay, but overall on the savory side than sweet. It is like drinking laundry hung outside in the summer sun. There is a dryness present in the back of my cheeks making me smile to fight it off. Really easy to drink steepings here, but yeah the thick texture makes you slow down.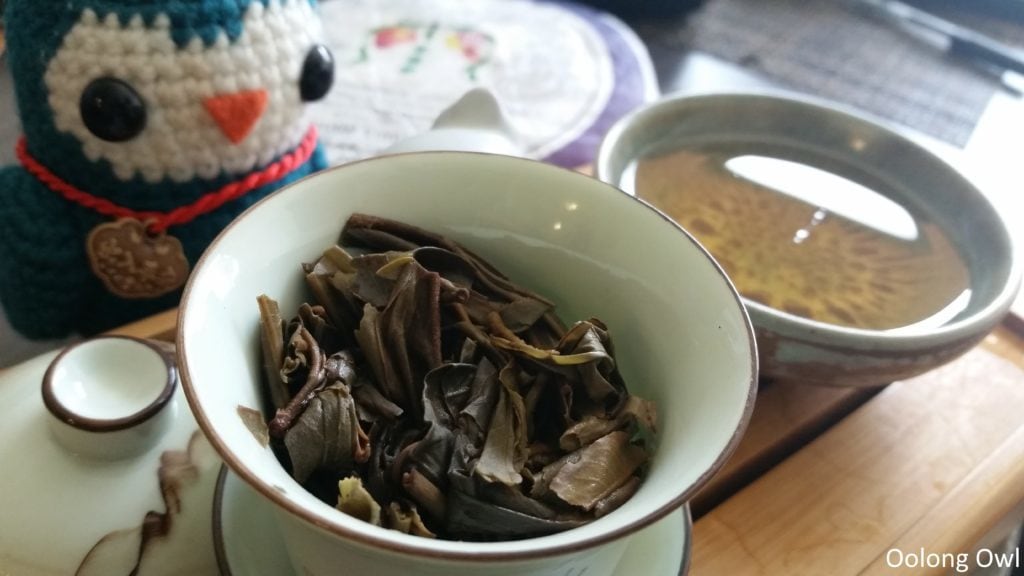 Thirteenth, Fourteenth, Fifteenth, and Sixteenth Infusion: Wow Limited Edition Sheng just keeps going! The texture has thinned, but the flavor is a clean, milky, with a fresh green pepper and sweet corn husk taste. Each steeping gets more sweet before fading. The tea doesn't get any more dry.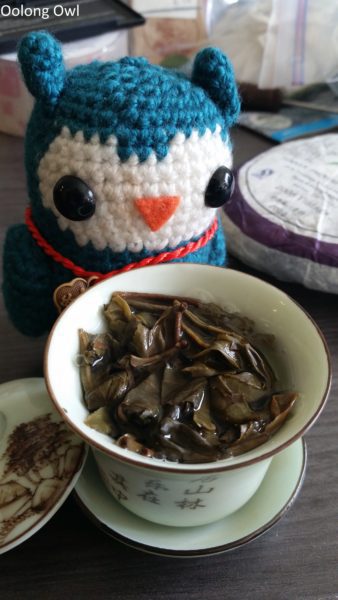 Comments
The 2008 Bana Tea Company Limited Edition Sheng is an awesome, easy to drink mid-aged sheng. It's on the light and savory side, if you prefer that flavor profile over sweet. The texture is amazing and thick, making for a great session for all the texture junkies. This is also a very easy to drink sheng pu'er, a great one to show off to a new to pu'er drinker.  I really like this one, out of all the teas I purchased at the LA Tea Festival 2015, the 2008 Limited Edition is tied for my favorite purchase. The pricing is pretty good considering the age, as of right now it is $54 for a 200 gram cake. There is a sample of this cake in the Bana Tea Sheng sampler.