OH YES BULANG! I freaking love bulang ripes, the flavor profile of them makes me drool just thinking about it. Today's review is the lovely 2008 Bulang Shan Imperial Grade Shou Pu'er from Crimson Lotus Tea. This tea I regret not trying sooner, after drinking this I'm eyeing buying a brick so hard that I'm sure they can feel it in Seattle.
This tasting is a little different – I drank this tea while I was in Utah, so it was with spring water and a high altitude (7000 feet+) which effected the taste some. This review came out much later as I had gone back and had a session to compare. Photos were taken in Utah.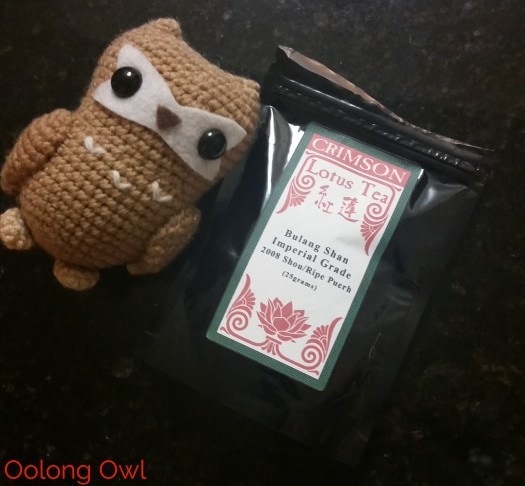 Dry Leaf and Steeping Instructions
This tea is in a sample size, but I got some nice big brick chunks.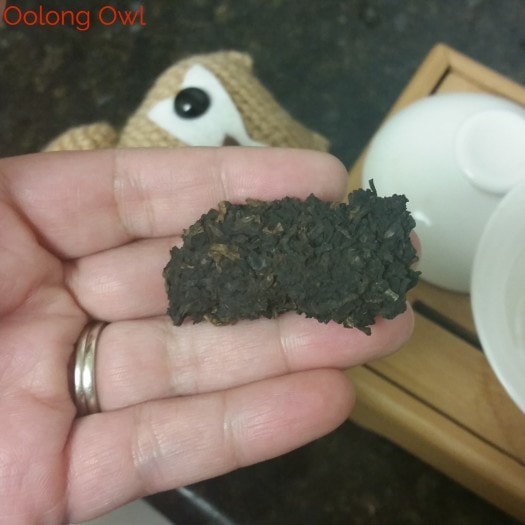 I steeped the ripe pu'er with boiling water (198F was as hot as 7000 feet would let me) with a ratio of 5 grams in a 75ml gaiwan. I poured out two quick rinses. I followed similar when I steeped this at home without elevation.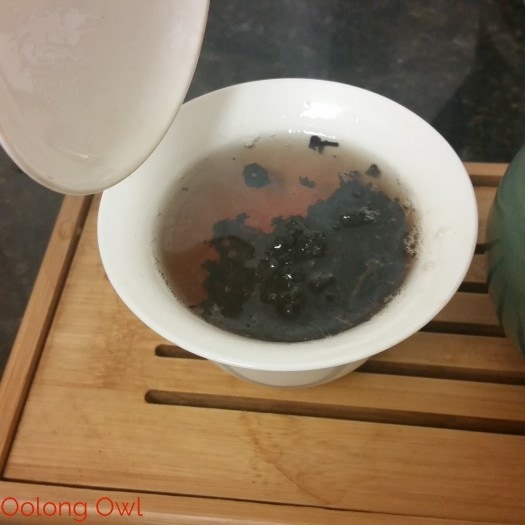 Tasting of2008 Bulang Shan Imperial Grade Shou Pu'er from Crimson Lotus Tea
First and Second Infusion: The colour is a lovely pale ruddy orange brown with a very sweet chocolate scent.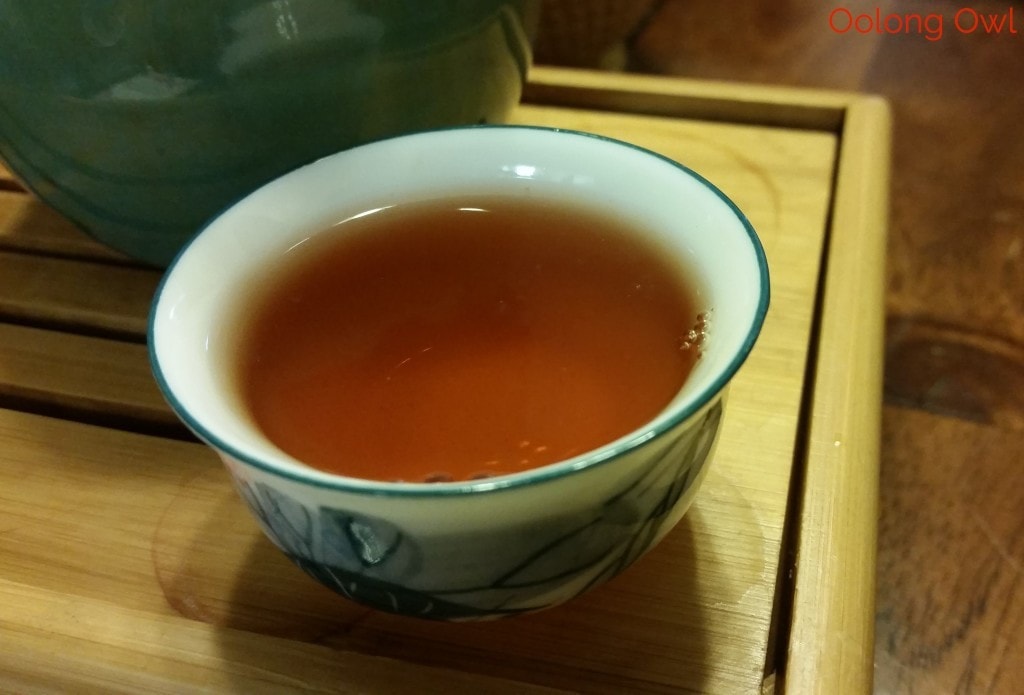 The flavor of 2008 Bulang Shan Imperial is very sweet. The flavor is still pretty light, despite the two rinses the party hasn't started yet. Other notes are sweet mineral with a bit of earth playing in the background.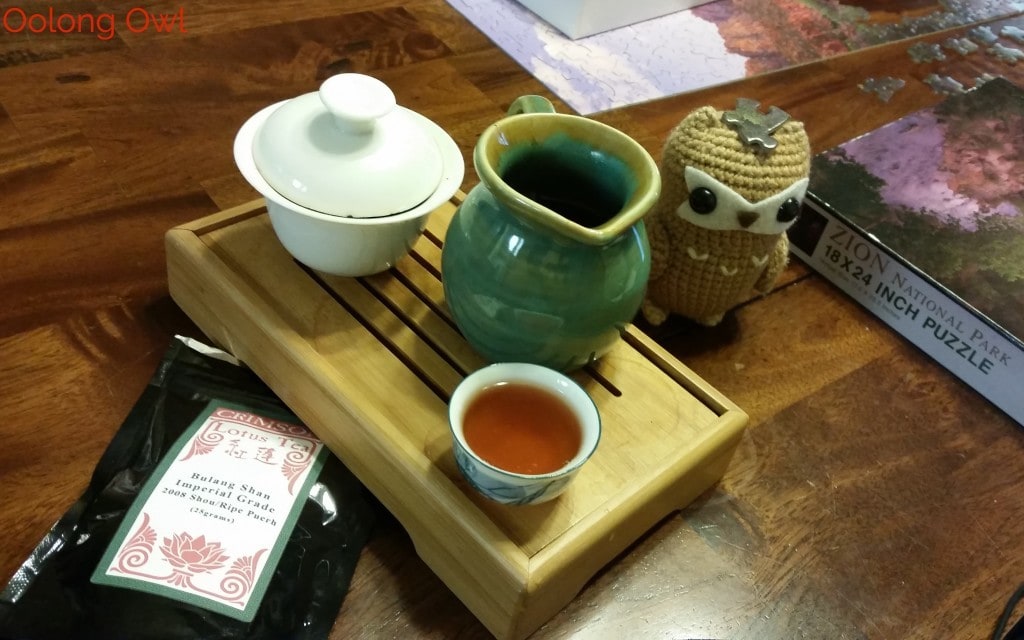 Third, Fourth, Fifth, Sixth, Seventh, and Eighth Infusion: The colour ripened up to a deep rich mahogany, so pretty!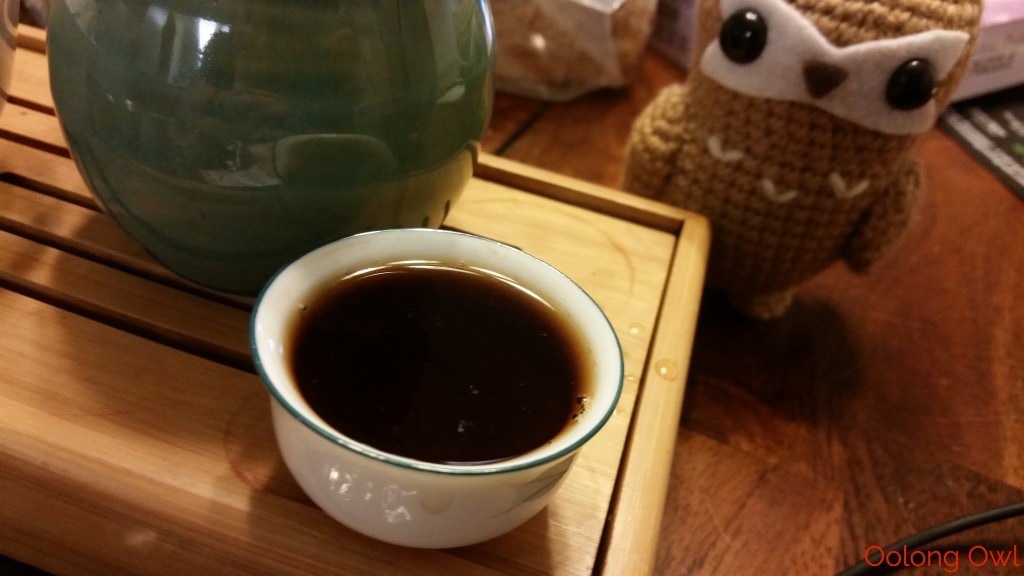 The flavor has gotten stronger but still not battering ramming your face. The texture is super smooth and melty. The flavor has some lightly bittersweet chocolate, brown sugar, some spice, wisps of smoke, with a lightly earthy flavor, very rich tasting notes!
Ninth, Tenth, Eleventh, Twelfth, Thirteenth Infusion: The bulang is starting to shift in flavor and lighten in colour. I took this time to have a lunch break. Yum! Bulang with sweets went so tasty together!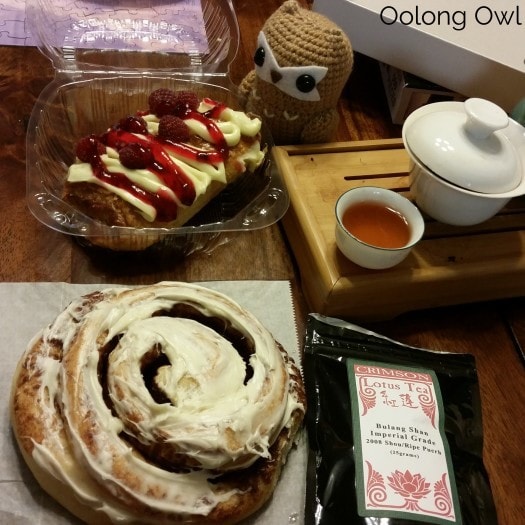 The bittersweet chocolate is escaping to a more woodsy mineral flavor with a bit less sweetness. The aftertaste is a little chocolate and earth.
Very long steepings of Fourteenth and Fifteenth Infusion: the flavor is light with just a sweet cream, woody and mineral taste. The final steeping was very light but nicely sweet. Very good!
Non-Altitude Session: At elevation and spring water this tea is the sweetest pu'er I've had, but made with my usual tea set up at home (with 0 elevation and filtered water) the ripe pu'er isn't as sweet, but still similar in taste with woodsy, mineral, chocolate, and earth.
Comments
Upon checking out the 2008 Bulang Shan Imperial Grade Shou Pu'er on Crimson Lotus Tea's site, I discovered the price is quite affordable – at this time $30 for a 250 gram brick! DANG! The price as well as the enjoyable taste is the reason why I am staring at this cake a whole lot since trying it.
2008 Bulang Shan Imperial Grade Shou Pu'er is very approachable and easy to drink. An enjoyable one for new pu drinkers and a nice sweet desserty daily drinker for the rest. This pu'er wasn't fermenty, fishy, dry though bitter sweet. I think this one would do great thermos brewed or grandpa style.
(tea provided for review)