It's Pu'er Time! Today's tea is the 2012 Bulang Gushu Ripe Puerh from Crimson Lotus Tea. This ancient tree (gushu) pu'er is picked from over 200 year old trees in Spring 2012 in Yunnan, China.
This is my first Crimson Lotus Tea! These guys are based in Seattle, USA. They sell mostly (if not all) pu'er along with some really nice chinese tea ware. The gongfu tea pots – this one for example – are so beautiful that if I had one I'd put it on display instead of using it! Crimson Lotus Tea has a big social presence on Twitter and Reddit, so pretty easy to get a hold of if you have any questions about pu'er.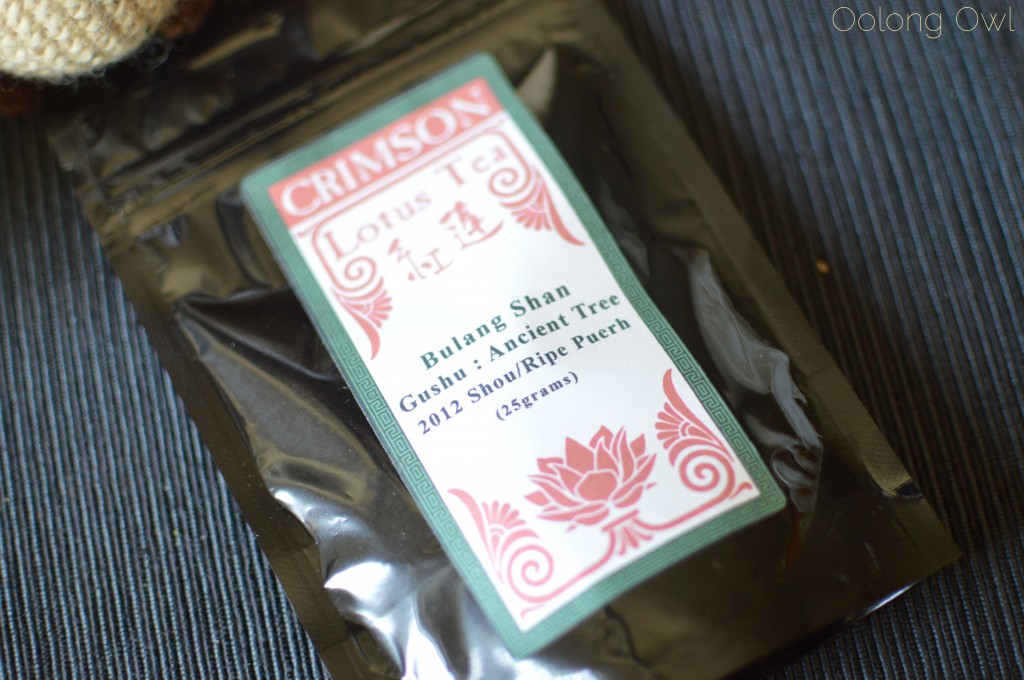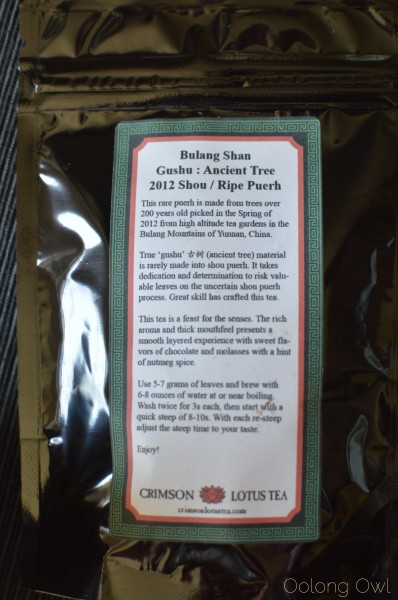 Dry Leaf
I am very impressed with Crimson Lotus Tea sample sizes! 25 grams is perfect to get a good couple rounds – plus the samples I got were nice big cake chunks, often I get pretty broken up pu'er bits for samples.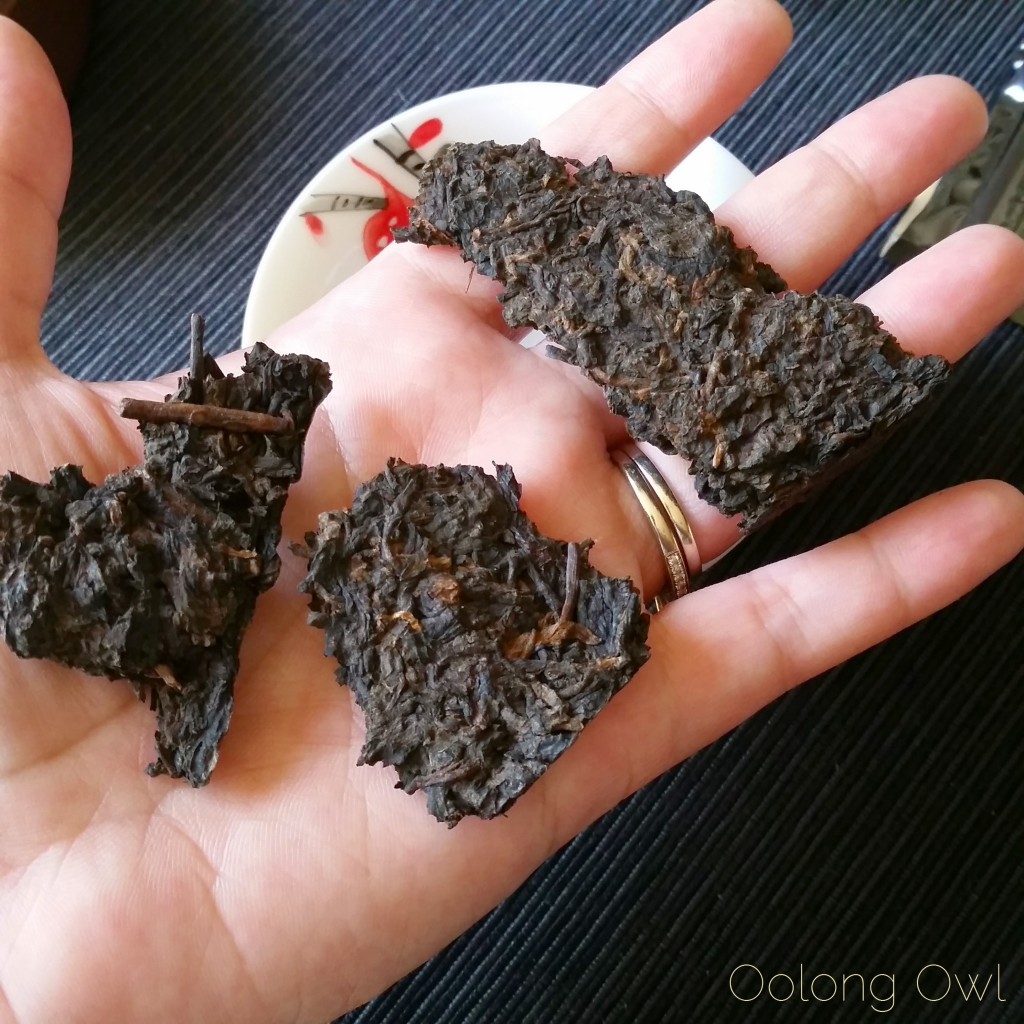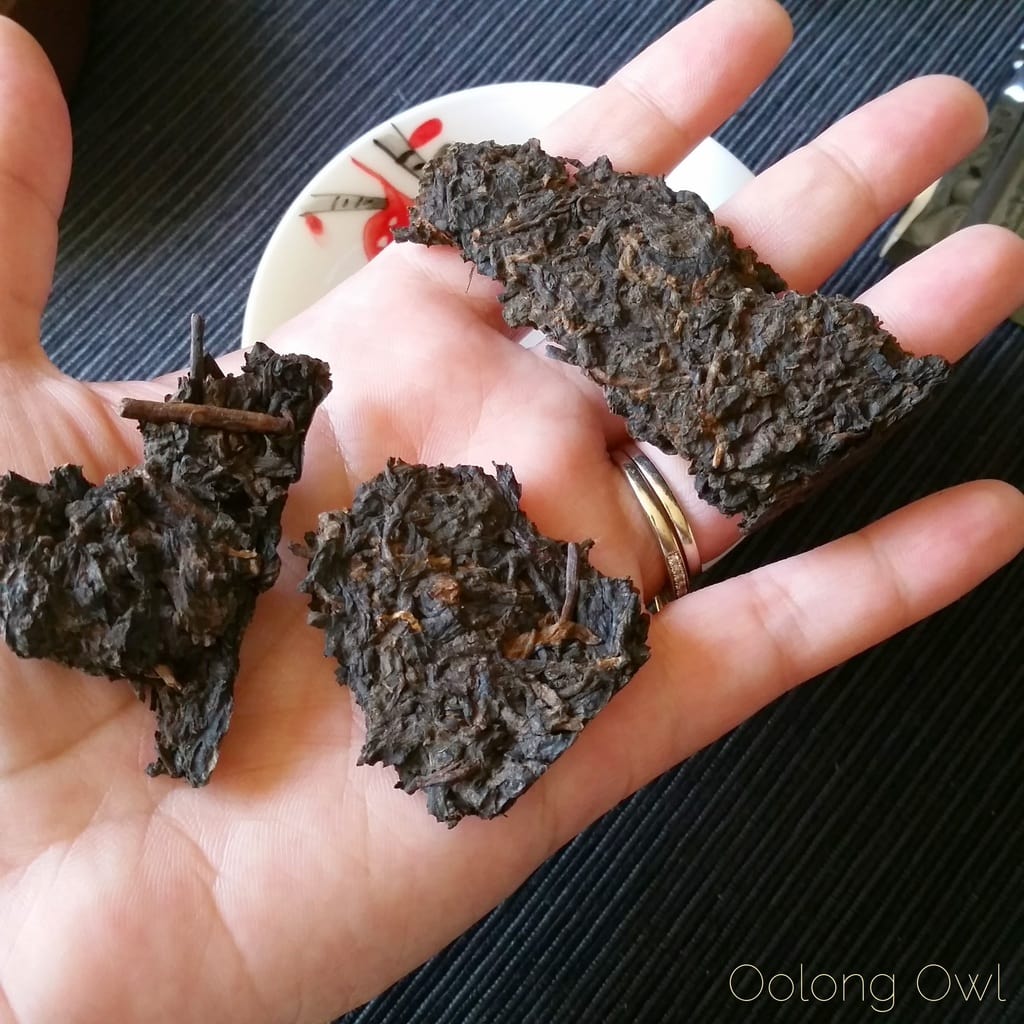 The dry leaf of 2012 Bulang Gushu Ripe Puerh is a pretty heavy tea with shades of black with honey brown highlights.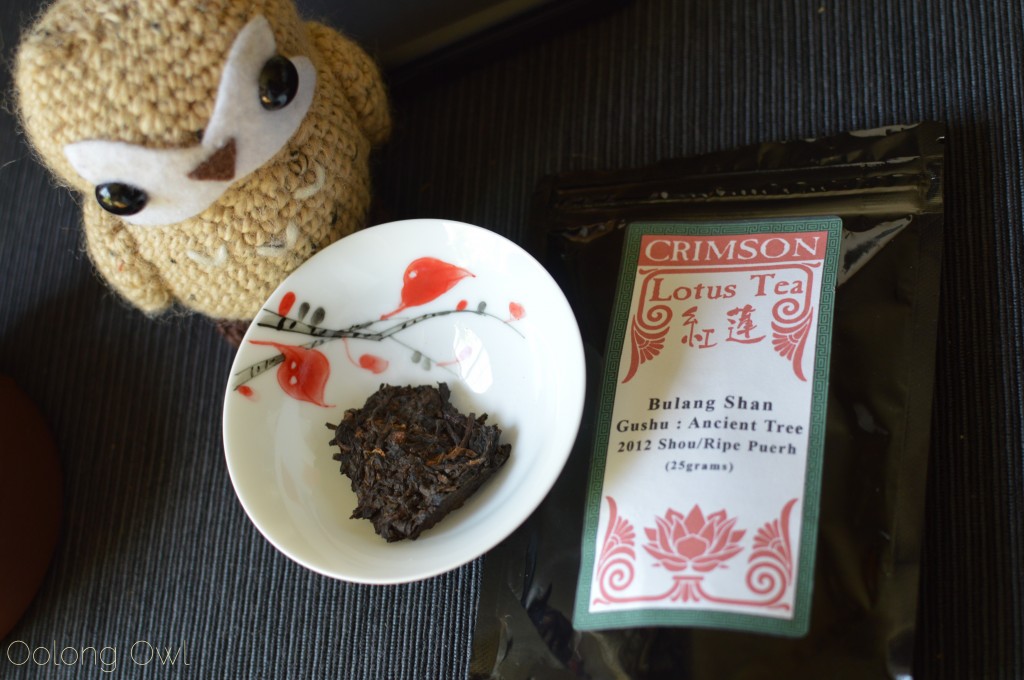 Steeping Instructions
I did 6 grams of tea for my yixing pot, using boiling water. What was pretty cool was one of the pieces weighed exactly 6 grams! I did two rinses, as instructed, for 3 seconds each. I started with 10 second infusing, adding additional steep time as I went on.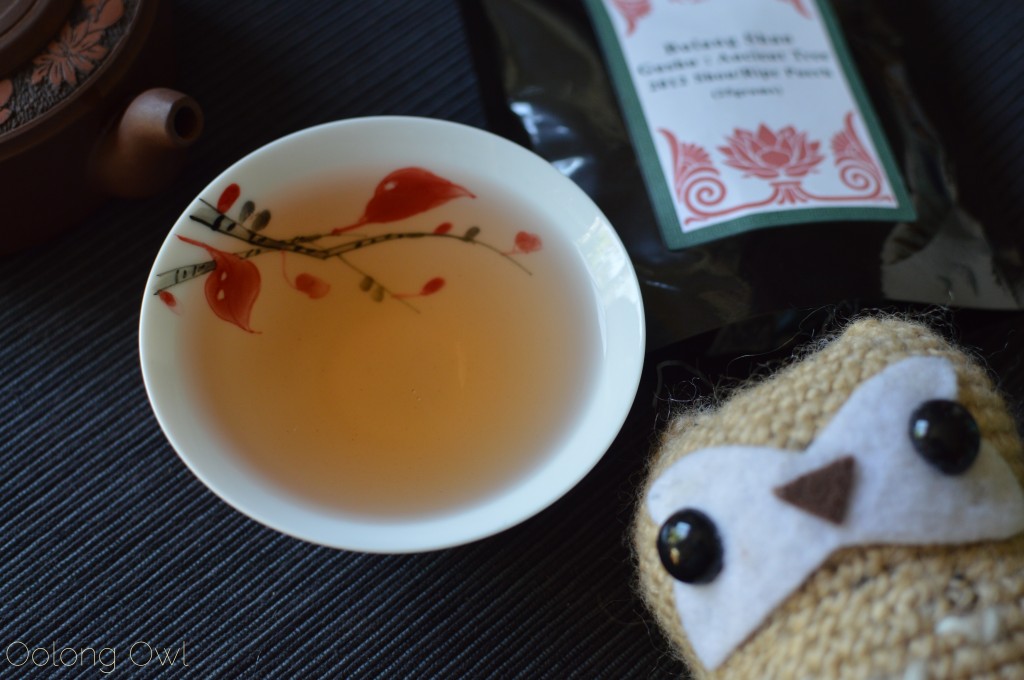 Tasting of Crimson Lotus Tea's 2012 Bulang Gushu Ripe Puerh
First Infusion: "Virgin" 10 second steeping. 2012 Bulang Gushu Ripe Puerh has a light dusty grey rose color with a sweet earthy lightly fermented scent. I did two rinses but maybe that wasn't enough or this tea needs time to ramp up.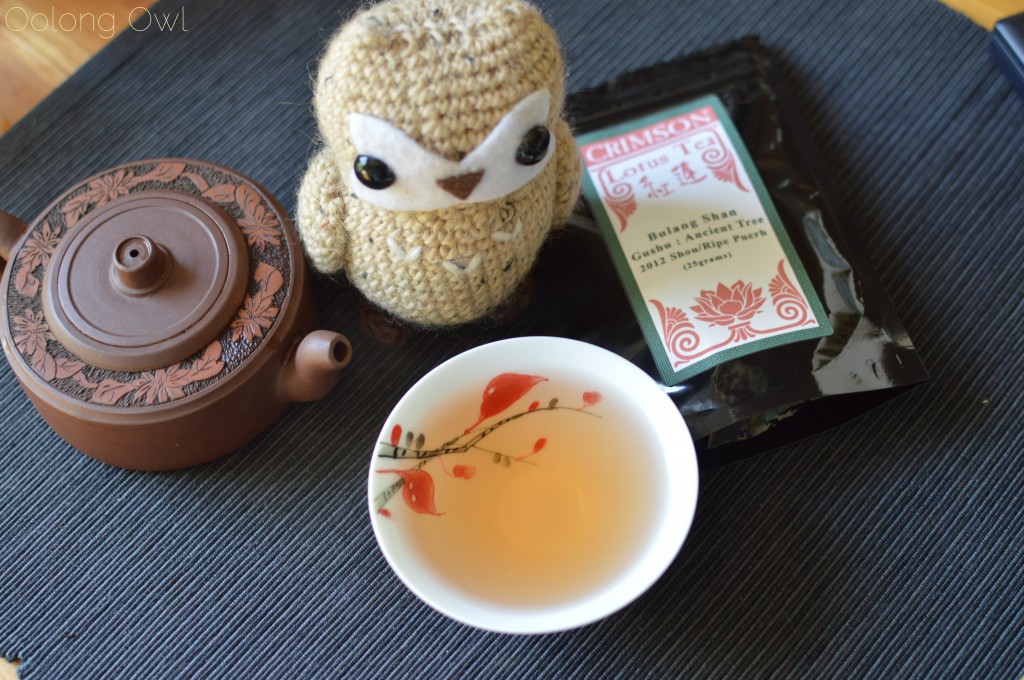 The flavor of 2012 Bulang Gushu Ripe Puerh is light and sweet with a creamy mouth feel. We need another steeping!
Second Infusion: "Let's begin our journey" Additional 10 second steeping. The liquor as a touch darker – a vibrant red, similar to a ceylon black.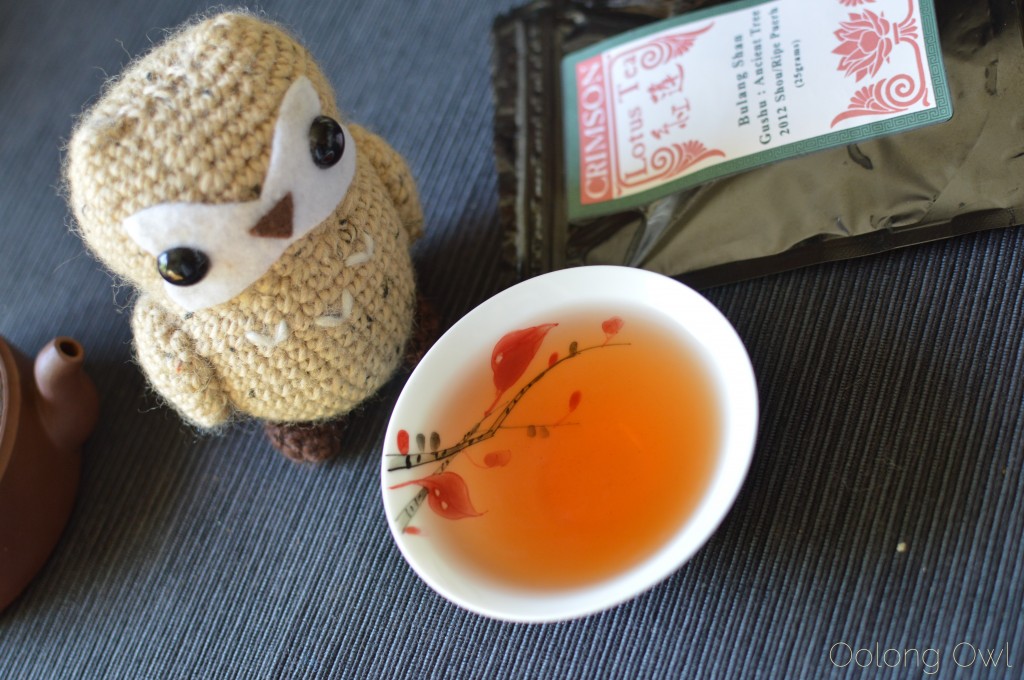 2012 Bulang Gushu Ripe Puerh's flavor is stronger but still light. This tea is fresh, with us just starting on our journey. At the end of sip, delicious chocolate and spice notes hit with a slick creamy texture. No dryness, bitterness or fermentation notes.
Third Infusion: "Ramping up!" Additional 10 second steeping. Look at that color gradient! Now an even darker reddish brown. Gorgeous clear broth too!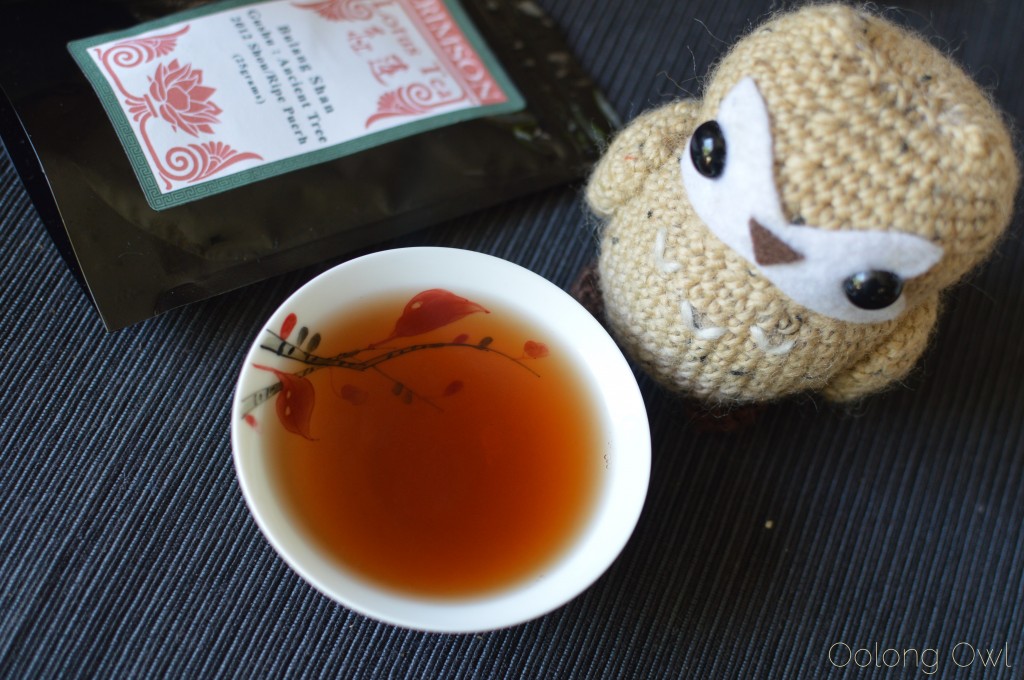 The flavor of 2012 Bulang Gushu Ripe Puerh has picked up – rich, brothy and thick in flavor. The tea has a dark chocolate note that just melts in your mouth with a spice tingle that peaks end of sip. I'm also getting a bit of a wild green sweet flavor right at the end that I'm having a hard time identifying.
Fourth, Fifth, Sixth, and Seventh Infusion: "Chocolate Heaven" additional 10 second steepings. Little darker color that I think is the final dark Pu'er color.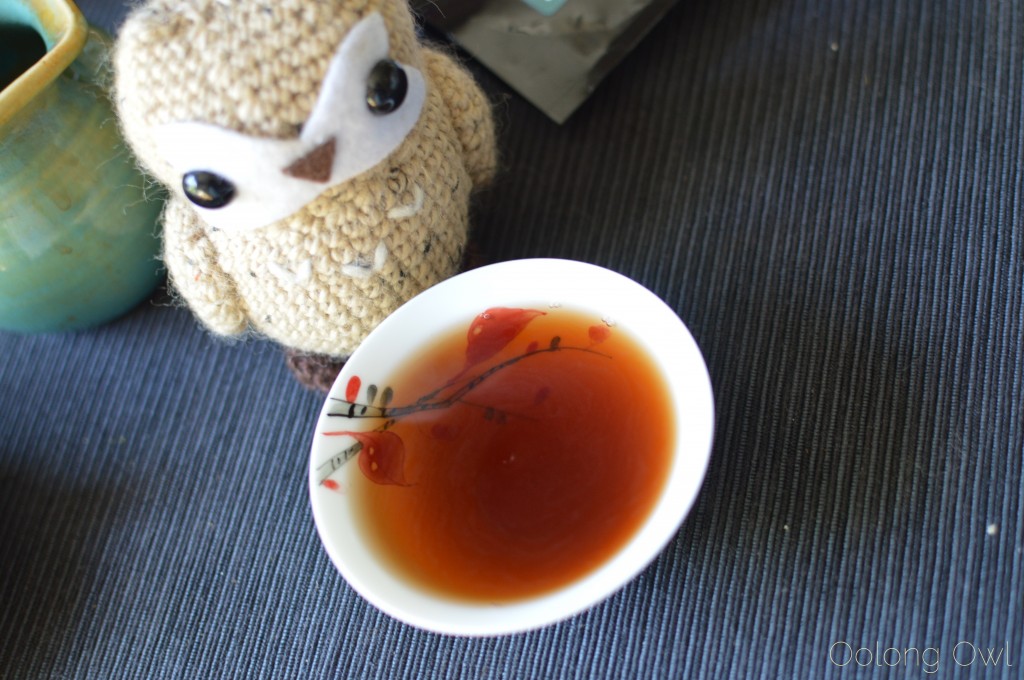 Chocolate flavor is getting stronger, as if the cacao % is climbing with each infusion. 2012 Bulang Gushu Ripe Puerh sips in light and sweet, then has a slick chocolate flavor is rich and thick with a finish of more bright sweetness. The spice note has faded with these steepings. The chocolate flavor here feels rugged, with a burnt cacao flavor aftertaste. With each steeping, the sweet finish intensifies.
With each steeping of 2012 Bulang Gushu Ripe Puerh, I feel like I'm nibbling holes in a dark chocolate house and turn the walls into swiss cheese, but also discovering a candy coated shell house exterior. Uh oh the tea drunk weird stories has begun!
I opened the tea pot and smelled the leaves. Intern Tea Owl agreed there was an almost grassy scent in the steamy 2012 Bulang Gushu Ripe Puerh leaf – Perfect invigorating tea owl facial!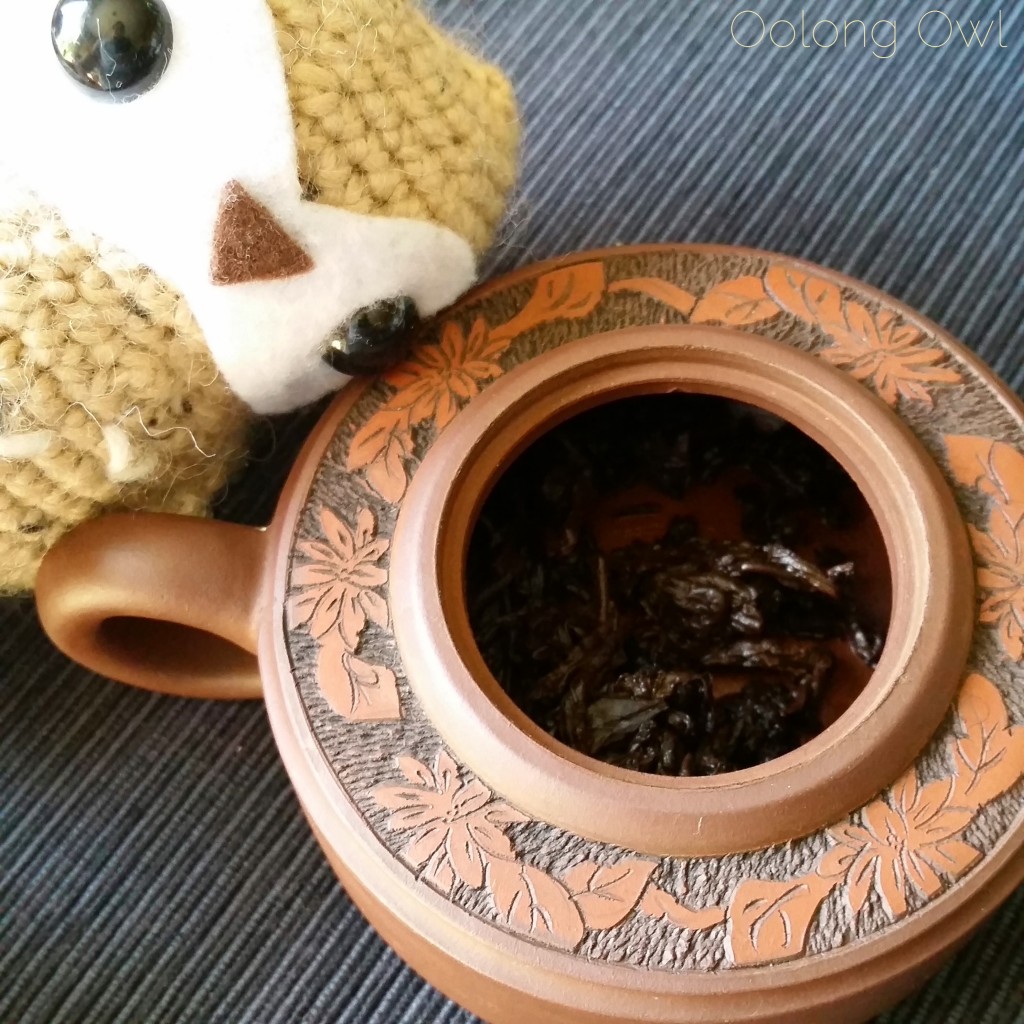 Eighth and Ninth Infusion: "I'm melting!" Additional 15 second steepings. I'm starting to battle with steep times . 2012 Bulang Gushu Ripe Puerh has a very smooth flavor with plenty of sweet still. Chocolate flavor is mellowing, melting into a smooth, milk chocolate flavor with a drop of agave nectar. Nooo the chocolate house is melting! DROOOL!
Tenth, Eleventh, and Twelfth Infusion: "Chocolate Mystery" Additional 30 second steepings. Man, this tea is smooth! Milk chocolate flavor is starting to lighten, with a brief aftertaste of more chocolate. 2012 Bulang Gushu Ripe Puerh is starting to develop another flavor with a bit of an interesting sweet tang end of sip. The sweet finish kind of reminds me of molasses but not as metallic but more wild tasting, similar to an exotic floral honey. The feel for these infusions is kind of mysterious, trying to figure out the flavors.
Thirteenth, Fourteenth and Fifteenth Infusion: Additional 1 minute steepings. The color of 2012 Bulang Gushu Ripe Puerh has faded, but still a colorful red/orange.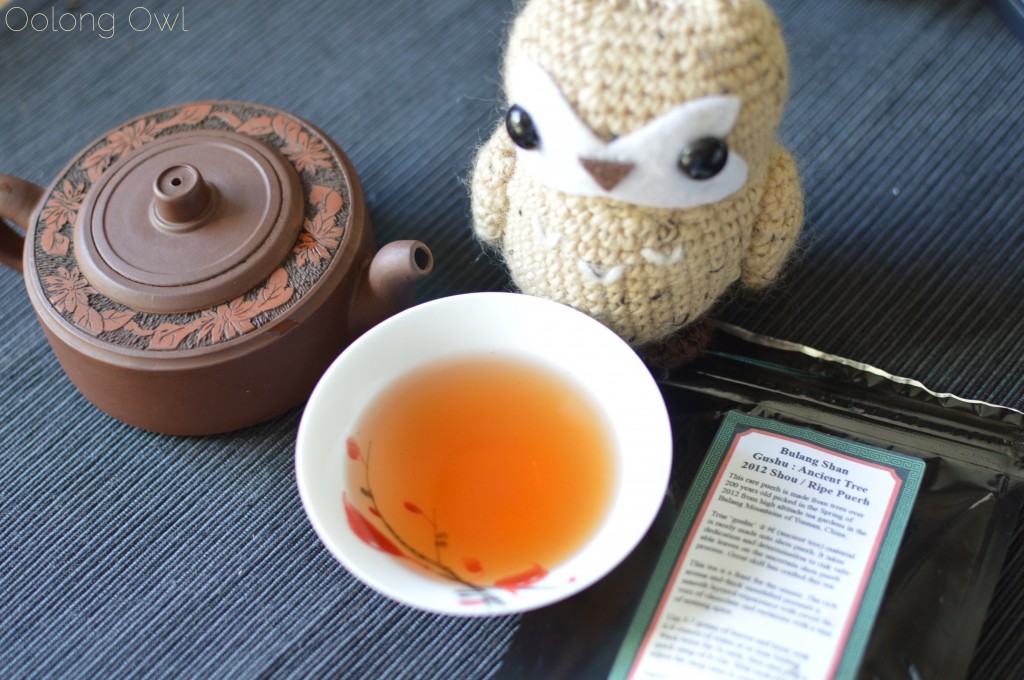 2012 Bulang Gushu Ripe Puerh is honey sweet throughout the entire sip with a chocolate peak at the end. With each further steeping, less and less chocolate notes. This tea is on its last legs and I'm trying to get my chocolate buffet money's worth.
Sixteenth Infusion: "The desperate" 10 minute steeping. The flavor is light, but yay I still get chocolate notes! Hmm, I bet I could get another steeping.
Seventeenth Infusion: "Encore 30 minutes": Just like last infusion, but lighter. I think 2012 Bulang Gushu Ripe Puerh is done – a good run!
Comments
I found Crimson Lotus Tea's "Ancient Tree" 2012 Bulang Gushu Ripe Puerh very easy to drink with all the lovely rich chocolate and sweet flavors and with no fermentation funk, dryness or bitterness. I could see someone who is more of a black tea drinker would loooove this pu'er, as well as sweet tooth types (like me!). With that amount of re-infusions you get out the leaf, pu'er is certainly big bang for your buck! Crimson Lotus Tea does to sample sizes so you can test drive the tea before buying a large amount of delicious pu'er.
2012 Bulang Gushu Ripe Puerh feels slightly similar to Mandala Tea's 2006 Special Dark pu'er for chocolate richness, but 2012 Bulang Gushu Ripe Puerh is lighter in texture, more mellow, smoother and not as intense. The flavor is rich and mega chocolately, with less earthy/mushroomy/woodsy tasted in many ripe pu'er.
I think 2012 Bulang Gushu Ripe Puerh would be great after a heavy dinner, served with or as dessert – the flavor would compliment a nice cake or creamy dessert item, but the tea is also not too heavy and sweet enough to stand alone as the dessert. The color of 2012 Bulang Gushu Ripe Puerh is gorgeous too, excellent to show off to guests! Drinking ripe pu'er after a heavy meal feels great on the tummy too!
Bonus: Enjoyable down to the last drop.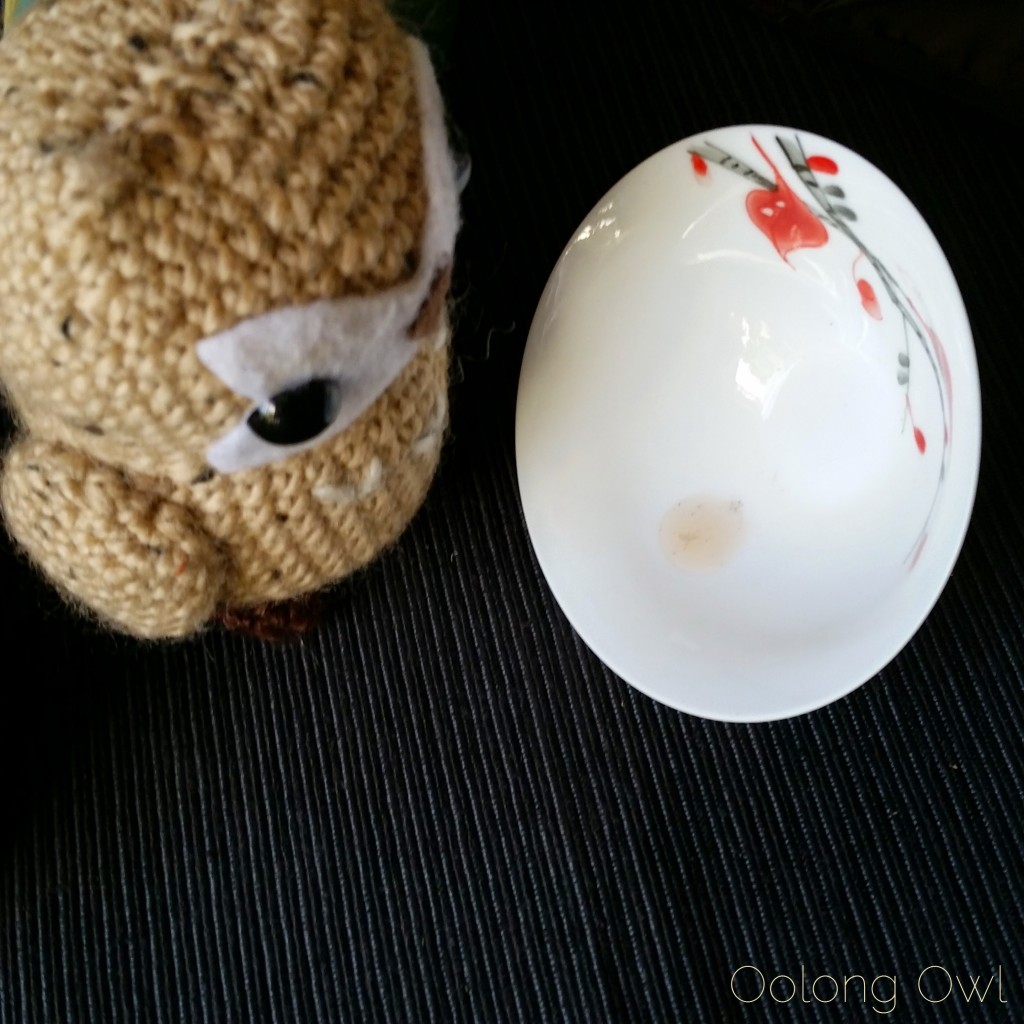 (tea provided for review)