Dragon of Jing Mai Pu'er is a 2012 ripe/shu tea obtained from Yunnan Sourcing.com. This pu'er is also available on Yunnan Sourcing's US site. This tea is produced in the Jing Mai area of China.
This ripe pu'er cake is a steal! It's 100 grams and only $5.80 to $6.50 depending on which Yunnan Sourcing site you're on (at the time of this entry). It also has quite attractive packaging too… Oooh dragons! I am partial to nice designs on Pu'er wrappers. Actually, the cool wrapping and cheap price is probably why I bought this cake.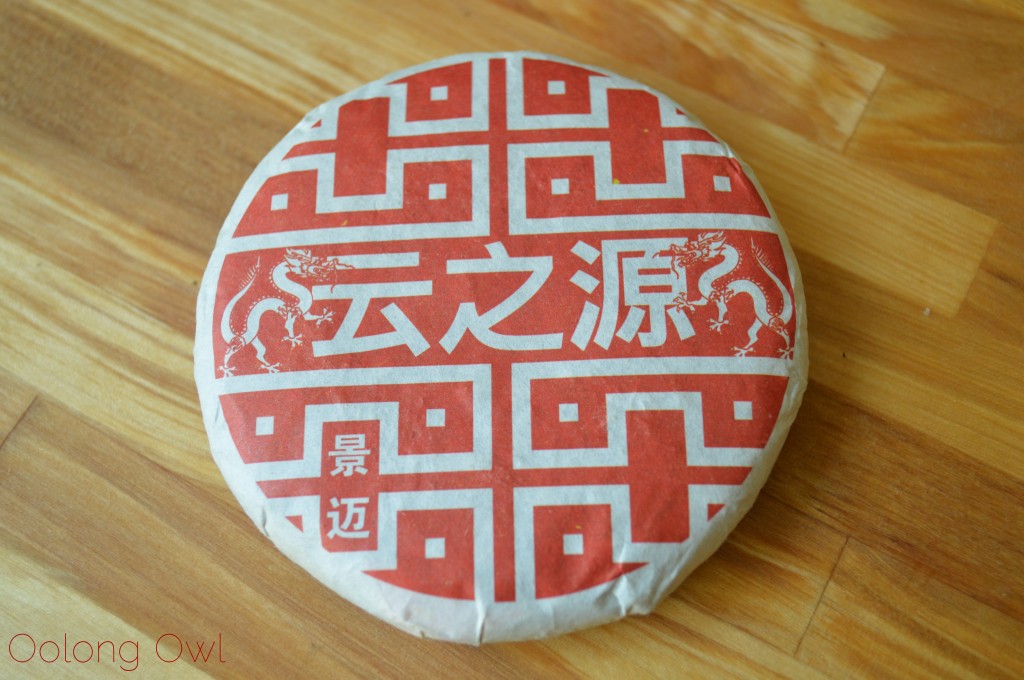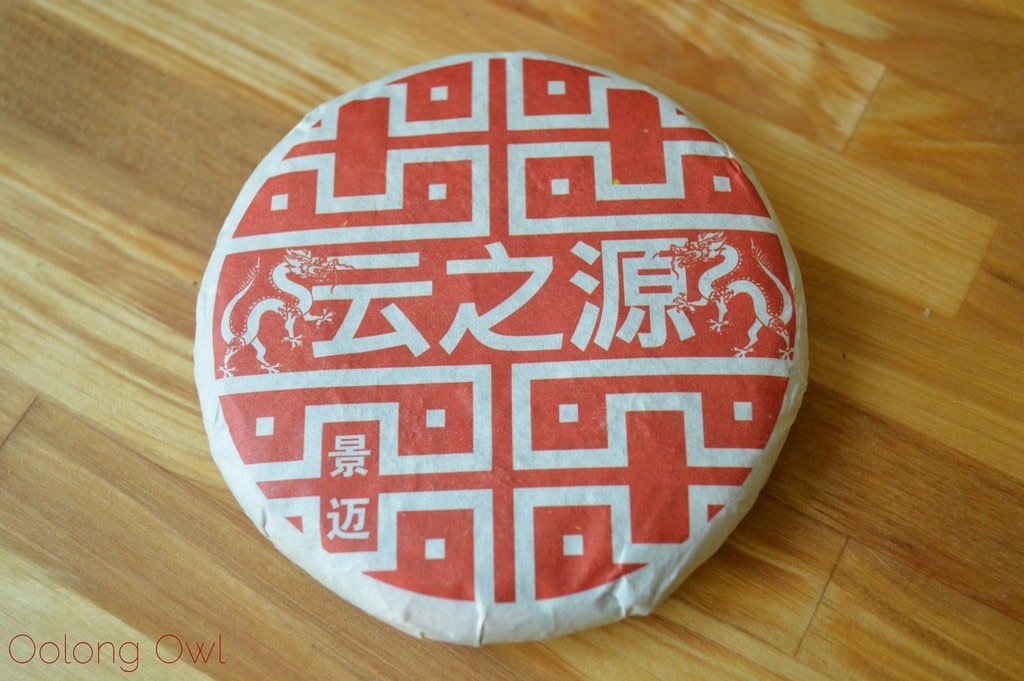 Tea "pu'er pick" Owl is pumped! He's ready to drill away at the pu'er cake!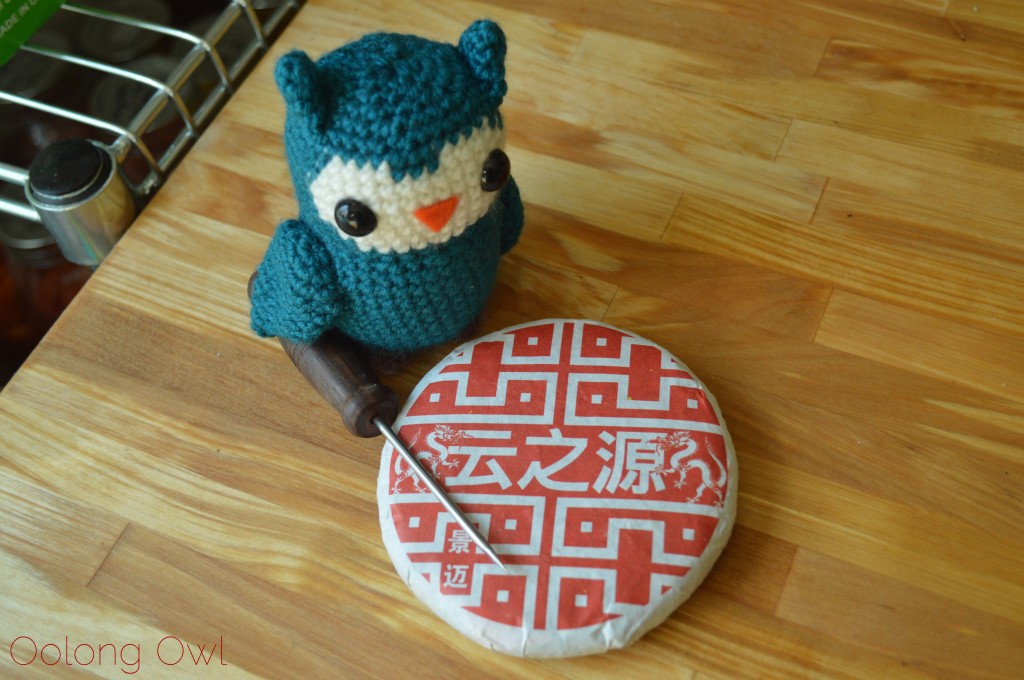 Interestingly, there's a QR code revealed once the wrapper is unfolded. Annoyingly, my phone couldn't get the link off it, if there was one.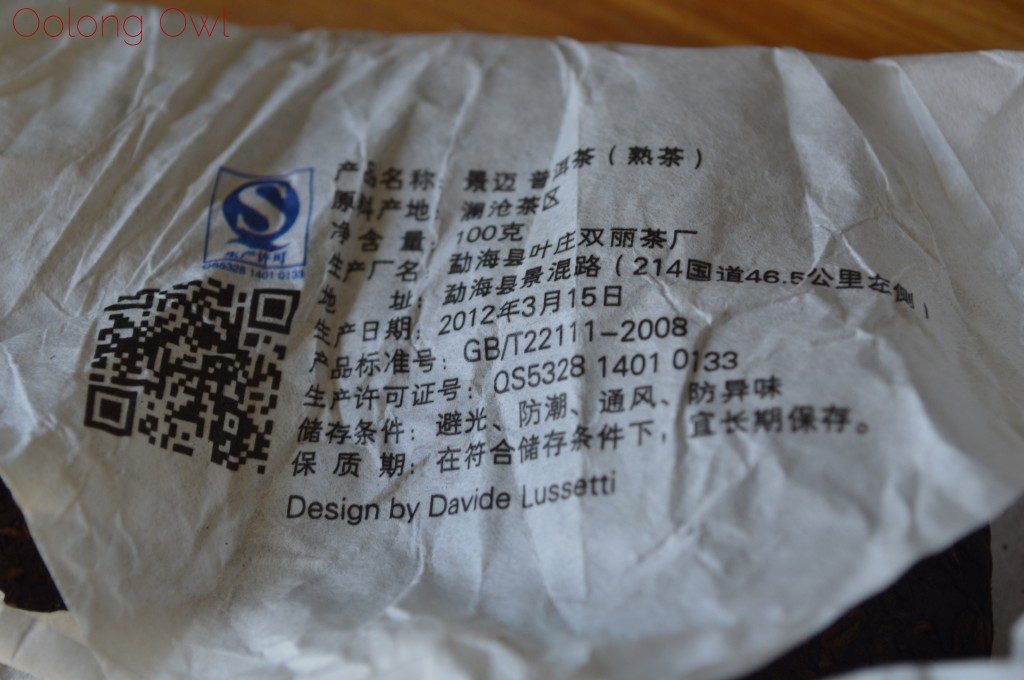 Dry Leaf
2012 Dragon of Jing Mai Pu'er is quite a packed little cake. The cake has some nice tea colours reminding me of a gold tipped yunnan black tea…. that looks pressed and hit with a meteor in the middle.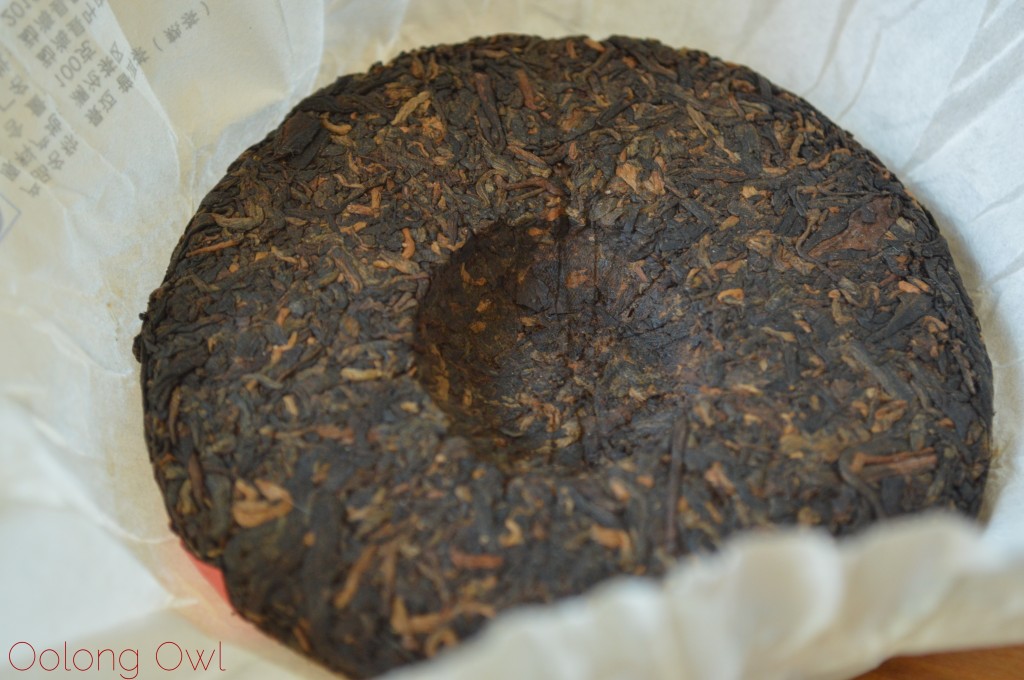 There's the yunnan sourcing ticket!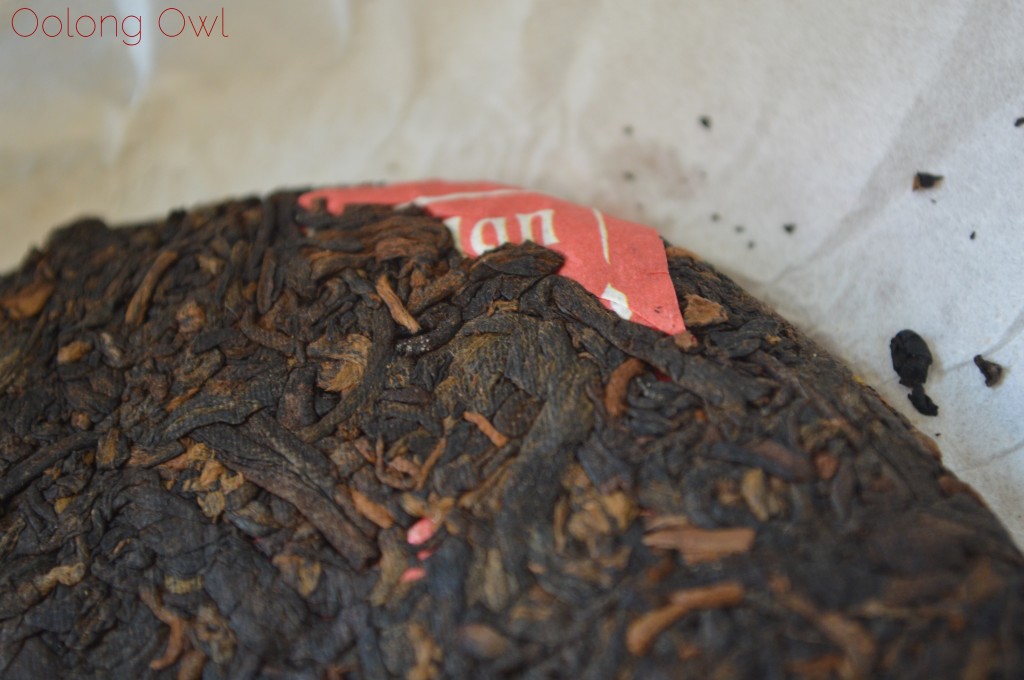 Steeping instructions
I chipped off 5grams of the 2012 Dragon of Jing Mai Pu'er. This pu'er is quite heavy and I didn't need much to get 5 grams. Without a scale, 5 grams was about 2 teaspoons.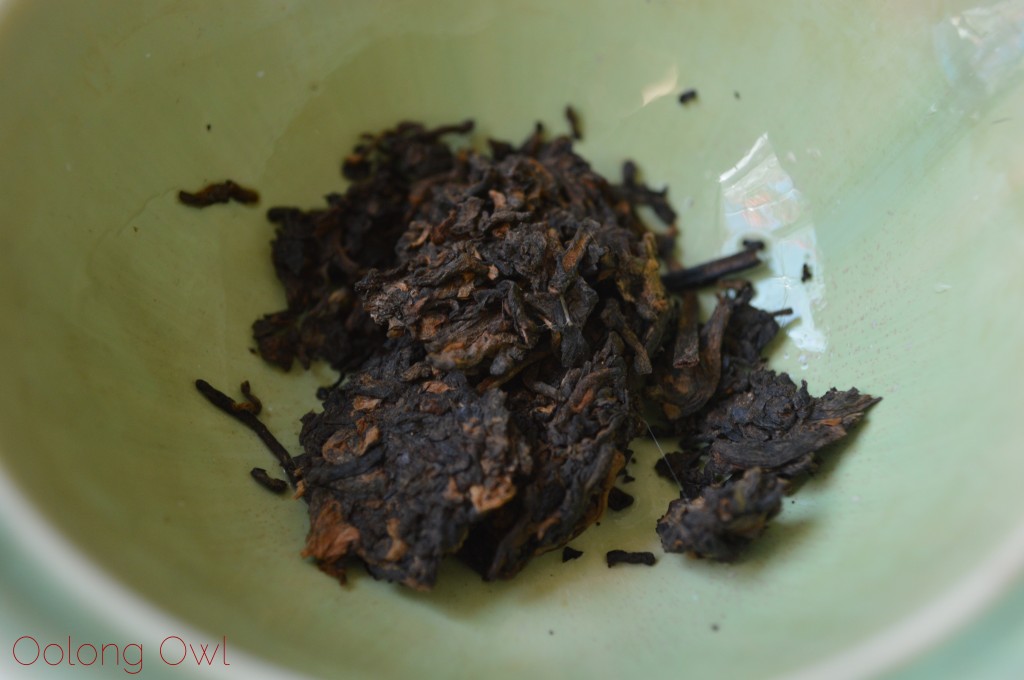 I decided to use a gaiwan for steeping. To steep this tea, I used boiling water and two quick rinses (I poured hot water on the tea, left it for 2 seconds, and poured out the water). For steep times I went with 15 second infusion to start, adding 15 additional seconds to each infusion. Once I hit 90 seconds, I added 30 additional seconds. Once I was at 3 minute steeps, I added 1 minute extra per additional steeping time.
First infusion came out a rich, orange brown coloured tea with a faint woodsy fermentation scent.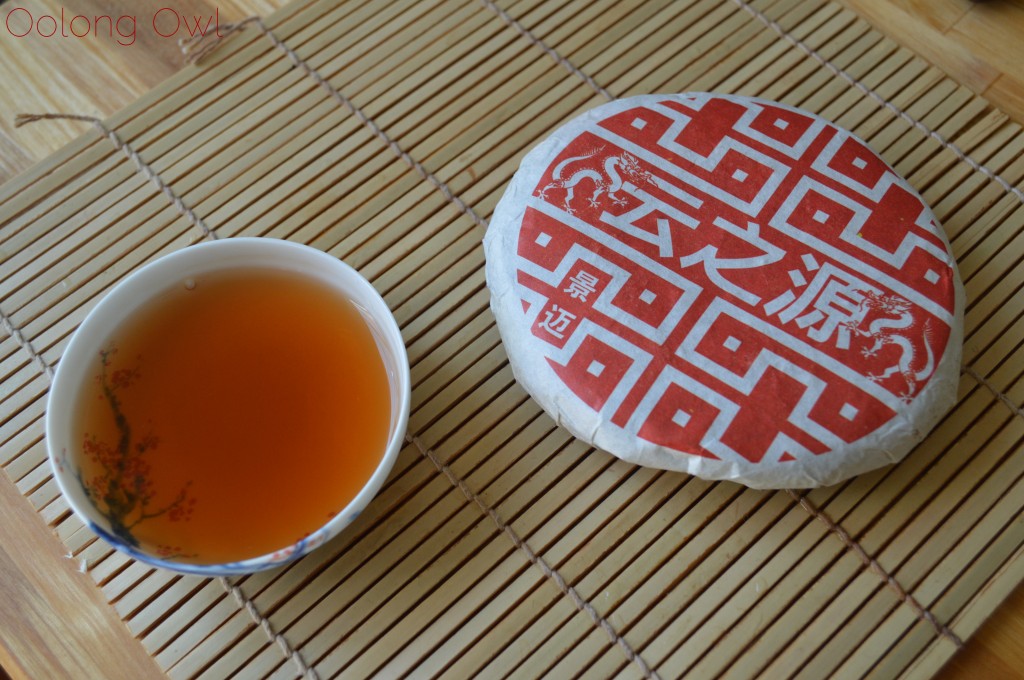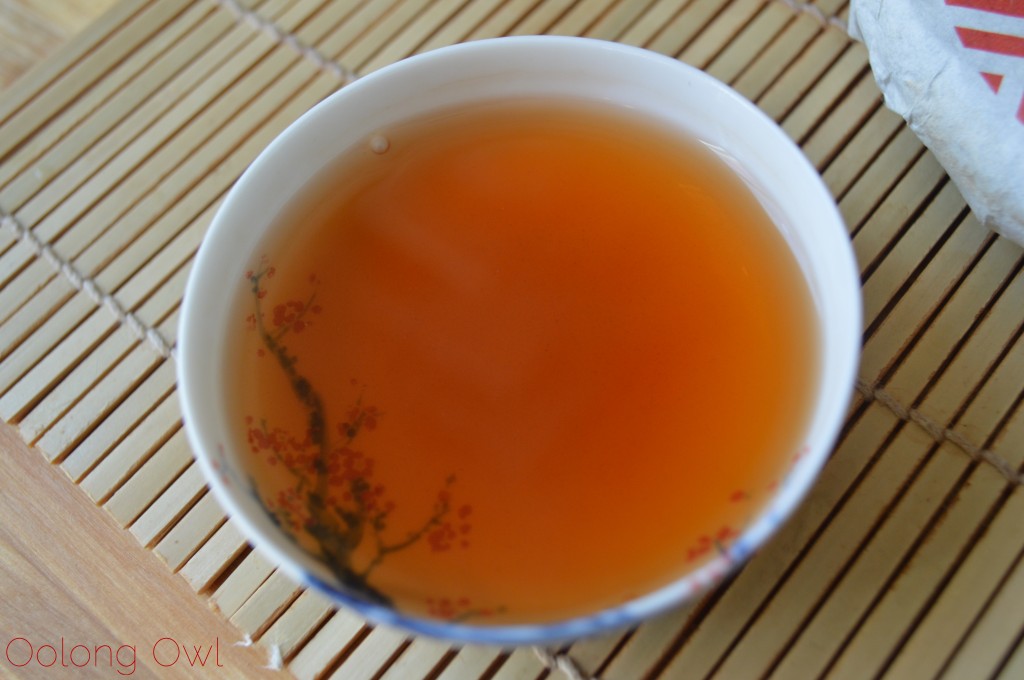 Tasting of the 2012 Dragon of Jing Mai Pu'er
First and Second Infusion: The flavor of 2012 Dragon of Jing Mai Pu'er is a rich red clay mixed with dark wood, dripping with dirt and sticky tree sap. It's a campy tea with a light fermentation flavor. Oh boy, do we need to add another "o-meter?" Yes! 2012 Dragon of Jing Mai Pu'er is a 2/10 on the Ferment-o-meter – just a slight fermentation flavor end of sip. There is a slight sweetness present within the sap flavor note. Actually, I can imagine this tea tastes like the remants of a forest that got blasted by a fire dragon. Hmm.. am I playing too much Pokemon X? Go Charizard!
The second steeping I got a really rich coloured cup of tea – a gorgeous saturated red brown! Wow, the tea colour is like a red dragon!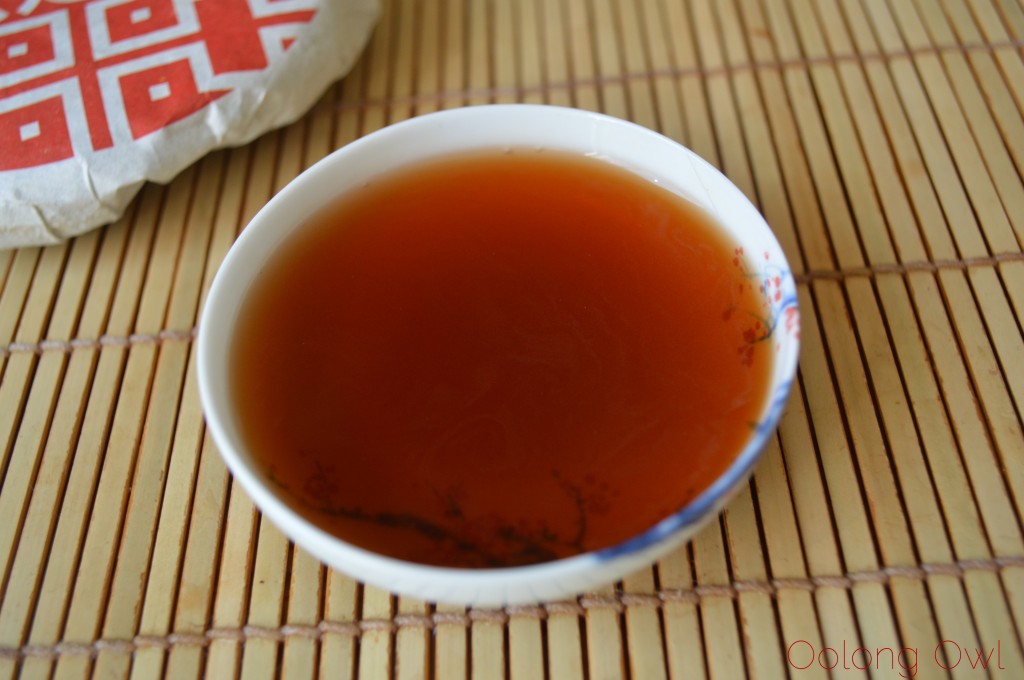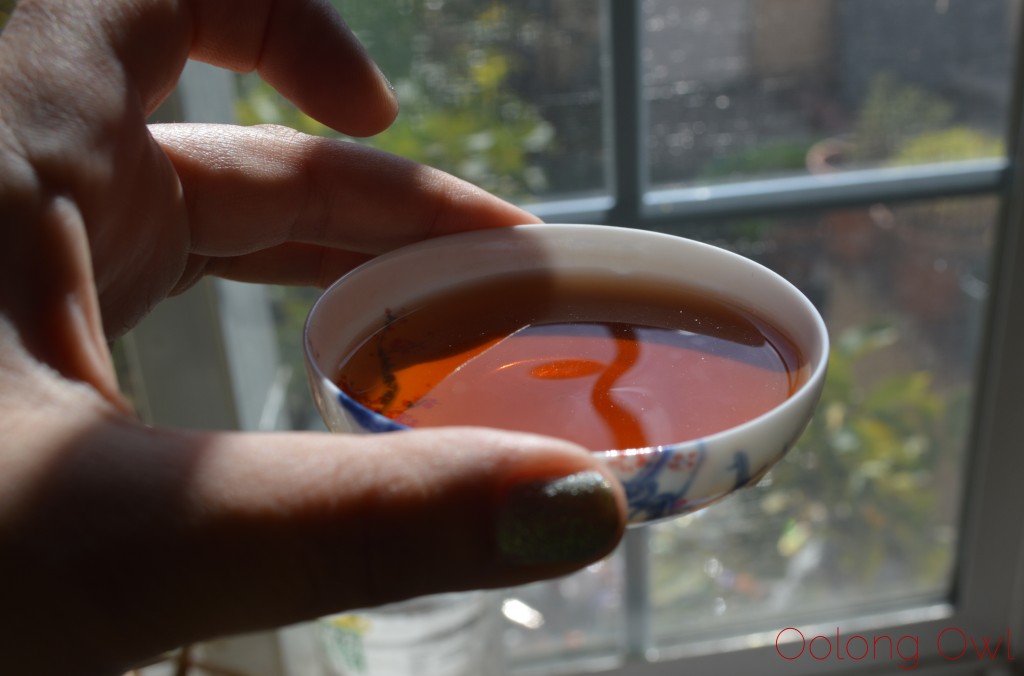 Third, Fourth and Fifth Infusion: With each additional infusion, more sweetness is breaking out. It is like the sweet notes of amber and sap are cracking away at the charred wood and clay earth. Maybe this tea is a story of a dragon being hatched from a volcanic burnt land? Even the steeped leaves look like charred earth.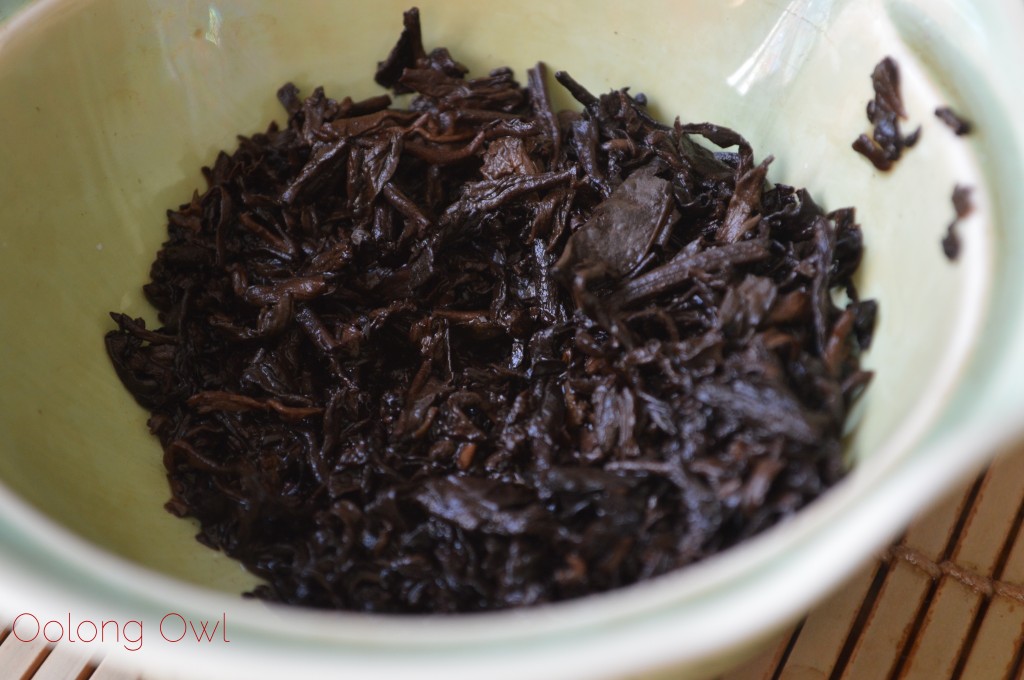 Sixth, Seventh Infusion: Best infusions of 2012 Dragon of Jing Mai Pu'er! The sweet sticky sap notes have broken through most of the charred earth, deep woody flavor. With that said, a resin sap and amber tea taste, with a bit of clay notes remaining. It's like I'm stuck on a sappy tree that's survived the forest fire.
The tea has interestingly lightened to a lovely peachy orange colour.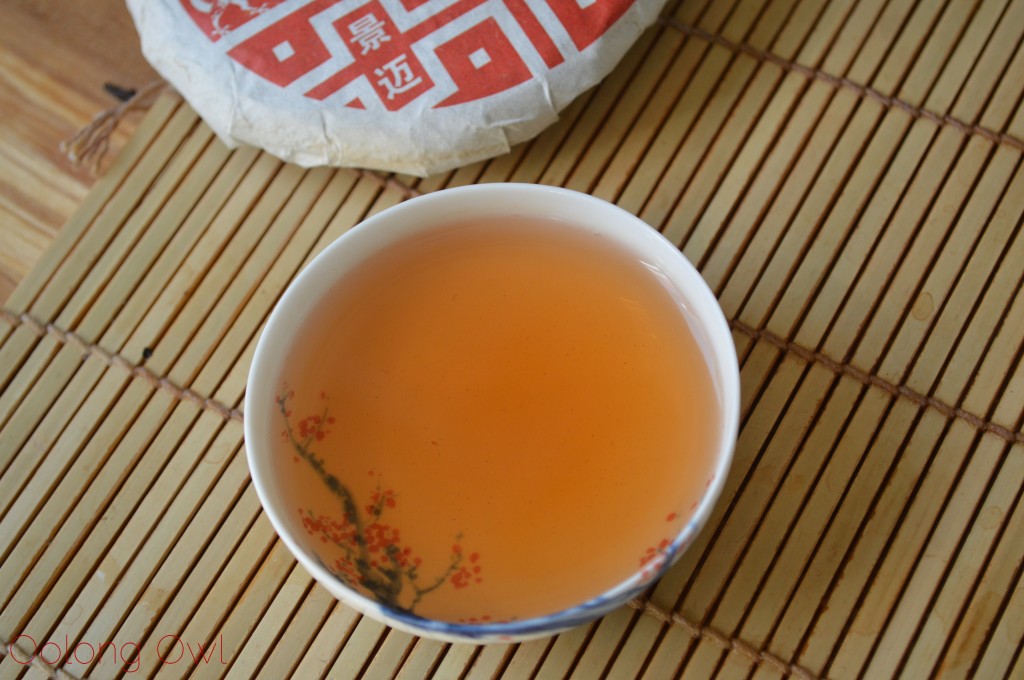 Eighth, Ninth, and Tenth Infusion: 2012 Dragon of Jing Mai Pu'er now has a clean more amber sap flavor with a hint of mineral.
Eleventh, Twelfth and Thirteenth Infusion: The flavor is simply a light earth flavor with a bit of sweetness. My cup of 2012 Dragon of Jing Mai Pu'er is that pretty peachy pu'er colour I always admire.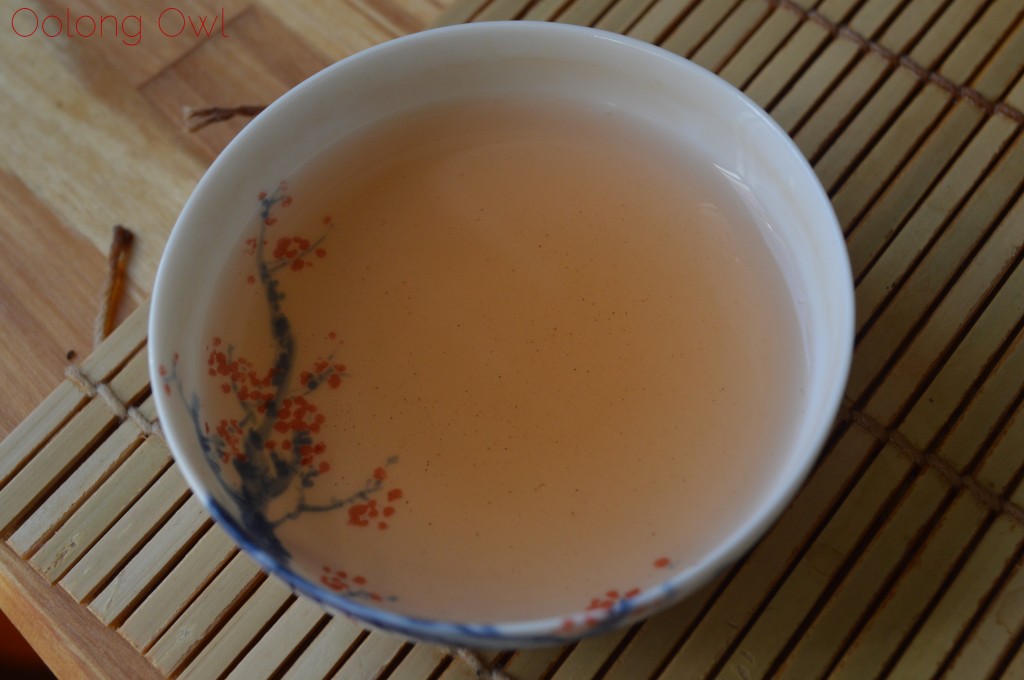 By the way, throughout this entire pu'er experience I got no bitter or dry notes. Interestingly, the PU'ER DRUNK PARTY TIME surge peaked after I was finished the tea session. Lots of energy in drinking this 2012 Dragon of Jing Mai Pu'er cake!
Comments
Yunnan Sourcing's 2012 Dragon of Jing Mai Pu'er is a pu'er with lots of character. The progression through the charred earth and dark woodsy notes is a nice tea experience. Though with the slight fermentation notes early on, I'd like to see how good this little tea cake will get with some age on it. I'd say the early infusions of 2012 Dragon of Jing Mai Pu'er are on the abrasive side and maybe someone new to pu'er (or excoffee drinker) might want a smoother ripe pu'er instead.
Either way, this cake is inexpensive tea treat to sneak into your cart. Into the Oolong Owl Pu'er Vault.. errr.. box in my dresser.. this little pu'er cake goes!
Bonus: "Oh hai, I'm here to pu'er pick your pu'er! Protection from firey red dragons is extra." Teal "pu'er pick" Owl