I encountered Denong Tea at the 2016 World Tea Expo and greatly enjoyed their teas. Some of them I have had, as Bana Tea Company carries a couple of them. While at the World Tea Expo, I lost my mind over their 2015 Enchanting Beauty Sheng and stockpiled. After the Expo, Denong Tea was awesome to send me some samples of their other shengs and one of them was this 2012 Nannuo First Spring Sheng. I figure I review this Nannuo first so I got more Enchanting Beauty for myself, HAHAHAHA!
Denong Tea's 2012 Nannuo First Spring Sheng is sold in 100 gram bricks. Their wrapper art is very pretty, here is a picture I stole from their website of the brick of 2012 Nannuo First Spring Sheng.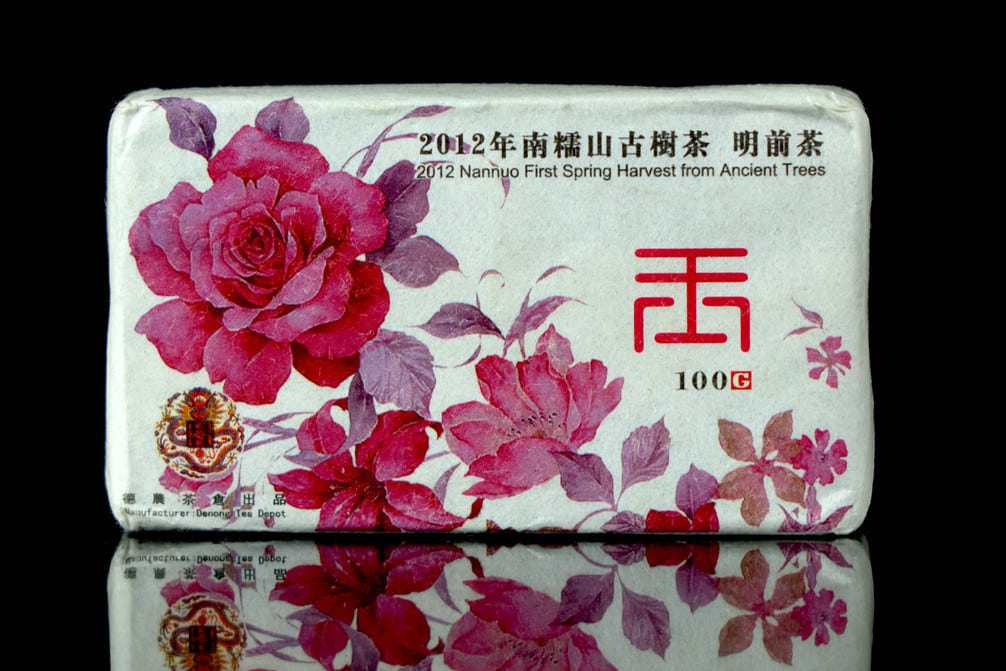 And here is my sample. They use pretty nice sample bags!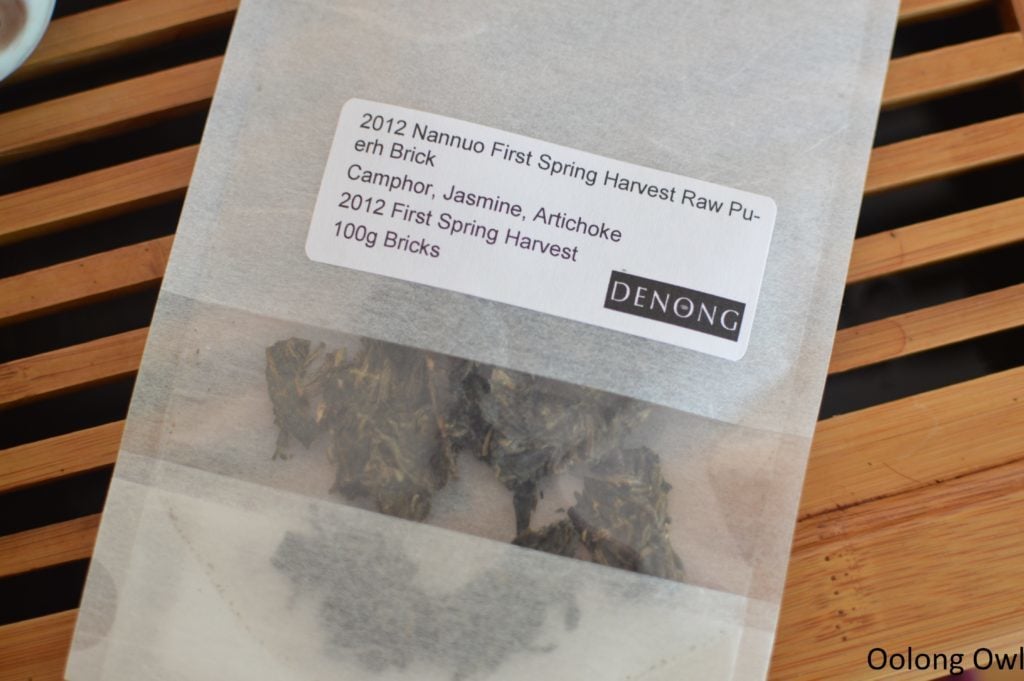 Dry Leaf and Steeping Method
My 2012 Nannuo First Spring Sheng was a broken up already for me due to sample. The scent is vegetal and a little like menthol cigarettes.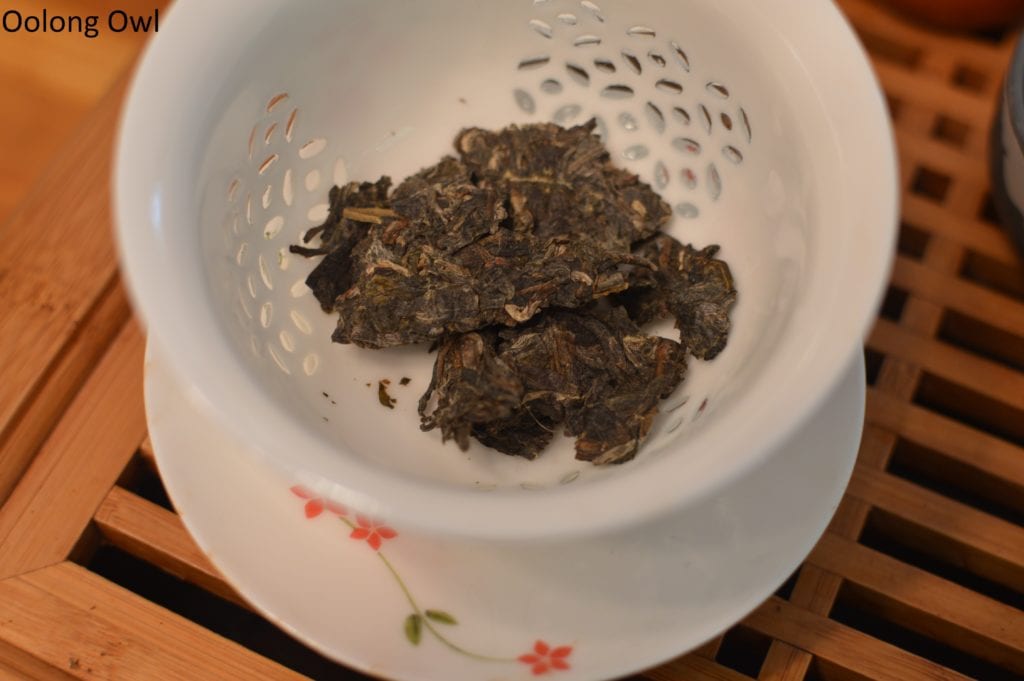 I used 1 gram of leaf to 15ml of steeping vessel. I had 8 grams so I decided to use the whole thing in a larger gaiwan. In retrospect, I should of used my tiny 60ml gaiwan.
Tasting of Denong Tea's 2012 Nannuo First Spring Sheng Puer
The Nannuo puer steeps up an interesting champange colour. The wet hot leaf smells slightly of floral and vegetal.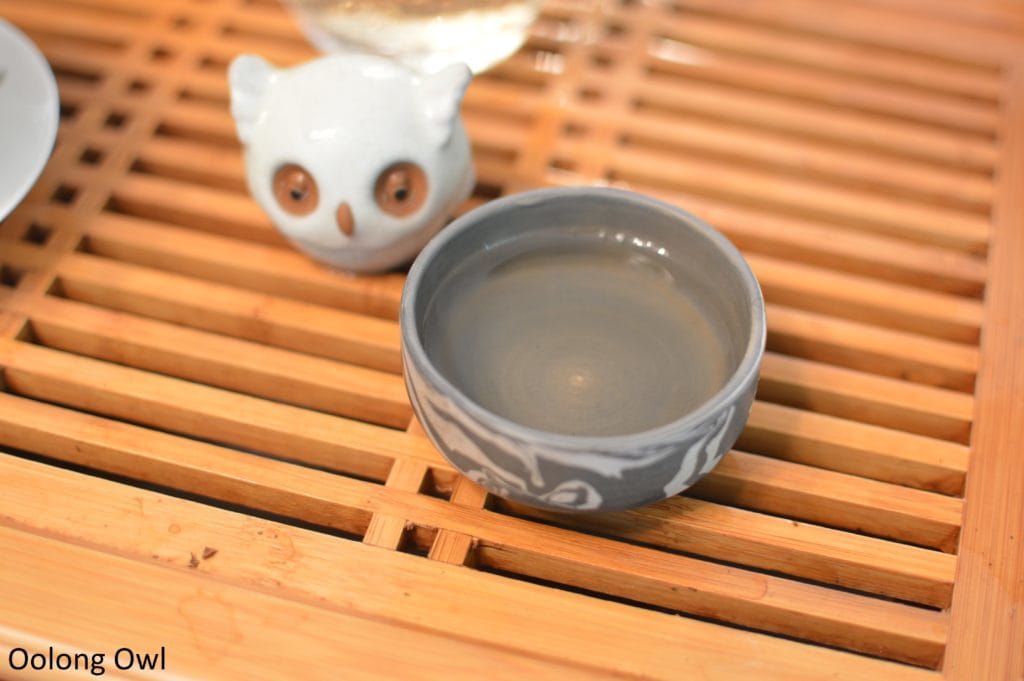 First Infusion: This first round is very light but I'm getting an oily body with a clean soft sip and a slight floral finish. This tea is sold in a brick and the pieces are pretty compact. That said, I am considering this a second rinse.
Second and Third Infusion: 2012 Nannuo First Spring Sheng sips in light, but more developed in flavor and ramping at the end. Most of the flavor comes in at the end as a buttery artichoke heart and sticky rice. The body is oily but also sticky feeling in the finish. The aftertaste is killer with a long buttery floral which lingers in my mouth.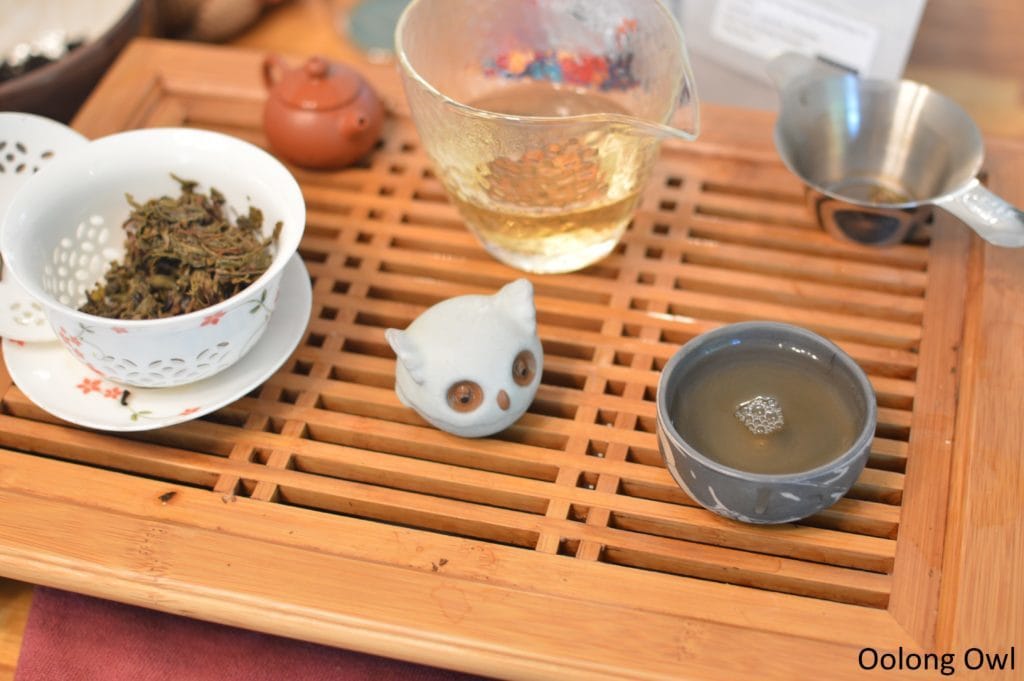 Third, Fourth, Fifth, Sixth, and Seventh Infusion: 2012 Nannuo First Spring Sheng is still ramping up in flavor. This steeping goes to the max at end of sip. The sip in is buttery artichoke, the finish is camphor tabacco and bitter. The aftertaste is STRONG camphor and a peachy floral that never ends. Each steeping develops more bitter and gives a dry teeth feel, contrasting the oily texture. The tea is hitting me already as I'm getting feels of a giant attack crab is pinching my skull and making my eyes pop out. WHOO HOOOOOOT!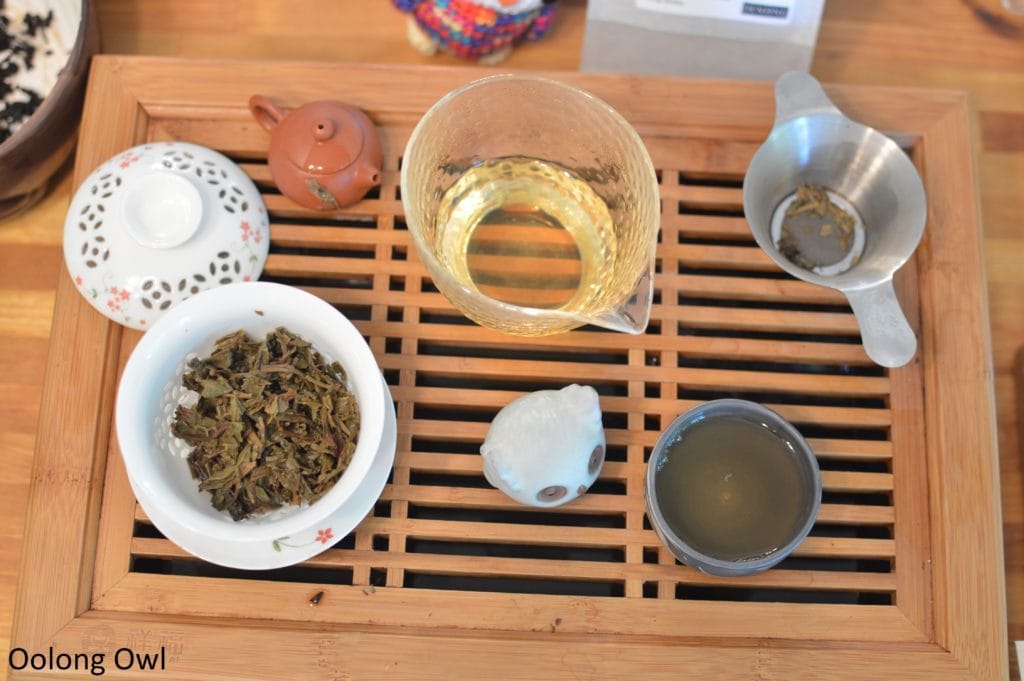 Eighth, Ninth, and Tenth Infusion: I got too tea drunk from dodging enemy crabs that I oversteeped the 8th infusion, making my cup a strong dandelion yellow.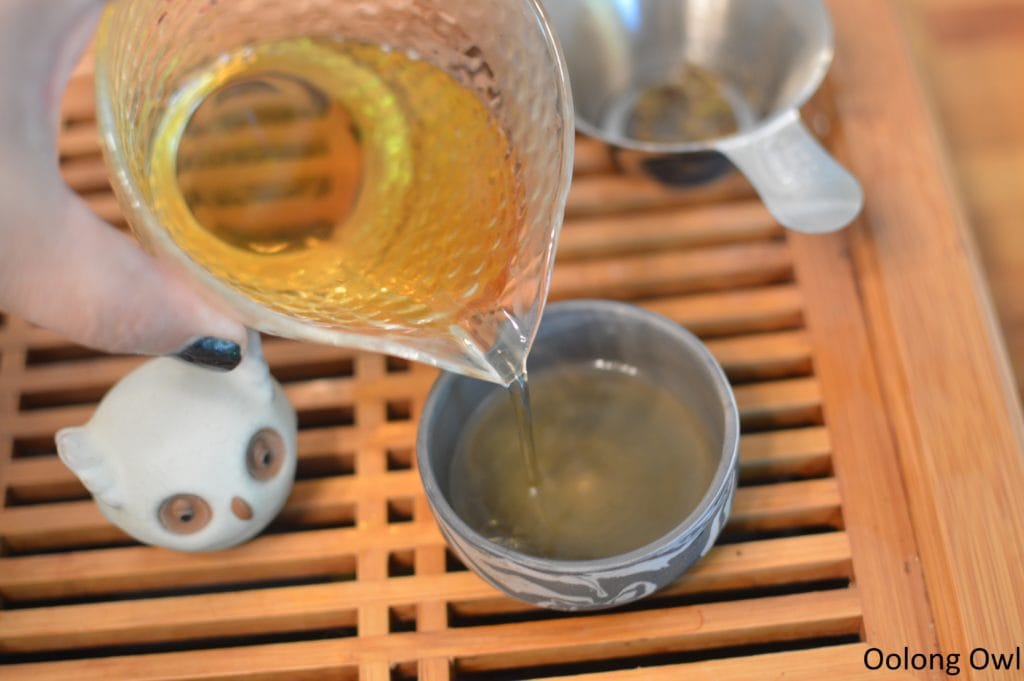 The flavor is back to artichokes but that more strong wild flavor of nibbling the outer leaves. The vegetal flavor also reminds me of those sticky rice things wrapped in leaves – as I taste that outer rice plus steamed leaf flavor. The end of sip is camphor and pretty bitter with funny teeth feels of dry and sticky. I like artichokes but they are a pain to eat. I rather drink this tea!  The aftertaste is vegetal, bitter steamed leaf and floral. Denong had tasting notes on the sample which I felt was accurate as I do taste some jasmine here. However the jasmine note more so reminds me of a jasmine green I oversteeped to death with that bitter cooked floral taste, but with more depth that a puer tends to feature.
After this infusion the flavor got light.. but the other steepings in this black I can still taste that 8th crazy strong bitter  steep.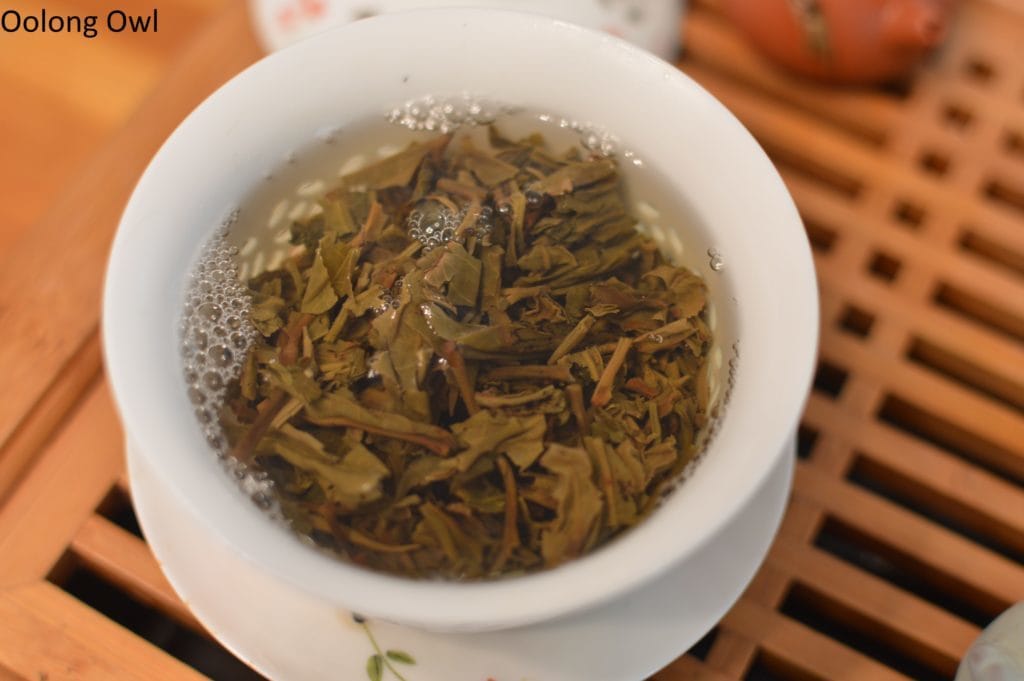 Eleventh and Twlefth Infusion: The bitter lessened, maybe it's under steeped from whatever I did on steep 8 and my mouth finally reset. The flavor is slightly sweet, rich savory vegetal, mineral, and camphor. There is a slight incense essence to it to. The body isn't as thick but I still get a lip balm feel. It is pretty dry and I'm aware of my teeth. The after taste is very long. I've made this session last long simply by sipping and walking away to do other things (making bread in my case), but still tasting the tea.
Thirteenth and Fourteenth Infusion: 2012 Nannuo First Spring Sheng is still going. I did long steeps here around 10 and 15 minutes. I was planning to have another tea after this but it isn't happening. The Nannuo sips in butter, camphor and mineral, finishing off bitter, with a long lasting flavor. The texture is super dry, it has gone down to my throat and making me feel crunchy, causing me to sip more.
Fifteenth and Sixtheenth Infusion: I did a pair of power steeps, about 30 to 45 minutes. I was surprised I got a 16th infusion. The flavor is buttery artichoke and mineral sweet with a strong dry finish. After the 16th infusion, despite smelling close to dead, but I think I could likely steep it one more time. However, I'm feeling pretty chill right now and will snuggle with enemy crab and do some knitting.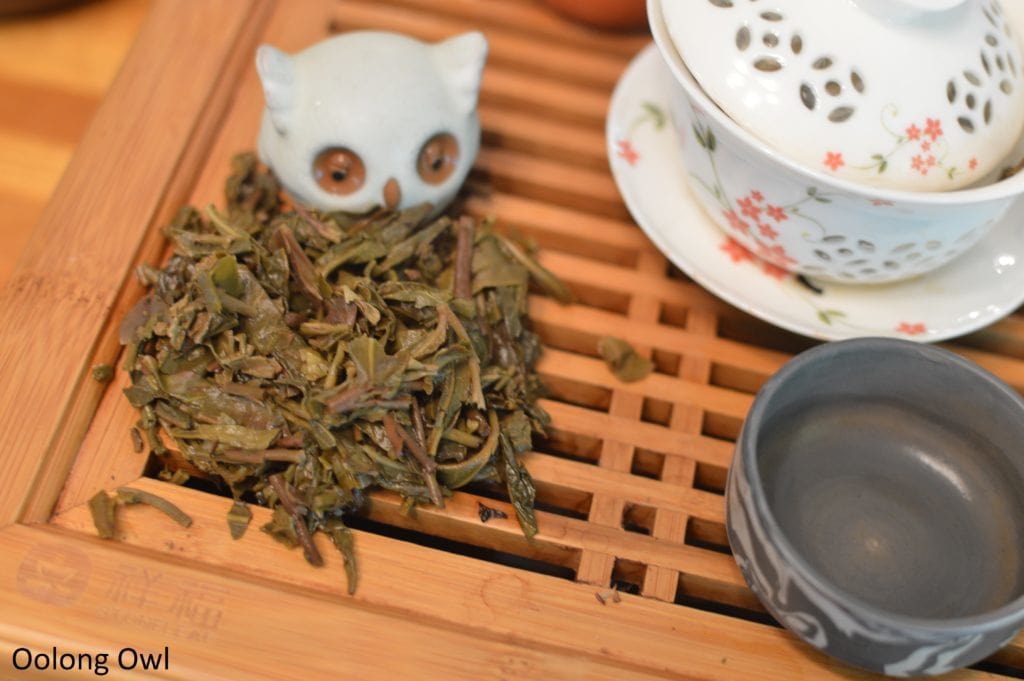 Comments
As of right now Denong Tea's 2012 Nannuo First Spring Sheng is one of the nicest young nannuos I've had. Last month I tried a 2016 nannuo and revisted a different 2012 nannuo I own and this Nannuo from Denong Tea one blows them both out of the water and through a mountain.
The 2012 Nannuo First Spring Sheng's body is great, the notes are complex and the aftertaste is super long. I had one shot with this tea as I only have a single serving, so I dunno if I butchered it on steep 8 as it got pretty bitter. I enjoyed the camphor notes and the feels of this tea, I wished I did two small sessions instead of one big solo one.
Oooofph. I just looked at the price – $62 for a 100 gram brick. I honestly didn't know how much this tea was until after I drank it. Denong Tea's 2012 Nannuo First Spring Sheng is really good tea and you certainly get your money's worth with the longevity this tea has. If you love sticky rice nannuo, camphor, or an awesome quality sheng, this is it.  2012 Nannuo First Spring Sheng is certainly on my wish list doom cart or google alert me on future Denong Tea sales.
(tea provided for review)