I cannot say no to a jing mai material puer! Today's review is Bitterleaf Teas' 2013 Hummingbird Spring Jing Mai Sheng Puer. This puer is spring, gushu (old tree) material.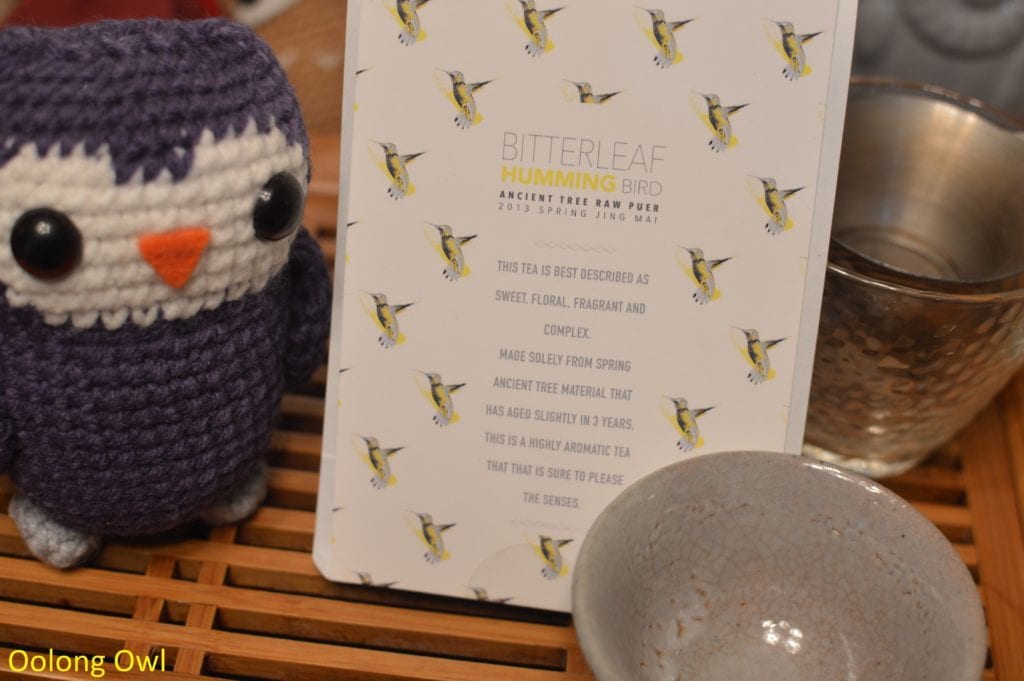 Bitterleaf Teas sells their 2013 Hummingbird in a few different styles – sample, 357 gram cake, and mini coin 10 gram cakes. My sample is from a cake. Reports from my tea friends saw the coin form has smaller leaves so flavor could vary.
Dry Leaf and Steeping Instructions
The dry leaf smells sweet and floral. I love when puer samples give you a nice hunk of tea!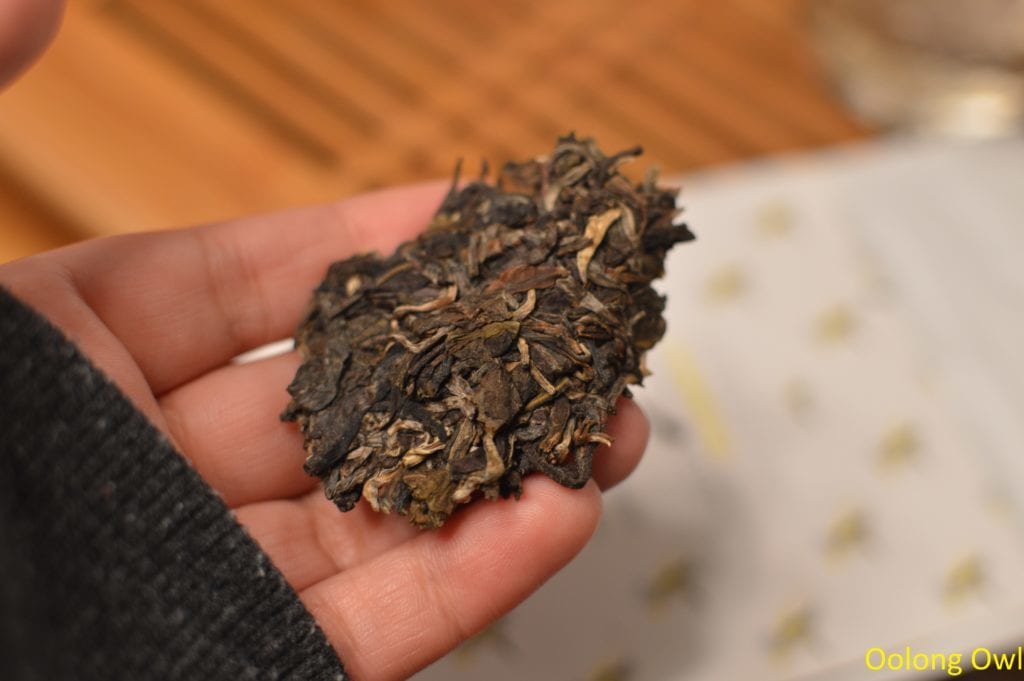 Bitterleaf includes steeping instructions on the other side of the label.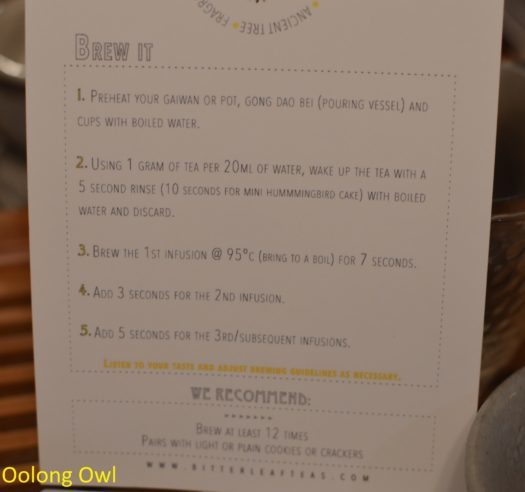 I decided 2013 was old enough for me to just boil. I used 1 gram of leaf for 15ml of vessel size. I might as well be a jerk and taste all the flaws! ALL OF THEM! I do like to tease hummingbirds. I get quite a few at my house and they got really mad at my orchids (now dead) I kept inside by the window. There would be a couple hovering at the window, then they would start fighting with chasing and face jousting.
Tasting of Bitterleaf Teas' 2013 Humming Bird Spring Jing Mai
The hot leaf smells like steamed tulips and old perfume. The colour comes out clear and a touch peachy yellow.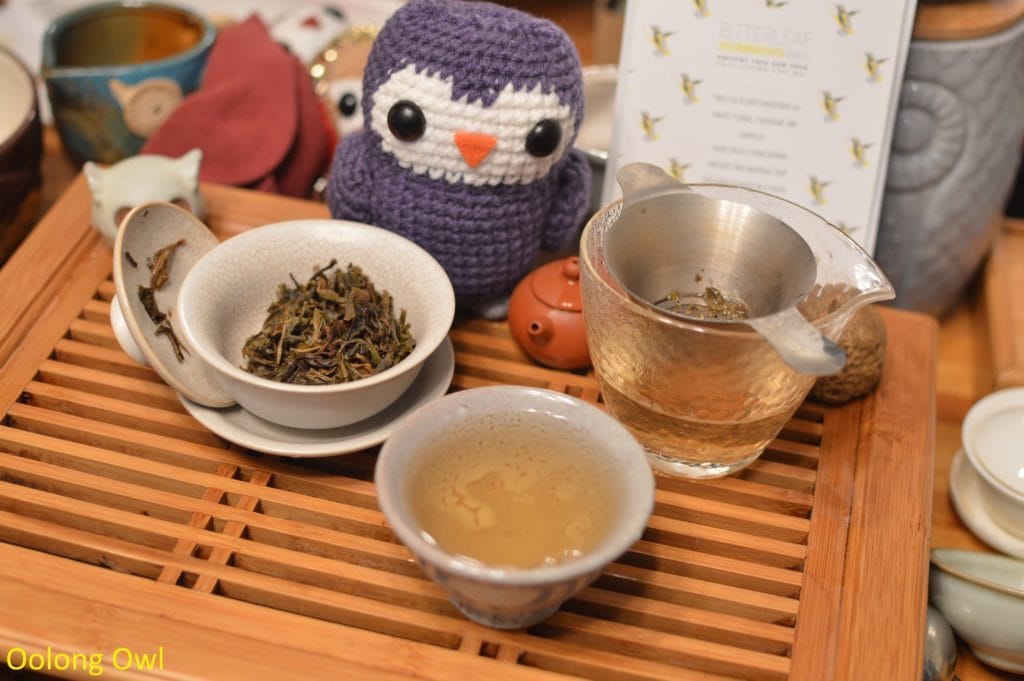 First, Second, Third, and Fourth Infusion: 2013 Hummingbird sips in light with a smooth, savory and buttery flavor, and with each steeping the flavor grows more vegetal. There is a hint of sweet vegetal, kind of like lightly steamed asparagus. The texture is very thick, coating my mouth as if I was drinking heavy cream. The later steepings here get a bit of a fleeting floral fragrance after each sip.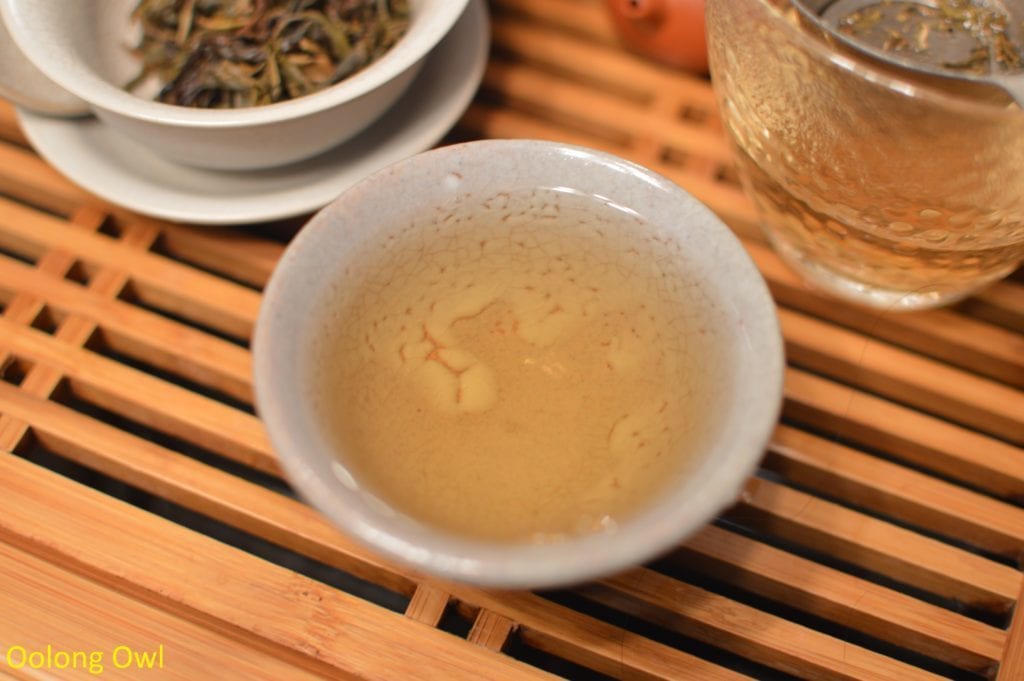 Fifth, Sixth, Seventh, and Eighth Infusion: Oooh, Hummingbird is still smooth and thick! The flavor has reached a breaking point where I'm getting some bitterness – it's a sweet bitterness with a twinge of toasty. I feel like I am on the cruise ship, I get all glutton crazy and cram my face with heavy, rich foods. I've chowed down on some asparagus dripping with cream, butter, and brulee'd cheese crust on top. I feel ready to order dessert just about now. The texture makes my mouth water, wanting more food!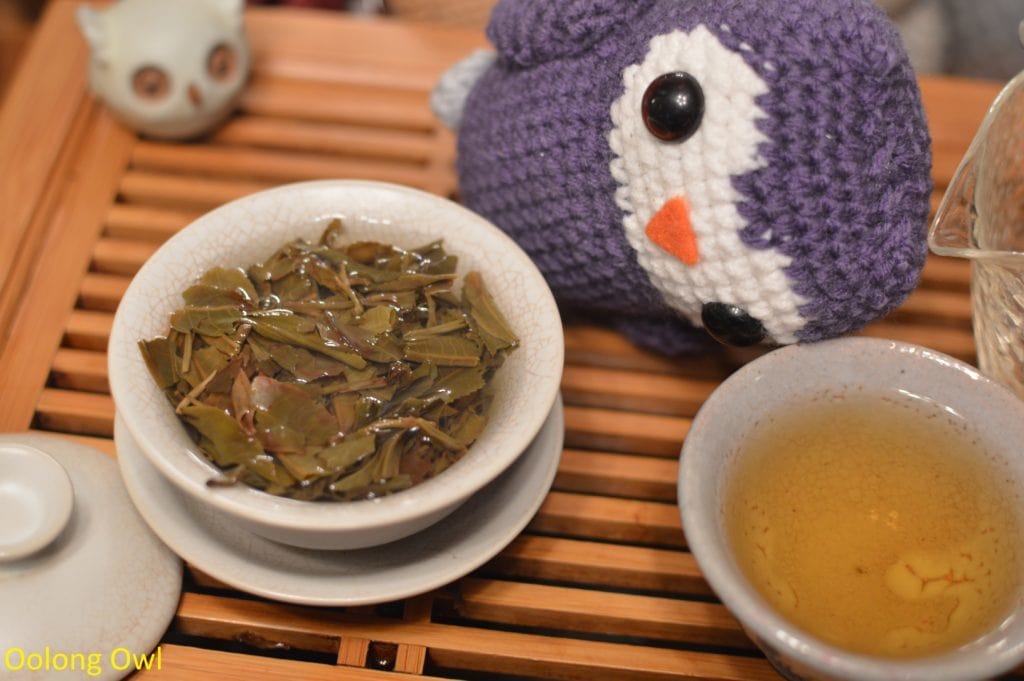 Ninth, Tenth, Eleventh, and Twelfth Infusion: Finally, the dessert course! Hummingbird moved sweeter – the flavor is a mix of wet stones mineral, bit of sweet tobacco, and golden raisin. It still is somewhat savory, but mostly sweet. Bah, it is like I got the dried fruit and cheese platter for dessert.. a good compromise, I feel utterly full from eating the mega entree of the first 8 infusions of thick cream. I likely could of milked more sweetness out of this sheng if I steeped it with a lower temperature instead of going hot and abusive.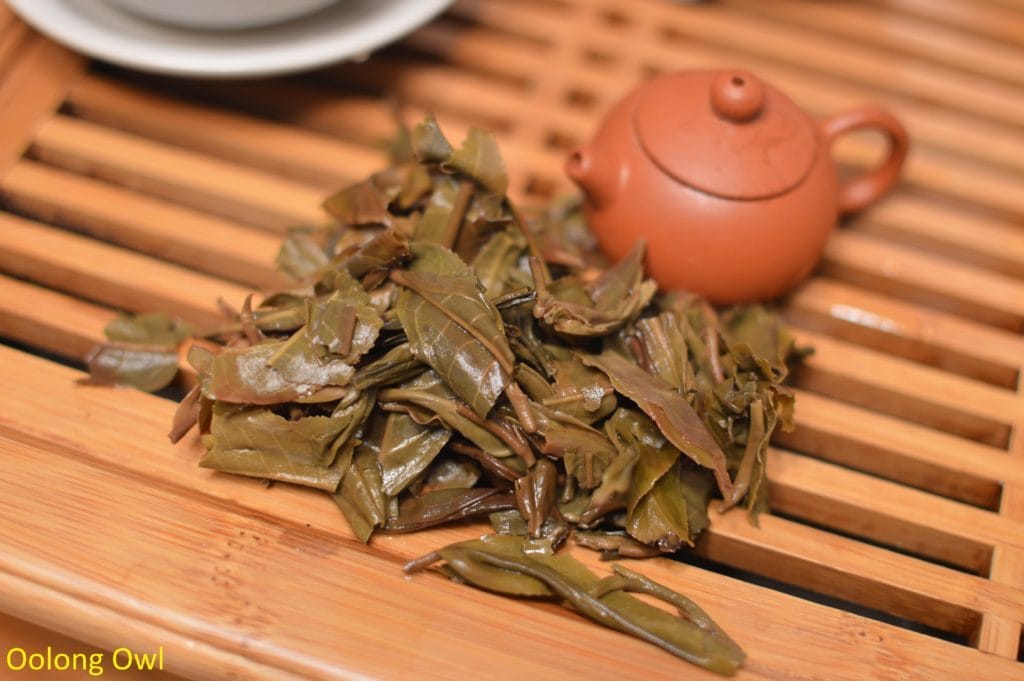 Comments
Bitterleaf Teas' 2013 Hummingbird Spring Jing Mai Sheng Puer is a pretty approachable sheng that is ready to drink now – low bitterness with an exceptional texture. What I enjoyed most was how thick this tea was, it was like drinking cream – if you love heavy thick teas this is a match! The flavors are a good balance of savory and sweet, and this tea sports a good flexibility to it if you played with steep times and temperature. I would likely take the rest of my sample the next time I travel as it has bombproof potential to taste great with unknown water temperature conditions. I find jing mai maocha cold brews well, if you want to take the time to steam it loose you will be in for a treat.
I didn't find 2013 Hummingbird Spring Jing Mai super sweet like other Jing mais I've had, however I pushed it with boiling water aggressively plus this tea has a few years on it. Either way, it did fine with boiling water bringing out all that texture! At this time, 2013 Hummingbird Spring Jing Mai is priced at $0.20 a gram, up to $72 for 357g cake, which is priced pretty well.
(tea provided for review)