2014 Autumn Song Pu'er is a raw/sheng tea pressed in March 2014. The tea for the cake was from a high elevation tea garden of 6500ft/2000 meters in Da Hu Sai. This pesticide free pu'er is sold by Mandala Tea, online seller in Rochester, MN.
For awhile I have noticed I have a thing for autumn shengs. Must be since I'm a November baby, but also I love fall. Throw the word autumn in the title and I'm in love – Autumn Song being a gorgeous name for a tea! Man, fall needs to come sooner, I'm roasting in this July California weather.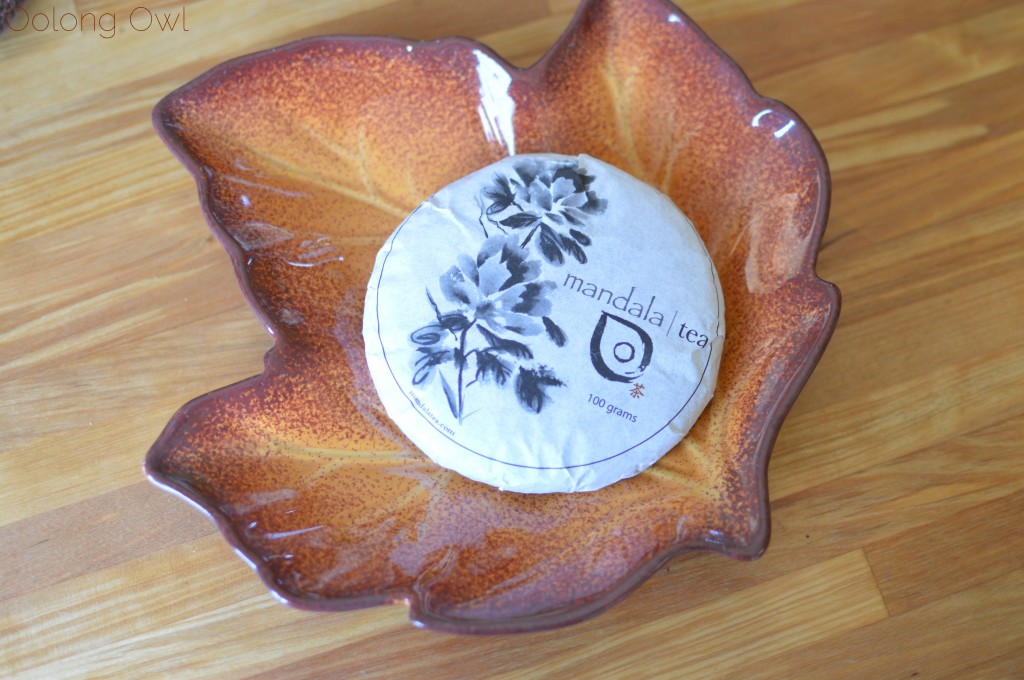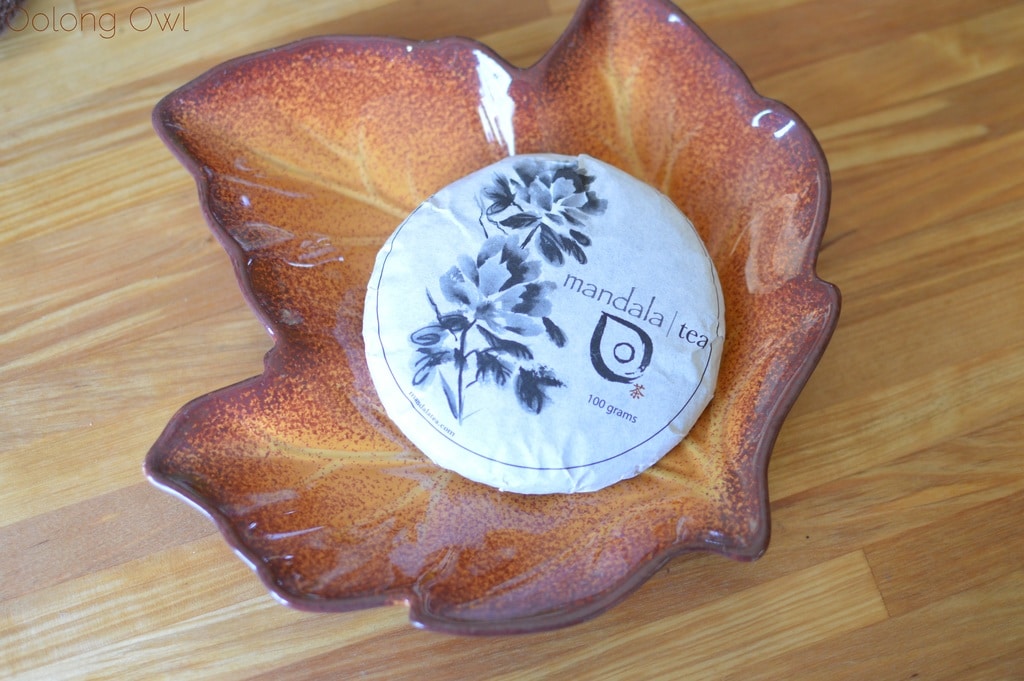 I admit, I am a Mandala Tea fan girl. I'd wear their metal concert shirt if they had one. About everything I've sampled from Mandala Tea has been fantastic, so I am super pumped they got a few new pu'er out – 2014 Autumn Song Pu'er, 2014 Wild Monk sheng and 2013 Temple Stairs ripe. Mandala tea is great – you need to check them out if you haven't yet for their awesome teas and customer service.
Dry leaf of 2014 Autumn Song Pu'er
Autumn Song Pu'er has a soft sweet dry scent. What I love about this cake, like is the colours of the dry leaf. 2014 Autumn Song Pu'er has a lush brown colour with twists of gold, olive grees, and silver.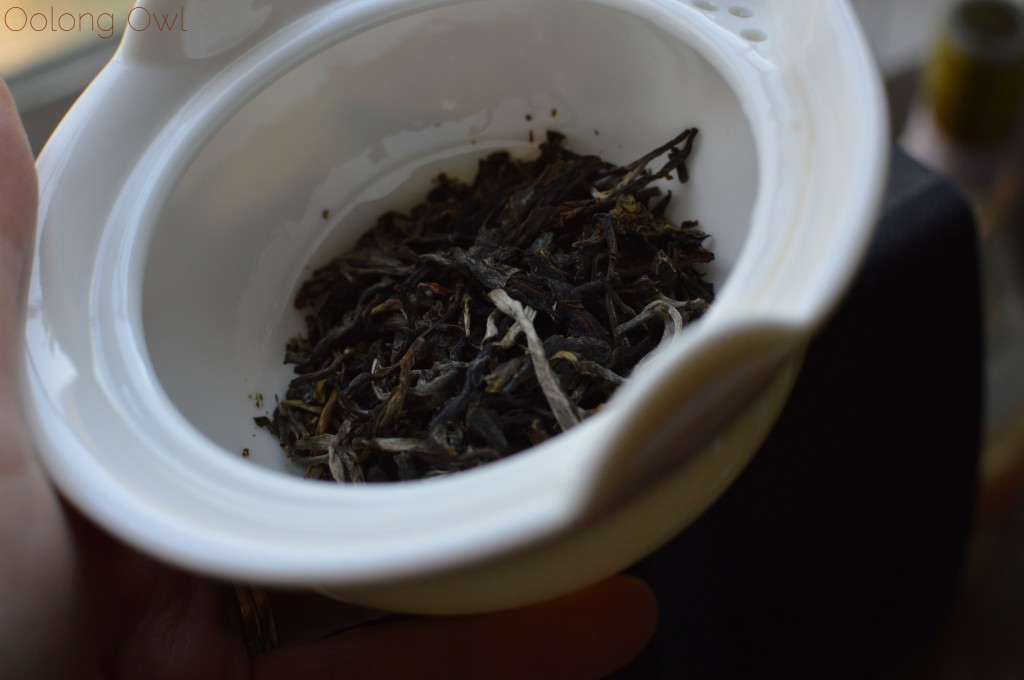 Steeping Instructions
I was planning to use the magical formula of 1 gram of tea for every 15ml of vessel space. I chickened out and used about 7 grams of Autumn Song Pu'er for my 125ml gaiwan. To start, I used 185f water and a short rinse. I ended up using 5 to 10 second steeps for the majority of the session, finishing off by adding an additional minute for the last infusions.
Tasting of 2014 Autumn Song Pu'er from Mandala Tea
First Infusion: I got a light cream yellow colour from my first steeping of Mandala Tea's 2014 Autumn Song Pu'er. With only 10 seconds of steep time, it sipped in with a light lemon essence that peaks end of sip. Quite refreshing and a touch sweet. Lightly creamy too, like my tea has a touch of lemon curd.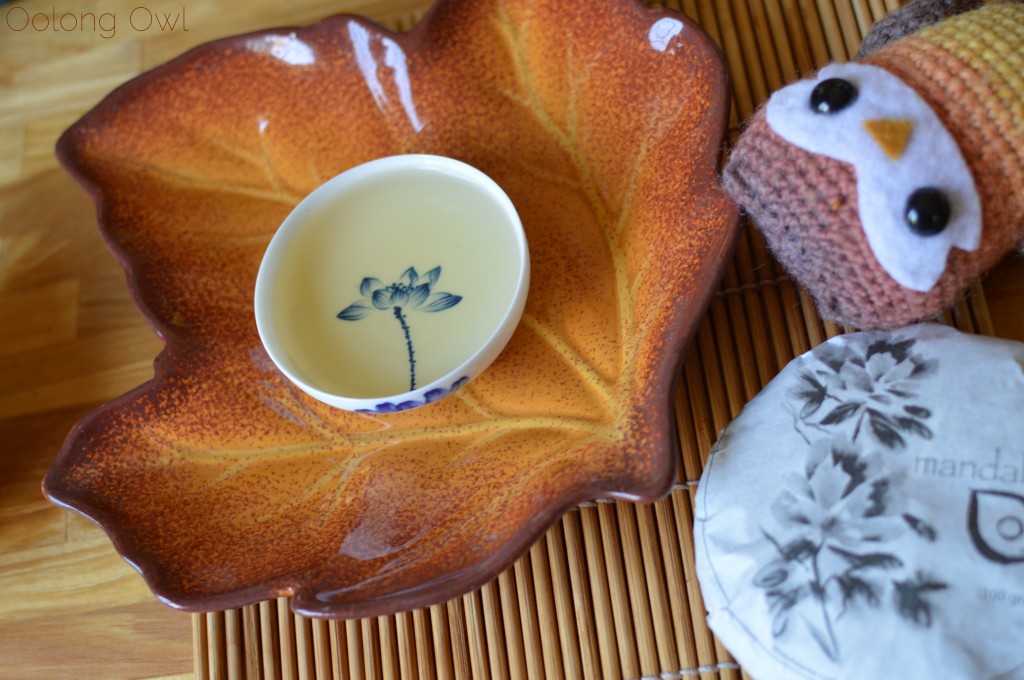 Second and Third Infusions: The lemon citrus develops a lightly tart spiked end of sip. With a hint of bitterness at the end, similar to bell peppers. I might of steeped it too hard. Each sip is softly silky of a texture. Great perfume left in my mouth after each sip that settles in after a few moments – tree fruits,lemon zest and floral. Really lovely, like catching a trail of perfume in the crisp autumn breeze.
With the third infusion, the colour of Autumn Song Pu'er got a touch darker of a yellow.
Fourth and Fifth Infusions: I did a step back, only adding 5 seconds to the steep times. Do I have a teenager sip here? This steeping is smooth of a sip with lemon curd, bell pepper flesh, and floral. The floral also pops out as delayed perfume after sip is fantastic! Ooooh I love it. It's like a battle to get as you have to savor each sip instead of chain drink.
However, end of sip I get a hit is astringency 3/10 adding a light tingle to the tongue and patchy dryness to the cheeks. I feel like a squirrel. Man I like squirrels. Even though a bunch of them broke into my first apartment during college and killed my bonsai plant. Whoops I'm rambling. The pu'er ultra mellows have begun!
Sixth Infusion: I did a longer steep here, adding 15 seconds instead of 10, but apparently it was not a good idea. This was quite dry and a lot more bitter. Retreat! Retreat!
Seventh Infusion: Back to adding 5 seconds to each infusion and it 2014 Autumn Song Pu'er came out much better. Back to our regularly scheduled program! A smooth sip with squirrel cheek finish. Not that lemony anymore – notes of flour vanilla pudding skin (that texture from the astringency) and tons of floral aftertaste that's kinda rose and stone fruity. 5/10 dryness.
Eighth, Ninth and Tenth Infusions: Ah yeah that's good. Super Smooth yet gritty of a finish. Bit of a fresh blast at beginning of sip like steamed leaf in a white sauce. So fresh that its a touch sweet. Side of roasted bell pepper. The after taste is heavenly choir floral . Reminds me of that delicious creamy halibut I had on my last cruise. That filet was the size of my face.
At the ninth infusion my gaiwan is full and annoying to pour. Glad I didn't use my yixing as it wouldn't pour at all! Best steepings.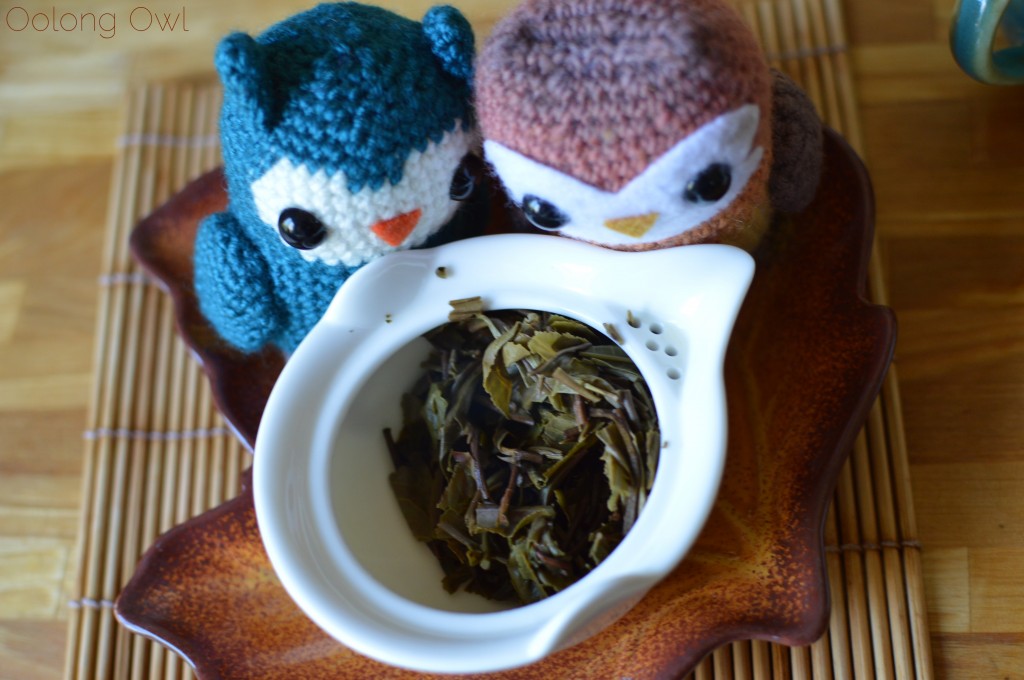 Eleventh, Twelfth, Thirteenth, and Fourteenth Infusions:  Whoa flavor drop! I began to steep Autumn Song Pu'er more aggressively to keep the flavor going. I upped the temperature to 200F and added a minute for each infusion. Autumn Song Pu'er Sips in creamy light custard sweet with a dry finish. And I chugged this entire steeping down super fast.  At the 14th steeping I milked just about all the flavor and I'm left with just squirrel cheeks. Darn.
Comments
Mandala Tea's 2014 Autumn Song Pu'er is an enchanting, lemony fresh, very smooth sheng tea! It is very impressive to have a young raw pu'er with lots of smooth and no smoke. The progression from lemony to fresh to creamy was a fun pu'er experience. Lots of tea drunk fun in this tea – it has an invigorating charge to it, like walking in a crisp autumn morning.
I did find this tea a little finiky to steep – short steeps work best, and after a light steep increase rather than getting ahead of yourself. This one does get fairly dry so this might not be a first time sheng pu'er right now. As always, I'm curious how 2014 Autumn Song Pu'er with some more time behind it.
I'm thinking with the wonderful lemon and fresh notes, Autumn Song Pu'er would be killer to serve during or after a meal with a flakey white fish like tilapia, swai or halibut, or with lightly dressed salads.
Bonus: Aloha Owl sampling some Pu'er.