I purchased 2015 That's No Moon Shou Puer from Crimson Lotus Tea at release. I live close to Crimson Lotus Tea and tried this shou a few months back with them and enjoyed it. I'm not strong with the force (yet), so my wing waving and "You will sell this to me now," did not work, thus I had to wait until Crimson Lotus finally listed it for sale on their online shop. I did not give this cake much rest as it literally went from Crimson Lotus Tea's storage, to my car, to my tea table.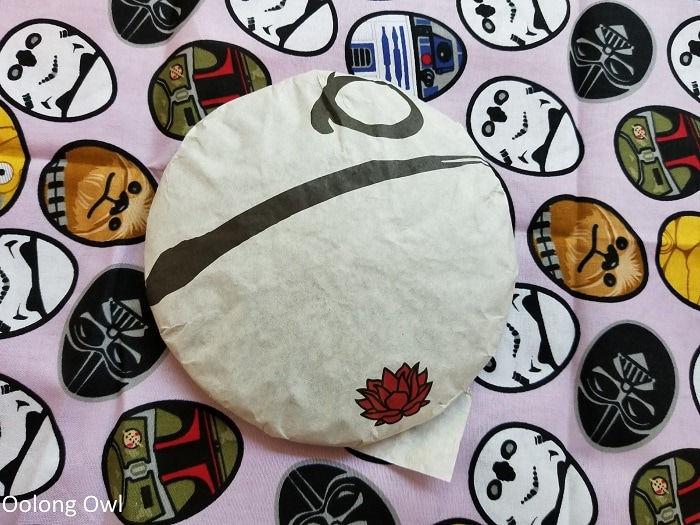 This time I have backup, a new Tea Owl Sith by the name of "Darth Hoot", who is strong with the dark side of the force, trained in the arts of puer light saber and dark tea alchemy.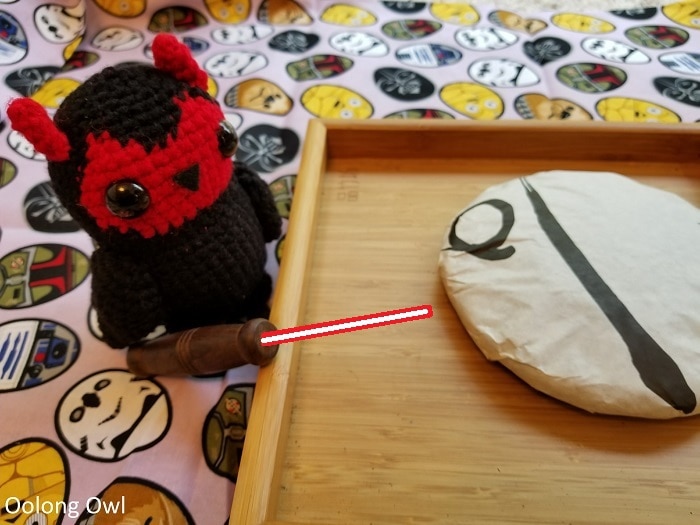 I question how good a light saber would be at breaking pieces off a cake, but at least it would cauterize the dust away.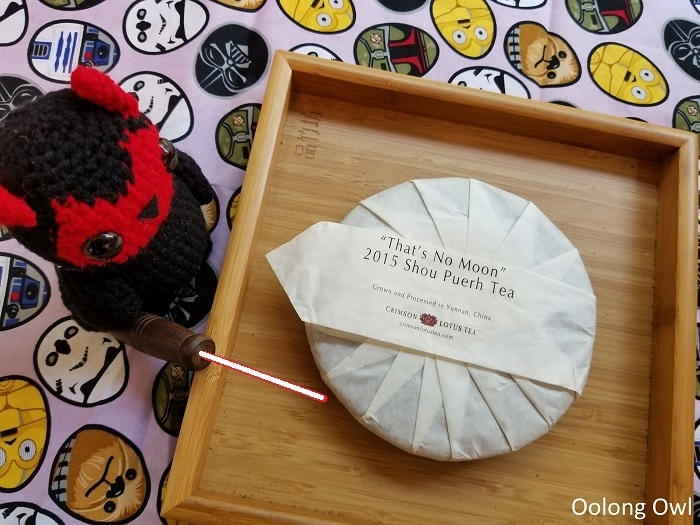 Dry Leaf
That's No Moon contains 2015 Simao material. The cake is quite bud heavy and you can see lots of ripples of gold. That's No Moon was created to replace Crimson Lotus Tea's sold out 2008 Bulang Imperial Grade. Heh.. yes Imperial grade, you rebel scum.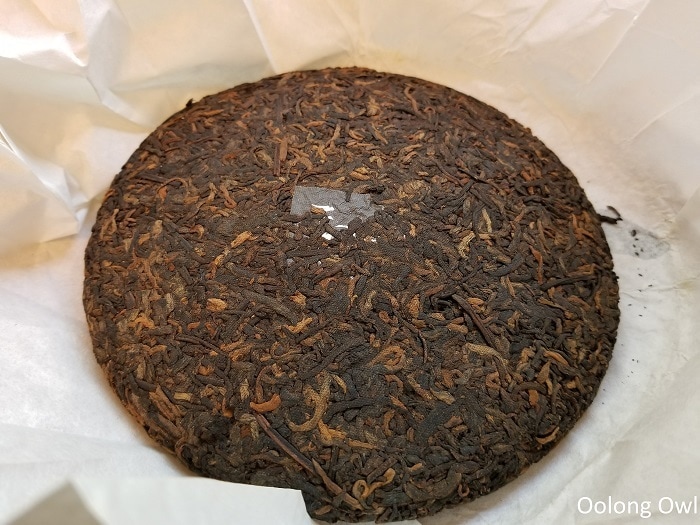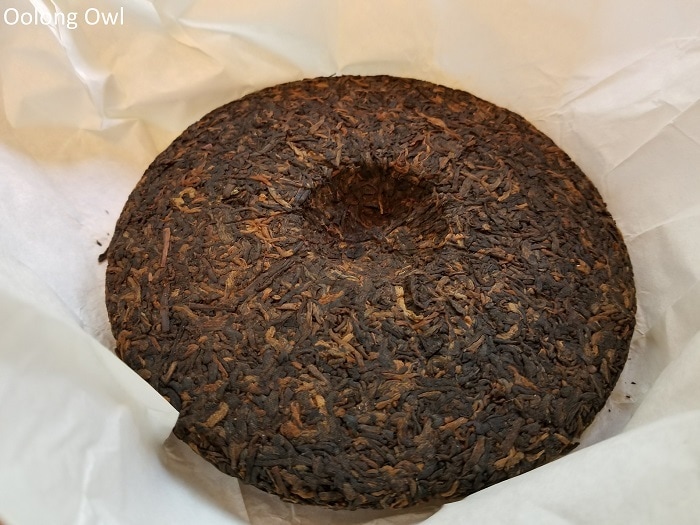 Steeping Method
I went leaf heavy at 1 gram of tea per 13ml of vessel, steeping with a gaiwan and boiling water.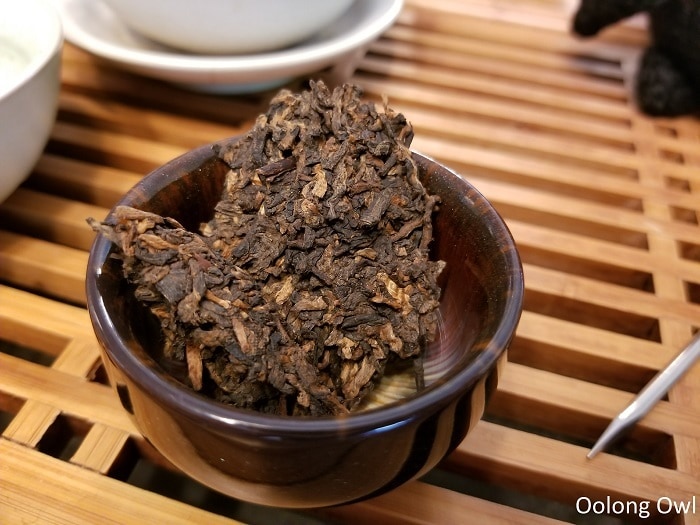 Tasting of Crimson Lotus Tea's 2015 That's No Moon Shou Puer
The hot leaf smells like summer pavement during a rainfall. Crimson Lotus Tea likes to call this scent "petrichor". Kamino?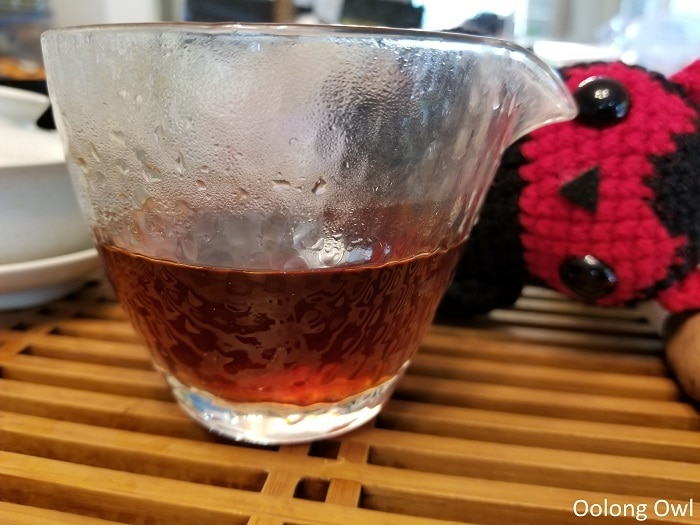 First and Second Infusion: The flavor is heavy, dark, and strong. It is sharply earthly, almond skins, and earth, with a sweet finish at the end. That's No Moon gives an aftertaste of harsh earth that eventually disappears for sweetness. The texture is weighty and thick, giving a good silky feeling in the mouth. I do not pick up any weird shou puer funk.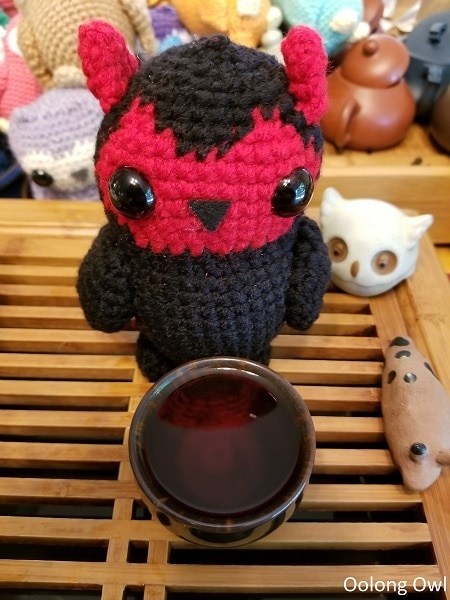 Third and Fourth Infusion: Flavor has shifted some, I am getting the way it smells as how it tastes – That's No Moon has that petrichor taste. It's a little humid, rocky, hot pavement, nuts, and lots of earth. The flavor is deep and strong, but also sweet and sugary. Crimson Lotus Tea says this tea was stored in Seattle, WA since Spring 2016, but Darth Hoot thinks it was stored on Mustafar due to the strong, hot, earth crust notes, but not arid thanks to a mystical force relic boveda pack.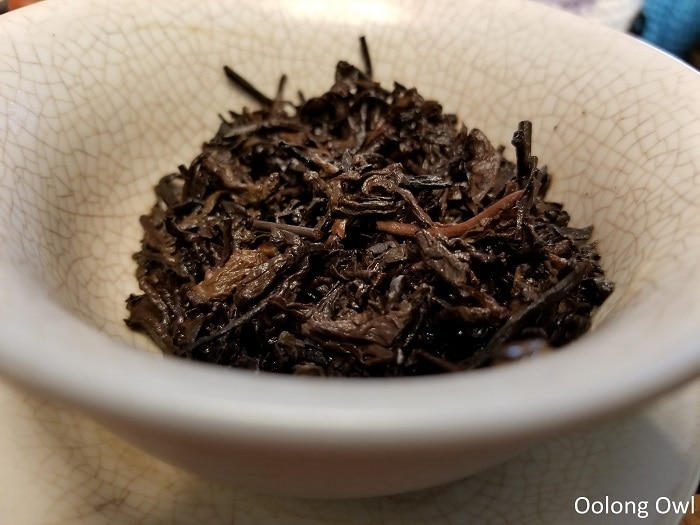 Fifth, Sixth, and Seventh Infusion: The flavor is shifting more, losing much of its powerful intensity. The flavor is lighter in earth, but full of petrichor with some amber sweetness. The finish is sweet and mineral-like, reminiscent of a kyber crystal. As much as I love a heavy strong force push shou, these infusions are the best as it is balanced, not "restored balance to the force" as the flavor is still quite heavy with the sith.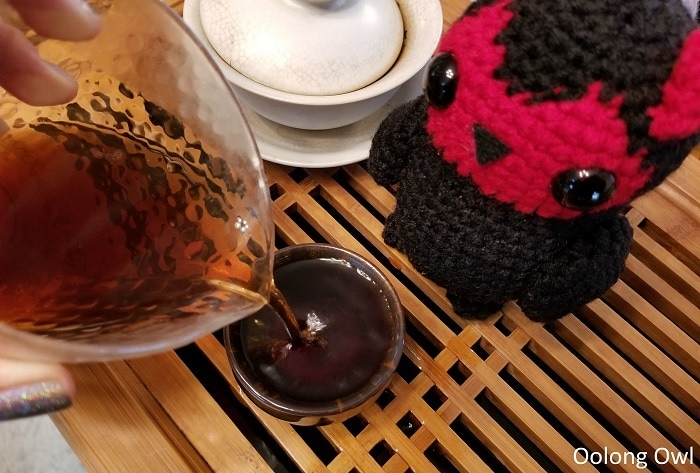 Eight, Ninth, and Tenth Infusion: I did 10, 15, and 30 minute infusions here. That's No Moon got weak and peaceful, I think chunks of Alderaan got in here. The flavor is quite light, tasting lightly of earth, cream, and more sweet.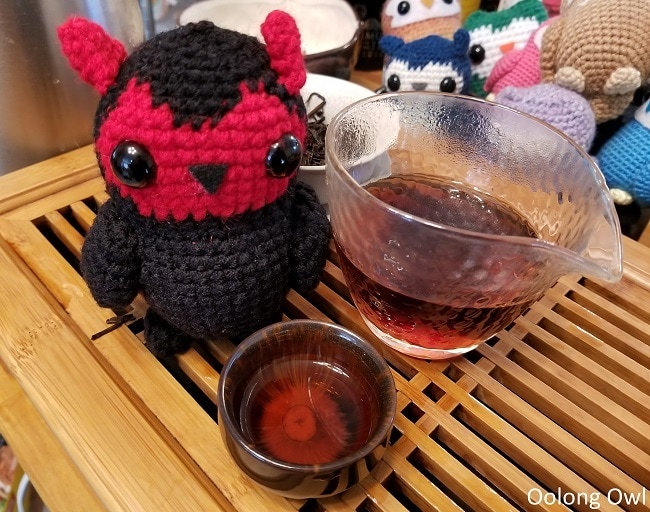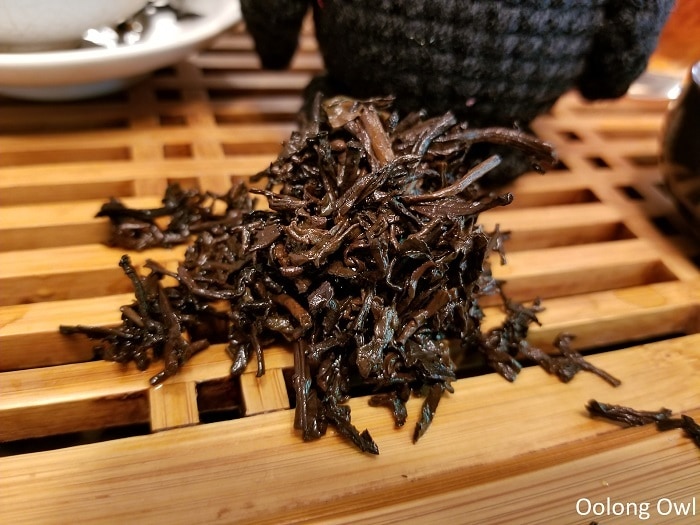 Other Ratio: I gram to 10ml of vessel – the utter selfishness of questing for power and knowledge brought me to leaf this tea harder. More leaf made That's No Moon more oomph slipping into that super dark mode. It is strong, yet not over steeped, bitter, or funky. The notes are heavy petrichor, earth, bittersweet cocoa, and dark raisin sweet. The intensity here reminds me of chocolate covered raisins. If you love those pitch black heavy teas, you should leaf That's No Moon hard. 1g/10ml is the sweet spot that I will personally steep at again.
Comparison: The horder of Sith tea artifacts I am, I have the Crimson Lotus 2008 Bulang Imperial in both sample and unopened brick form. I reviewed this tea back in 2015, but also at high altitude. As I said earlier, That's No Moon is supposed to clone the 2008 Bulang, but let's put it to the test side by side.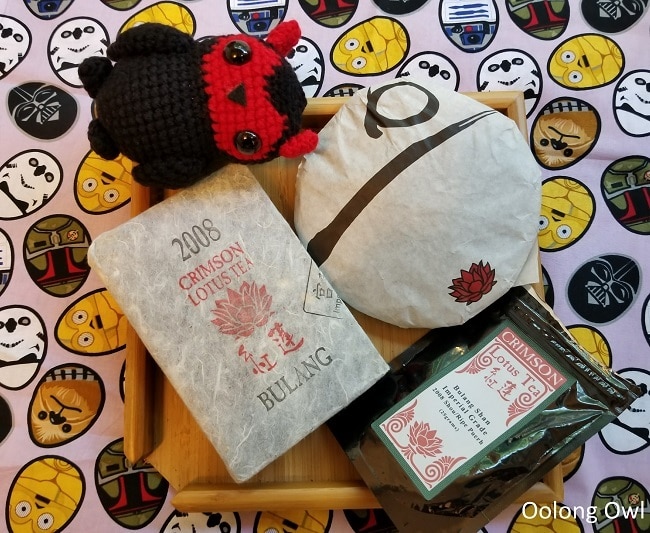 In the earlier steepings, 2008 Bulang Imperial is much more settled. It is more smooth, mellow, creamy and put together. It is more caramel like in taste and super smooth. However, next to That's No Moon, it is not as sweet. That's No Moon in comparison is unpolished – more abrasive petrichor and dirt, but much sweeter. Later infusions, the 2008 Bulang catches up on sweetness, and I got a couple more infusions than That's No Moon. That's No Moon is just the young apprentice, whereas 2008 Bulang is the Master.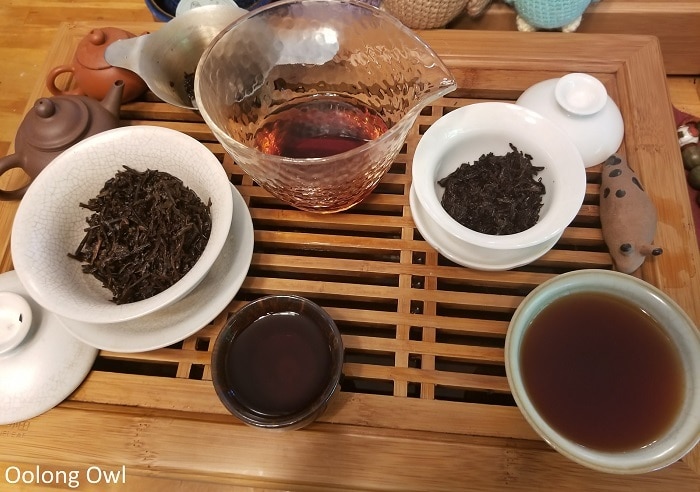 Overall, I think the 2008 Bulang is the better tea, but this was an unfair comparison as obviously the 2008 Bulang Imperial has a lot more age on it, since That's No Moon is a 2015 and Simao material. That's No Moon might gain more knowledge – it could be like Darth Nihilus and suck entire shou-midor life force to gain plenty of power, catching up to the mighty 2008 Imperial in a few years.
Comments
Crimson Lotus Tea's 2015 That's No Moon Shou Puer is a bud heavy, earth, dark heavy tea with a good amount of sweetness to have you drinking it until the end. This one certainly shines in both ways of being dark and heavy early on, but later infusions are light and sweet.  It isn't as creamy as Crimson Lotus Tea's  2008 Bulang Imperial Grade, but has the same concept of a dark shou going sweet. I didn't get too many infusions, but I think it in a few years it'll settle in – That's No Moon would likely be stronger than the Master. This shou is very friendly in terms of not being dry or bitter, but it does have that "dirt earth" element that falls into personal taste.
I had to restrain myself from buying two cakes. There was two Death Stars, and as per Darth Bane's Rule of Two, only two Sith at a time. That said, it makes sense to purchase two That's No Moon. However Owl Thrawn said, "Such a large battle station is a poor tactical decision. The funds should go toward strengthening the Imperial Navy."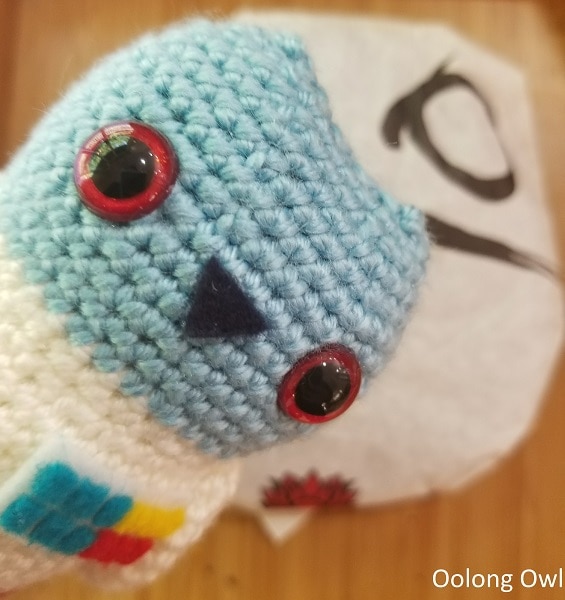 Happy May the Fourth! (ppppssst, Crimson Lotus Tea is having a 1 day May 4th sale on their Planets and That's No Moon!)