One of my current tea obsessions is Hong Shui oolong. There is something about a more oxidized and old style of oolong that just sings to me. Hong Shui also seems to be harder to find and if you do find them they can be expensive. I own a couple Hong Shuis at $25/oz ~ $1 a gram, which is insane to drink all the time.
I was excited to see Tillerman Tea has a new 2016 Winter Hong Shui and priced at $19.50 for 2 oz ($0.35 a gram). It is organic, grown in Chingjing, and of the Qing Xin cultivar. Let's see if this one is good and I won't go broke on.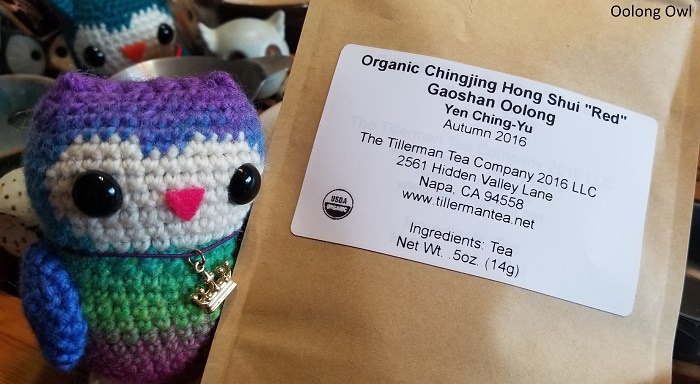 Dry Leaf and Steeping Method
Tillerman Tea's Hong Shui dry leaf smells floral and honey. The leaf is looking a bit more green in photos than real life as it has more of a bronze rolled appearance.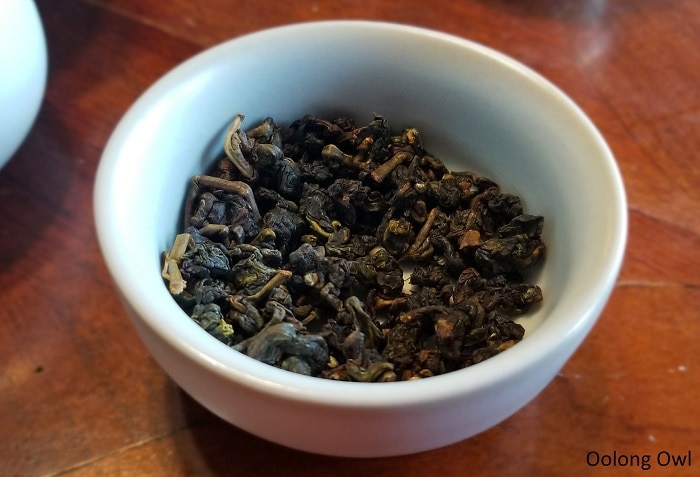 I went with my usual ratio and style – gongfu with 1gram of leaf to 15 ml of vessel size, steeped in boiling water. The hot leaf smells intensely sweet!
Tasting of Tillerman Tea's 2016 Organic Chingjing Hong Shui Red Gaoshan Oolong
First and Second Infusion: The Chingjing Hong Shui flavor starts off honey and sweet. It is clean, bright, vibrantly honey, light maple wood, with a creamy slick body. Awesome early infusions!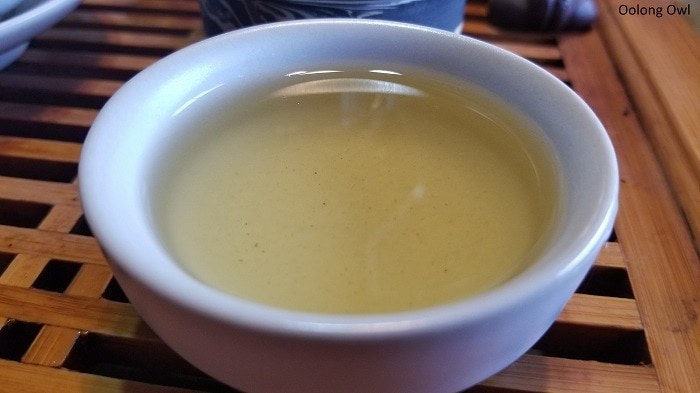 Third, Fourth, and Fifth Infusion: The flavor shifted to having a stronger wood note, with a bit of pan-browned Korean pear flavor. The Chingjing Hong Shui quickly developed astringency, leaving the tip of my tongue dry. The body is still thick and dense to drink. Each infusion the flavor melds, mellows, and slips, with stronger astringency building.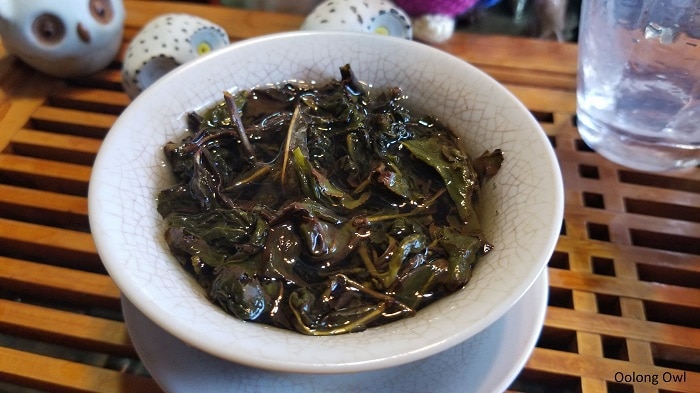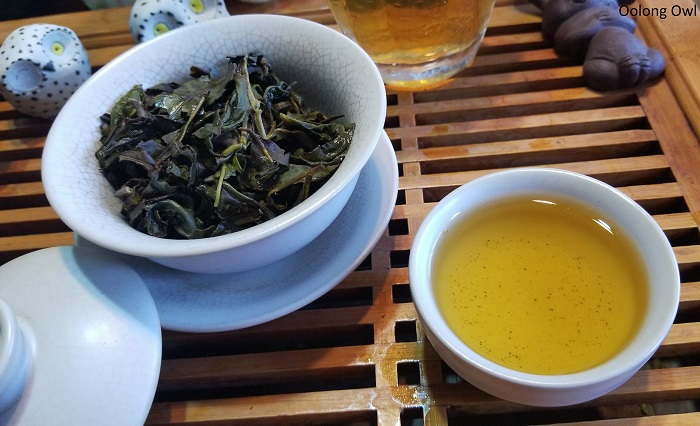 Sixth Infusion: The flavor slipped fast in the last bracket, so I increased steep time to 10 minutes. The flavor is on the bitter side, like stewed spinach and pears. I finally get a bit of an aftertaste of honey floral. I tried the seventh infusion and the tea was totally bitter.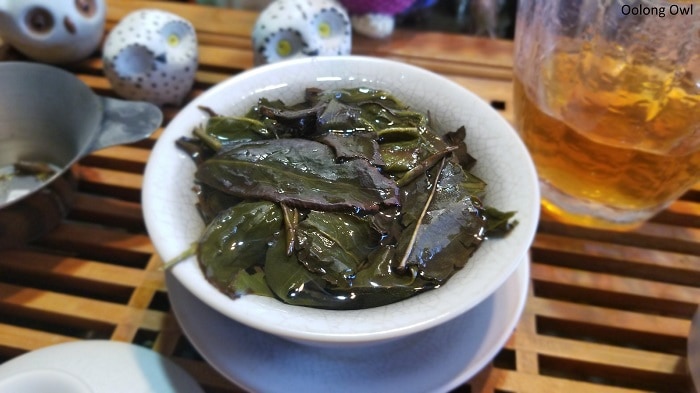 The spent leaf was interesting to look at and I poked at it for awhile. It seemed to alternate red, green, and green leaves with red edges.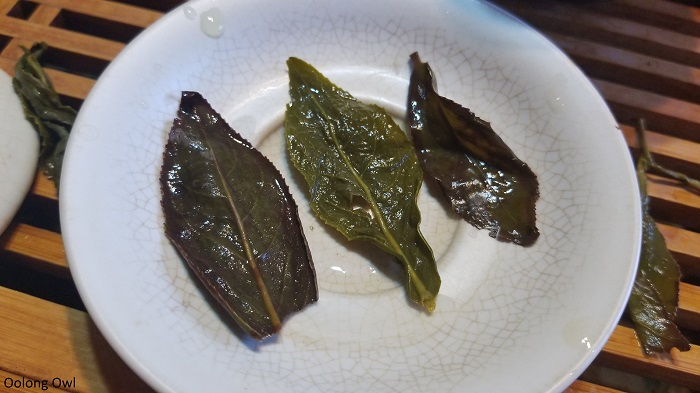 It was an interesting contrast of colours, especially since it started off quite bronze.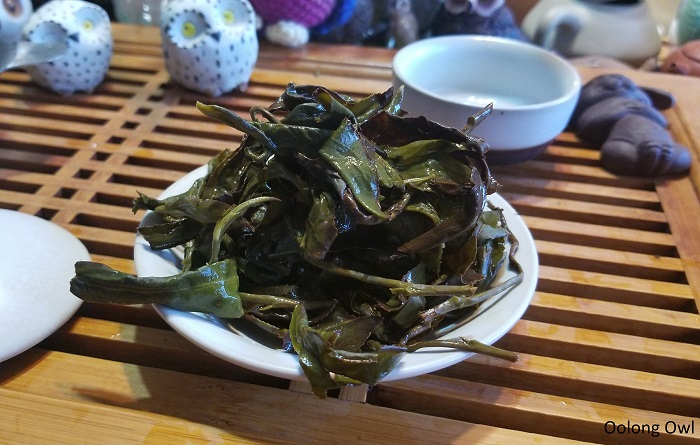 Comments
If you are looking for a more budget-friendly Hong Shui, the 2016 Organic Chingjing Hong Shui Red Gaoshan Oolong from Tillerman Teas is great tasting, especially in the early infusions. This particular Hong Shui has a nice organic clean profile, honey notes, and thick body too. If you haven't tried a Hong Shui, this is certainly a good opportunity to do so without having to quest too hard.
I'm currently shopping for good hong shuis, so I've been critical where I want to unload my tea cash. This one misses the mark for me due to the lack of aroma, otherwise I would personally purchase some. The leaf smells great, but it didn't translate to the cup or aftertaste, so no lingering flavor after you drink it.
(tea provided for review)