Last year I passed on 2016 Floating Leaves Tea Oriental Beauty oolong. It sounded good, but there are plenty of other oolongs I like more, so my money went to Floating Leaves Tea's Dong Ding, High Mountain oolongs, and Red Peony. When the 2017 Oriental Beauty came out, Floating Leaves Tea's Shiuwen told me this year's teas is darker in flavor. A darker flavor Oriental Beauty sounded interesting, so I purchased an ounce. She threw in a sample of the 2016 so I can compare them. With both teas in my possession, I might as well drink them side by side and write about it. Both Oriental Beauties are of the QinXin oolong varietal and harvested in PingLin.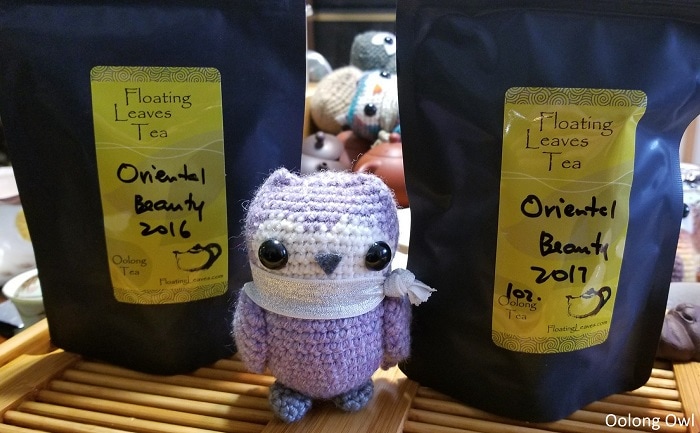 Dry leaf and Steeping Method
2017 is more spacious of a tea. Even the bag is more puffed up than the 2016 Oriental Beauty. The scent is pretty close.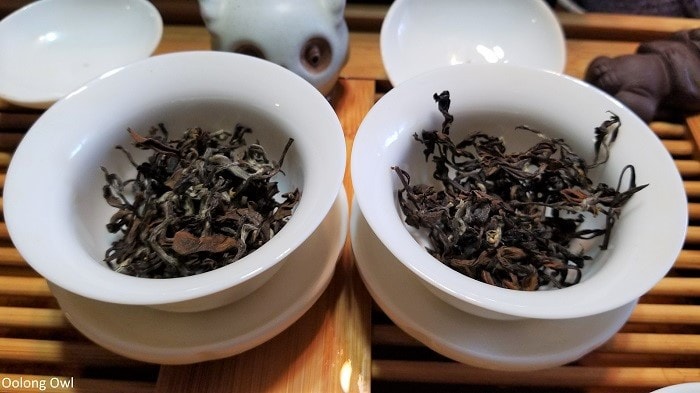 I used a pretty high leaf ratio, 1 gram of leaf to 13ml of vessel size. I used boiling spring water, and fast 5 second infusions. After a rinse, the hot leaf smell a touch different between the two teas. The 2016 oolong is more fruity, whereas the 2017 is more woodsy.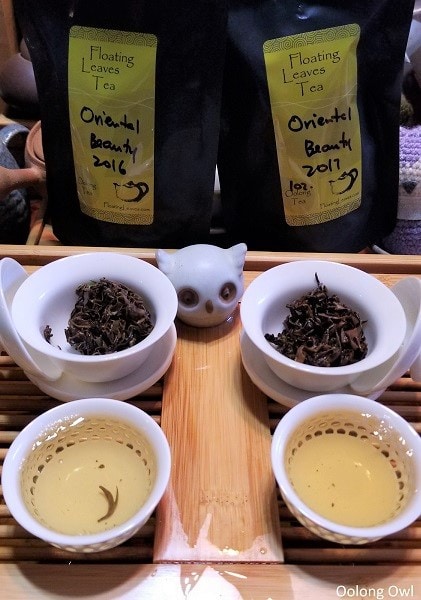 Tasting of 2016 and 2017 Oriental Beauty Oolong from Floating Leaves Tea
First, Second, and Third Infusion:
2016 Oriental Beauty – I am introduced to a sweet oriental beauty. This one is quite fruity, tasting like fresh green grapes including the woody stem. The thickness is also quite nice, leaving a lip balm coating after each sip. There is a hint of floral peachy as an aftertaste.
2017 Oriental Beauty – The 2017 oolong is quite different in flavor. Surprisingly, the 2017 Oriental Beauty is more woody and has cinnamon notes. The peachy floral aftertaste is stronger in the 2017 oolong, continuing the cinnamon and floral after each sip. The body seems a bit denser, but not as slick as the 2016 oolong.
Fourth and Fifth Infusion: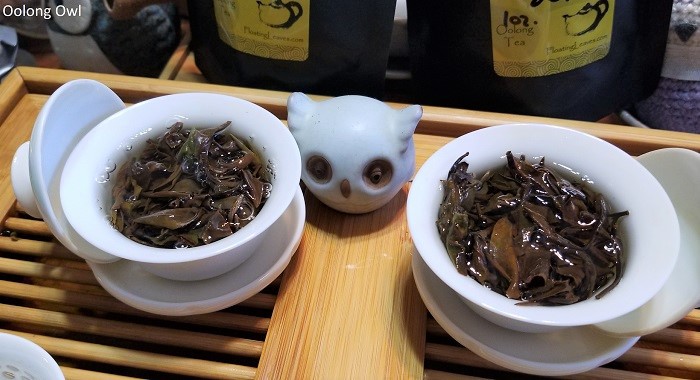 2016  Oriental Beauty has developed a lovely honey note which replaced the grape note. The flavor is light honey, wood, and bright sharp finish that makes me literally drool. The aftertaste is sweet crystallized honey and floral peachy.
2017 Oriental Beauty is darker in flavor. It is also similarly sweet and bright, but more leaning on a dark honey (almost to molasses), cinnamon, and driftwood. The finish is bright, and also makes me salivate. The aftertaste is the dark honey.
Sixth and Seventh Infusion: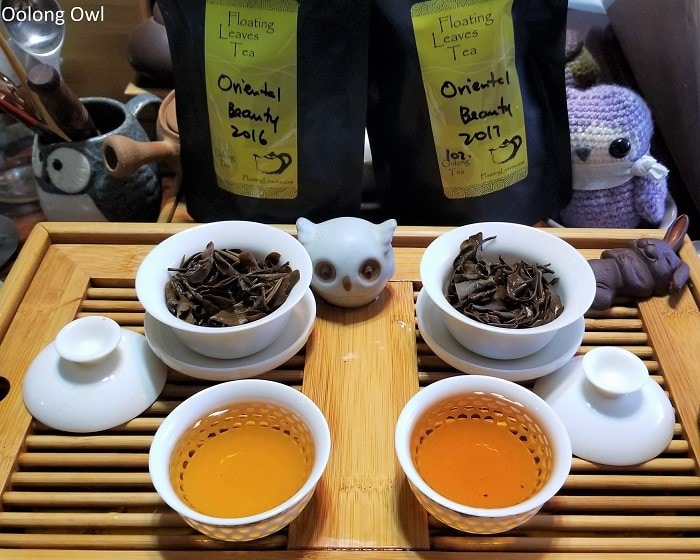 2016 Oriental Beauty flavor is slipping, and you can tell just by the colour of the tea. The flavor has shifted to bosc pear and woodsy. Very crisp and sweet of a tea, a very nice session.
2017 Oriental Beauty is still going. It tastes like spice like cinnamon and boiled apples and woody. It is sharp in flavor but also starting to go dry.
Eighth Infusion: I did a 10 minute power steep.
2016 Oriental Beauty is light with slight pear and woody notes. Not much left in this tea and probably should of quit on the last infusion.
2017 Oriental Beauty went quite dry with a savory feel in the back of the throat. I could be confused that this is a spent black tea as it tastes and looks just as dark. I likely can get another really dry infusion or two, but I am going to stop here.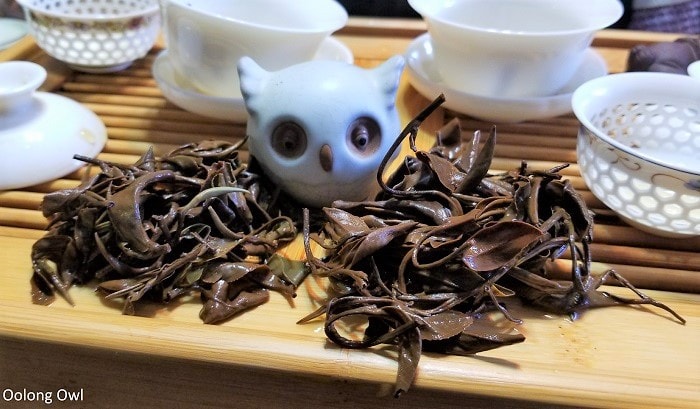 Grandpa Style – I was ready to post this review, but saw Floating Leaves Tea recommended the 2017 Oriental Beauty steeped grandpa style. I did both teas with the same ratio and temperature, despite different sized vessels. I mixed up the order in the photo, but you can tell which one is which due the 2017 having a darker colour.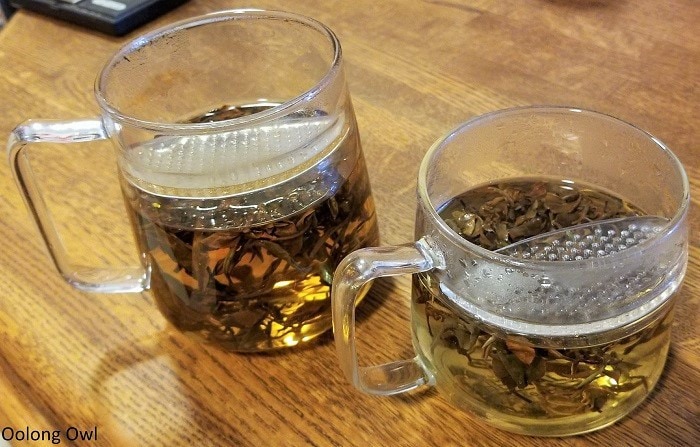 2016 Oriental Beauty is much better gongfu style. The flavor is a meld of fruity pears and some floral. Grandpa style lost a lot of the more intricate notes, likely as it is getting steeped longer.
The 2017 Oriental Beauty is a wow for grandpa. This oolong is sweeter than the 2016 version. I can pick out the cinnamon notes and strong honey flavor. It is more melded in flavor, but the notes are strong enough to hold up.
Comments
I find it fun to compare teas and doing different years of Oriental Beauty side by side for is awesome. Teas do change with every harvest and you only really capture it sticking with the same vendor. Did you know most of the big tea bag sellers go to great lengths with blending so they can make a consistent tasting product every batch? It certainly removes the natural magic of tea turning it into a processed product. Also stresses sampling your favorite teas each season, for example, Baozhong being really awesome for 2017 spring.
2016 Oriental Beauty had lovely notes of honey, grape, pear, floral, and wood. In contrast, 2017 Oriental Beauty is a darker tea with more fall comfort notes of wood, cinnamon, with some sprinklings of fruity and floral. Both teas have their strengths and I can't choose a clear winner as I would drink these both. It goes down to personal taste, how you like to brew, and mood. I'd likely reach for the 2017 Oriental Beauty when I want a comfort tea, though go for the 2016 when I want a fruity summer vibe.
(2017 OB was purchased, 2016 sample freebie)