| Day 1 | Day 3 | Haul | Trends & Thoughts |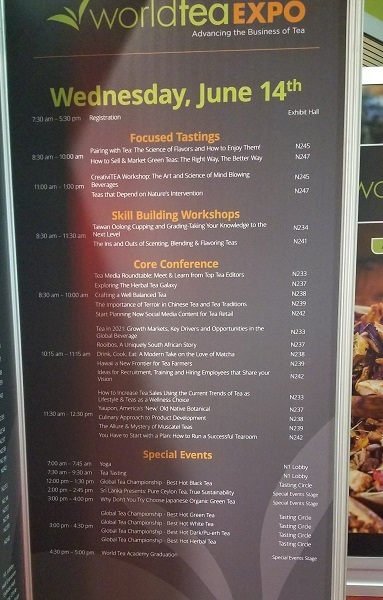 I started Day 2 of the World Tea Expo with some Rhubarb Oolong from the Tea Source. I actually quite like this flavored oolong as it does taste like rhubarb.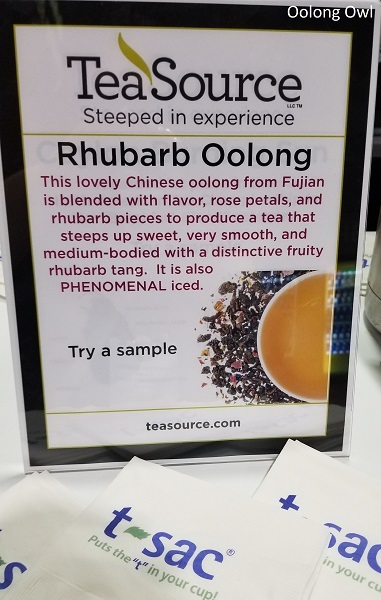 I forgot to post this for day 1, so here it is today – while I waited for the expo to start I saw this tea bag which gave me a chuckle.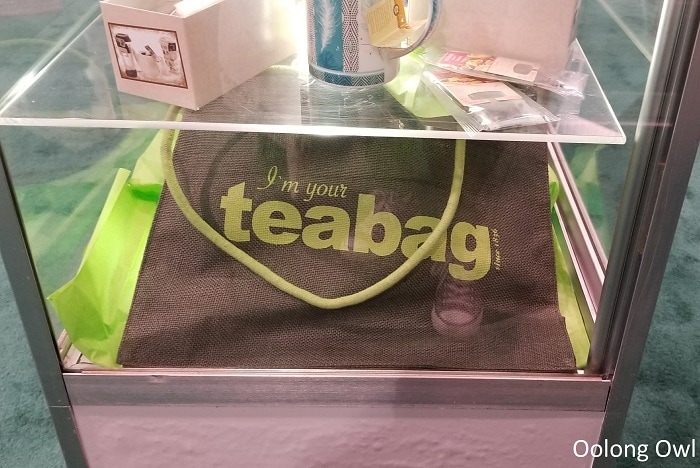 First booth to flag me down was Cusa Tea.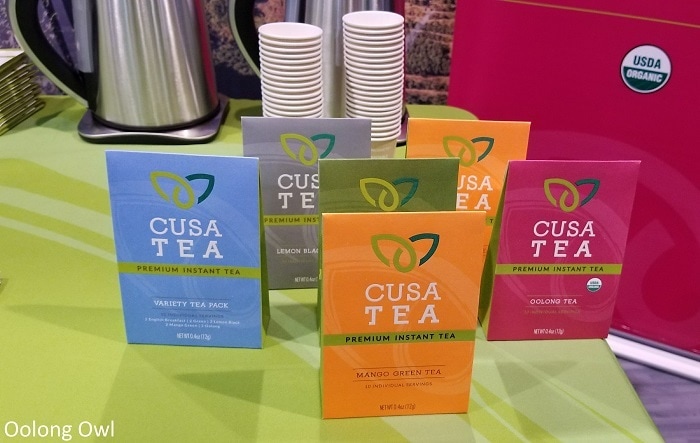 I will admit, I am scared by instant tea these days after a few bad encounters, especially at World Tea Expo. I was thirsty, so I gave their oolong a try… and dannng it was a nice, meaty, dark oolong as they used a more oxidized tea! Cusa Tea actually uses a different process than most, as they cold brew it first. The owner was very level-headed saying their product is a tea option for the busy, rather than replacing loose leaf.
I don't recall who had this display, but this isn't the first time I've seen tea presented in these…vessels. I dunno, I would rethink these vessels.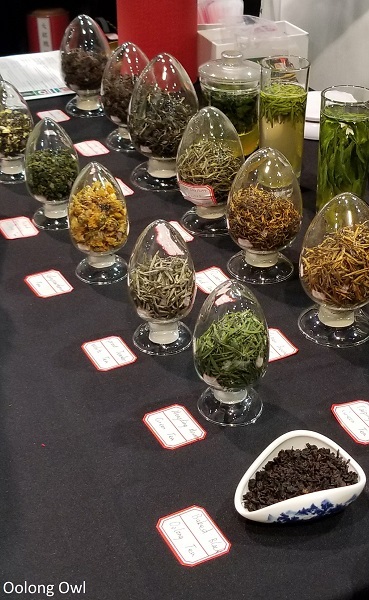 Bohyang Tea Co was the start of all the Korean tea booths I found. This company has been around for a long time (1930s?) and just entering the US market. They are most known for their award winning expensive fermented "Gold Tea" that I hope I can get my hands on one day.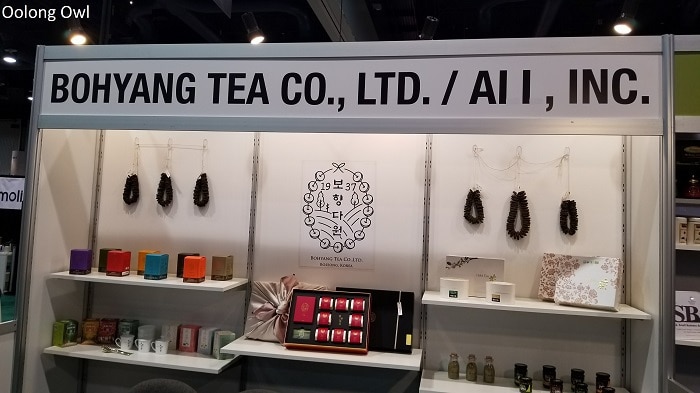 Those strands in the background are fermented Korean teas, pressed into coins. They remind me of one of those candy necklaces… which I rather wear and have tea than candy! Bohyang Tea also has a line of delicious tea jams that I want to put inside a macaron.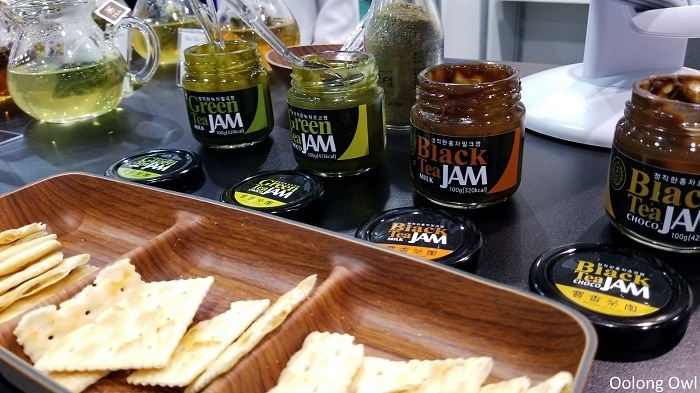 Next up was Old Taiwan Tea. I was informed "Old" in their name was very literal, as they had 1960s oolong. HAD 1960s oolong as it was so good and someone bought the entire lot before I got there! I ran into Zen Tea Traders (who I see at every festival and event) who said Old Taiwan Tea has an excellent Sun Moon Lake and aged tea. He was right – the Sun Moon Lake was outstanding. I was lucky to try the 1970's oolong, which brewed up pitch black and tasted hella smooth.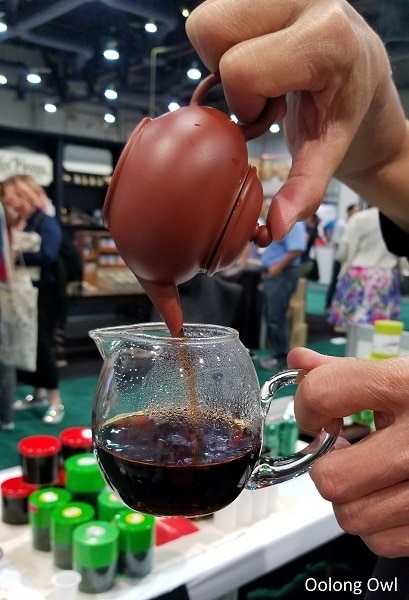 I was saving my cash for Day 1's fu brick of mind altering powers, so I purchased a tin of 1970s oolong. I was kind enough to leave a single tin for someone else! (that and I honestly could not afford to buy 2!)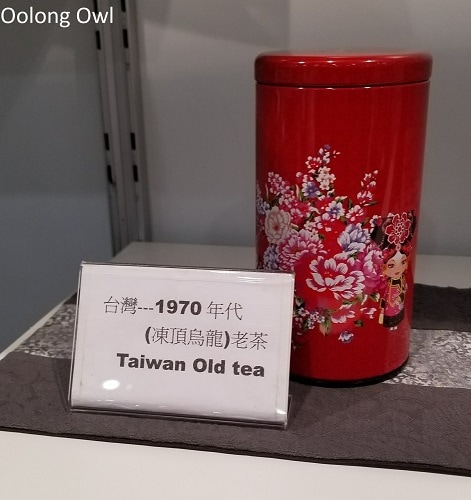 I regret not getting any Prana Chai last year at the World Tea Expo. The giant honey sticky mound of tea is just so intriguing. It also moves slowly if you poke it with the scoop. I could photo this mound all day. It is also great tasting, sweetened chai.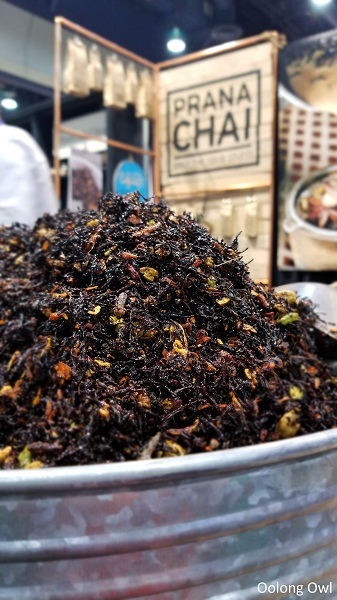 Millennia Tea sells FRESH tea. No, I am not talking 2017 spring picked and processed, I am talking raw tea leaves that was flash frozen within hours of picking, shipped in dry iced, and then into your tea pot. Here is frozen fresh tea: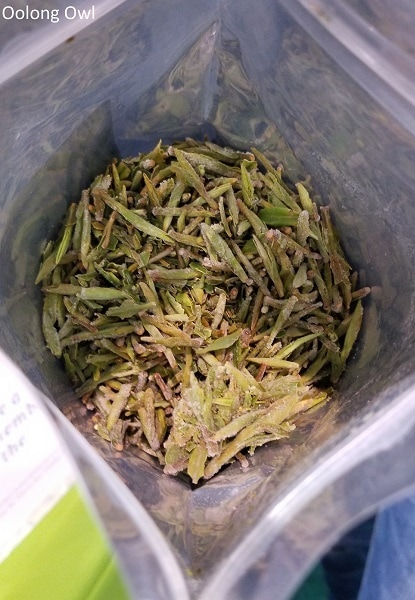 You will certainly never come across tea this fresh other than being at the tea farm. The mission for Millennia Tea was to get a tea with a lot of EGCG levels, more than what matcha can do – to do that they needed recently picked tea.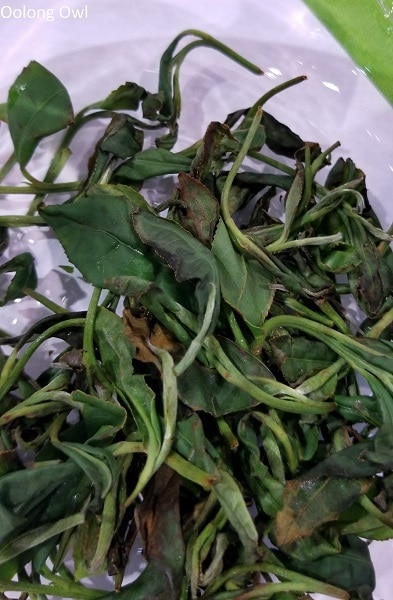 They had three different teas, all three had excellent fresh, sweet, and vegetal profiles.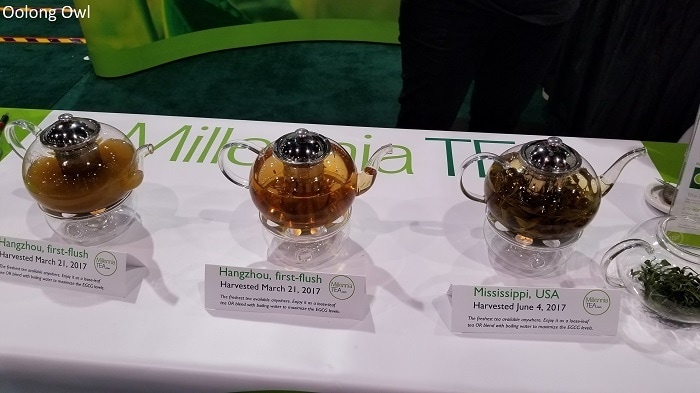 What interested me the most is that I have had fresh tea before… well it was fresh, then shipped to me. By the time I got it, it was brown, super astringent, and too much caffeine. Millennia Tea was excellent tasting, but what excites me the most is all the experimentation we could do to fresh leaf! I would love to get my hands on this tea and play with it!
At the Korean Traditional Tea – Jade: Lee booth I had yet another wild Korean tea – Wormwood tea. I had to try it as it sounded very weird, but was pleasantly surprised how smooth and sweet it was. He also carried other delicious teas and herbals.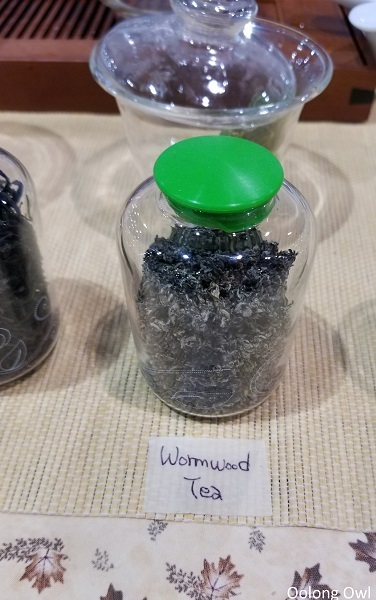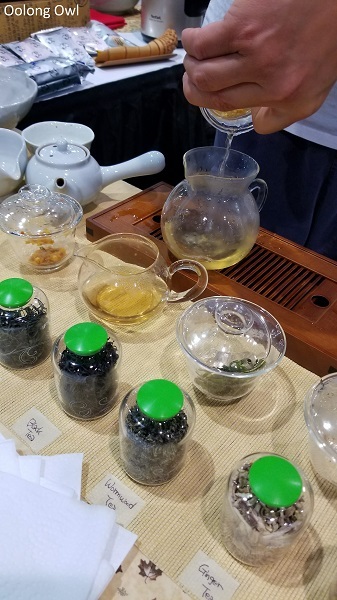 I visited Cameron Tea Taiwan, looking for their unique black oriental beauty.
I learned this spring's Alishan and Baozhong are excellent, and upon tasting I was also pleased. Sadly, the black teas are not ready yet due to the late season. Cameron Tea Taiwan is a cool place to source competition Taiwanese teas from!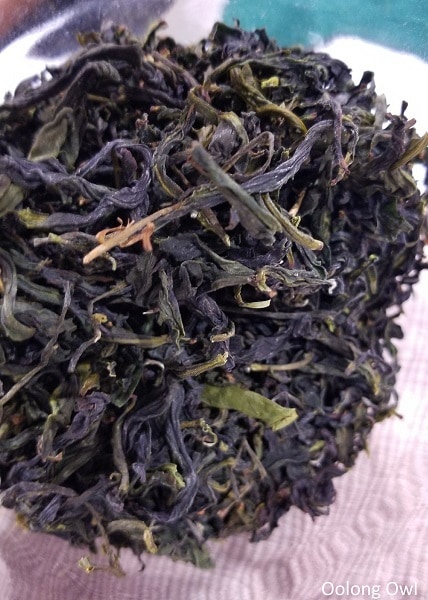 Boreal Wildcraft's The Wall mug has been my favorite tea cup since I got it last year at the 2016 World Tea Expo. Read my review!
I use my The Wall mug just about every day. I was excited to see them with more of their mugs, but also they are carrying some awesome sounding Canadian teas with Canadian grown herbs. Their mint tea looked crazy good with giant leaves!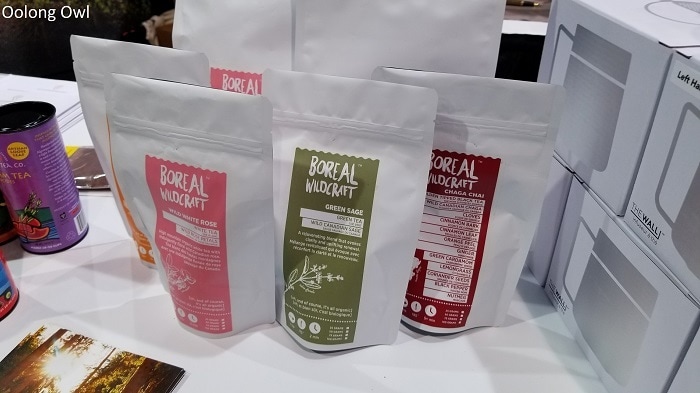 I finally got around to visiting Mei Mei Fine Teas, after turning them yesterday due to utter tea drunk.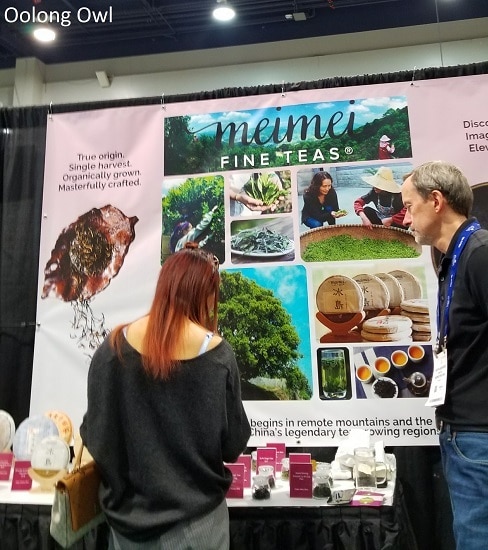 I sat and had a full session of a 2016 Bing Dao hand rolled sheng ball that was fruity and sweet. It also gave me young sheng gut rot as I could feel my guts twisting and intestines fluttering. Unfortunately, I didn't have time for lunch. Cwyn gave me mints, which actually helped in taming the gut rot.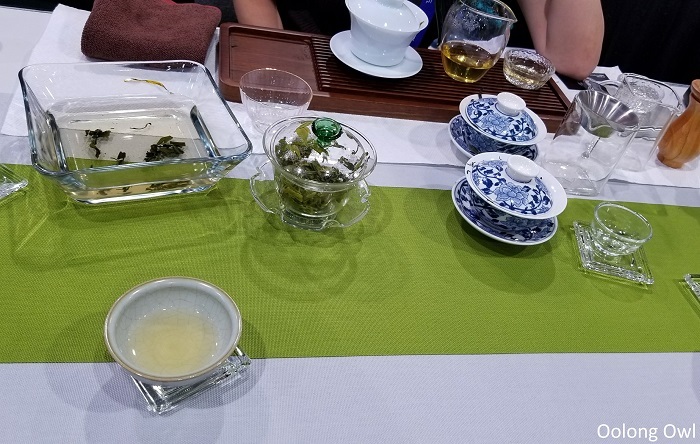 Next up was the Tea Bloggers Roundtable panel. Teal "puer pick' Owl and I were on the panel. The Tea Owl was distracted with photos and playing with the mic.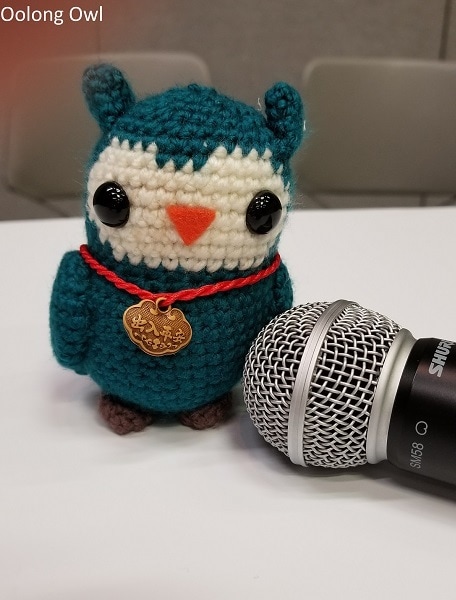 This year's panel Five O'Clock Tea, Dharlene Marie Fahl, Oolong Owl (hoot), Adventures in Tealand, The Tea & Hat Lady, and World Tea Podcast.
As you can see, we had quite a diverse cast this year in terms of region and tea focus, which I think made for a really good discussion as we all had different answers to questions. The theme was "Keeping Motivated in the Leaf", so there was questions motivation to continue with our work. There was prepared questions I answered ahead of time, but not all of them were asked. Then there was audience questions. The session should be posted sometime, I will link when I have it.
My TLDR for tea blogging motivation and inspiration:
Start blogging because you like to write and like tea. Doing something you enjoy makes it easy to do.
Don't accept more than what you can handle.
Keep a schedule and try to be organized.
Get into the tea community, online and offline. As a group we all help, learn, and inspire each other.
Drink a lot of oolong and puer and get tea drunk. The ideas will come.
After the Tea bloggers Round Table, I made my way to another World Tea Expo favorite of mine – Summus Tea. Summus Tea has excellent Taiwanese teas, and I am quite a fan of their Oriental Beauty and luxury packaging. This year they had new tea tins that magically vacuumed themselves closed.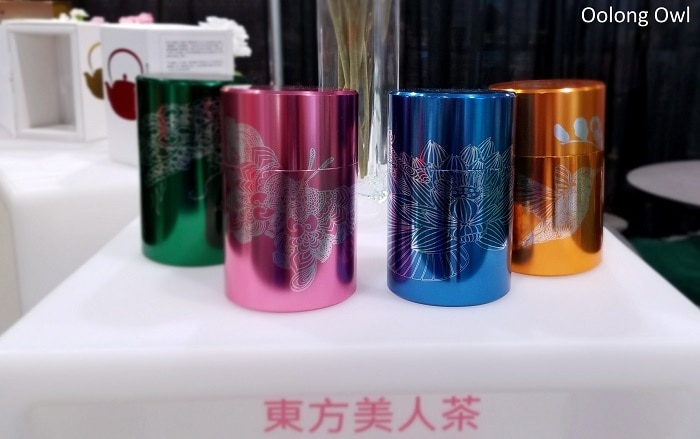 And a pressure steeper tea machine for cafe settings. It makes tea fast!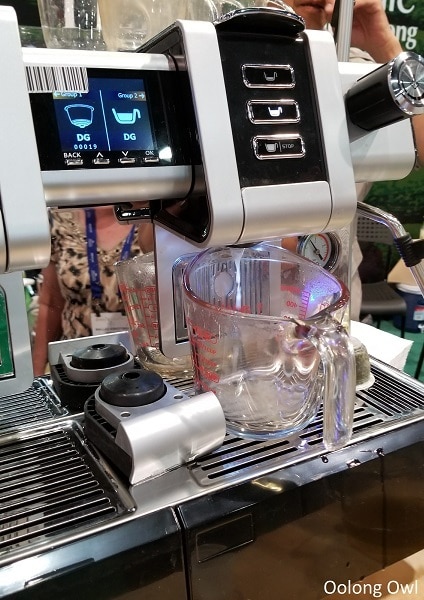 I was on a quest this year to obtain more of a mysterious Wild Oolong I bought last year, who I forgot who sold it. I found it this year at Zu Chang Tea Company.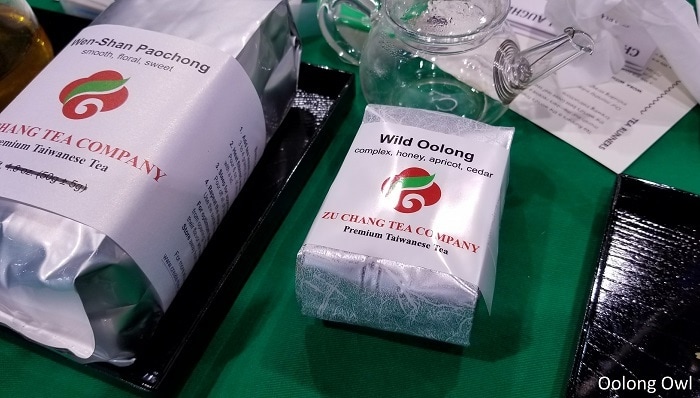 I sampled the best Gaba Oolong I've had so far – it was sweet and fruity. It lacked that funny sourdough taste I find in other Gaba oolongs. Alas, I wish I bought it, but I was saving my cash for Day 3.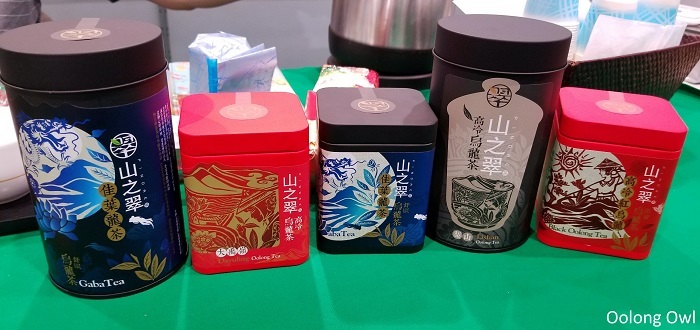 The World Tea Expo 2017 Awards were held after the show floor closed. I did not take photos as I was live-steaming the award on Instagram and drinking Owl's Brew tea-cocktails.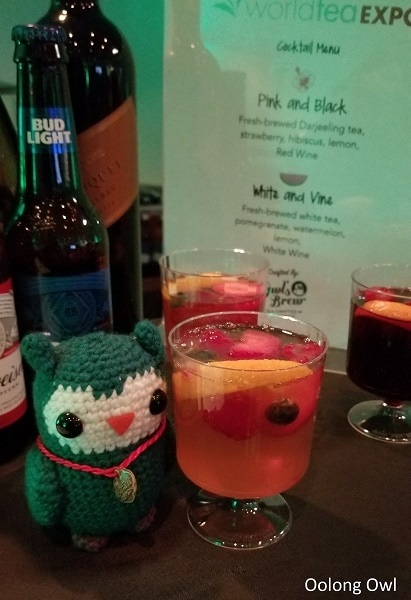 Day 2 Haul: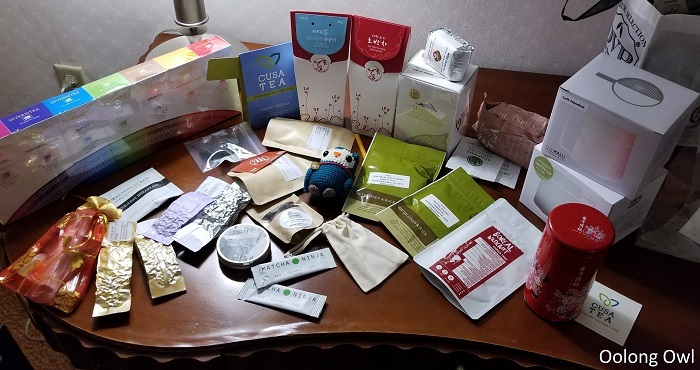 This was the doozy. I had to get a second tote bag to carry it all, which seems to happen every year. I bought backups of The Wall mug, that 1970's oolong, Korean Wormwood & Pumpkin tea, got a bunch of Alishan and Baozhong from Cameron Tea Taiwan, crap ton of tea bags from Sri Lanka Tea Board, goodies from Summus Tea, and a puer knife.