| Day 1 | Day 2 | Haul | Trends & Thoughts |
This was a shorter day today, due to me having to leave a few hours early to make the post office and my flight home. Today's goals were to get to the remaining places on my list and vulture circling to lighten my wallet. The Expo today had a smaller turnout and many vendors were late or not ready, causing me circle around and around for the first hour.
Zealong Tea uses the Taiwanese Qing Xin cultivar, but grown in New Zealand. Of most interest was their unflavored teas and modern display. Many of the teas tasted a flavor profile I was used to with all the Taiwanese teas I drink, however their black tea stood out as unique in flavor.
The black had a beautiful red colour and was honey silky smooth.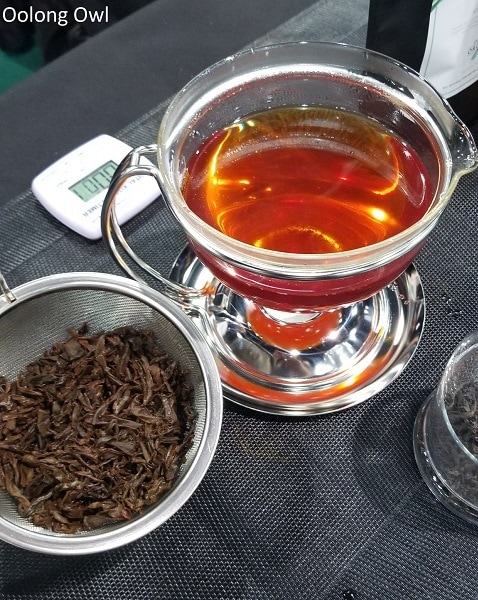 Golden Tea Leaf had a few new teas. I was excited to see a Sun Moon Lake (assam cultivar) and an Alishan oolong.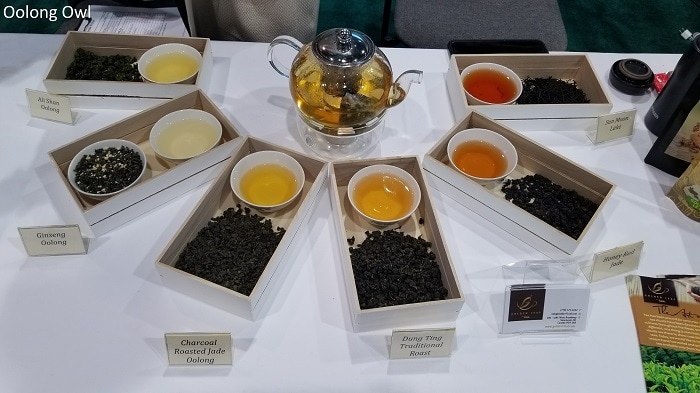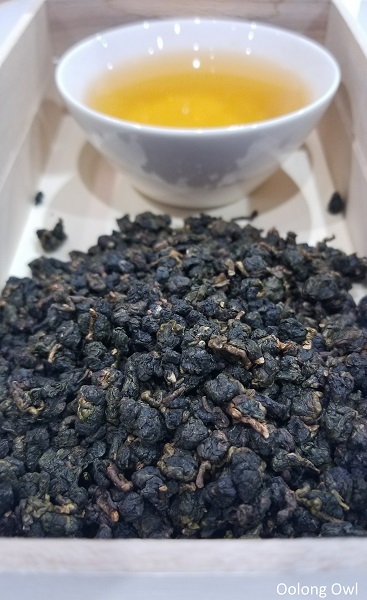 Their Alishan was quite good (not pictured, above is the Dong Ding). There is just something about the 2017 Spring Alishan that is just magic. I was VERY skeptical of Golden Tea Leaf's Ginseng Oolong as I hate ginseng oolongs with a passion. However, upon review of the leaf, it wasn't those fuzzy green lumps that ginseng oolong tends to look like. The flavor was floral and sweet, with a bit medicinal notes. This oolong is just a blend of real ginseng with no licorice gross flavoring. Very good!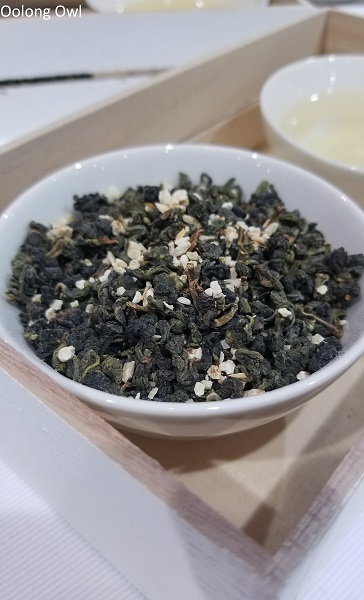 I found the Korean tea hub and tasted a number of Korean Sejak greens. Organic Boseong Woonhae Tea Plantation turned out to be my favorite Korean vendor of the day. They had good collection of teas, with wild herbals picked from their tea farm. I love magnolia oolong, but those tend to be just scented. I have never seen magnolia flowers on their own and these are huge!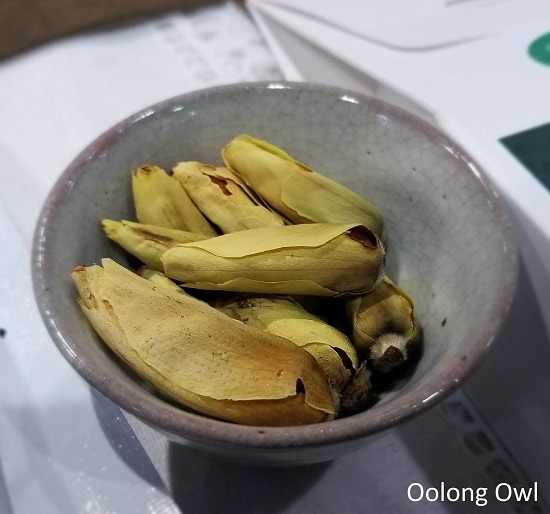 Another interesting find was their yuzu tea orange. The yuzu is also wild picked, so theirs was on the smaller side that the other Korean tea sellers. The insides was filled with their aged black tea.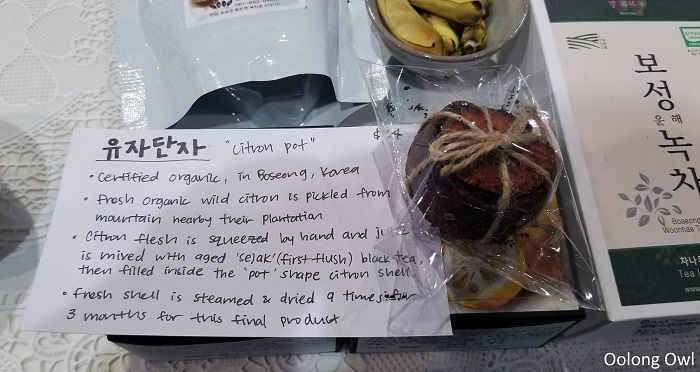 I wish I purchased more of their teas, but I was just about cleaned out of cash and I had more places to go to.
I vultured circled back to Day 1's cause of utter tea drunk craziness – Xixianxinqu Jinye Fucha Tea. I needed the Fu brick and this guy is the hook up.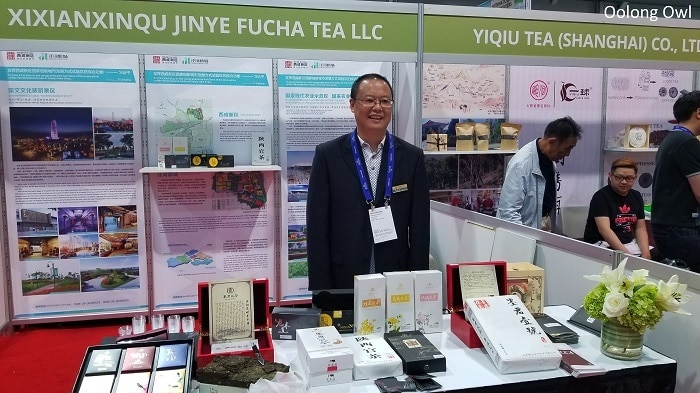 That tea was so good and I need to share it with the world! He had a split brick on display today – LOOK AT THE GOLDEN FLOWERS WOW!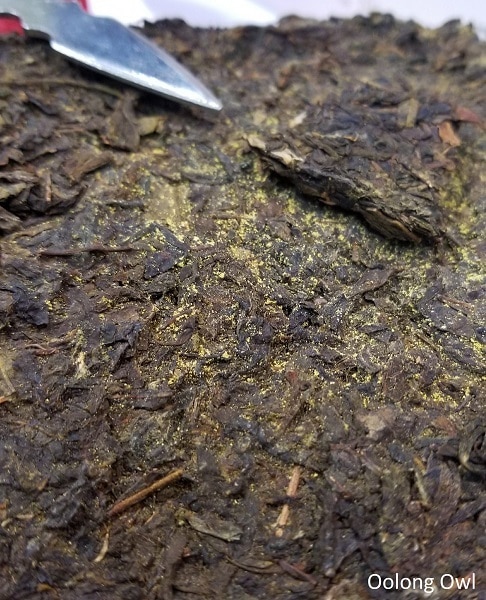 I did a visit to The Tea Spot to check out their new products. I am in love with The Tea Spot's new Mountain Tea Tumbler. The design looks very promising with the double wall steel and large basket infuser.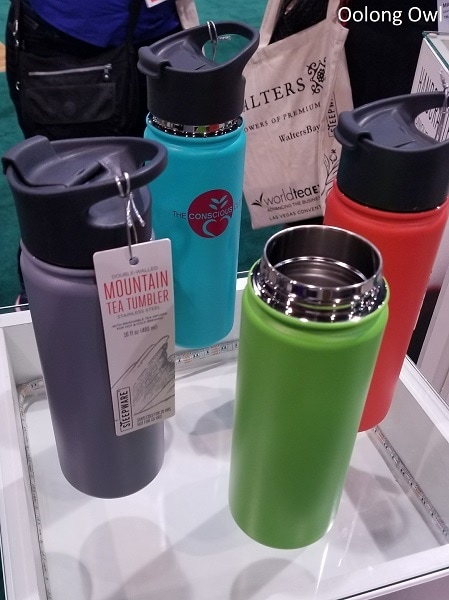 By the end of the show I ran into Seattle tea friends and one was sporting a lovely Owlbear dice bag from Ultra Pro that she got at the Magic the Gathering Grandprix,which was going on next door. I charged into the Magic showroom, despite the security insisting I was lost. It was free to go in unless I was playing! I have been out of the MTG scene since 2002, but I was a competitive tournament player back then. Apparently, there are celebs and artists there. Throughout the show floor was a lot of tables and people playing, with the middle having numerous booths selling cards, mats, sleeves, art, and various swag. Walking around, I got a lot of looks as I obviously did not belong there, but I got my Owlbear.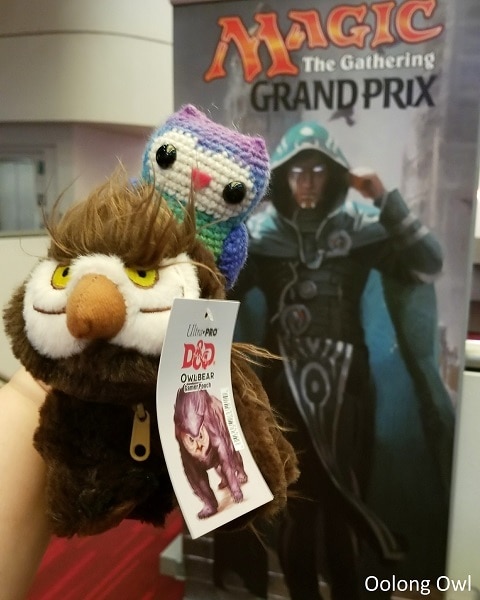 Afterward, I did a quick sweep of the floor, despite it being quiet, it was busy as last day = OMG there is press badge owl gal! Sample dump! I had to leave before I physically could not take stuff home – I was already shipping tea home.
I didn't take any photos on my way home as I was packed to the brim with stuff. No Day 3 haul photo as I majority of the things I got on Day 3 were creatively packed into my bags, or into my flat rate box to be mailed home. I am glad I packed light this year, majority of my liquids I used in Vegas, as I needed all the room for tea. I had a fu brick and a puer cake in my purse going through airport security.
When I was waiting at Sea-Tac for my ride home I was greeted by this owl. Hoot!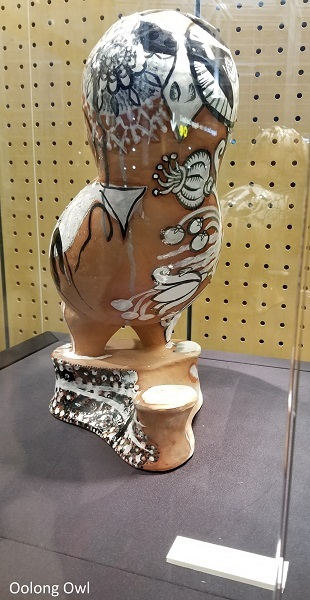 Stay tuned for the final World Tea Expo Haul post! Thanks World Tea Expo for letting this crazy owl in the door for the fourth year in a row!