| Day 1 | Day 2 | Day 3 | Trends & Thoughts |
HAUL TIME! I packed ultra light this year, so I had most of a carry-on left for tea. I even left my camera behind, which gave me more personal bag carry room. I still had things shipped home because I bought something sharp, but I ended up using a medium flat rate to lighten the damage. Thankfully, my flat rate box arrived in 2 days as I was going crazy trying to not open what I took home in my suitcase.
This is the full spread, mixed with samples and stuff I bought:
There is over 200 tea bags in here, mostly due to the Sri Lankan Tea board collection, on top of loose leaf vendors who give samples in tea bag form (which I don't blame them, it makes for easy portion control). Total damage = 69 unique teas, 2402 grams/5.3lbs!  
Before my full haul arrived, I tried to not open anything so I could get a good photo… but I did open the Fu Brick.  It was calling to me and I was tired. I needed the fu energy to get me to write all these World Tea Expo articles.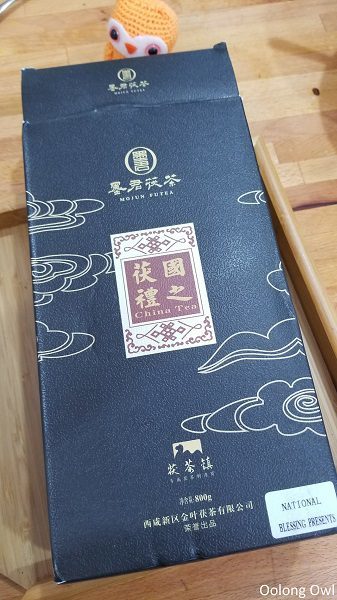 At first, no golden flowers.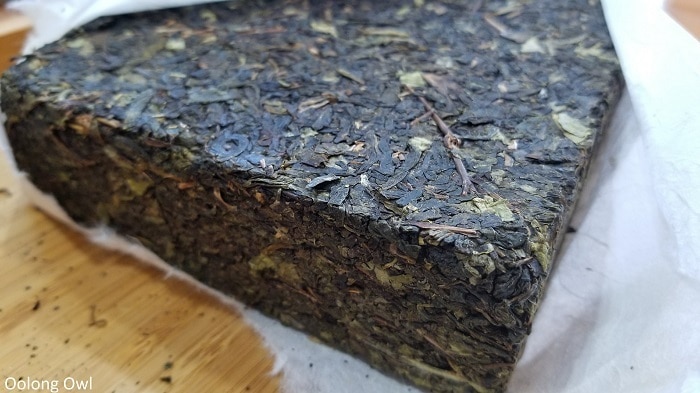 But once I started picking away, GOLD MINE!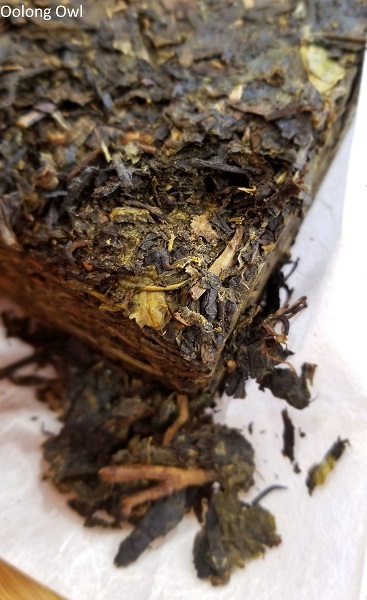 So delicious, the flavor is like caramelized honey with feel of the force of a zillion bees attacking your scalp. BEST PURCHASE EVER. I REGRET NOTHING!
My other favorite item is The Tea Spot Mountain Tea tumbler. It was a godsend for my flight home. Post World Tea Expo you get really thirsty after being used to drinking so much tea, plus it was bloody 108f/42C outside. I started a cold brew before I left the airport and it made me happy. I will nerd out and review this tea tumbler once I abuse it some more.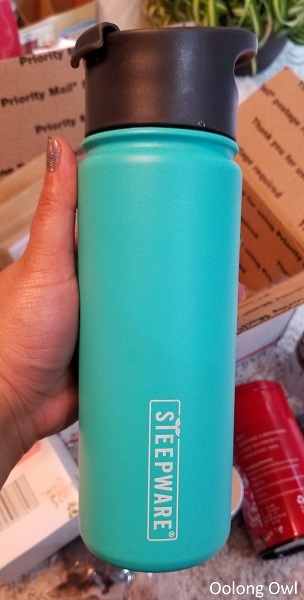 I love this Tea Source #nofilter gaiwan shirt! I will wear this until it falls apart, tea stains will not stop me! Alas, I do not see this shirt on their site. I do not know if this was World Tea Expo exclusive, of it hasn't made their website yet.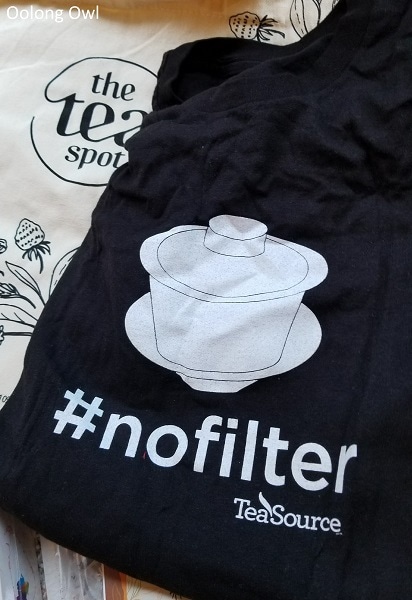 Here are some samples from Changsha Wufeng, a piece of moldy fu (yay!) and a wild cake.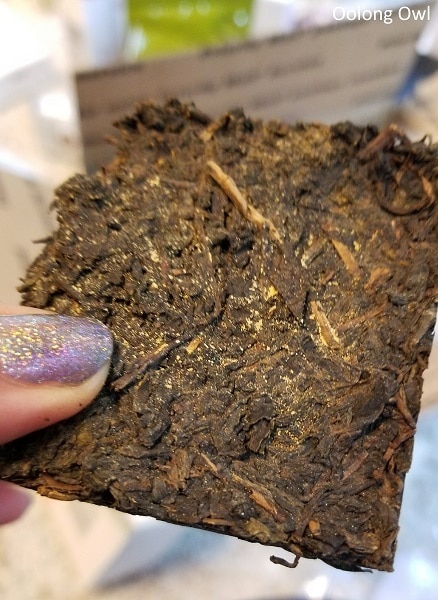 Old Taiwan Tea's 1970 oolong. This was the most expensive thing I purchased at the World Tea Expo clocking in at $1 a gram, which still is a good price.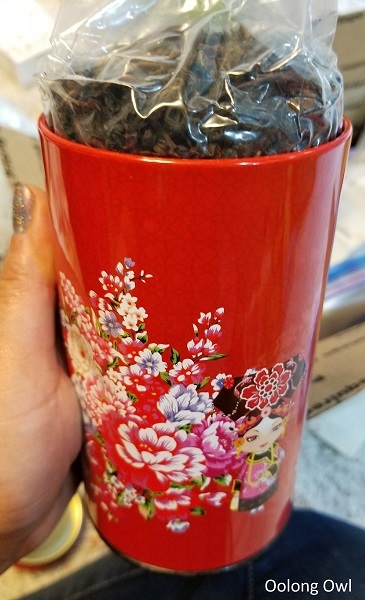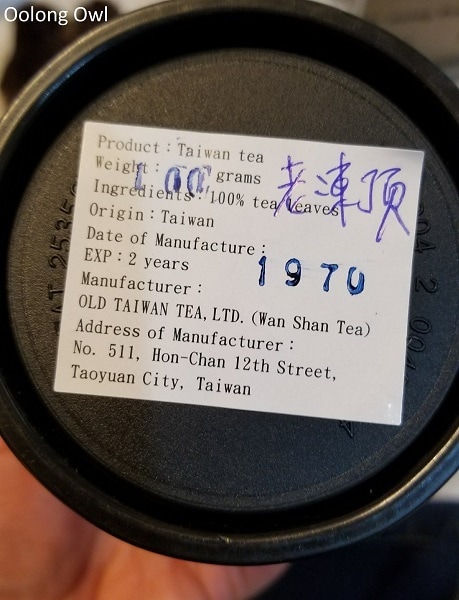 Organic Boseong Woonhae Tea Plantation I got the Magnolia flower tea, and samples of black tea with yuzu.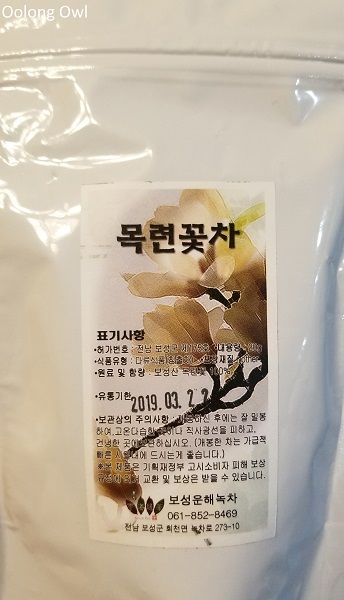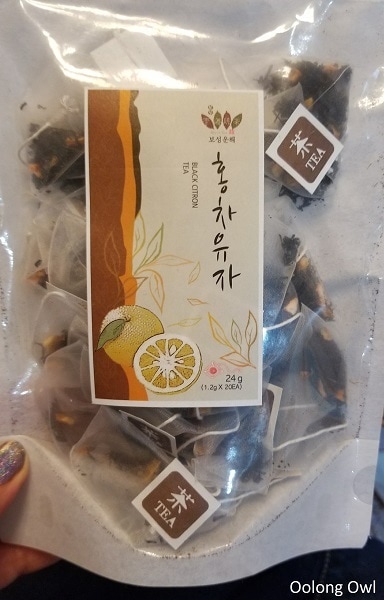 This is why I had to mail stuff home – a folding puer knife would not pass in my carry on only luggage. I tried it once already and it does good work for splitting cakes in half and likely could be great for bricks. It did not do well for breaking single servings.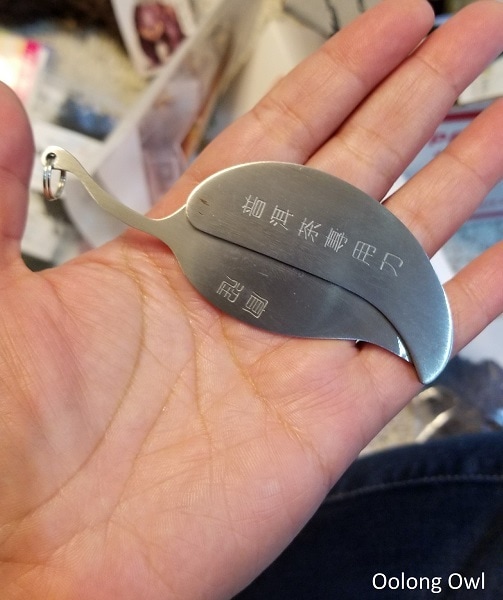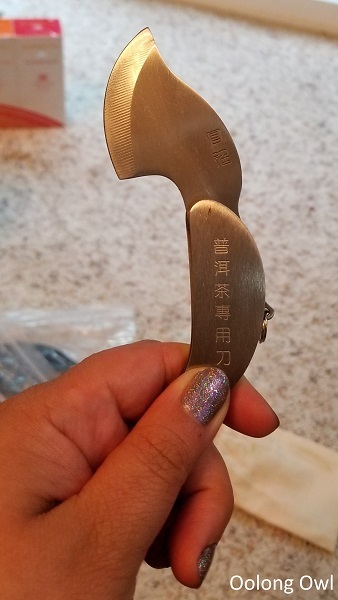 Khoisan Tea was kind enough to give me some of their matcha. I got regular matcha (not pictured), but also red rooibos matcha. The sample bags contain green rooibos matcha! I am very excited to play with it!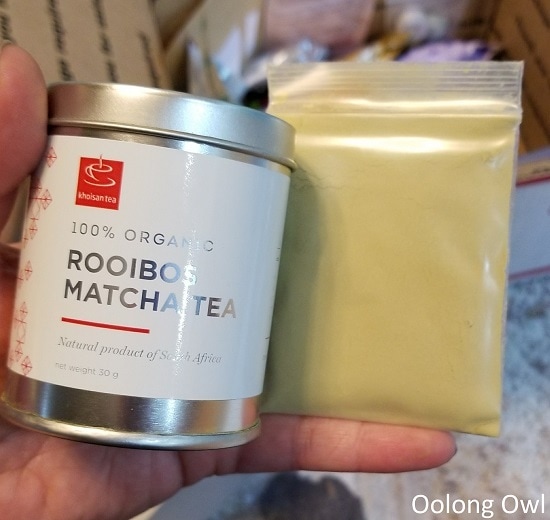 This massive package was thanks to the Sri Lanka Tea Board. I didn't notice until I got home that wowza 175 tea bags! I love the packaging, the name and rainbow is very cool. This type of tea isn't my thing, but the great packaging and selection looks like a good comparison tasting opportunity.
I got backups on my Boreal Wildcraft The Wall mugs, but also got some of their tea to try. I was enticed by whatever wild Canadian Chaga is. Hmmm… apparently it is a wild mushroom with an earthy sweet taste grown in cold climates in Canada. I should of come across it when I lived in Northern British Columbia… and probably thought it was some mushroom growing on a birch tree.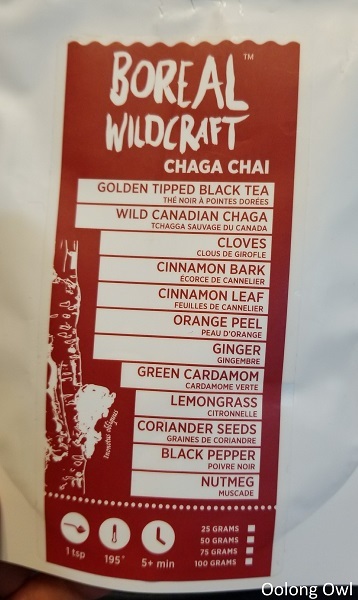 Summus Tea was generous in giving me the new crop of their teas. I got some more Oriental Beauty and one of their new tins. I selected the Hummingbird one as my backyard has been invaded by them and their peeping zipping around. Turned out that the Hummingbird tin is Golden Black tea.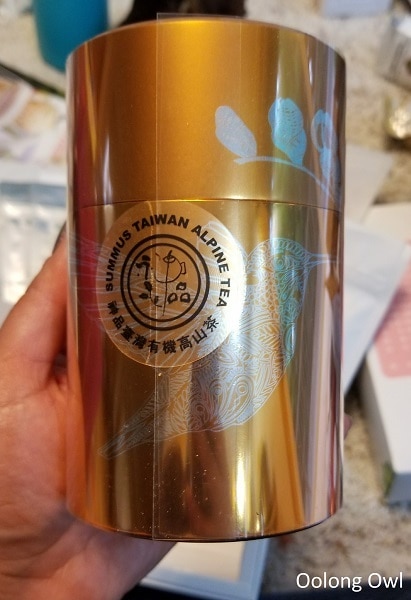 I purchased the Wormwood and Pumpkin herbal tea at Korean Traditional Tea – Jade: Lee. Thanks to tea friend Nishnek for being able to tell me which one is the pumpkin tea.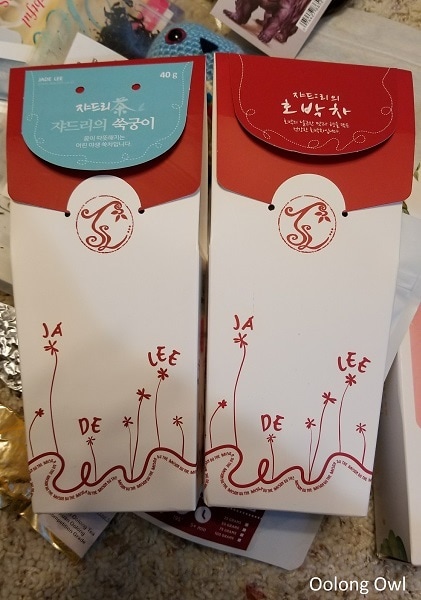 I got samples from Old Villiage Puer, bagged puer as this is how they are hitting the US market. I wonder what year was the majestic vintage?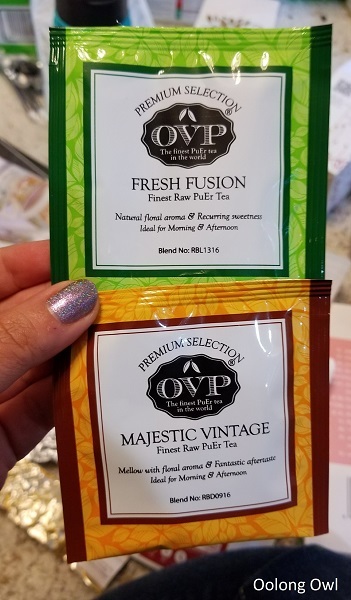 Cusa tea gave me a sampler pack of their instant teas. I am looking forward to experimenting with that rich oolong.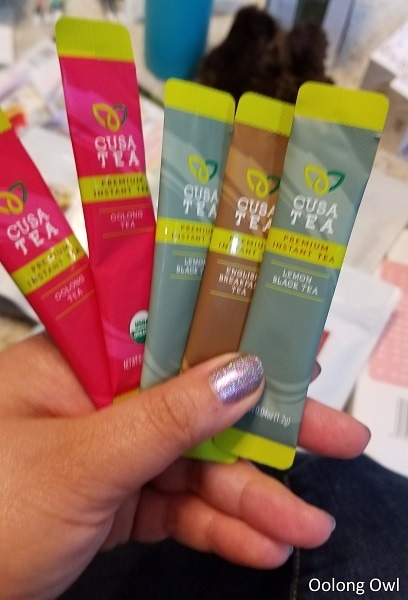 I didn't photo their booth on day 2, but I got samples from Matcha Ninja. Matcha Ninja does cold brew matcha. I had to ask the question, "I can cold brew any ol' matcha. What makes yours special?" Apparently this matcha is more water soluble. The material is tencha, de-veined, and ground finer than regular matcha. I am a matcha snoot, so we will see how this stacks up!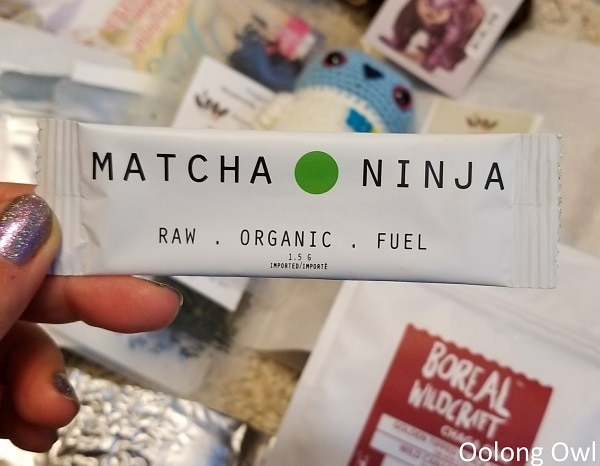 I got these weird tea bags from Premier's which look like folded foil with holes punched in it. After I took the haul photo, I gave one a whirl – it was a little metallic, but high fun factor!
Also in the giant mound of stuff is Tea Spot and Zojirushi tote bags, pile of Alishan and Baozhong from Cameron Tea, goodies from Adagio Teas, stitckers, Fresh Cup & Tea Time magazine, and my Owlbear Ultrapro dice bag (not from World Tea Expo.)
Stay tuned for my overall thoughts and observations of the World Tea Expo 2017!