If you are reading this review at release, yes this is the 2019 August White2Tea Club and it is November. I am catching up slowly. Generally, I drink these clubs in order, but August I did not. Upon hearing there was a 2014 Gongmei white tea sample in it, to be sold as a 500 gram brick, I drank it immediately in case I need to make use of the discount code with the added bonus there was a free shipping sale too.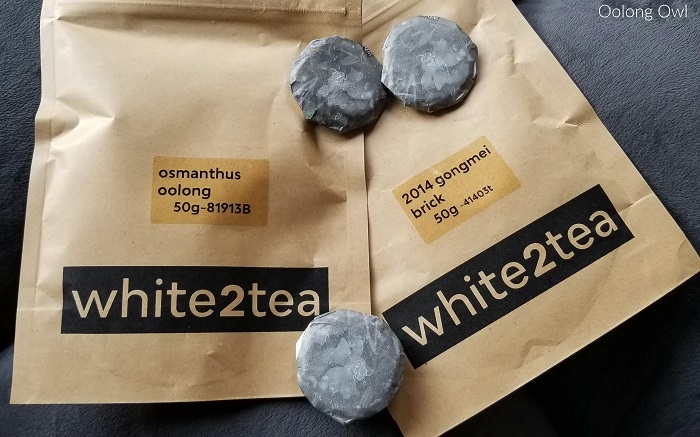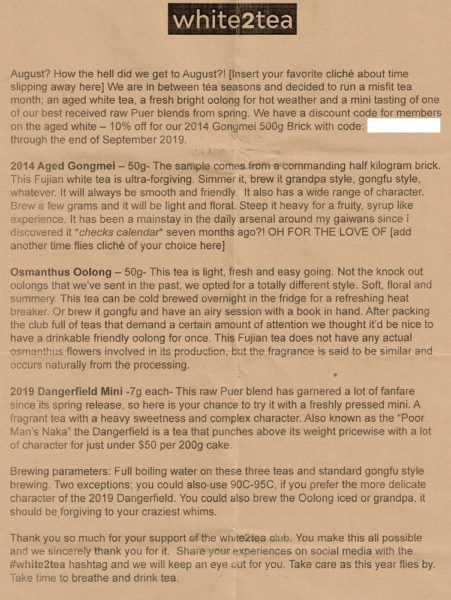 And guess what, I did make use of the discount code.
View this post on Instagram
Anyways, the 2019 August White2tea club contains the already mentioned 2014 Gongmei Brick, Osmanthus Oolong, and some 2019 Dangerfield Minis. I'll be drinking the Gongmei and Dangerfield, which I assume most of you want to hear about the most as both can be purchased.
White2Tea's 2014 Gongmei Brick White Tea
I need to air the confusion with this tea – it is the 2014 BRICK. All the Gongmei teas are labeled as "Gongmei" so I can see why people scratch their heads when I talk about it.
The dry leaf has a dried prune scent. Get off my lawn! 2014 Gongmei Brick looks like sheets of black as if I am steeping carbon paper.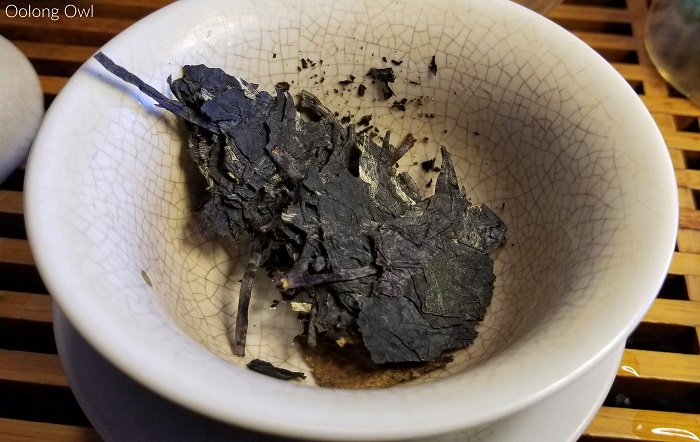 I use 1 gram of leaf per 20ml of vessel size, gongfu steeped at a boil. I did a rinse, but some might want a second rinse to get the tea started faster.
First, Second, Third, Fourth, Fifth, and Sixth Infusion: The first sip of 2014 Gongmei Brick is thick and feels like drinking melted butter, leaving an oily lip feeling. The notes are smooth and sweet with dates being the main focus. Some sips are more fruity than others, with that date note opening to be being juicy prunes. After each sip, I get a baby powdery honey lingering taste.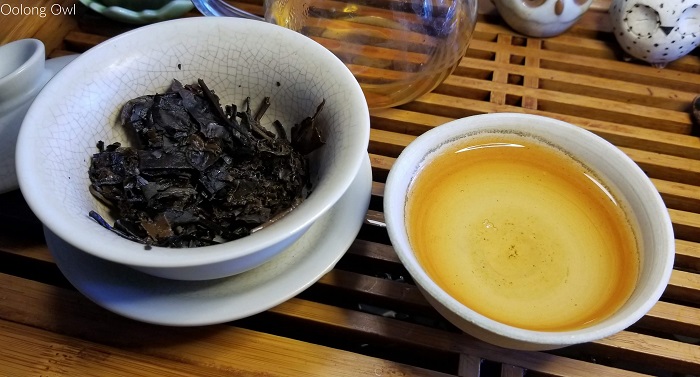 Seventh Infusion: The colour deepened here after six infusions of no changes to the taste and tint. 2014 Gongmei Brick's flavor is getting stronger and the finish is dried dates that linger after each sip.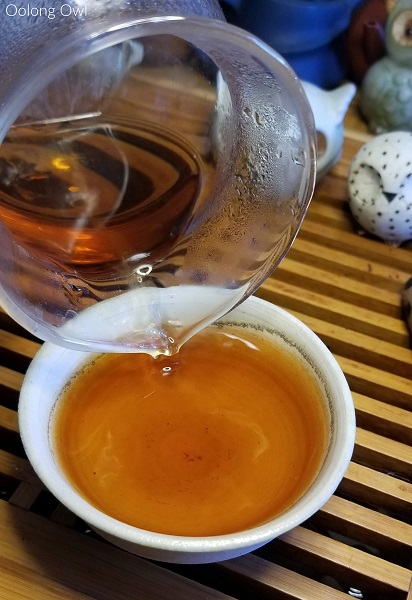 Eighth Infusion: I steeped the Gongmei for 20 minutes by accident. I was ranting about knitting yarn stuff and lost track of what I was actively teaing. Despite the long infusion, 2014 Gongmei did perfectly fine as it is just as dark and datey as the seventh infusion. I got a slight medicinal note from the oversteep, but it is not bitter or dry.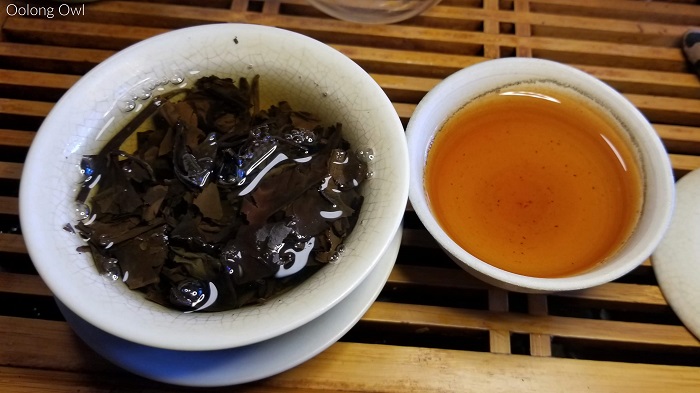 Ninth, Tenth, and Eleventh Infusion: Since I started the long infusion train early, I continued with it. Gongmei is losing steam but is continuing to be sweet light dates but with a mineral wet stone note. The texture is oily but the tea has gotten thinner.
The last infusion was honey date water. I likely could have done more damage with a stove boil. In other sessions, I used my trusty dedicated white teapot and got even better results.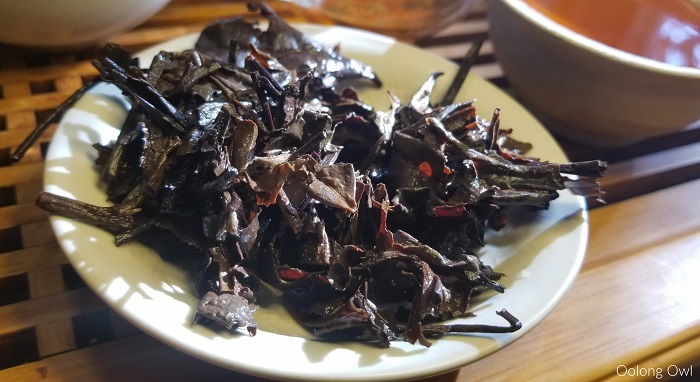 Comments
White2Tea's 2014 Gongmei Brick white is a bombproof flexible forgiving to steep aged white tea with all the fruity notes and thickness. If I wanted to stick to a couple of good teas to drink regularly, this tea would be on the list as I can thermos, grandpa, gongfu, and boil it. To contrast the other White2tea Gongmeis, they are more complex and floral, whereas the brick is strong in the darkness and fruit department.
---
White2Tea's 2019 Dangerfield Sheng Puer
2019 Dangerfield was highly requested this year that I try out as it sounds like an awesome budget (dare I say, it's still $50 but 2019 prices) Naka-esque cake. I bought a sample before these minis were in the club, to my dismay. That said, I am drinking the sample instead of the club minis, but they are the same tea.
The leaf smells fragrantly fruity with a pungent peachy scent.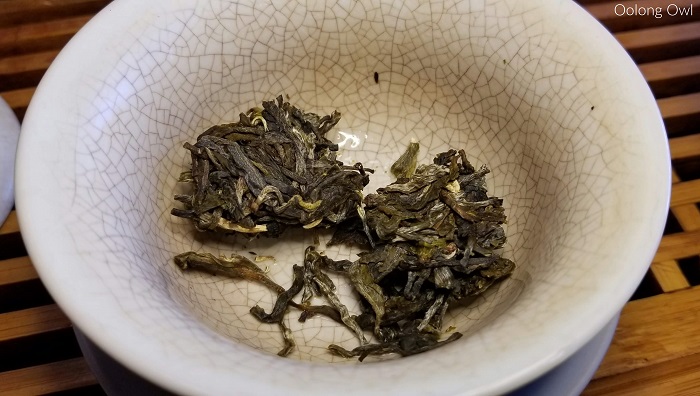 Following my usual sheng ratio, I used 1 gram of leaf per 15ml of vessel size, gongfu'd in boiling water. The hot wet leaf has a bitter scent, with an almost char going on.
First, Second, and Third Infusion: My first impression of Dangerfield is that it is approachable. 2019 Dangerfield sips in lightly sweet pea vegetal in flavor, with a light jelly thick texture. Each sip builds an aftertaste of gentle stone fruits and snap peas taste. The aftertaste is the first nice standout quality here, as it layers with each sip getting stronger and fruitier. The third infusion hit the strongest tea flavor as it had a slight vegetal bitter bite.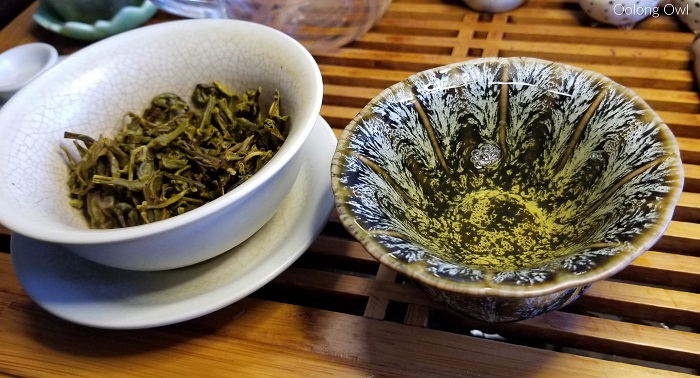 Fourth, Fifth, Sixth, and Seventh Infusion: Dangerfield is continuing to be soft but has a well balanced vegetal pea and stonefruit note. The texture has thinned, however, the aftertaste is rocking and rolling that has some strength of stone fruits and dare I say baby corn. I sat for a few minutes waiting for water to boil and discovered this aftertaste lingers for a while, shifting more and more like a fuzzy peach.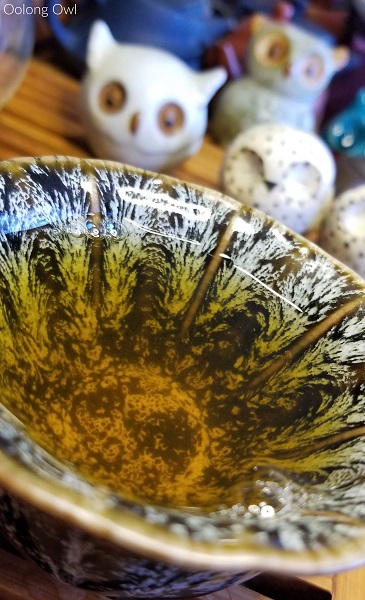 Unfortunately, I pushed the fifth infusion too hard and it was quite bitter, especially at the end of the sip, tasting of charred green pepper skins. I did a shorter infusion for the sixth infusion and it was very similar to the fourth. Despite the hiccup, the aftertaste is even stronger.
At the sixth infusion, I was getting a bit of pinching on my sinuses My head was feeling off in the clouds and my eyes wanting to take a nap.
Eighth Infusion: I kept pushing on. Dangerfield finally changed the flavor with a sweet syrupy taste up front, then settling into a stewed bitter finish. The aftertaste is still a crisp fuzzy peach with a texture that is dry, making my tongue itch. If you don't mind some bad bitterness, this is a good steep. I tried another steep but this tea was dead.
I am getting more of the tea buzz now. My ears feel like I'm on an airplane and my sinuses feel off. I unexplainably want to eat Cheetos.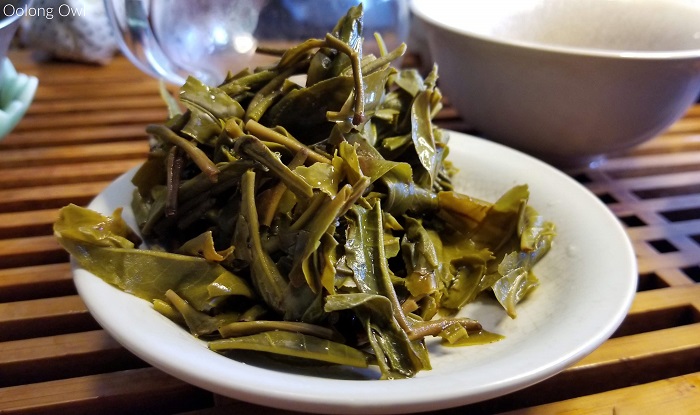 Comments
White2Tea's 2019 Dangerfield is an approachable young sheng puer with the soft flavor of vegetal with a long fruity aftertaste. It does take a diligent steeper, as it can oversteep easily. The soft taste and bitterness is likely the fact Dangerfield is a young tea, so a revisit in a year might be wise to see if the tea toughens up.
At this time, Dangerfield is $50 for a 200g cake. This is a solid tea for a new puer drinker to start with something good or any other puer drinkers on a tight budget. Dangerfield's flavor isn't complex, it doesn't change too much, the texture gets thin, but it tastes friendly and has a slow hitting buzz to it.