Hype is back! White2tea's 2019 Hype Sheng puer sports the same wrapper art as last years though the blend is different as it includes aged material. We seem on track to get a new Hype cake in the White2Tea club and this is one of the months it is a deal as the club price is cheaper than the cake (club= $29.99, Hype = $38 not including shipping).
Also included in this month's club is 2019 If You're mini cake, but I'll save that for another blog post.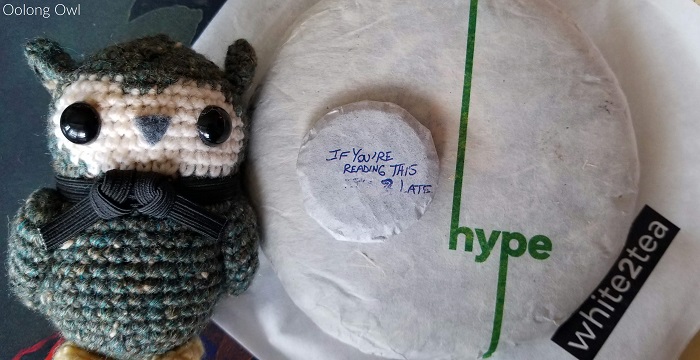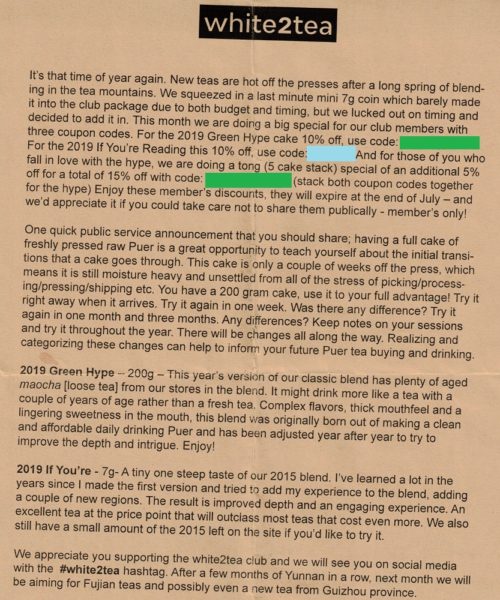 Leaf and Steeping Method
As I unwrapped Hype I got a lovely scent of sweetness and a little floral.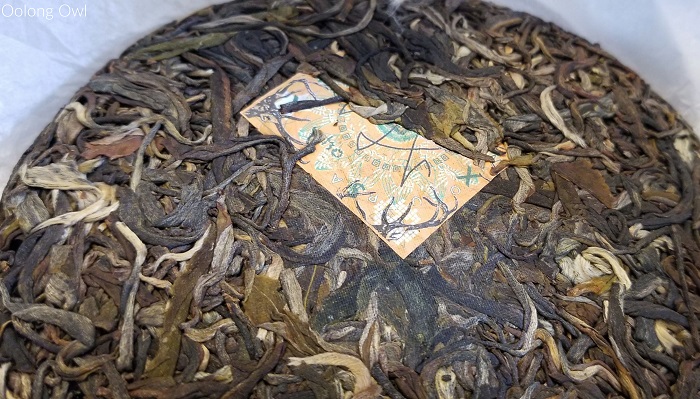 As usual, I used 1 gram of leaf per 15ml steeped gongfu style at a boil. The hot leaf has a strong floral and amber incense scent. Interestingly, 2019 Hype lacks that pungency of a fresh young sheng puer.
Tasting of 2019 June White2Tea Club's 2019 Hype Sheng Puer
First and Second Infusion: Hype sips in thick and smooth. It has a strong flavor profile that is amber mineral, apricots, and honey. Some sips have a golden straw note. The texture is lightly creamy feeling with the aftertaste is a bitter vegetal green pepper skin sharpness that could be mistaken for smoke. There are thick layers of flavors here and very little wateriness that I tend to find in young sheng. This early on the aftertaste doesn't linger long.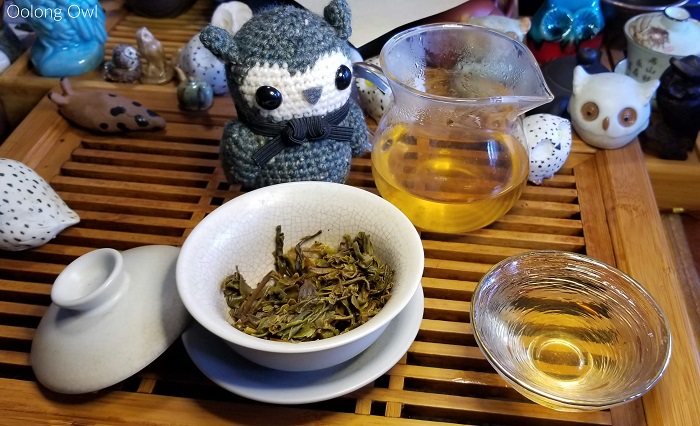 Third, Fourth, Fifth, Sixth, and Seventh Infusion: Hype sheng puer is potent as it tastes like a concentrate of bitter apricots with the odd seed included. It has developed a slightly squeaky texture but still feels creamy on the mouth. Each steeping develops a sweeter note, like melting brown sugar rock candy. Finally, an aftertaste is showing up and staying longer, moving more on the fruity side. For these steepings, I played a lot with timing. Hype can quickly get overly potent, so I was trying to find that happy balance of flavor without being too light or too strong.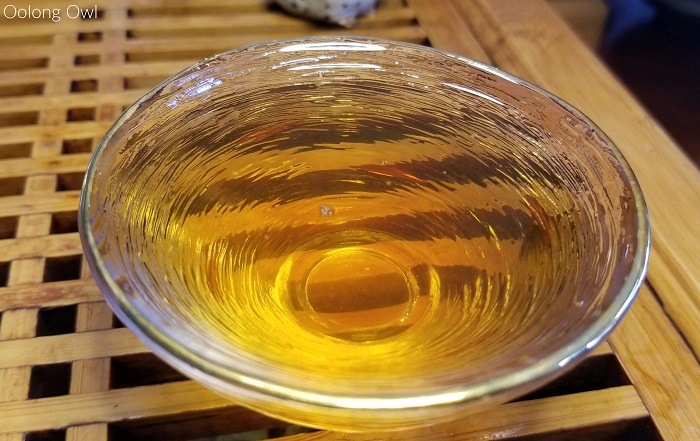 Eighth, Ninth, Tenth, and Eleventh Infusion: These later steepings have a sweet mineral profile, tasting like amber, rock sugar, and rocks, but has a finish of bitter, with a lingering flavor of bitter. The bitter can be controlled if I steep it shorter than I think it needs.
Twelfth and Thirteenth Infusion: Our 2019 Hype sheng puer sipped in really sugary sweet and a touch apricot fruity, until the heavy bitterness of death rolled in, my mouth got sandblasted dry.  The gut rot was much lower compared to the 2018 Hype at the same stage of age. I felt fine after drinking the 2019 Hype. The overall energy was not a noticeable effect for me.
Comments
As usual, 2019 Hype sheng puer is a good deal as it drinks higher than it is priced, and it is even more of a deal going through the White2tea club.
It seems every year this blend is tweaked and tastes different, so it is more of the spirit of hype than a reoccurring tea blend. Though it is improved every year, this year skipping most of the youth and smoke and adding lots of potency and depth. One strength last year had was more floral if that is a profile you prefer.
That said, if you prefer a specific year of White2tea's Hype, I would tong up rather than waiting for the next years Hype.