2020 March White2tea club includes an unusual black tea, Yesheng Hongcha Gushu, a sample of 2003 Nuo Xiang Shou Brick, and a daily drinker Golden Oolong. I'll be reviewing the first two teas as I imagine my readers are more curious about those. The Yesheng black is a club exclusive tea whereas the Shou brick is not.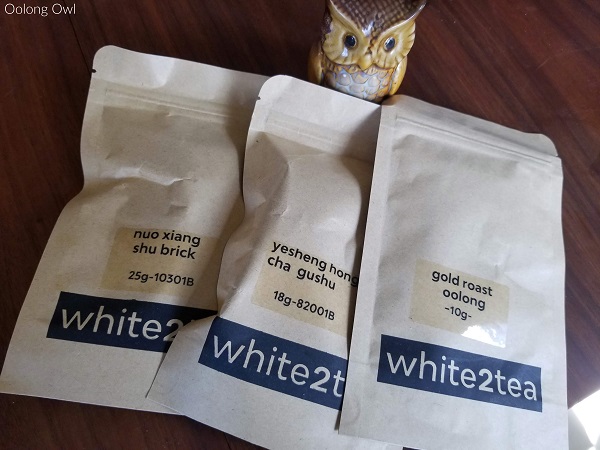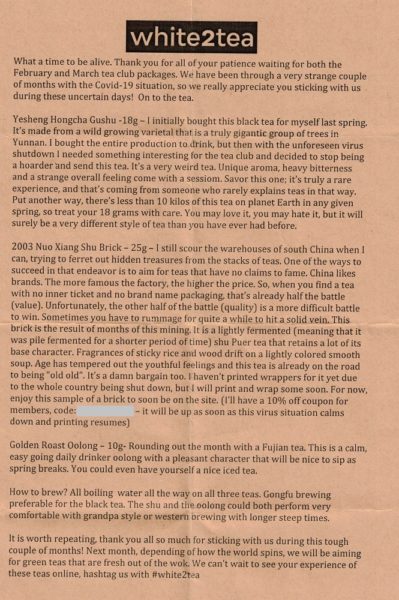 Yesheng Hongcha Gushu from 2020 March White2tea club
I had a laugh with the description of this tea is a hoarded stash. I can somewhat relate, but not in that quantity.
The leaves have a strong fragrance of tart raisins and dried cherries upon opening the package.
For both teas today, I was pretty boring and did 1 gram of leaf per 15ml of vessel size, gongfu steeped in boiling water. Steeped up, the Yesheng Hongcha smells of tart driftwood.
First and Second Infusion: This tea strangely steeps up very light for a black.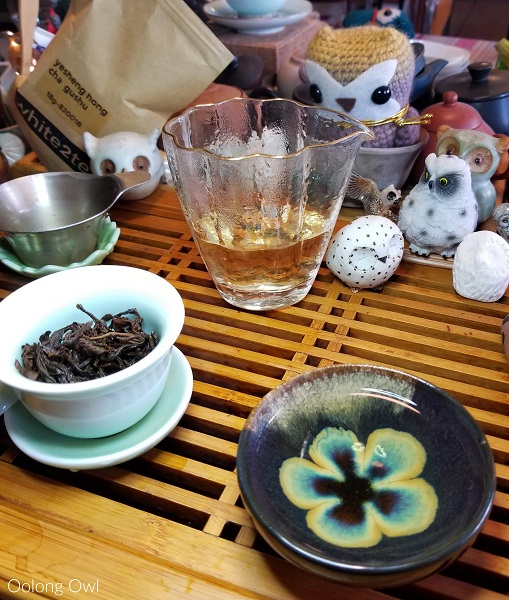 Whoa, this tea is different! Yesheng Hongcha sips in weedy and bitter followed by malty sweet and then has a lingering sweet rocky aftertaste. The texture is cottony thick. It tastes more like a wild sheng with a black tea finish.
Third and Fourth Infusion: With each infusion, Yesheng Hongcha seems to sink heavier back into hong territory, but still shows a strong contrast between flavors. It has a weedy bitterness upfront and in the aftertaste, but sipping has a malty woodsy hong flavor. The aftertaste is all weedy bitterness instead of the sweet flavor in the previous infusions.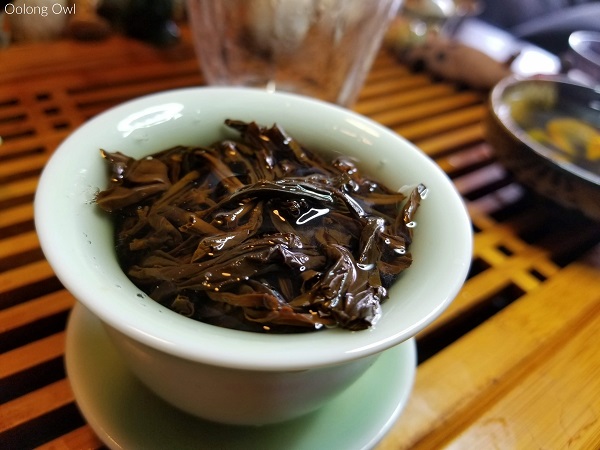 Fifth, Sixth, and Seventh Infusion: Yesheng Hongcha Gushu is getting more bitter. These infusions have a taste of strong 99% chocolate, weedy bitter, malt, then a mineral note. Some of the tea sips my brain processes as asparagus bitter. The bitter here is very strange to wrap my head around as bitter in black teas generally taste more tannic, whereas this tastes like a LaoManE young sheng level bitter.
The energy on this tea is dopey sleepy, making my eyes droop. It is like I want to have a nap and dream while awake. I also got gut rot, so I hope my dreams have tortilla chips and guac.
Eighth, Ninth, and Tenth Infusion: The tea is starting to wane now as it sips in that malty flavor then switches to the bitter asparagus.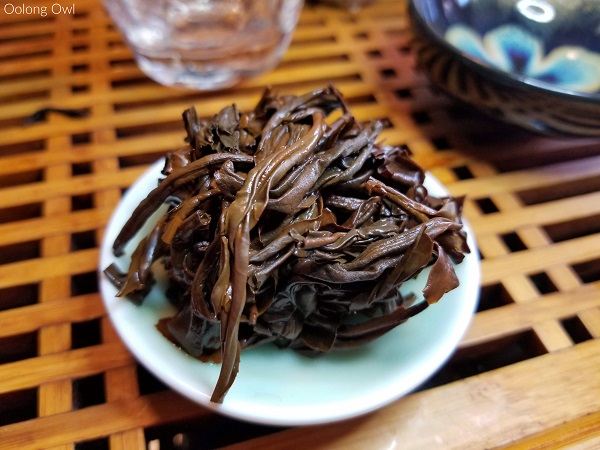 Comments
Yesheng Hongcha Gushu is a crazy and unusual black tea that's more for the bitter sheng or a black tea drinker wanting something different. This black tea has plenty of black tea elements as but as the tea session goes on, the main character shifts to sheng bitterness. I agree on the handout, you'll either love or hate this.
---
2003 Nuo Xiang Shou Brick
This tea I'm annoyed as I also purchased a sample of 2003 Nuo Xiang Shou Brick with a recent order. However both the club and my order were caught in the mega shipping slowdown, so I didn't know it was a sample in the club until it was too late.
The leaves smell like old wood with vanilla.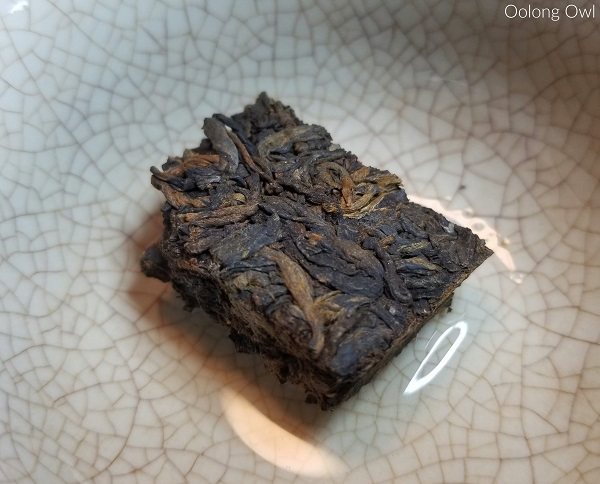 I did two long rinses and rests to open up this brick piece. After steeping, the leaves smell like inky bbq.
First and Second Infusion: Early infusions are light and sappy woodsy. Nuo Xiang Shou is silky to drink and has notes of wood, sticky rice, and tree sap sweetness. Some sips have a dusty bookshelf note to it. After these two infusions, the piece finally fell apart in the gaiwan.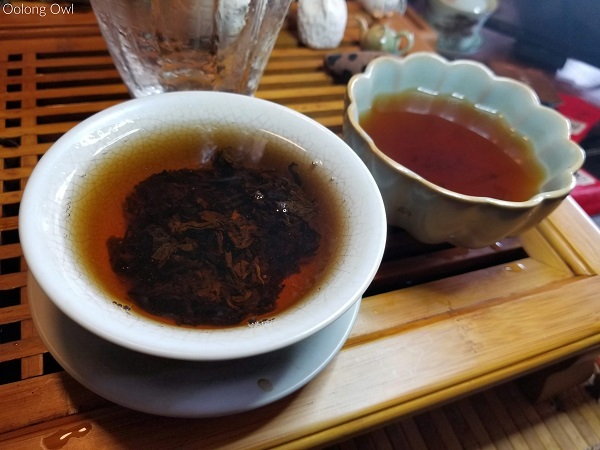 Third, Fourth, Fifth, and Sixth Infusion: Nuo Xiang Shou Brick has shifted greatly to be heavily woodsy driftwood and an old bookshelf. By the fifth infusion, the flavor is showing the age with more old books and a pile of spent incense ashes.
Seventh, Eighth, Ninth, Tenth, Eleventh, and Twelfth Infusion: The broth cleared up finally.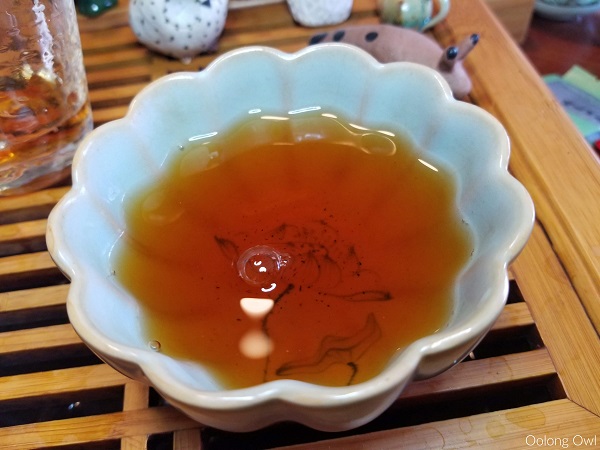 Nuo Xiang Shou Brick revisited a sweet sticky rice note as the strong aged woody flavors are slowly fading. These were my favorite steepings as they were nice and sweet, though I was doing very long infusions to get anything out. I'd likely get more with a dedicated teapot than this gaiwan.
Comments
If you want a puer with some dry-aged character, 2003 Nuo Xiang Shou Brick is it, and at a good price too! Even if you are more of a sheng drinker, this one isn't that fermented so it has less inky funk shou character. Nuo Xiang Shou Brick pretty smooth, sweet, old book and woodsy aged.
If you are curious about your lower fermented shous can age into, this is a nice example. At this time, the 250 gram 2003 Nuo Xiang Shou Brick is $49.