I have a couple really good looking flavored tea blends that I've been meaning to open and sample. S'mores Chai and Tiramisu Oolong! Very unique teas. 52 Teas have some really neat tea blends that I hope will continue.
With that said, there's a kickstarter going on for the 52 Teas Great Take Over, by the lovely LiberTeas at the SororiTea sisters! Man, I hope this kickstarter gets funded, I want that Maple Cheesecake Tie Kwan Yin!
Anyways, the teas I have today aren't for sale at the moment, though you can wishlist and request them to be reblended, or pledge and at every $2k mark vote on it to be reblended for the kickstarter campaign.
Ambitious Tea Owl is helping out today. He probably volunteered so he could eat the food props for the tea photos.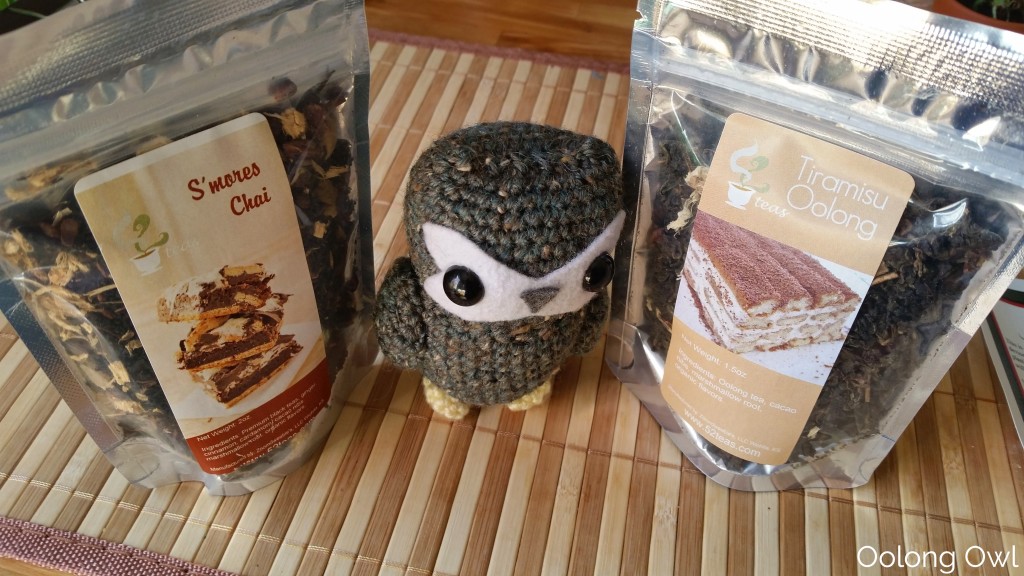 Tiramisu Oolong
This oolong tea is flavored with cacao nibs and marshmallow root, look at those bits!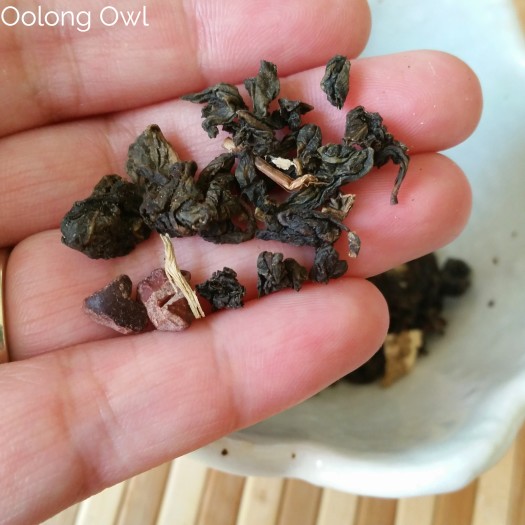 Tiramisu Oolong has a mega roasty scent like roasted barely tea with a hint of coffee.
I did a 2 minute infusion with 200F filtered water. Tiramisu Oolong came out tasty! The oolong has a roasty flavor that plays well with the dark chocolate, cakey and creamy flavors. The creamy flavor is really good like icing. There is no coffee taste just lots of roasty with a sweet finish like icing. A great tea for dessert tea lovers who want an oolong over a rich heavy black tea blend. The flavoring is just enough to notice but still taste and enjoy the tea.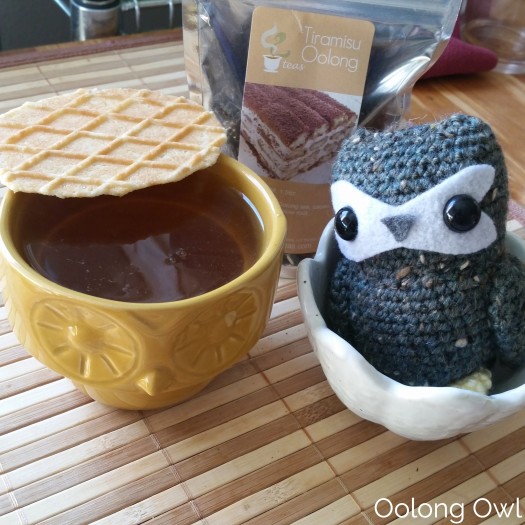 I got a second infusion of Tiramisu Oolong. The flavor is now all what I think is just the oolong, the blended bits steeped out for the from the first infusion. The oolong flavor is sweet and roasty but mostly buttery with some vegetal notes.
S'mores Chai
This unique chai blend has black tea, ginger, cinnamon, cardamon, cacao nibs and marshmallow root.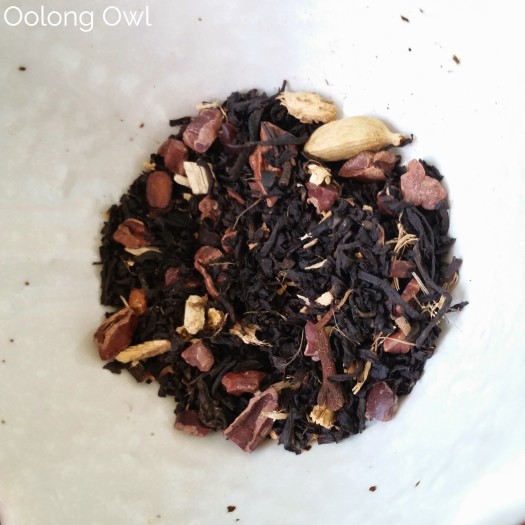 I did a 3 minute infusion with boiling water, and whoa, S'mores Chai smells spicy! I can pick out a cardamon scent in particular.
Sadly, for this tea photo someone already ate all the marshmallows, so Ambitious Tea Owl gets a cinnamon stick.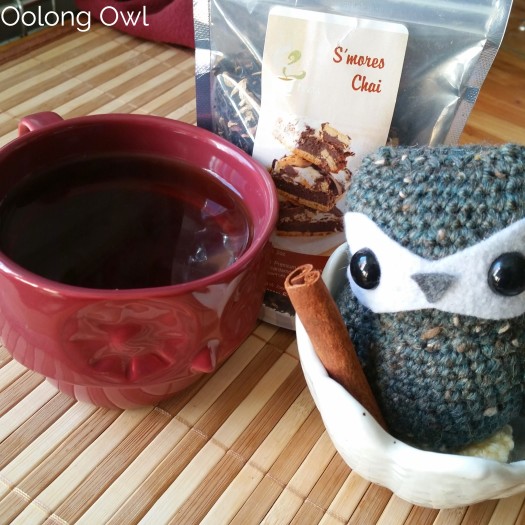 S'mores Chai is spicy tasting – cardamon up front, with cloves, ginger and cinnamon, a moderate spice/heat level of 5/10. There is a nice sweet creamy flavor in the background, along with a bit of chocolate. This chai is still centered around the spice, with an added bonus of creamy and chocolate. I could see this one being awesome brewed a bit stronger with milk!
Be sure to check out the kickstarter for more awesome tea blends – 52 Teas Great Take Over!