Aliexpress has the most epic 11.11 sales which I, of course, participated in. Hootcurses, once November comes it's never ending sales – 11.11 (Singles Day technically), Pre-thanksgiving, Early Black Friday, Black Friday, Cyber Monday and now it's Tuesday and I'm getting "Extended Cyber Monday!" sales. Seriously, I shouldn't even bother rushing for sales if they just don't end.
First up – Bamboo Tea Table with Drip Tray. I bought a bunch from Dragon Tea House for the 11.11 sales, so you can probably easily find this one on ebay, aliexpress, and Dragon Tea House's website. I rage quitted on my tea table last time I used it, so I wanted to buy a new one. This new one is fantastic! It's a $42 table I got for $35!
I like how simple the top is, but has a pretty carving on the sides and back of the table.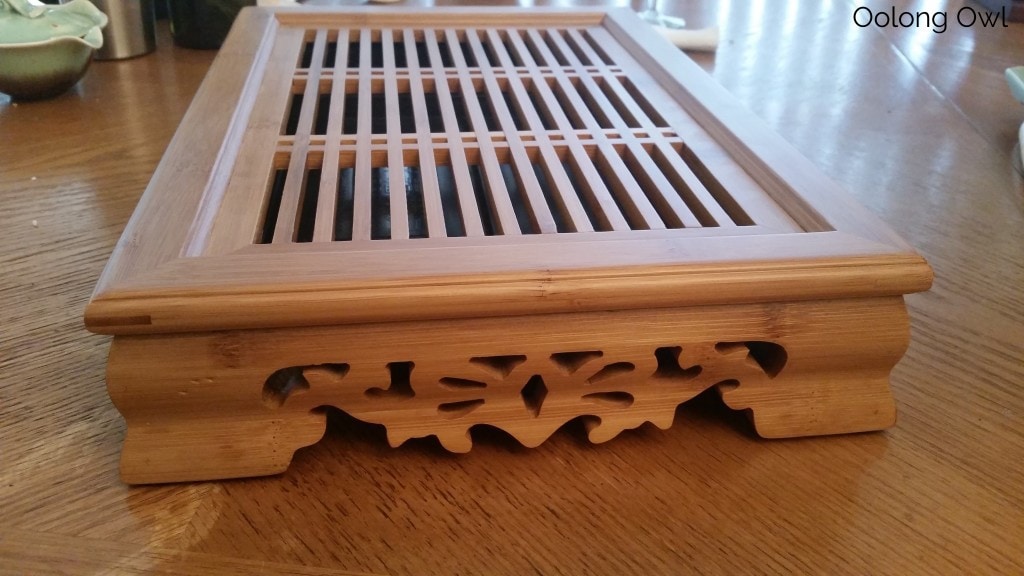 My previous bamboo tea table was a box design, this one is a drip tray! This is much easier to clean than the box models, but the tray holds less. You have to watch the tray to ensure it doesn't overflow and become a huge disaster trying to empty it. I don't think any solution, drainage tube, box, or tray will help me as I always forget to empty it! Drainage tubes seems the ideal but I know mine will be utterly disgusting and start creating new tea life forms quick… maybe a good idea then.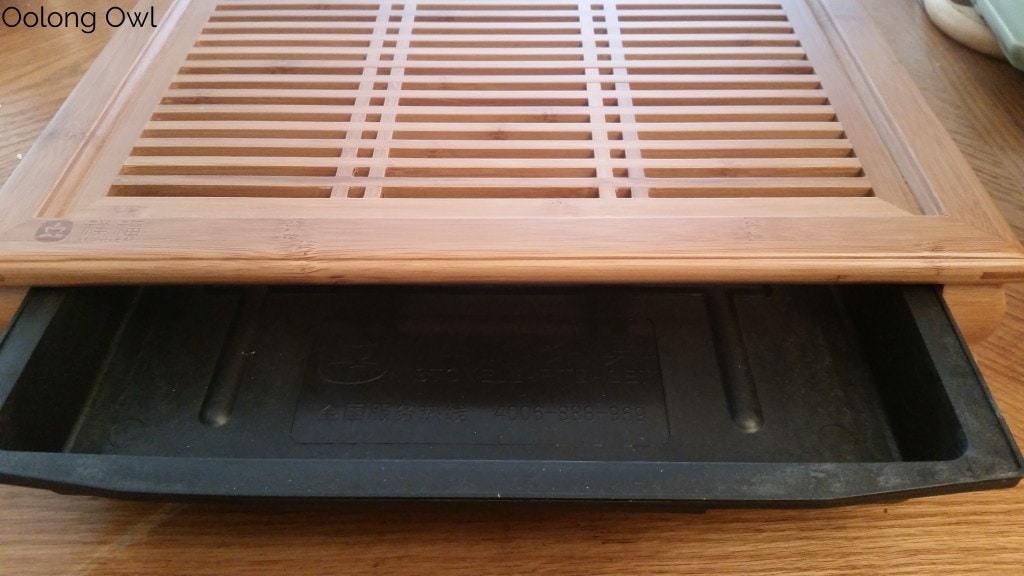 I love this table and think a flat surface is ideal to get the most out of your table – maximum tea real estate space! It's not like my old bamboo tea table where the slats are lowered and round restricting placement. It's only a few centimeters wider, but since it's all level on the top I got maximum room for my tea stuff.  I also couldn't put narrow things on my old tea table (why I raged quitted on it when gaiwans kept falling over). That said, if you are looking for a tea table – go for one like the tea table above, a flat even surface!
Next is a tea pot I've been showing off on a recent review of 2015 Pin Sheng and on Instagram. Actually, I bought it before the 11.11 sale but it took so long it for shipping it arrived with everything else. This ru kiln/ruyao pot is 90ml. The listing stated 90ml and to my delight is actually 90ml when I checked it myself. I love the size of this sucker, 90ml might be that perfect tea pot size for me. I also love ruyao as it's great watching it stain over use.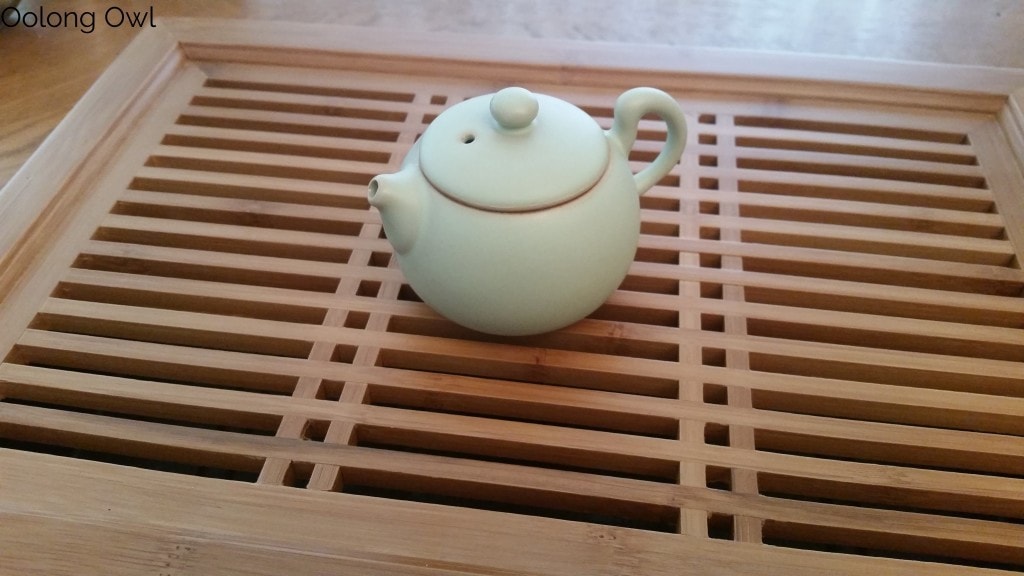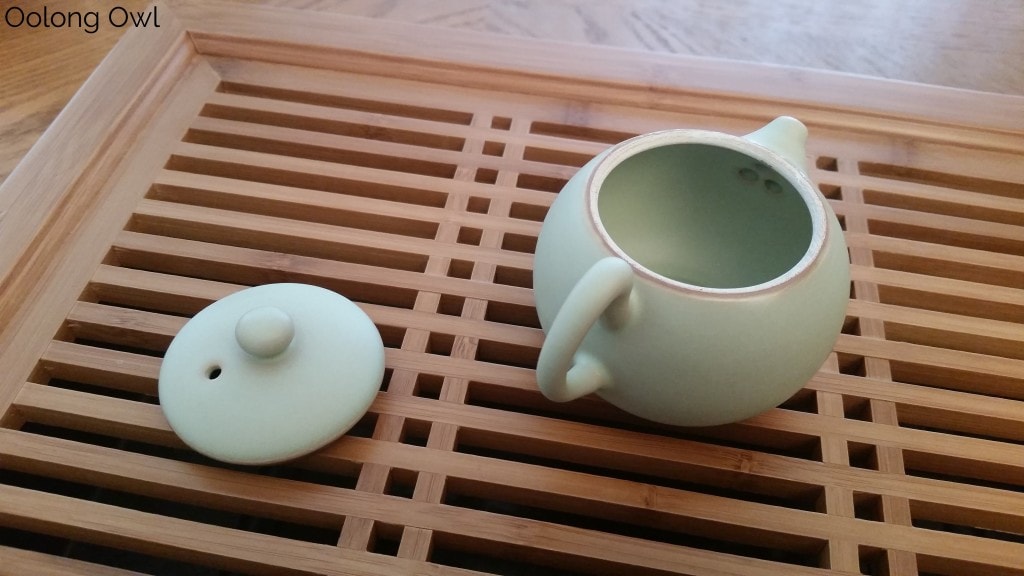 The pot preforms okay – I give it a 7/10. It pours fast and looks attractive. The handle is really tiny and took some time to get used to. However, the lid is quite loose, so you can't stop pour and I'm worried one day the lid will break. The little ball on the top of the pot is also slippery, so one has to be extra careful. Great pot otherwise. Gah, and I just checked and this pot is sold out 🙁 sorry! I'll link it here just in case it is available again.
Next is a continuation of ru kiln/ruyao love and this cool tray. I don't know when I would use it since I got a nice tea table, but I can see this tray getting nice and tea stained cracked once I use it.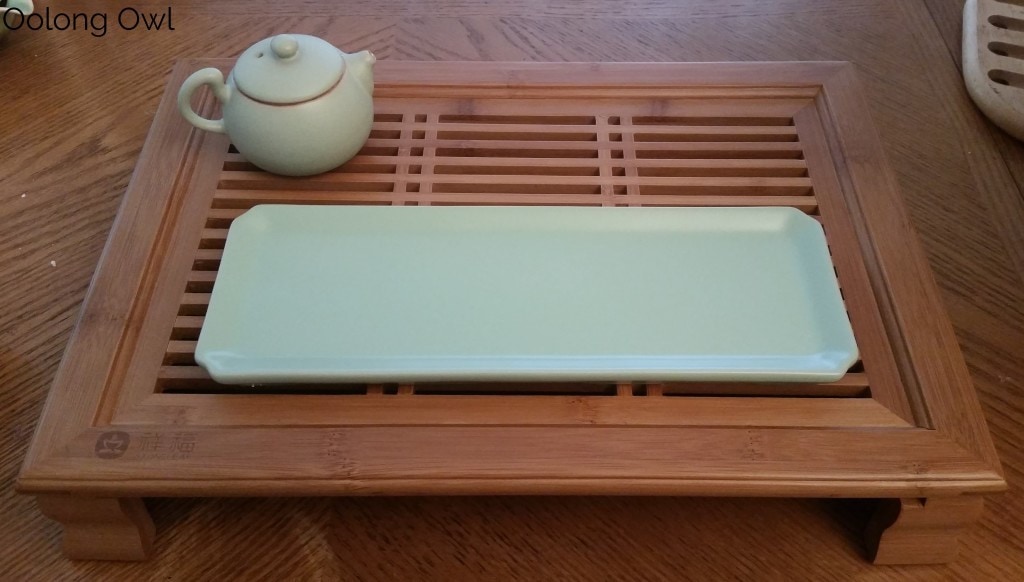 The tray is very sturdy, thick and heavy. The price was really cheap too, $15!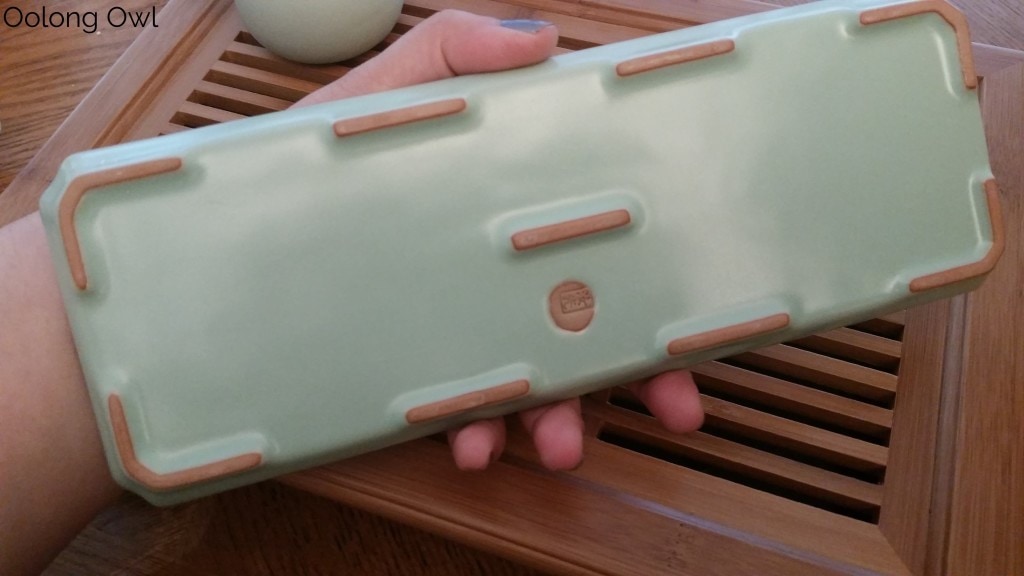 In boring, yet essential tea ware is a new large tea strainer. I have a small one of these strainers (same brand), a second cheap-o small one that I threw out since it rusted. Tea Friends, don't buy cheap-o strainers, get a good stainless steel one from a reliable seller! This one is another Dragon Tea House buy.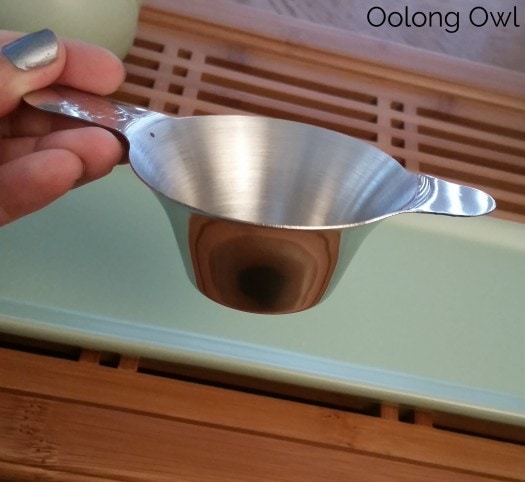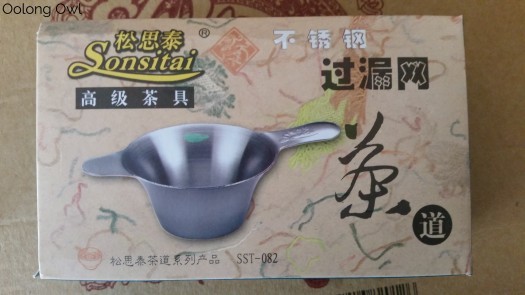 I decided to get a large as I did find having a second strainer was handy, and I found my small strainer was too small for some of my pitchers and cups. What I love about this big strainer is it'll fit everything, but big enough for me to stuff a tea pot and leave it to drain. The large size also means a bigger target in case of jittery tea drunk sessions. Plus, for the 11.11 sale it was $3 off, so yay!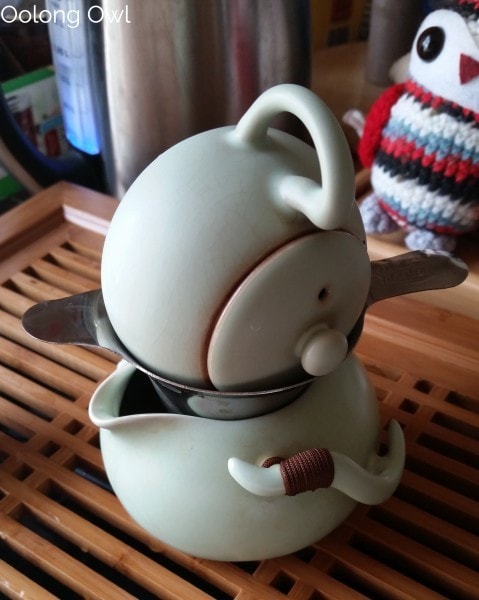 Still to come – tea cups and ultra cheap pu'er oranges. I'm sure the cups will appear in my photos soon. The pu'er oranges will hopefully be involved in a secret evil project later this month. I also bought a bunch of stuff for Black Friday and Cyber Monday that'll trickle in over the next few weeks.