Today's review is four oolongs from Art of Tea – Rose Oolong, 12:00 PM, Orchid Oolong, and Wuyi Oolong.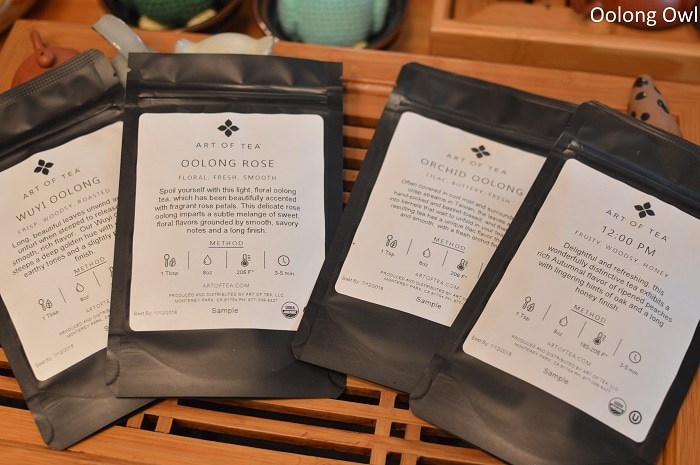 I haven't had Art of Tea in awhile, but I recall them having some pretty nice teas oolongs like Mandarin Silk and 99% Oxidized Purple Oolong.
---
Rose Oolong – The dry leaf has a strong rose scent, up there on that potpourri vibe.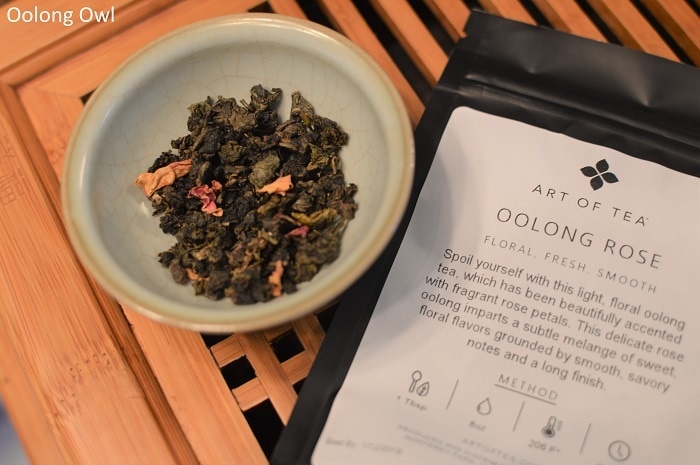 For the reviews today, I did western style, but I also used my grandpa mug (The Wall by Boreal Wildcraft) so I can get an extended infusion for fun. For this oolong, I steeped 5 grams, 200F for 3 minutes. The western ratio here is 1 gram to 56ml. Rose Oolong thankfully steeped up much more tame, with the scent moving to buttery grass with a bit of rose.
Rose Oolong looks great in glass! I love the floating pink petals!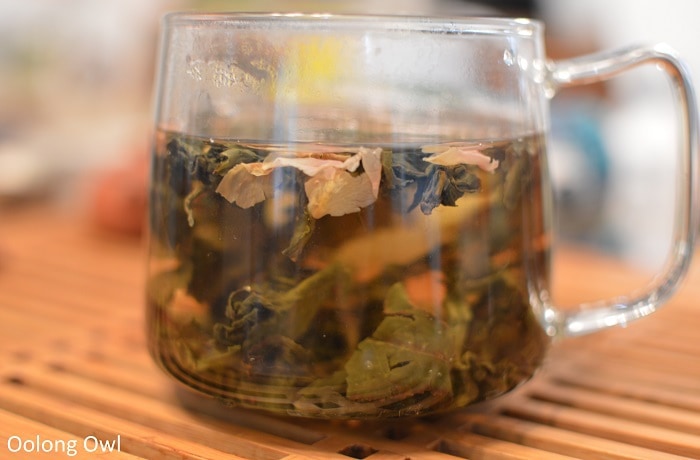 Rose Oolong sips in a bit tangy, grassy buttery sweet with the finish of sweet rose. The texture is creamy. It is moderate floral in taste. This is a great oolong for those who love floral, and would be a great afternoon tea party tea!
I let the tea sit for another 5 and it got more buttery with a stronger rose finish. After 10 minutes it got bitter. That said, this tea has some flexibility and can get resteeped a few times.
---
12:00 PM – This oolong is a blend of oolong (I think this is Art of Tea's Wuyi Oolong), rosehips, marigolds, and natural flavors, the latter likely peach. The dry leaf smells very peachy!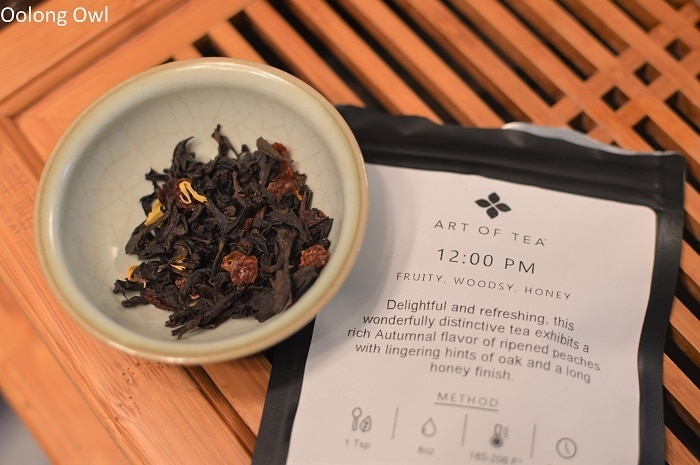 Similar to the previous oolong, I did 5 grams of tea in 200F water. The flavor is woodsy and fuzzy peach gummy candy rings. The tea is super smooth and gets a bit malty as it keeps steeping, but over time loses peachy flavor. The oolong base is great, grounding the peach flavor and adding a nice autumn feel to it. This tea never got bitter either.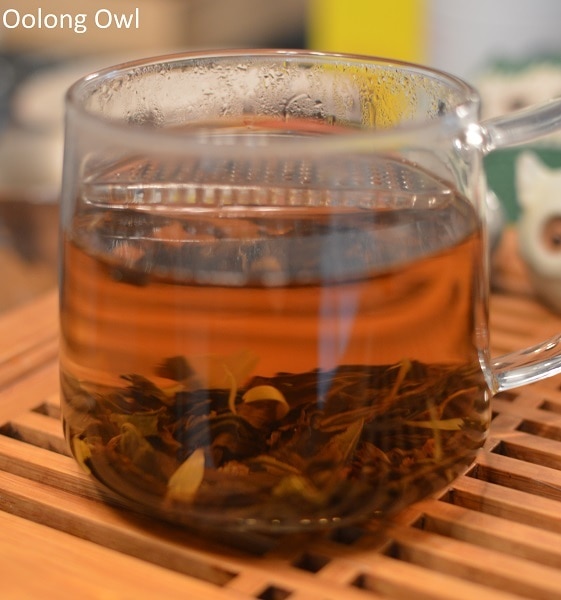 I was surprised how much I enjoyed 12:00 PM. I was worried about this one being too potent. I do like the choice of a more oxidized oolong over a greener oolong more commonly seen in oolong blends. This tea is a fantastic flavored tea and I can see this being amazing iced or cold brewed!
---
Orchid Oolong – Upon investigation, this isn't an oolong that has had floral added to it – it is a renamed unroasted Dong Ding.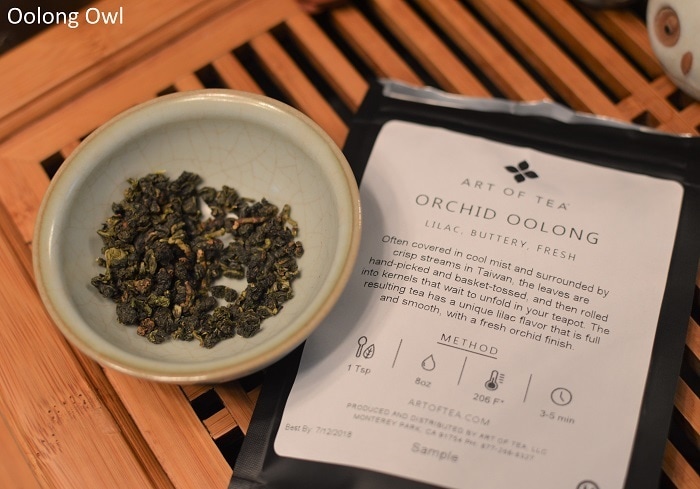 I steeped this tea using a bit less leaf – 4 grams, 3 minutes at 200F (1gram to 70ml). The flavor is buttery and vegetal, like buttered peas, with a hint of floral. The longer infusion tasted better as the floral came out more. It did get bitter quickly over time. The name really threw me off here, I was hoping for an orchid flavored oolong as those are really good and uncommon of a blend. I much prefer my dong dings with roast, so this was my last favorite of the four Art of Tea oolongs.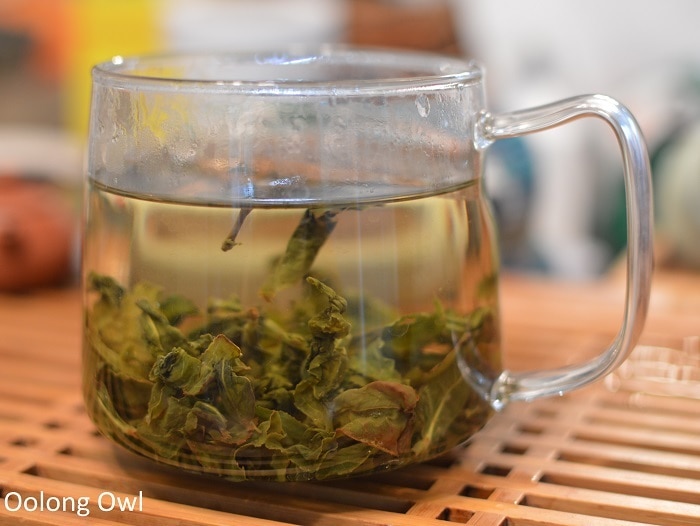 Lord Sluggert did enjoy the leaf.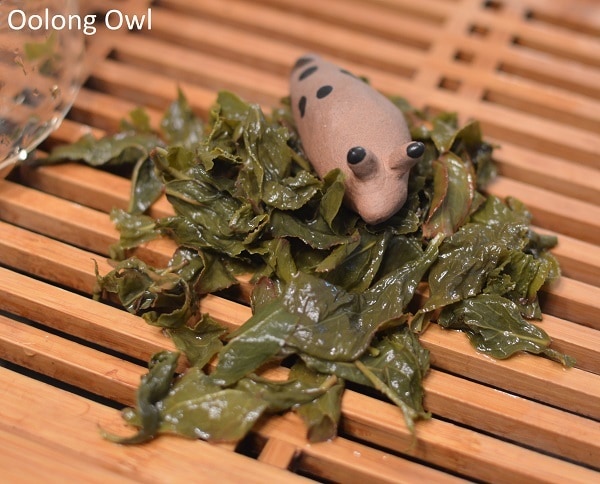 ---
Wuyi Oolong – The information I have on this tea is that it is from Wuyi Mountain and rocks a 60-80% oxidization.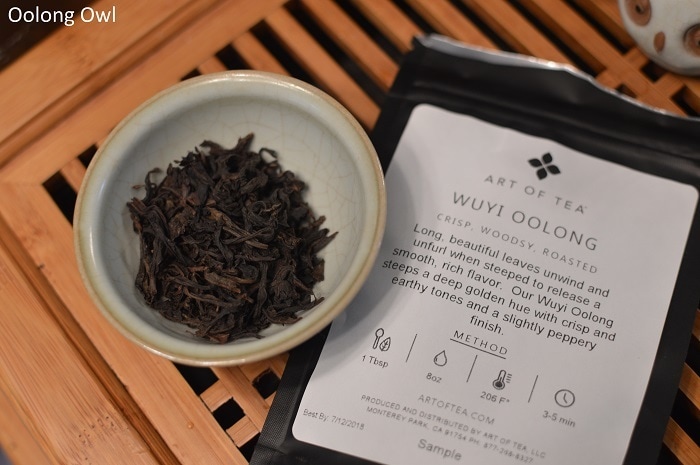 I steeped this tea using 4 grams in 200f water temperature.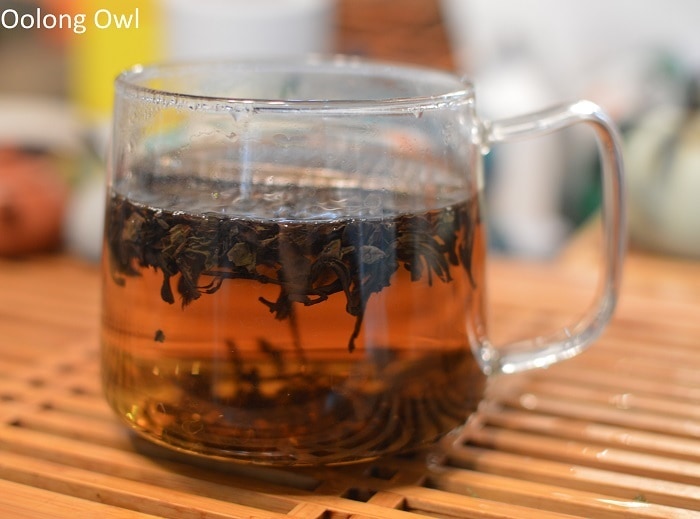 The flavor is mellow, roasty, campy and woodsy with a creamy texture. My brain is trying to fill in smoke notes, but I do not think they are actually there. I quite like the roasted woodsy sweetness. I am pretty sure this is the base of 12:00PM as they taste similar, but this lacks the peach flavoring. This tea does well grandpa and western style, but I didn't have enough to do gongfu.
(tea provided for review | Art of Tea Affiliate)