Tea of the month club time! Today is for the August 2015 Simple Loose Leaf club!
Simple Loose Leaf box info – Simple Loose Leaf is a monthly Co-op tea box that sends 4 to 6 loose leaf tea samples (1/4oz size) – you get a wide assortment of different teas such as straight teas, blends and herbals. With being in the Tea Co-op, you get a membership ID. If you enjoy and want more tea that you've sampled, you can purchase it from the Simple Loose Leaf Tea Shop for 50% off.
For your first box, you can enter OolongOwl for a 50% off your first Simple Loose Leaf's Tea co-op box!
In this month's box: Osmanthus Ceylon, Roasted Hojicha, Ruby Tisane, Rooibos Chai Herbal, and Zesty Orange Pu'er.
I'll be reviewing Osmanthus Ceylon, Ruby Tisane, and Zesty Orange Pu'er. I'm in the mood for orange!
Tasting of August 2015 Simple Loose Leaf Club
Osmanthus Ceylon is a black blend of darjeeling and ceylon with osmanthus petals.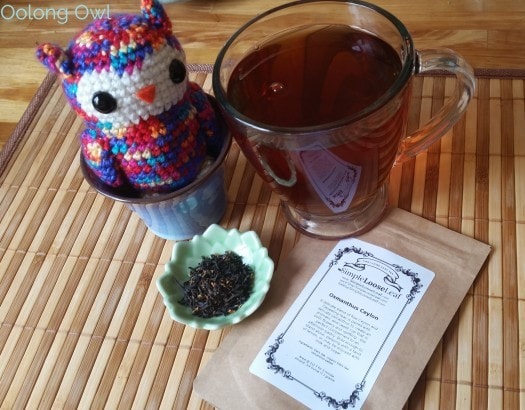 Osmanthus Ceylon has a soft orange floral scent. The black sips in quite good – it's a sweet floral with a bit of citrus orange vibe to it. If you've had osmanthus teas before you'll know what I mean, it is an interesting floral flavor. The black is quite brisk and dry, so it pairs well with the orange floral making a fun twist to an orange black. The dryness is quite high, a 6/10. This black tea is totally moreso aimed for a drinker that adds milk and sugar for a delightful afternoon tea.
Ruby Tisane – this herbal blend has apple, rosehips, hibiscus, citrus peel, and flavoring.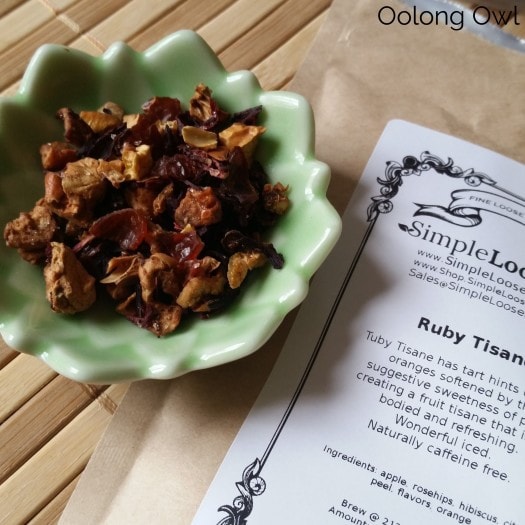 I made this one iced and it came out nicely fruity. I can taste mostly apple, with tart orange and hibiscus. I added some agave, which made this a light fruity iced tea. I think I would enjoy this one would be even better served with some orange and apple slices.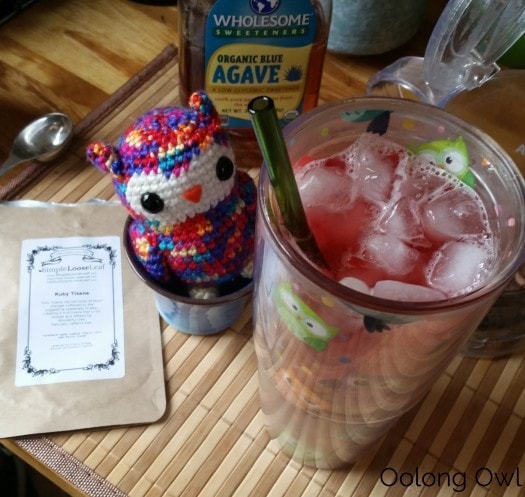 Zesty Orange Pu'er is a ripe pu'er with orange peel and flavoring.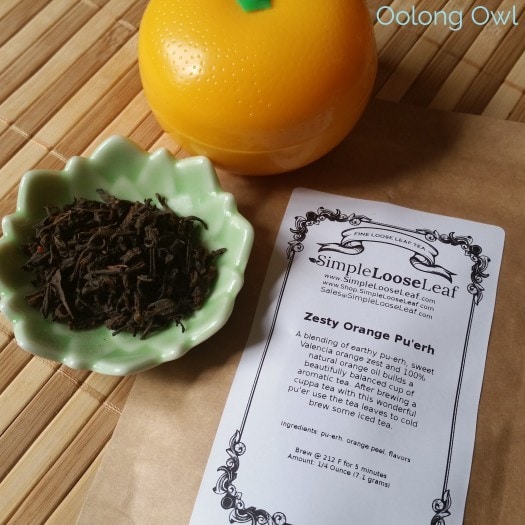 I made this iced because I love iced ripe pu'er and the pairing with orange sounded great. The pu'er has plenty of sweet tangerine-like orange flavor over a rich earthy base of pu'er. The main flavor is orange and pretty natural tasting. I didn't add any sweetener as I think it would of become too candy like in taste if I did. The blend is very refreshing, perfect for a hot summer afternoon. I love this pu'er blend and I require more of it!
(tea provided for review)