During the World Tea Expo 2015 I came across Colombian grown tea! It is always neat to see another region that has tea and to see the difference in taste due to the soil and environment. Today I'm going to review Bitaco's Colombian Green Tea.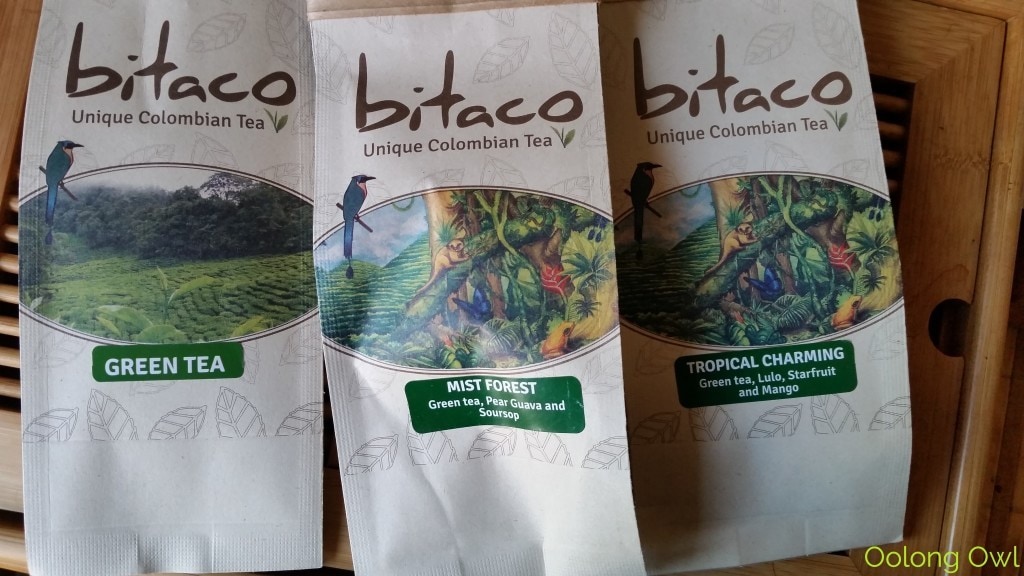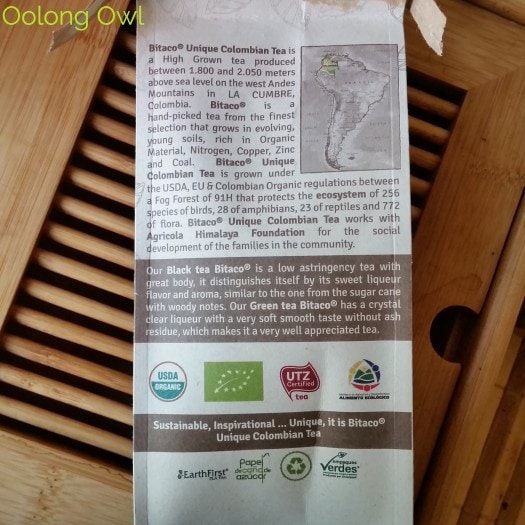 Tasting of Bitaco's Colombian Green Teas
Colombian Green Tea
Let's start off with the straight, unflavored green tea. That way we will have a base to taste the flavored tea blends.
The leaf is long, thin and wirey. The potent smell of the leaf is quite marine and vegetal reminding me of Korean sejak.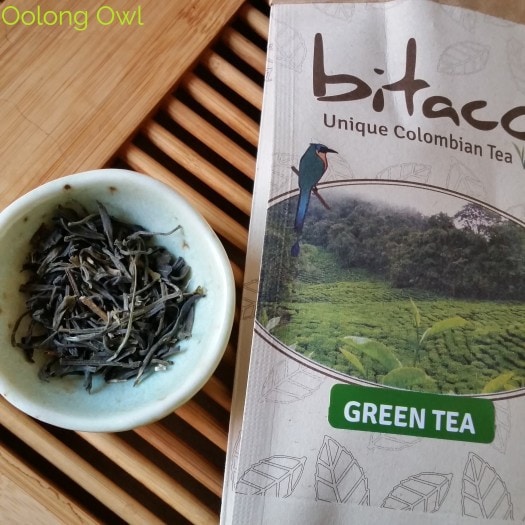 I did a western steep of 2 mins with 175f water temperature. The Colombian green tea steeps up a pale yellow.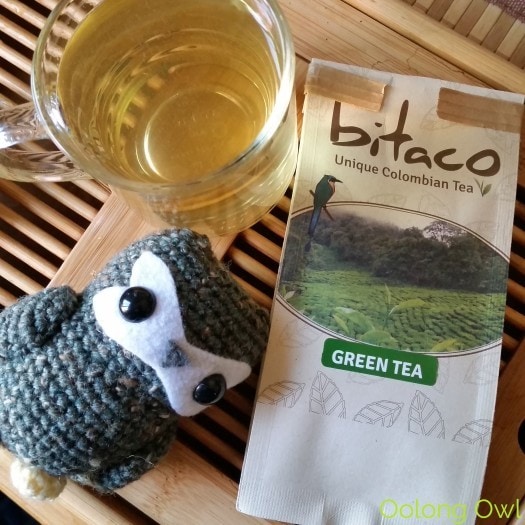 To my surprise the green didn't taste as grassy or marine as the leaf smelled. The texture is really smooth and fluffy and the flavor is light and clean. The flavor notes are savory, buttery, woodsy birch with a sweet finish. The green tea is not grassy or dry so it is really easy to drink. While I'm drinking this I'm thinking I wish they had a white tea as I bet it would be crazy good.
I did a resteep and the green was sweeter with a corn and straw flavor, but still quite light and thick.
With the light taste and its more neutral, non grassy taste, I could see right away this would make a great green back for blends.
With that said, let's taste the Colombian green tea blends.
Tropical Charming
Tropical Charming is a Colombian Green tea blend with lulo, starfruit and mango. You don't see starfuit teas that often and I've never seen a lulo one ever. The tea smells lightly tropical sweet, yum!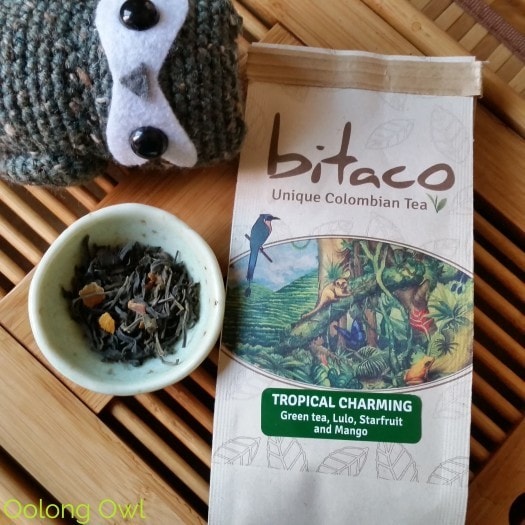 Tropical Charming steeps up with a soft mango flavor with a background of citrus starfruit. The fruity flavors are carried on a fluffy cloud of thick texture. The flavor is on the light side, but I can see this one being would be amazing iced.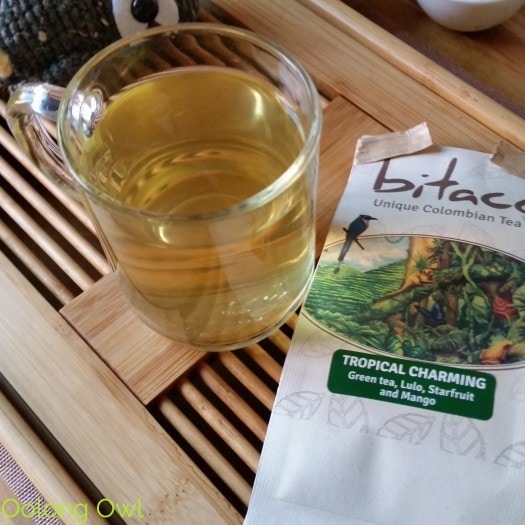 Mist Forest
Mist Forest is a Colombian Green tea blend with pear, guava and soursop. I honestly don't think I've seen a soursop loose leaf tea either. I've seen soursop tea in a can though. In contrast to Tropical Charming, Mist Forest is strongly scented and reminds me of guava candy. Totally mouth watering!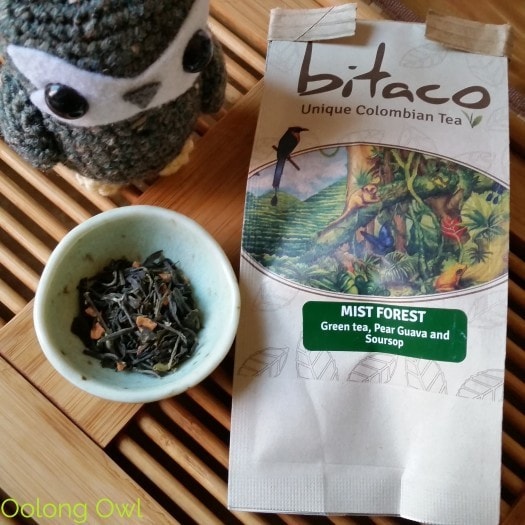 Taste wise is the strongest blend. The main flavor is the creamy sweet guava and tropical flavor. The green tea only gives off its texture so it is really in the background here. This has to be the best guava tea I've had so far, but also the most distinct in guava flavor. This tea also tastes close those guava juices but not as sweet. I can also pick up the milky banana soursop flavor at the end of sip. My grandma used to buy soursop and I was always fascinated on how it looked.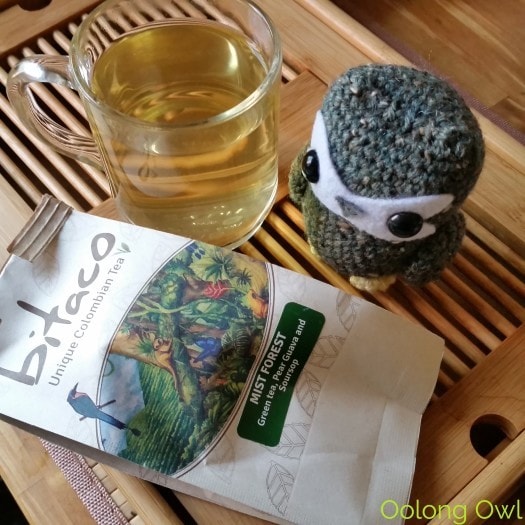 Comments
So there's tea in Colombia and its great! Bitaco also has one of the most exotic tea blends, if Colombian green tea wasn't exotic enough. I really want to get my hands on more Mist Forest – this is my favorite of the greens teas. Bitaco also has black teas – stay tuned for reviews of those!
I don't see a store front to purchase, so fingers crossed these teas become available soon!
(tea provided for review)