Black Jasmine Cream  is a black and green tea blend with jasmine flowers and vanilla flavoring. This tea is from New Mexico Tea Company.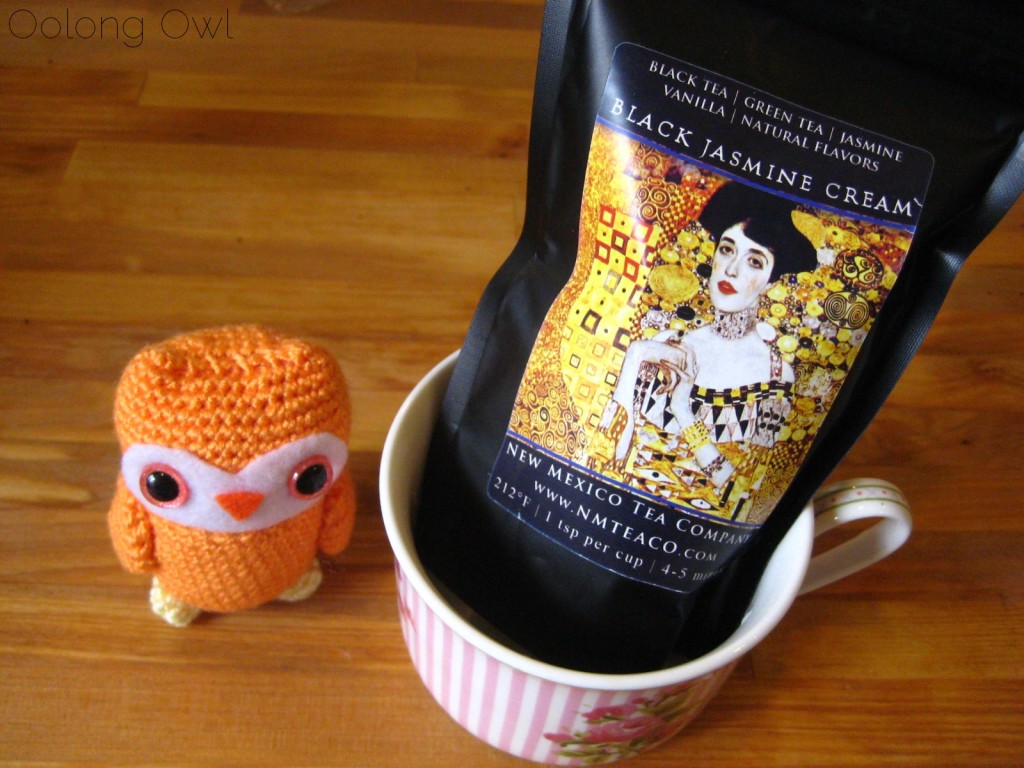 Black Jasmine! I've noticed once in awhile people asking around Steepster for Jasmine Black teas. It's a tea combination that seems uncommon to find. The first black jasmine I've tried was Jasmine Black Pearls from DAVIDsTea, which was really good. New Mexico Tea Company is another place to find a Black Jasmine tea, which I managed to get my Owl claws on it!
Dry Leaf
Black Jasmine Cream smells like a jasmine lovers dream! Lots of jasmine with a creamy background. Can I just rub this tea all over me?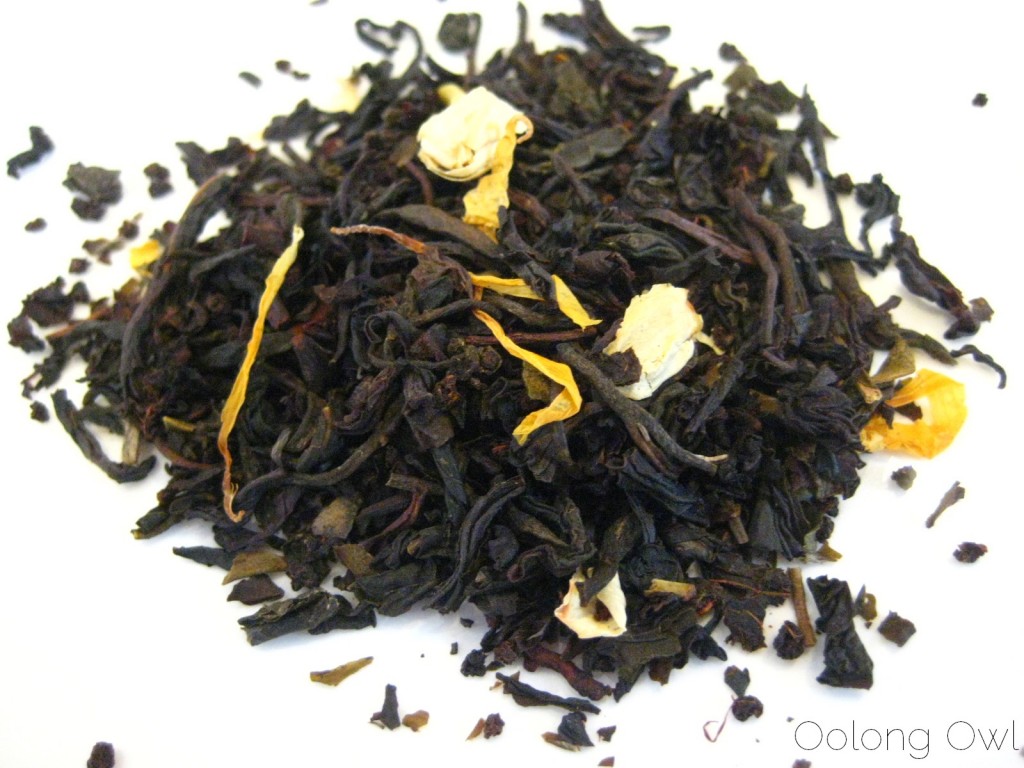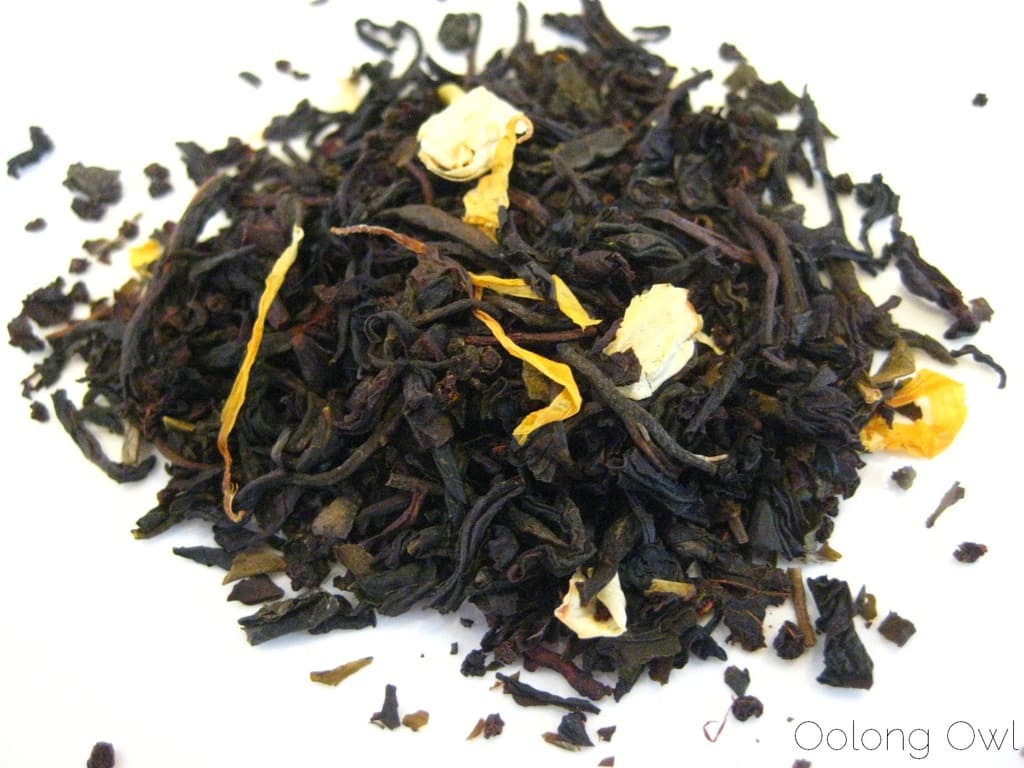 The black tea leaves are accented with plenty of yellow-orange petals as well as jasmine buds.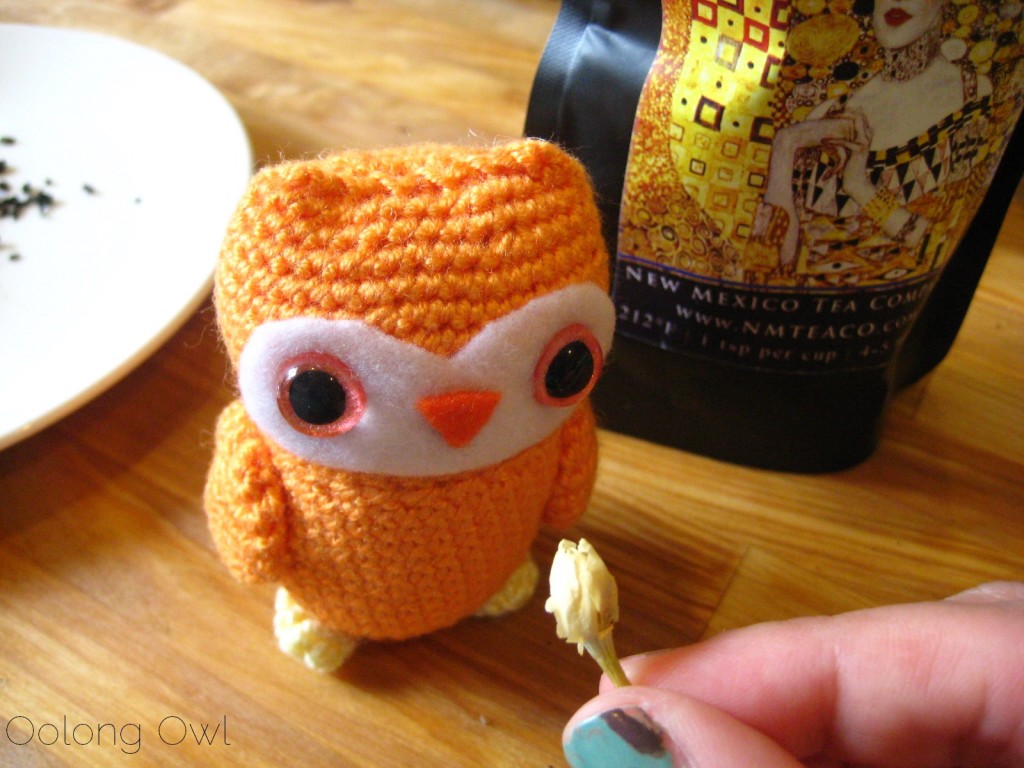 Steeping Instructions
The package of Black Jasmine Cream states to steep the tea with 212f water for 4 to 5 minutes. I steeped mine for 4 minutes.
My cup of tea came out a deep reddy brown strongly scented of jasmine and vanilla sweets.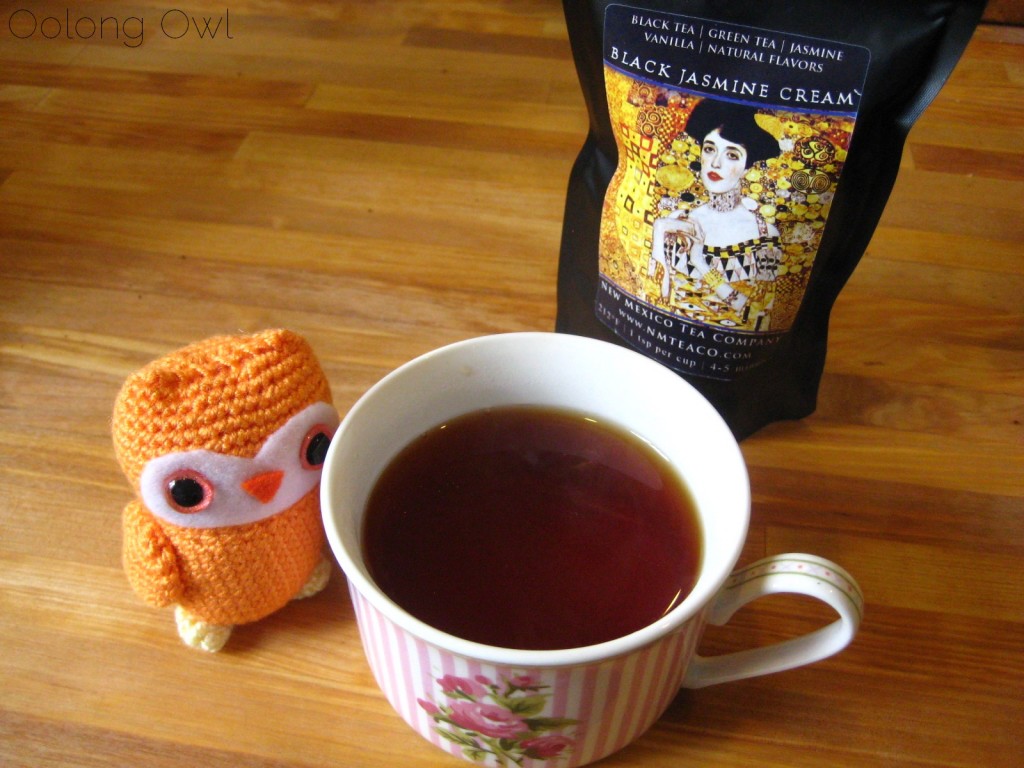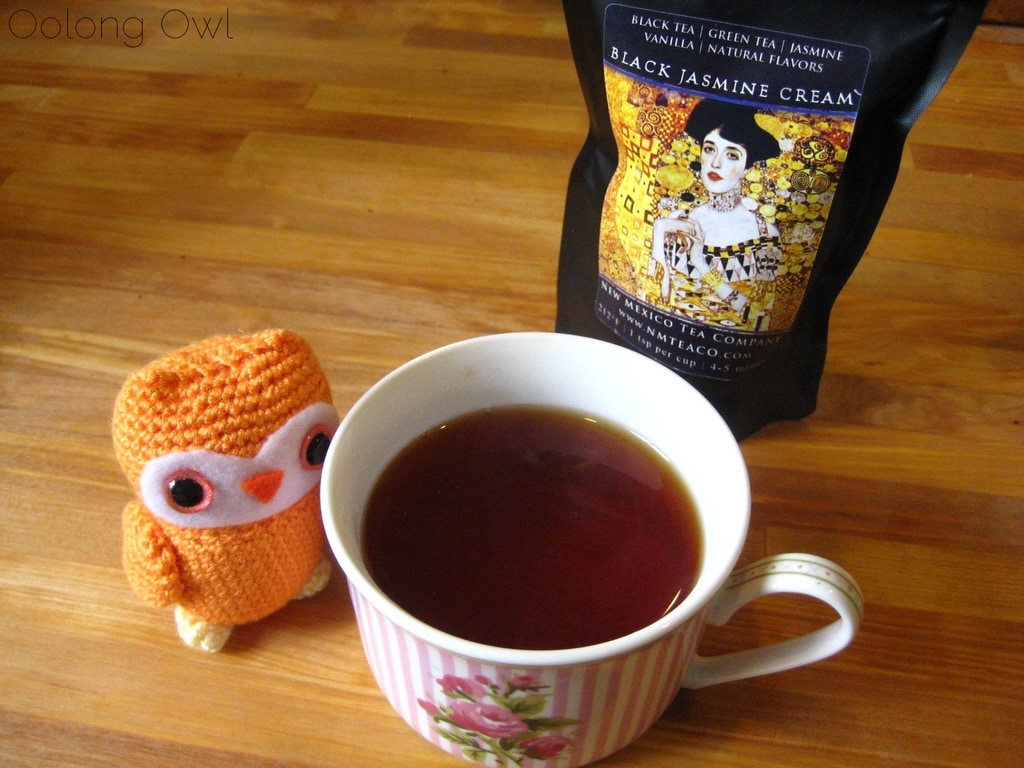 Tasting of Black Jasmine Cream Tea
Black Jasmine Cream sips in a sharp, strong, brisk black tea flavor, quickly followed with plenty of jasmine floral. I give the floral level a 5/10 on the Floral-o-meter, it's strong and identifiable, but not overwhelmingly perfumey. The scent of Black Jasmine Cream is more perfume than the taste. The tea finishes off slightly bitter, say a 3/10 on the bitter-o-meter as well as some lingering dry astringency, a 3/10 on the Astringe-o-meter. There is some interesting elements at end of sip, despite the bitterness and astringency. The jasmine is sweet and floral with a fruity quality that sticks to the throat. Black Jasmine Cream also has a creamyness that coats the tongue. Actually, the more I sip this tea, the more creamy my mouth feels.
Sweetened: Oooooh! Adding rock sugar pulls out the creamy flavor! Black Jasmine Cream now sips in creamy smooth, gliding over that earthy deep black tea base. The jasmine adds lots of interest and romance to the tea. However, I'm still getting bitterness and dryness.
Oolong Owl Steeping Adjustment
Admittedly, I don't like the bitter and astringency in this tea. I'm thinking since there's green tea somewhere in here, doing a boiling water steep might of overcooked it. However, I can tell this tea has potential, I just need to adjust the water temperature and steep time.
Anyways – I'm trying this tea again with 200F water. At the 2:45 minute mark, I found the tea to be perfect.
Of course, I filled the cup too high. Help, me Orange Owl! /sip sip sip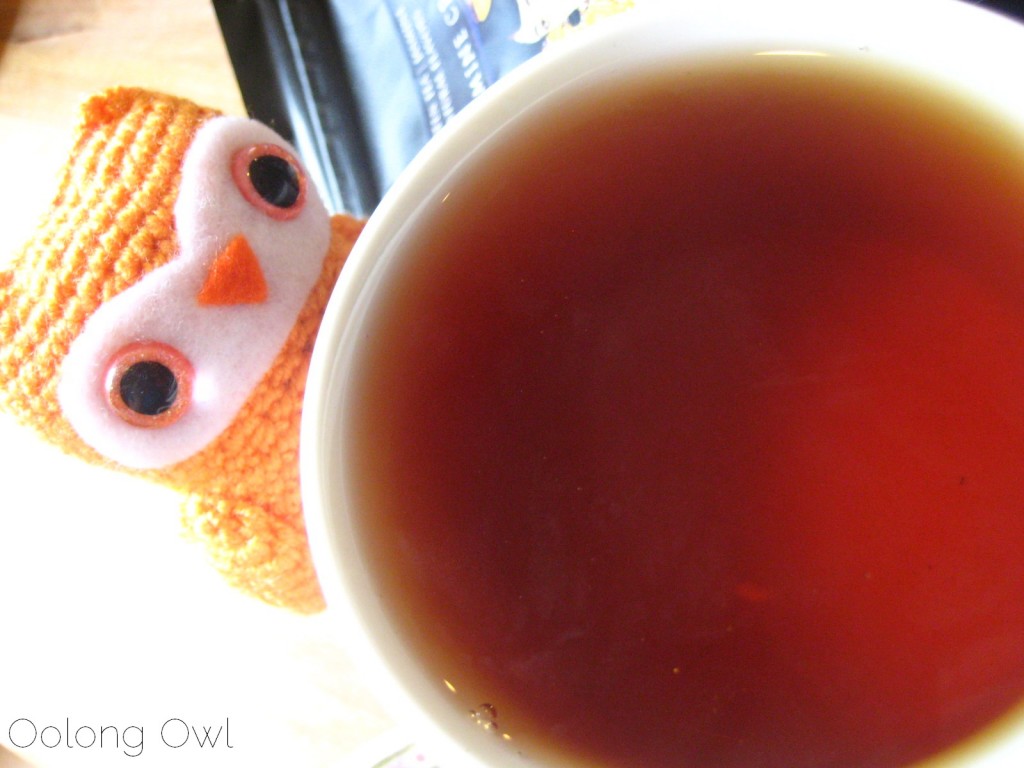 Despite the shorter steeping time, Black Jasmine Cream is still full of flavor. Black Jasmine Cream sips in sweet and creamy with white chocolate notes. The jasmine pops mid-sip, becoming the dominate element of this tea. The floral is more crisp and sunny but also sweet over the earthy base of black tea.  I don't need to add sugar since I got all this floral and creamy sweetness! The bitterness is gone, however there is some astringency, a 2/10, leaving a dry throat sensation.
Comments
New Mexico Tea Company's Black Jasmine Cream  is the tea for a black tea and floral lover, especially if you love strong black tea that you can add milk and sugar to. This tea would be a perfect for an English-style afternoon tea time! Oh man, a freshly baked scone with peach preserves and devonshire cream would pair amazingly with this tea!
If you prefer a more mild floral jasmine black tea to drink without sugar, try my steeping adjustment to 200F for around 3 minutes.
Bonus: Glowing Tea Owl!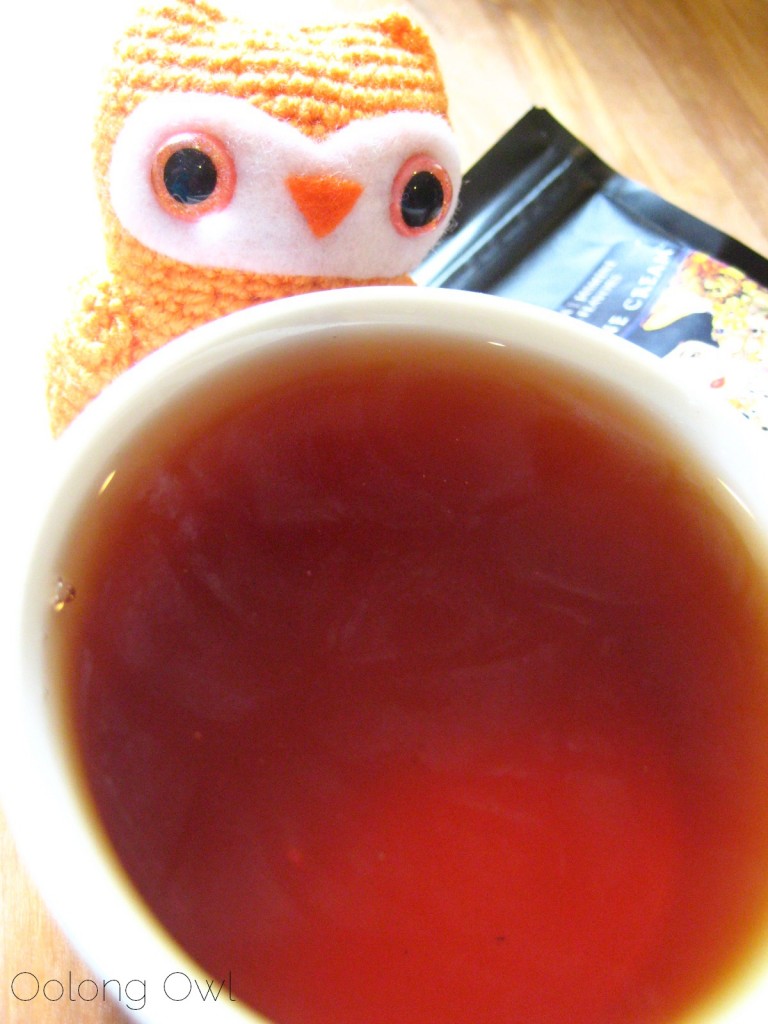 (tea provided for review)