With fall here, I'm in the mood for darker teas. I've been drinking all the black and shous lately. Today's review is black teas from Teabento – a new seller based in Germany. Teabento has a really cute website with fun photos of teas as animals. Their tea selection is primarily unflavored, with a few floral teas. Teabento also carries a number of uncommon and rare teas.
Today I will be drinking Happy Panda, Red Panda, and Plum Rooster.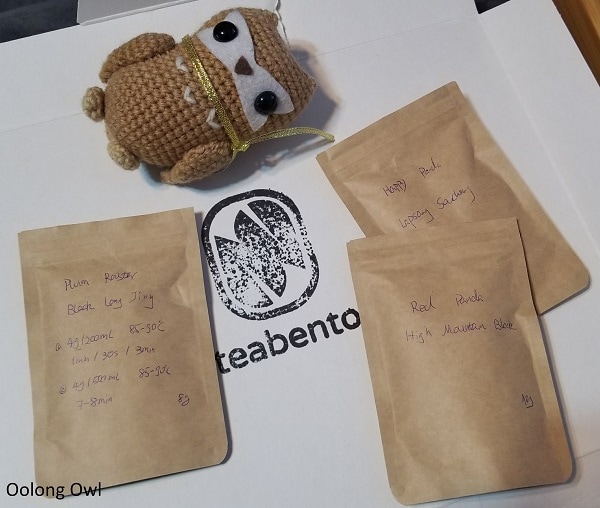 Teabento's Happy Panda Black Tea
Happy Panda is a non-smoked Lapsang Souchong. I love seeing traditional Lapsangs as I dislike the smoked ones unless it is for cooking. No don't tell me I haven't had a good expensive Lapsang Souchong, I have.
Dry Leaf and Steeping Method: The fine leaves have a rich dark chocolate smell.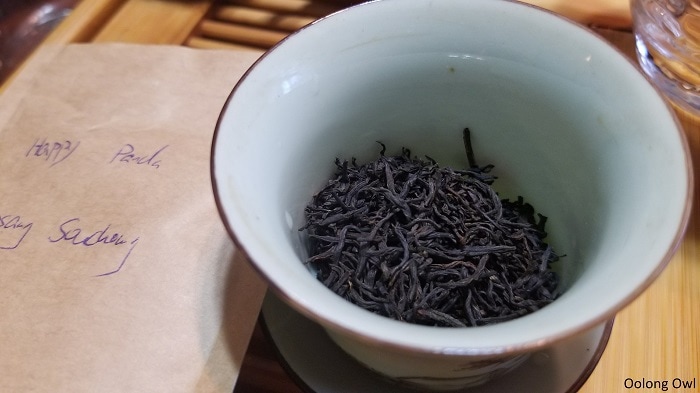 I noticed Teabento has their black tea steeping parameters on lower temperatures and greatly under leafed compared to what I usually do. They list 1 gram to 30ml at 203F/95c for this tea. I went with 1 gram to 15ml, with 205F/96c. I actually leaf black teas harder than that and usually boil for gongfu style, but when I see quite low-temperature suggestions, I get nervous thinking that the teas are supposed to be bitter.
First and Second Infusion: Happy Panda black has a strong, deep woodsy flavor with an overdrive of orange pith bitterness, with a smooth creamy malty note at the end of the sip. There is some bitterness but it is balanced well with the orange fresh taste and malt. It tastes like an adult chocolate orange.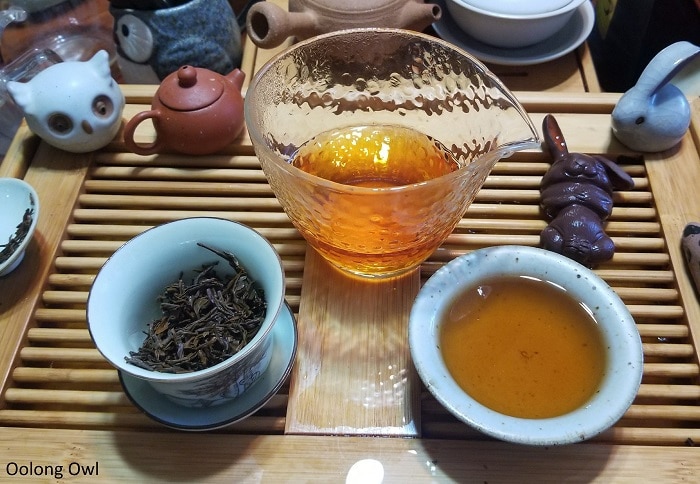 Third, Fourth, and Fifth Infusion: Happy Panda got luxuriously smooth. The orange pith chilled out thus no bitterness, so it is mostly a malty oak flavor, with a hint of orange. The body is thick and dense, it is like drinking cream. There is some dryness in the mouth after drinking it.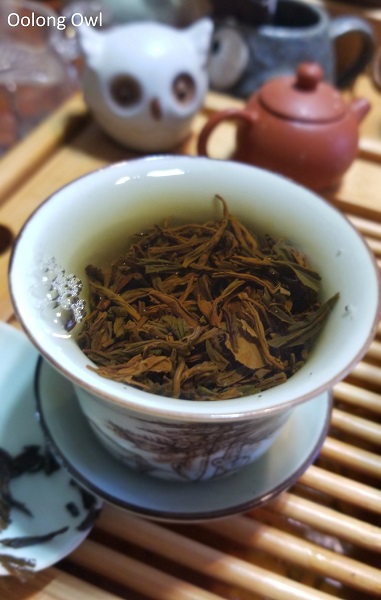 Sixth and Seventh Infusion: Nope, Happy Panda is no longer happy. This Lapsang Souchong went bitter and gum dry. I still get some malty woodsy notes, but it is too dry and bitter to continue. Now I see why Teabento says to use a lower temperature. I still won't leaf it less though.
---
Teabento's Red Panda Black Tea
Red Panda is a High Mountain black. This tea is an interesting one as I assumed it was a Taiwanese high mountain, but it is actually is a Yunnan big leaf varietal grown in China, but processed like a black Taiwanese tea.
Dry Leaf and Steeping Method: The leaf is long, thin and wiry with a creamy sweet smell.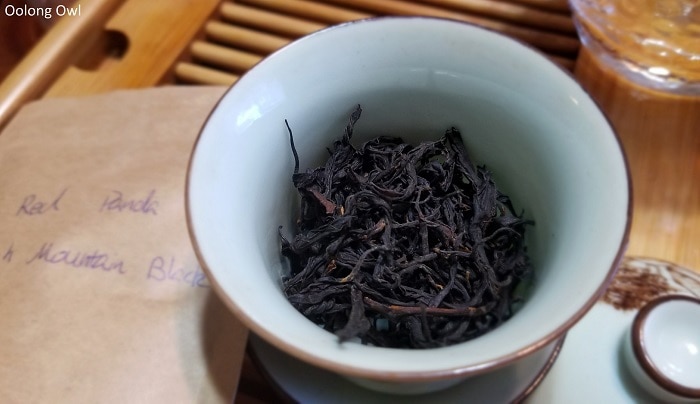 Teabento suggested similar gongfu parameters, but instead with a range of 195-205F/ 90-95c. I stuck to my guns and did 205F/96c with 1 gram to 15ml of vessel. The hot leaves smell ULTRA fruity!
First, Second, and Third Infusion: Wow, this texture! Red Panda is an oily bear! The High Mountain Black feels very slick like I took a sip of oil. The flavor is bright, strongly berry – leaning towards crisp blackberries. There are hints of malt and clover honey. I get an aftertaste that lingers for a bit of berry and mystery floral. There is also a bit of dryness after each sip. The texture is what seals this tea as awesome – I don't come across a black this heavy that often. Generally, I find similar texture in oolongs and puer only.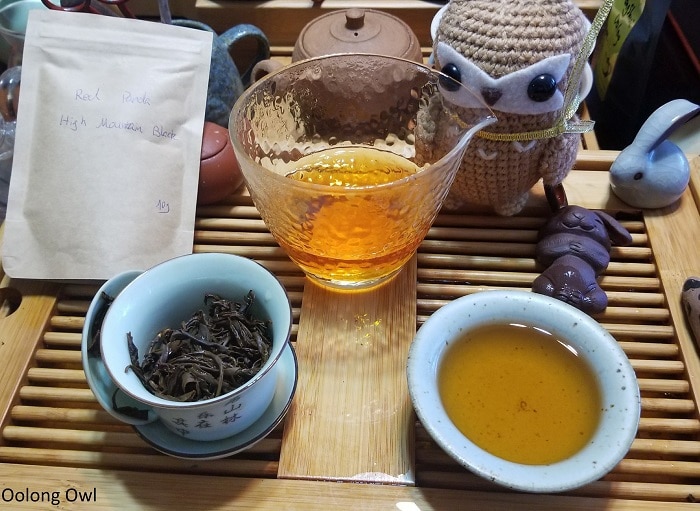 Fourth, Fifth, and Sixth Infusion: Oooph, this one crashed and burned. Red Panda black is delicate as it is quite dry and bitter. It switched more to a sour underripe berry, with notes of malt.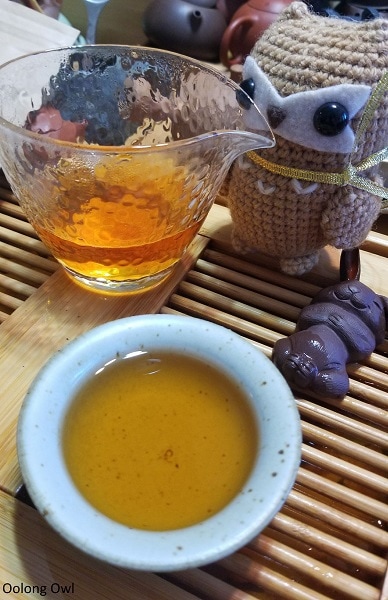 Teabento's Plum Rooster Black Tea
Plum Rooster is a black Jong Jing. There is only one time that I've seen a black long jing and that is Joseph Wesley Black Tea's 03 Classic Chinese, which uses the same cultivar.
Dry Leaf and Steeping Method: The leaves of Plum Rooster are very long and wiry. Interestingly, the leaves smell like a bakery.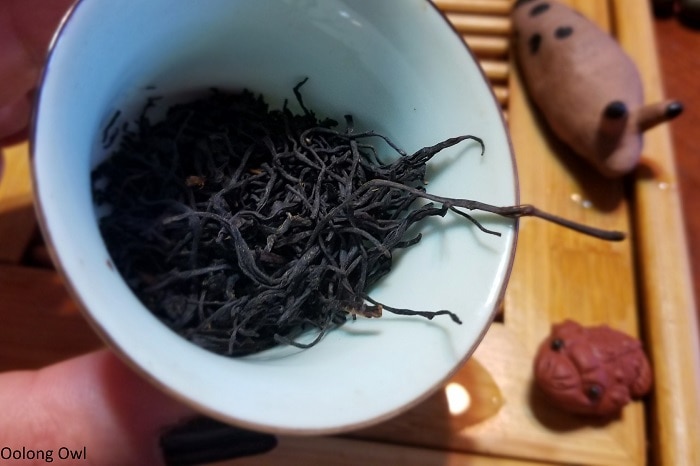 After the last two teas going bitter, I used my usual 1 gram/15ml ratio but dropped the temperature to 195F/90c. Teabento suggests 185-195F/ 85-90c, so I am treading carefully to steep this tea fast.
First, Second, Third, and Fourth Infusion: Plum Rooster is a very different tea. It is mineral, buttery, and bready. I do get an eggy crumbly cookie note, which makes for a fun tea. There is a slight aftertaste of bread, but I also get a bit of dry mouth. I wished I steeped Plum Rooster a higher temperature, as the body is on the oily side and I could have gotten more out of it. But I can tell this is a bitter tea if I push it too much.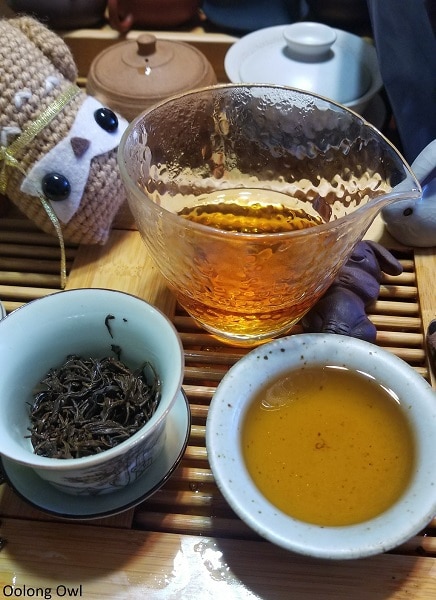 Fifth and Sixth Infusion: This one squeaks sour notes, like sourdough bread and pomelo citrus. It quickly crashed and lost flavor on the final infusion. The lower temperature did limit the bitterness, but still some dryness after each sip.
I like how unique Plum Rooster is – bready, buttery and citrus notes are fun. Out of the three teas, Plum Rooster is my pick.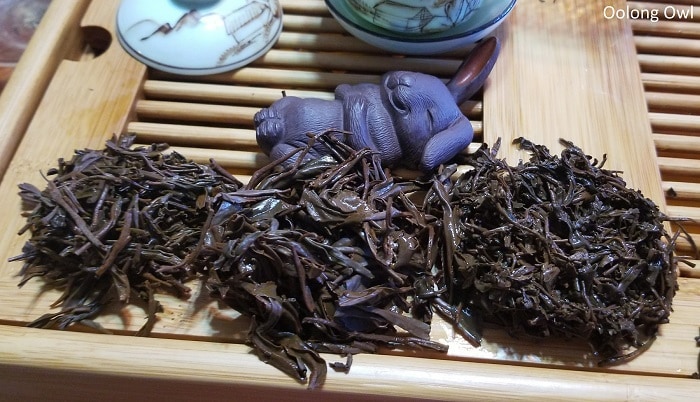 Comments
Out of the three, I liked Plum Rooster the most, but they were all quite tasty. They are definitely high-quality black teas with the perfect fine leaves to the bright high impact flavor. If you are on the hunt of an uncommon black tea, Teabento looks like a good option. Despite being from Germany, they ship do ship worldwide with reasonable rates and a free shipping threshold.
All the Teabento black teas I tried were fussy brewers. I steep my black teas quite aggressively with high leaf and boiling water, but all these I had to reduce leaf and temperature, but I still got bad bitter results. All teas got awesome early infusions with bright flavor, which I tend to associate with competition level tea. These are teas you want to take extra care in brewing – no daily drinkers that you re-steep all day here. Sit down, have a variable kettle, and put in the effort to make these teas good. I only had 5-10 grams of each, so I had no wiggle room to optimize the teas. I even wasn't able to use the vessel I like for black teas since I had such little leaf.
I really like their animal names and art with the tea. It is a nice change of pace than other sellers renaming teas "exotic /pretty /immortal /animal picking tea". Though I didn't see any relation of the animal to name really. I would have named the black Long Jing "Rooster Cookie" hahah!
(tea provided for review)