Wow, Yunomi.us out did themselves for the Tea Samplers Club for September!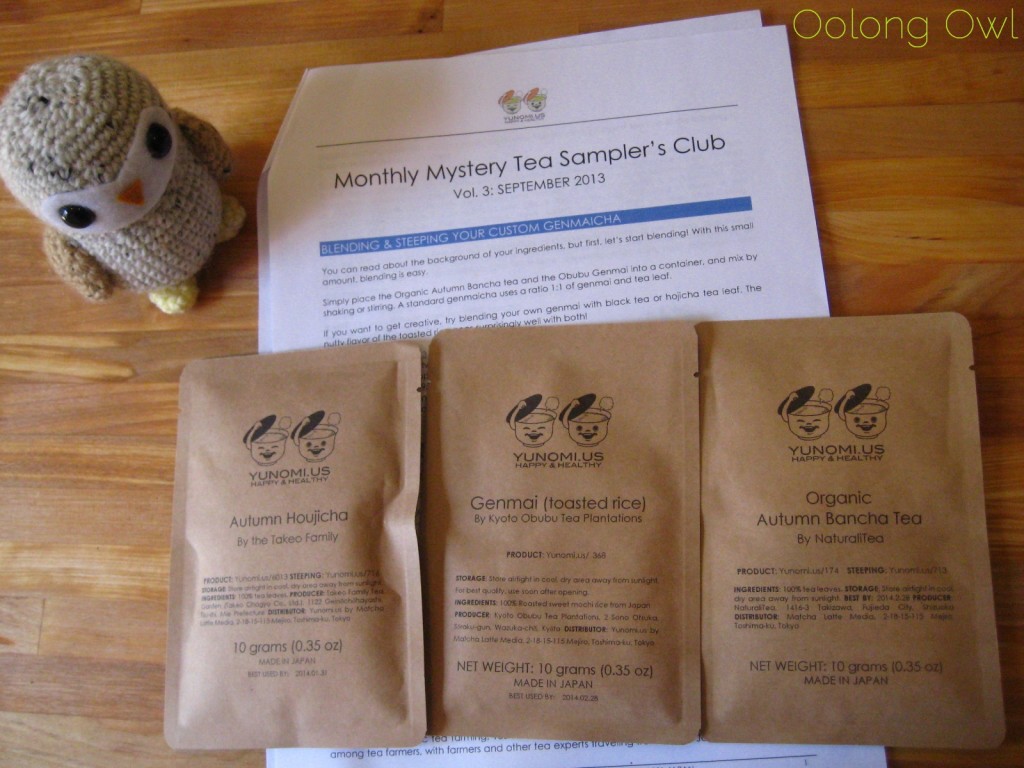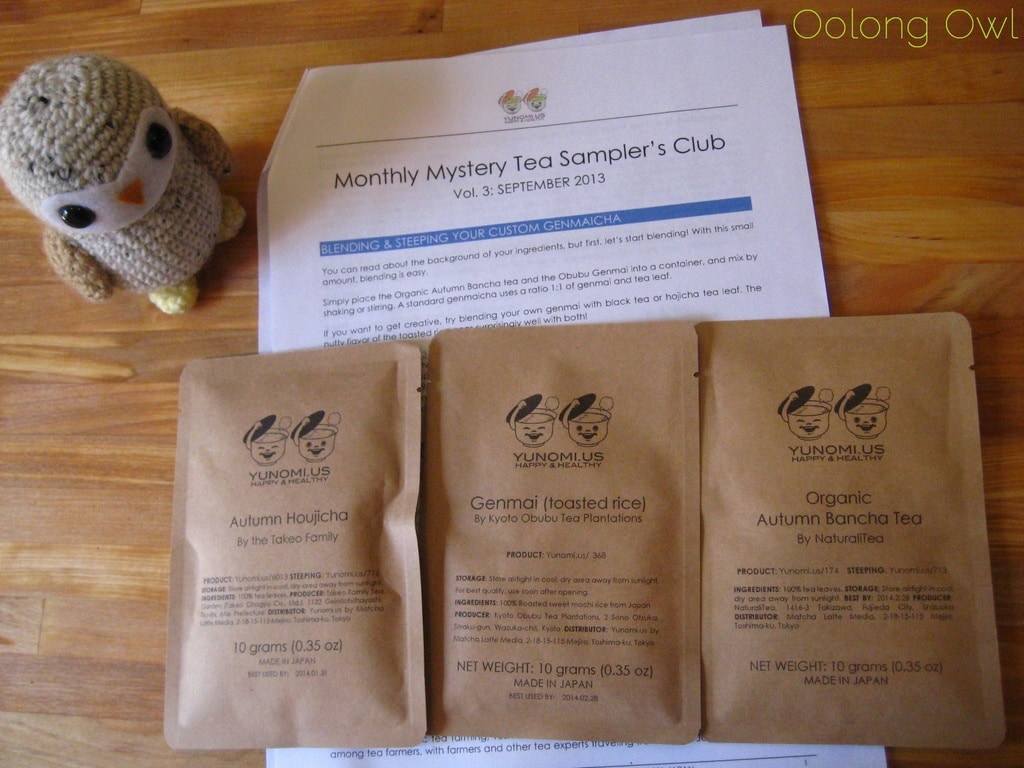 For the month of September, Yunomi.us Tea Samplers Club  included:
Organic Autumn Bancha from NaturaliTea. The leaf has an interesting mix of yellow and lower saturated green, compared to sencha, with a herb and celery scent.

Organic Autumn Hojicha from the Takeo family. This tea as a lovely roasted scent with a great colour of fall: light greens and browns, a little lighter and delicate appearance than other hojichas I've seen.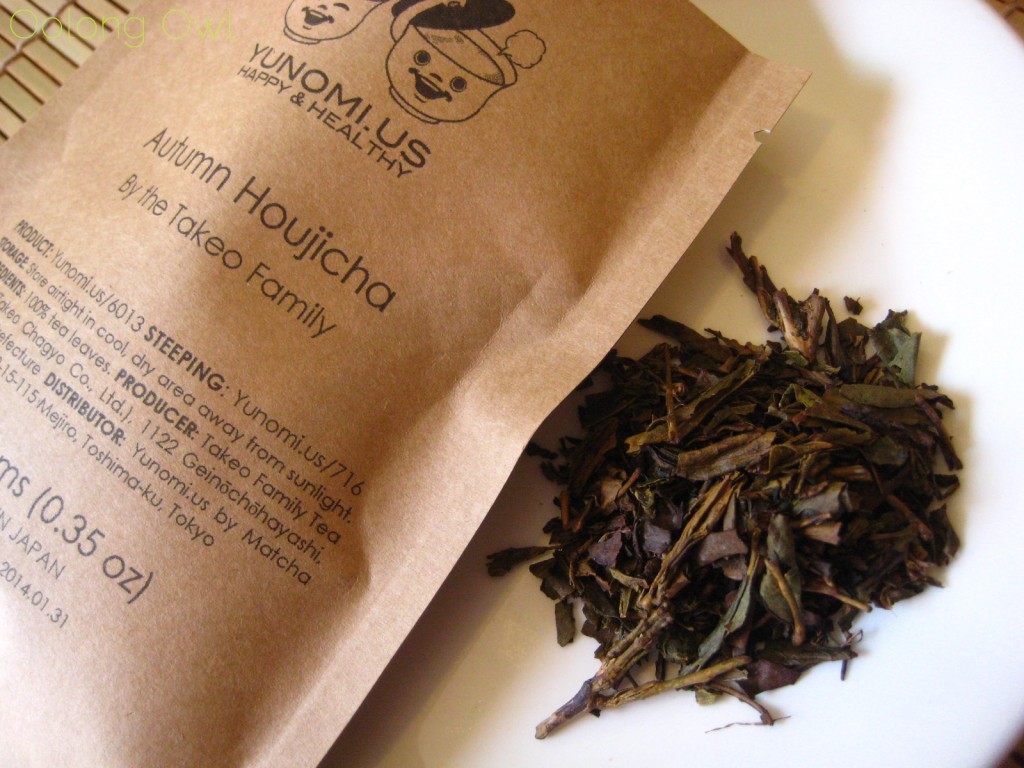 Genmai (toasted rice)  from Kyoto Obubu Tea Plantations. The genmai features petite roasted rice with the odd mini popcorn with a roasty smell. The rice, eating straight out of the packet, is crisp, easy to chew, and a strong roasted rice taste. Wow, these little toasted rices are loaded with flavor!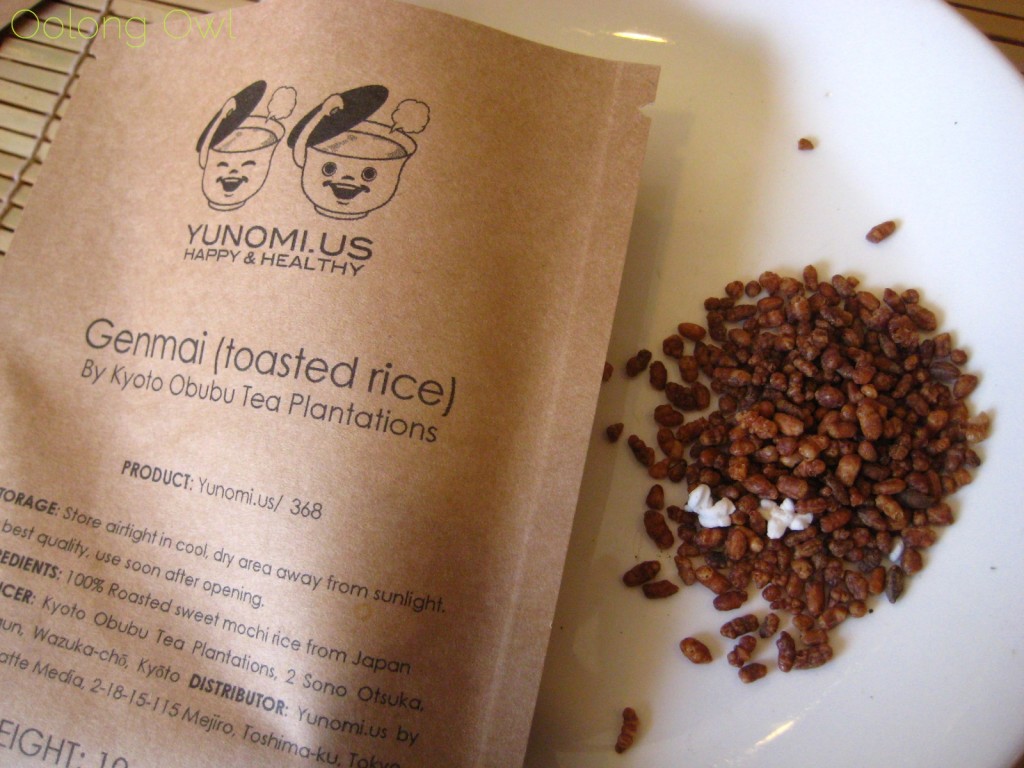 Let's Blend Genmaicha!
With these three teas, instructions were included on how to make your own genmaicha! Very very cool and fun! What I love is that Yunomi.us gave us bancha and hojicha, so we can make a nice, traditional genmaicha with the bancha, but also try something a little different with the hojicha.
Instructions that came with the tea stated a standard genmaicha uses a 1:1 ratio of genmai and tea leaf. I decided to follow those instructions, though I do love genmaicha with a heavier genmai.
To steep your genmaicha, use Yunomi's standard steeping technique of 185f to 212f water for 30 seconds. Then further steepings of 10 seconds and then 30 seconds. The cooler the water, the less astringency that will be present. For my genmaichas, I went 185f for less astringency.
First, lets make a traditional genmaicha with the Organic Autumn Bancha from NaturaliTea.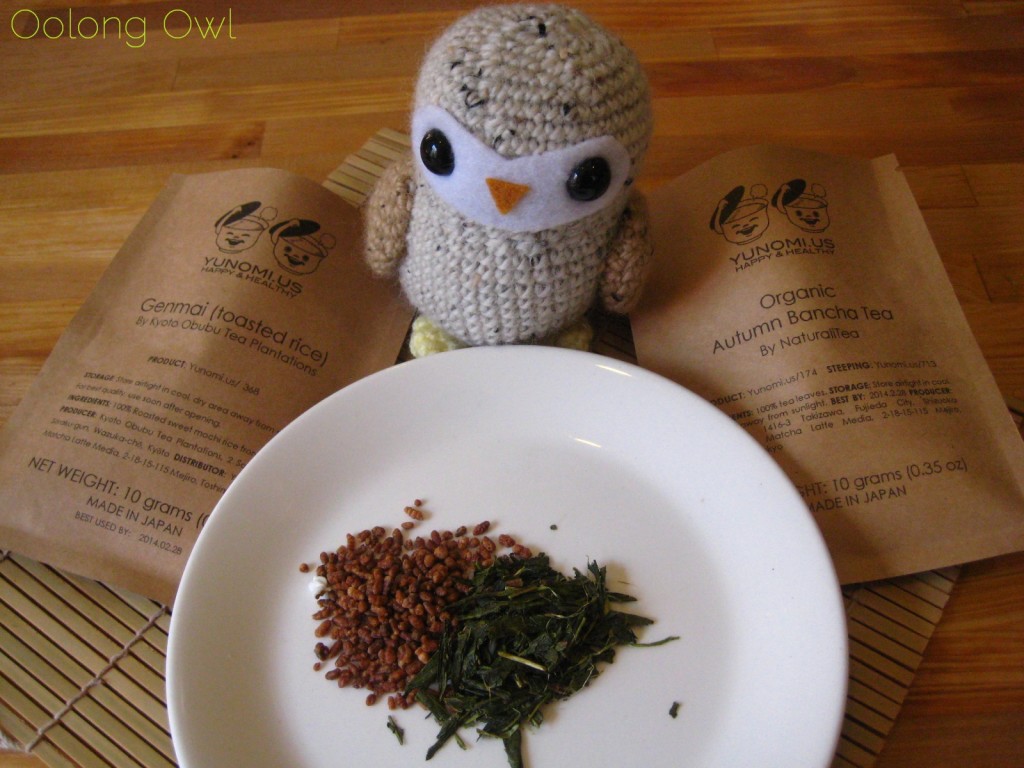 Tea close up!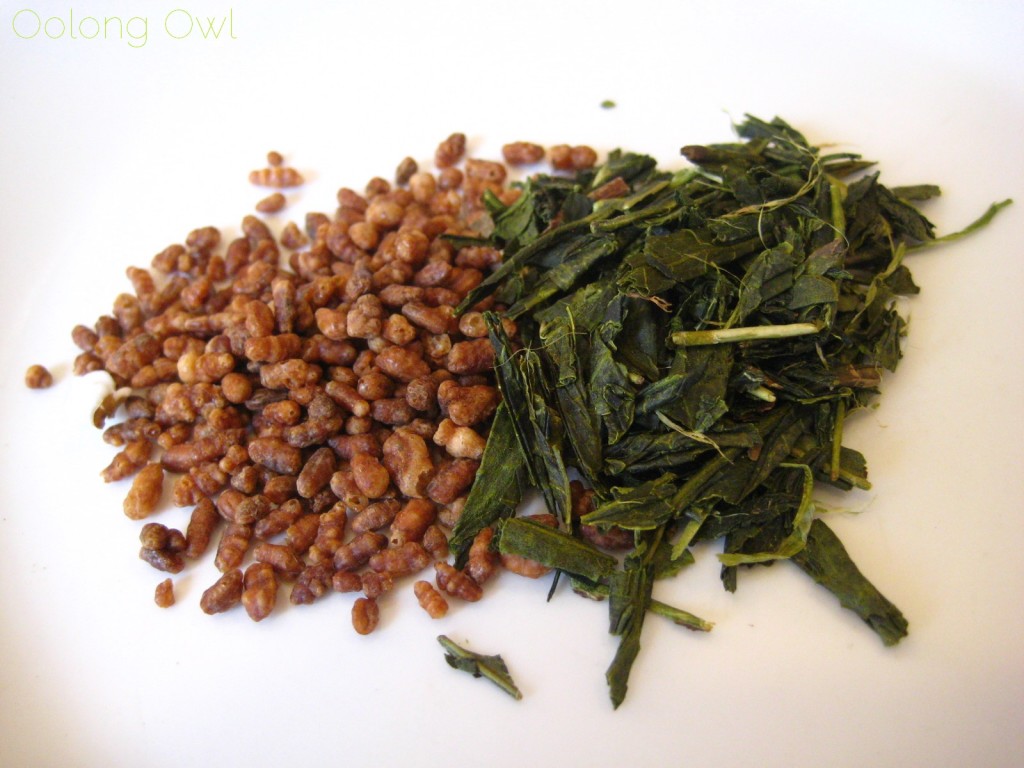 Blend! Just simply toss the tea and rice together.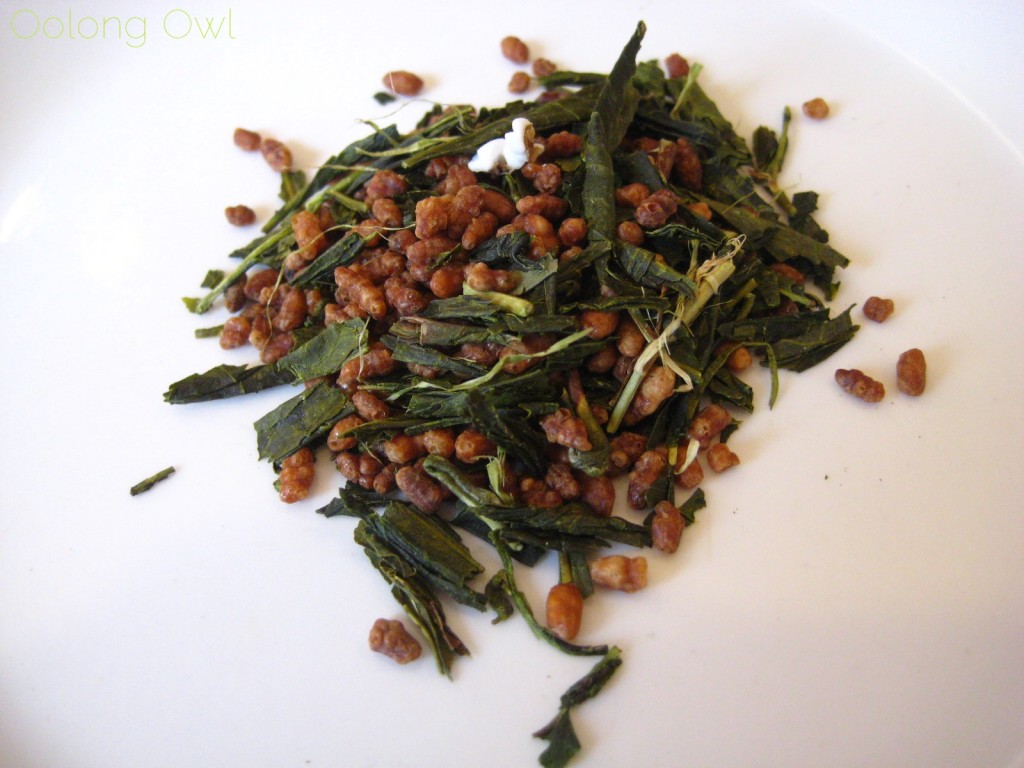 The colour of the steeped genmaicha is a lovely pale golden yellow colour that smells clean and buttery.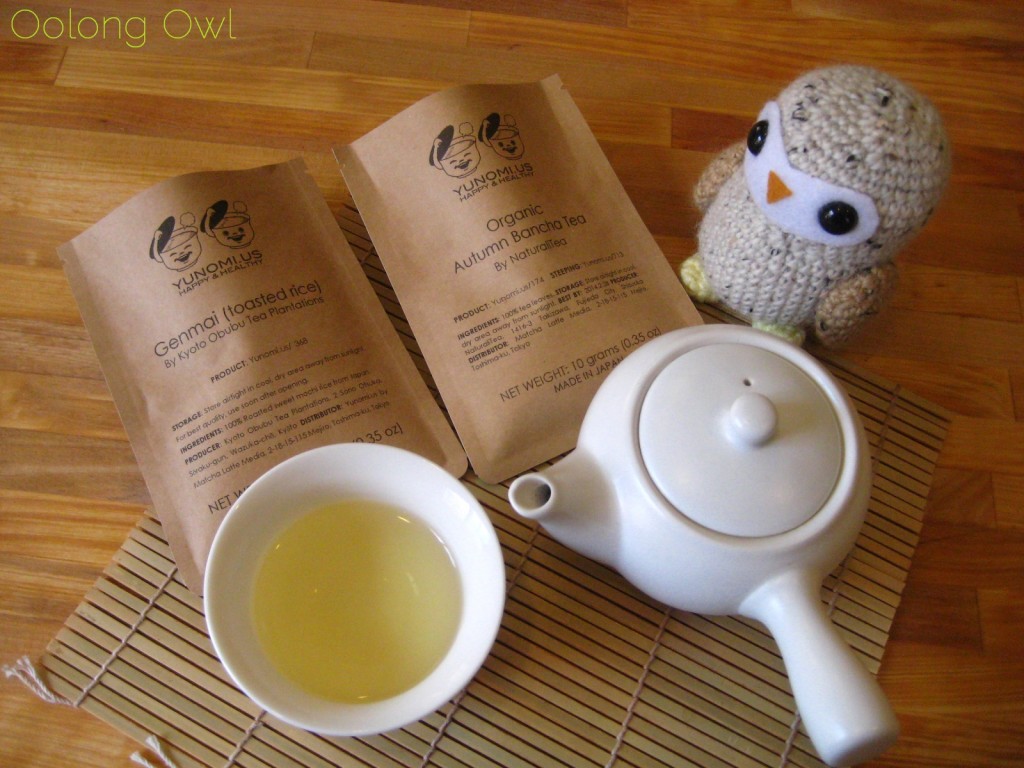 The genmaicha made of the Autumn Bancha is quite different! The green tea base is crisp, light, clean and sweet with a vegetal celery quality. The tea finishes off with a little roasty flavor and lots of creamy texture, and like melted butter on the tongue, the creamyness lingers. The tea is simple, mild and effective. Further steepings of this genmaicha got more sweeter and a little less buttery, with a bit of astringency.
I found this genmaicha more crisp and buttery than other genmaichas and very simple but delicious. It is like fall has just started with the trees going slightly yellow, yet bright and sunny still. I like how this is a non-grassy tea, more vegetal celery like. I'd love to have this tea with some salmon sashimi, yum!
Now, lets make genmaicha with the Organic Autumn Hojicha!
Mix it!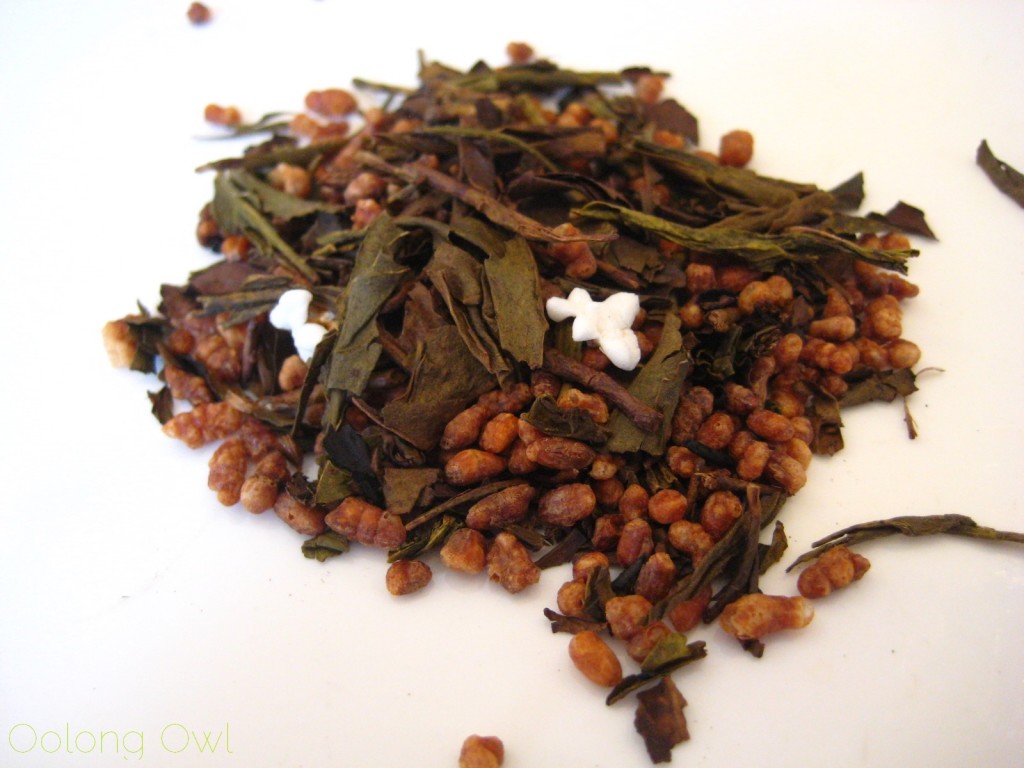 Steep it! The genmaicha here had a fantastic colour! A lovely dark rose gold! The tea smells like a light roasted coffee!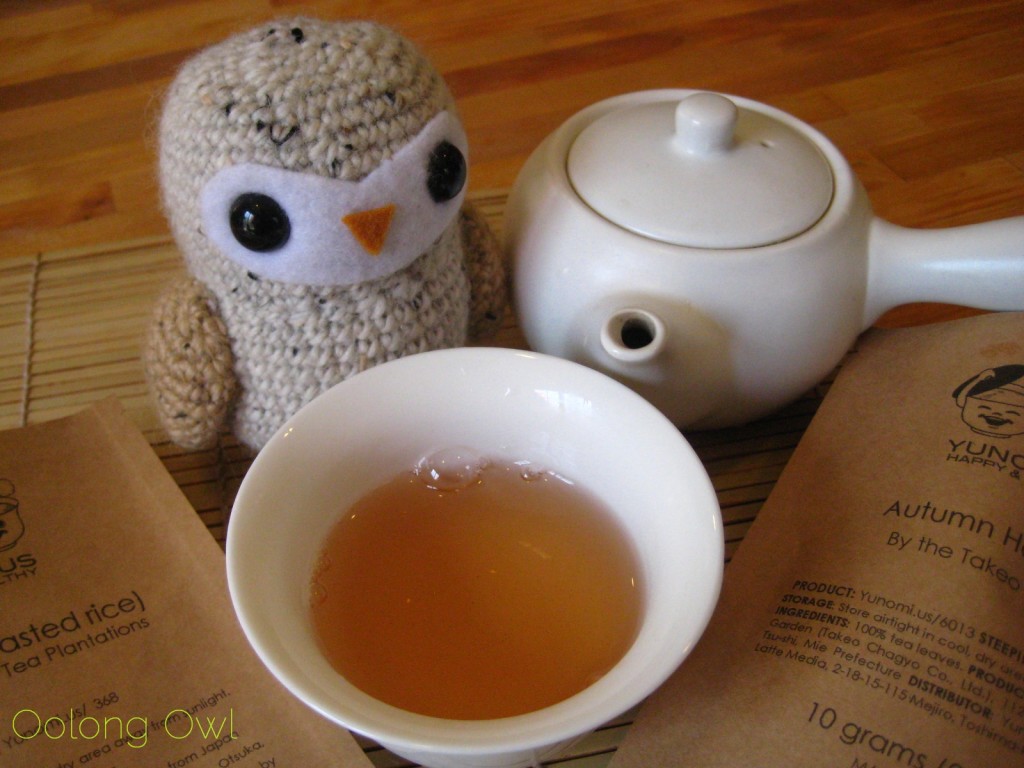 This hojicha genmaicha sips in sweet – a nice amber mineral like sweetness. It finishes off with a light yet roasted and nutty flavor! The nuttyness reminds me of chestnut peels. There is a slight creamyness at the end, but not as strong as the bancha genmaicha. Further steepings this hojicha genmaicha gets less roasty and more buttery, with a bit of astringency.
The genmaicha made with Organic Autumn Hojicha tastes like late fall to me – the leaves have fallen, the air is cool and crisp. Roasted teas taste delicious and comforting with this weather!
The two genmaichas were quite different, opposites even! The colours of both teas were interesting to look at.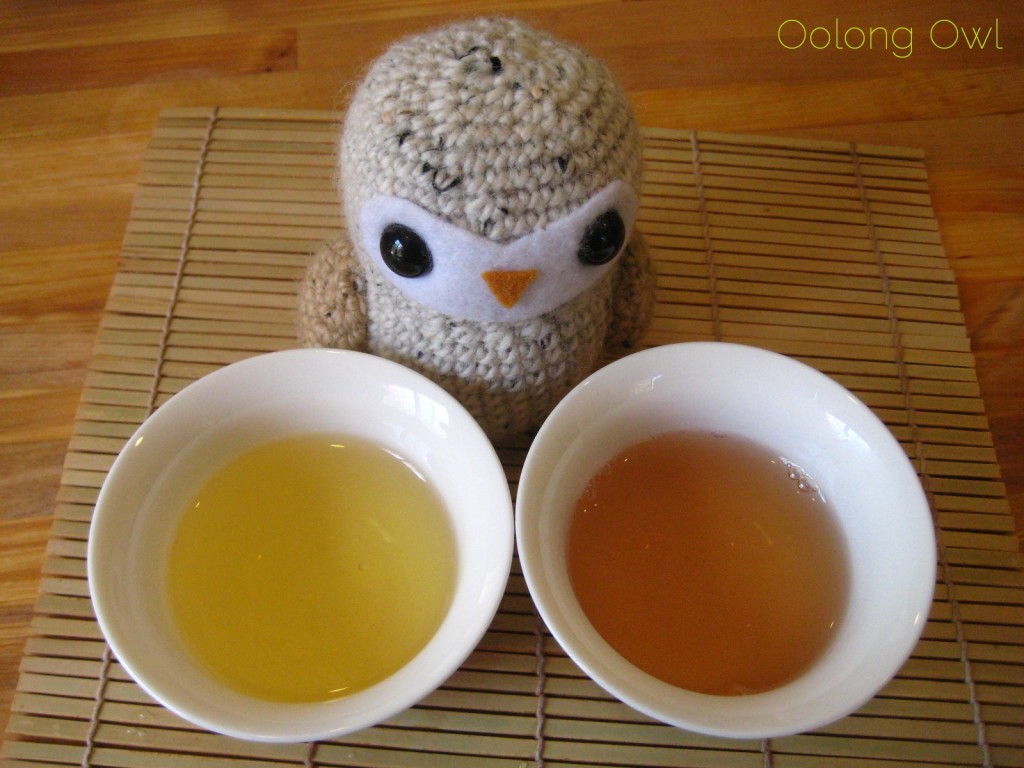 Overall, I had lots of fun playing with making my own genmaicha with Yunomi.us September Tea Samplers Club!
Barn Owl and I feel like official tea blenders!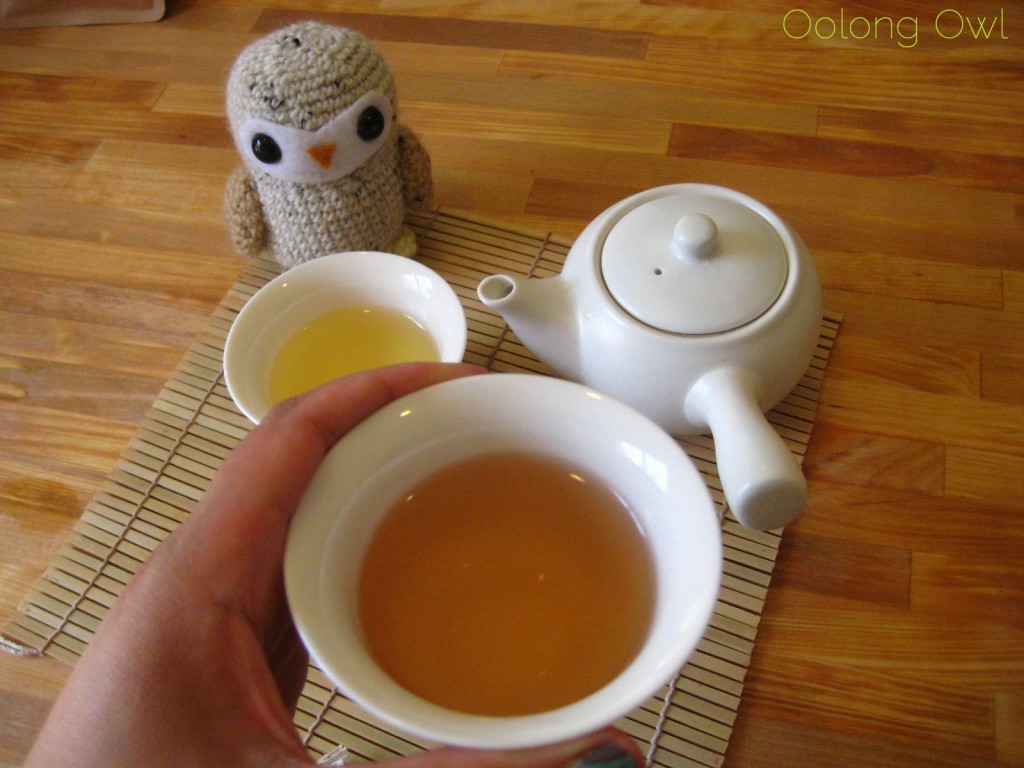 (tea provided for review)