Blushing Geisha is a hibiscus floral green tea blend from Steep City Teas, one of my favorite online tea sellers.
This tea caught my eye right away, but I was a little leery of it. It was expected, from the name, the tea would be red and hibiscusy. Many of us tea drinkers have been terrorized by over hibiscus – vibrant red tea that tastes so tart your throat has a spaz, and that was supposed to be "strawberry tea"?
However, after having some of Steep City Teas stuff, I figure it had to be good.
DRY LEAF: I opened the package, closed my eyes and smelled the tea. Smells kinda like sweet cherries mixed with a little floral. I look at the tea. Very pretty!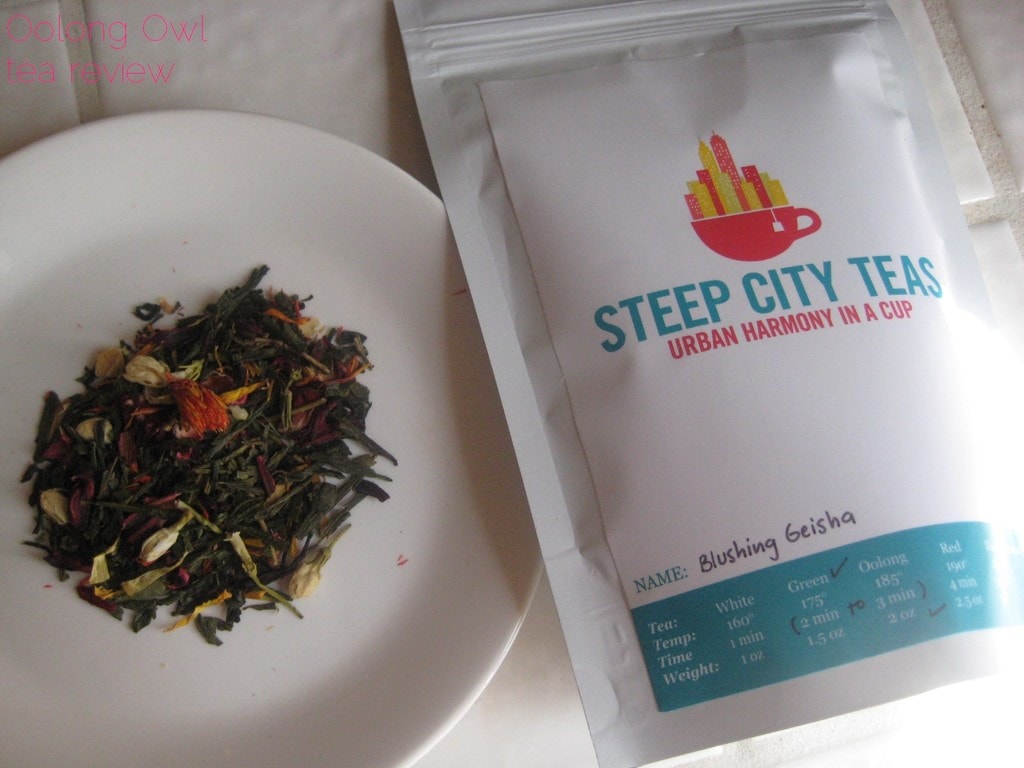 Deep green tea leaves, lovely white jasmine blossoms, yellow marigold petals, orangey safflowers and deep red hibiscus bits. Blushing Geisha looks just as pictured on the website!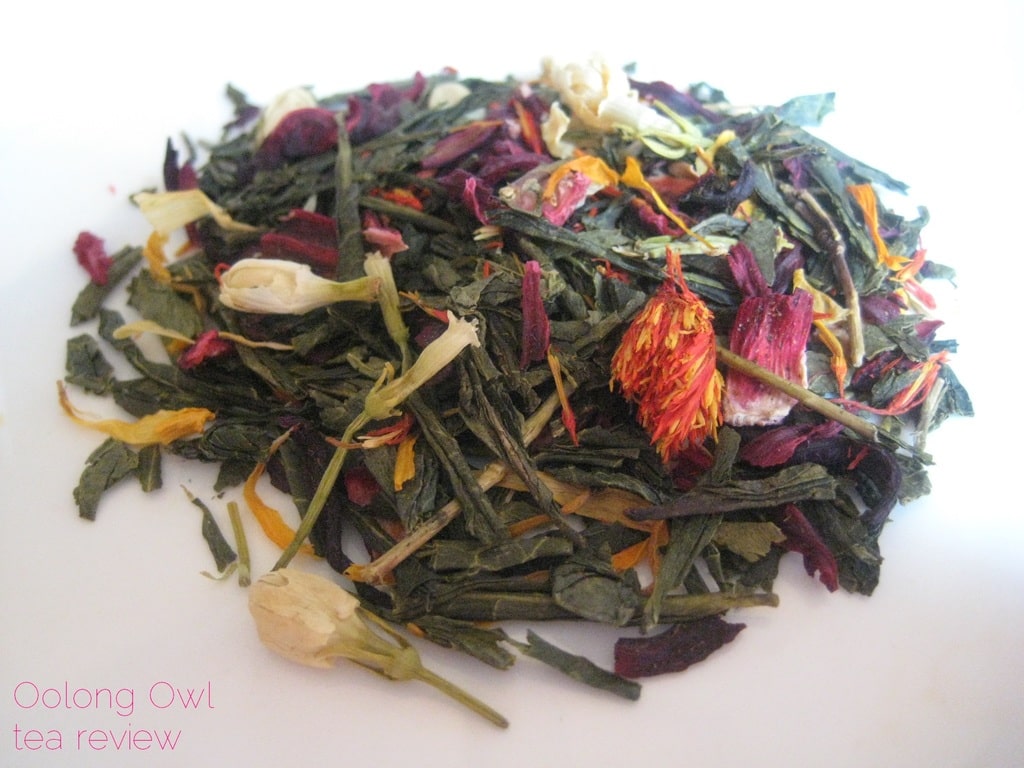 There's a couple of these funky flowers too: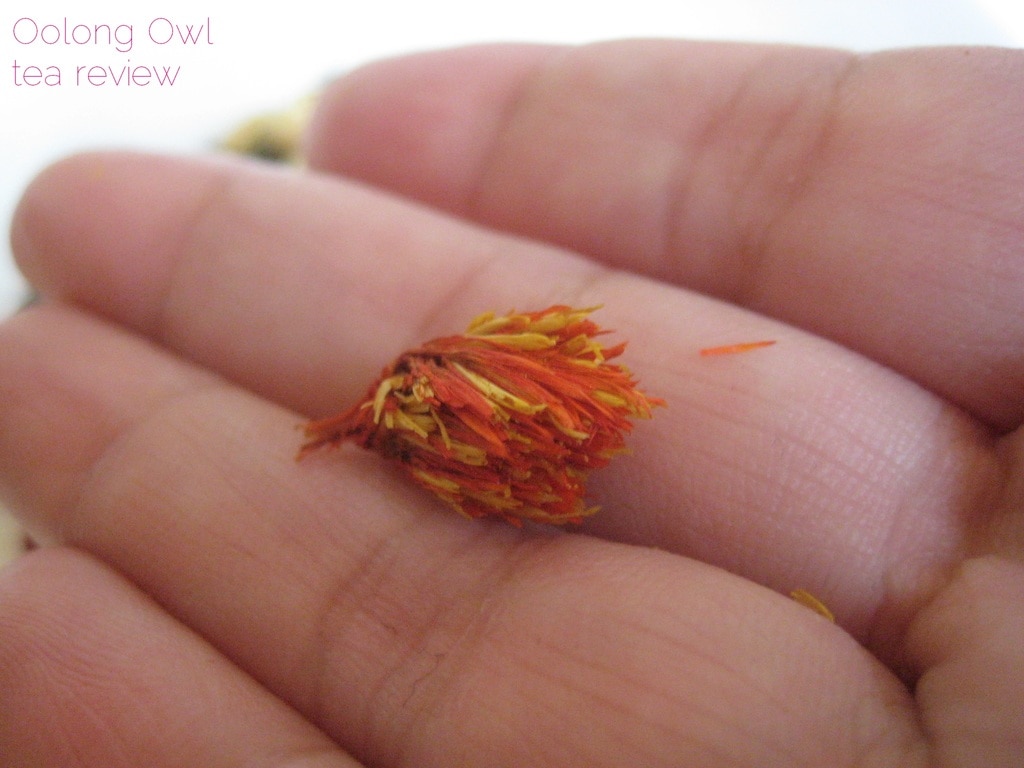 wad of marigold maybe?
STEEPED: I followed the recommended steep time of 212F for 2.5 minutes. 212F? Oh boy, I'm scared as that seems too hot for a green. I'm used to 175F or even 160F for green tea.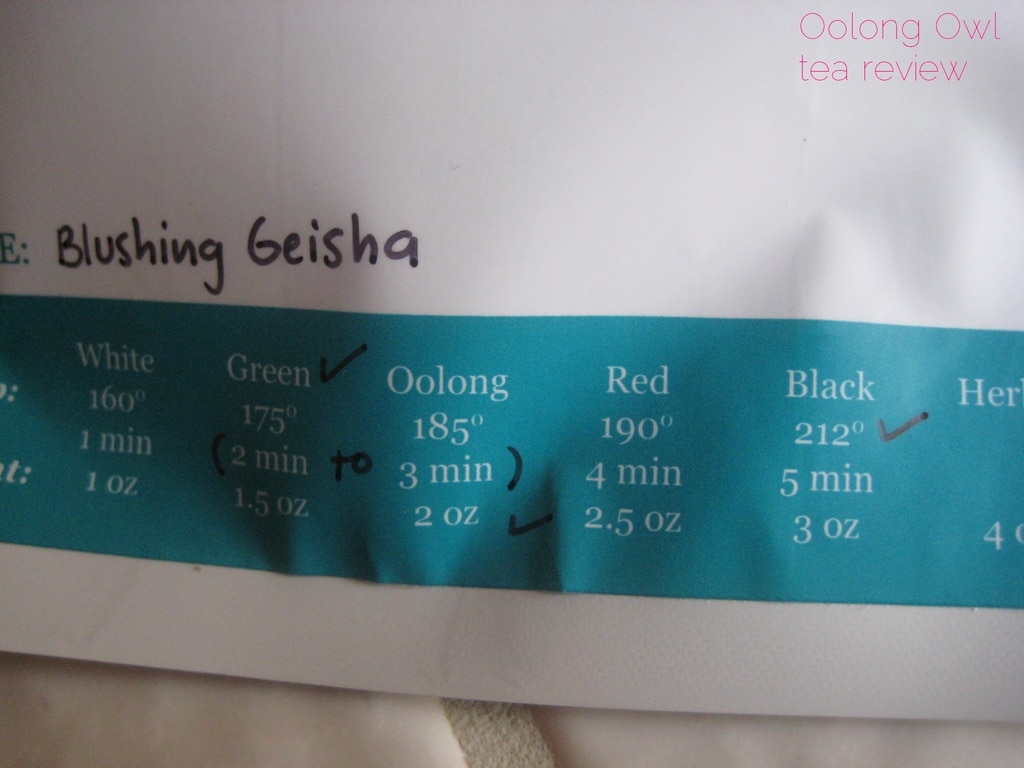 Here comes the hibiscus lightning!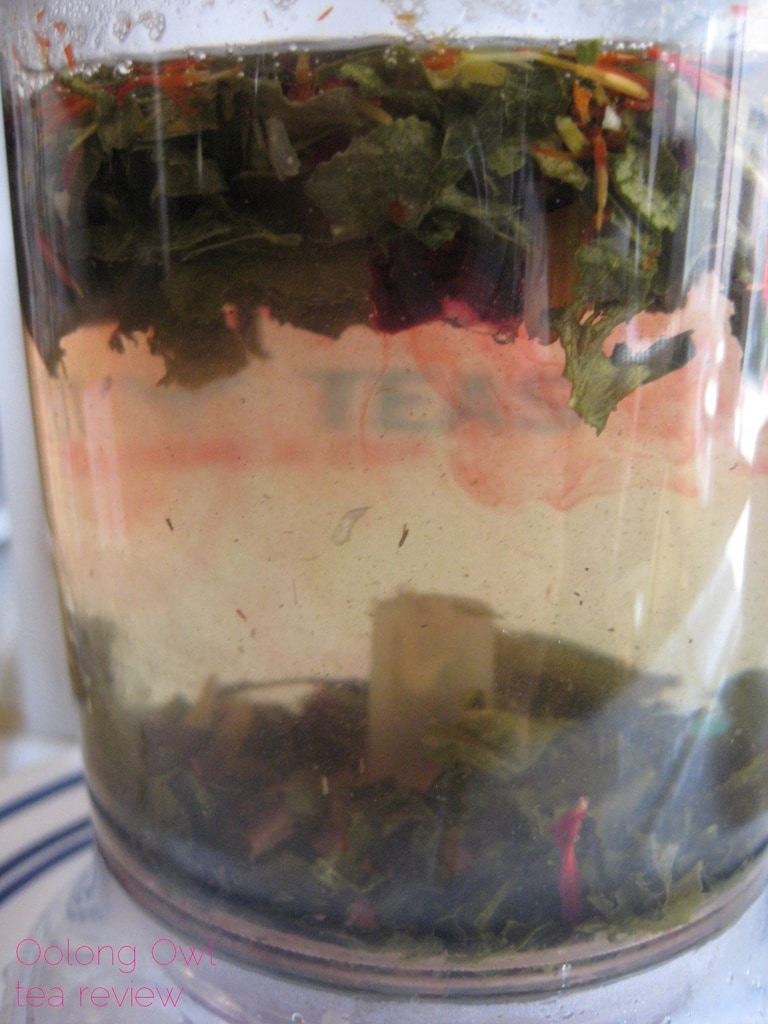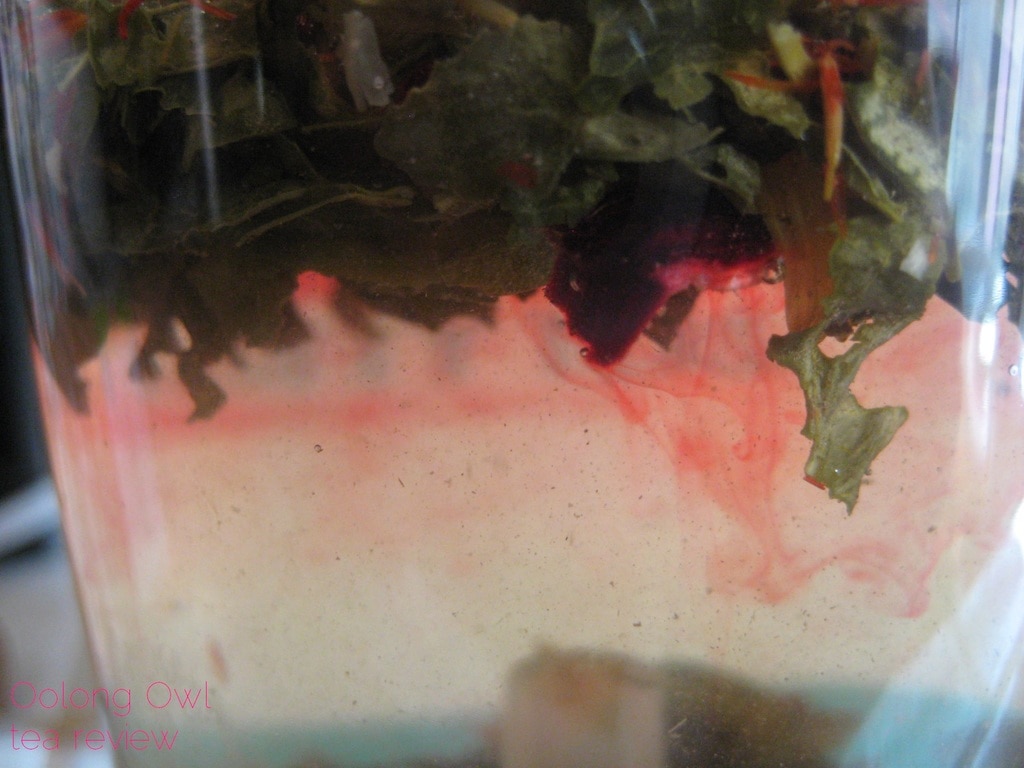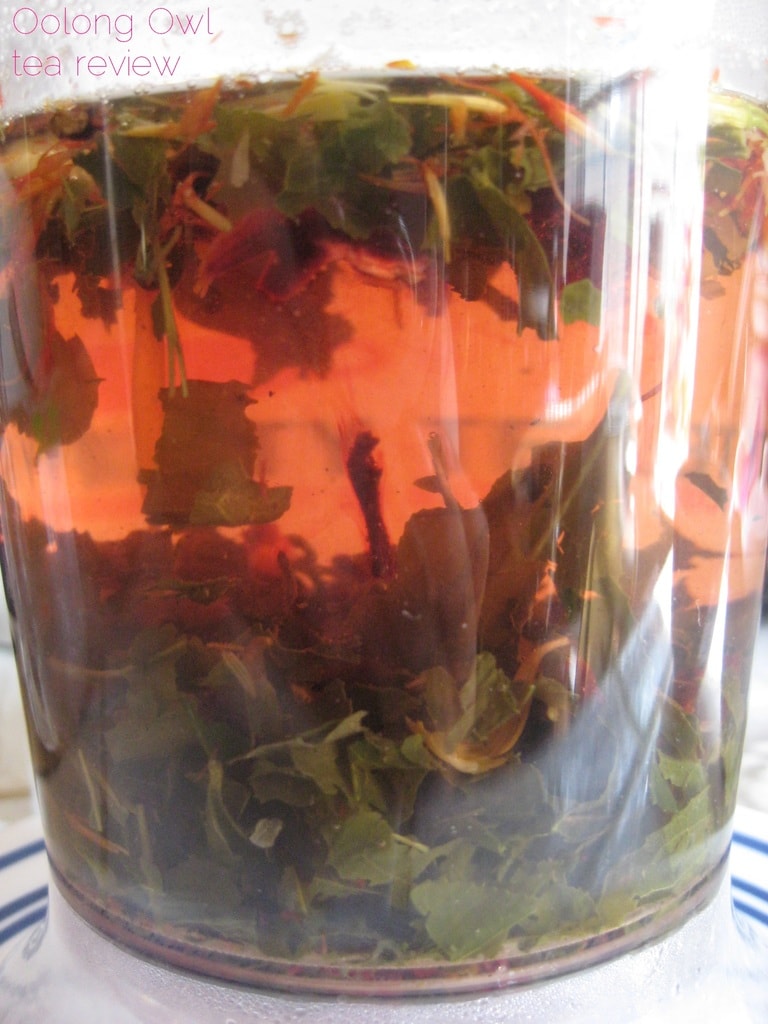 That wad of hibiscus in the middle looks kinda weird. Like a flaming dinosaur head…
Gorgeous orange-red cup of tea! Stunning!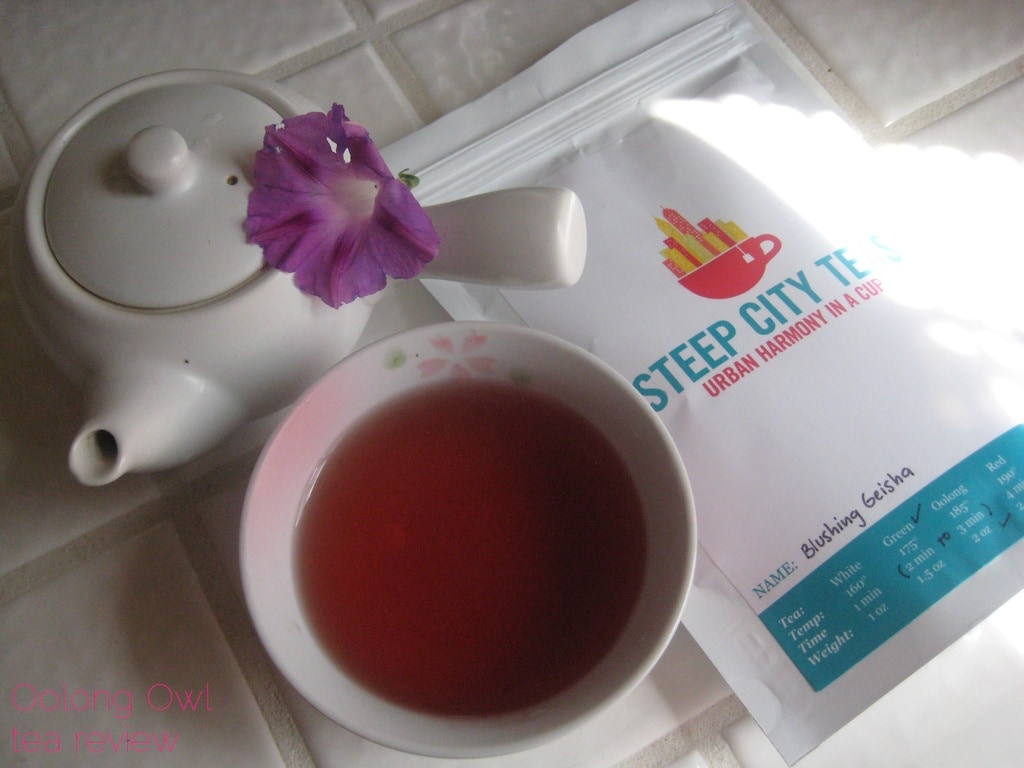 Here's the best my camera can do to capture Blushing Geisha's pretty colour. I need a lipstick in this colour! Nail polish too! OMG!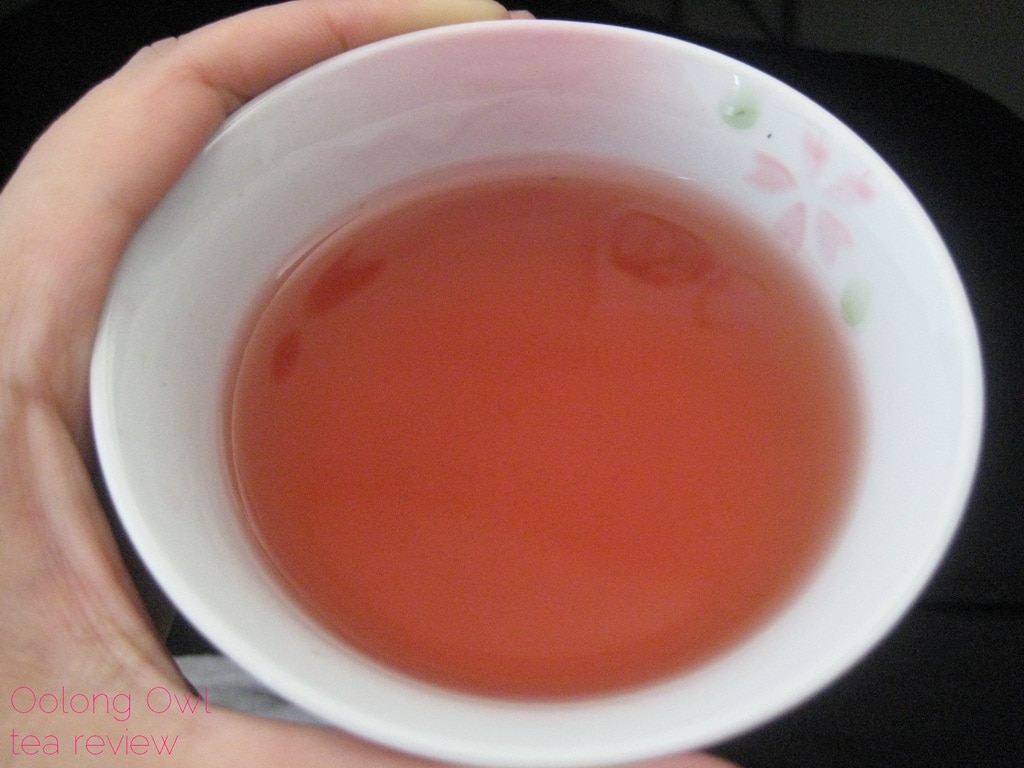 Smells slightly tart and fruity – uh oh – hibiscus!
The steeped leaves look very pretty as well! They kept their vibrant colour! The splayed out flowers remind me of hair ornaments a Geisha would wear.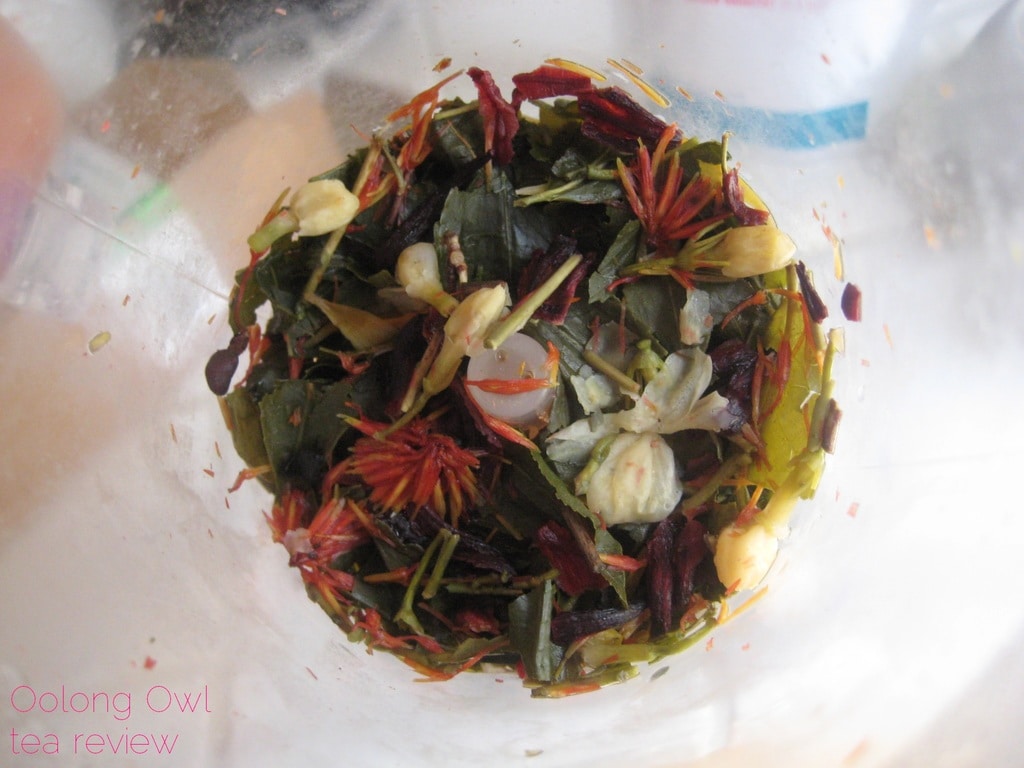 TASTE: In the back of my mind I was worried this tea was going to be a tart hibiscus terror along with an overcooked bitter green, but I knew Steep City wouldn't do that to me, right?
In that gorgeous orange red tea was just absolute beauty – the tea starts out light and innocent, but then as you sip, it becomes stronger in flavor – tangy tart that is slightly fruity and a beautiful soft jasmine swirling at the end of sip. The tart is very drinkable, say at 4/10 on the Tart-o-meter. The floral is gentle, say a 2 or 3/10 on the Floral-o-meter.
Absolutely no bitterness in my cup of Blushing Geisha. A teeny bit of dryness, only there if I'm looking for it, though I could be mixing it up with the tangyness. The green tea flavor is quite light here, though the floral fruity hibiscus take over in flavor.
SWEETENED: Sweetened? Why not?  WHOA WHOA WHOA! With a little german rock sugar, Blushing Geisha changed quite a bit – and it is a flavor I haven't had before. In sum, Liquid Flower Fruit? The sugar cut through the tangy tart very easily so there is little tart present. The fruity note really pops, but is also a soft floral jasmine in nature. It's like having a fruit tea accented with fresh flowers. I think this flavor is mostly from the hibiscus, wow!
I think I like sweetened a little more, but Blushing Geisha was very good unsweetened.
As I get to the bottom of my pot of tea, I'm like, "Grrr, I want more!"
RESTEEP: I resteeped the leaves for 3 minutes with more boiling water. The colour is a more orangey brown with a bit of red. Taste? Much lighter, little bit of hibiscus fruity tart and a wave of floral. I'm not a fan of the resteep as it's too light for my tastes.
COLD STEEPED: I steeped for 2 hours and it was weak, 3 hours it was still weak. Then I had to go out and Blushing Geisha got an 8 hour cold steep. The cold steep came out more tart and less dimension than hot. Hmmm. Maybe I need to ice this one instead.
ICED: Oh yeah, now this is really good! I added german rock sugar, honey and a couple thin lemon slices and it came out deliciously light, fruity with a slight hit of fresh green tea taste. The fruity hibiscus is simply amazing here. The jasmine is really slight too and adds something a little exotic to my iced tea. It's almost like a sophistcated fruit punch. YUM! I gotta say, this is one of the best iced teas I've had.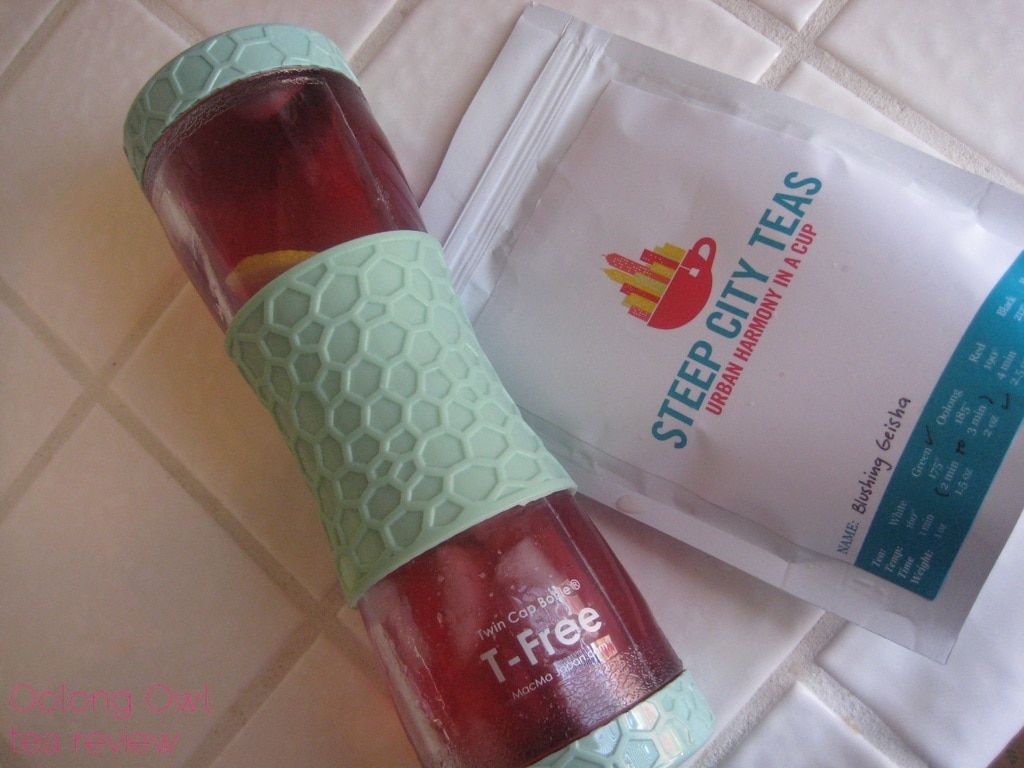 COMMENTS: Steep City Teas expertly uses hibiscus. EXPERTLY. FREAKING SCHOOL'D, that's what! I'm very impressed with this tea and I'd like to keep this in stock often.
Blushing Geisha would be a great tea for someone new to teas – this tea is easy to steep, great with sweetener and as an iced tea. It's not too tart, floral or vegetal of a green. This would also be a great tea for kids. I wanna make an entire pitcher of this iced next time I have a dinner party – toss in a few of the steeped jasmine buds and some sliced fruit!