Bojenmi is one of those classic teas for me. It's cheap, you can find easily at an asian supermarket along with all the diet teas. Looking at the ingredients, it's a white tea with a buncha chinese herbs in it.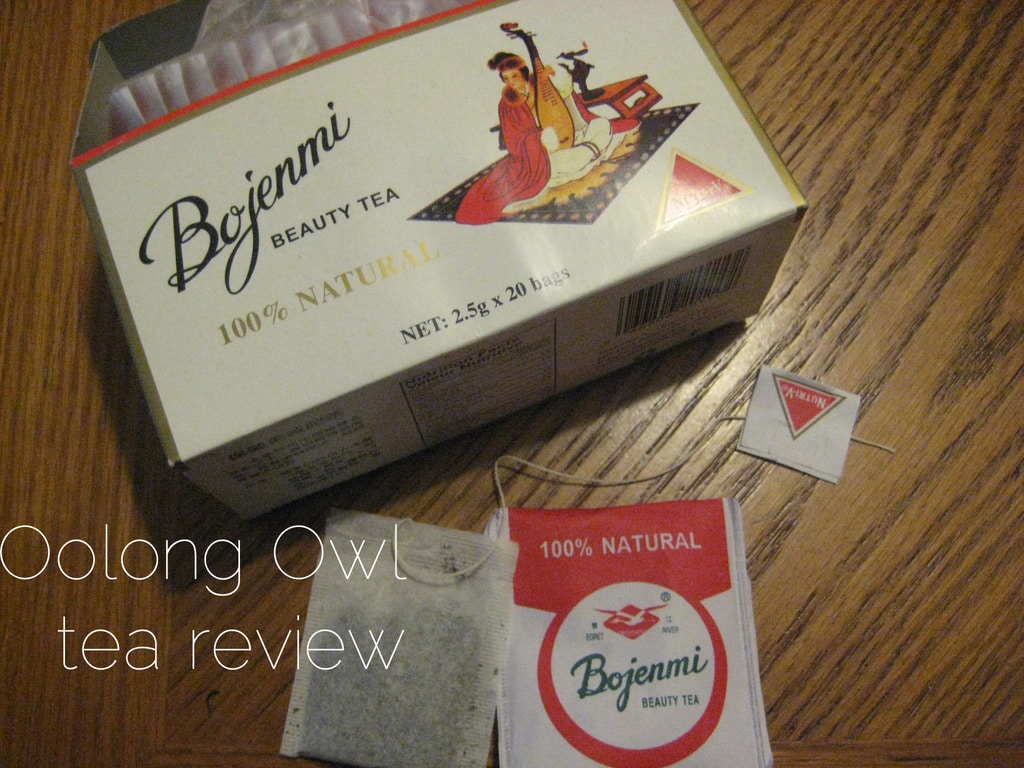 From the Amazon description: Fukien tea (white tea), crataigus pinnatifida, fructus hordel germinatus, poria cocos wolff, citrus chachinesis hortorum, rhizoma alismatis, massa medicata fermentata, pharbitis nil, phaseolus angularis, raphanus sativus, prunlla vulgaris, cassia tora, pogostemon cablin. Uses (as printed on box): "THIS PREPARATION IS MADE FROM FAMOUS FUKIENTEA TOGETHER WITH 12 KINDS OF MEDICINAL HERBS, A CONCOCTION OF A WELL-TESTED HERBALIST'S PRESCRIPTION FOR RESOLVING BODILY FAT AND REDUCING WEIGHT. IT REDUCES THE CHOLESTEROL OF THE AGED, THUS PREVENTING ATHEROSC LEROSIS AND HIGH BLOOD PRESSURE AND HEART DISORDERS. THIS TEA WILL MAKE WOMEN FEEL YOUNG AND SLIM AND FULL OF YOUTHPUL BEAUTY. IT ALSO RIDS YOU OF BAD BREATH AND EROSION OF THE LIP AND TONGUE."
I'm not really sure what most of that stuff is…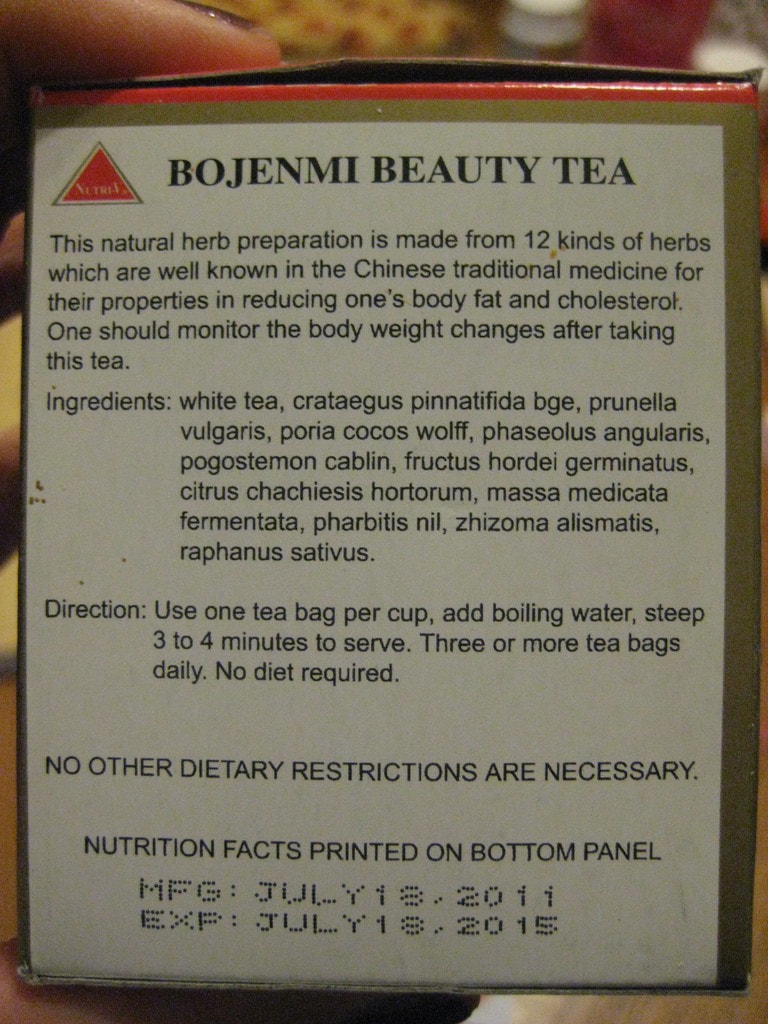 I prefer this tea loose leaf. Why? THE BAGS SUCK. The string falls off. The bag has fallen apart a few times on me, spewing tea bits into my cup. You can taste the freaking paper in the tea. The tea is the smashed bits, I'm guessing leftover bits. I dunno.
STEEPED: Strong smell – not really medicinal, but also like walking by a wet tree. An little undersaturated brown/amber colour. Totally does not look like a white, and Bojenmi could be mistaken for an oolong.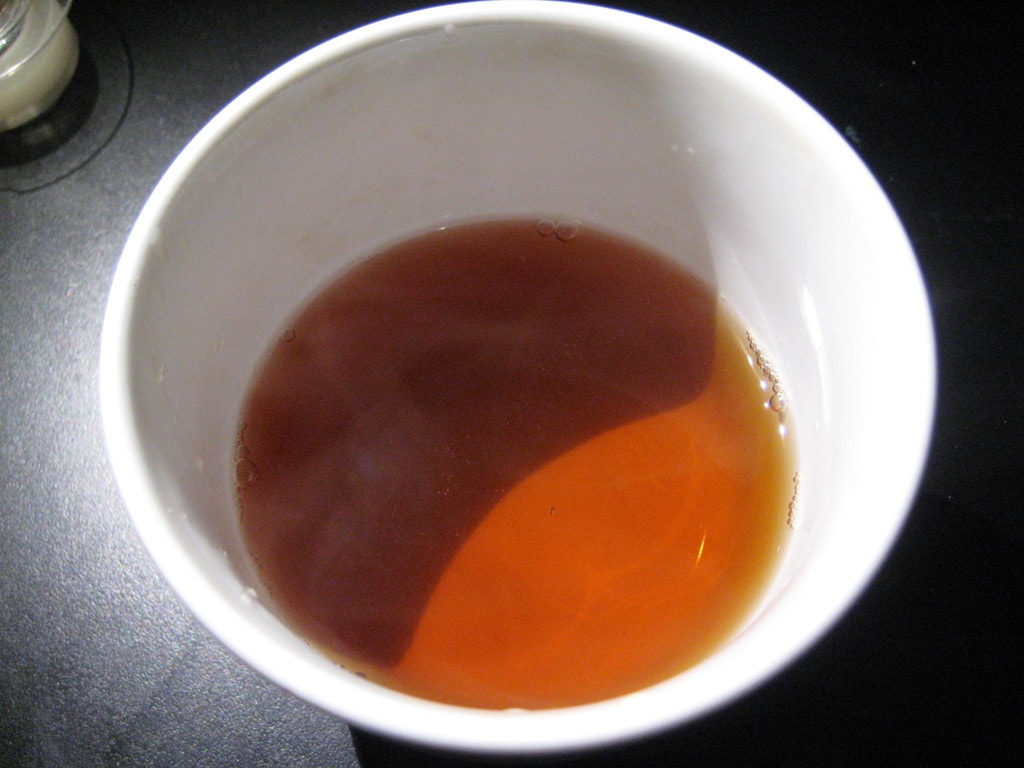 TASTE: Woodsy and earthy flavor. In woodsy, I mean it kinda tastes like how a tree smells, if it was dried and roasted. This could totally be fooled as an oolong with the level of full flavor and depth. Slight hint of natural sweetness at the end of sip. Oh, and I can taste the paper tea bag here, boo. This tea is not bitter, dry or grassy.
COMMENTS: I know my taste description sounds kinda off, but I think this tea tastes pretty good compared to other supermarket diet teas. I've had others that tasted super grassy, mulchy, bitter, medicinal, horrible aftertaste and sour. For beauty tea effects, I dunno if it's worked or not and will continue to drink this tea anyways, as I'm not concerned with the "effects" and more with taste. Though, it is not a laxative diet tea, eww! I stay away from those.
So, looking for a tasty beauty tea that is very inexpensive? Give Bojenmi a shot!