Bursting Lychee is a exotic fruity white tea blend from Steep City Teas.
I've had a number of lychee teas, but more often they are black teas. For the longest time, I'd buy this cheap boxed black lychee bagged tea from my local asian grocery store. It was good and kinda lychee, but also bitter tasting as if I ate the hard lychee skin!
I'm really happy to see a white lychee tea – so I bought this with my second order with Steep City! I think the white tea would work the best to show off the lychee flavor and Steep City does a pretty delicious white.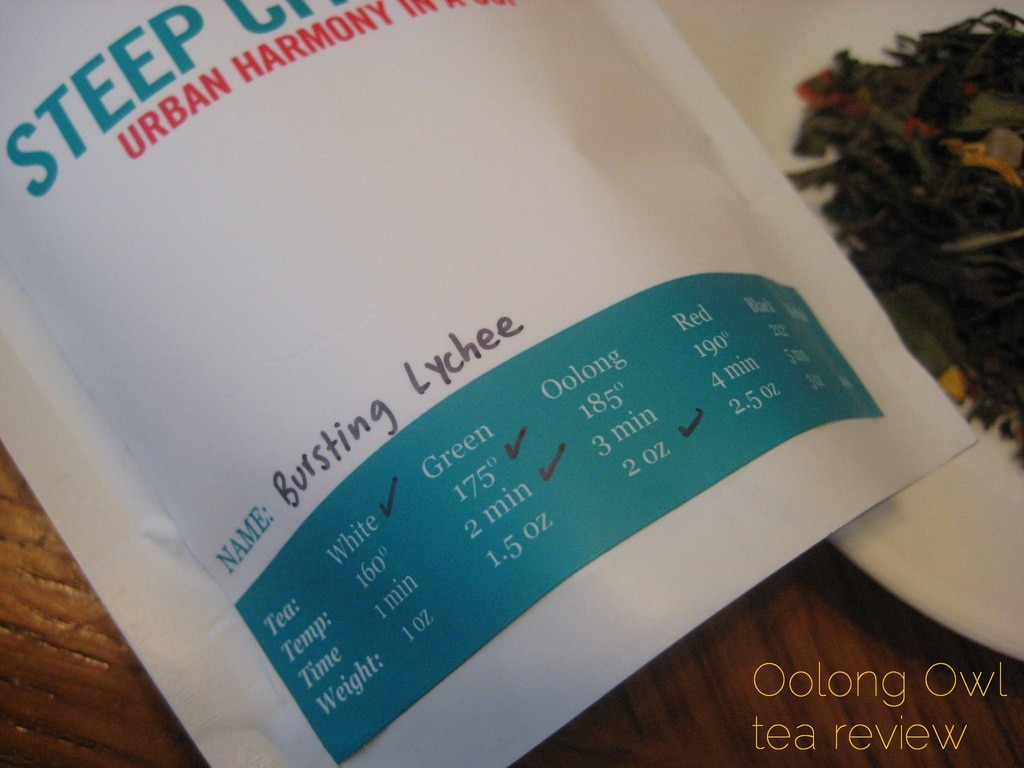 Hmmm, though it appears Steep City's image with Bursting Lychee is rambutans! I love rambutans! Mostly because they look scary! They taste pretty close to lychees to me, though I never compared them side by side.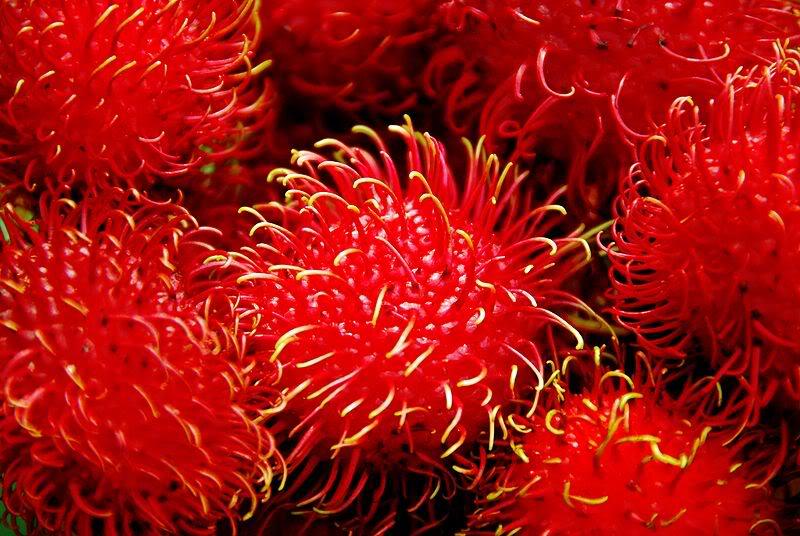 Hello alien fruit!  You are so delicious!
That would be really funny to see that crazy hairy fruit in my tea. Don't think it add much good flavor though, since the crazy part is the outside skin.
DRY LEAF: Sweet and strong smelling lychee! I wish I could just eat this tea right now!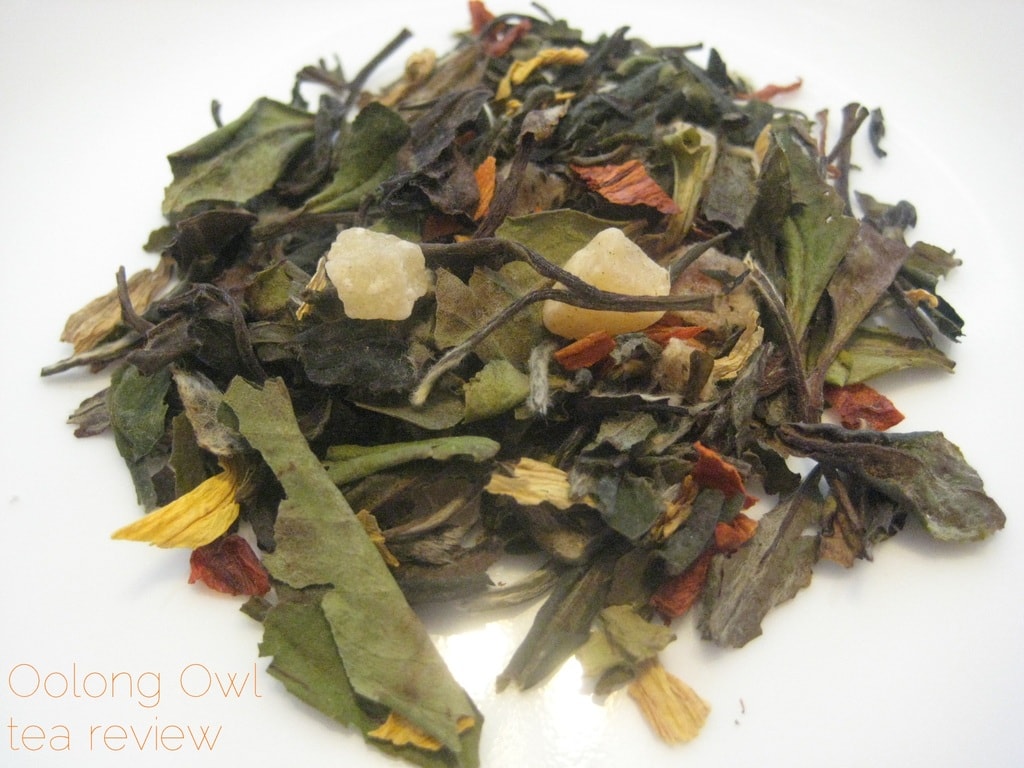 Beautiful white tea with chunks of fruit and yellow and orange petal accents! However, those fruity cubes like to lurk on the bottom, so make sure to do a good mix before steeping it up!
STEEPED: I'm still without a trusty 2 cup tea pot – so I decided to go all out and make a 24oz pot for myself!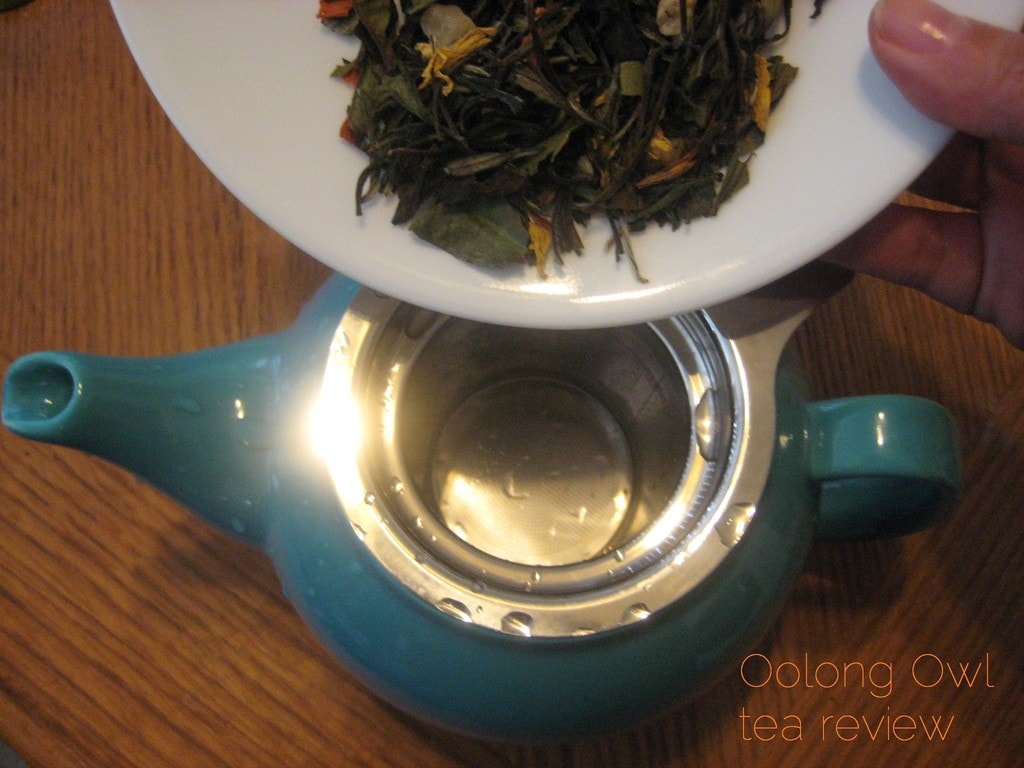 Light fruity lychee smell comes from this tea. Really reminds me of fresh lychee – that milky, watery, sweet, juicy smell. Though, it is missing that bitter seedy smell of lychee and stickyness.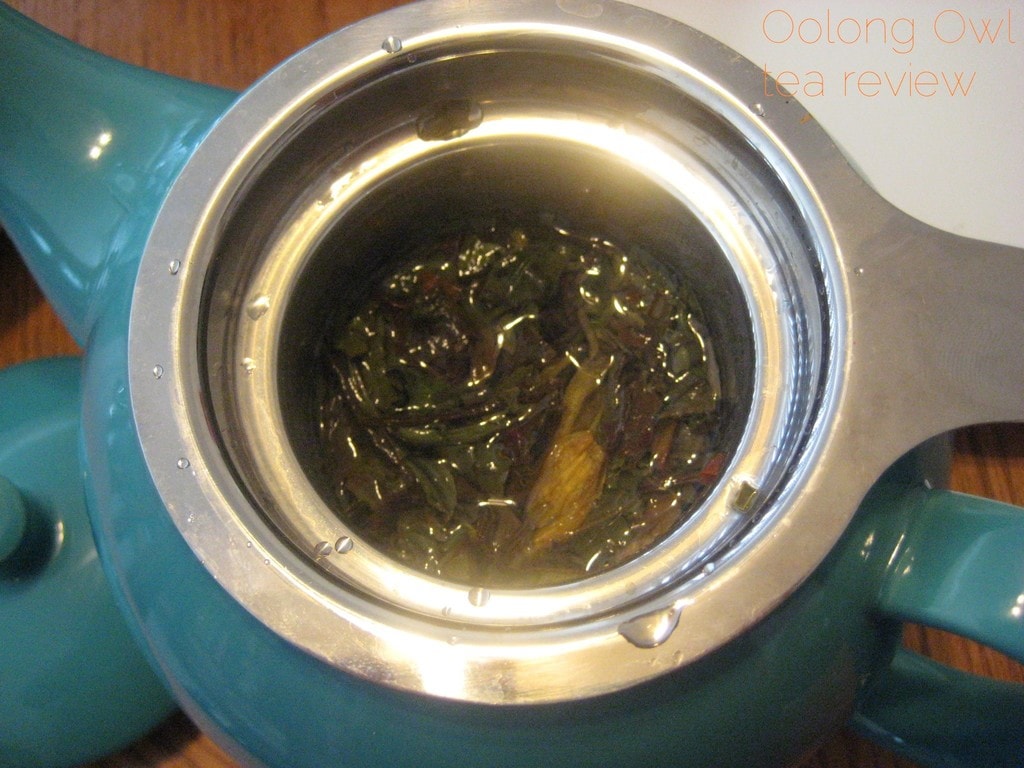 I attempted to steep this at 175F for 2 minutes, as per package instructions. However, I'm not used to making an entire pot, so it might of been around 2.25 or 2.5 minutes.
Time to pour!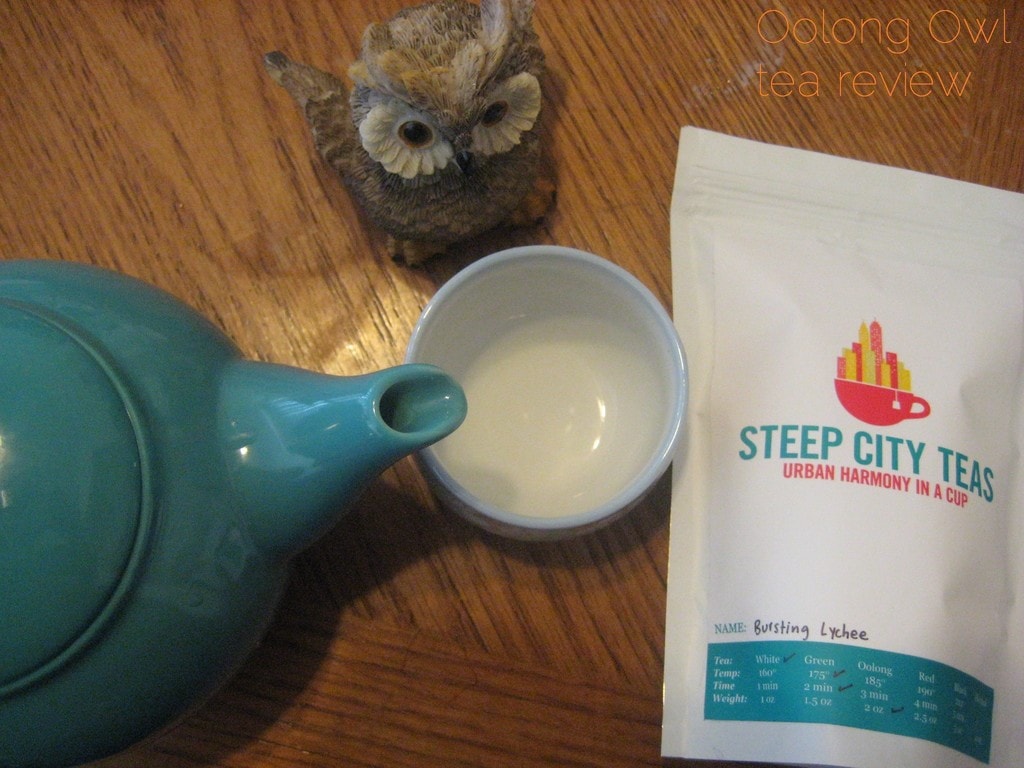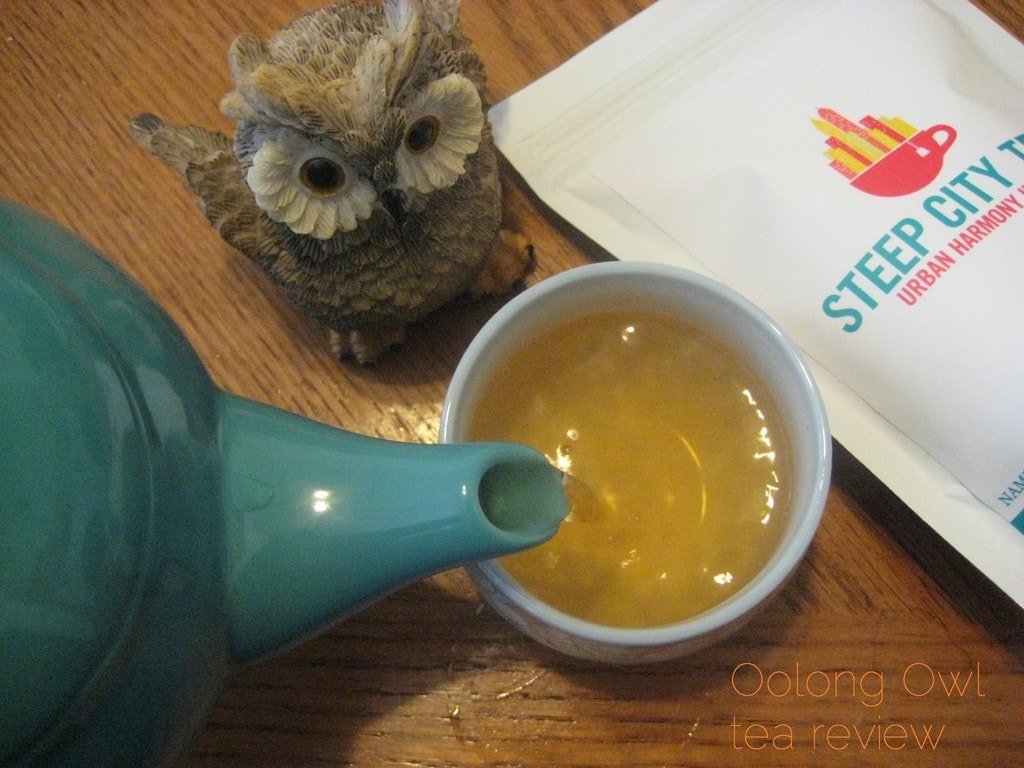 wait a minute. I'm taking pictures. Who is pouring the tea?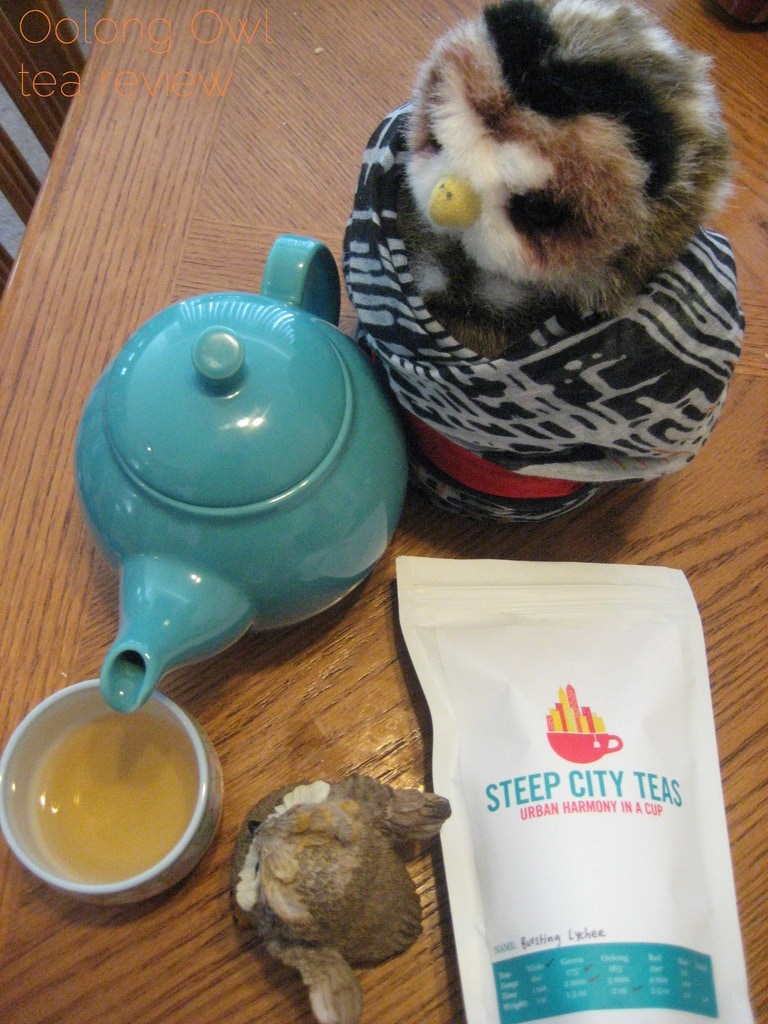 Mr. Owly!
TASTE: Very juicy tea! Very much so lychee in taste – I even get a little bit of the milky lychee flavor (if you have eaten lychee before you'll know what I mean). There is a natural sweetness in this tea which is quite nice. I don't pick up much of the other fruits (pineapple and papaya) but they really bring out the lychee taste!
I find my tea tastes better hot than if I left it in the cup for awhile to cool. The lychee loses a bit of intensity and I'm left to enjoy the pai mu tan base – which is quite good, fresh and a touch floral.
Sweetened with a bit of german rock sugar, the lychee really pops – I could hardly believe it – this tea already tastes like lychee? MOAR LYCHEE?! This is almost like lychee juice! I prefer this tea unsweetened, but this could be amazing iced!
RESTEEP: The resteep of Bursting Lychee smells floral – interesting! The flavor is white tea floral with the milky hum of lychee. 3/10 on the Floral-o-meter. The resteep lost most of the fruity essence, as well as sweetness. The resteep is a little watery, but still pretty good, though I don't think I'd get another resteep.
COLD STEEPED: I cold steeped Bursting Lychee for about 4 or 5 hours.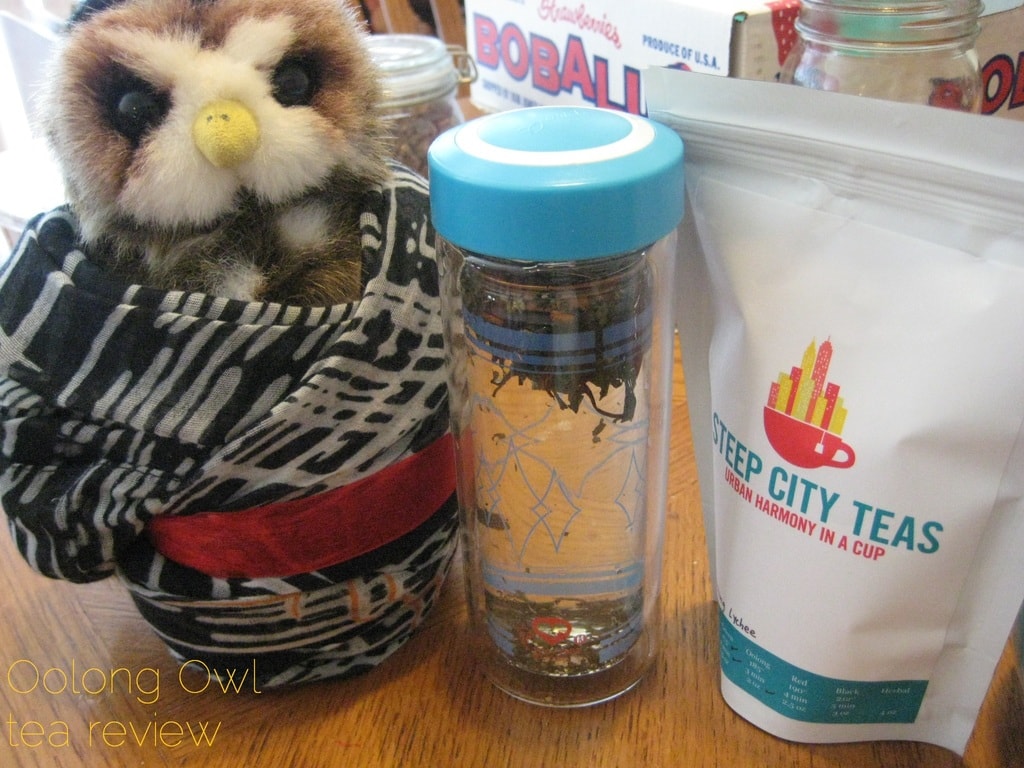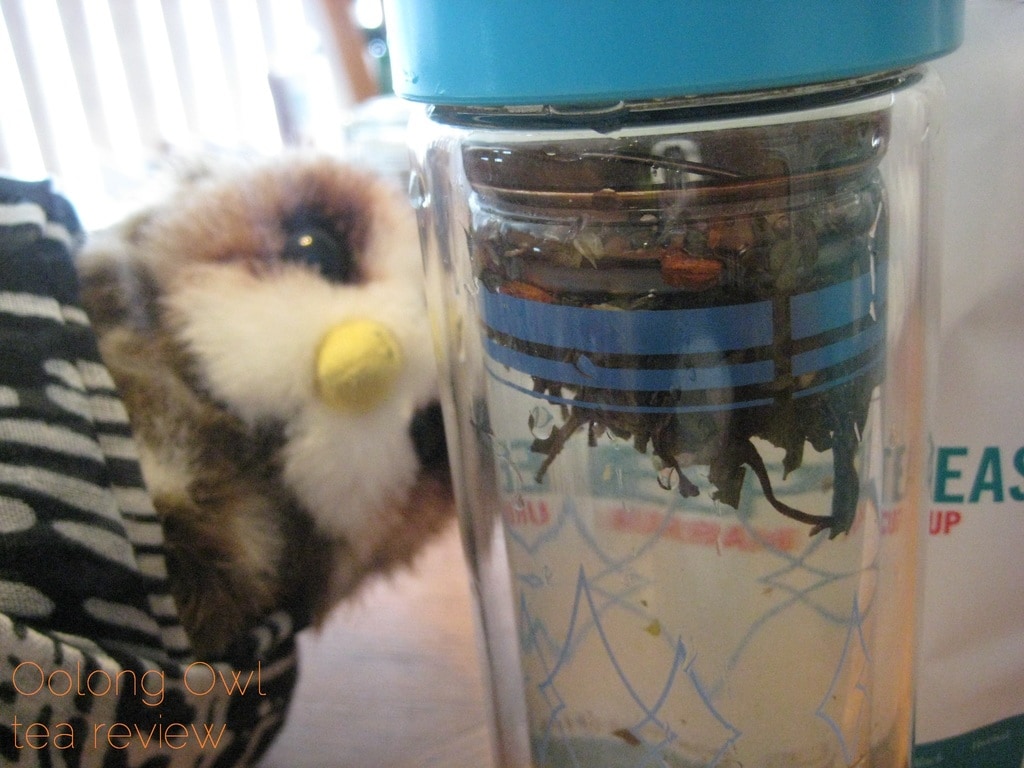 The result is a refreshing tea that is slightly fruity – I taste a bit of lychee, but I'm also picking up the other fruit flavors – a little papaya and pineapple. The tea is starting to go bitter, so I wouldn't cold steep this for as long as I did – stick to 2 to 3 hours.
ICED: Now I'm drinking lychee juice! I steeped Bursting Lychee double strength and poured over ice, a thin lemon slice and some honey. Unlike the cold steep, lychee is the fruity flavor here. The honey quite compliments the lychee flavor, but I think german rock sugar would be better here to pull out the tea flavor more rather than add flavor.  The iced tea is still very juicy, fresh and lychee tasting!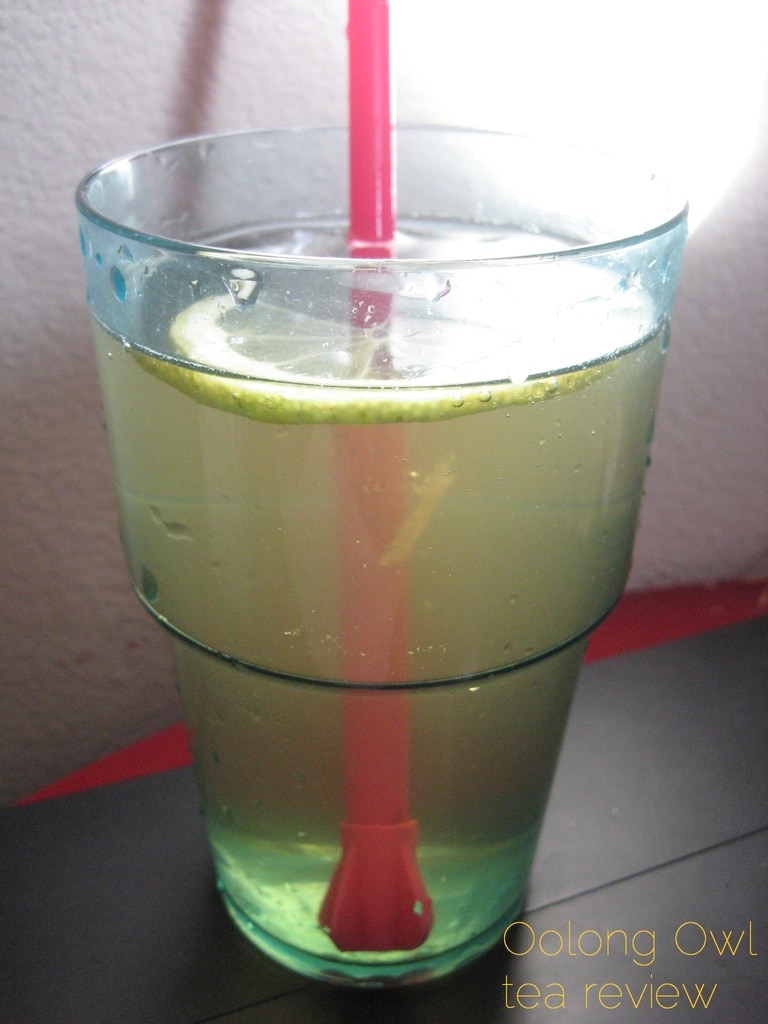 I thought this was pretty darn fruity – enough that my tea hating husband might like this tea. Sigh, he didn't. He said it tasted like tea still. BOOO! I should really keep score on my husband vs. tea. I know right now it's Tea 2 – Husband lots!
COMMENTS: Bursting Lychee has a really good lychee flavor that I'm very impressed with. This has to be one of the most lychee tasting teas I've had so far – very closely tastes like lychee! Also, really fresh tasting tea, I love that!
I think the best flavor is when Bursting Lychee tea is hot, right after being steeped. Next best would be iced. Wow Steep City Teas, you guys do really good fruity teas!
BONUS STEEP CITY PIC!