A tea drinker should have at least one Tea Travel Mug so they can have tea on the go. I have… 5? I purchased DAVIDsTea's Carry Travel Mug (Midnight green colour, Spring 2014 release) for a tea travel tumbler for temperature retention. This travel mug is designed and sold exclusively at DAVIDsTea.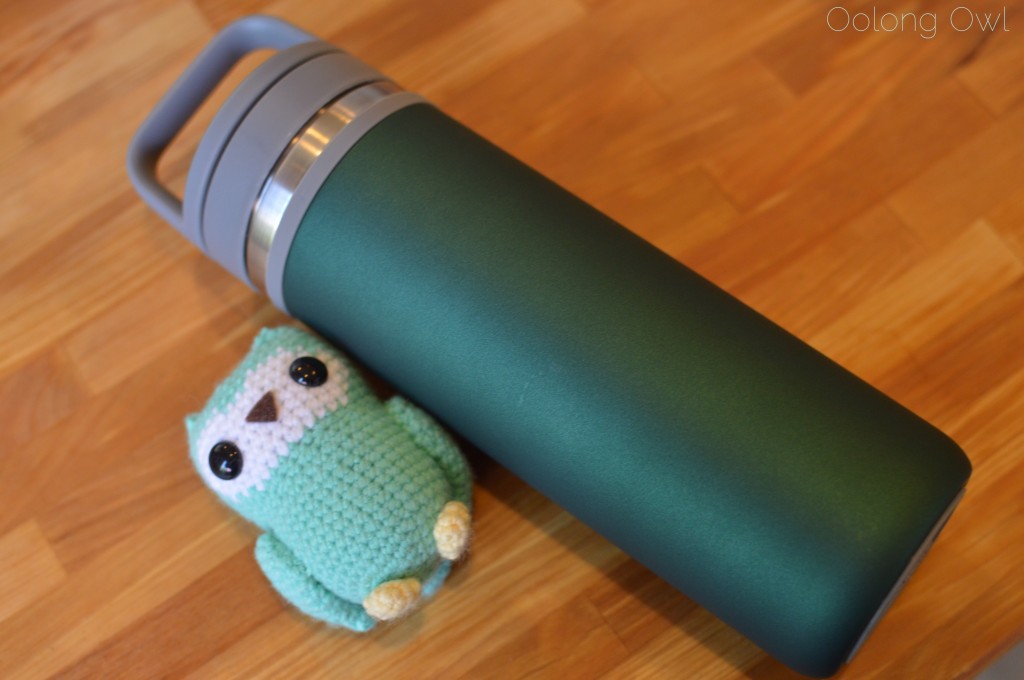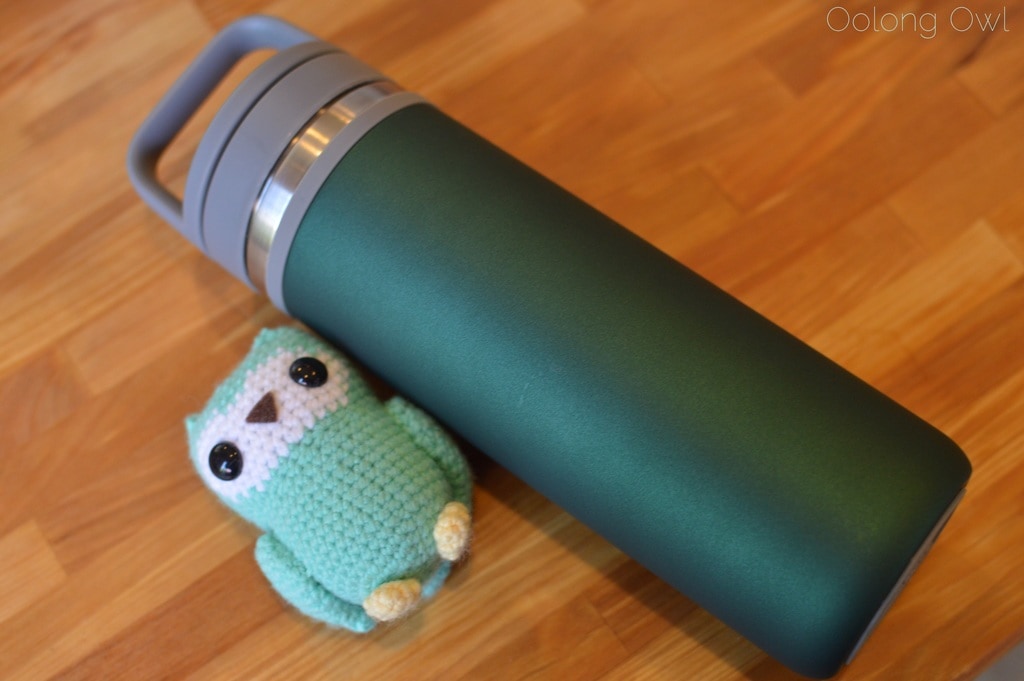 Specs of the Carry Travel Mug
Double Walled Stainless Steel
160z / 463ml / 2 cups
BPA free
Mesh strainer basket, removable
Mesh strainer on lid
Secret tea compartment
Leak Proof
Twist cap lid with handle
(my discovery) Non slip base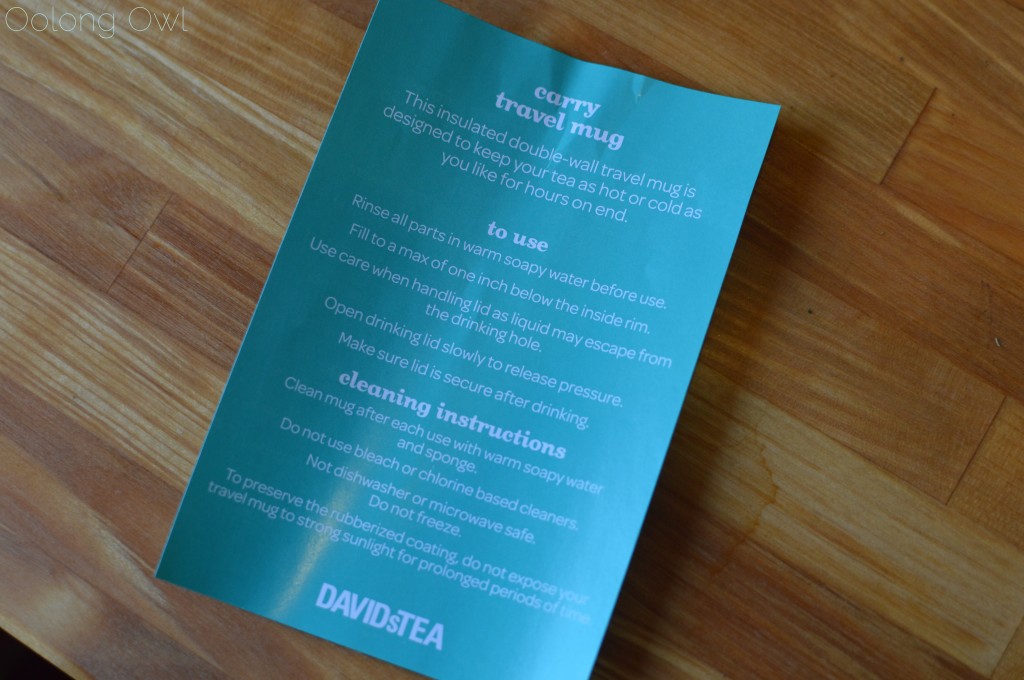 My Tea Owls will be Test Owls for trying out DAVIDsTea's Carry Travel Mug!
I love the sparkly matte colour of the Carry Travel Mug. I was concerned in pictures of the DAVIDsTea's Carry Travel Mug on the base as it looks round – rest assured the base is flat and has a rubbery base which is non slip.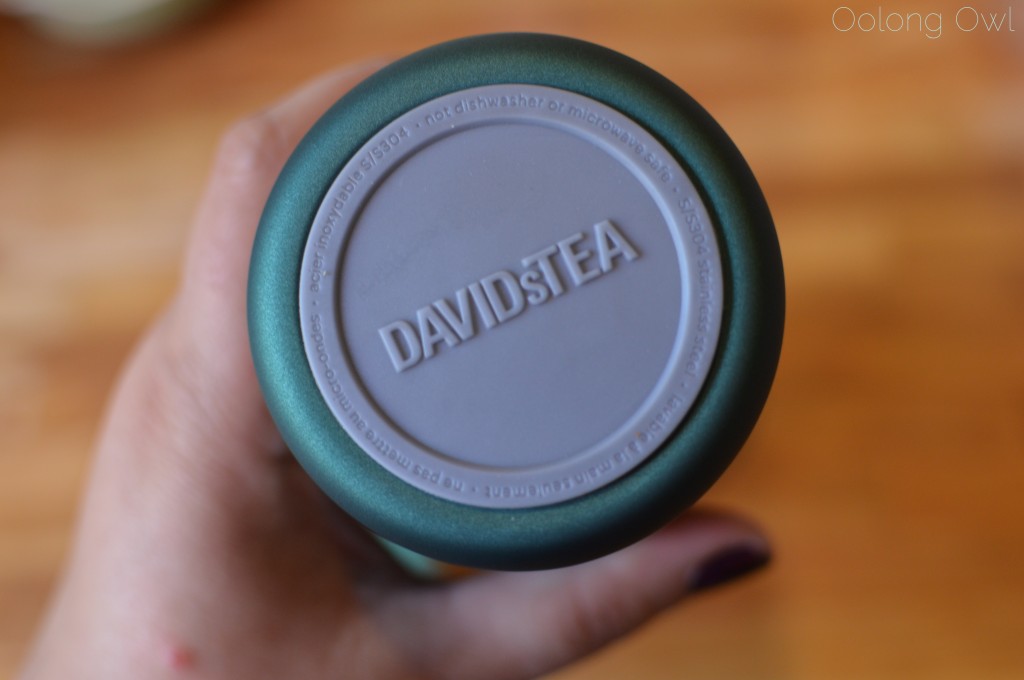 The strainer design has lots of options, making it flexible to steep and filter your tea. You can use the basket, or remove it and depend on the mesh filter under the lip to keep tea leaves away while sipping.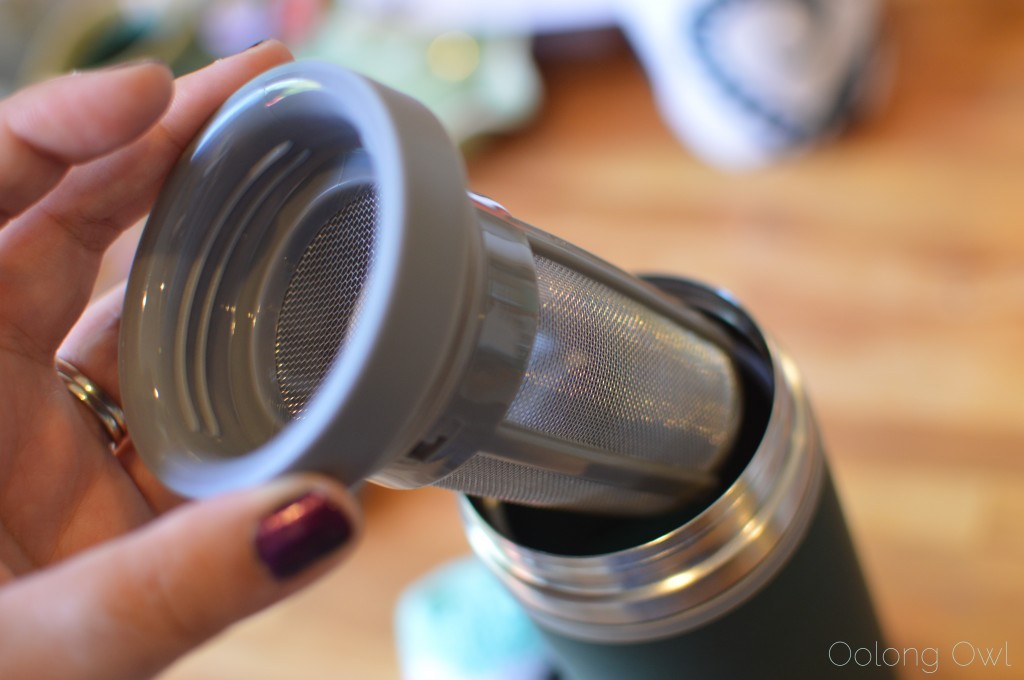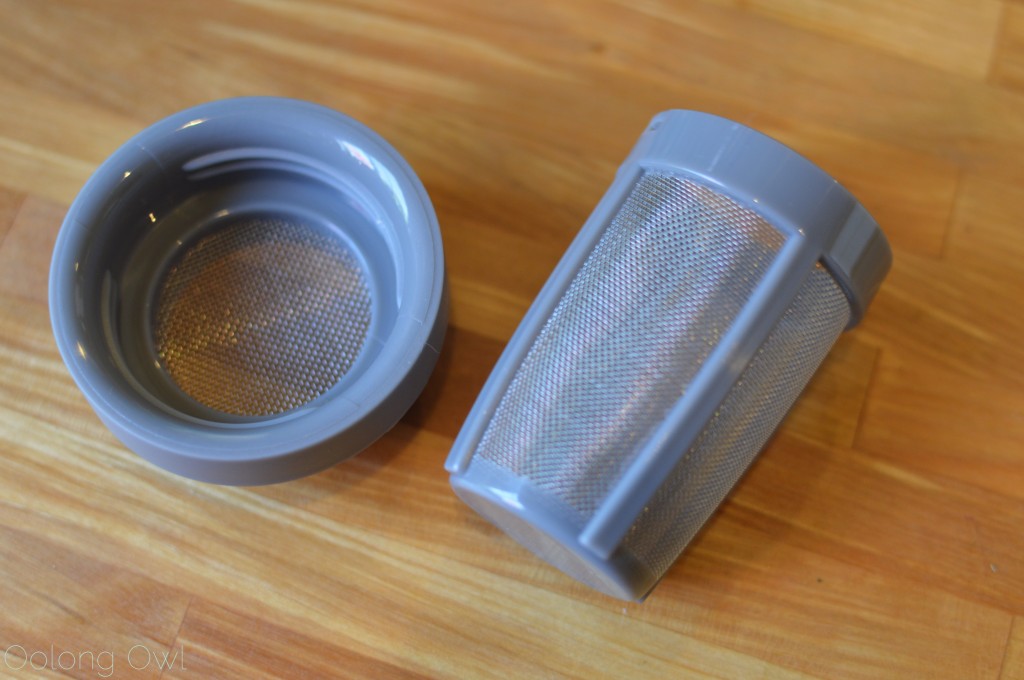 The only thing I did not like about the design here was the lip was on the fat side to sip from – especially when your teas are piping hot! I do have a small mouth, so maybe your experience will be different from mine. This mug does pour nicely if you want to use DAVIDsTea's Carry Travel Mug as a impromptu tea pot.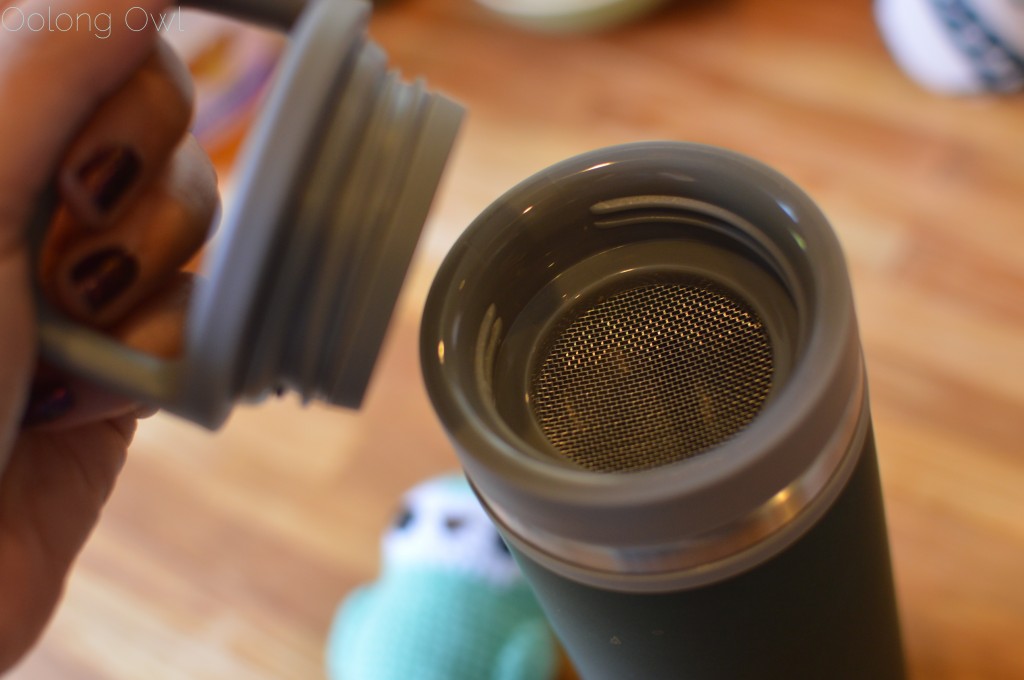 Leaf Proof Test for Carry Travel Mug!
Leak Proof, eh? All the screw on bits have rubbery gaskets (be sure to clean under those!) to combat leaks. Test Owl Time!
I did get a few leaks if I screwed on the lid as one unit (handle cap, lip and strainer). If I screwed on the tea strainer first, then the lid I had NO LEAKS when I was shaking or flipping the Carry Travel Mug upside down!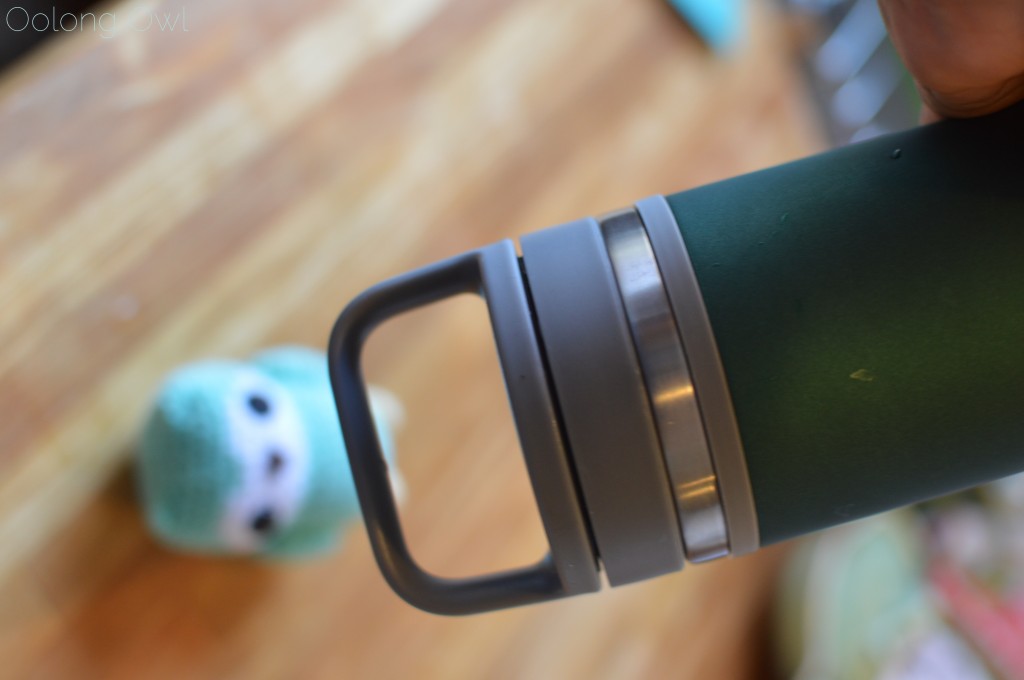 Secret Tea compartment – having a place to stash tea on the travel mug is certainly a cool idea. This compartment is under the handle lid, covered with a silicone/rubbery feeling lid. I can squeeze about 3 teaspoons of tea in this compartment.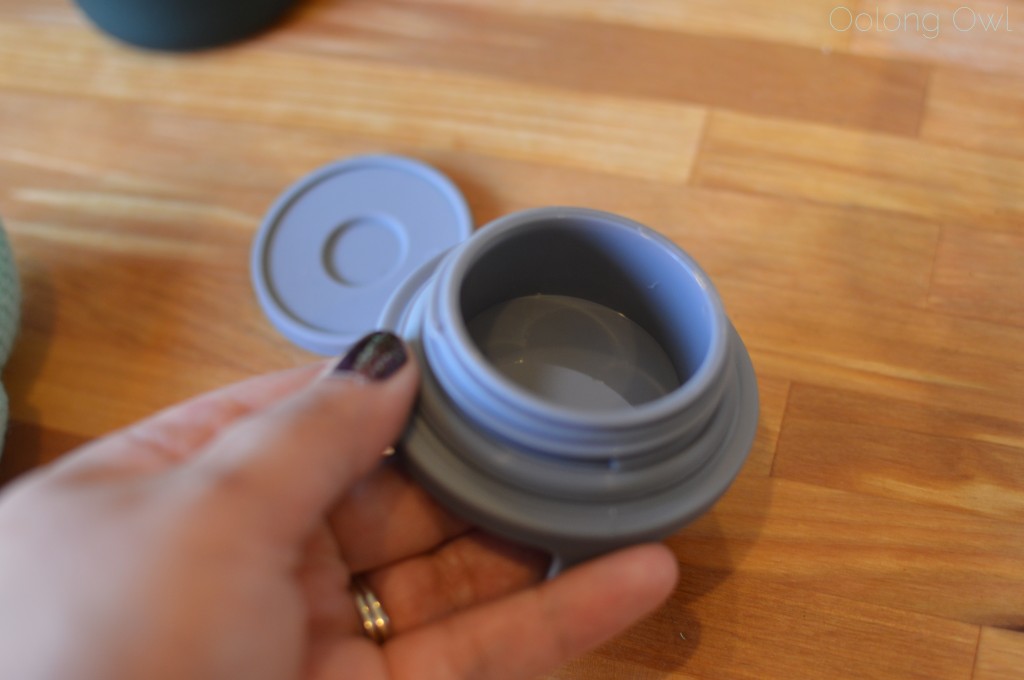 While I was testing how leak proof the DAVIDsTea's Carry Travel Mug was I discovered the secret tea stash compartment failed at keeping my tea dry. Sad Owl Alert!
The compartment did keep my tea mostly dry for 6 hours under no rolling/shaking/flipping around conditions, but there was a little condensation in the compartment. With that said, I would avoid using the compartment unless your Carry Travel Mug is in a setting that isn't getting jostled too much.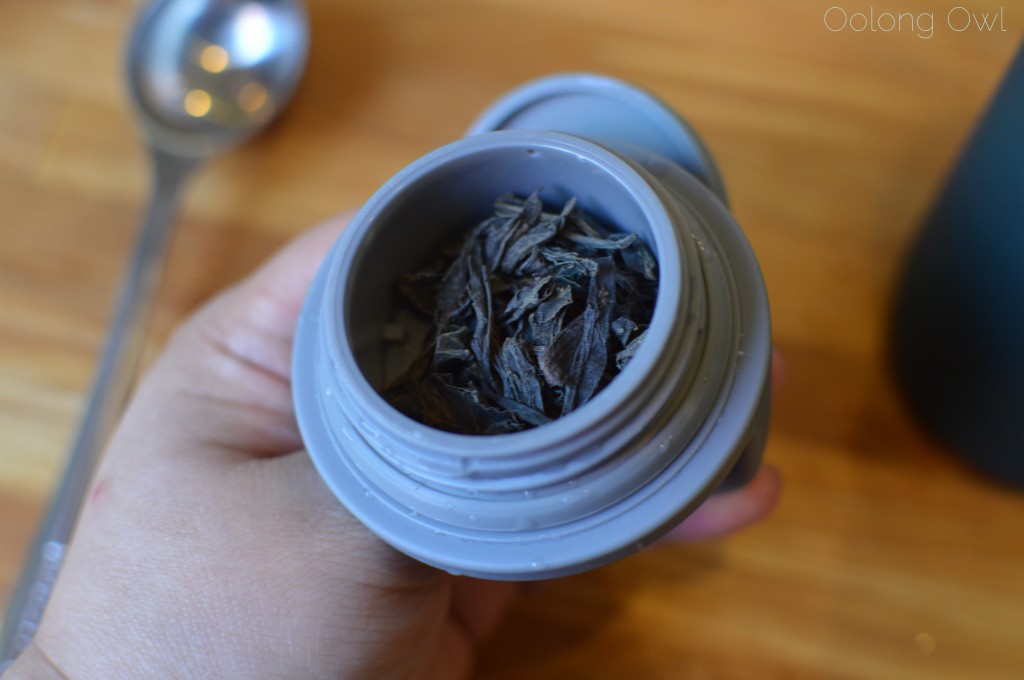 Carry Travel Mug Heat Retention
The Test Owl decided to see how well the DAVIDsTea's Carry Travel Mug retains heat. I warmed the Carry Travel Mug, letting it sit for 5 minutes filled with boiling water. I then refilled it with boiling water – starting temperature 205F! Ignore the 122F temperature reading – that is a setting on my thermometer to have an alarm.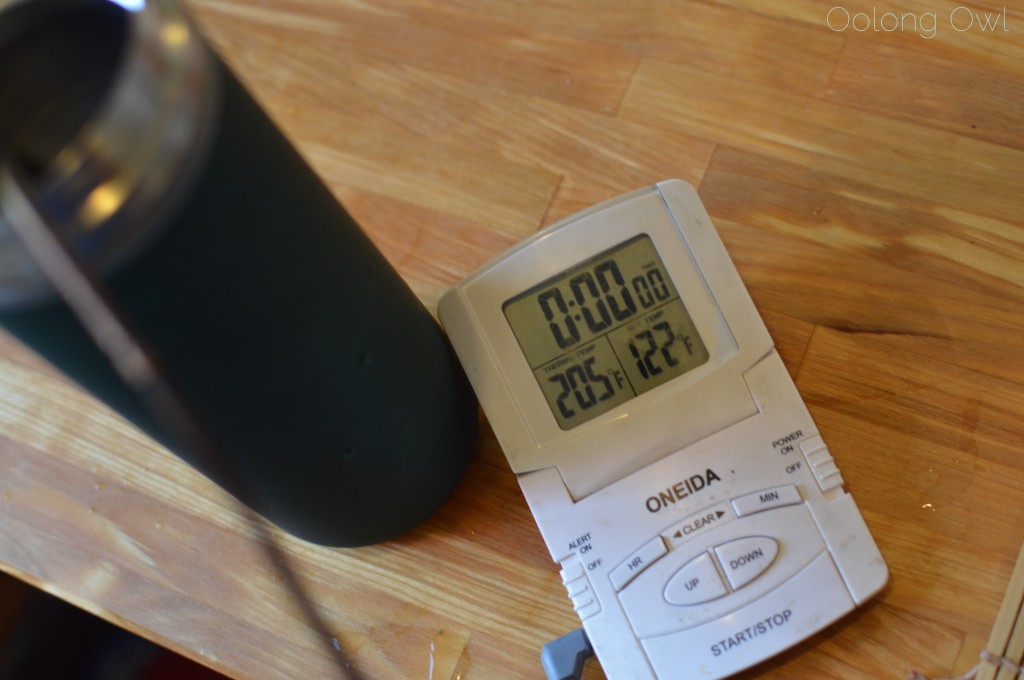 After 6 hours (78F house temperature) I tested the water temperature – 155F! Which is pretty good, about the temperature level of green tea brewing. I can see the temperature being a little lower if you are repeatedly opening the mug or do not warm the vessel first.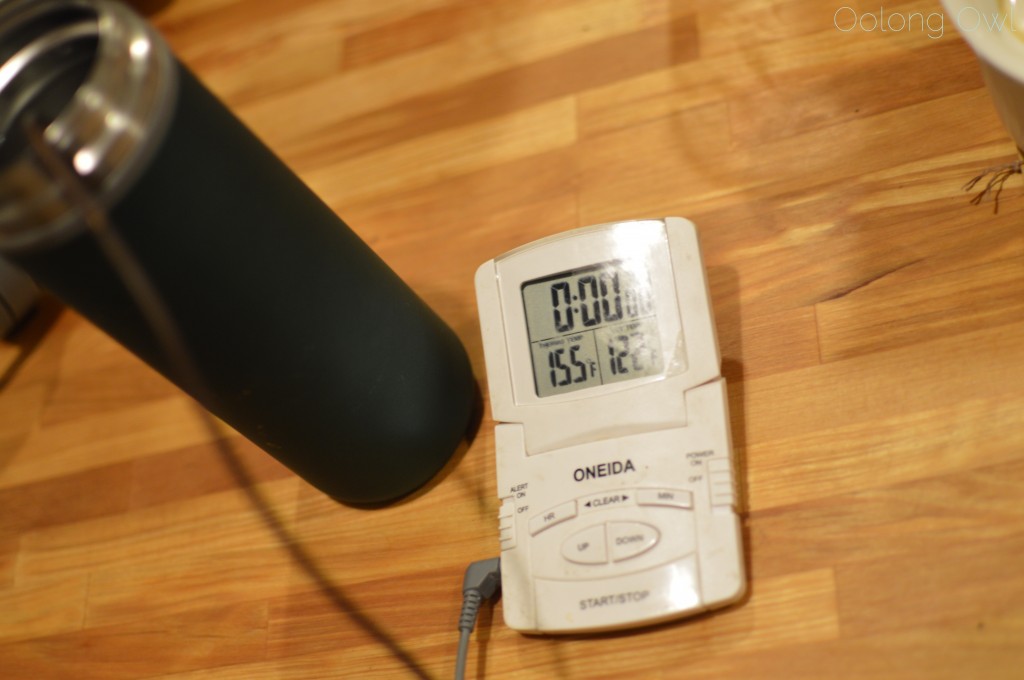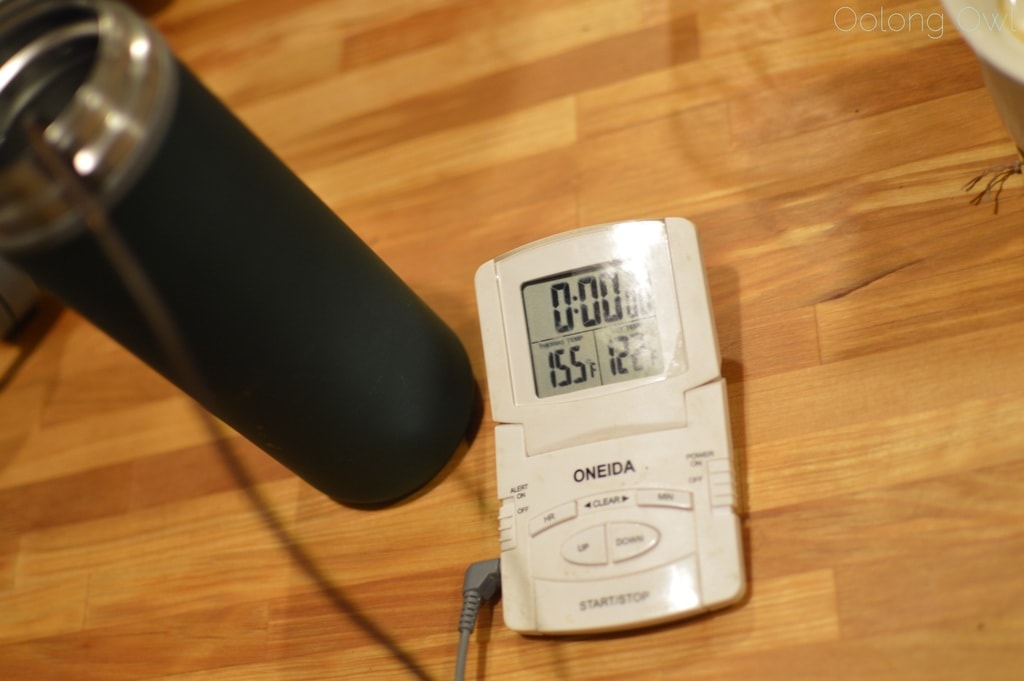 I had a not-so-bright moment with the Carry Travel Mug. I had made tea in it but only sipped 3/4 of it. I decided I wanted to have this tea cold, so I put in the fridge. A few hours later, I went to have my tea and it was still quite hot! For some reason, I thought the coldness of the fridge + the stainless steel mug would make my tea chill faster – forgetting how well insulated the mug is! The next morning my tea was sort of cold.
Comments
In the end, DAVIDsTea's Carry Travel Mug is a great travel tea mug for keeping your tea hot (or cold) for hours! It is also leakproof! The tea strainer design is very well done though has a rim on the fat side which may be a little tricky to sip from. Unfortunately, the secret compartment for holding extra tea isn't dependable in keeping your tea dry.
Stainless steel thermos style tea travel mug not your thing? Rather have a glass travel tea tumbler to show off your gorgeous tea? I recommend Mandala Tea's Glass Tea Thermos. Do you only steep greens and whites and looking for a unique tea travel mug? I then suggest the T-Free Hourglass Tea Tumbler.
Bonus: DAVIDsTea's Carry Travel Mug also fun for curious Tea Owls!