Ah yeah, let's roll out the Christmas themed teas! Let's start off with Secret Garden Tea Company's Christmas Spice Tea. This tea seller is from Vancouver, British Columbia, Canada, hurray my hometown!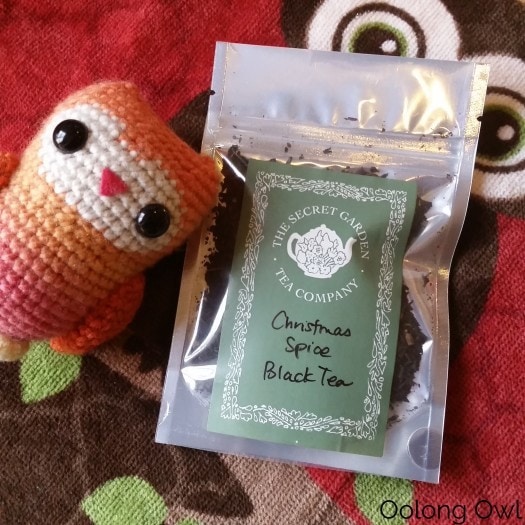 Dry Leaf
Christmas Spice goes with the angle of the holidays being of cranberries – lots of plump dried cranberries in this tea with a strong spice scent. Upon looking at the ingredients list, this tea contains black tea, citrus peel, almonds, vanilla bean, clove, rose petals, and cardamom.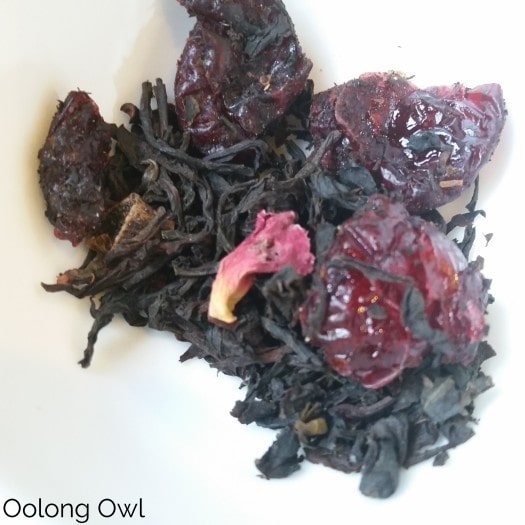 Steeping Instructions
I went with my default western style steeping method for black tea – boiling water, 10 oz mug, 6 grams of tea in an in-mug infuser, steeped for 3 minutes.
Tasting of Christmas Spice Black Tea from Secret Garden Tea Company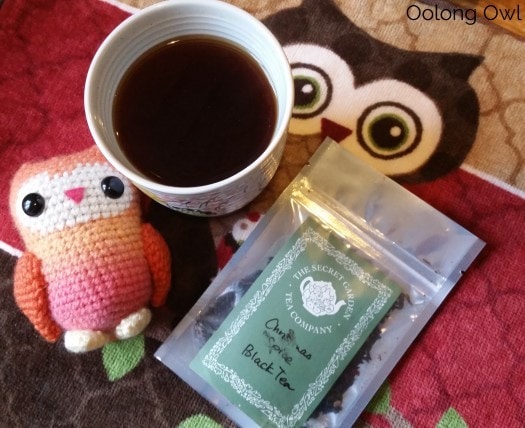 Derp, I smeared the writing on the packaging. The cup of Christmas Spice smells like a spicy chai with a thick opaque colour.
Christmas Spice Black tea sips in a nice medium-hot spice chai. The tea blend's spice completely warms up my body with plenty of cloves and cardamon with a nice zing of tart cranberry. The black base is good and malty holding up the strong spice. The finish is sweet from the vanilla and cranberry adding a nice contrast to the heavy spice. The spice level is quite high and over time it starts to numb my mouth. I think Christmas Spice black tea would be great with milk or as a latte, though it has enough sweetness in it that you can pass on the extra sugar, saving those calories for an extra Christmas treat instead.
Comments
Secret Garden Tea Company's Christmas Spice Tea is perfect for chai and spiced tea lovers. This black would make for really festive tea lattes for the holidays. I have a bit of my sample left, but my father, a spiced tea lover, will probably get his claws on it and drink it all after I share a cup with him.
(tea provided for review)