Citrus Sunshine Oolong is an oolong tea blend with ginger, orange and lemon peels, cranberries, blueberries, rose petals and hibiscus. This sunny oolong blend is from Steep City Teas, Florida based tea seller.
I've noticed I've been reviewing a lot of black teas. I did the Black Tea week, and continued reviewing even more black teas. Even though this Canadian living in California is laughing at the "cold" weather here, the "cold" weather is getting to me due to the short sunlight days and temperature drop in the evenings. I've seriously been bundling up at night!
With that said, time to break up that cold weather feels with some sunny happy fruity tea! Calling Steep City Teas! They do amazing fruity, ginger and coconut blends, so I trust drinking some of their tea will brighten my day.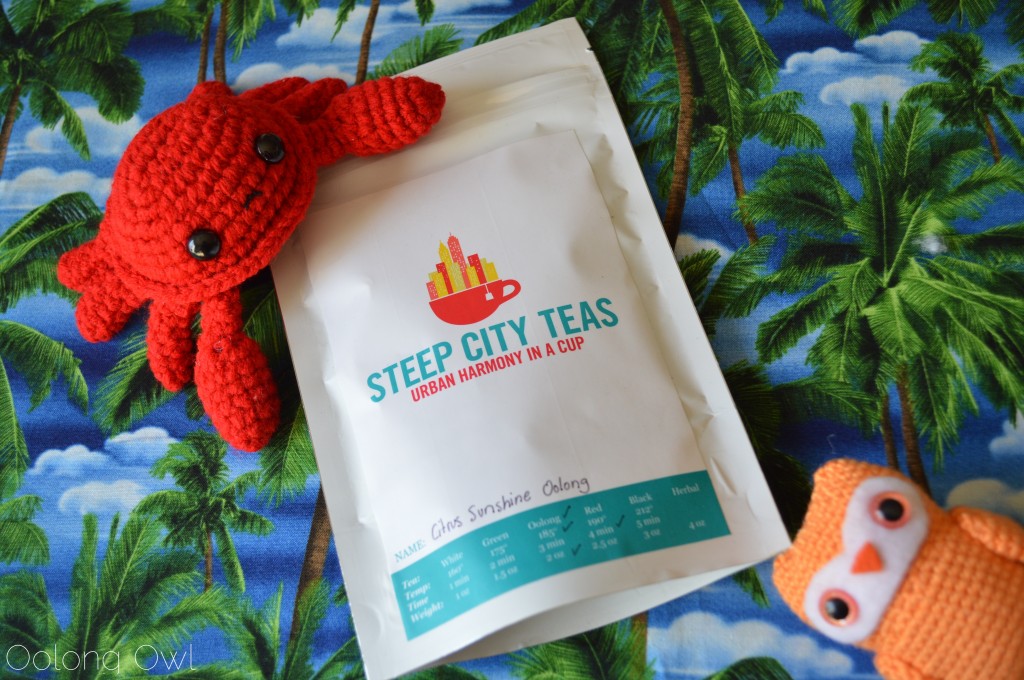 Dry Leaf
Citrus Sunshine Oolong is quite a chunky heavy tea, with tight balls of oolong and generous amounts of dried fruit, petals and peels! Opening the package is like getting blasted back into Summer! Citrus Sunshine Oolong's dry leaf smells tangy and juicy citrus, yum!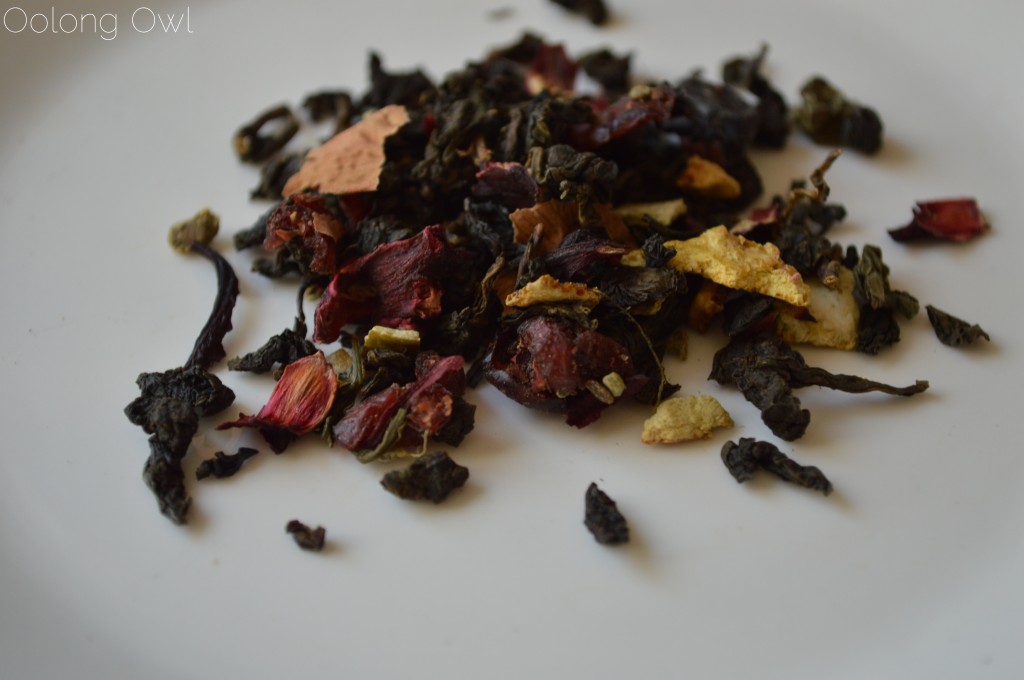 Steeping Instructions
My package of Citrus Sunshine Oolong states steeping this oolong in 185F/85C water for 4 minutes.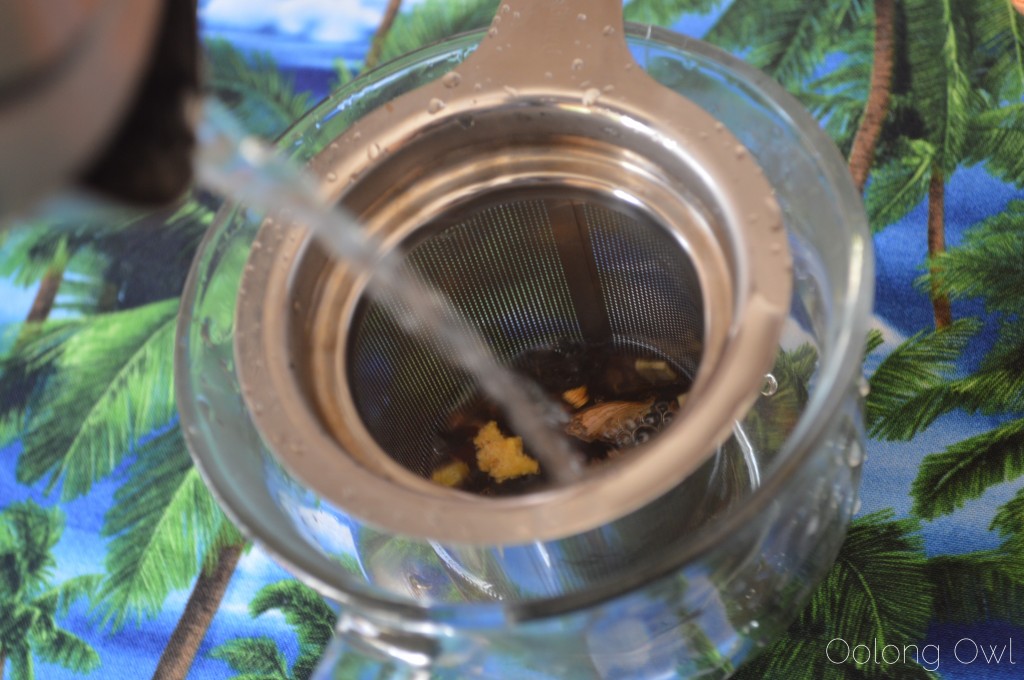 After steeping, my cup of Citrus Sunshine Oolong smelled tropical! Sunny! Very sweet citrusy smell reminding me of marmalade.
My cup of Citrus Sunshine Oolong came out an interesting coral colour.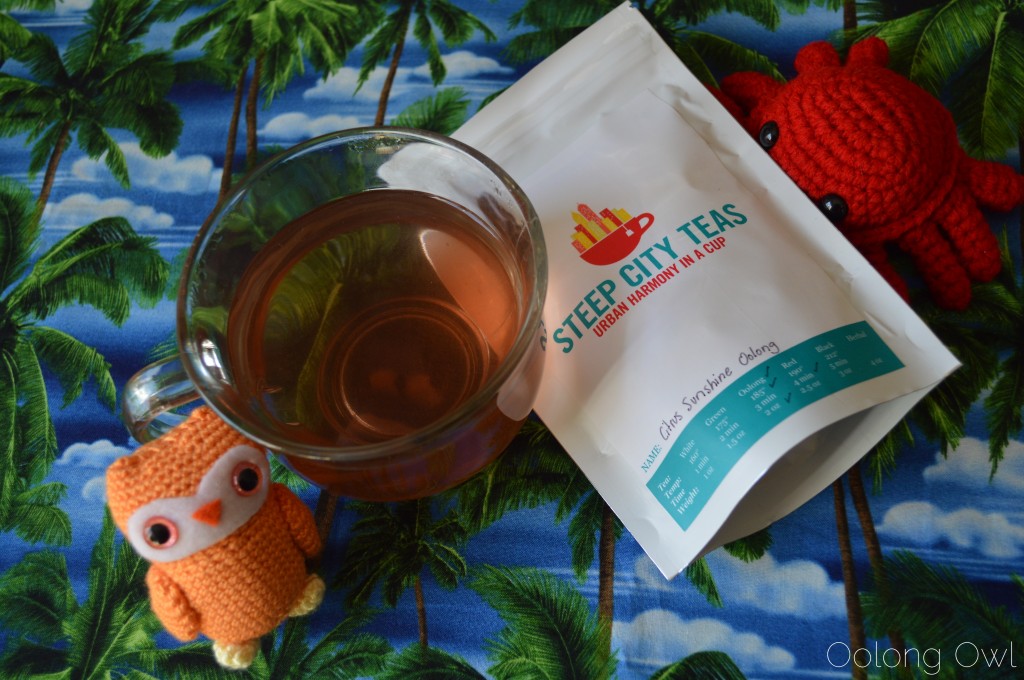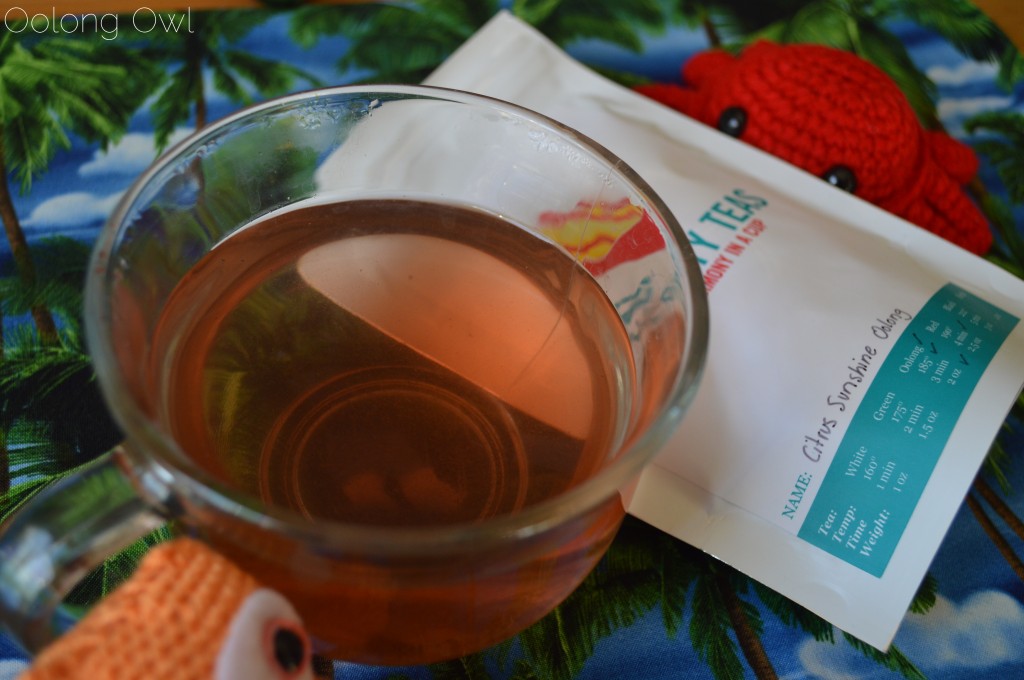 Tasting of Steep City Teas' Citrus Sunshine Oolong
Citrus Sunshine Oolong sips in citrus sweet, like a citrus mix of grapefruit and mandarin orange. Mid sip I'm getting a light grassy buttery oolong base that is lightly floral. The blend is also mysteriously warm with a hint of ginger. The ginger flavor is very low, just enough to add a warm spice making me feel sunny. There is a light mixed berry flavor end of sip. End of sip is more sweet citrus candy tang that is very addicting! The tartness of the citrus is a 3/10 on the Tart-o-meter – Citrus Sunshine Oolong has a nice tang, but not too tart to drink without sweetener.
Sweetened: I found adding just a little German rock sugar enhances the tea, moving it into sophisticated fruit juice mode. The citrus flavor is amazing and the berries taste more blueberry like.
Resteep: Sadly, Citrus Sunshine Oolong doesn't do a great resteep. I went 6 minutes and the flavor was a light oolong with a hint of peach. Fruity chunks don't resteep well, and this oolong blend is very heavy on them.

Iced:  Drinking this sunny oolong made me miss being on a cruise ship. I'd love to be sipping this tea on deck, sailing away to somewhere sunny! With that said, I'm going to make Citrus Sunshine Oolong iced, in a tumbler I got on my last cruise!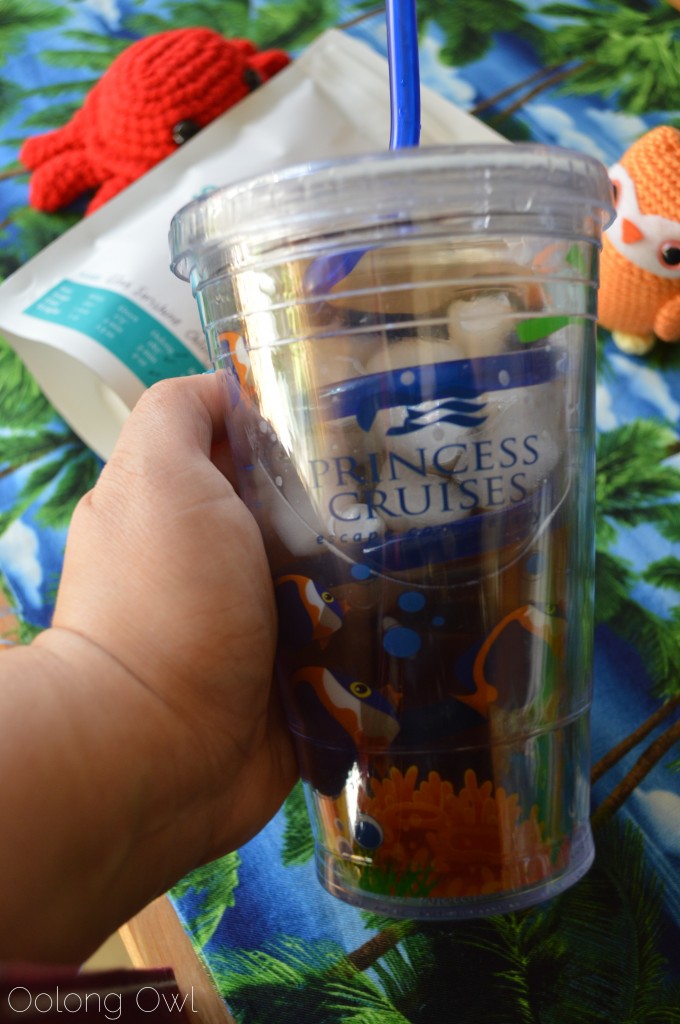 Citrus Sunshine Oolong is quite nice iced. The ginger and berry flavor pop more and is very refreshing. Right now, I think I prefer Citrus Sunshine Oolong hot, but I could see in hot weather months, this tea iced would be preferred.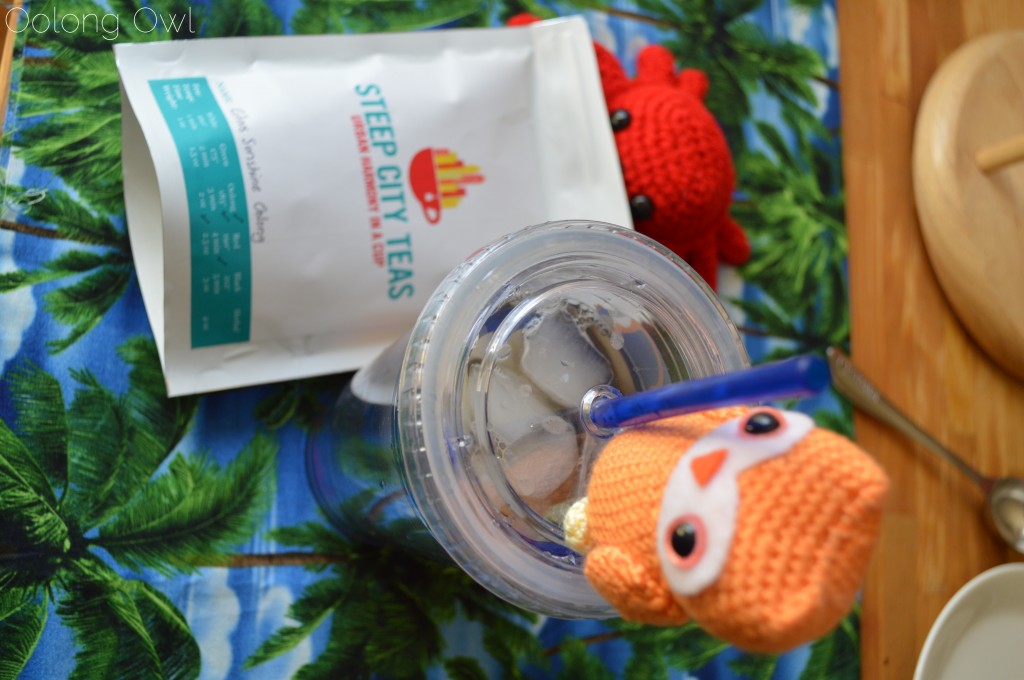 You know, I think Citrus Sunshine Oolong would be really good as a popsicle, however making popsicle would be better in the summer… hopefully I remember!
Comments
Wanna steal some Florida sunshine? Steep City Teas' vibrant Citrus Sunshine Oolong would be a hit to break the winter blues! What I enjoy about this sunny oolong blend is the layers of flavors of the citrus, berry and floral backed with grassy oolong and warm ginger. Citrus Sunshine Oolong is not a flat fruit tea and is loaded with interest, making each sip addictive!
In comparison, I like Citrus Sunshine Oolong over Steep City Teas' Agua di Jamaica as the oolong base is flat out deliciously amazing verses the smokey green gunpowder tea base. Both are very good teas, but if you were to order one of their berry/citrus teas, I'd go with Citrus Sunshine Oolong (along with Coconut Grove, Blushing Geisha and Nutty Love.)