Cocoa Creme Black Tea is a blend featuring south Indian Flower Orange Pekoe Black tea, ground coffee, cocoa and yogurt chips. This coffee lovers tea is sold by Simple Loose Leaf, online seller of tea in a subscription format.
2 years ago I was really into roasted mates and black teas that had a really robust flavor with hints of coffee. There was something about the super caffeine hit that helped me with moving and settling in here in California. I haven't had a coffee flavored tea in awhile, so I thought I should give  Cocoa Creme Black Tea a try.
Big fuzzy Grey Owl will be assisting with this tea review. I figured since he looks always wired on tea that he'd like a coffee tea.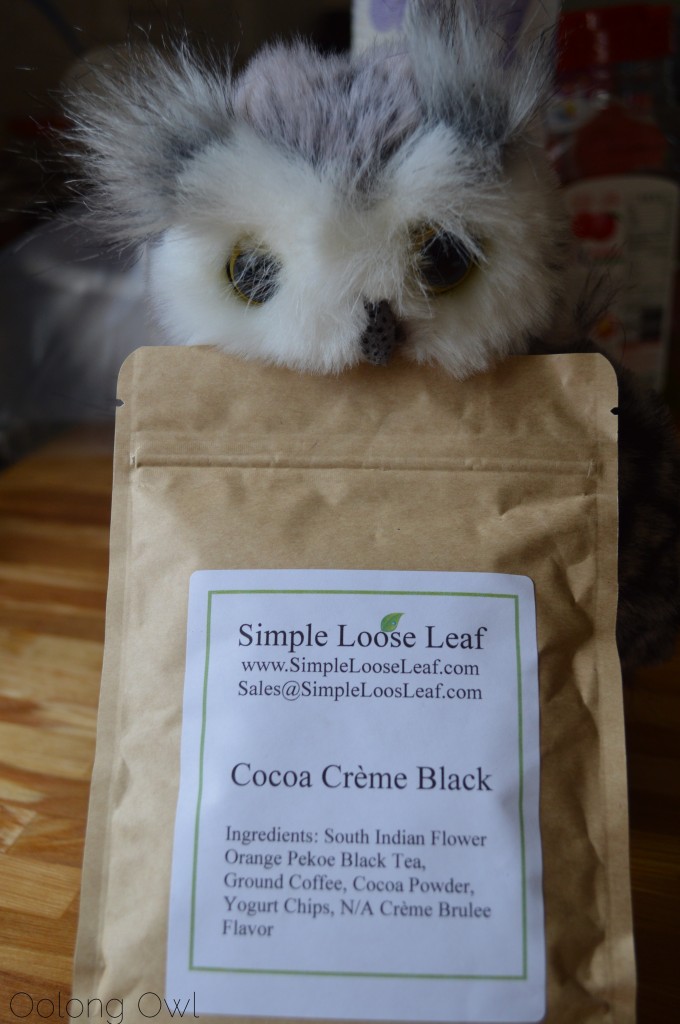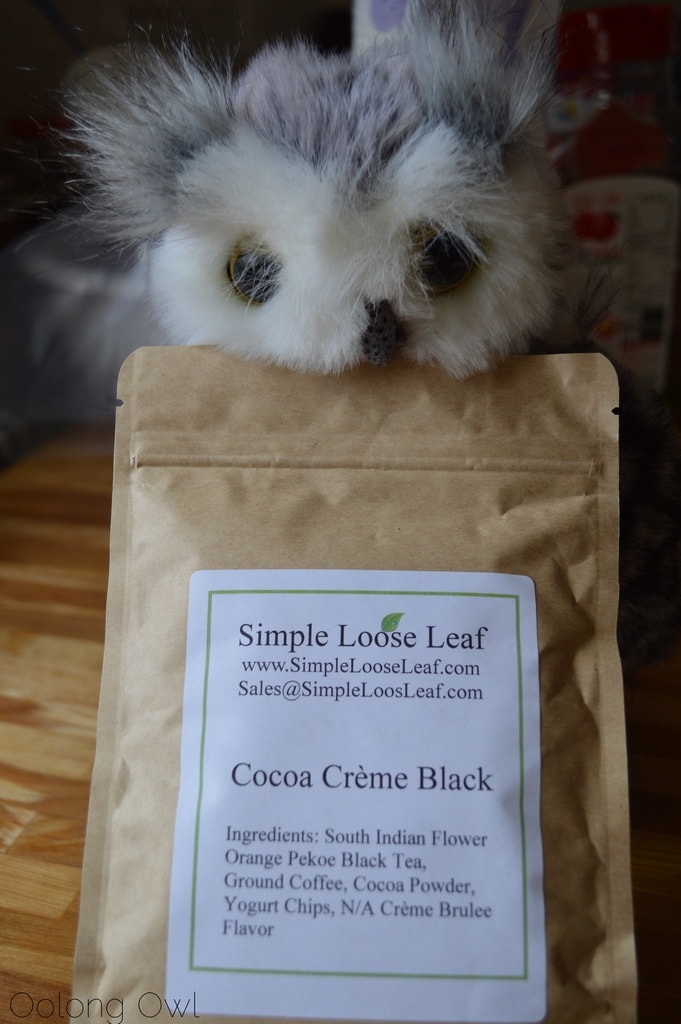 Dry Leaf
I suggest giving the package of Cocoa Creme Black a good stir, as it looks like the coffee bits seem to sink to the bottom. Cocoa Creme Black smells just like ground coffee, but its leafy appearance tells me otherwise.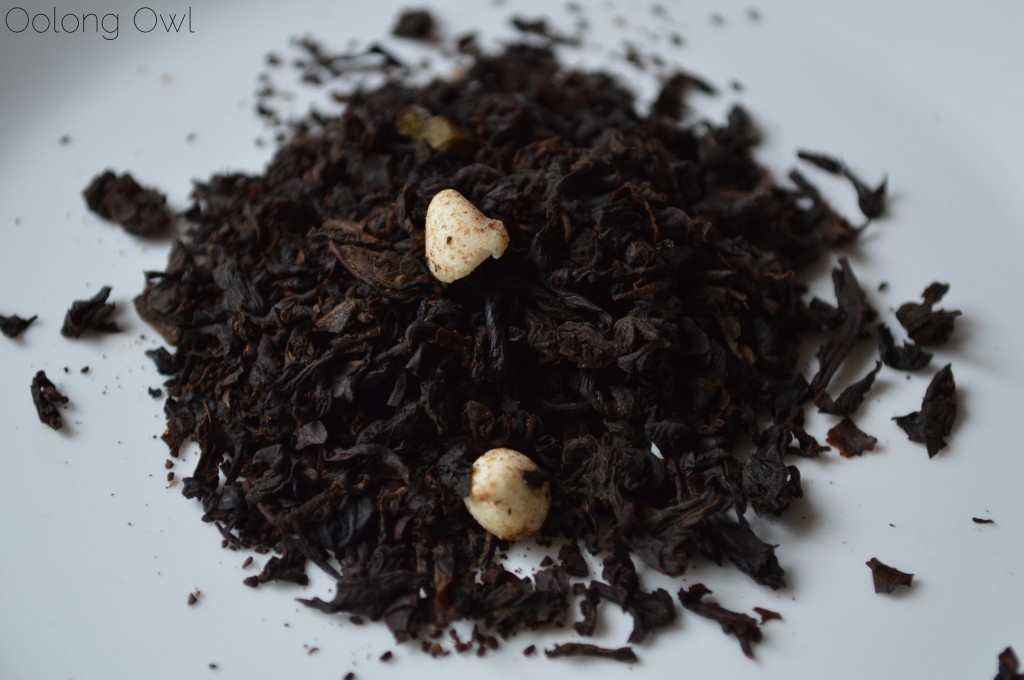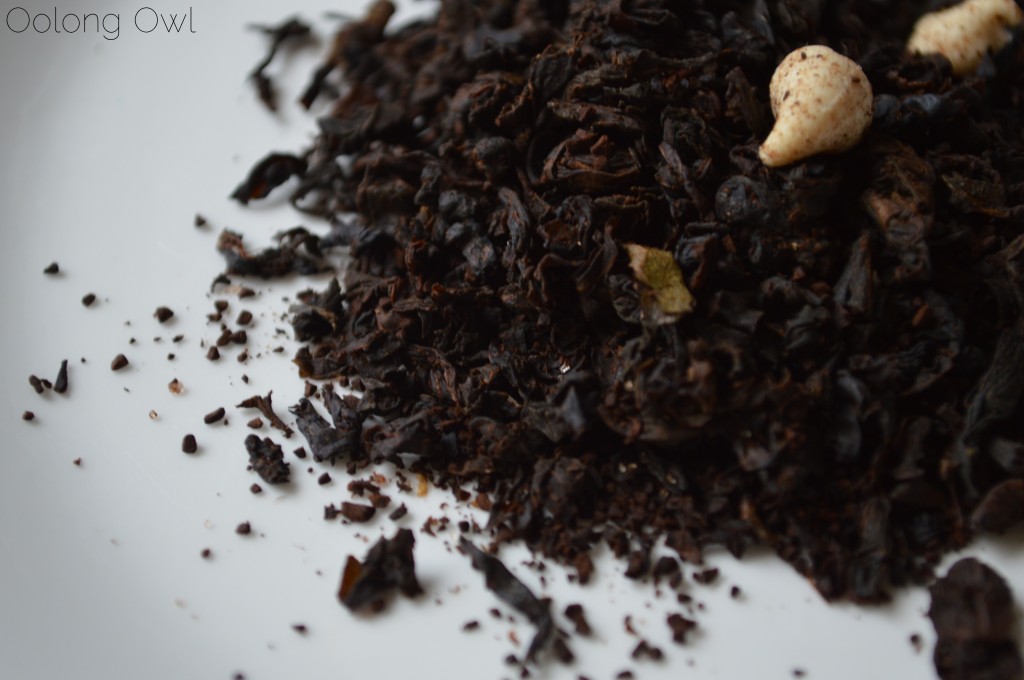 Steeping Instructions
I followed the steeping instructions on the back of the tea package, so 212f/100c for 4 minutes. The blend came out smelling lightly of coffee, with a deep brown liquor.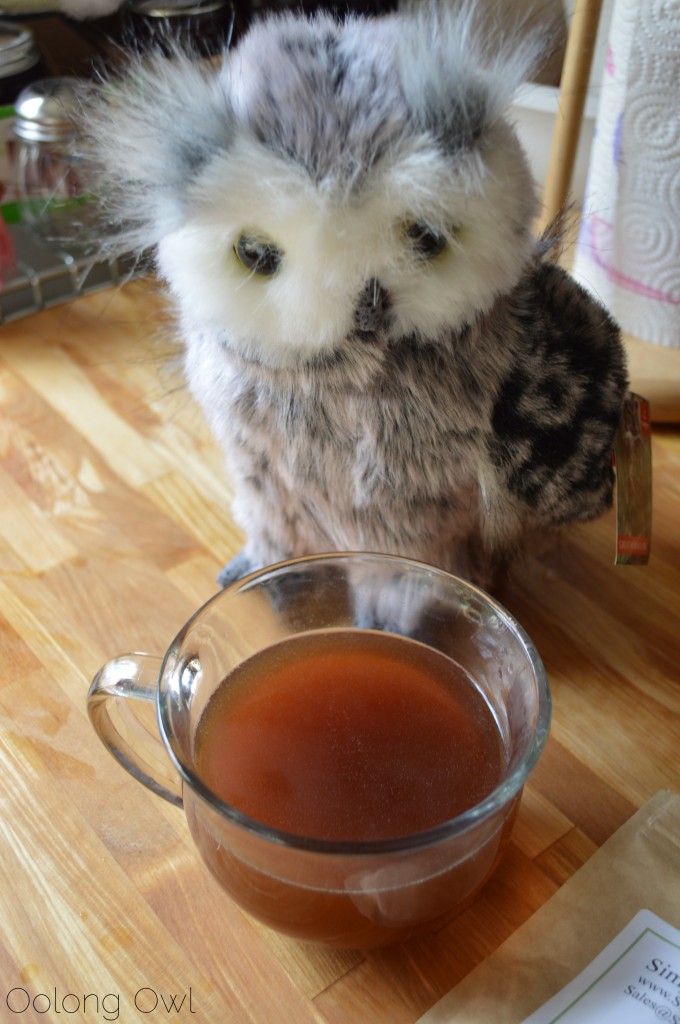 My cup has little bit of dark debris that my tea strainer couldn't catch. There are also white speckles in the steeped Cocoa Creme Black Tea, most likely from the yogurt chips. I do like yogurt chips in tea, I find they add more flavor than white chocolate.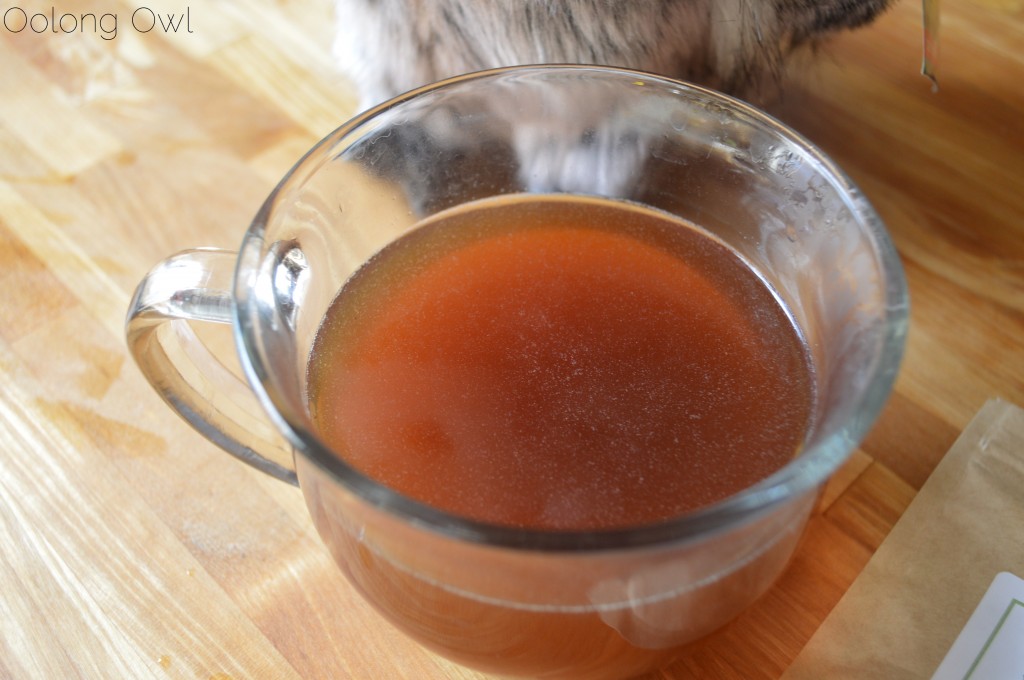 Tasting of Cocoa Creme Black Tea
Cocoa Creme Black Tea  sips in as a watery chocolate flavor, which slowly develops a fuller flavor of a delicious brisk black tea and coffee with a creamy finish. End of sip there is a tangy tartness that is either from the coffee or yogurt chips. The blend is a little dry, 2/10 on the Astringe-o-meter. though it quite reminds me of coffee. Overall, very coffee tasting complete with coffee breath.
Sweetened, with a little German Rock sugar, the cocoa pops a bit more, but still the dominate flavor is coffee. I bet Cocoa Creme Black Tea  would be good as a latte, but I'm feeling really caffeine hyped to have another cup!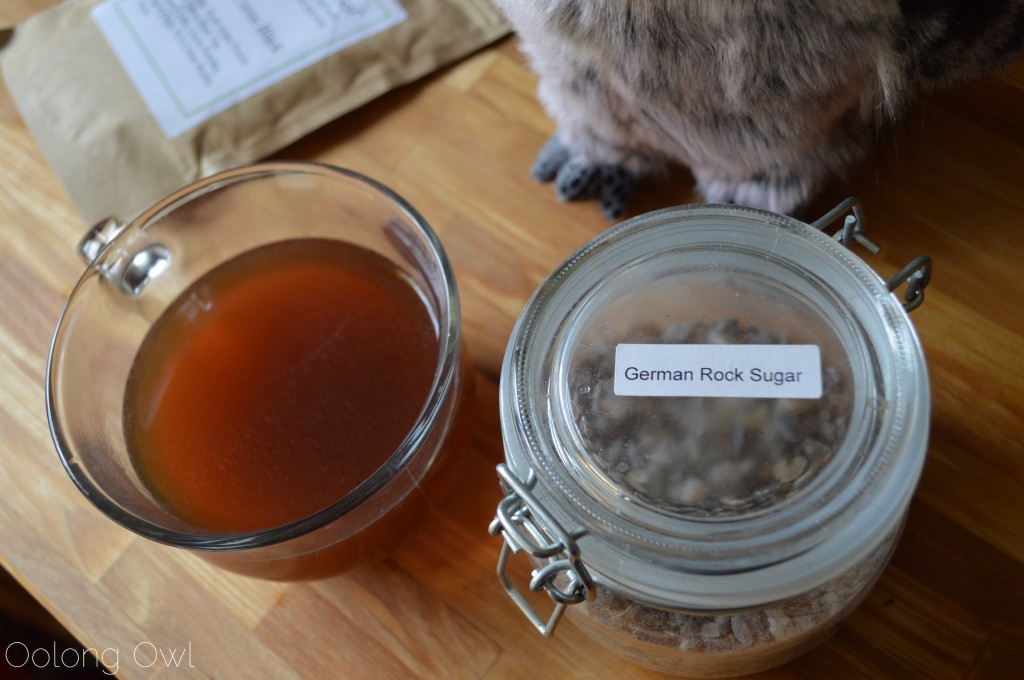 Comments
Simple Loose Leaf's Cocoa Creme Black Tea is a perfect tea for a coffee drinker. My favorite taste of this black blend is the south indian flower orange pekoe tea, it has a really nice briskness and the pairing with coffee is a smart idea. However personally, as a tea drinker who doesn't drink coffee (and when I did in the past, it was mostly sugar), Cocoa Creme Black Tea has too much coffee flavor for me.
If you are a coffee drinker trying to cut down and move to tea, or a tea drinker that likes the odd cup of coffee, Cocoa Creme Black Tea would be the tea to get your hands on! Rest assured,  Simple Loose Leaf' sells their teas in sample sizes, so you can try the tea before getting into their monthly tea subscriptions.
Bonus HOOT!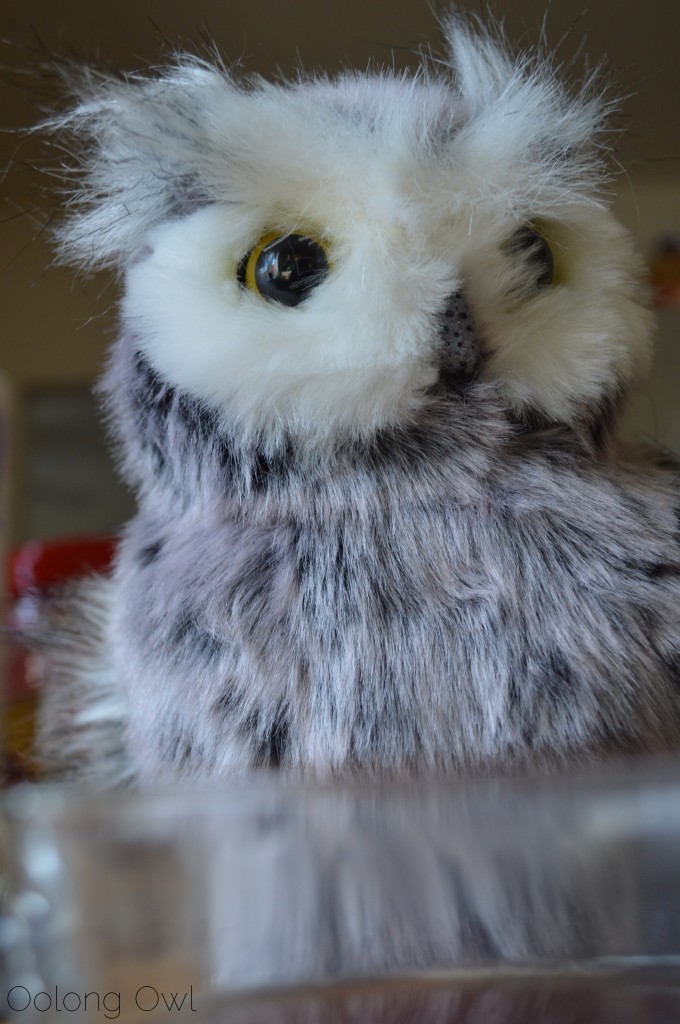 (tea provided for review)