Coconut Grove is a Pai mu tan white tea accented with rose and coconut flavoring. This tea is from Steep City Teas, a new online seller of loose leaf teas, based in Miami.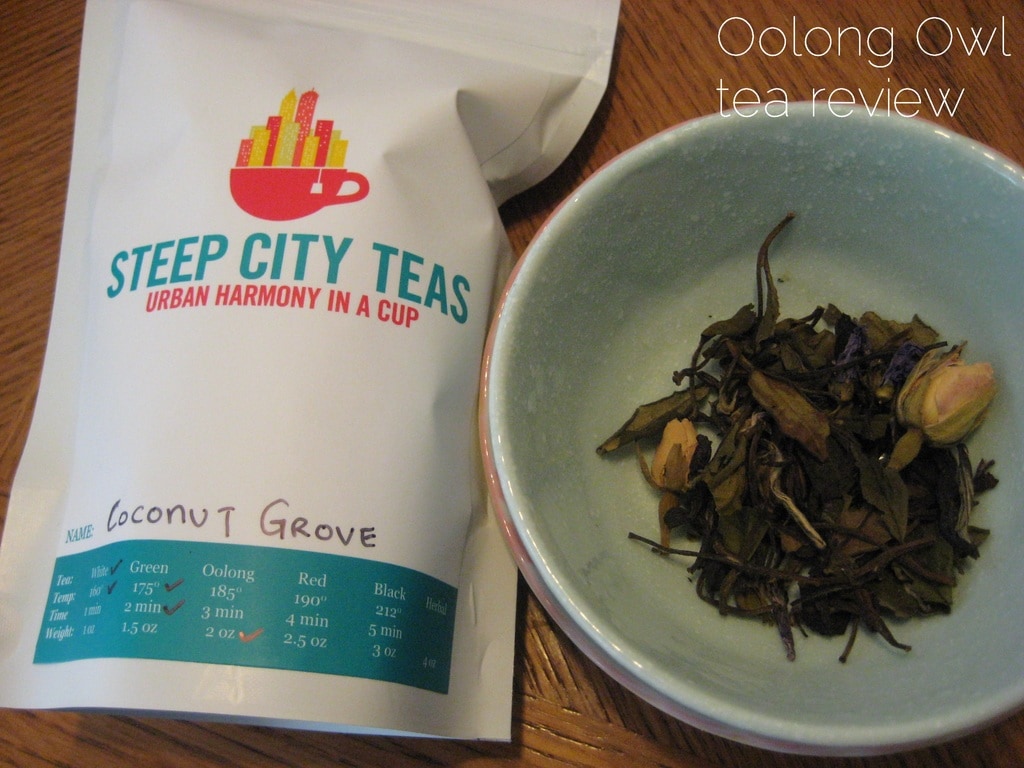 Hmm. Pai Mu Tan? Please correct me if I'm wrong – but I'm guessing that's Bai Mu Dan? I'm guessing as I'm learning to speak Korean, and if Mandarin is similar, the romanization of sounds "B" and "P", "D" and "T" and "G" and "K" get mixed up all the time. I find the flipping of the romanization makes learning from multiple sources painful and confusing at time. Ugg, thinking about this reminds me how I suck at pronouncing "ㄹ" and need to practice more… PFFFFFFFFFFFFFFFFF! Okay, enough about learning complicated languages – tea time!
DRY LEAF: Wow, very beautiful dry leaf here! I love it! /swoon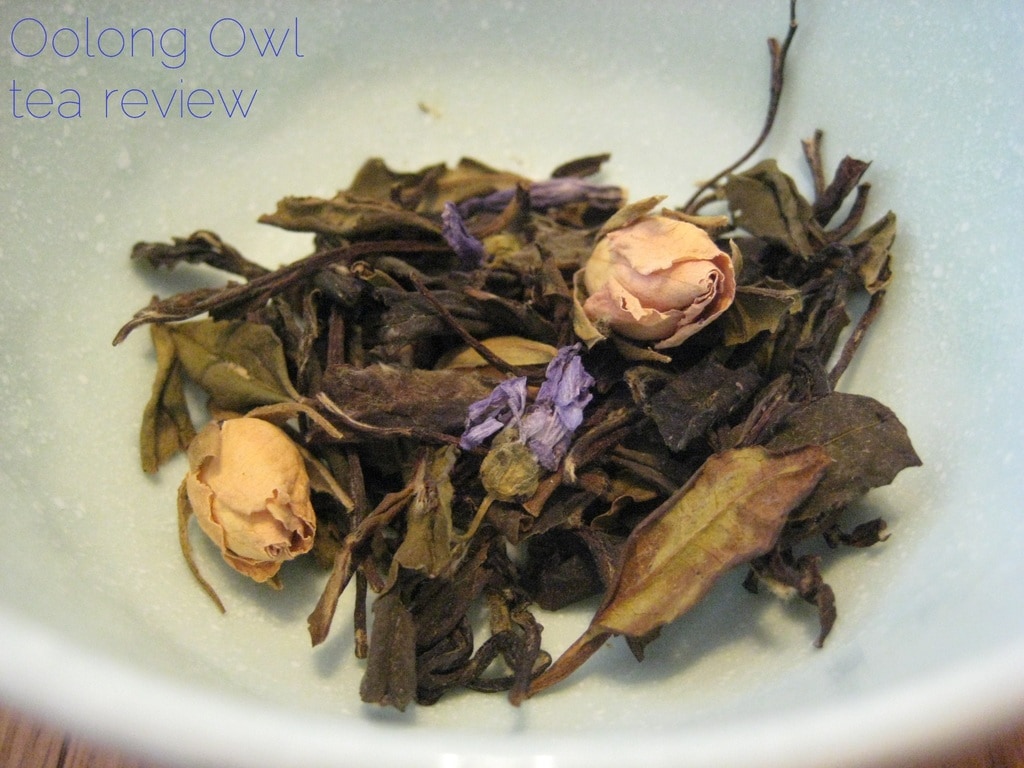 Amazing big rose buds mixed with the white tea leaves, little purple flowers and twigs. The dry leaf smell kinda reminds me of a coconut cream pie including graham cracker crust.
Okay, not that many twigs were in the bag. I searched for some good ones though!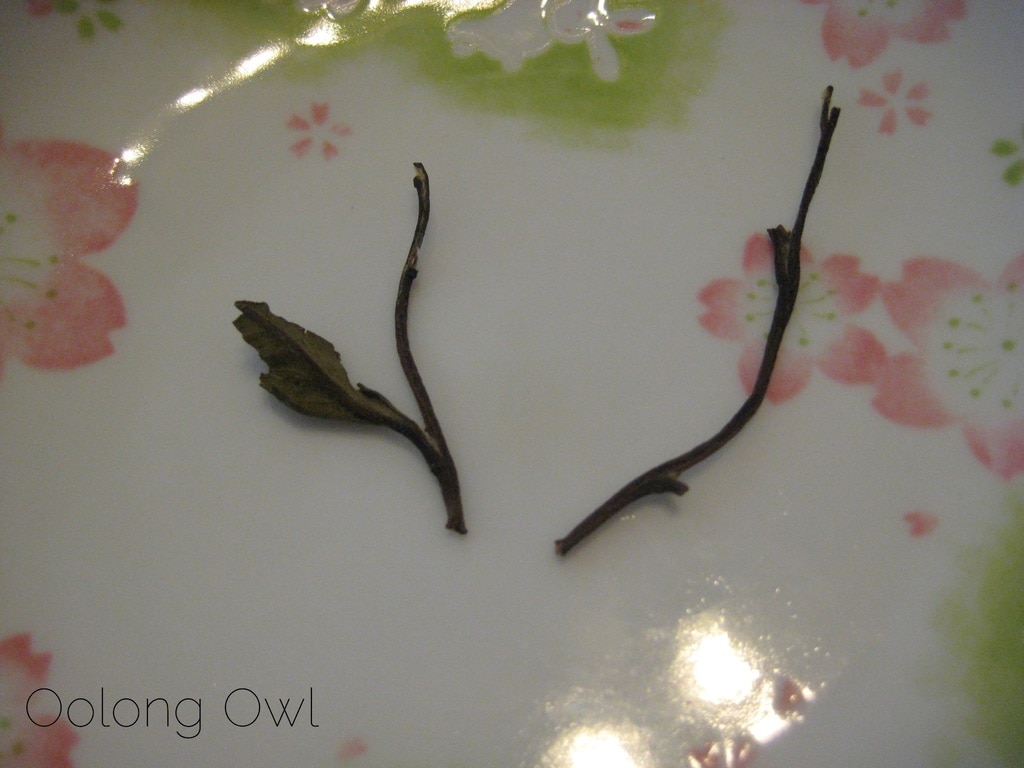 Antlers? This owl is entertained easily.
I found more of the little blue flowers drifted to the bottom of the bag, so make sure to give this bag a good mix. I actually regret not buying a tin with this tea. The 2oz bag of this tea is bursting full!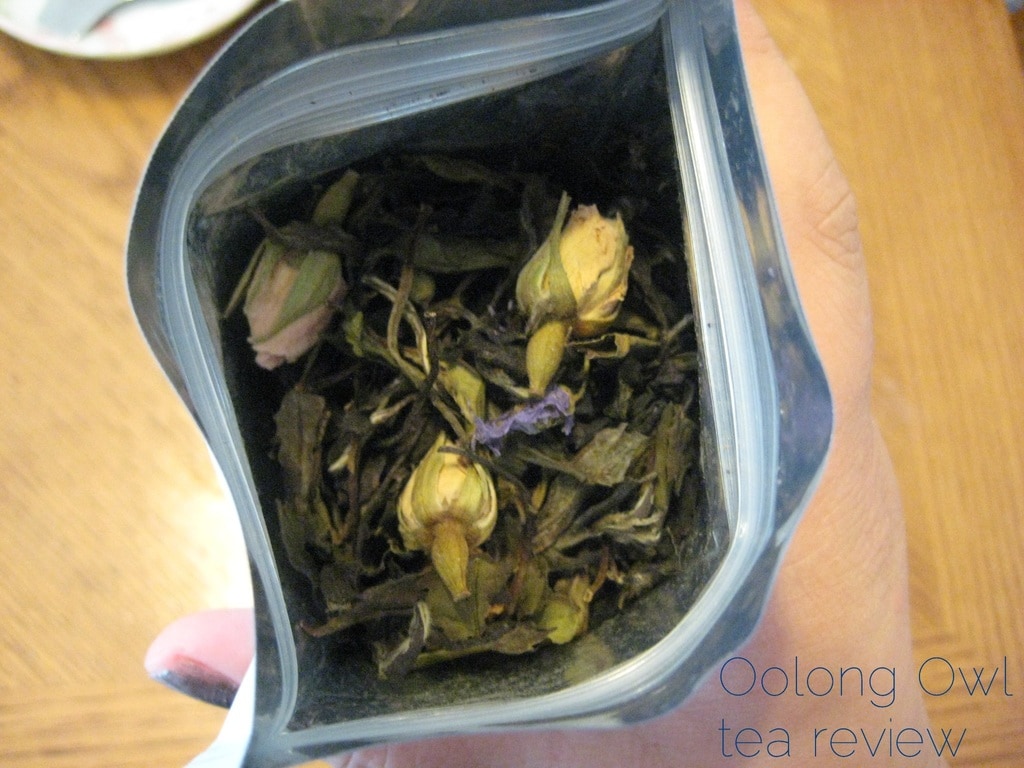 STEEPED: Sweet white tea smell with creamy scent. Light gold/straw coloured tea. I was a little confused with the instructions on the bag, checked off for both 160F and 175F – I went with 175F for 2 minutes.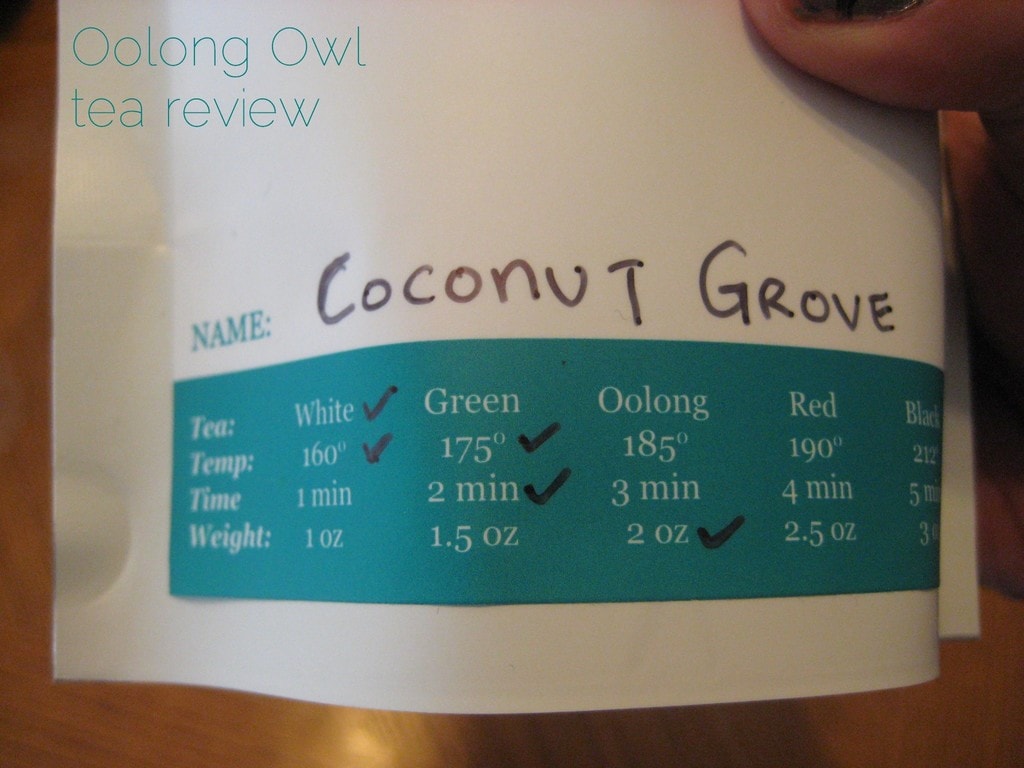 The steeping process looked very lovely with all the rose buds. I'm thinking Coconut Grove would look very nice in a glass tea pot.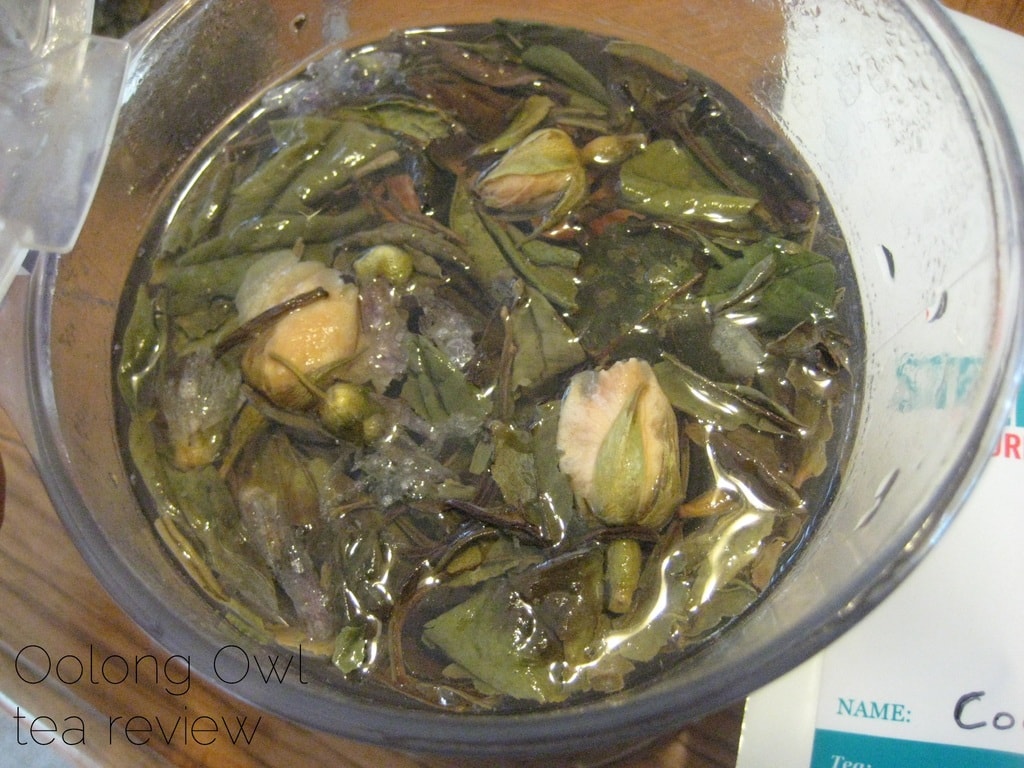 I feel like I'm in a garden, looking at the fallen petals in the pond.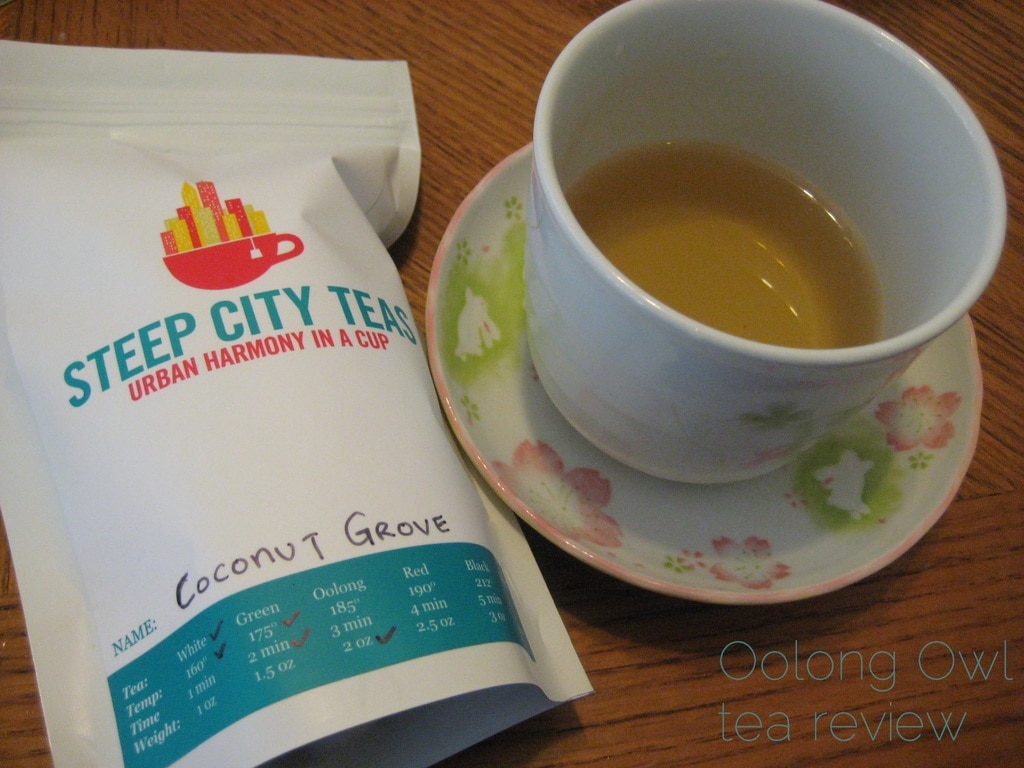 TASTE: Very sweet and coconutty! The taste is like big fresh, slippery slabs of coconut over top juicy sweet fruity white tea. The white tea is very flavorful and sweet. The floral is light, a 3/10 on the Floral-o-meter. The creamy coconut stays as an aftertaste as well. No bitterness or dryness in this tea.
Sweetened with rock sugar, Coconut Grove is just like a coconut water drink – served hot in a tea cup with rose petals floating in it. Why I'm drinking coconut in a rose garden, I'm not sure. I usually drink coconut water after a jiujitsu work out! The floral pops a bit more with the rock sugar. I think I prefer Coconut Grove unsweetened, but the rock sugar gives it added charm.
RESTEEP: I did a resteep for the hell of it and the tea came out even sweeter and floral, with a quick aftertaste of creamy coconut. I did not add sugar to the resteep – almost think I did add it, as it is so sweet! Probably this is the sweetest tasting tea I've had that wasn't blended with stevia or rock sugar.
COMMENTS: Coconut Grove gives me the impression of something sophisticated classic, with a bit of romance – but with a bit of modern hip from the coconut flavoring. If you like coconut and sweeter teas, you'll love this one! I've been drinking this one for a couple days, while I watch my Korean Dramas.
I'm very impressed with Steep City Teas so far – I've reviewed YaYa Strawberry, which blew me away in similar fashion to Coconut Grove being deliciously addictive. Awww crap, that means I'm doing another order for sure.