Coffee Leaf Tea! I previously reviewed Wize Monkey's unflavored Coffee Leaf Tea. They also did really well at the World Tea Expo 2015! Coffee Leaf Tea is quite the innovative product as it uses the leaf which can be harvested all year round vs the coffee beans' 3 month harvest window. The tea tastes pretty good too.
It appears Wize Monkey has new packaging, as well as a sample pack of their new flavors, Mango Party and Mint Marvel.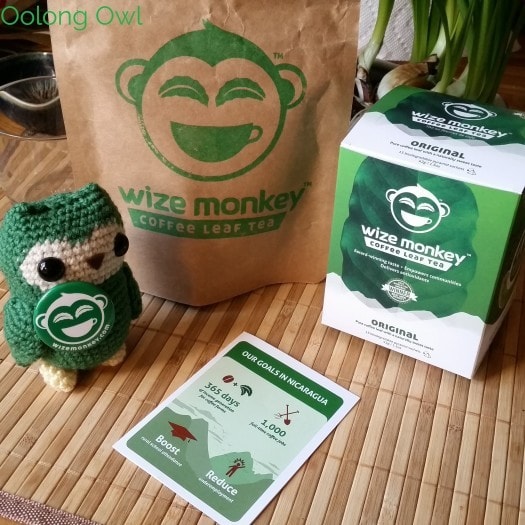 The sampler pack is in a kraft bag, but the box is really well designed with lots of information about Coffee Leaf Tea!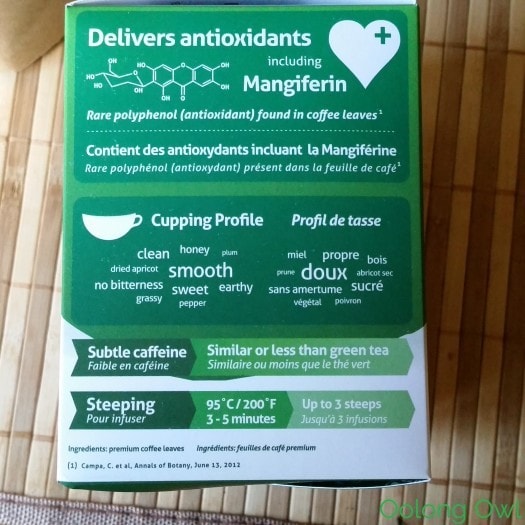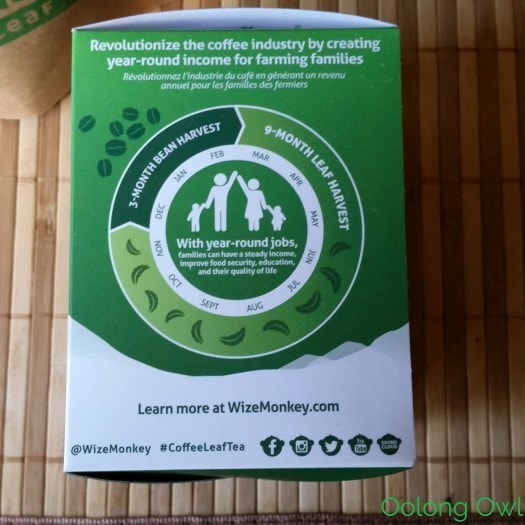 Yeah my hometown Vancouver!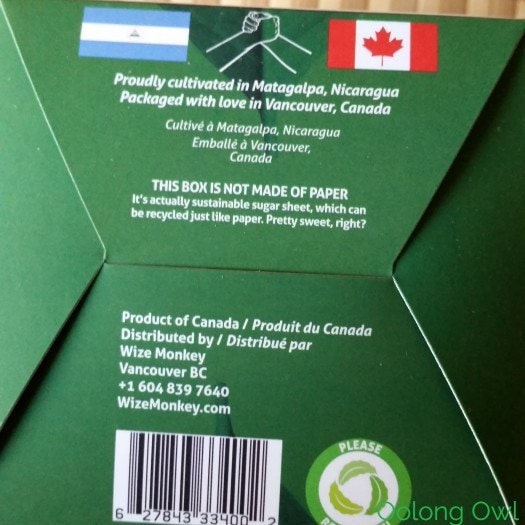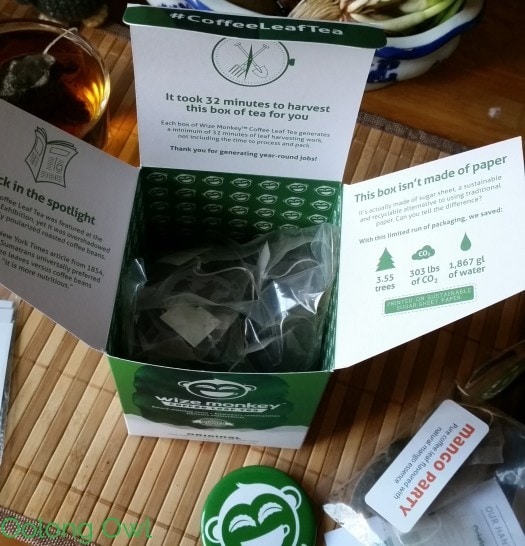 And new big pyramid tea bags!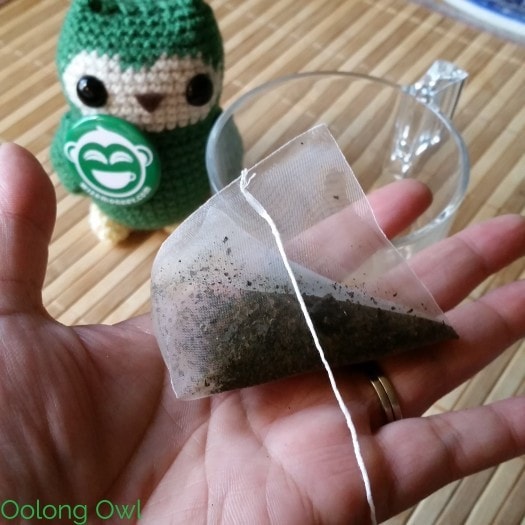 Steeping Instructions
The instructions on the box said to steep the Coffee Leaf Tea at 200f for 3 to 5 mins. I found at the 4 minute mark I got more of the mango or mint flavor.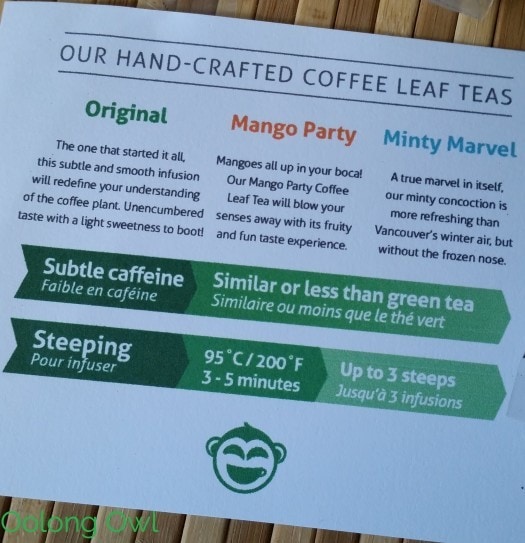 Tasting of Wize Monkey's Mango Party Coffee Leaf Tea
Coffee Leaf Tea has a gorgeous tea color of perfect amber, I love it!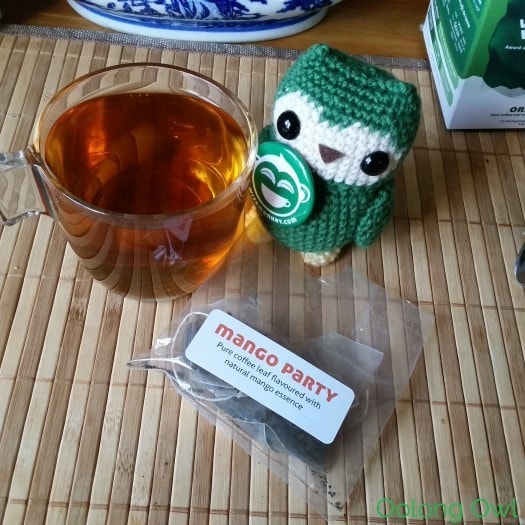 Mango Party sips in super smooth and creamy. The base is like orchard grass hay and light herbal with a finish of yellow mango. After each sip there is a stronger mango aftertaste. The coffee leaf tea has a fresh feel and a thick texture. The tea gets sweeter as it cools going with the mango flavor. Mango Party would be great chilled for a sweet iced tea.
Tasting of Wize Monkey's Mint Marvel Coffee Leaf Tea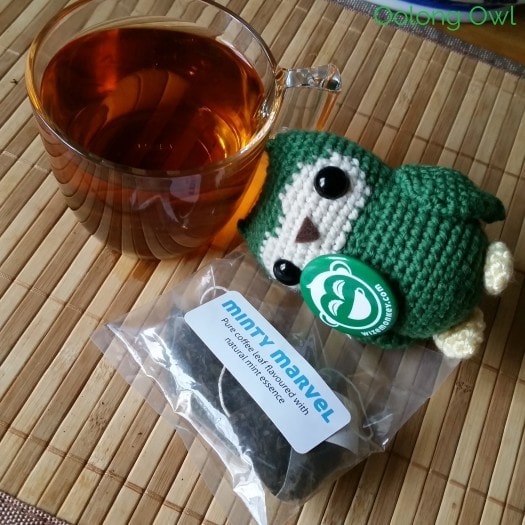 Mint time! The pairing of coffee leaf tea and mint is a good one. Upfront is the taste of sweet mint, it reminds me of a wint-o-green kind of mint flavor. The creamy light grassy base goes well with the mint flavor producing a cool and relaxing sip.
Comments
Like the unflavored Coffee Leaf Tea by Wize Monkey, both blends are super smooth and easy to drink. I like the mint a little more but both are good. I'm waiting for some more flavors to come out, I tasted some other excellent ones at the World Tea Expo 2015.
Wize Monkey has lots of great reasons to try their product, with it being innovative, using more of the coffee plant, and really funky logo. Coffee Leaf tea does sound like it would be heavy and bitter, but it's easy to drink and many people would enjoy the flavor.
(tea provided for review)