Country Breakfast Tea is a black tea with maple syrup, lapsang souchong, maple hickory smoked bacon jerky and chai spices – ginger, cardamon, cinnamon, coriander, cloves and black pepper. This wildly creative tea blend is from TeaFolks, tea seller based in Las Vegas, Nevada. Their teas can be purchased online.
First off, this tea has REAL BACON in it. This tea is not vegetarian!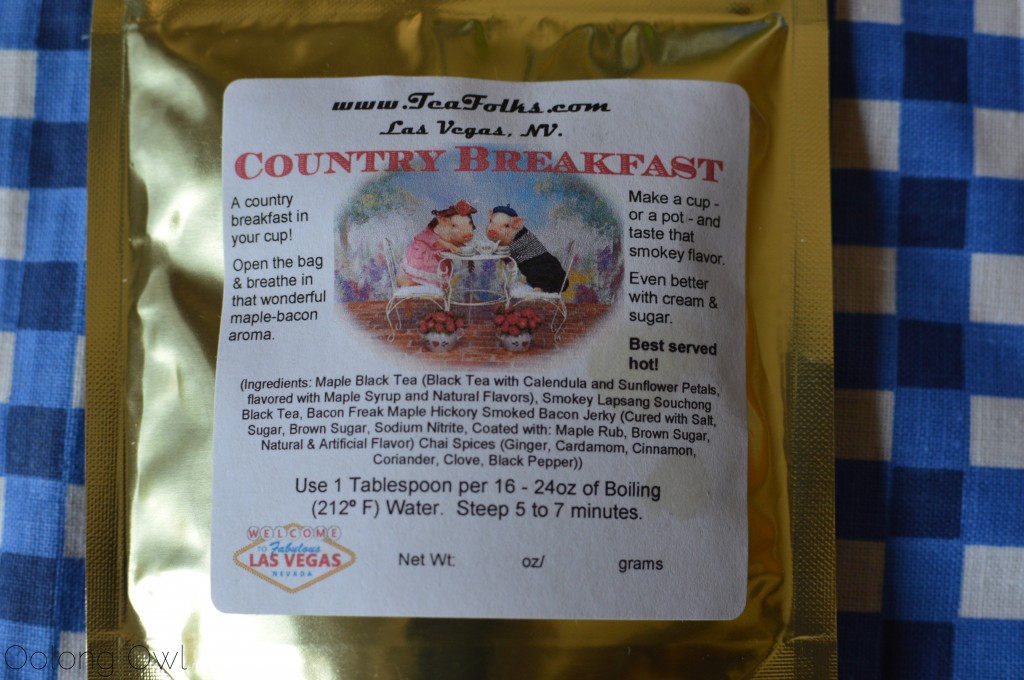 I've had bacon teas in the past, Maple Bacon Iced Tea from Southern Boy/ Zoomdweebies which has bacon flavors or imitation bacon in it but not the real stuff. I didn't think real bacon tea could even be made. I came across TeaFolks at the World Tea Expo, one of the first booths I visited and boom. BACON TEA.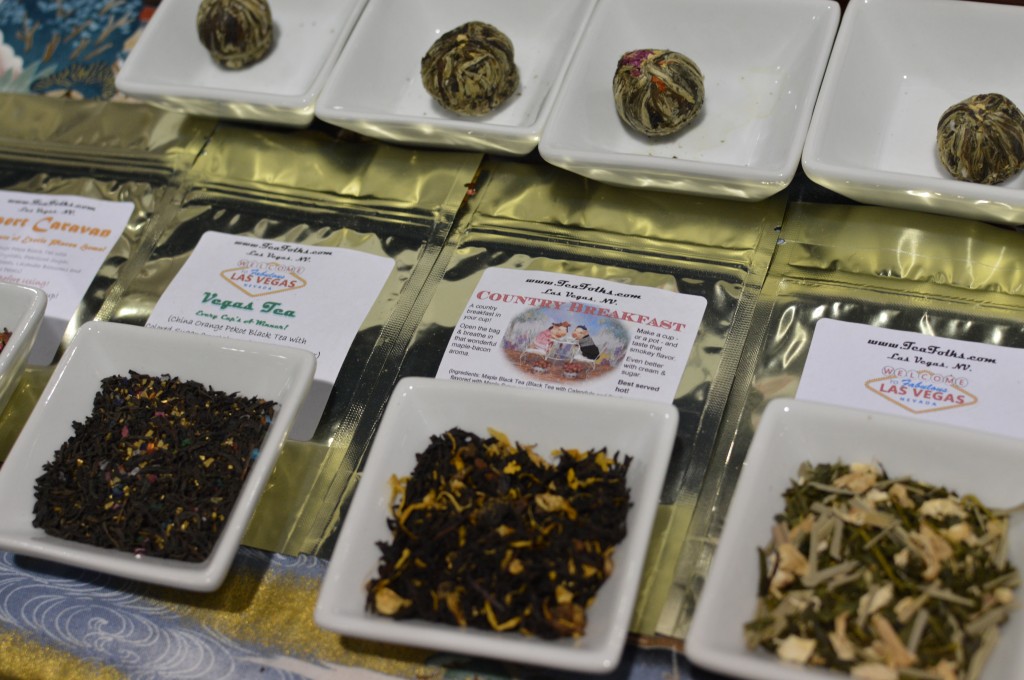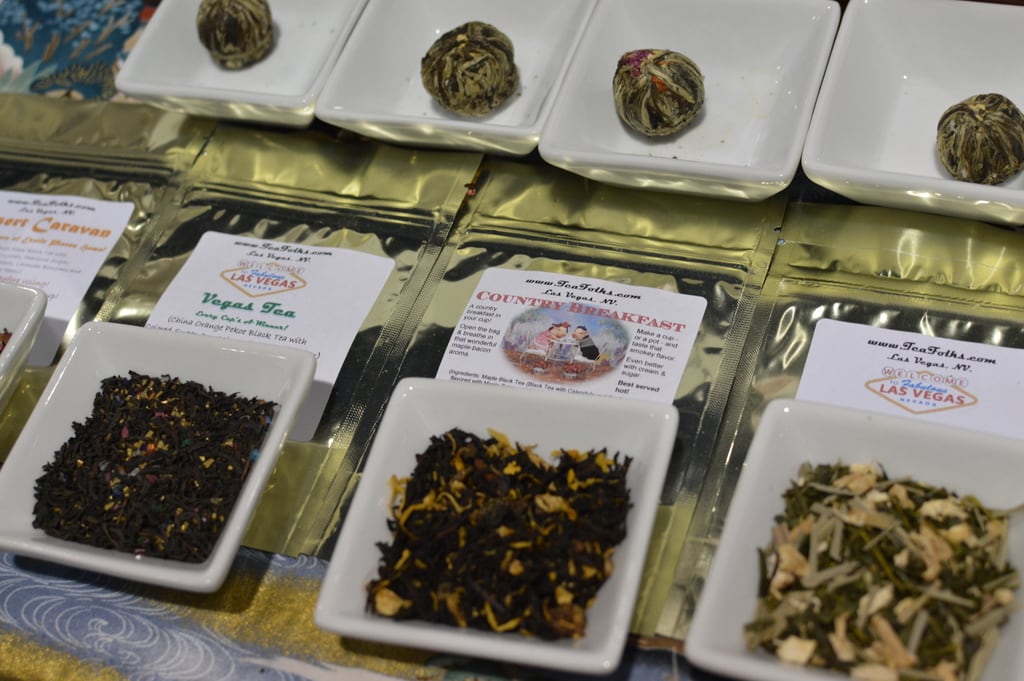 I tried a sample and it was good! Best bacon drink (out of the like 4 teas and sodas) I've tried! I purchased a package so I can review it for you tea peeps – the tea world has to know!
Dry Leaf
Lots of smells going on in this tea! There are heavy spices similar to a spicy smokey chai, but also a meaty jerky scent. Country Breakfast Tea has a cinnamon bun with smokey meat thing going on, or maple syrup spiced tea with a side of bacon.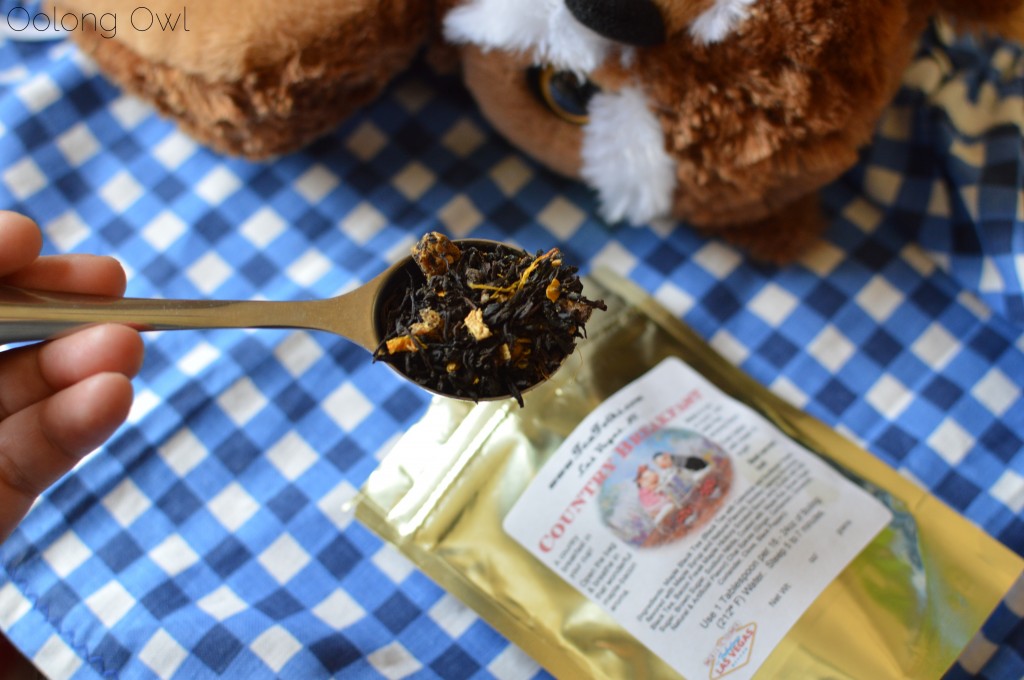 The dry leaf is quite chunky with the loose black tea accented with big spicy chunks… and meat.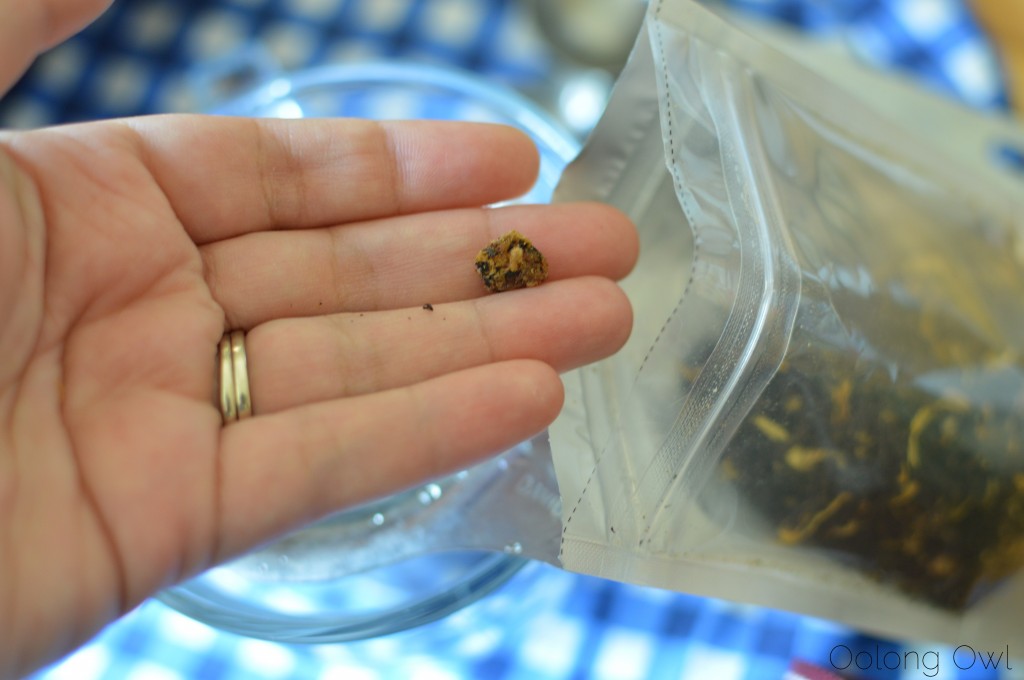 Steeping Instructions
The steeping instruction for Country Breakfast Tea are for making a small tea pot worth, 1T for 24oz. To break it down to 1 serving, 1 tsp for a 8oz cup or so. To steep, use boiling water for 5 to 7 minutes. After 5 minutes I had a tea that smells like peppery bacon with a hint of sweetness. Such a great comforting scent… that I never have associated with tea.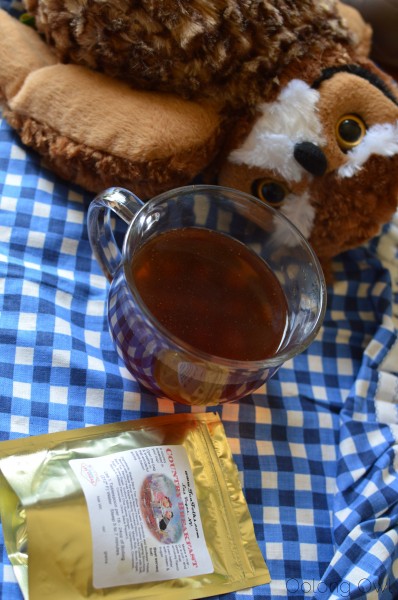 The tea is a light brown with a bit film on the top.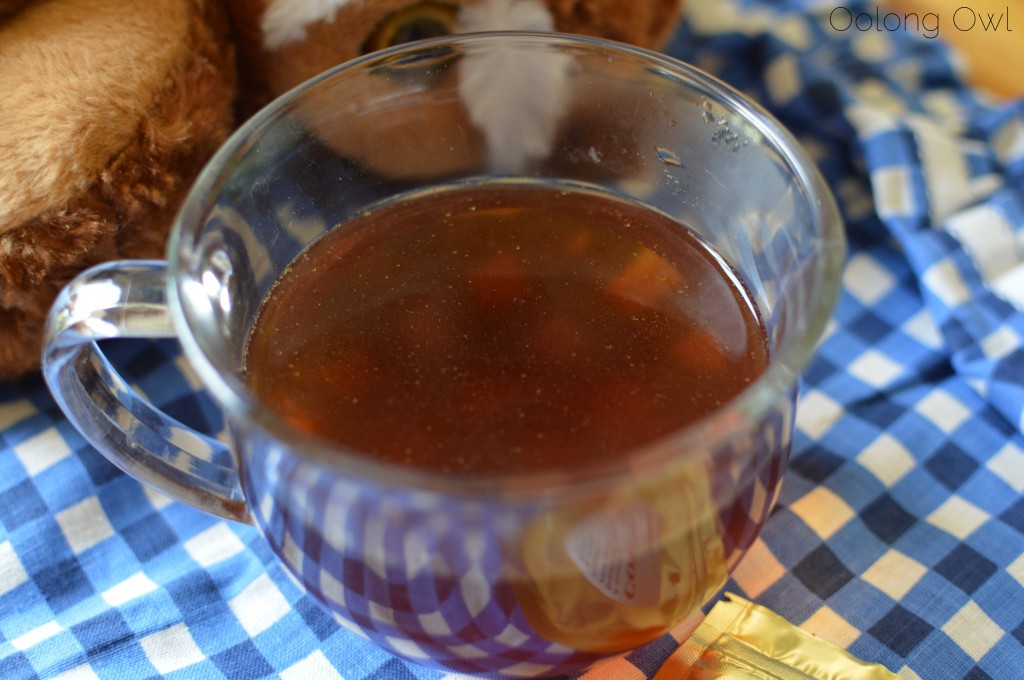 Tasting of Teafolks' Country Breakfast Tea
Country Breakfast Tea sips in with lots of savory smokey bacon taste with an edge of maple sweet. The black base adds depth and richness. The lapsang souchong is clear at the first sip adding a delicious smokey taste without the pine notes.  The tea finishes off with lots of chai spice – I can taste pepper, ginger, cloves and cinnamon. It is quite a spicy cup, especially with the smokey lapsang souchong – I give it  a 6/10 on the spice meter – the spices are clear, but beginning to enter into heat territory.
Without the bacon savory taste, Country Breakfast Tea has a great chai spice flavor. It sounds weird tea lovers but this tea works! The is a slick mouth feel after each sip, probably from the bacon jerky. By the way, this tea is not dry or bitter. I found, as stated on the package, Country Breakfast Tea tastes best piping hot. When I got to the bottom of my cup, distracted, with cool tea, it tasted a bit oily.
Sweetened: I added some amber agave to my cup of Country Breakfast Tea. I thought this would be the best sweetener to add (barring real maple syrup) for its maple like flavor.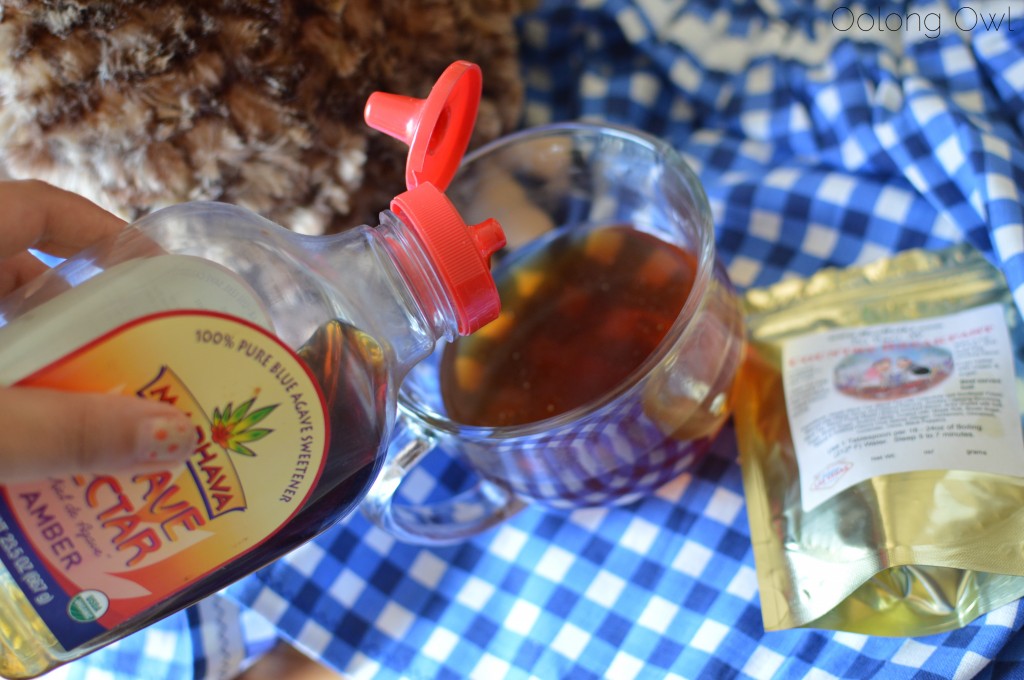 Country Breakfast Tea tastes like a slice of really peppered bacon dripping with the maple syrup from the side of pancakes. Both sweetened and unsweetened if this tea is pretty good – be sure to try both ways! Milk might work with this tea as well, but I drank all my milk this morning so I couldn't test it out.
Comments
Country Breakfast Tea is comforting like tucking into a big diner breakfast without the guilt of eating one. I found Country Breakfast Tea easy to drink, but also a mind explosion of drinking bacon. I know this tea sounds hella weird, probably scary to some (i'm looking at you straight tea purists) but it is very tasty and fun! How fun is a tasty tea that hits that bacon savory salty sweet craving! However, be sure to serve this tea piping hot!
Who would like this crazy tea? Hmmm… well adventurous tea drinkers like myself – I FEAR NO TEA (well, maybe that insect turd tea). Chai drinkers would like this for the good spice levels. Of course, all the bacon lovers in your life should try TeaFolks' Country Breakfast Tea. I can see myself buying some for stocking stuffers for my husband's meat lover friends. I am also picturing taking this tea camping! TeaFolks also sells this tea in 1oz size so you can sample away!