I have a lot of fun at these "Create Your Own Tea" shops. Purify Tea has some excellent teas and herbs to choose from, along with a great interface. The blend you make at Purify tea is all natural, no artificial added flavoring – the tea and herbals you choose make the flavor.
They have 10 tea bases to choose from  at this time – Kenyan Garden, Imperial Puer, Mountain Ceylon, Himalayan Caramel, Ocean Sencha, Jasmine Allure, Honey Rooibos, White Spring, Chocolate Oolong, and Golden Darjeeling. I am really impressed with their base selection, especially with a Nepal black, Indian White, and Thai Oolong on the menu!
After that, you can add an additional 4 herbs to your tea. Right now, 39 different herbs to choose from! You can also opt to have the same herb repeated.
Each tea and herb has information on the origin, flavor and "health benefits". Even if you know nothing about these teas and herbs, you can go off flavor pairings to create something special. Purify Tea also gives you suggested pairs if you need ideas. You can search herbs by flavor or health benefits. Your final choice is to choose loose leaf or have your tea packaged in nylon tea bags.
Oolong Owl's "Create Your Own Tea" Chocolate Oolong Custom Blend from Purify Tea
For my blend I decided to get 4 different herbs to experience everything. I went in with an idea of something fruity and chocolate – Chocolate Oolong base (a Thai oolong!) with carob, strawberry leaf, passionflower, and agrimony. Everything is organic! I chose the carob as I knew that would add some nice chocolate flavor, and the herbs had the "sweet and fruity" tag on them.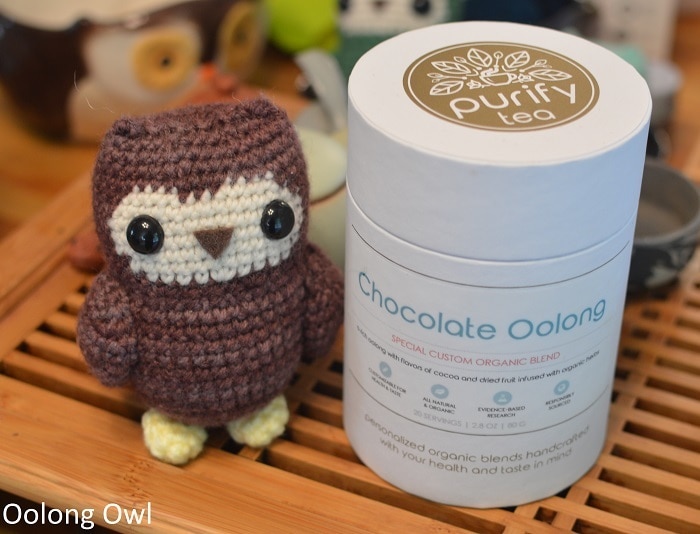 My blend was made right and shipped. I like the packaging as it looks right off the shelf, despite it being a custom product. Total weight of my tea is 2.8oz/ 80 grams with equals 20 servings if following recommended 4 gram serving size.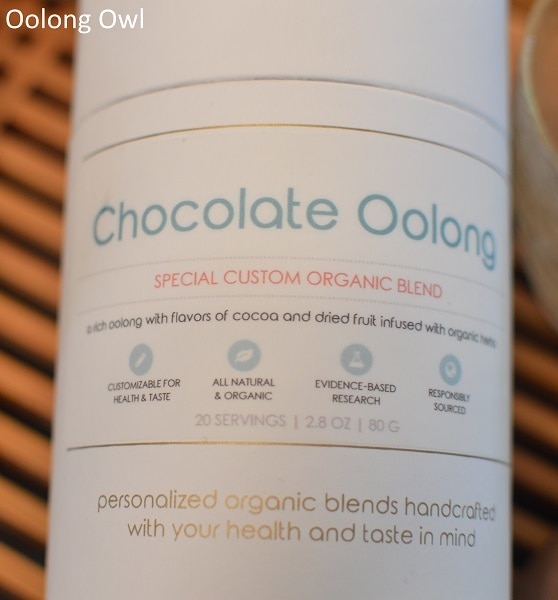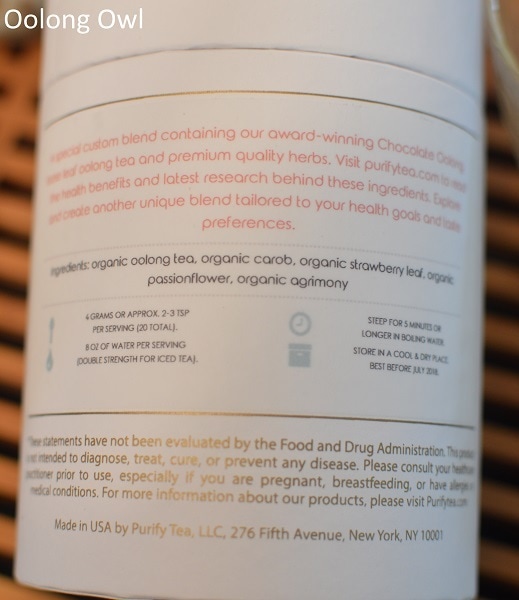 Dry Leaf and Steeping Instructions
I actually got scared. This is a lot of herby looking bits and little bit of tea. I should of gotten one less herb I think. The scent is overwhelmingly like a health foods store pill section.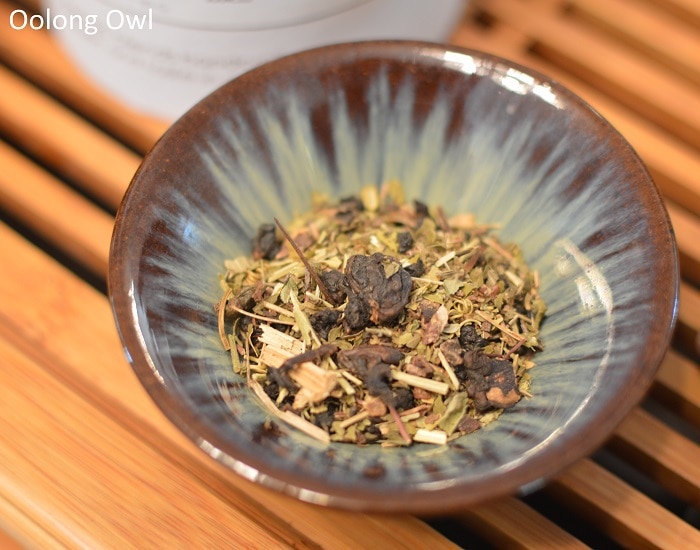 I followed the instructions on the container 4 grams (or 2-3 teaspoons), boiling water, 5 minutes. This method worked well for best flavor. After steeping the leaf, I am impressed with the oolong they used – it has big full leaves in great condition. They certainly picked out a quality tea bases for their customs!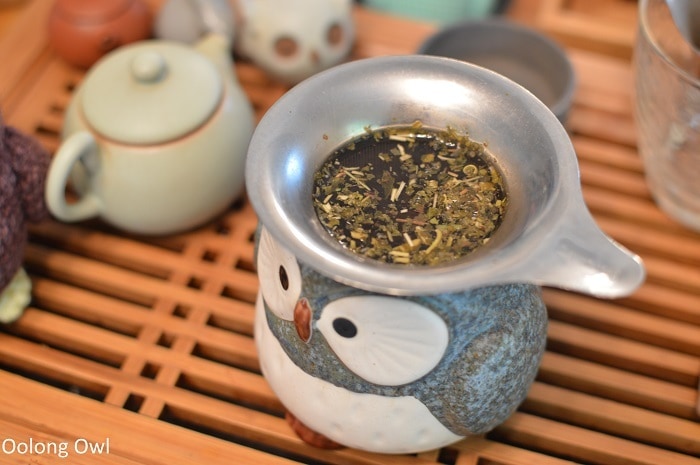 Tasting of Chocolate Oolong +  Carob, Strawberry Leaf, Passionflower, and Agrimony
The Chocolate Oolong base is very good! The oolong has a rich chocolate flavor, with more chocolate on top from the carob. The background and aftertaste is a fruity like black cherry, dried apricots, bit of mystery floral, and herby flavor. The main flavor is the smooth chocolate and fruit. The texture is nice and creamy. Mission accomplished!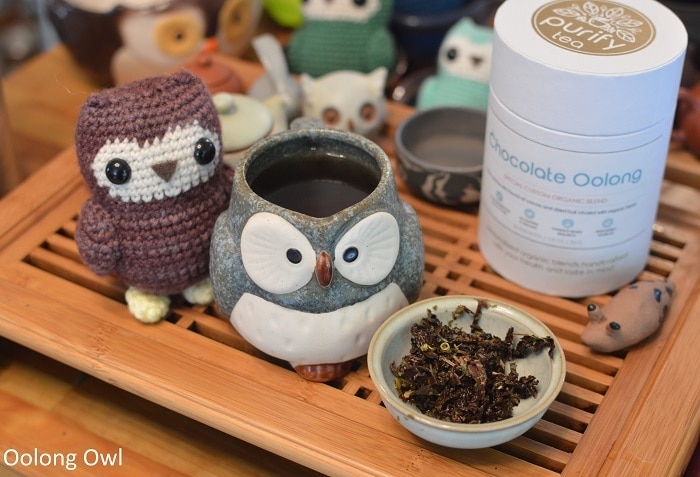 Comments
I quite enjoyed Purify Tea's "Create Your Own Tea" system. Their website is well done, making it easy for me to pick out elements of my custom blend. I am impressed with their selection of teas. I have done a number of "custom tea" things, and Purify Tea has the most unique tea bases to choose from, with the most amount of information on their products. The tea blend I commissioned is good. Even though I had no idea specifically what Strawberry Leaf, Passionflower, and Agrimony tasted like, what I got was pretty accurate to what the website said it would taste like, matching my vision of my creation.
Purify Tea is also a great option for those who only want organic teas.
Purify Tea does sell their own blends, though focused around wellness. I am not a wellness tea person, I particularly don't believe in that kind of thing, so I am unable to comment on health benefits and such.
(tea provided for review)