Da Hong Pao Oolong (aka Big Red Robe) is a Wuyi Rock tea from Fujian, China. This oolong is sold by Teavivre, online tea seller of Chinese teas.
Yes, I need to drink an oolong right now! Yesterday was Canadian Thanksgiving, and I demanded my family/friends celebrate despite us not being in Canada. Felt a little warmer and less fall-like to celebrate here in California, but the timing felt more what I was used to. I summoned the Tea Owls to come help with an oolong tea review, but they are all passed out. The Tea Owls spent the night pecking at the smoked turkey carcass and hooting. Overall, we had a great Thanksgiving. I hope my fellow Canadians also had a great Thanksgiving!
Time for me to drink some oolong and feel less bloated from mass turkey consumption.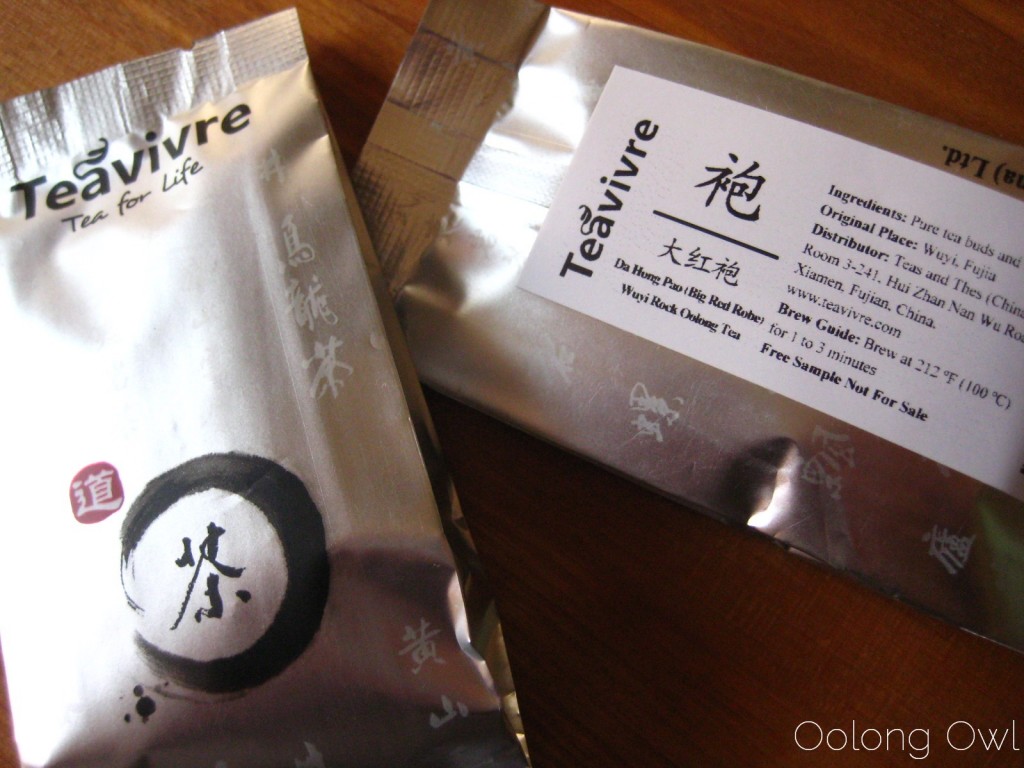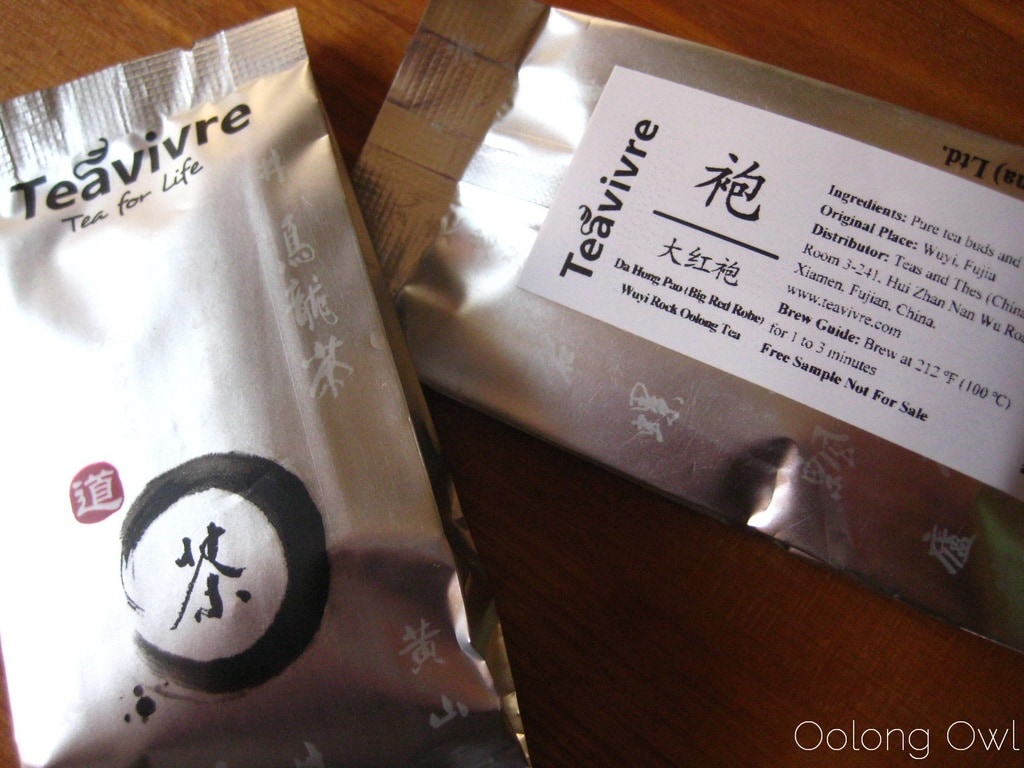 Dry Leaf
The dry leaf of Teavivre's Da Hong Pao Oolong smells great – strongly scented roasted nuts! The tea presentation is long, almost black tea leaves that are rolled into long spikes.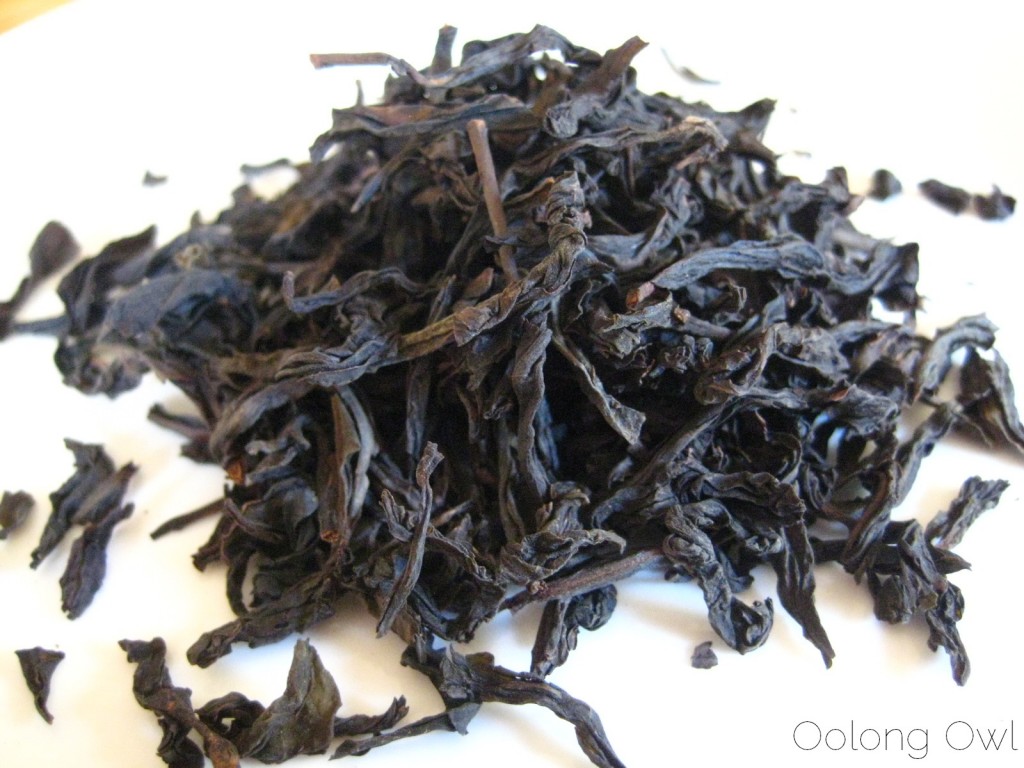 Steeping Instructions
Teavivre is great for having a couple different steeping instructions. If you want a Western cup of tea, steep for 1 to 5 minutes. For Chinese Gongfu brewing, which I did, you do 212F, a rinse then 20 second steepings, adding about 20 seconds to each infusion. The amount of dry leaf used is quite heavy! Will I actually get any tea for the first steepings?
Yay, I got one of my other amigurumi creatures to help out… an octopus… with a tea strainer on his head? Why not?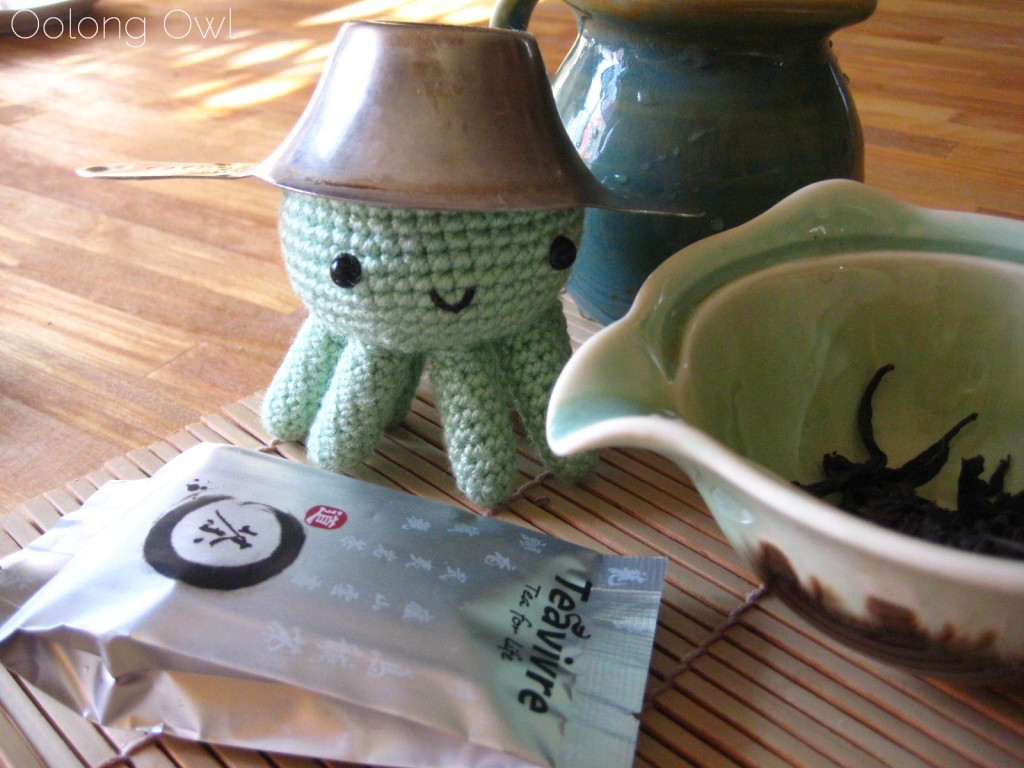 Anyways, Da Hong Pao Oolong steeped up a great roasty, nutty skin and creamy smell. Very intoxicating! The tea colour is a lovely pale gold orange.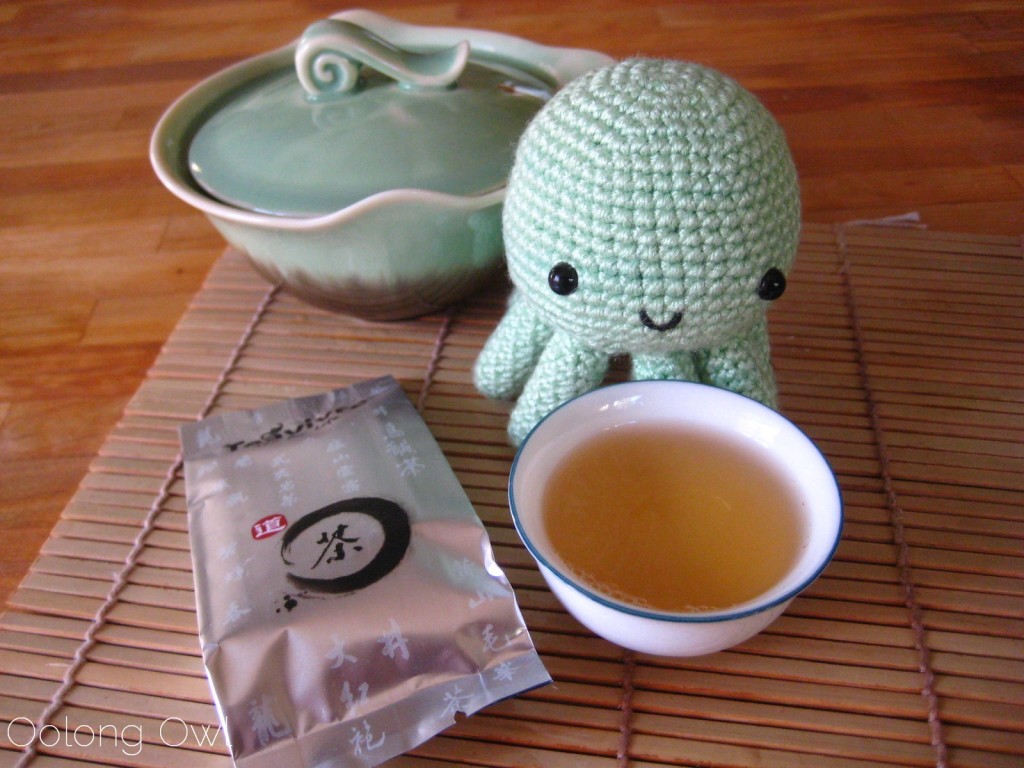 Tasting of Teavivre's Da Hong Pao Oolong
First, Second, Third Infusion: Sweet! Da Hong Pao Oolong sips in creamy slick and slightly sweet with a warm golden flavor similar to golden raisins. There is a light roasty and moderate nutty oak flavor to this tea that is really nice. A 1/10 Astringe-o-meter dryness is present in this tea – just a touch to add a bit of grain texture to the tongue which adds some nice interest to this tea.
Fourth, Fifth Infusion: Best infusions! Really smooth and easy to drink infusions. The oaky woodyness is lovely, but also there is a mineral rock sweetness that has a bit of light floral at the end.
Sixth, Seventh Infusion: Da Hong Pao Oolong is still creamy and nutty. Very easy to drink and light. Great color of the steeped leaves too – dark brown with hints of greens and reds.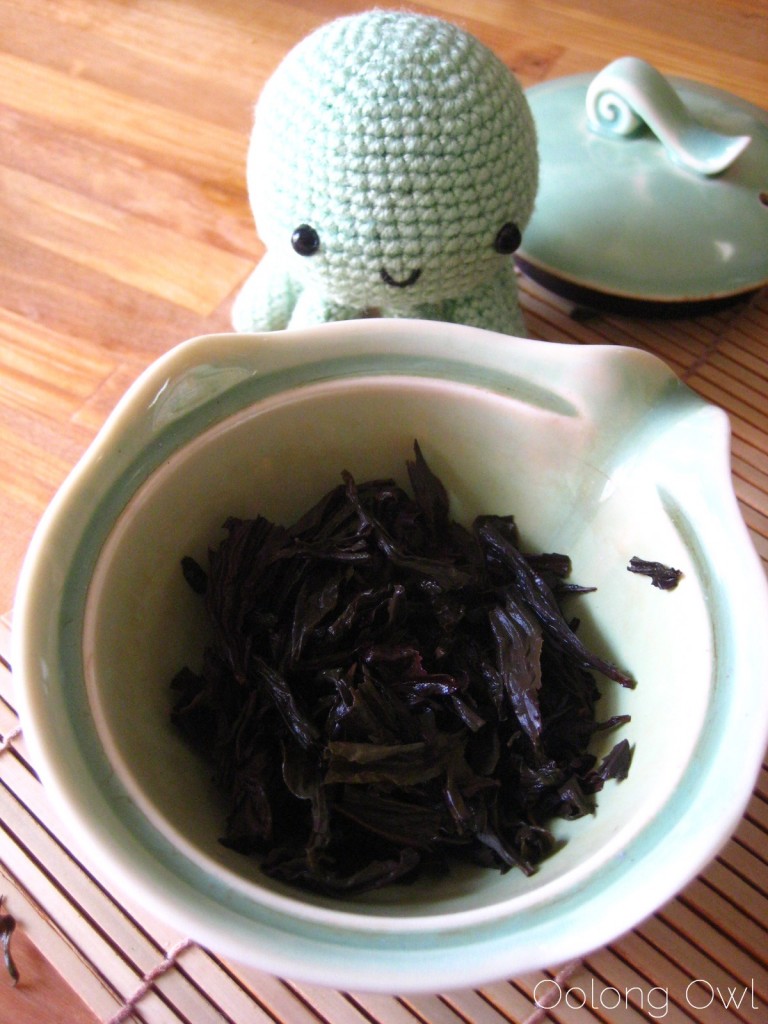 Comments
Da Hong Pao Oolong  is a tea with lots of interest! The flavor is sweet, smooth, roasty, nutty, and woody, yet still delicate. The light-moderate flavor is easy to drink with the roastyness not over the top.
If you haven't tried a Da Hong Pao Oolong, totally try a sample of it over at Teavivre!
Bonus: Octo-tea?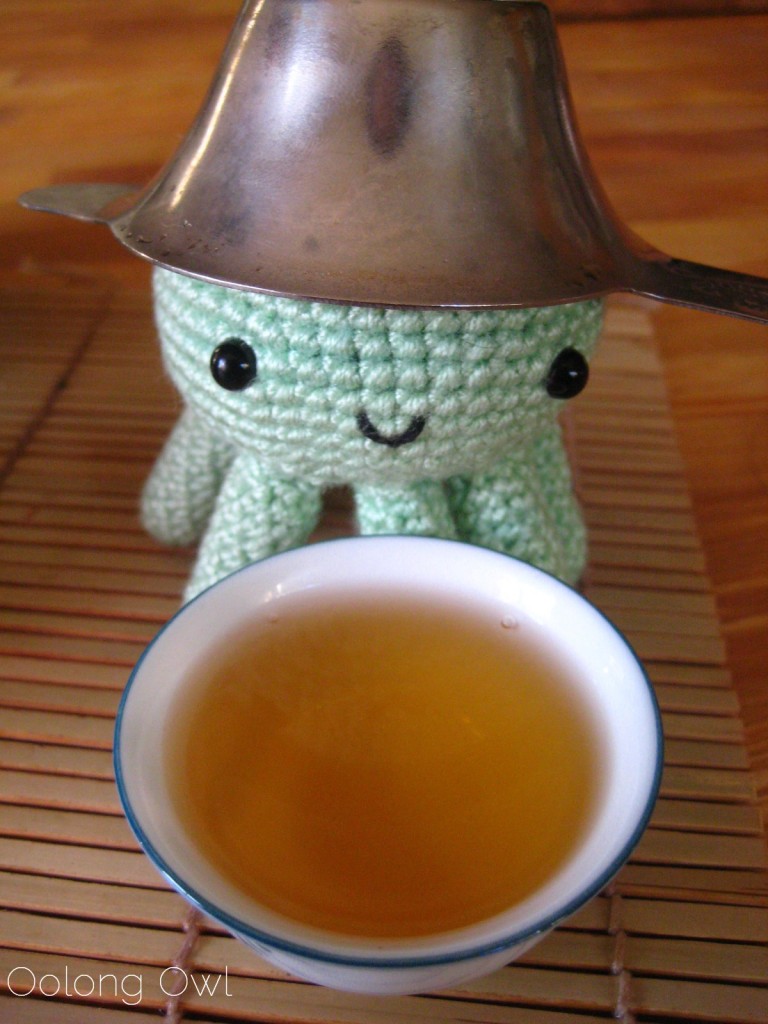 (tea provided for review)