Continuing on from my review of TeaBento's Black Teas, here are reviews of their Oolongs! As with their other teas, each tea is paired with an animal. Today we will be reviewing Little Dog Red Oolong and Scared Boar Shuixian. I have even more oolongs to review, but for simplicity I'll just be reviewing the darker, more oxidized ones I have.
By the way, TeaBento's steeping instructions are the complete opposite of what I do. TeaBento leafs a lot lighter and goes lower temperature (195f/90c). I found with the black teas it was worth dropping the temperature. I will not budge for oolongs as they should be boiled, plus they evaluate better boiled.
Little Dog Red Oolong from TeaBento
Little Dog Red Oolong is a Vietnamese oolong that is oxidized around 70%.
Dry Leaf and Steeping Method: Little Dog has a nice roasty scent from the big rolls of oolong.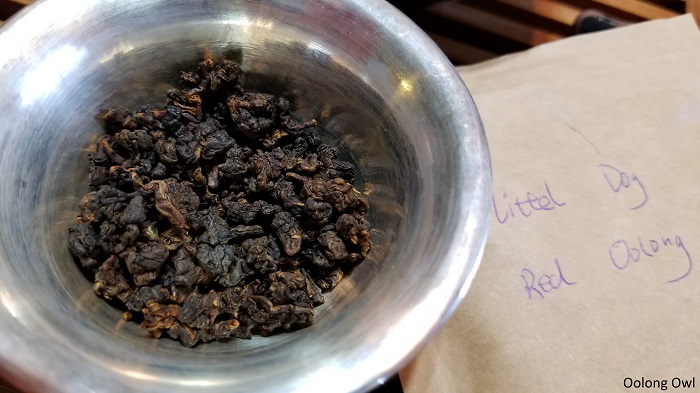 I used 1 gram to 15ml of vessel size, steeped in boiling water.  The hot leaf smells like fruit and chocolate.
First, Second, Third, and Fourth Infusion: Little Dog tastes sweet, bready, malted milk chocolate cookies, and fruity. It slightly reminds me of TeaBento's Red Panda, but softer notes. Little Dog has a creamy feel in the mouth and is really easy to drink. It has a comforting vibe due to the cookie and malt notes, but sweet and fruity to keep it interesting. Little Dog doesn't have much in the aftertaste department though.
Fifth, Sixth, and Seventh Infusion: Bit of a flavor transition here. The fifth infusion was the weird steeping as it was quite fruity. It is building on the fruity aroma brightening the fruity taste, while slightly losing the malt note. I love the full flavor this tea is giving off. At the sixth and seventh infusion, each steeping the flavor slips more to mineral and watered down milk chocolate, less fruit, and malt.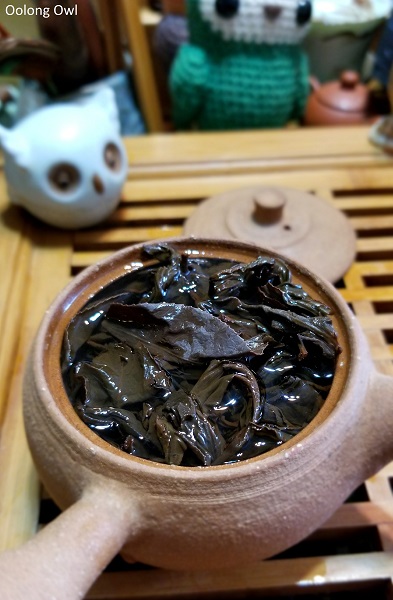 Eighth and Ninth Infusion: The final infusion is mineral, super smooth and sweet. Little Dog Red Oolong got slightly astringent, but still very drinkable and fairly indestructible.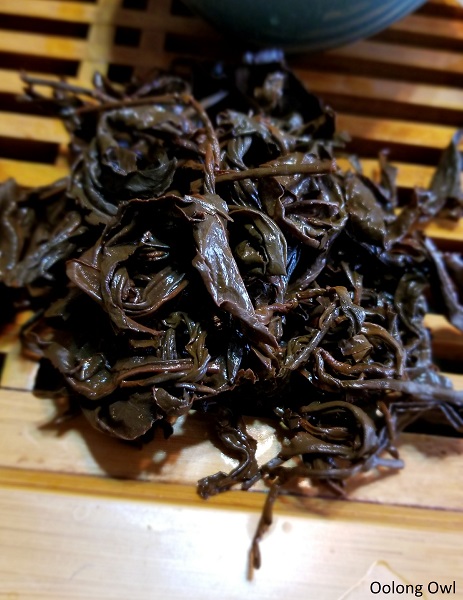 Comments: Little Dog Red Oolong dances closer to a black tea, without tasting roasted nor overly sharp and bitey like a black can be. It is smooth, milky, chocolate, and malty with a bit of fruit. Many people would enjoy this especially if you like darker teas. Be great to pair with sweets or as a dessert on its own.
I'd call Little Dog Red Oolong as of my favorites from TeaBento.
---
Sacred Boar Shuixian from TeaBento
Sacred Boar is a medium baked wuyi yancha Shuixian.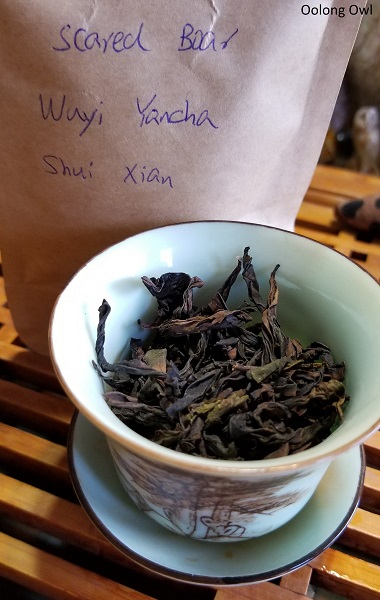 Dry Leaf and Steeping Method: Sacred Boar has a gorgeous fall leaf look. The leaf smells nutty and fruity. I used 1 gram of leaf to 13ml of vessel size, steeped in boiling water.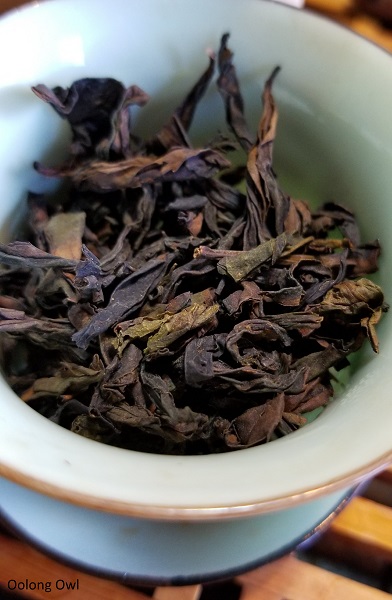 First, Second, Third, and Fourth Infusion: A very smooth shiuxian. The notes are dark cinnamon bark, malty, nutty shells, and stewed peaches. The aftertaste shifts drastically to a powdery floral mellowness. I barely touched base on how much complexity is in each note – the peaches have a tang, the cinnamon is woodsy, and the body is lubricating in the mouth. The aftertaste of floral lasts a long time after each sip.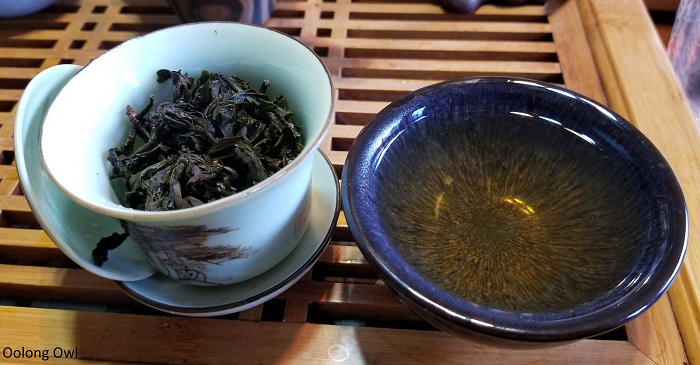 Fifth and Sixth Infusion: Crash and burn! I steeped Sacred Boar much longer than steep four as it was running light. The leaves lost all scent. What I get is slight malt and bark notes, with a soft peachy powdery floral aftertaste.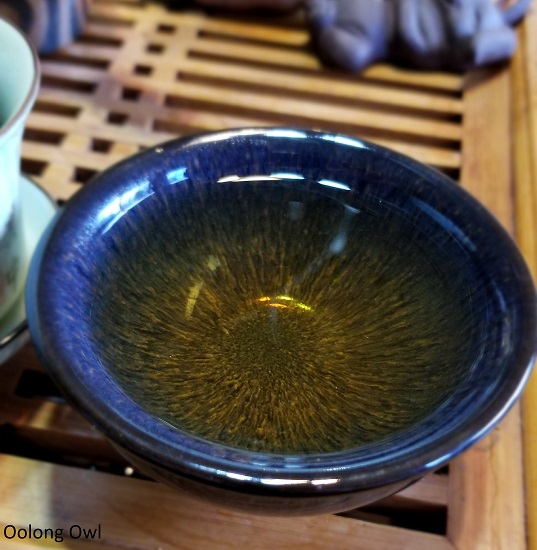 I did a final power steep for sixth and it was woody and minerally. There is a slight bitterness, but still very drinkable. Sacred Soar has a bit of bombproof in it – I can see this working well in a tumbler.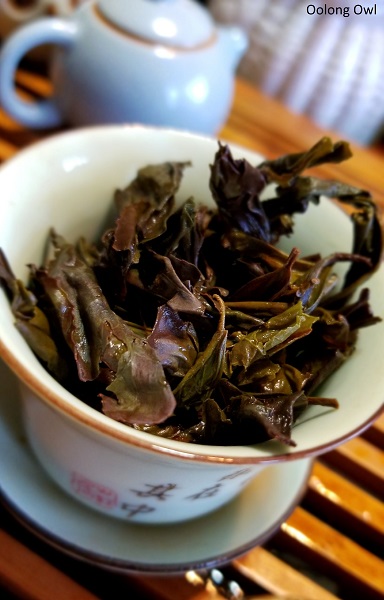 Comments: Sacred Boar is a complex shuixian with really good first infusions. Seems to run on par with other TeaBento teas being more pow at first, rolling like a competition tea for brightness and complexity, but not great re-steeping. Either way, this is one of the best Shuixians I've had so far.
Sacred Boar is more flexible than steeping instructions say – I was able to roll boil and max leaf with no issues despite the instructions saying 90c/195F. This shiuxian is perfect for those wanting a darker oolong, closer to a black tea, with max aroma and quality.