It's the best time of the month – White2tea Club time! This month is wintery theme teas. Oolong Owl theme – Crash and burn, just like me on the holidays. The holidays for me finally stopped smoking, emotionally and literally as I managed to set my oven on fire twice making yorkshire pudding, caught sausages on parchment paper on fire with a blow torch (don't ask), and smoked out the neighbours multiple times with the BBQ, all in less than a week around Christmas!
In this month's box: 2009 Anhua Heicha 200g and 8 gram samples of White2Tea's new Dahongpao and Rougui!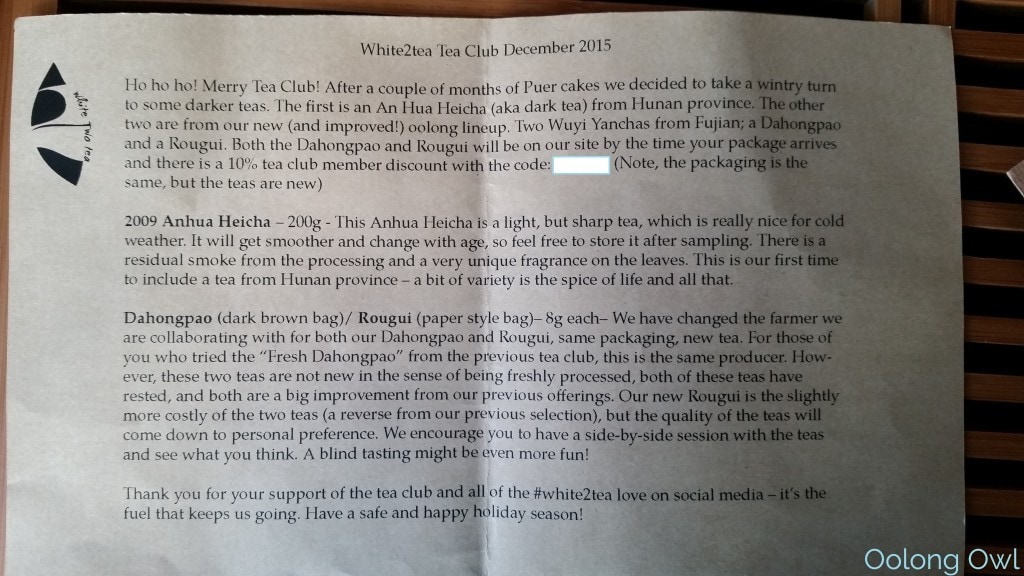 2009 Anhua Heicha from December 2015 White2Tea Club
The crazy interesting tea offering is the Anhua Heicha. I've tried heicha a few times, but all in sample-packed-into-baggie form, not log of tea. Opening this thing is an adventure!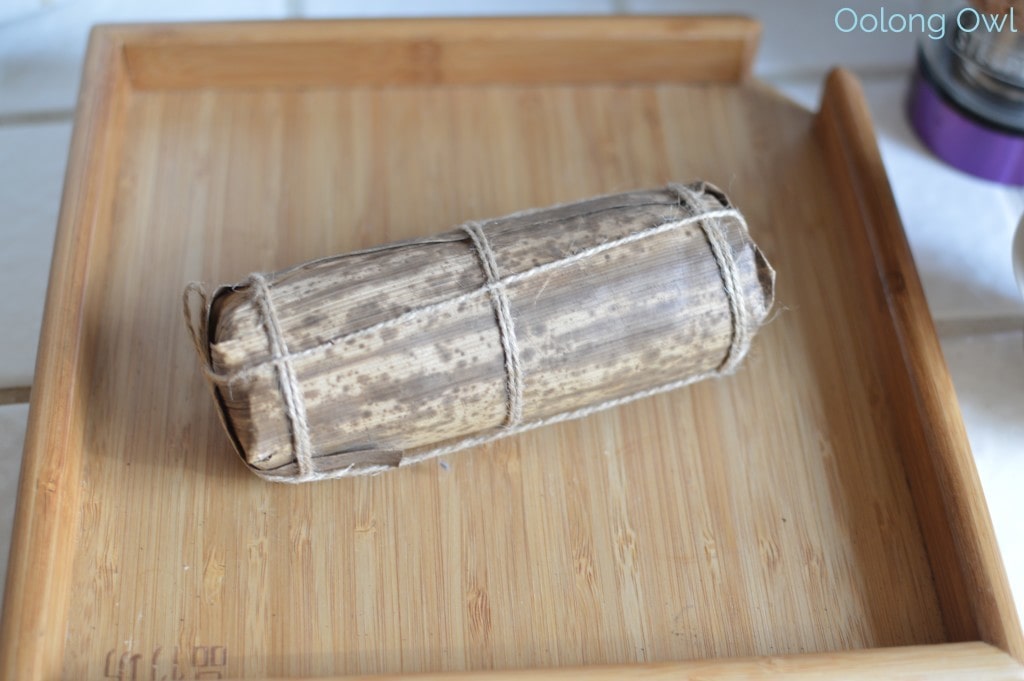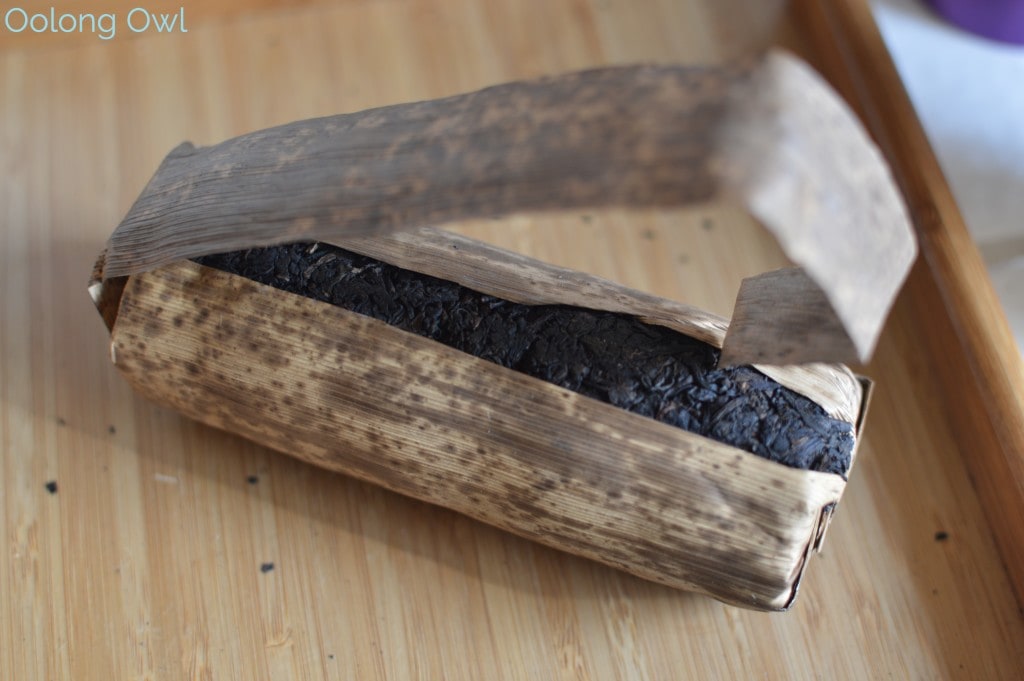 I like to think part of my tea drinking blogging success is that I have a really strong sense of smell. Unfortunately, this heicha out of the wrapper smelled nose curling awful to me, like rubber tires on fire.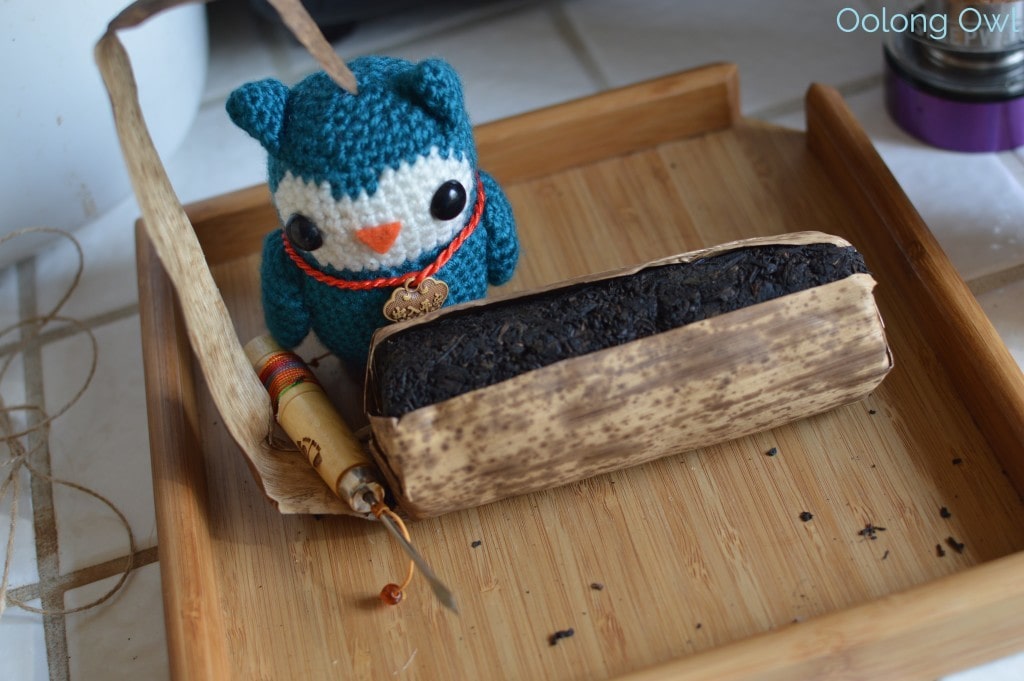 I broke off a piece and left it open to air out.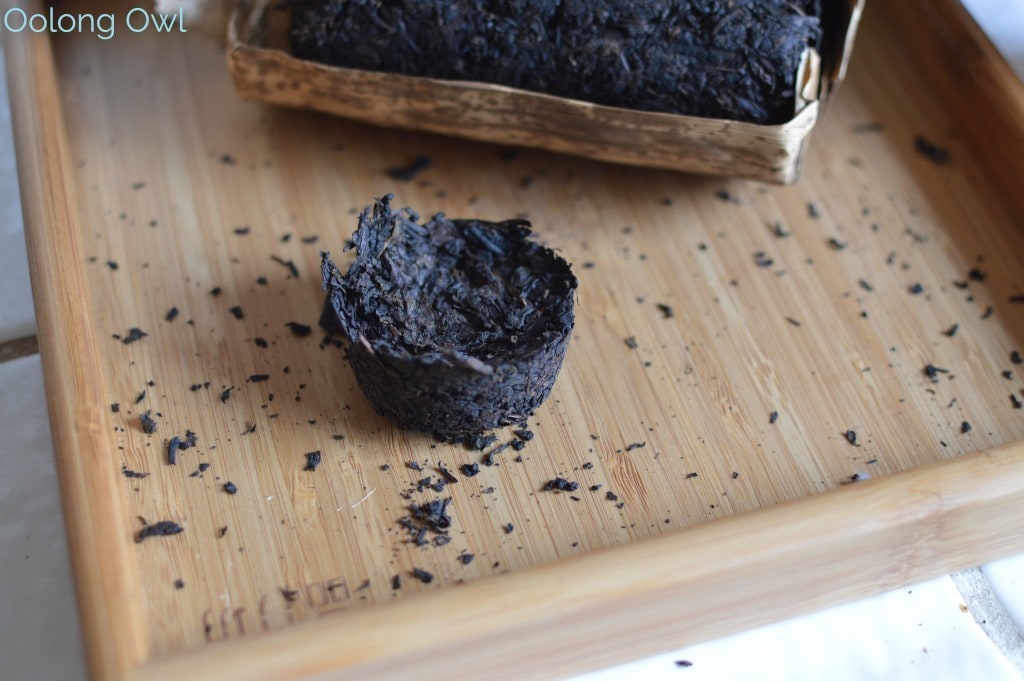 Almost a month later, I'm back to taste the heicha! Despite a month, the heicha still smells like rubber, but not as strong from spending time being aired out in my living room. I steeped the heicha in boiling water temperature, and used 6 grams in a 90ml tea pot. Man I love this tea pot!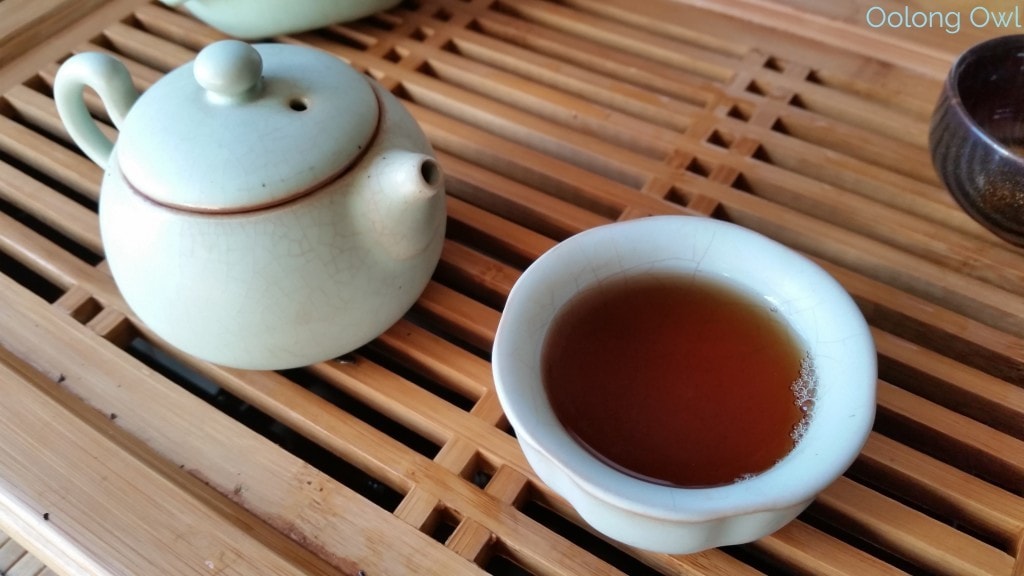 So I lasted 5 infusions before I was reduced to a smoking pile on the tea table. The heicha tastes like it smells, I got a cigar and a tire on fire in my charcoal BBQ. Its got a lapsang souchong black tea quality (the pine smoky style, not traditional) with strong smoky notes, but the heicha is much lighter in overall flavor. Each infusion gets sweeter smoke with a bitter savory finish. It gets better with each steeping as it lightens and sweetens to burnt sugar but I still couldn't take it.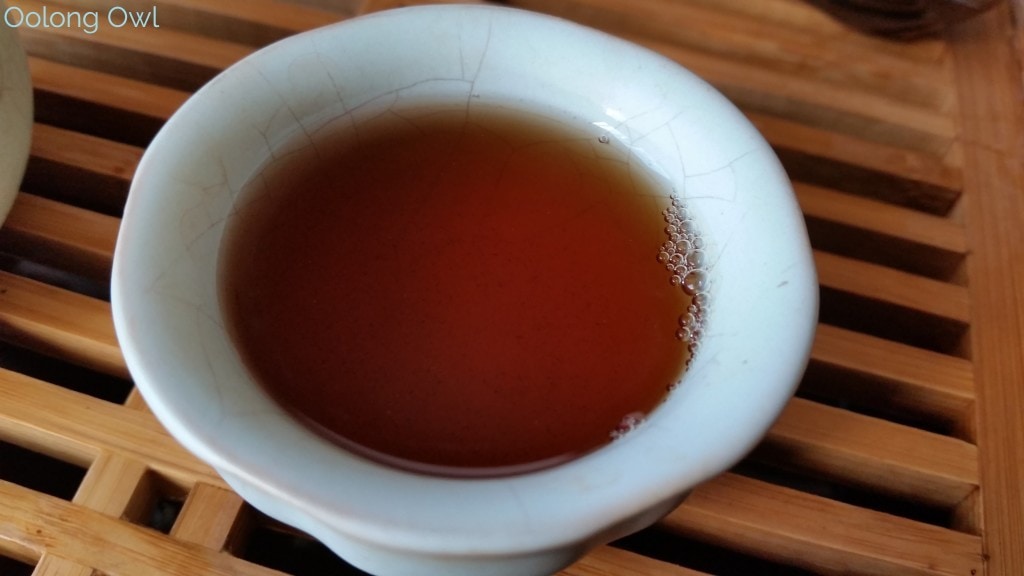 I personally don't like smokey teas especially smoky lapsang souchong, so this heicha is a no for now – I'm going to stash it in the back of my tea shelf and put up a calendar reminder to try it again later when hopefully the smoke clears. I started getting flashbacks my Christmas eve eve's oven fire.
White2Tea Rougui
No dry leaf notes as I was hurting for tea so bad I ripped open the package, took a picture and steeped it faster than I could remember.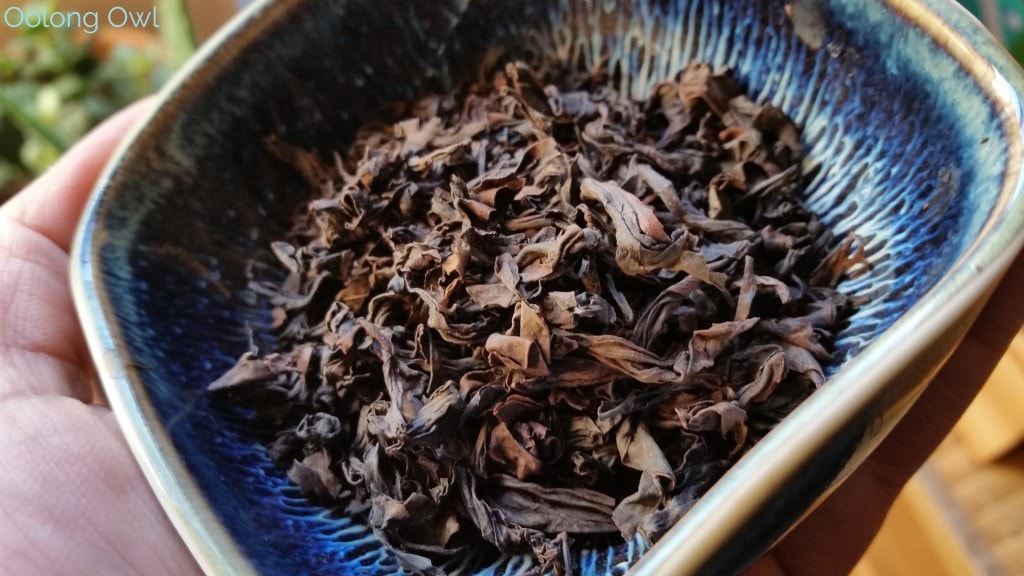 For steeping instructions, I went with a quick and dirty FLASH STEEP OOLONG YEAH! I used the entire sample, 8.5 grams, in a 90ml tea pot, steeping with boiling water. After a rinse, I steeped super fast, pouring out imediately for the first half. I think this is a first for me to do flash steeped oolong tasting here on Oolong Owl. I tend to do this steeping method on my own often to churn through tea faster but also times I actively want to feel the tea staining my teeth.
Steeps up dark reddish, such a lovely colour!
First, Second, and Third Infusion: Rougui has a wonderful cinnamon bark tongue tingle and dark wood finish. The flavor is potent, punchy and woodsy sweets. The finish is a strong cream peach floral that never ends with a bit of dryness felt on the tongue and cheeks. It's like an army of peach warriors stormed the gates with throwing logs at the castle. The Tea Owls are ready for them, dropping cement filled gaiwans on them and creamy yorkshire puddings on fire. The tea peaches smushed into a concentrated grave of flavor.
Fourth, Fifth, and Sixth Infusion: Rougui is mellowing and is less woodsy punchy but fragrance of floral peaches is potent. Fragrance mega is real. My husband ran away from me as he said "Your breath smells like yucky tea." Excellent!
Seventh, Eighth, Ninth, and Tenth Infusion: The oolong is sweetening up, adding yellow raisins to the mix with the peach floral, spice and bit of wood with a bitter finish. I think the high leaf is catching up on me.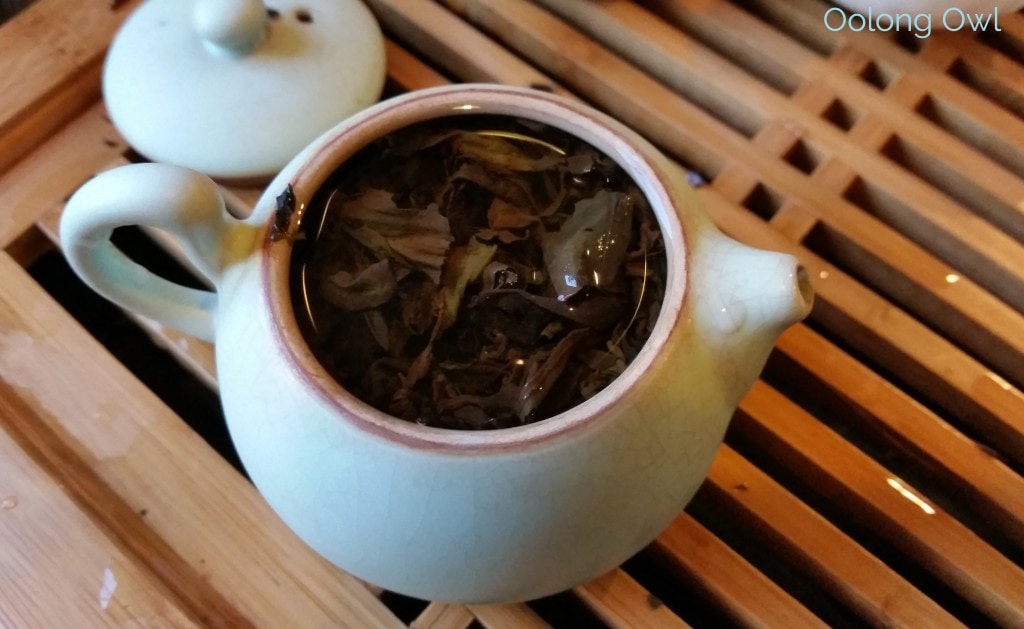 Eleventh and Twelfth Infusion: The tea has gotten kinda caramel sweet, then the woodsy bitter punches you in the face and then peachy floral fragrance takes over. Zombie peaches! The flavor is dropping fast here.
Thirteenth Infusion: 15 min steep. Crashing and burning. Light sweet woodsy creamy lips. Little fragrance but quite good.
Fourteenth Infusion: 1 Hour steep. I intended to steep the rougui for 30 minutes, but then I got caught up eating tortilla chips. The tea tastes like burnt sugar and is light. Pretty good but I think it's finally dead!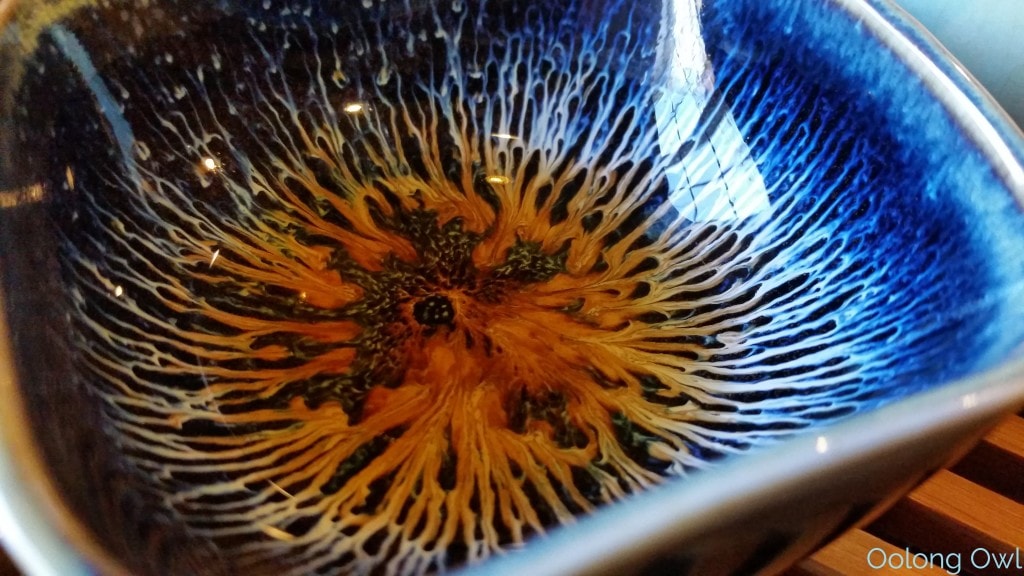 In all, a very interesting White2Tea club! The oolong was quite good and the heicha was a weird experience. To 2016 having fun monthly tea clubs!