The December 2017 White2Tea Club is an exclusive 200 gram Huangpian sheng puer cake! You only get this cake if you were in the monthly tea club, or did a monster order during Black Friday. I should have tried this tea around Christmas, but I was so backlogged with other teas, and holidays is mostly me stress drinking black teas and matcha.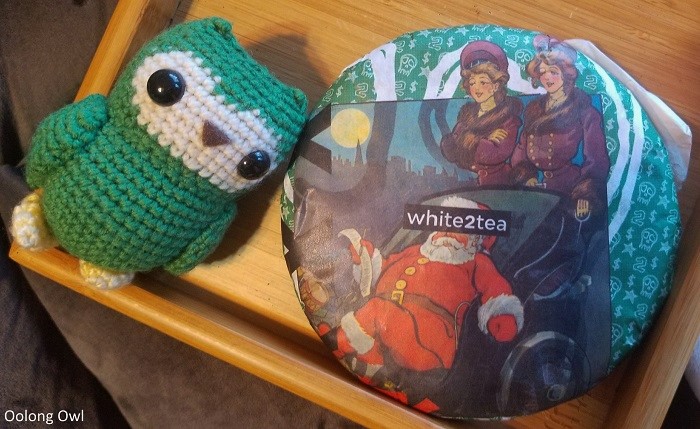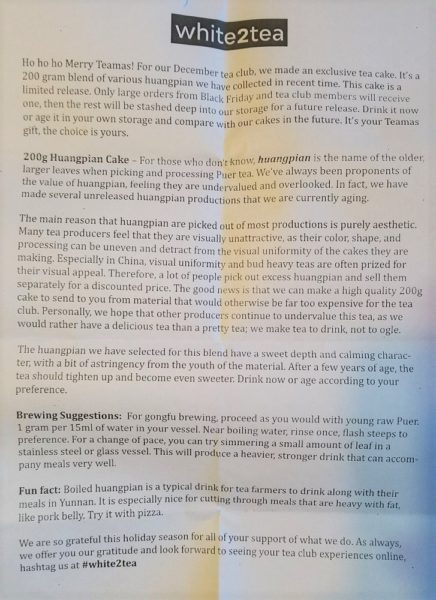 I am not sure what to call this cake. XXX is on the wrapper? My guess Santa got into the tea early. I can attest that tea drunk driving had me do 60mph in a 35mph zone a few times.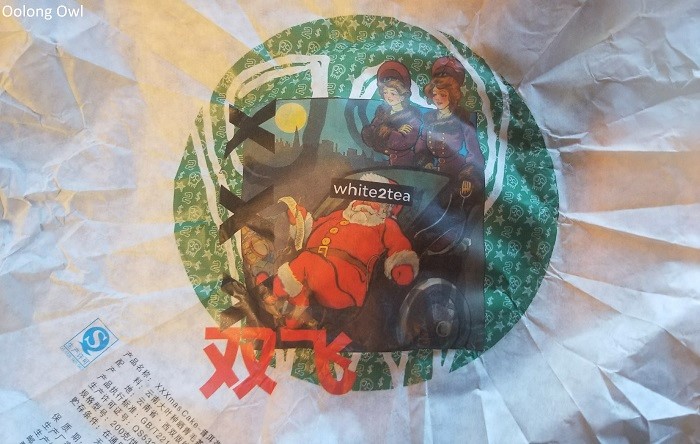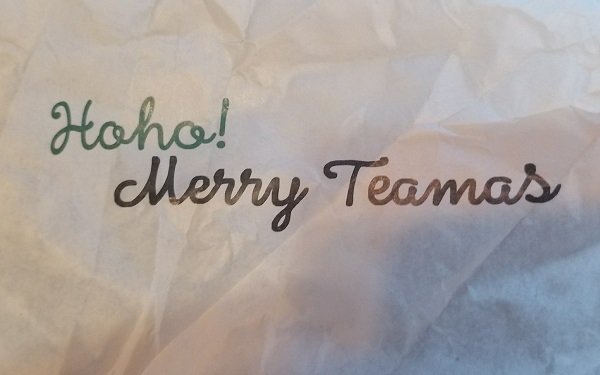 Dry Leaf and Steeping Method
The tea is has a grassy veggie scented leaf. Very green looking too!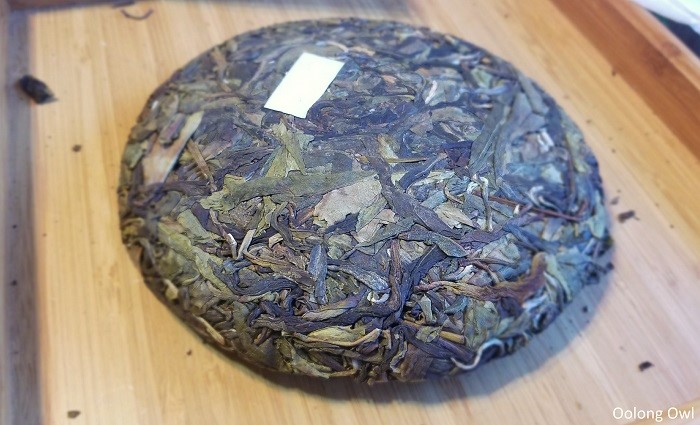 I used 1 gram per 15 ml of vessel size, steeped in boiling water. I used jianshui pot for this tea as I figure I don't need to be neutral as it is exclusive tea anyway.
Tasting of December 2017 White2Tea Club Huangpian Sheng Puer
First, Second, and Third Infusion: The 2017 Huangpian sheng is soft and light tasting. The broth is sweet and creamy and a little floral. The aftertaste is a sweet lemon biscuit and fresh greens. The tea has a creamy texture and smooth to drink. I could serve this tea to any new tea drinker and they would enjoy it as it is easy to drink, sweet, and refreshing.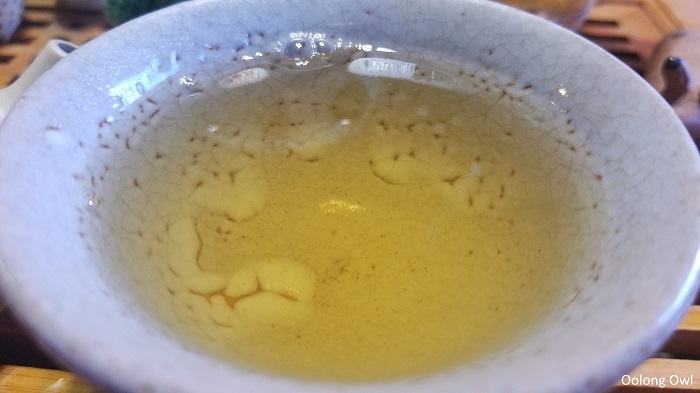 Fourth, Fifth, Sixth, and Seventh Infusion: The colour got amber looking.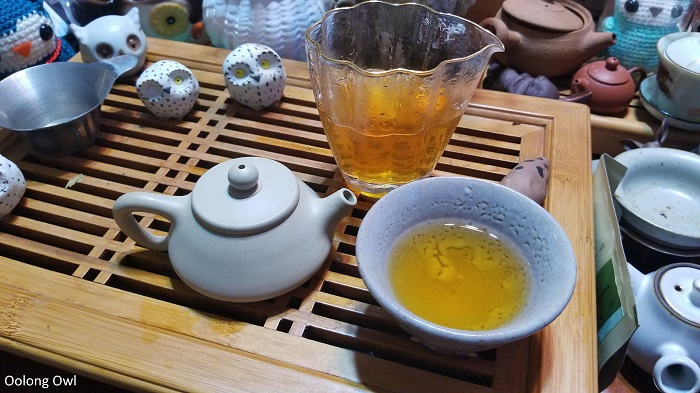 Right away, there is a big flavour shift to a strong punchy flavour. This tea is so young and the hot water finally hit it hard. It tastes stewy spinach with creamy edamame beans, with a fresh medicinal grass aftertaste. It is bitter and dry here too. I steeped faster, which helped made it less stewy tasting. Likely if I steeped this at 200f it would be a little easier to drink.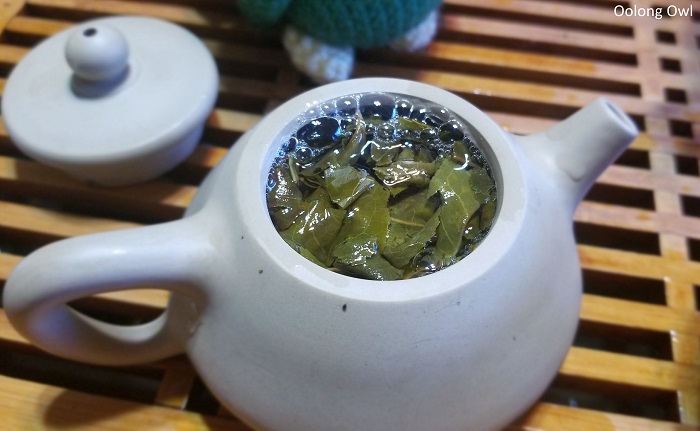 Eighth Infusion: Super bitter now and I think I killed the sheng. The flavour got concentrated bitter spinach.
The leaf is super green!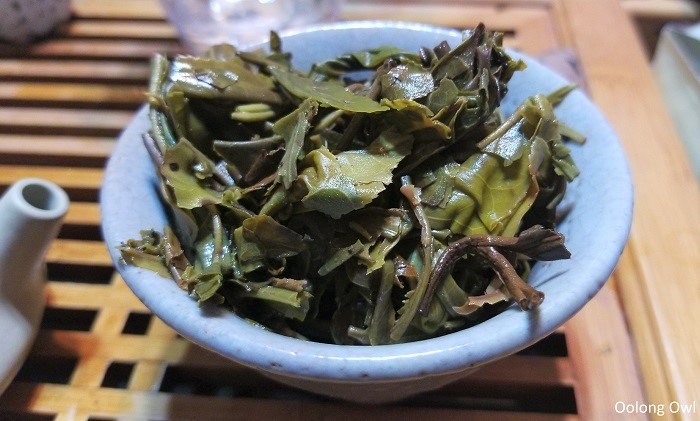 Comments
The December 2017 White2tea Club Huangpian cake is a fun exclusive tea! I am certainly going to tuck it away and drink next Christmas as it is too green for me. I do enjoy the White2tea club for these exclusive teas, so I felt this month was totally worth it. If you love ultra young sheng, certainly this one can be drunk now, but likely best at 200F/93c.