Hello December! I love when a new month rolls in as I get all my tea subscriptions.
The Simple Loose Leaf Tea Co-op Club gets you 4 to 6 loose leaf tea samples (1/4oz size) of different teas including straight teas, blends and herbals. Being in the Tea Co-op gives you a membership ID which gives you 50% off their Simple Loose Leaf Tea Shop, so you can buy the teas you've enjoyed for a great price.
For your first box, you can enter the coupon code OolongOwl for a 50% off your first Simple Loose Leaf's Tea co-op box!
Tasting of December's Simple Loose Leaf Co-op Tea Club
This month for Simple Loose Leaf Tea Co-op Club –  Yunnan Noir Black, Hazelnut Honeybush Herbal, Santa's Gingerbread Holiday, Chinese Sencha Green, and Jade Oolong. For December, I'll be trying out Yunnan Noir Black and Hazelnut Honeybush Herbal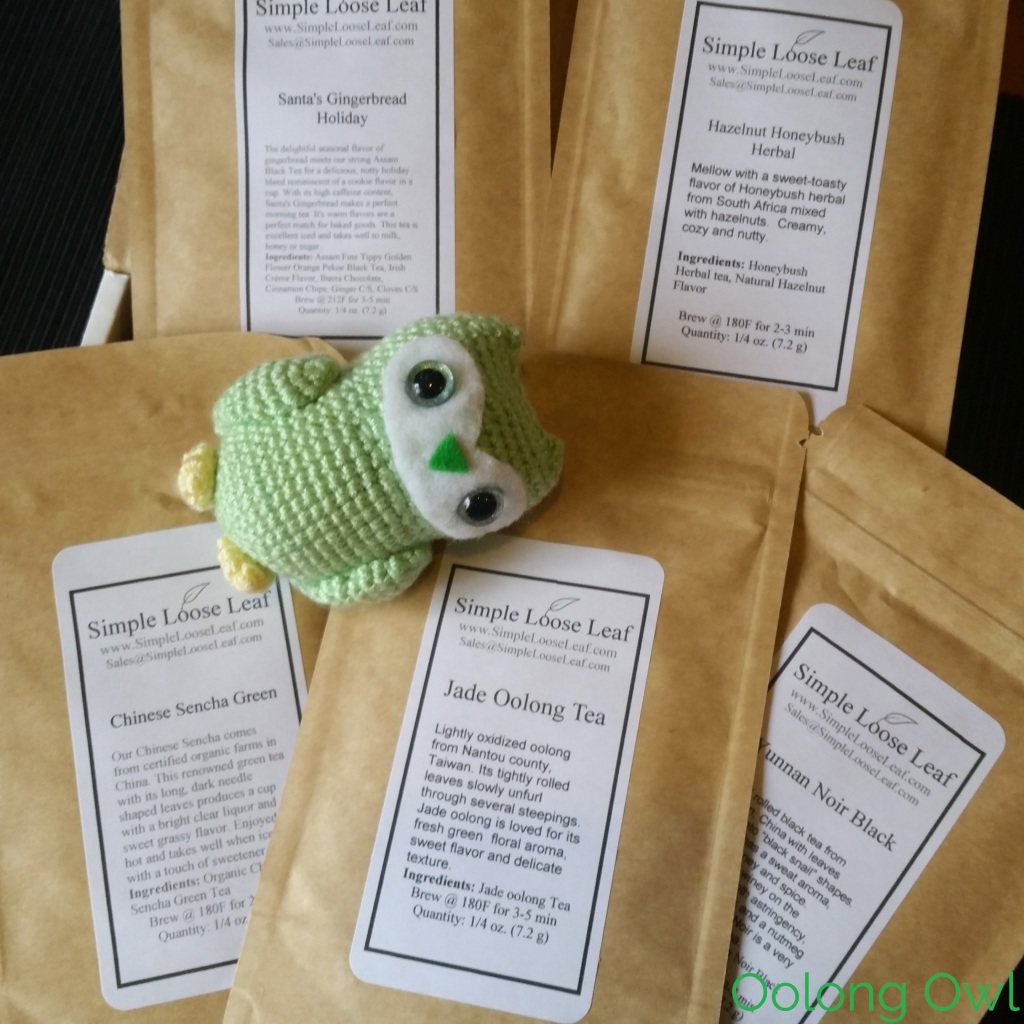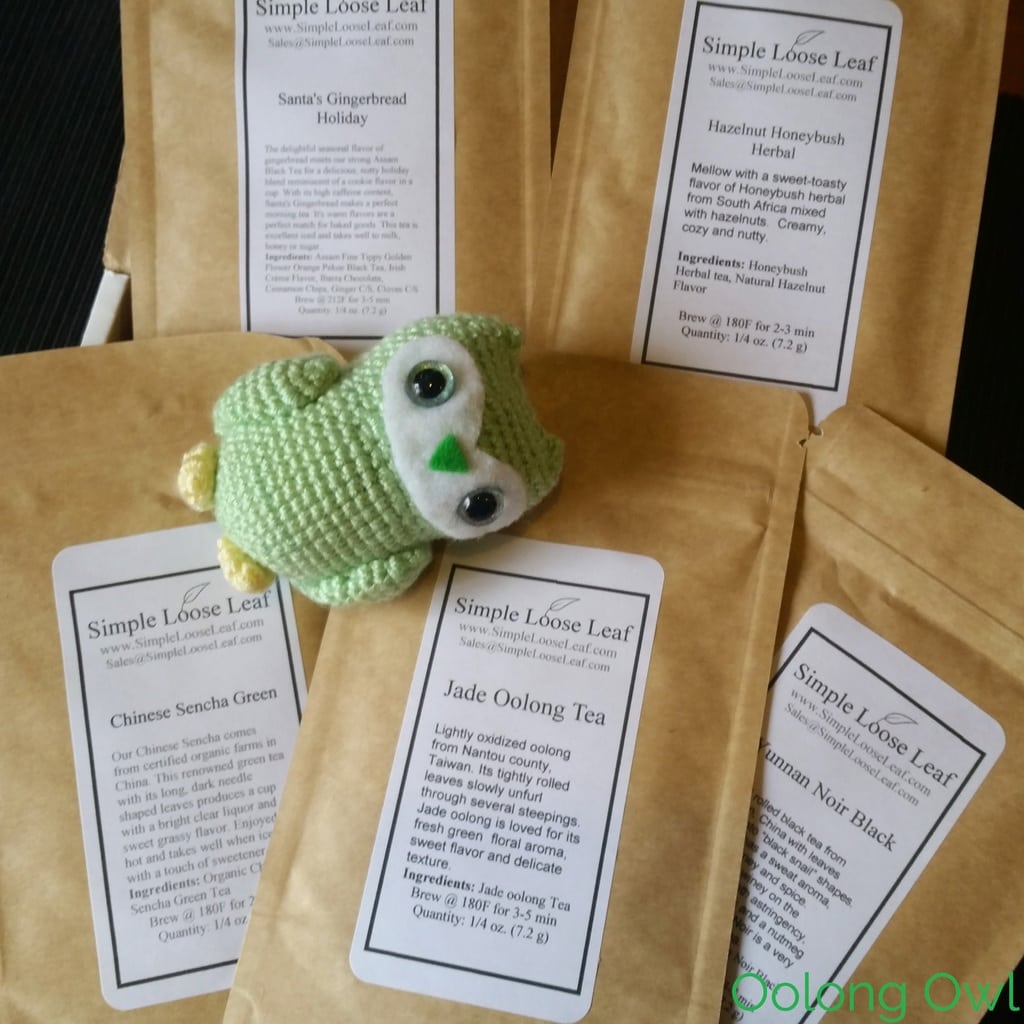 I have reviewed Santa's Gingerbread House and it is an excellent Holiday tea!
Yunnan Noir Black's dry leaf is curls of black tea with the odd golden highlight. I love golden Chinese black teas and Yunnan Noir Black looks great! It also smells kind of fruity.
After a 3 minute steeping boiling water I had an auburn cup of tea that smells kind of cream.
The flavor of Yunnan Noir is thickly textured with flavors mostly of caramel, honey and malt. In the background there are some nutmeg spice notes dancing around. This tea is naturally sweet and with all the caramel, honey and malt notes, I feel I could pour it over ice cream… well, I'd want to turn it into a thick cool sauce first. Yunnan Noir Black is pretty smooth throughout the sip, but a little 2/10 Astringency dryness end of sip. Yunnan Noir would be an awesome tea with dessert or a sweet tooth craving filler!
Hazelnut Honeybush Herbal has the ol' woodchipper appearance as other honeybush herbals do, however this one strongly smells very nutty sweet.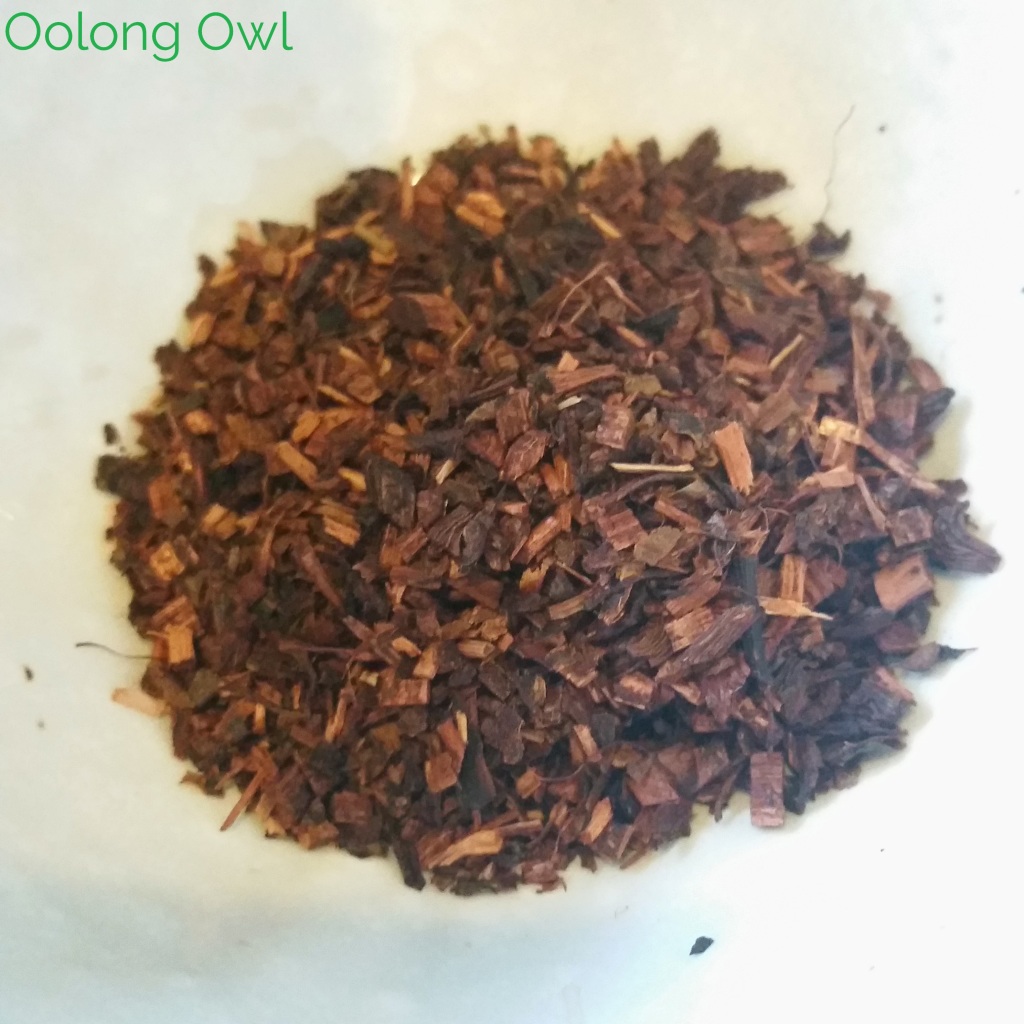 The steeping instructions for this herbal was 180F for 2 to 3 minutes. After 2 minutes, I had a strong nutty scented cup of tea.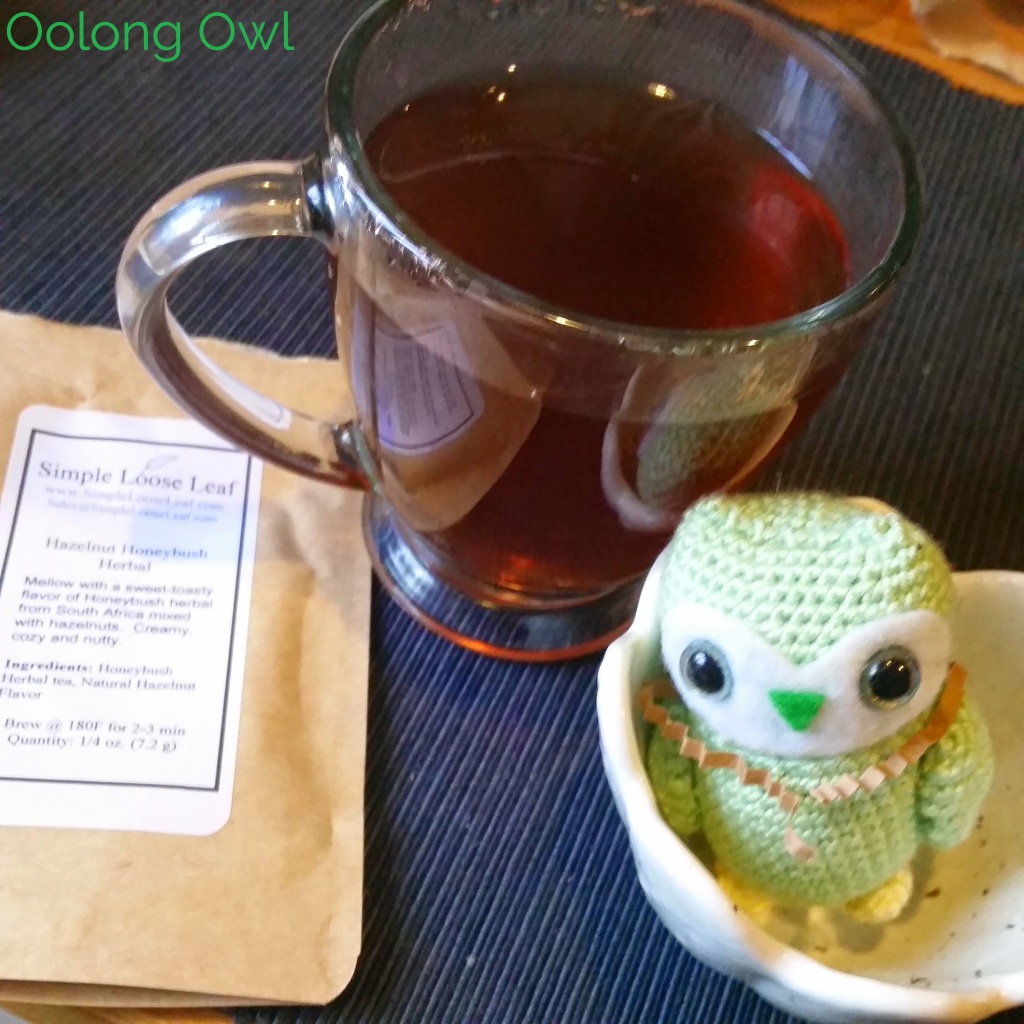 The flavor of Hazelnut Honeybush is smooth, hazelnut, little roasty, milky sweet over a woody sweet flavor of honeybush. This herbal is pretty good, much sweeter and less woody than a red rooibos, with the hazelnut flavor complimenting the honeybush nicely. The flavor is a little watery end of sip, like other honeybush and rooibos teas, but otherwise full of flavor with a strongly scented brew. I could see this herbal being great steeped up with milk for an evening treat!
In the end, both teas from the Simple Loose Leaf Tea Co-op Club  were very cozy, perfect for December!