Design a Tea is an online tea seller that lets you create your own tea blend from various teas and a list of flavorings. You also have a choice between your tea being in bagged form or loose leaf.
For bases, you can choose between black, oolong, green, and rooibos.
Flavorings? You can choose 2. Here's the list:
Almond, Amaretto, Anise, Apple, Apricot, Banana, Blackberry, Blueberry, Caramel, Cinnamon, Chai, Cherry, Chestnut, Chocolate, Cider, Coconut, Cranberry, Ginger, Hazelnut, Honey, Irish Creme, Lemon, Mango, Maple, Mocha, Nutmeg, Orange, Passion Fruit, Peach, Pear, Pecan, Peppermint, Pina Colada, Pineapple, Plum, Pomegranate, Pumpkin, Raspberry, Rum, Spice, Strawberry, Vanilla, Wintergreen and Zabaglione.
Plus, you can request herbs be added to your tea as well – 27 to choose from! Like hibiscus, peppermint, and ginko. They also have other base teas, and you can add additional herbs to enhance the tea.
On top of ALL THAT you can customize the label on your tea. Or have each tea bag packaged individually with clip art and your own text (wedding favor!). Plus they got must more on their site, like signature blends like "Angry Pumpkin" and "Dingo Love" tea.
~~~~~~~~~~~~~~~~~~~~~~~~~~~~~
Phew. That's a lot.  So, what did I get?
Design a Tea Free Sample! SAMPLE?? FREE?!?!?!! Well, I had to pay for shipping of a $1. But also get $2 credit on the next order! Whoa!
You get to make 2 teas, so I came up with flavors combinations I don't see too often, but wish I could try.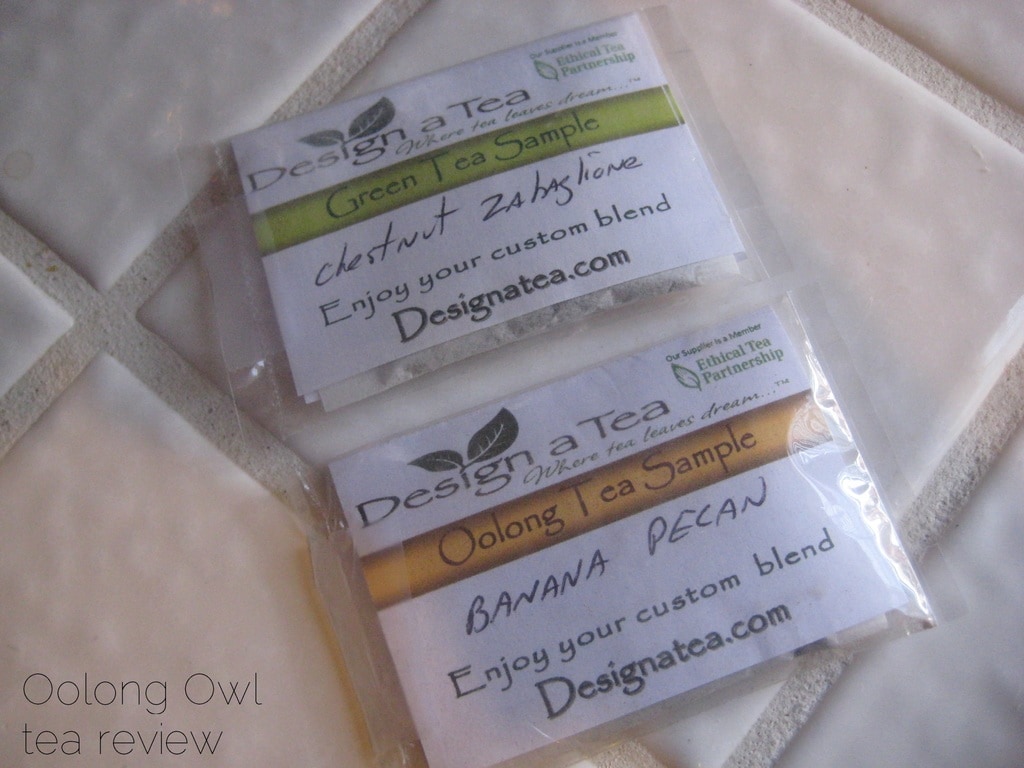 Banana Pecan Oolong – which I discovered is a Formosa oolong. I love banana oolong teas and would love to see more out there. Pecan is a nice nutty flavor too.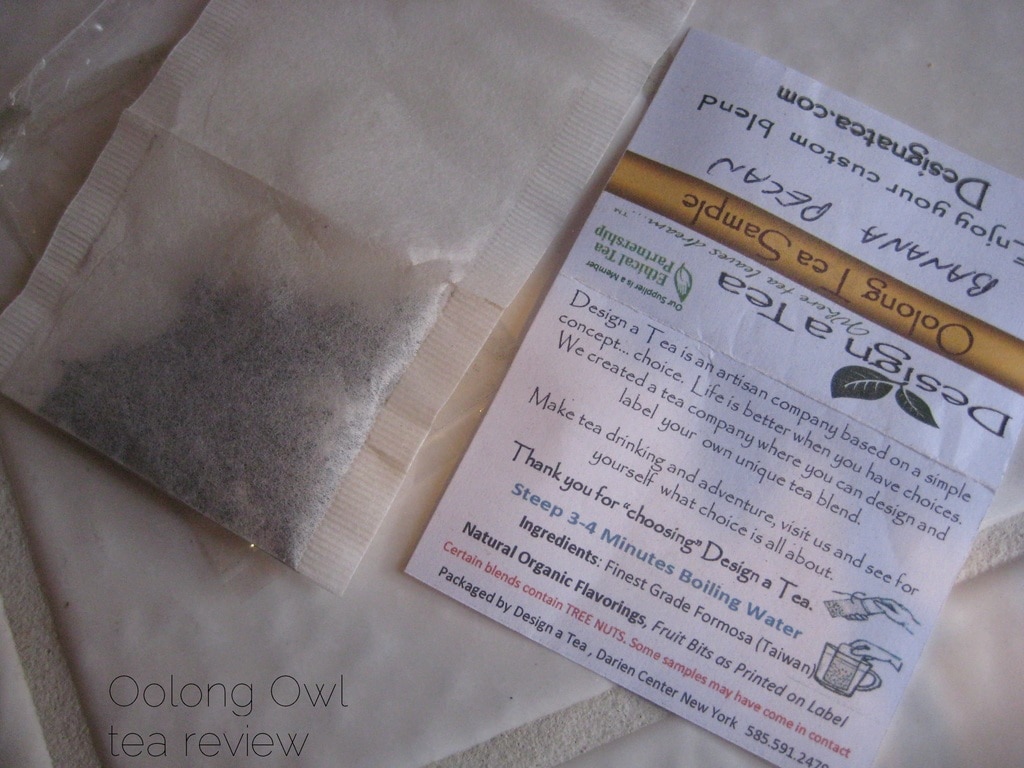 DRY LEAF: Smells like banana to me. I took it out of the bag and discovered I should of kept it in a bag, it was pretty dusty looking.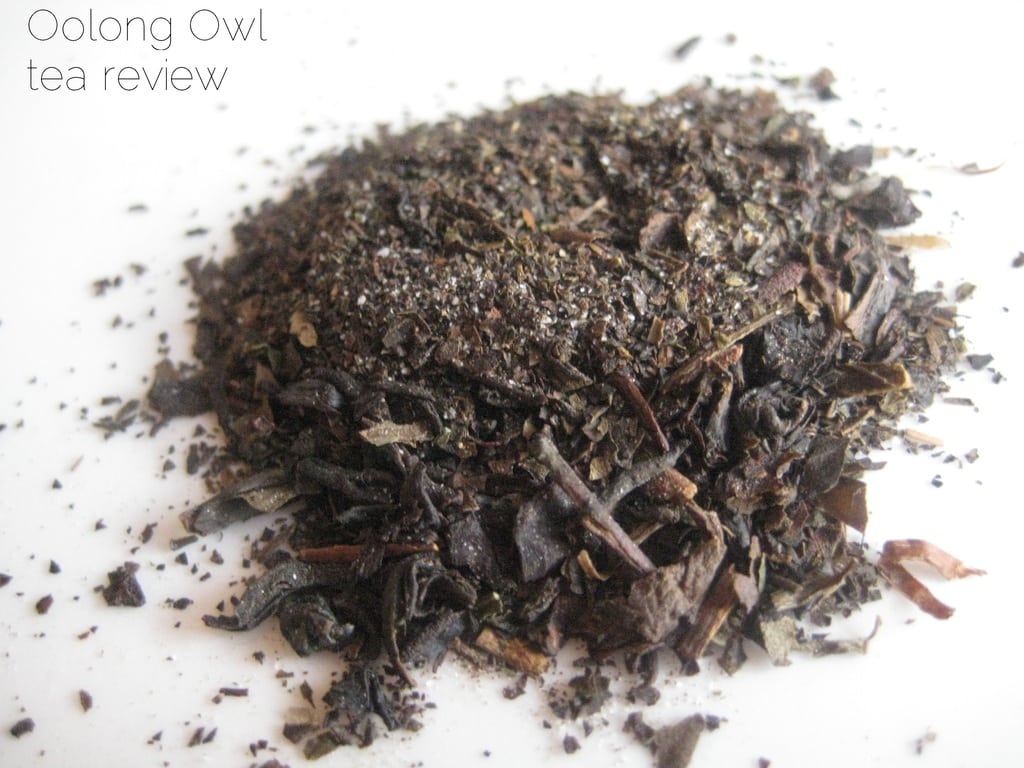 The tea was in T-sac like tea bags.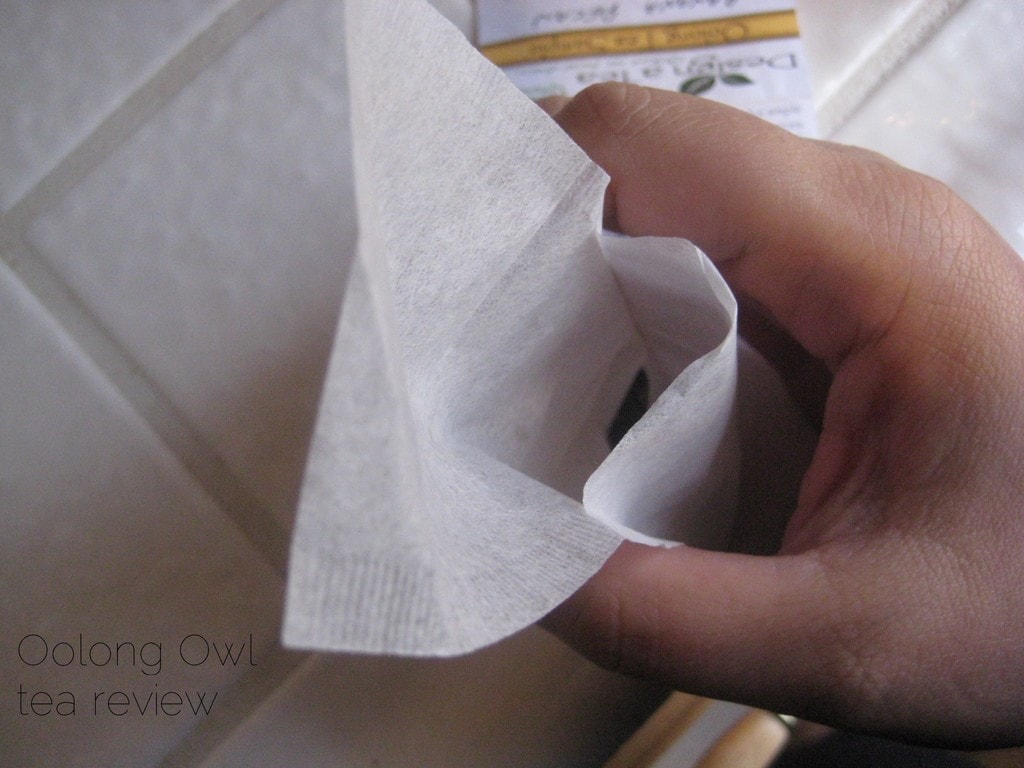 STEEPED: Smells really creamy banana! There's debris because I was crazy and taking out the tea from the bag for photos, making a huge mess putting the tea back in. I followed the instructions and did a 3.5 minutes steep with boiling water.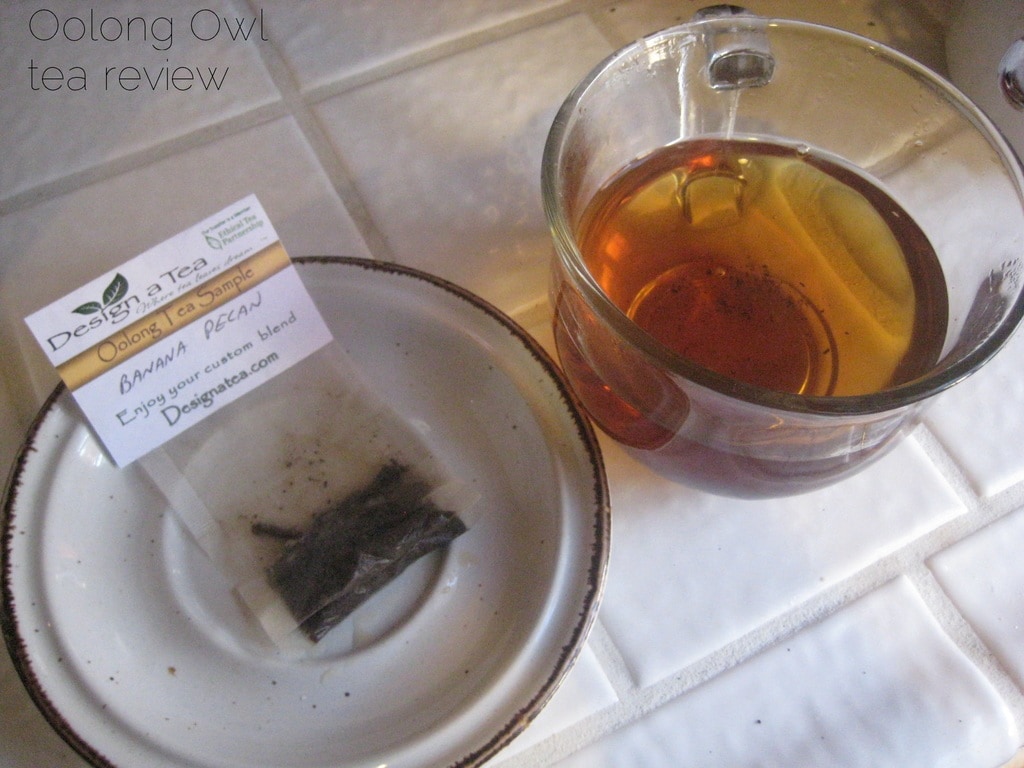 TASTE: Roasty pecan flavor is quite strong with an aftertaste of creamy banana. I almost taste a bit of caramel too. The oolong has a nice toasty taste complimenting the pecan flavor. The pecan flavoring is really nice! I do pecan flavoring again! The banana is okay – doesn't taste very natural to me – though growing up I had banana flavored medicine, so I could be associating it with that.
Chestnut Zabalione Green Tea
Chestnut is an uncommon tea flavoring that I wish I saw more of. Or more in stock /waves fist at out of stock Lupicia Chestnut
I am a creamy fan, so I thought this tea would be interesting.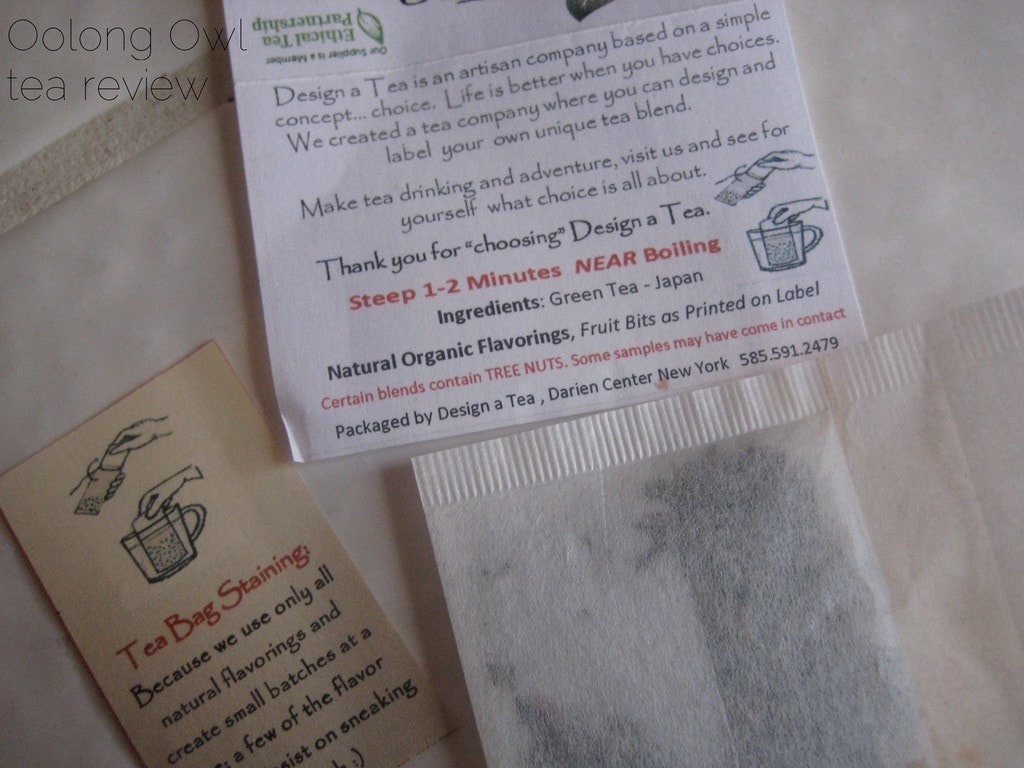 DRY LEAF: very creamy smelling! The leaves look like they are coated with some kind of powder – the flavorings.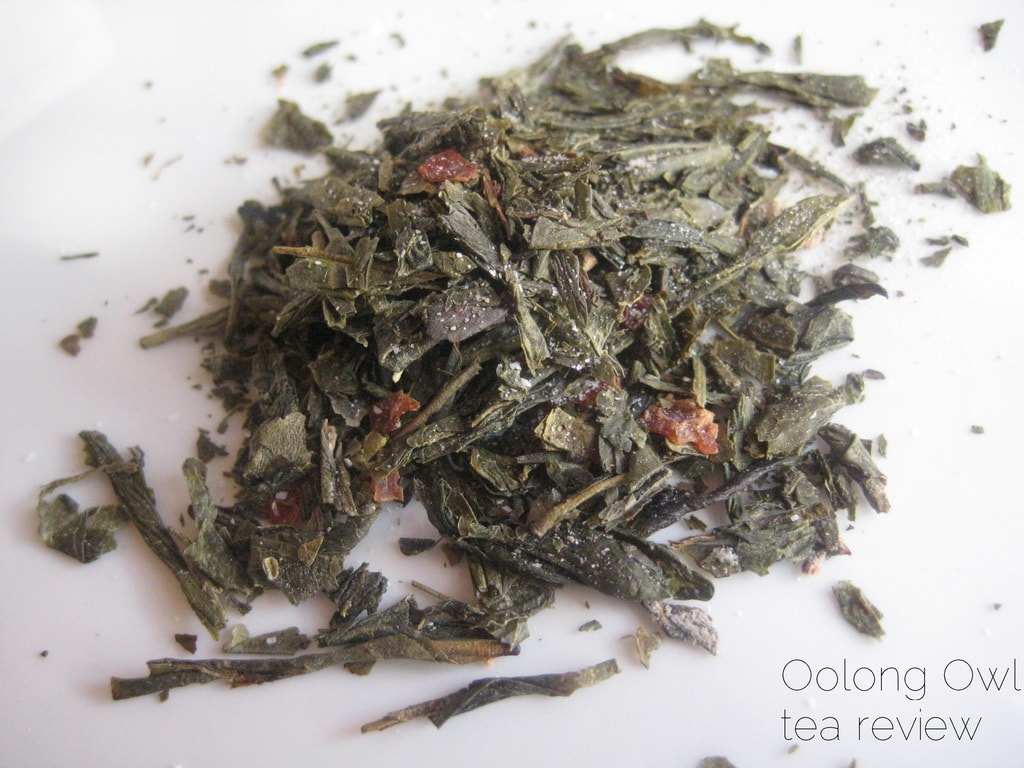 STEEPED: Smells like sencha to me but with a creamy sweet scent. Interesting.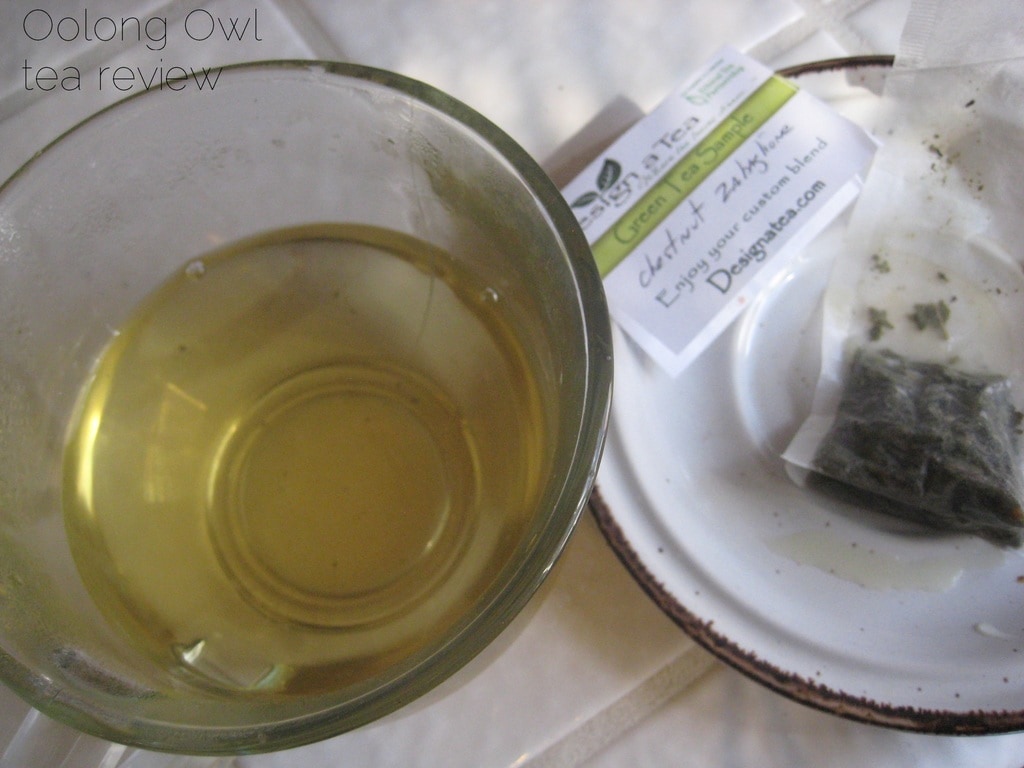 The instructions were kinda vague. "near boiling water"? Eh??? I used 175F and steeped for 1:45 minutes.
TASTE: Buttery sweet green, with a nice creamy flavoring and a sweet yet tangy nut like finish. Almost reminds me of Lupicia's Momoko with the really great creamy taste, but without peach flavoring. Very tasty!
~~~~~~~~~~~~~~~~~~~~~~~~~~~~~
The experience with these samples from Design a Tea was quite a bit of fun. Much more fun than Adagio's custom blend as you get much more control. I really like the green tea chestnut/zabalione one and ordering more of it is quite tempting.
Also tempting? Trying to come up with a gross flavor combination! Cider + Wintergreen? Pumpkin + Pina colada? All rooibos of course.  Ah, I'm weird.
So, my cuddly tea peeps, totally check Design a Tea out! If you ordered from them, what flavor combinations did you get? Please share!