I got this fun Diversitea Sri Lanka black tea set from the recent World Tea Expo. I love the packaging – the rainbow is attractive, encouraging me to try the teas despite me not being big into tea bags and western style black teas. But also the opportunity to taste various regions of Sri Lanka seemed educationally fun. Each box has 25 tea bags, so 175 tea bag total.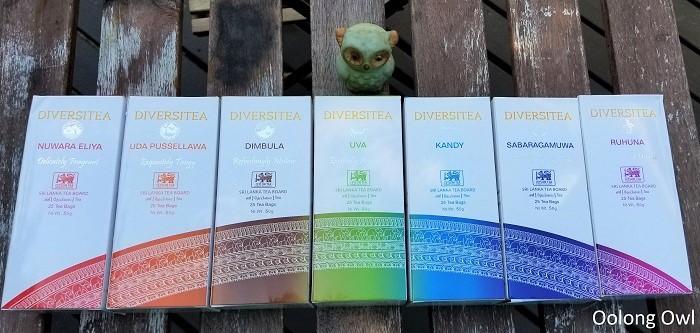 Steeping Method: I used 1 tea bag, steeped in 250ml of boiling water for 3 minutes. Easy peasy. 200F/93C would likely be a better temperature to steep these black teas at due to astringency.
Tasting of Diversitea Sri Lanka Black Tea Collection
Nuwara Eliya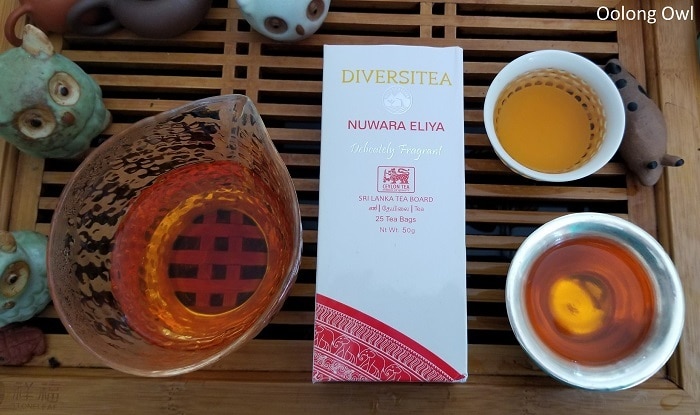 Nuwara Eliya sips in bright, fruity, and tangy, like pears and raspberries. Interestingly, this tea isn't woody or earthy. The aftertaste is a dry fruity, and leaving a scratchy feeling in the mouth. The body is on the thin side. I agree on the packaging that Nuwara Eliya would make a great iced or cold brew tea due to the fruity profile. I found this tea pretty easy to drink, due to notes and refreshing quality.
---
Uda Pussellawa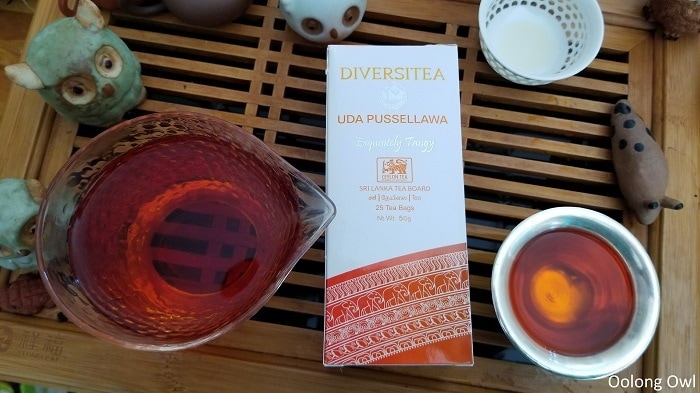 Uda Pussellawa has an pleasing flavor of oak wood, touch of rose and tangy raisins. The aftertaste is brisk wood and fresh raspberries. This tea has a good depth of flavor and plenty of interest, though also astringent feeling left in the mouth. Uda Pussellawa is a fun, complex tea. I think drinking on its own would be best, but it would also do well iced or cut with fruit.
---
Dimbula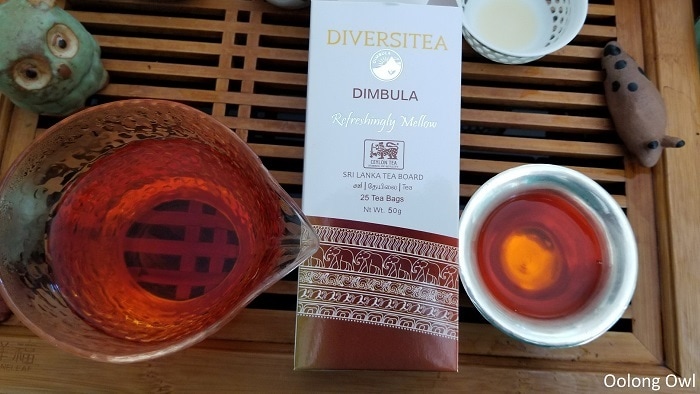 Dimbula is nicely bold, full flavored, smooth, malty, with a bit of blackcurrant notes. The aftertaste is fruity and sweet, continuing the blackcurrant flavor. Dimbula is also heavy on the astringency, leaving my cheeks itchy. I can see Darjeeling lovers enjoying Dimbula, as well as milk tea drinkers as the boldness would go well.
---
Uva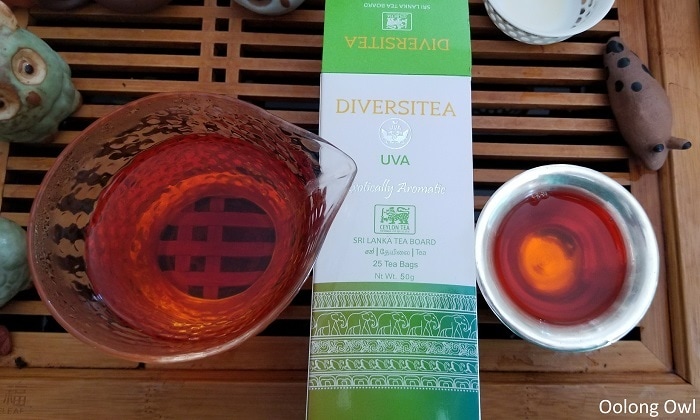 Uva tastes drastically different than the rest. It is refreshing with various mint notes and heavy aroma. As you sip, you taste the mint notes as the scent wafts up the sinus. Some sips meld more with menthol with a tobacco note, without any smoke. The aftertaste is on the dry side, but not as bad as the previous teas. I quite like Uva as it tastes unique and the strong relaxing aroma is satisfying. I went out of my way to try Uva iced and it is fantastically refreshing, minty, and easy to drink.
---
Kandy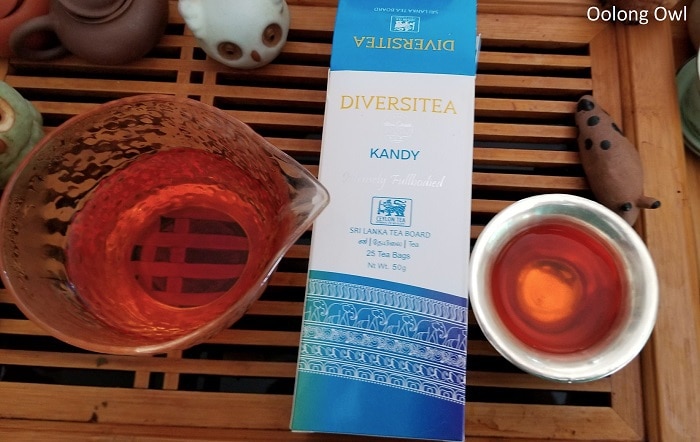 Kandy is bold, smooth, and rich, with notes of oaks and honey. The astringency is mild to start, but builds up quickly leaving my tongue feeling like jerky. I found Kandy responded the best to silver as the notes became quite crisp. I think Kandy would make the best milk tea out of the lot.
---
Sabaragamuwa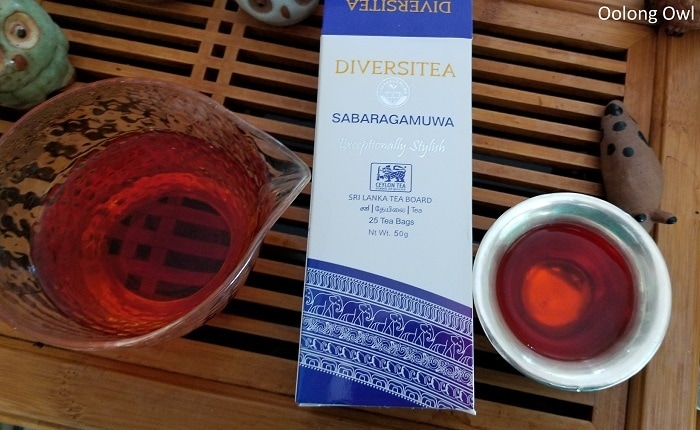 Sabaragamuwa is also very bold and rich in flavor, similar to Kandy. However, it is fruity with notes of fresh blackberries and oak. I find the flavor attractive as the combination of bold, oak, and blackberries is delicious. There is also dryness in this tea, sinking low into jaw. Sabaragamuwa would be great with milk. I also tried Sabaragamuwa iced and it is also came out well for a bold, fruity black.
---
Ruhuna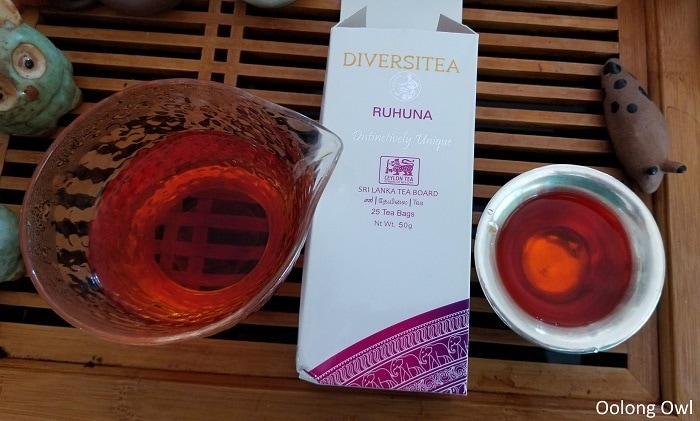 Ruhuna is the fun tea of the set as it is from a region of Sri Lanka that isn't known for tea, but sports high elevation. Ruhuna is also another bold tea, similar tasting like Sabaragamuwa, but more fruity blackberry and creamy. This tea is the sweetest of the bunch due to the fruity flavor, and has a good creamy body. No surprise, Ruhuna is also fairly astringent, making my mouth feel sand papery. Ruhuna would also be great milk or iced.
Comments
The Diversitea Sri Lanka Tea collection was fun to explore. I liked that all the teas were distinctly different, yet similar. What I noticed by the 7th tea was how working the rainbow got me from the lightest to the most boldest of teas.
I enjoyed Sabaragamuwa, Ruhuna, and Uva the most – those three stood out for bold flavor, complex fruity notes, or being completely unique. All the teas were not bad, I didn't dislike any of them. What I didn't like personally was the astringency and lack of thick texture in all of them. This style of western, brisk, dry tea isn't something I reach for. I also don't know if the dryness or lack of body was due to tea bags, it would of been cool to have this collection in loose leaf. Either way, drinking this tea collection gave me a base to launch from if I wanted to explore better quality Sri Lanka teas further. I wished this set was a smaller, say 10 instead of 25 tea bags each?
So, where to find this Diversitea Sri Lanka Tea collection? I google searched, and I have the source of the Sri Lanka Tea Board – Pure Ceylon. I only found a single hit of someone selling it on ebay. I figure over time this set will get picked up by other tea sellers if it was whole sale – the packaging is nice and exploration of Sri Lanka tea regions is fun.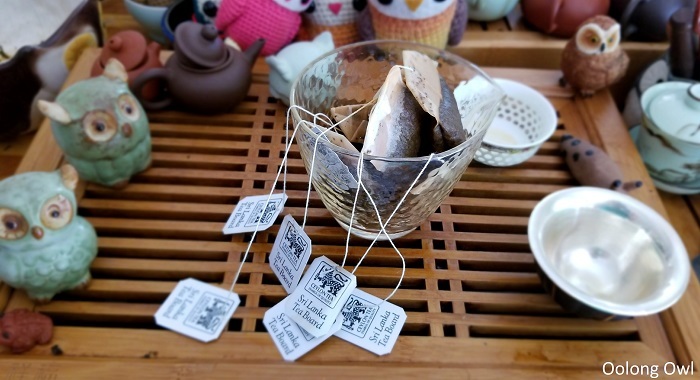 (tea snagged for free at the World Tea Expo press room, so tea provided for review?)