I love Korean beauty products and a sucker for buying anything tea (and owl) related. I came across these Etude House Bubble Tea Sleeping packs and had to have them!
They come in 3 varieties – Green Tea, Black Tea, and Strawberry Tea. As much as I wanted all three, I purchased Green and Black tea as the Strawberry's promised effect isn't what I wanted for my feathers.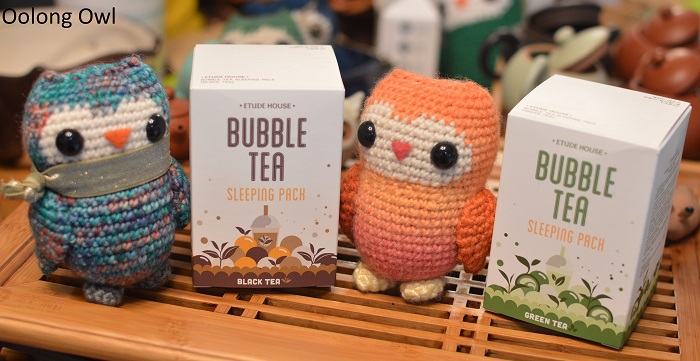 Etude house Bubble Tea Sleeping Pack
516 grams each
Should last at least a month if used daily.
Black Tea – For improvement of skin elasticity and smooth skin.
Green Tea – Clears skin by treating pores and sebum. Gives a nice clean feel.
Strawberry Tea – Moisturizes dry skin and has a dewy effect.
Bubbles contained in the sleeping pack are water capsules which have a moisturizing effect.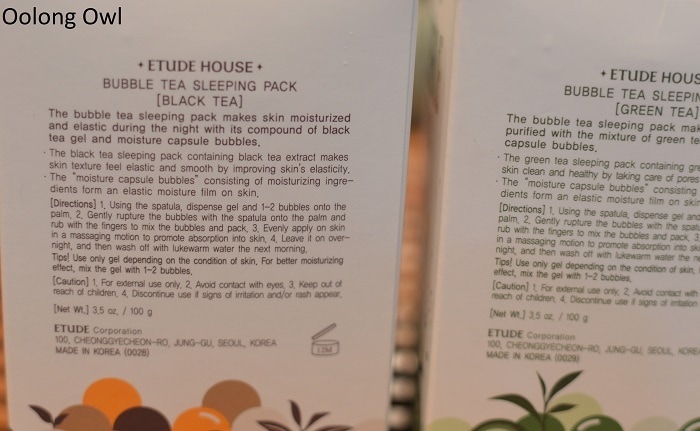 How to use a Sleeping Pack
Sleeping packs are like a mask + night cream treatment. You apply it as your final step, go to bed, and wash it off the next morning. They often feel like a slick watery gel or very heavy cream and you can feel it on your skin the next day, but not as heavy, crusty, crumbly, or tacky feeling as a standard mask. I LOVE sleeping packs – they do wonders for my skin.
Testing the Etude house Bubble Tea Sleeping Pack
Inside the box, and OMG they packaged it just like bubble tea!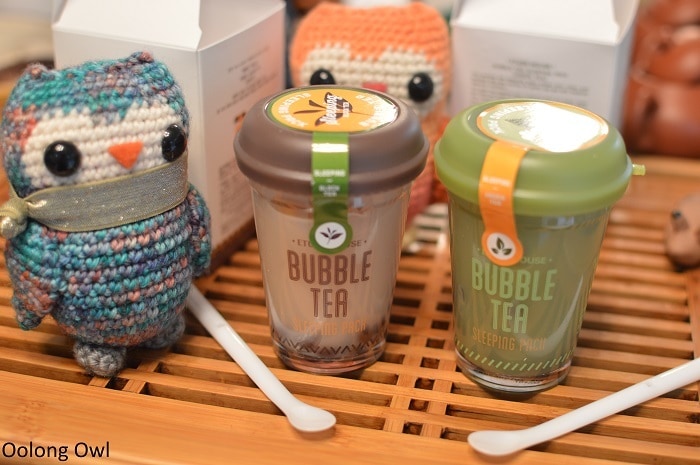 Each come with a little spoon that can snap onto the lid. I like this detail as many don't like putting their hands in their cream, plus you need to dig out a bubble for every use.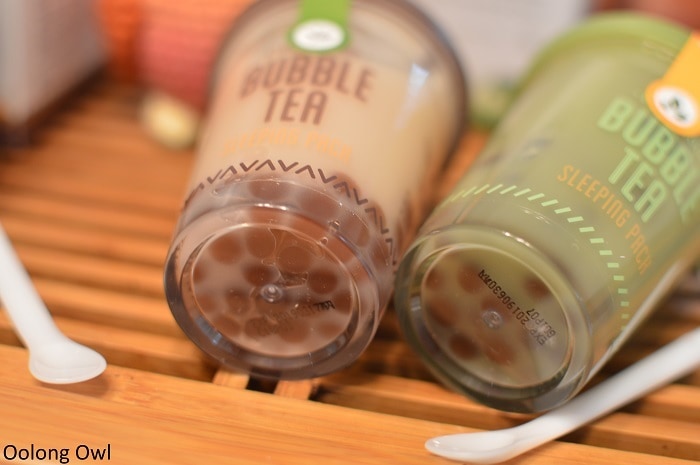 This oddly looks delicious…. if it weren't for the smell.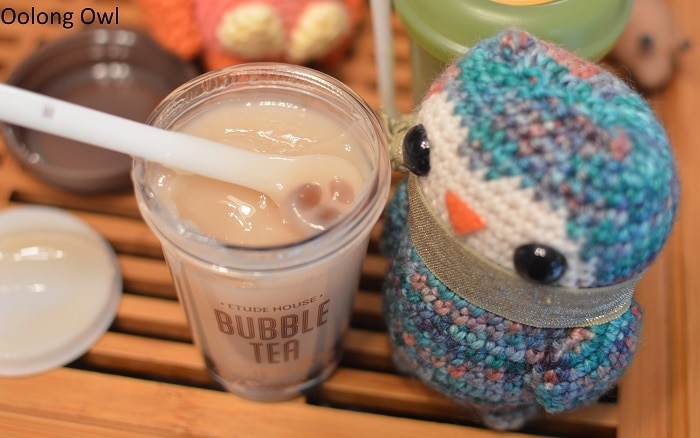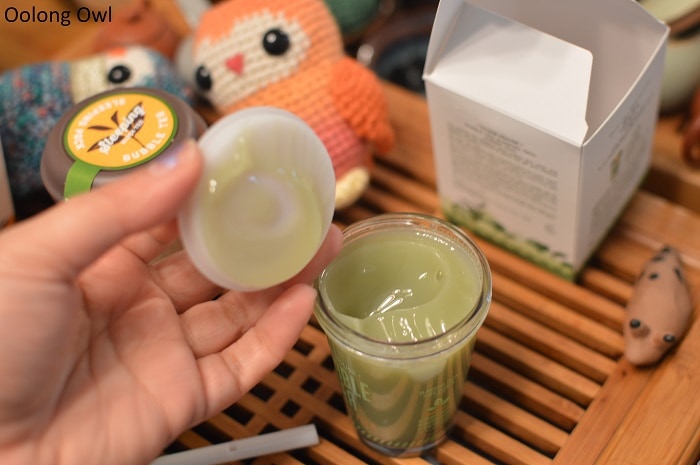 The scent is strongly generic  fresh facial lotion scent, which I find disappointing as I was hoping for a more distinct scent like anything related to green tea. Jasmine would of been a fine choice for a scent. The Black Tea Sleeping pack smells the best as it has a buttery tropical coconut chocolate like scent, though it still smells like facial product. I guess the Sleeping Packs not smelling like food might be a good idea so the owls don't eat it.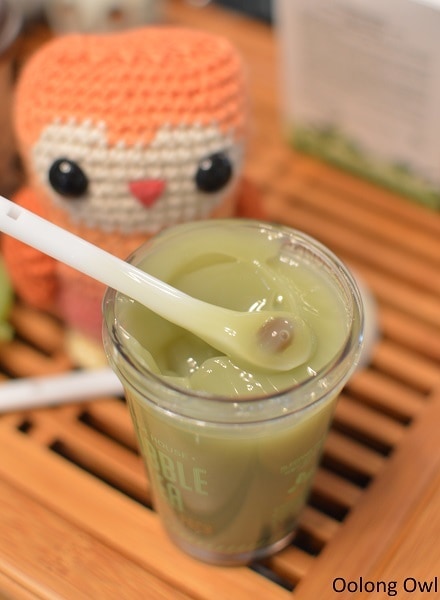 The instructions say to take a bubble or two and pop it to mix with the sleeping pack tea gel.  The sleeping pack felt a little gummy to apply, but it felt like a little went a long way, and I had quite a bit of product with a bubble and a spoon of gel. Applied the scent of the green tea one isn't too strong.
The beads were weird. I expected it to pop like a popping boba filled with liquid, but it just just smushed into bits like one of those expanding water beads, a solid jelly. They were difficult to mash right with fingers, so there was chunks of those on my face.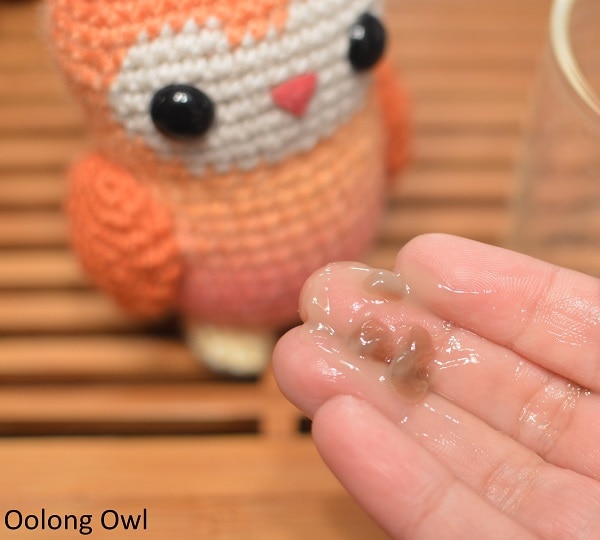 Before use I found the spoon really good idea so you aren't digging fingers into the product, but upon use I am finding the spoon messy. The whole spoon gets coated in product digging for pearls, so I get more than what I want, plus I have to clean the spoon after use. A couple times I got lazy and the day before I mixed the bubbles so some would be on the top, and next use I stuck my fingers in the bubble tea container.
Next morning, the sleeping pack left a bit of film before I washed it off, but after my skin felt pretty moisturized, yet clean. My skin looked brighter and a bit more even. I used both sleeping packs for a month and have been having great skin days, as I haven't been using sleeping packs in awhile. I felt minor differences between the green and black bubble tea, which makes me curious about the Strawberry one. Both made my skin feel great, but the green tea felt a bit more clean feeling, but not a huge difference between the two sleeping packs.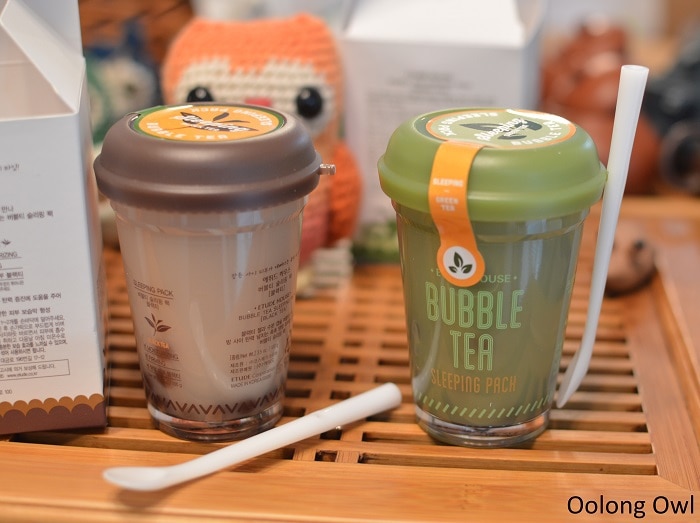 Overall, the Etude House Bubble Tea Sleeping pack is a lot of fun with really cute packaging! It is a fun skin care product for the tea fan. I do find the Etude House Bubble Tea Sleeping Pack kind of gimicky and messy to use, and long term use is slightly annoying to muck around with. I like Black Tea Bubble Tea Sleeping Pack a bit more due to the smell. I'd likely not repurchase due to mess… though I am tempted to try the Strawberry one to see if it smells nicer.
(amazon affiliate links)