With my recent cruise to Hawaii, I was able to snag the entire Lupicia Hawaii Original Blends collection at Lupicia Honolulu.
The Lupicia Hawaii Original Tea Blends gift boxes are quite lovely – the tins are super cute and beautifully packaged! Each tin has 20 grams of tea, just enough to sample each blend, as well as being a great size for this tea blogger who owns too much tea yet wants to try more tea.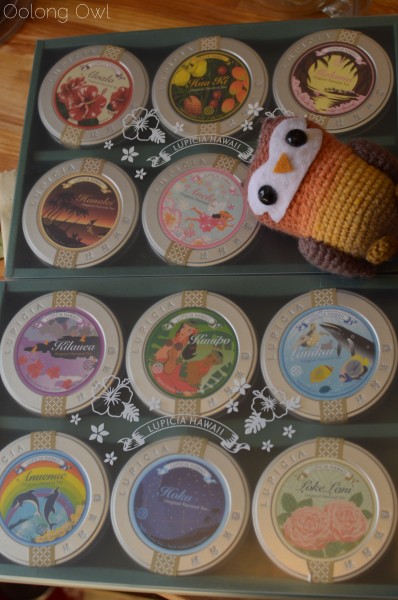 In two gift boxes you get:
Hoku – Taiwaniese oolong with pineapple and guava
Loke Lani – Black tea with bergamont and passionfruit
Lanikai – Black tea with pineapple, coconut and vanilla
Kilauea – Black tea, spicy citrus.
Kuuipo – Black tea with mango, papaya, hibiscus, guvava and rose.
Anuenue – Japanese green tea. 7 different coloured leaves for rainbow looking tea.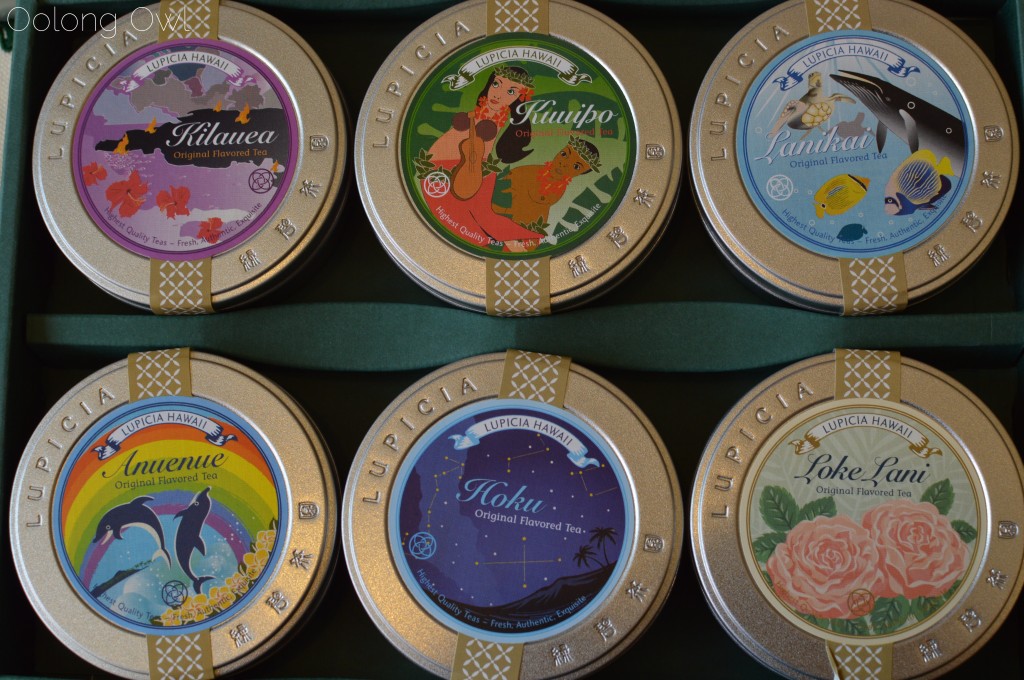 Malama – Black tea with Chocolate and Macadamia nut
Palekaiko – Black tea with passion fruit, mango and spicy ginger. Gold and blue mallow flowers
Anela – Hawaiian Green tea with jasmine, lychee and pink argent angels
Hanalei – Rooibos blend with banana and coconut
Aloalo – Darjeeling and assam black teas with hibiscus
Hua Ki – Black tea with mango, papaya, pineapple.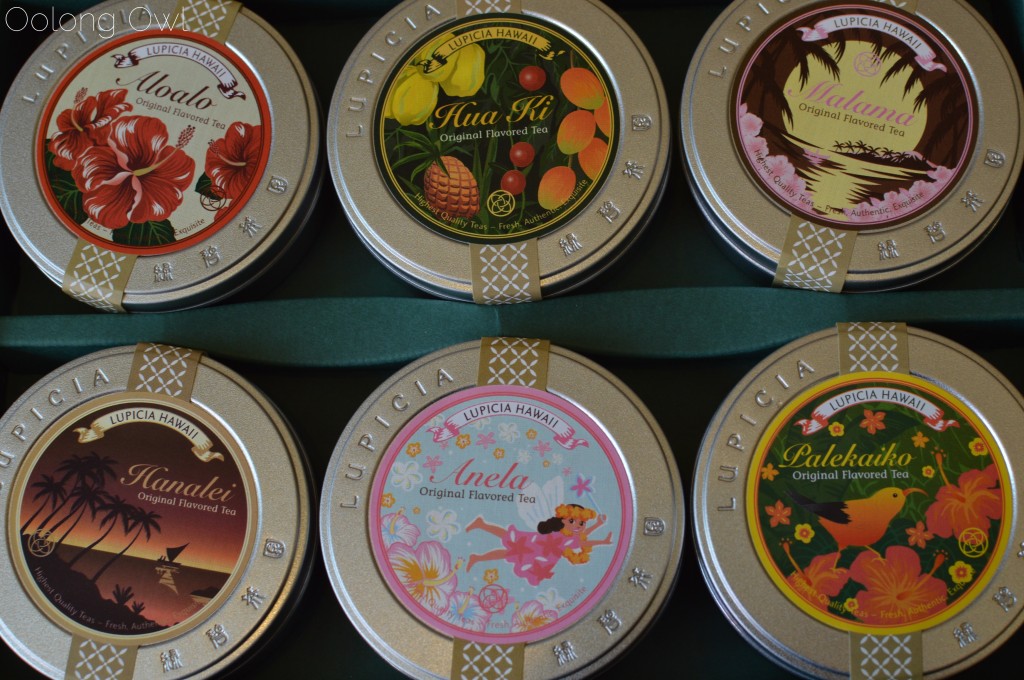 My complaint with this gift box is it doesn't say the tea info I listed above, just a general ingredients list on the back of the box.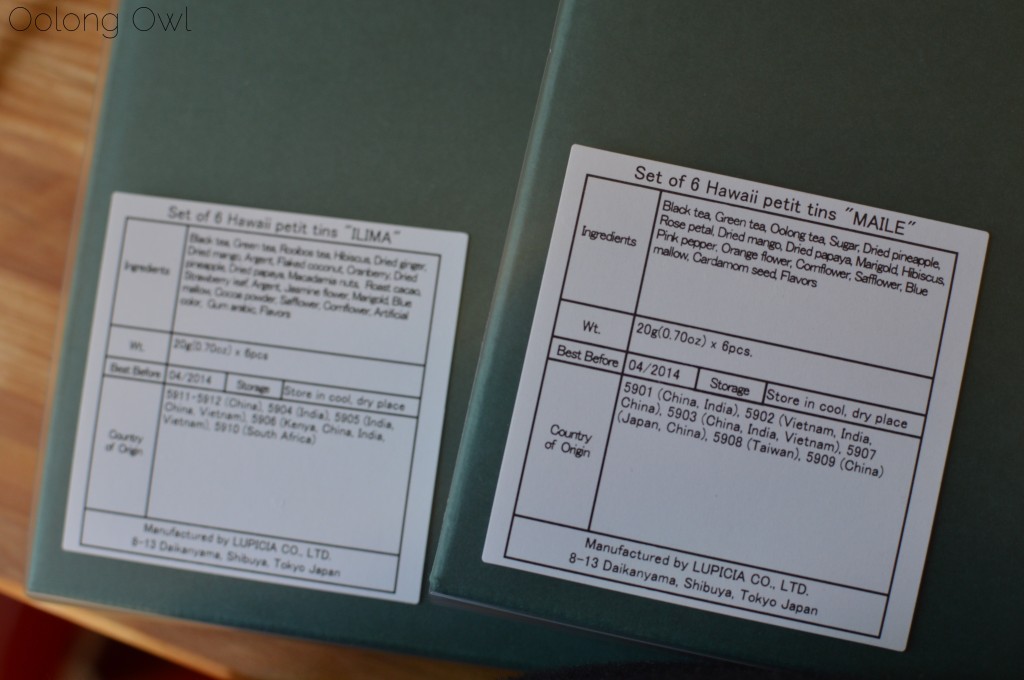 I had to look through Lupicia's website and Steepster tea listings for tea descriptions. I am also missing steeping instructions. For the black blends, I went with Lupicia's black tea steeping instructions, though I am missing instructions for their oolong and greens. I went in and labelled each tea on the back.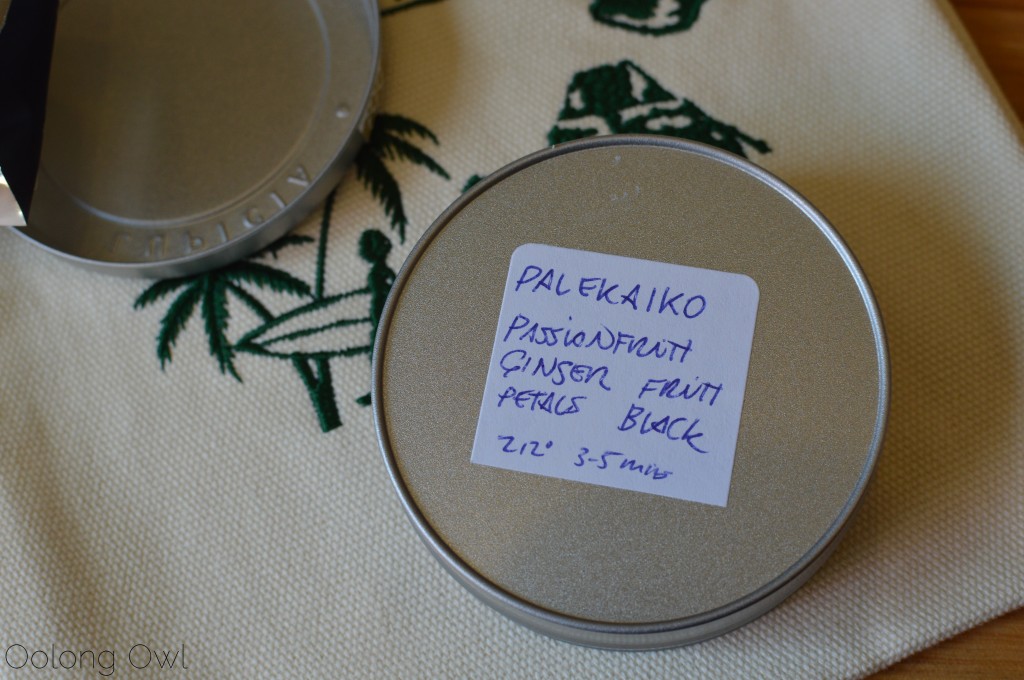 With 12 teas in the Lupicia Hawaii Original Tea Blends Collection, and the Tea Owls and I reviewing about 2 to 4 teas a week, I'm not sure if I'll get the time to review each one here at Oolong Owl. I'll eventually try the whole collection, so be sure to check out Steepster reviews on ones that interest you, follow me, AwkwardSoul, on Steepster as I'll do quick reviews there as well. Or just leave a comment below to request the ones you'd like to see me review and I'll try to slot it in.
~~~~~~~~~~~~~~~~~~~~~~~~~~~~~~~~~~~~~
Today, I'll be sampling Palekaiko (Black tea with passion fruit, mango and spicy ginger. Gold and blue mallow flowers) and Malama (Black tea with Chocolate and Macadamia nut)
Let's start with Palekaiko! Again, very cute tin! Ahh, I miss Hawaii. I'm still working on Tea-Hating Husband to move us there.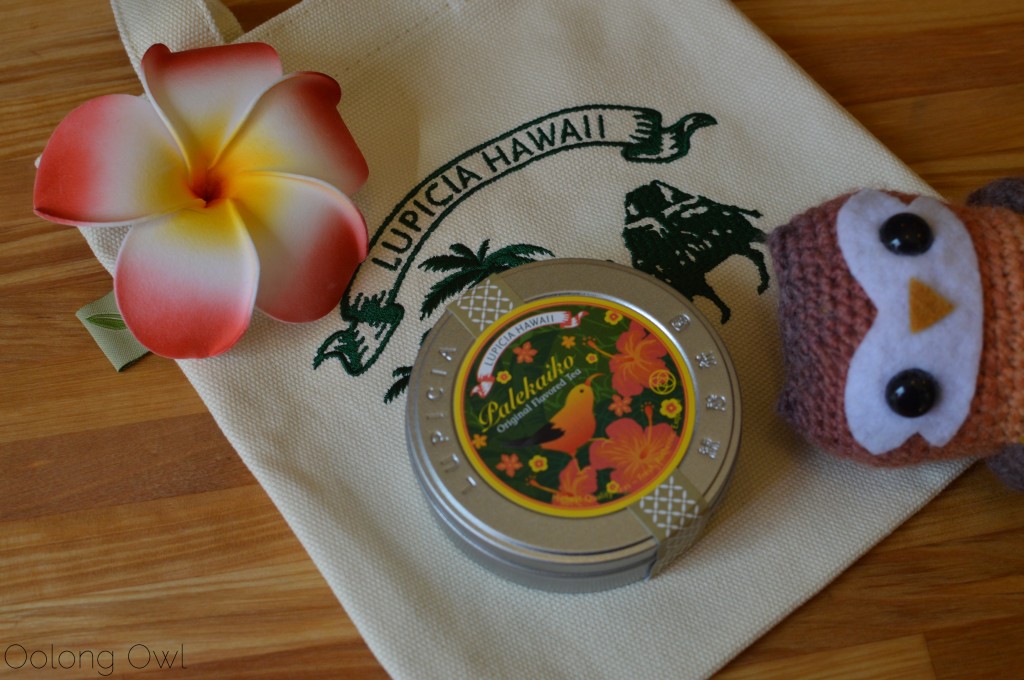 Inside the tin is the tea, wrapped in a foil bag. I found with the two tins I opened, the lids were not very secure. I plan on keeping the tea in the bag, inside the tin.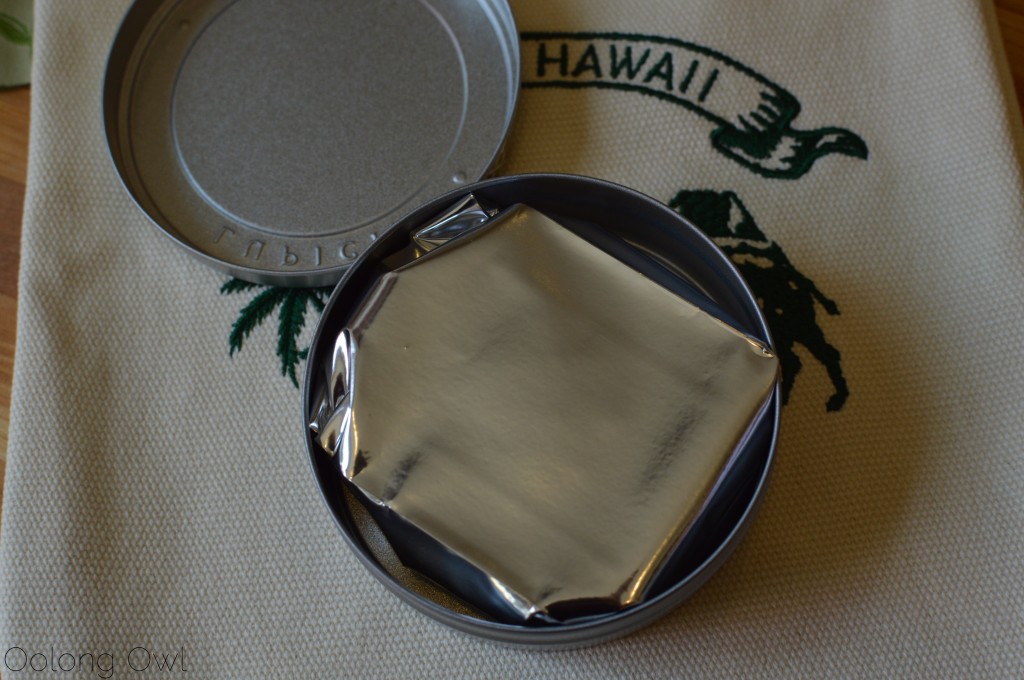 Dry leaf of Palekaiko has a pretty mix of blue and red flowers, cute mango cubes and plenty of ginger bits. The scent is like that sugar crusted ginger with a hint of tropical fruit.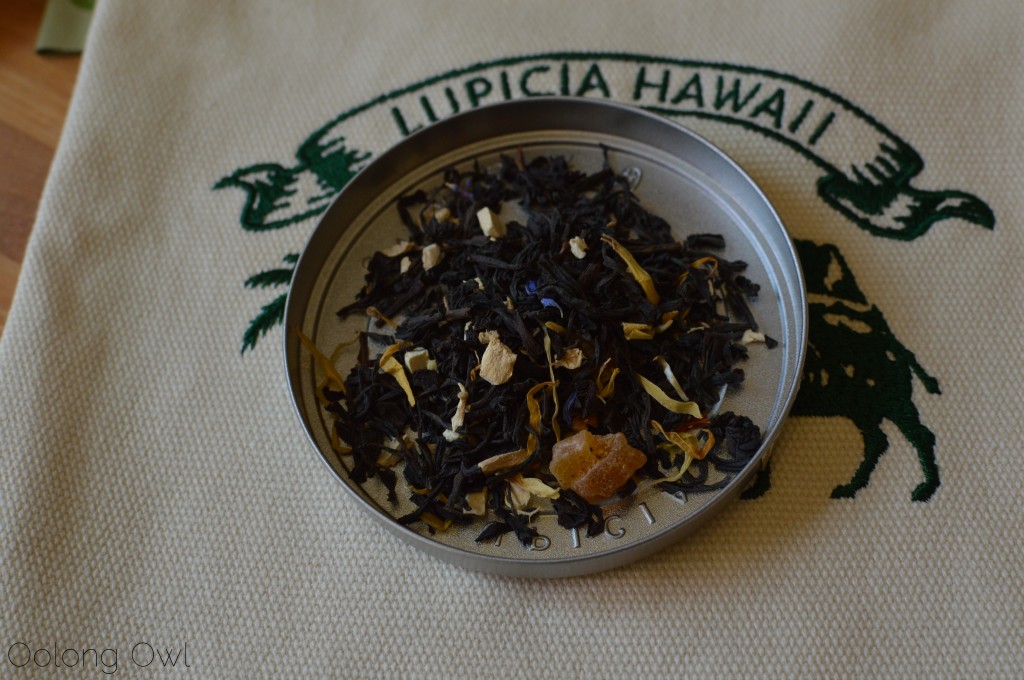 Steeped, the ginger is sweet, spicy yet savory with a moderate ginger burn, followed up with a soothing passion fruit and mango flavor with a touch of floral. Out of all the fruityness going on, mango seems to stand out the month. The ginger spice is about a 6/10 on the Spice-o-meter, so a ginger tea lover would enjoy this tea.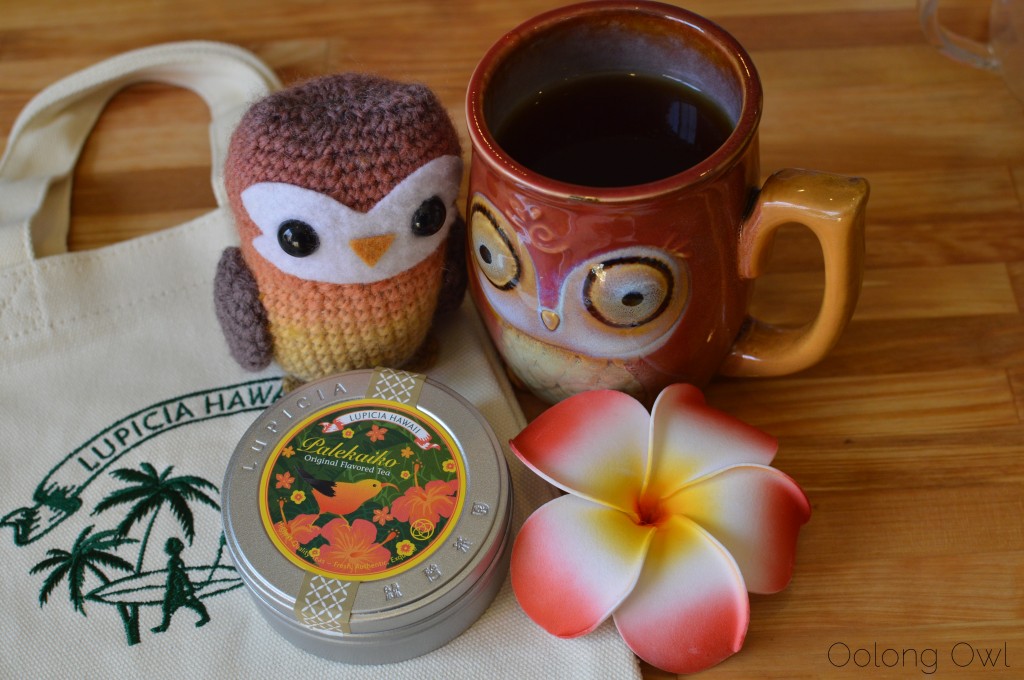 Sweetened, Palekaiko is pretty good. The ginger flavor really tastes like dried ginger candy. The tea is like eating a bag of sugared ginger candy with the odd piece of dried mango in it. The passion fruit flavor pops more here, especially as a lingering aftertaste. I find the passion fruit here is pretty good and not soapy. I personally find passion fruit can be hit or miss for me, but in this blend its a hit.
Malama! The dry leaf here is not super interesting, just black tea bits and lumps of macadamia nuts.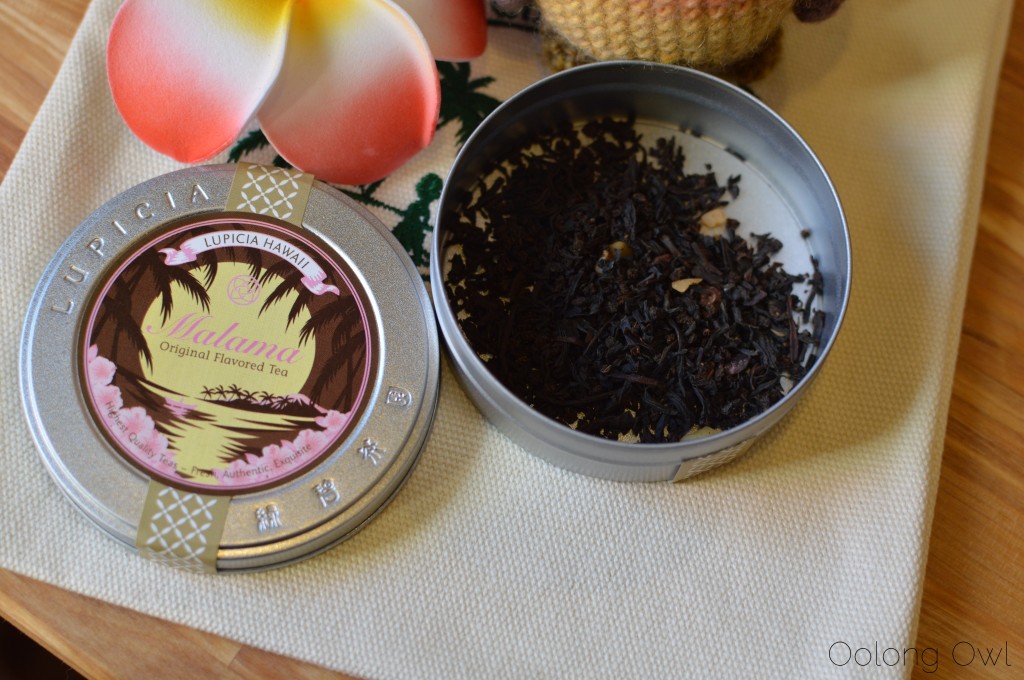 Steeped up, wow, very tasty! Very rich, dark melty chocolate flavor that works great with the heavy, robust, malty black tea base. The blend finishes off with a sweet clean nutty finish. Macadamia nuts need to show up in tea blends more as their flavor adds such a nice sweet, clean nut flavor that is quite uniquely mysterious. Bit of a bitter aftertaste that reminds me of more dark chocolate and nutty shell, but it is pretty slight 1/10 on the bitter-o-meter. I feel I could add milk and sugar, or even latte this tea – but the sweetness is just right for me. This blend is certainly for the chocoholics, sweet tooths and dessert tea lovers!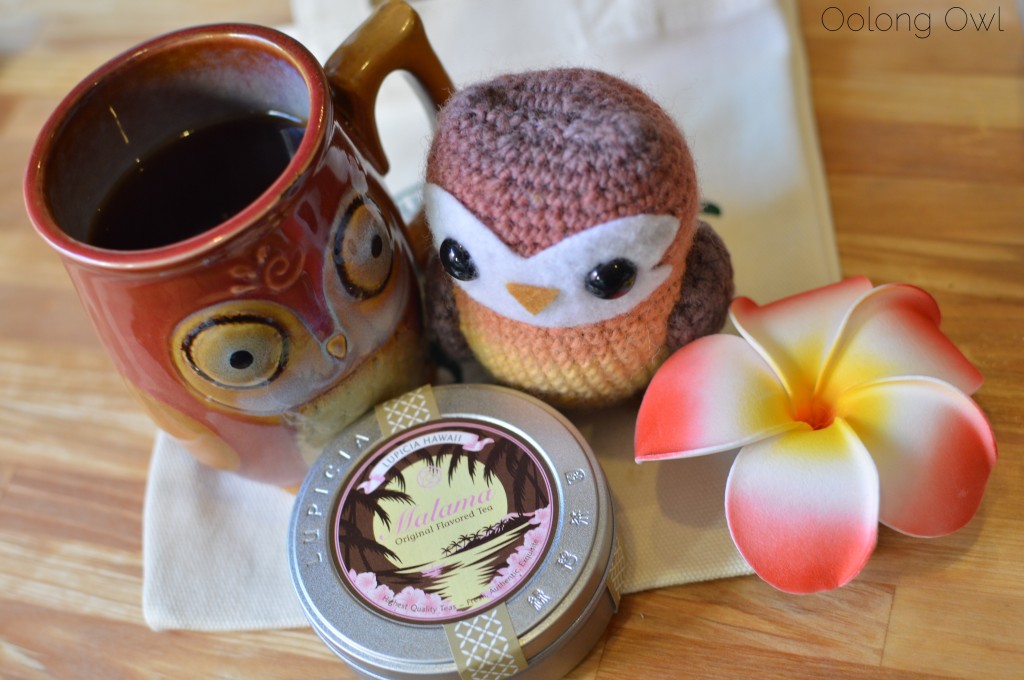 Overall, Lupicia Hawaii Original Blends collection are fun gift sets for tea drinkers that love fruity teas, especially blacks. This Lupicia gift box that would be a great gift for a tea lover! I was also hoping there were more macadamia nut teas in this collection, but I am thankful there isn't kona coffee in any of the tea blends.
The sad news – these gift sets are only sold at Lupicia Honolulu. As I write this, Lupicia is selling some of the exclusive Hawaii blends online for a limited time. If any of these fun, tropical teas interest you, I'd snag it while you can, or go to Honolulu.