February White2tea Club!
If you haven't been following my previous reviews for White2tea Club, it is a curated $29.99 monthly tea box. The teas are awesome quality with mostly pu'er, but also some oolongs and blacks. For this month the teas are two Bulang pu'er – 2012 Bulang Raw 100 gram mini cake and 15 gram sample of Spring Laochatuo from Bulang and an Orchid Dancong oolong sample to make this month less bulang crazy.
I was super excited when I saw what I got this month from White2Tea. I've had bulang pu'er a few times, mostly stuff aged from late 2000s and I enjoy small nugget pu'er for their crazy resteeping abilities as well as being great for extended infusions in a travel mug. I can't say no to Orchid Dancong too!
Tasting of February White2Tea Club Teas
Spring LaoChaTou from Bulang
So nuggety! I used boiling water and did 2 rinses to get this tea going.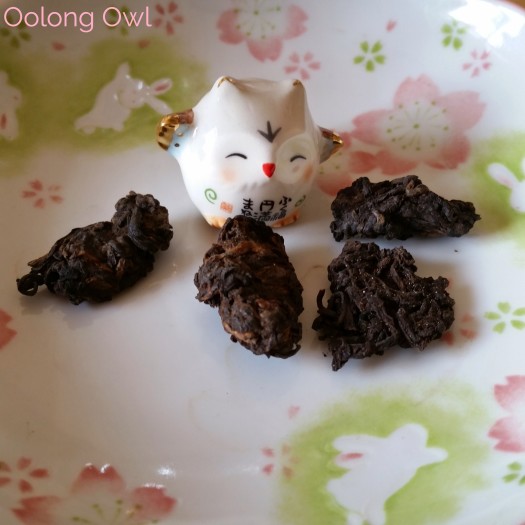 First and Second Infusion: The flavor is light, creamy and chocolate like. Come on let's go!
Third, Fourth and Fifth Infusion: The flavor is getting there, developing a nice dark reddy colour.
Sixth, Seventh, Eighth and Ninth Infusion: Ah yeah getting good. Thicker and sweet. Really smooth! Look at the colour!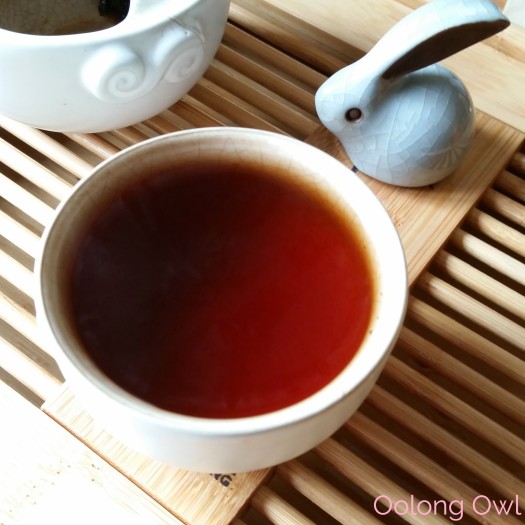 Tenth, Eleventh, Twelfth and Thirteenth Infusion: I realized after nine infusions that the tea is still in firm chunks, and in some spots dry to the touch! I smushed one nugget a bit and with an over a minute steep time I got a nice rich, sweet chocolate, smooth hazelnut kind of tea. The texture is super smooth no dryness. There is no evidence to show this tea is going to stop. However, smushing laochatuo was a bad idea as I got some grainy texture for that one infusion.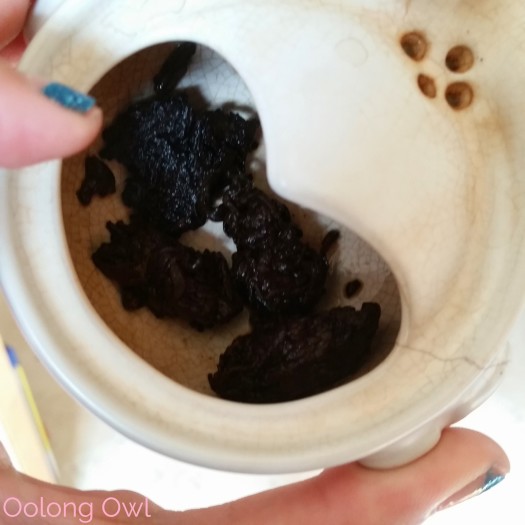 Fourteeth and Fifteenth Infusion: The flavor is starting to wane and pretty long infusions were needed. Longer than I had time for after drinking more than a dozen rounds of tea to myself. I know there's more rounds left in this tea.
Sixteenth, Seventeenth, Eighteenth and Nineteenth Infusion: Day 2! The flavor is pretty constant being sweet, not overpoweringly strong, chocolate and kinda nutty. Looking back, all I had to drink yesterday was 5 grams of Laochatuo – if I was a pu'er lover and broke, this would be the tea to drink to maximize how much tea you get per infusion!
Boiled down: In the note that came with this months teas was a suggestion that you can boil this tea at the end for a delicious drink. I boiled my 5 grams of tea I steeped for 2 days, 19 times for about 15 min, which reduced the liquid I added half.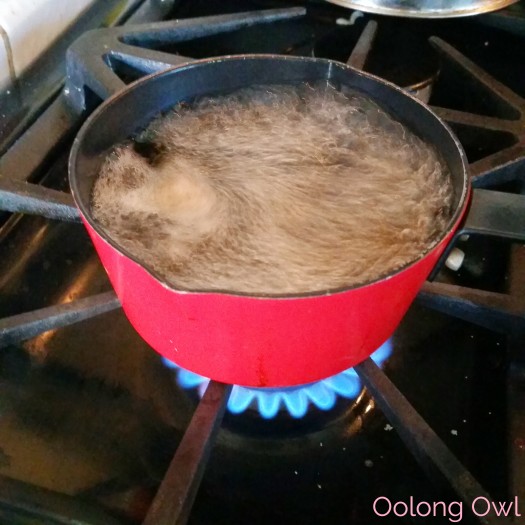 The flavor was really good! It's slick smooth, rich, little roasty and quite sweet. Not astringent at all, truly a bomb proof tea! I'll need to do this again.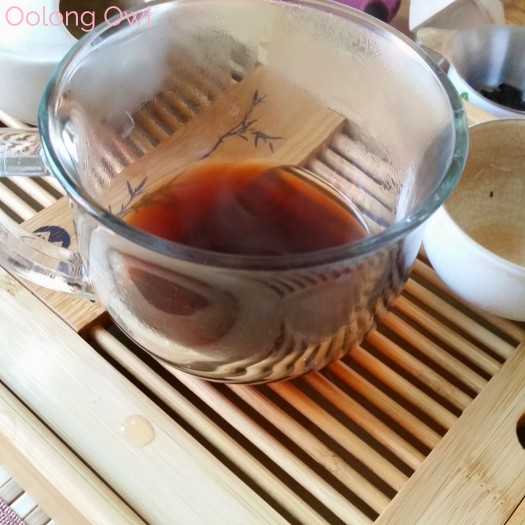 2012 Bulang Raw Pu'er Mini Cake
I found the pu'er cake to be thin, when breaking off pieces I almost split the cake in half!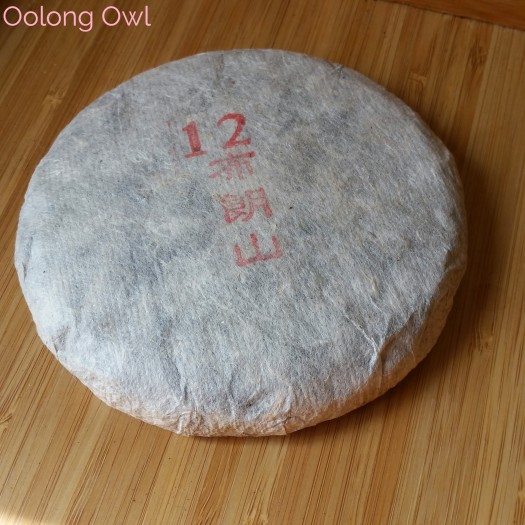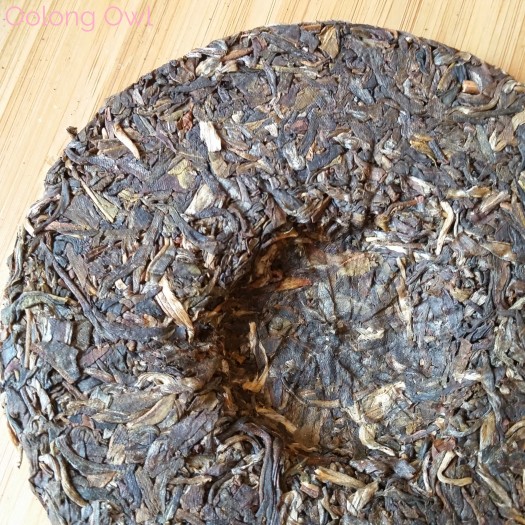 I approached this tea with a touch lighter temperature, hoping to avoid some dryness, so I used 200f water. As usual, I did a quick rinse to start.
2012 Bulang Raw Pu'er had a lovely smokey scent with a beautiful clear broth with dark peach colour.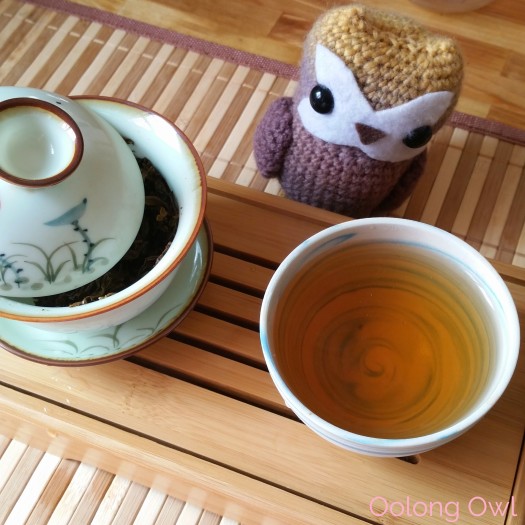 First Infusion: 2012 Bulang Raw Pu'er sips in really cool and different from other raw Pu'er I've had so far. It's thick heady in texture like the tea is tricking me that I'm drinking pudding. The flavor is somewhat savory. with mineral and tabbacco notes. Very smooth texture and satisfying.
Second and Third Infusion: And it's bitter! Not punch you on the face bitter but just enough bitter for you to register, wahh bitter!
Fourth, Fifth, Sixth, Seventh, Eigth and Ninth Infusion: I dropped the water temperature down to 190f to combat the young bitterness of this sheng pu'er, which helped quite a bit as I got little to no bitterness. So much for my YOLO Pu'er brewing. The flavor of 2012 Bulang Raw Pu'er is interesting with lower temps, with each infusion getting calmer and sweeter, taking over the tabbacco notes. The texture is still really thick.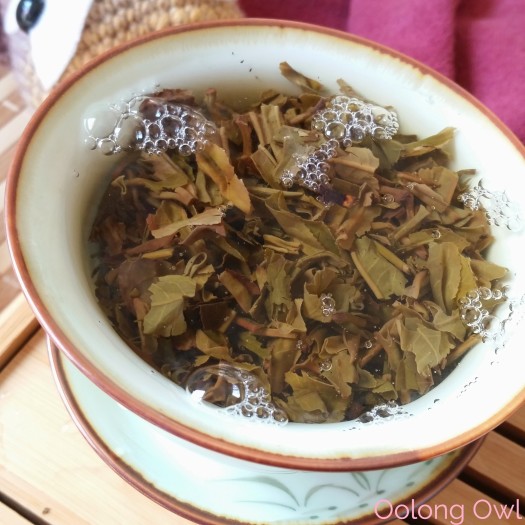 Tenth, Eleventh and Twelfth Infusion: It's sweet! 2012 Bulang Raw Pu'er finally get a moderate dry feeling, leaving a weird "teeth feeling clean feeling" sensation in the mouth (Mysteriously I used to eat at a noodle house as a kid every weekend and their noodle shrimp wonton soup would have that same effect on my teeth). After battling mineral, tabbacco and bitterness, you got to experience a nice finish. There are interesting lemongrass notes, over the thick body, with a lightly stone fruit aftertaste.
Comments
The February White2Tea club was a favorite for me. Though, I have greatly enjoyed all the White2Tea clubs months so far. What I liked about this one as it had an education and experimental feel to it. I got to try a young Bulang sheng and have a weekend long drinking session with just 5 grams of laochatuo! I got pretty cozy to bulang!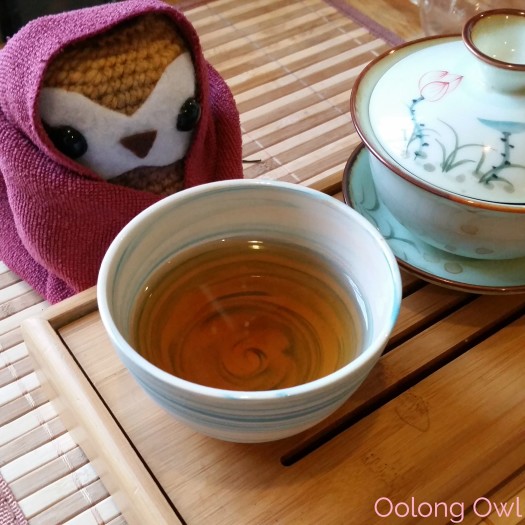 The Orchid Dancong is a bonus! I'll save that one for next time as this is a pretty lenghty review! As always, I can't wait to see what is in store for next month's White2tea club!