Flowering Cones Black tea is a hand sewn blooming tea made with high grade Yunnan spring black leaves. This gorgeous flowering tea is sold by mandala tea, US tea seller.
All the flowering (aka Blooming) teas I've tried so far have a great flavor at first, but quickly turn bitter due to the longer steep time required to get the tea to expand. Flowering teas look gorgeous, but sometimes I feel they are all about presentation rather than taste. Oh, if you remember an early blog post I did about my first blooming tea experience, I saved the leftover bloom in a jar. It lasted a few months with occasional water changes, but after that it was trying to grow some slimely colourful creatures. Eww.
I heard good things about mandala tea's Flowering Cones Black tea to have great flavor. Black blooming tea makes sense, as the leaf is not as delicate as the typical white or green blooming leaves, so it can hold up flavor for longer infusions. Today's Oolong Owl Black Tea week review also features Sunset Tea Owl, hoot!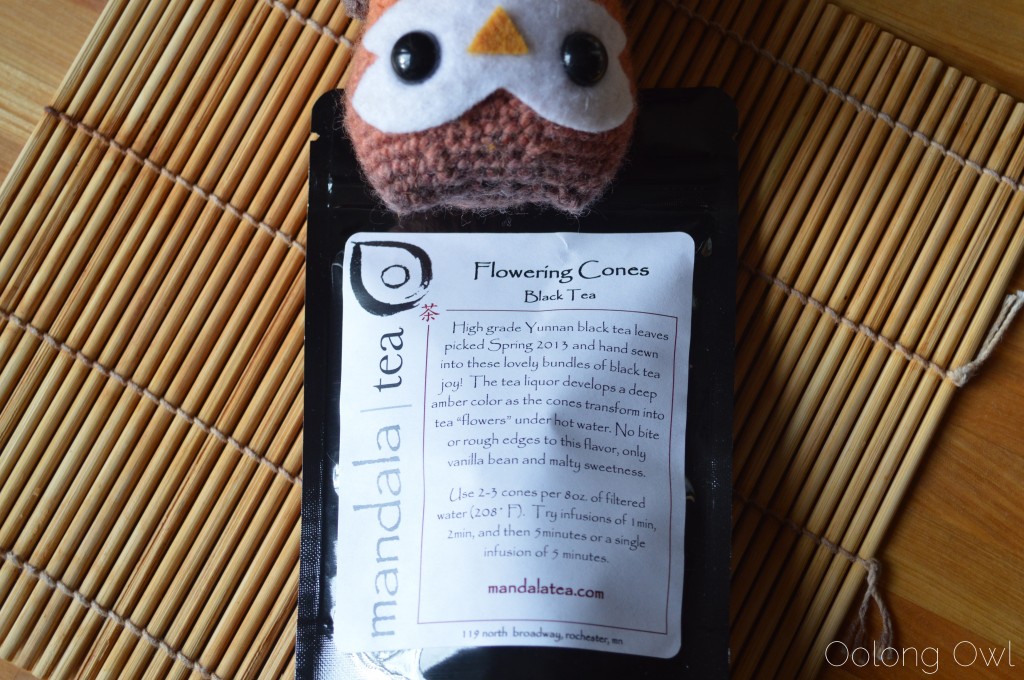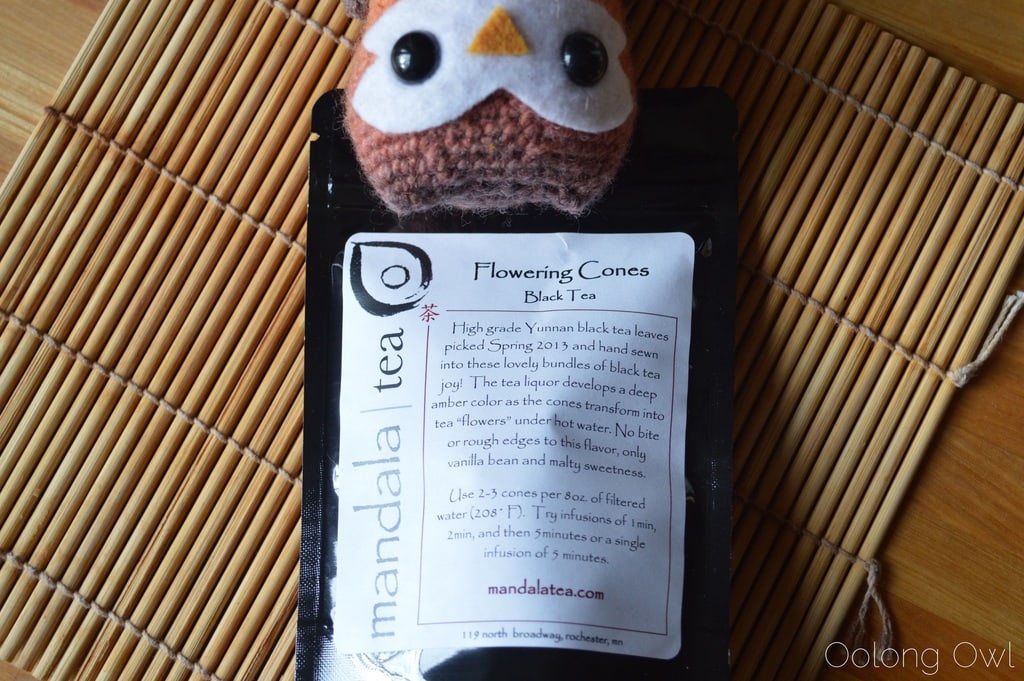 Dry Leaf
Flowering Cones Black tea has an interesting cone shape with black and gold striping.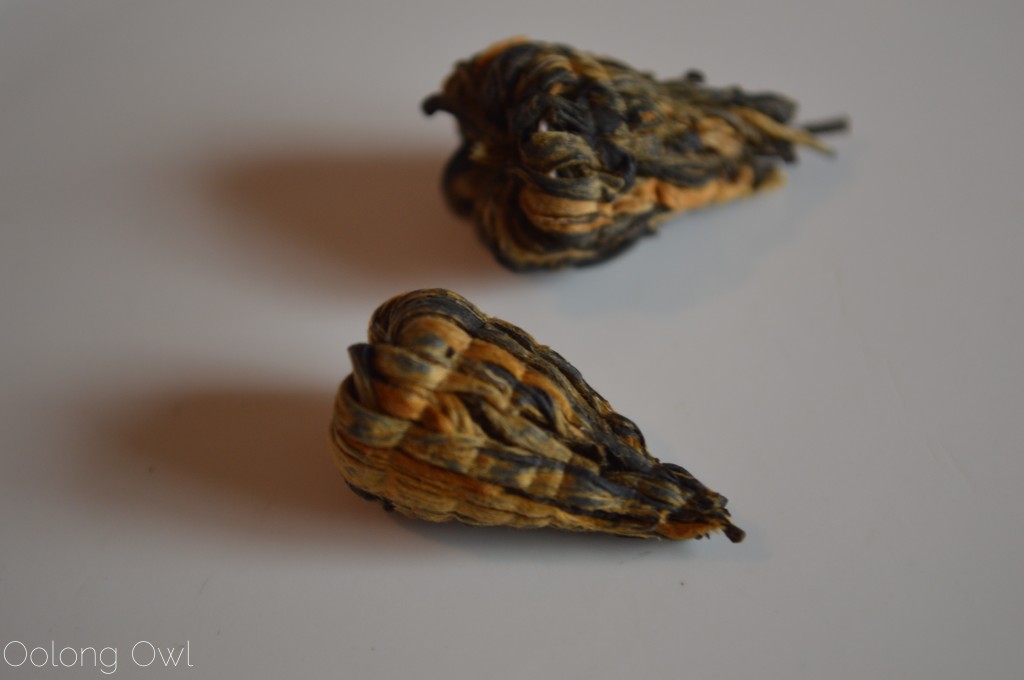 I keep thinking that this flowering tea looks like Christmas Trees!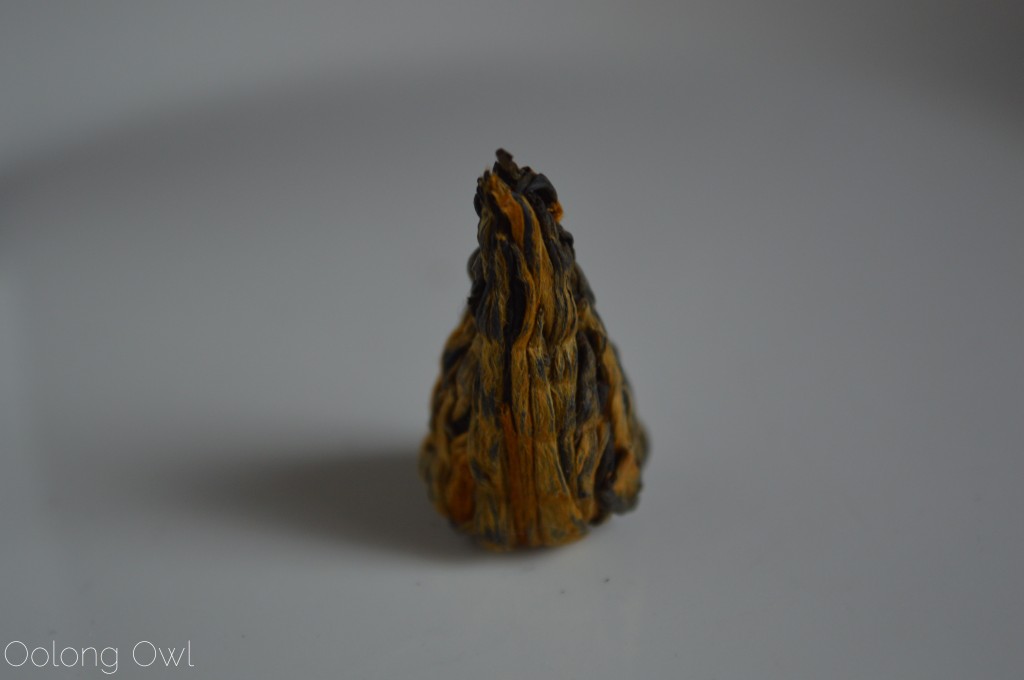 Hehe!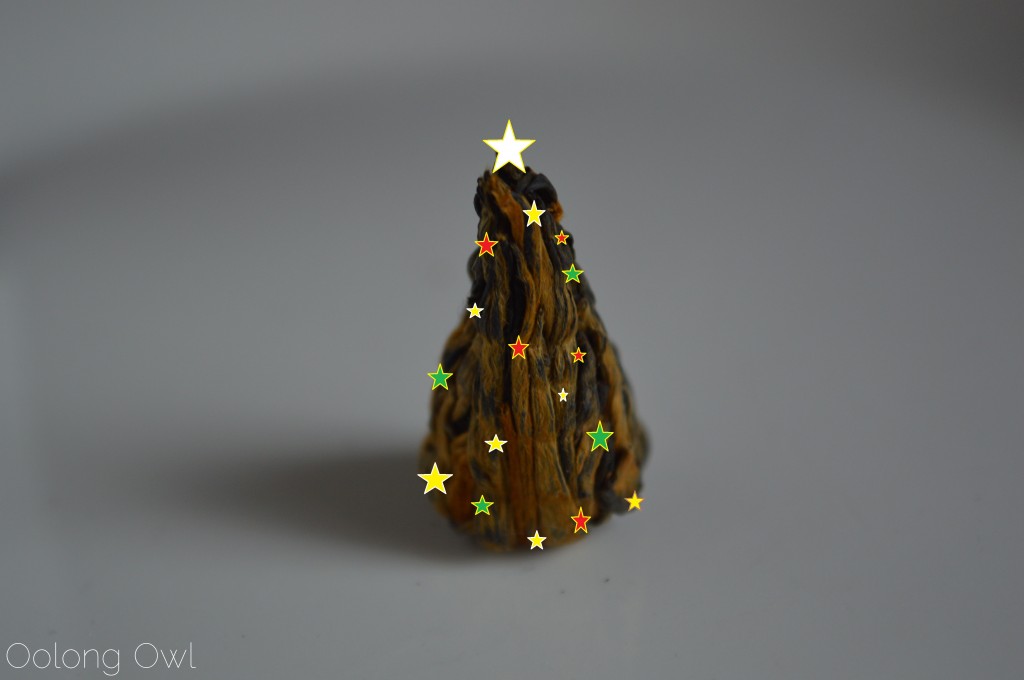 Steeping Instructions
Flowering Cones Black tea is pretty flexible to brew. mandala tea suggests 2 to 3 cones, steeped in 8oz 208F/ 97C water for 1, 2, and then 5 minute steepings. They also mentioned doing 5 minute steepings as another tasty option.
I steeped the cones in my mandala tea glass thermos, though I think any glass mug or tea pot would be an excellent steeping vessel for the cones.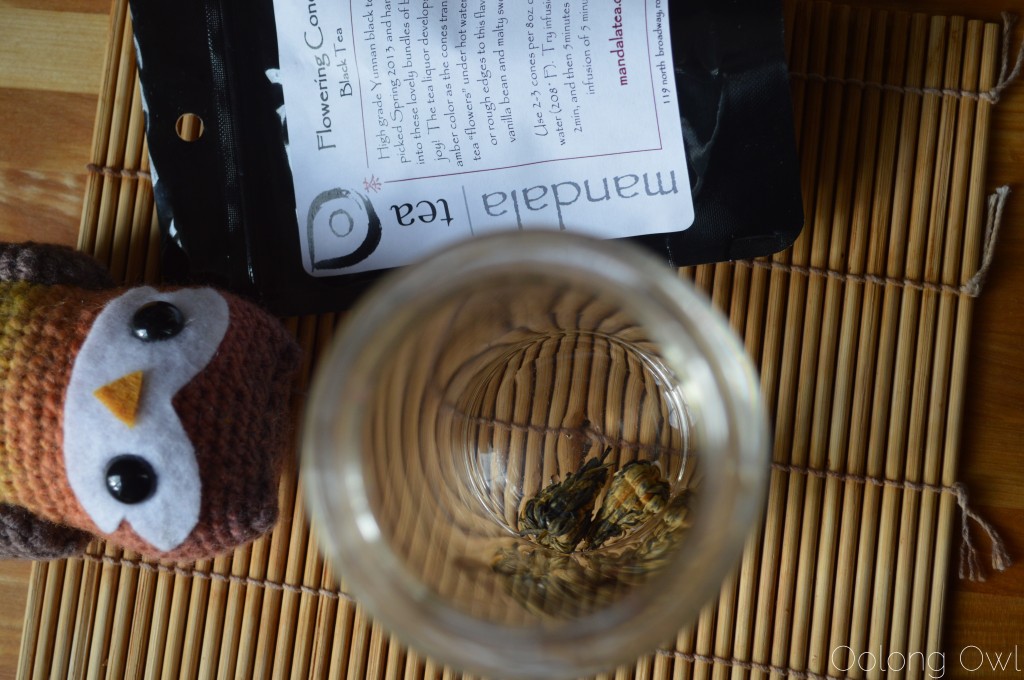 I went with 212F/100c water and found 6oz to work best with 2 cones. Watching the tea cones expand was lots of fun!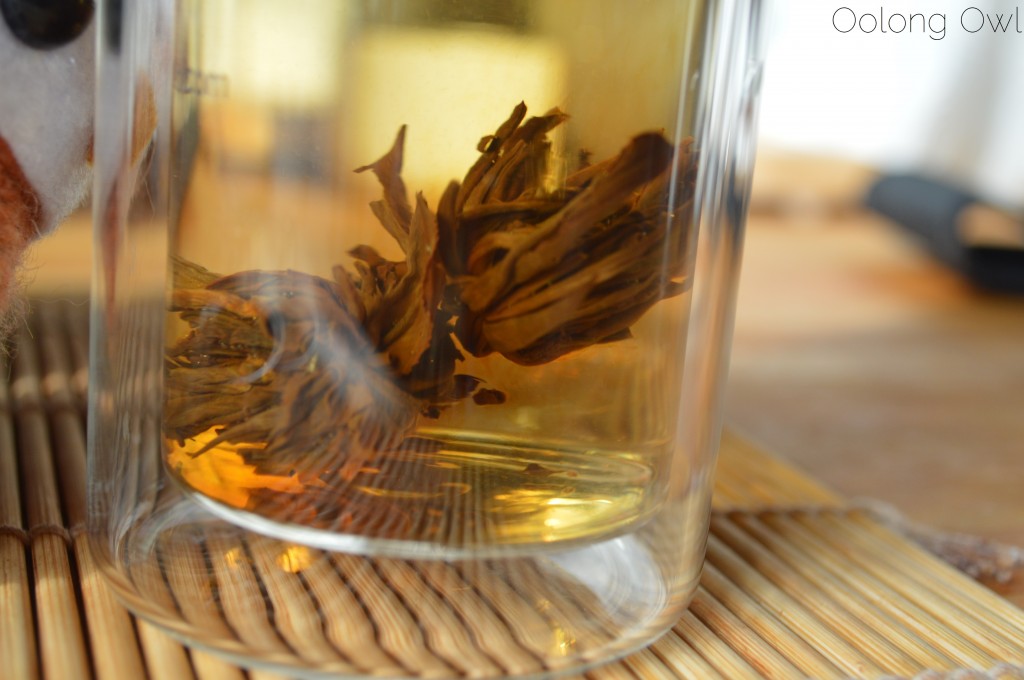 Flowering Cones Black tea steeped up to a golden ochre colour. Great colour and presentation!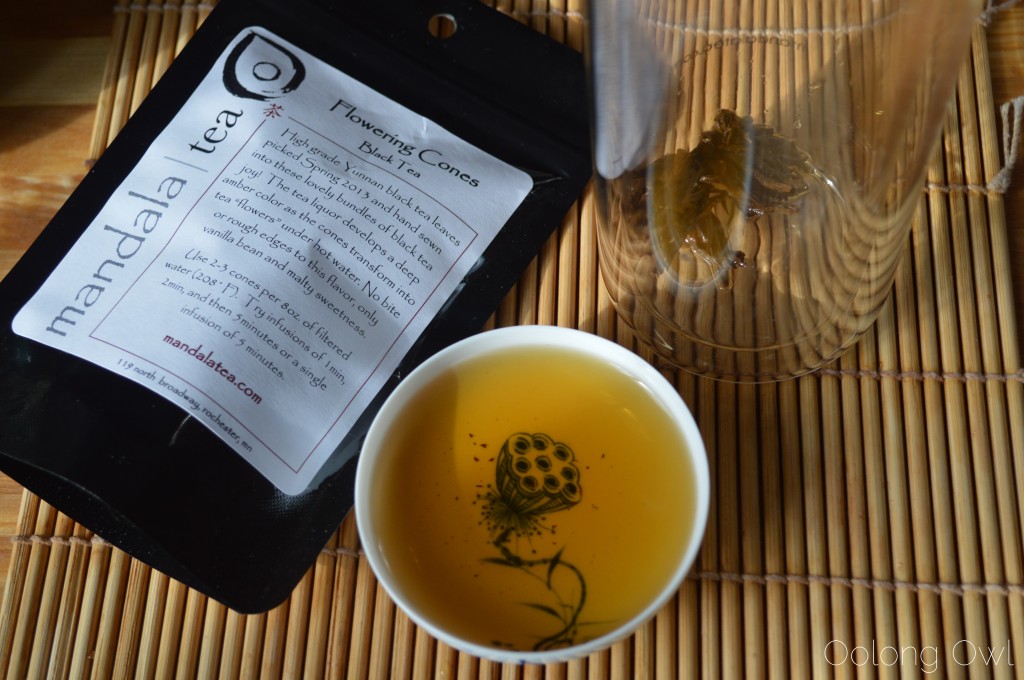 Tasting of Flowering Cones Black Tea
First Infusion – 1 minute steep: Flowering Cones Black tea came out light, malty and sweet. It is slightly caramel, however the steeping is pretty mild in intensity. Not a great steeping, but I know there is better steepings to come.
 Second Infusion – 2 minute steep: The flavor has increased, though still a little light for a black. However, Flowering Cones Black tea has developed a delicious rich flavor quality with caramel sweet, pecan and malt notes. A very smooth infusion and is silky in texture to drink. I find this tea to be very easy to drink.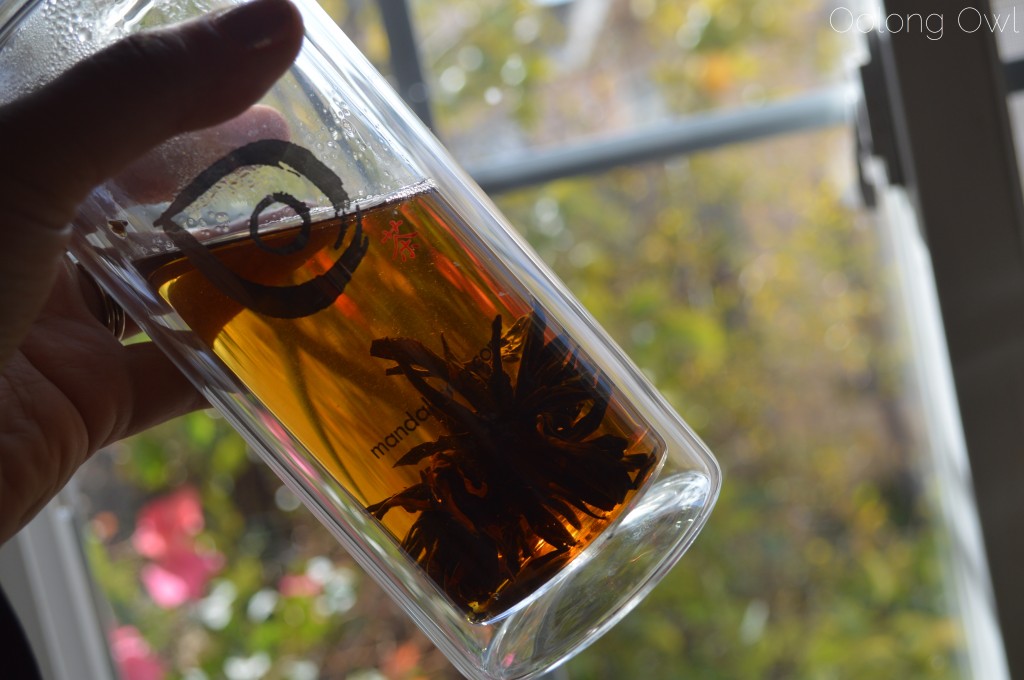 Third Infusion – 3 minute steep: Crisp! The black tea flavor moves to more crisp and robust, still with malty pecan flavor with a sweet finish. This steeping is not as silky as the last steeping, but still a little silkyness at end of sip.
Time for some close ups pictures of the cones!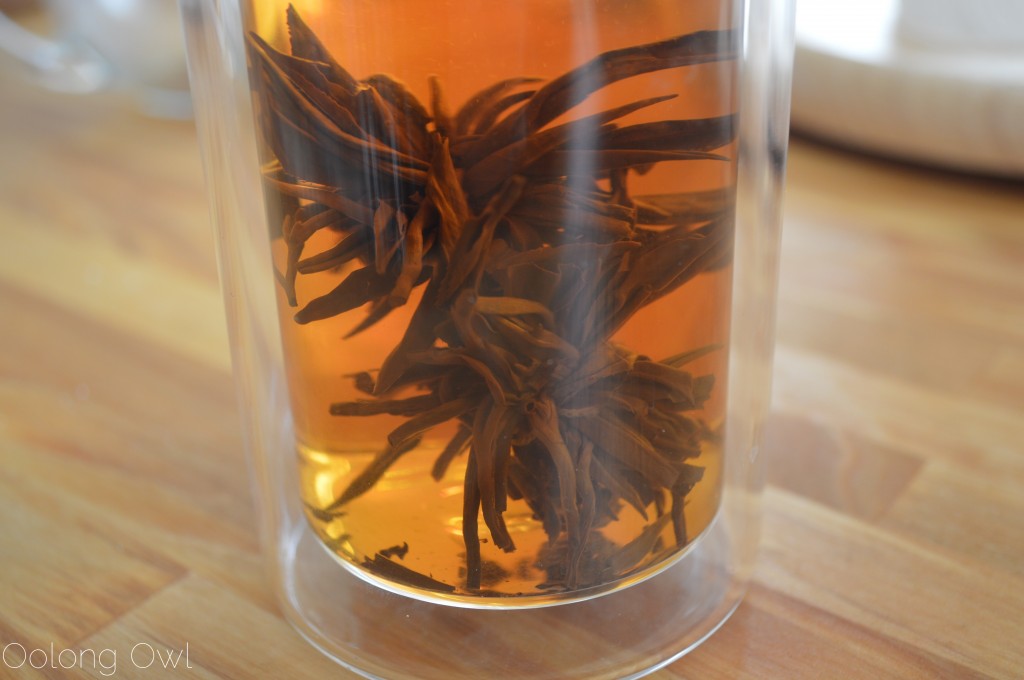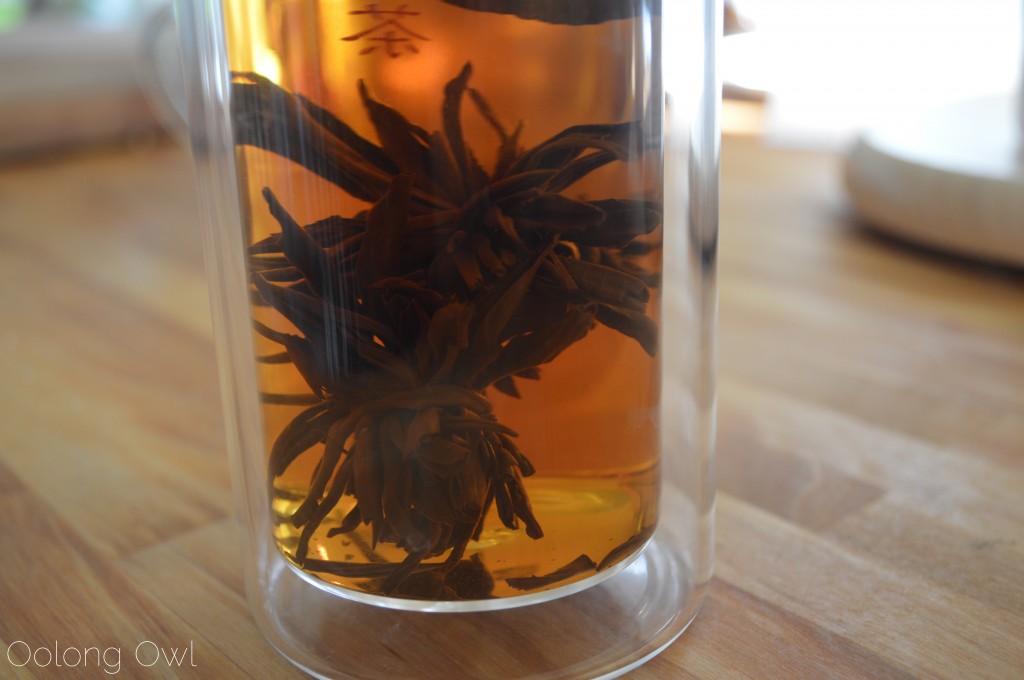 Fourth Infusion – 5 minute steep: Flowering Cones Black tea moved back into smooth territory with a more mellow and rounded flavor. Still malty, nutty and sweet cup of tea!
Fifth Infusion – 10 minute steep: The flavor is steeped right out here – all I'm left with is a lightly sweet malt brew.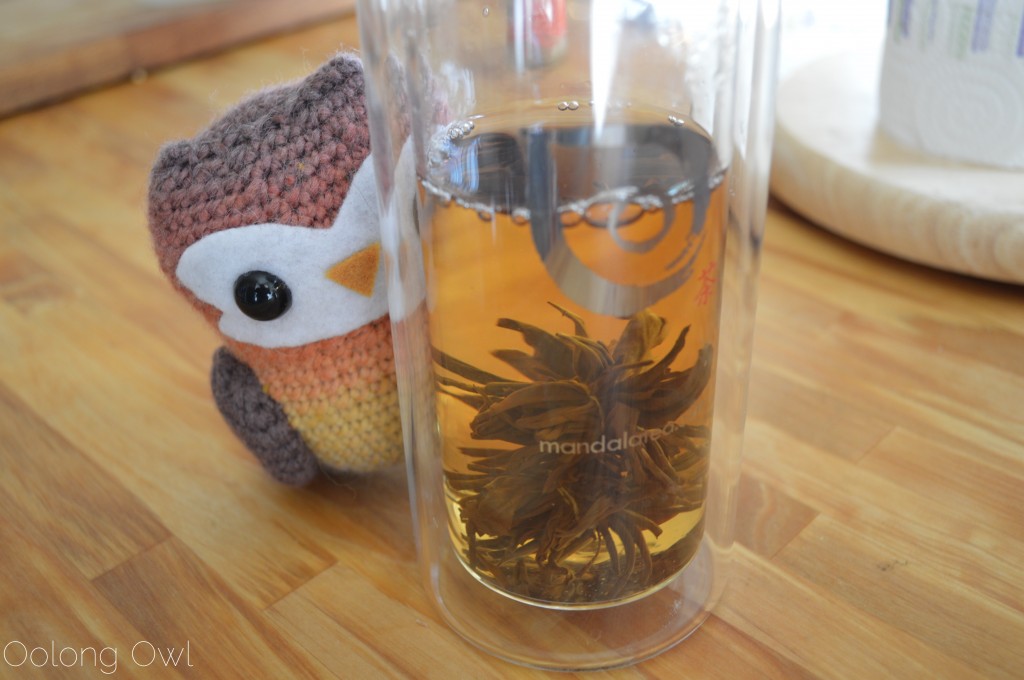 Extended Infusion: I took some Flowering Cones Black tea on my cruise. I used an extended infusion, so I'd just plop in a couple cones, add hot water and sip away with no care of how long it is infused for. Flowering Cones Black tea was fantastic to be steeped like this as it never went bitter or dry. The flavor did get quite strong and rich, but it was very enjoyable or be topped off with more hot water to lighten the flavor. 5 minute single infusions were also tasty and similar in flavor!
Comments
How cool is mandala tea's Flowering Cones Black? There are so many things I like about this tea that I need to make a list.
 The bloomy flowering feature of Flowering Cones Black tea makes a great presentation. This tea is a conversation piece and would be great to serve to guests!
Great everyday black tea. Flowering Cones Black is easy to drink and does not get bitter or dry.
Easy and flexible steeping. This tea can take a longer steep time without getting bitter.
Very cool tea to travel with – Flowering Cones Black tea is already portioned in little bundles, so no worries about having the correct amount of tea. The flexible steep time is great for travel mugs! I also noticed this tea doesn't need a filter. As you can see in the picture below, there is very little debris.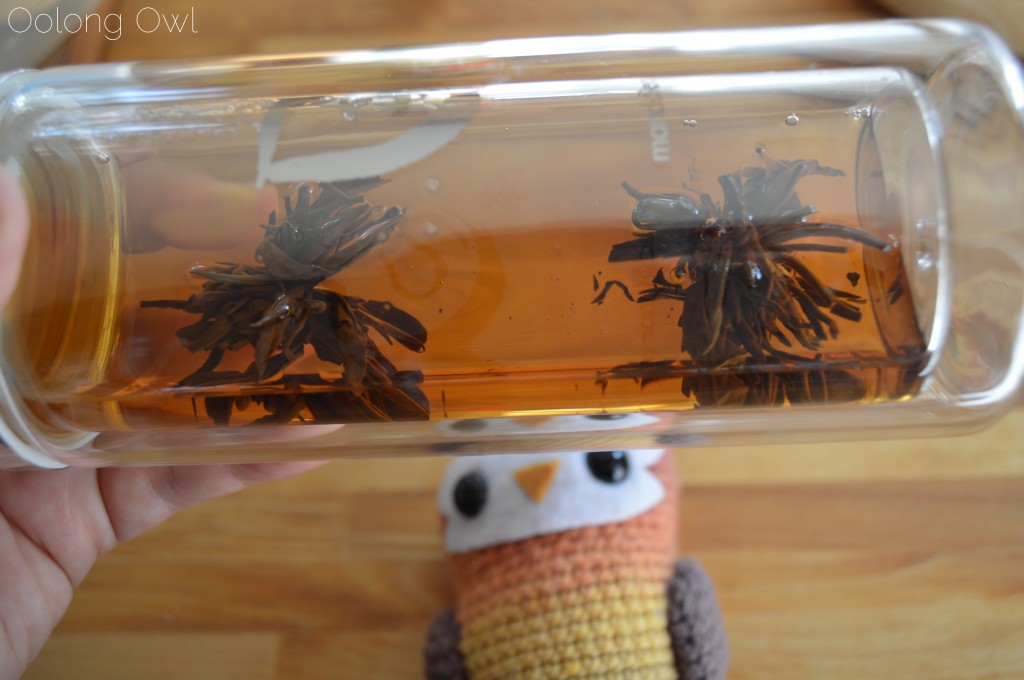 Overall, Flowering Cones Black tea is a lovely tea for many occasions. I love the pretty appearance, yet high utility! If you enjoy Chinese black teas or looking for a great blooming tea – this is a must try tea!
Bonus: Sneaky Tea Owl Photobomb!