Lets try a couple of Adagio Teas Fujian Teas – Fujian Rain and Fujian Baroque!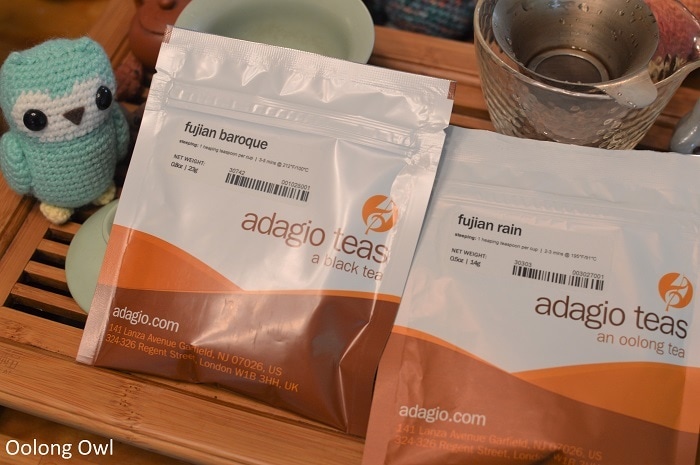 Right off the bat I noticed something odd with my samples. On the website, they don't post the weight of their samples, other than "X cups". With the samples in my possession, I learn that Fujian Rain is a 14 gram sample, whereas Fujian Baroque says 23 grams. Looking at the website, both teas aren't sold in a consistent size either – Rain is sold in 2oz/8oz, Baroque 3oz/16oz, but close in unit price. That said, the next person who asks me, "How big are Adagio's samples?" the answer would be to ask Adagio.
---
Fujian Rain from Adagio Teas
Fujian Rain is a Shui Xian oolong, renamed. The dry leaf smells toasty, but otherwise is a fat twists of oolong. Steeped up, Fujian Rain smells like toasted rice, and comes out a lovely clear gold colour.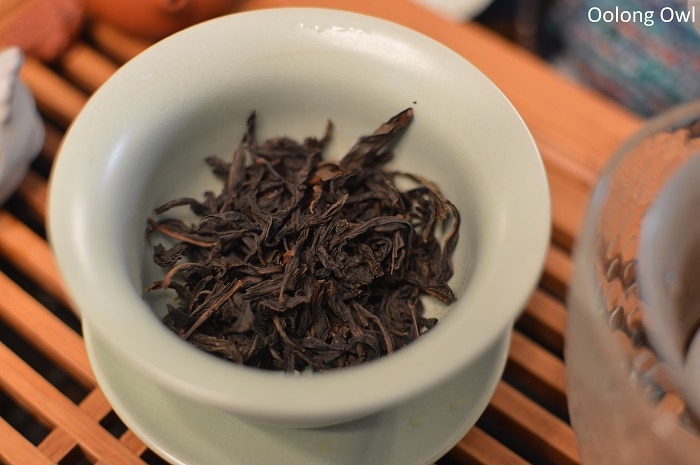 Gongfu Style: I used 1 gram of leaf to 12ml of vessel size, steeping quickly with boiling water.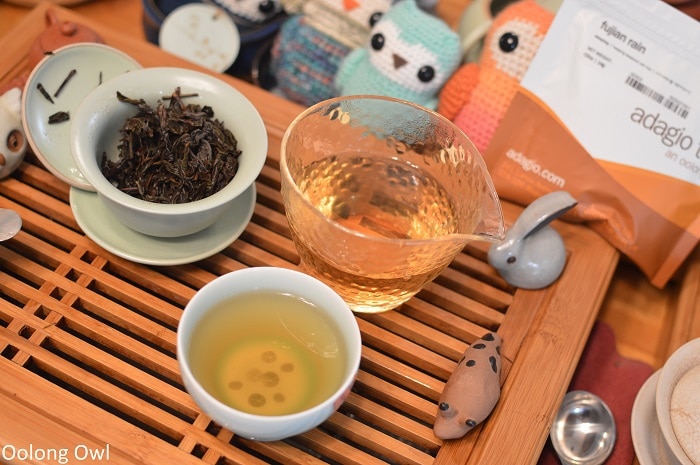 First and Second Infusion: Fujian Rain sips in a slight peaches and cream fruity with heavy rocky mineral notes. Sips in really smooth and creamy, being really easy to drink. The flavor intensity is quite light, leaving you to concentrate on the mineral notes, or just mindlessly drink. The finish gives you a soft peachy aftertaste, but is brief.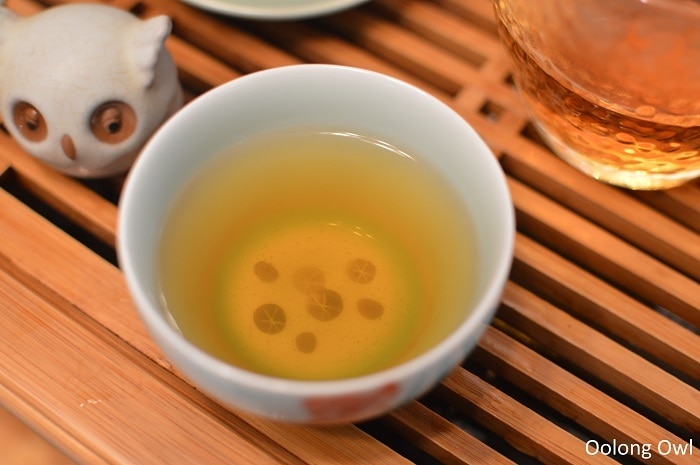 Third, Fourth, Fifth, and Sixth Infusion: The fruit notes slipped fast, leaving a straight mineral taste with a savory clean feeling in the mouth. The flavor level did not increase, so it is just as delicate as before. Each infusion the flavor slipped further. Despite the last infusing being 10 minutes, there was nothing there.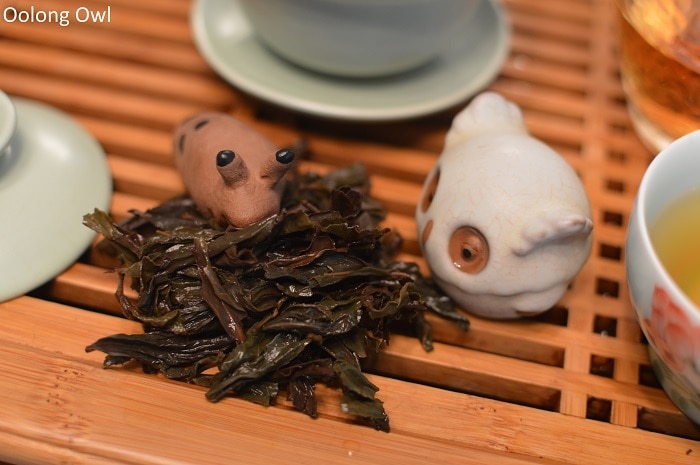 Western Style: I used The Wall mug, to try this at an extended infusion. I used 3 grams and boiling water. The instructions say 200f, but I went with boiling as I knew this tea could easily take the higher temperature.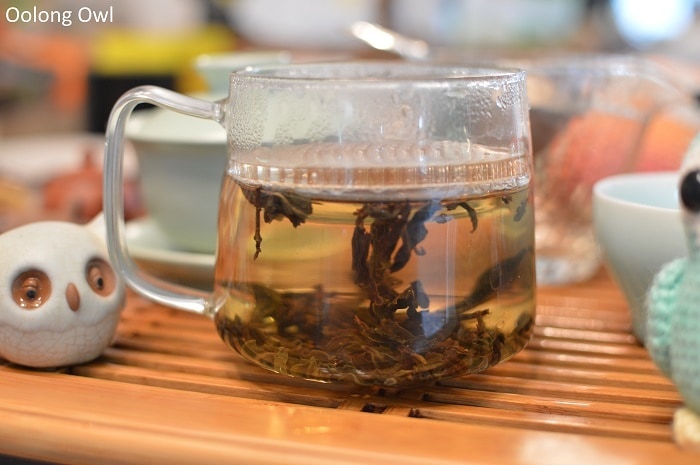 Western style you really miss the peach notes, going heavier and stronger for mineral and savory. I continued to brew it and it got brighter and more mineral. I got a bit of tart peach notes by the end. It does get a touch dry but overall pleasant to drink.
Fujian Rain is the lightest shui xian I've ever had, it is quite dainty and gentle. It does make for a quick, easy to drink daily drinker. It seems you cannot oversteep this tea either, so you can rock it in a travel tea tumbler all day. A great work and travel tea, as it is very flexible. I prefer it gongfu style in the early infusions – that fruity flavor and rock mineral is a very good combination.
---
Fujian Baroque from Adagio Teas
Fujian Baroque's leaf is more fine thin leaves with a deep woodsy scent.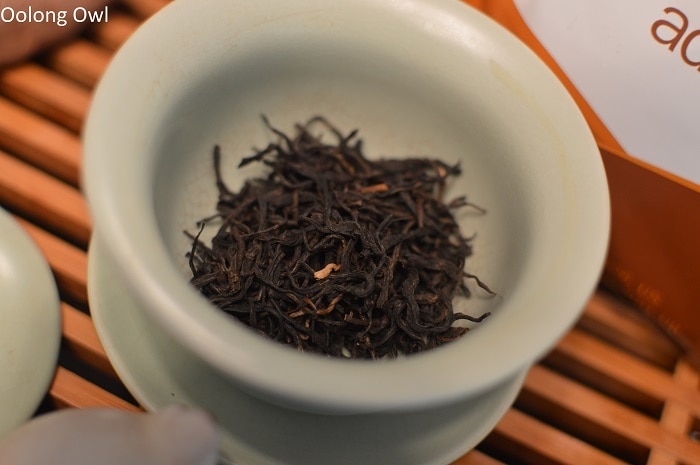 Gongfu Style: I used 1gram of leaf to 15ml of vessel size, steeping in boiling water. Steeped up, this smells lightly like charcoal.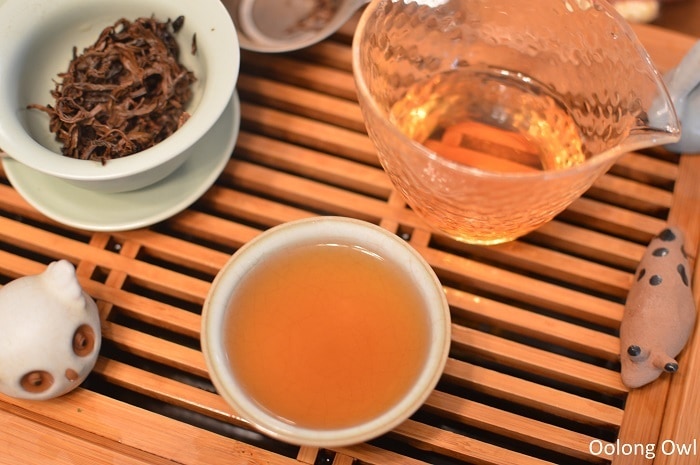 First and Second Infusion: Fujian Baroque tea is more potent in flavor than Fujian Rain, but slightly similar as it still has a gentle quality to it. It is sweet, tannic tart fruity. There is a background of richness of cocoa. The texture is quite slick. It has a looseness to it, despite being more flavorful, it still has a delicate aspect to it, as the flavors hit at the end of the sip.
Third Infusion: This was a stand alone best infusion – it is upfront cocoa flavor with a finish of stone fruits. It isn't tannic here either, and overall quite smooth. Very good!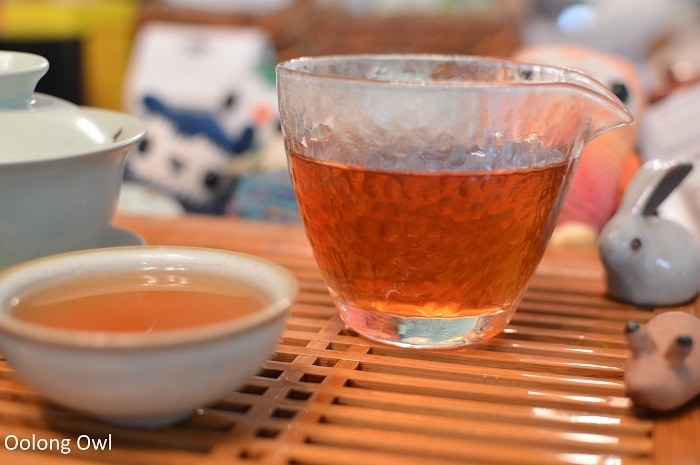 Fourth and Fifth Infusion: Fujian Baroque took a jump and the flavor lost a lot of the cocoa and fruity, leaving just a mineral flavor. Each steeping it lost more of that awesome cocoa flavor, but the mineral flavor is nicely soft.
Sixth and Seventh Infusion: I pushed this tea hard, giving a 10 min and 15 min steeping, hoping to get more cocoa. Unfortunately all I get is more mineral notes. However, despite my crazy steepings, it did not get bitter or dry.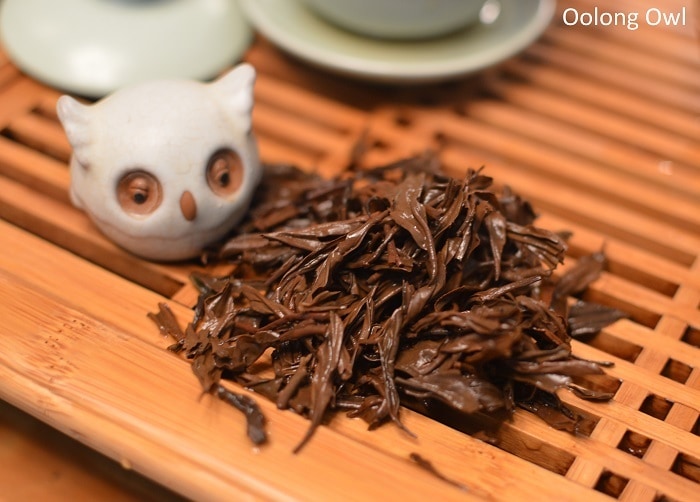 Western Style: I used 3 grams and boiling water – more or less the same directions on the package.
The western version, and over extended infusion, was quite good. The flavor is cocoa and oddly less tannic. The cocoa is as intense as gongfu steep number 3, but is present throughout the infusion, wit ha good balance of the mineral and spice. The spice is quite light, like a hint of cinnamon in a bran muffin. The aftertaste is cocoa. Overall, this is a better western tea as it has the good strong cocoa notes, with nice balance. I kept steeping this tea, and it got a bit stronger as I went on, building up more sweet mineral flavor, but did not get bitter or dry.
Fujian Baroque is a great tea for black tea lovers who want that chocolate fruity black. I can see this tea being great to pair with sweet treats, especially chocolate. It is also a work horse tea, not getting dry and or overly potent. This is a good morning wake up tea, paired with a pastry and you are in for a great day.
(Tea provided for review | Adagio Affiliate links)