I got a preview of The Tea Spot's Going Gongfu Tea Set at the 2016 World Tea Expo… and was told to keep it a secret until launch. When I encountered this tea set I was in love with how pretty it was – the glazing and design is so nice! Finally the Going Gongfu set is for sale and I got my claws on it! Ooohoothoothoot!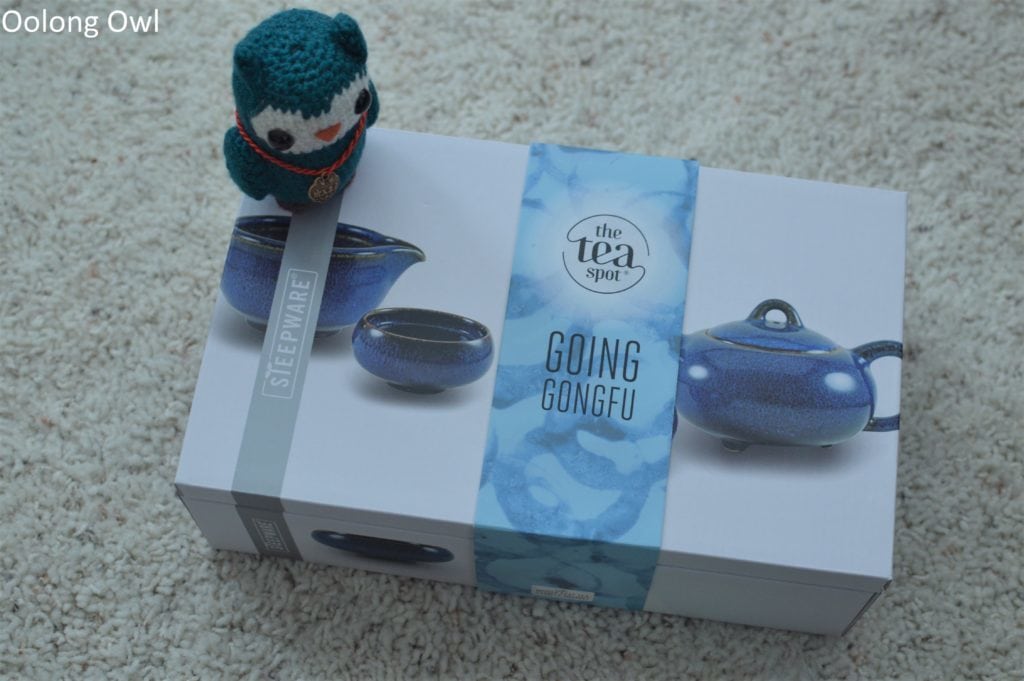 Going Gongfu Tea Set Stats
8oz/ 235ml tea pot
80z/235ml pitcher
1.5oz/45ml tea cups x 2 (additional cups can be purchased)
Lead Free, Cadmium Free. Meets FDA, LFGB, CA Prop 65, RoHS standards!!!!!
Gift Packaging
Tieguanyin oolong sample included
Unboxing of The Tea Spot's Going Gongfu Tea Set
I like how bright Tea Spot's packaging is. The design of this package would make for an excellent gift. Here is the sides of the box.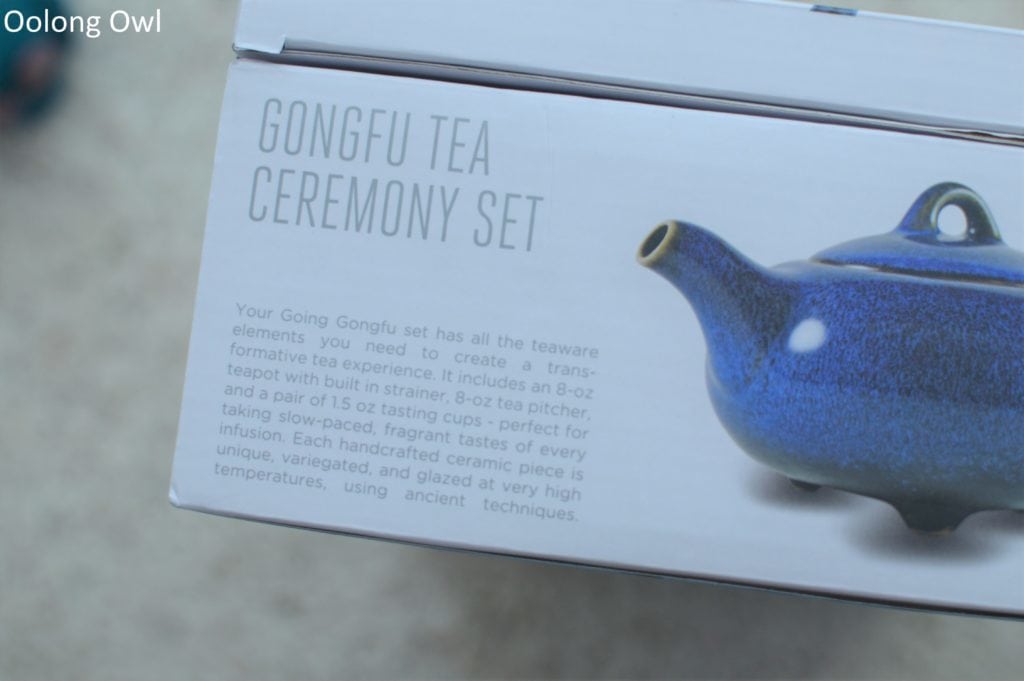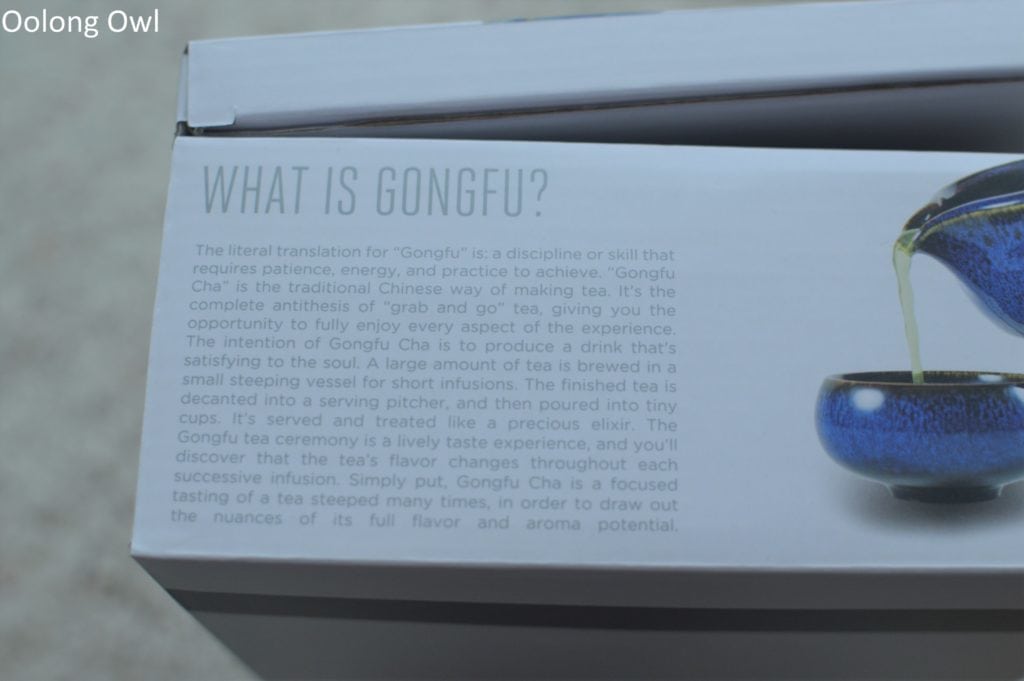 Inside the box! The tea set is held quite securely too!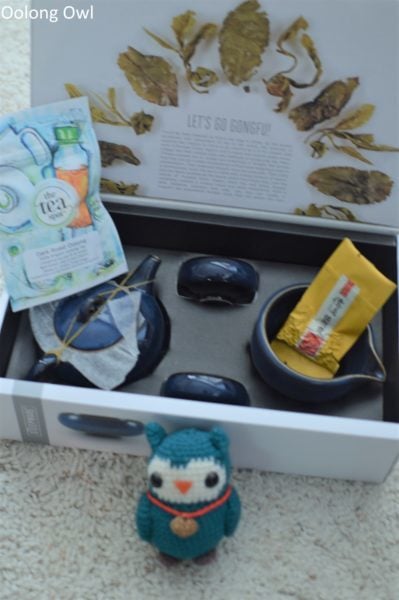 Enhance!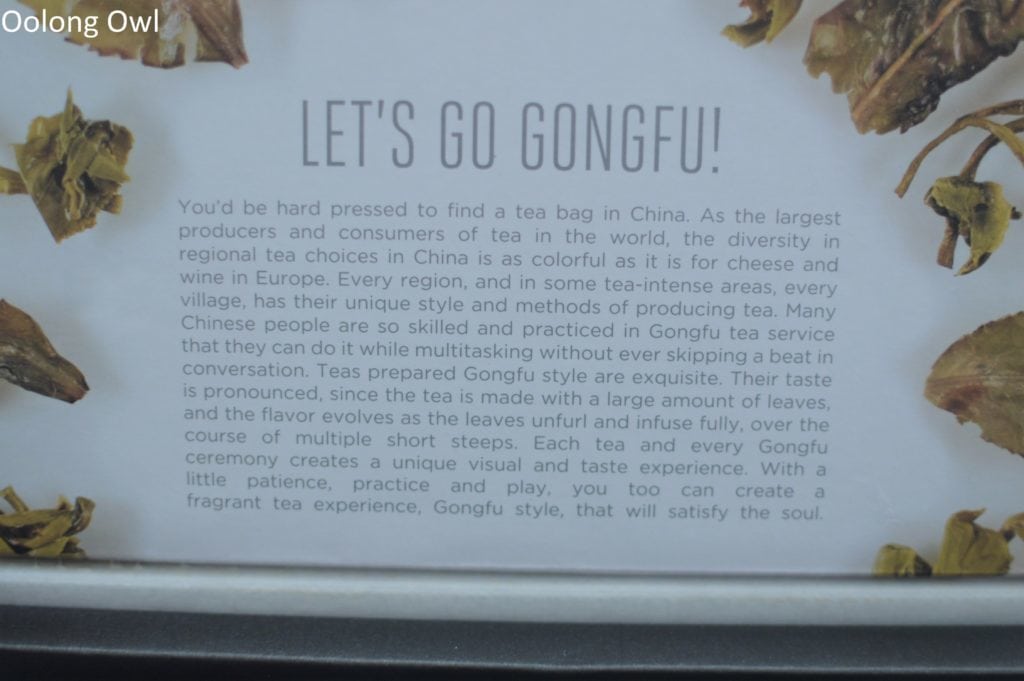 Bottom of box.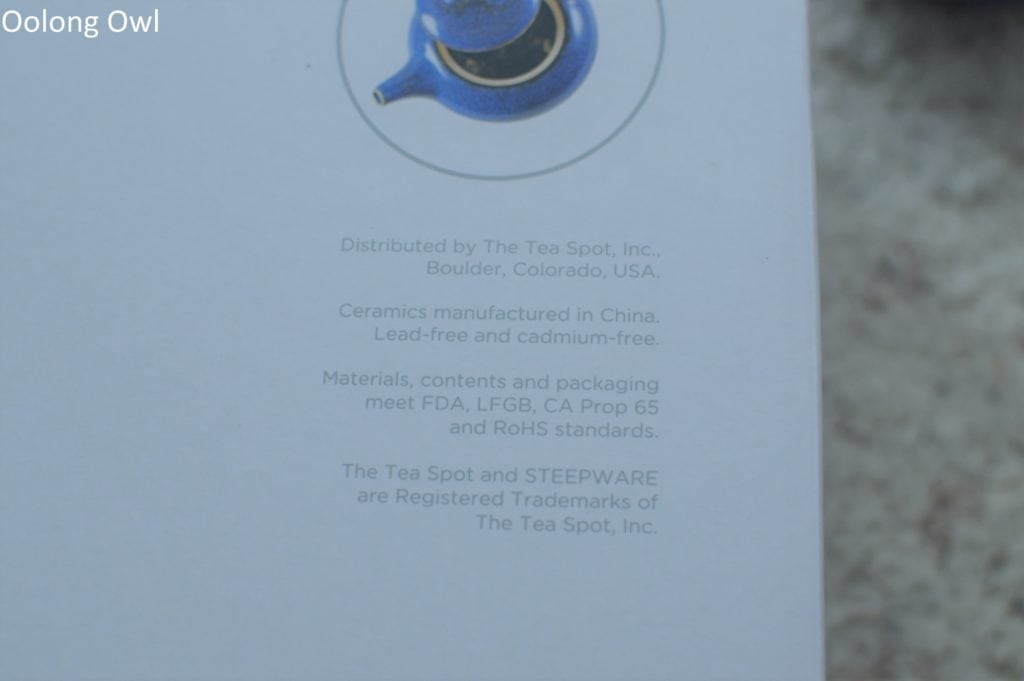 Features of Going Gongfu Tea Set
The Going Gongfu tea set has a lovely rabbit hair style glaze in a vibrant blue. The glaze and material is on the thick side, so I suggest a good preheat before your start making your tea – that way you'll won't get a temperature drop and longer heat retention. The thickness makes this set ideal for long sessions.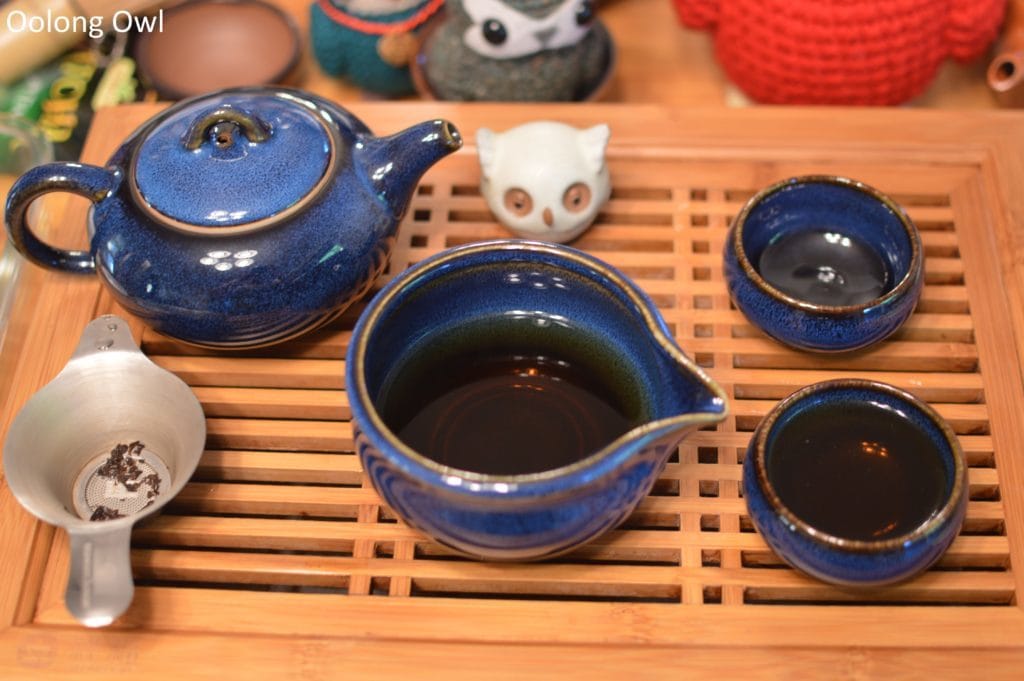 I am drinking The Tea Spot's Organic Dark Roast Oolong. I feel like drinking something stick-to-my-ribs over the floral tieguanyin that is included with the set.
Going Gongfu Tea Pot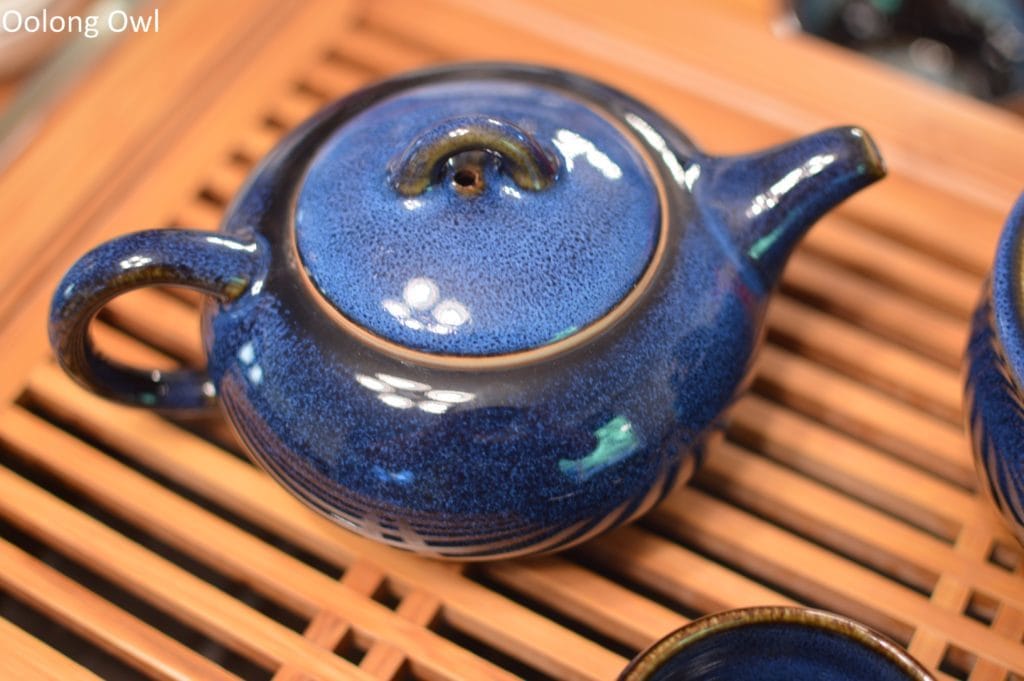 Feet!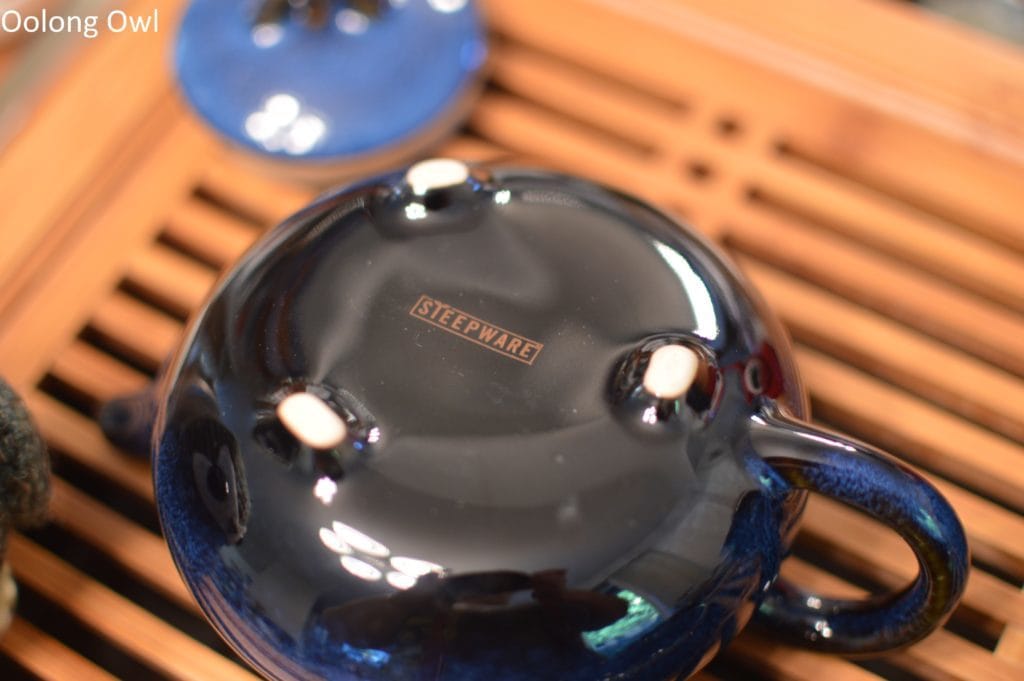 Great pour – This tea pot pours fairly fast, and cleanly. I got a few drips if I poured aggressively vertical, but otherwise no drips.
Perfect fit lid – The lid doesn't wobble or fall out while pouring. No tea escapes through the air hole in the top.
Straining – The tea pot has 3 flat holes behind the spout. The tea I'm using has some small bits, so a strainer caught a few strays. Japanese Greens, CTC blacks, and rooibos would not do well and will need a strainer. However any big leaf teas of decent quality that tend to be gongfu'd don't need a filter or strainer.
Going Gongfu Pitcher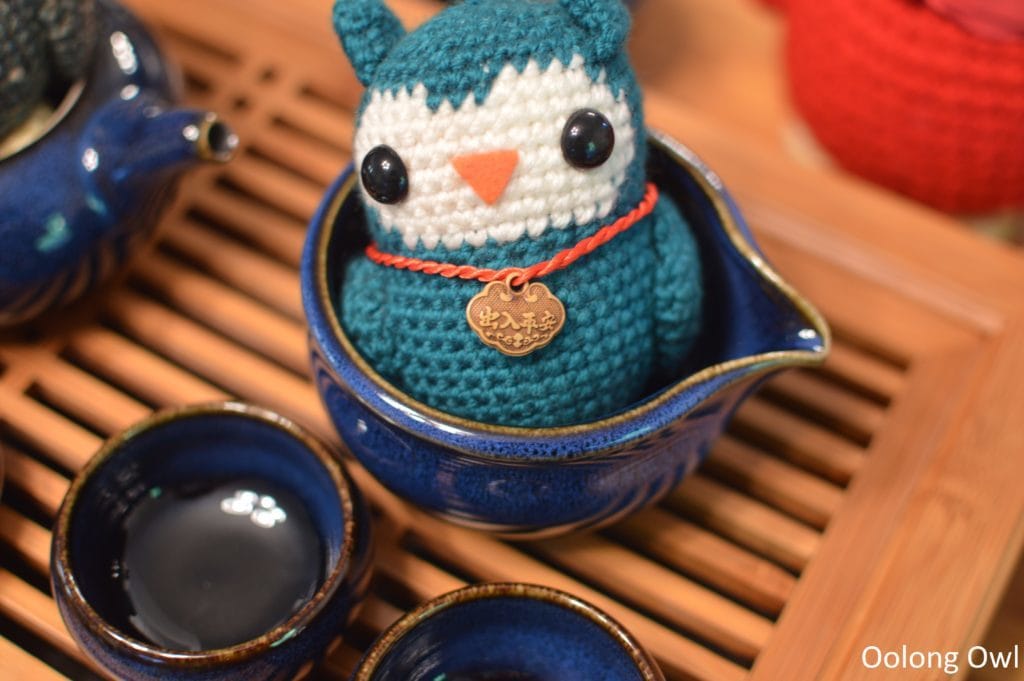 This pitcher is AMAZING and beautiful. I'm a sucker for simple and clean design so there's some bias of personal taste here. This is the shining star of this set and this is one of the best pitchers I've used. It is not a hard bar to pass as pitchers aren't that technical, but this Going Gongfu pitcher is really nice. The size is perfect – 8oz again, so it holds the entire tea pot pour.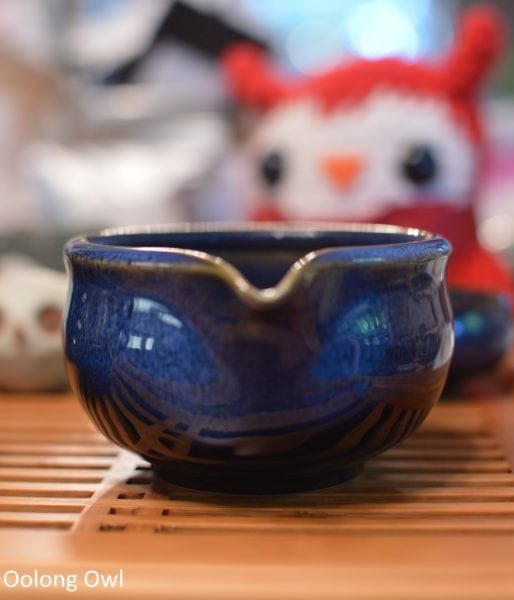 It lacks a handle, but there is a flare underneath the lip which is a perfect width for my fingers. I find this design isn't running too hot either. It is a wide pitcher, but the lip still gives good real estate to hold onto. A number of times already I have just used the pitcher on its own without the rest of the set.
Going Gongfu Cups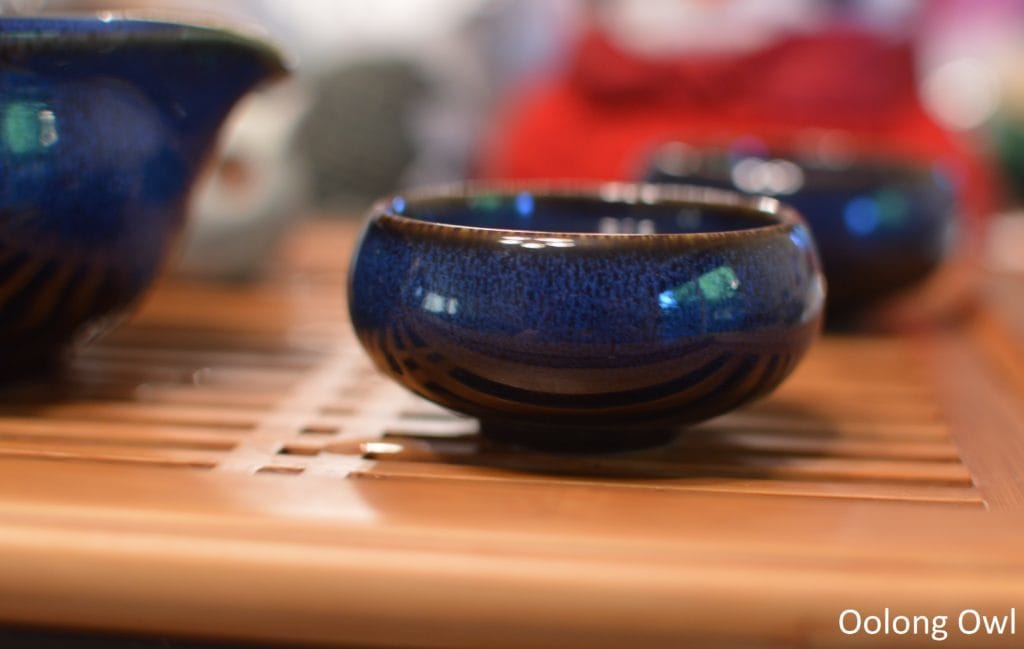 The shape of the cups are bulbous and squat. They are a little fat on the lip, but still sip good without any issues. I personally prefer a flared lip for easy slurping, but these cups are.. well.. cups. They work.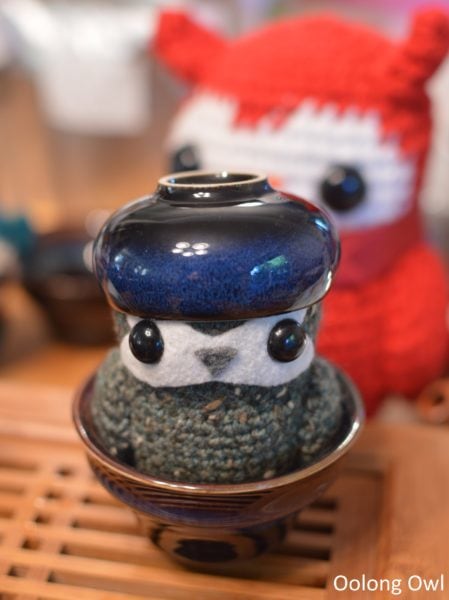 Cons of Going Gongfu Tea Set
Group Size  – This tea pot is too big for a solo drinker and is intended for a group. I am making it work by filling it halfway with water, but it's not ideal for a lonely drinker. 15-16g of tea is needed for the 1g to 15ml ratio I tend to run on most gongfu style things.
I think this set is really for 2-4 people, and can stretch to 6-8 if you are doing small gongfu tastings. If you fill the tea pot and pour from the pitcher, it fills both cups twice. For two people, it is comfortable for long session of one tea, especially if you are used to Western style large vessel portions. For gongfu for the fully initiated types or wanting to do short tastings, it is too big of a pot, not enough cups…..
However, I see that The Tea Spot sells more of the same cups in a set of 2 or 6, which is great if you want more cups (or just the cups!).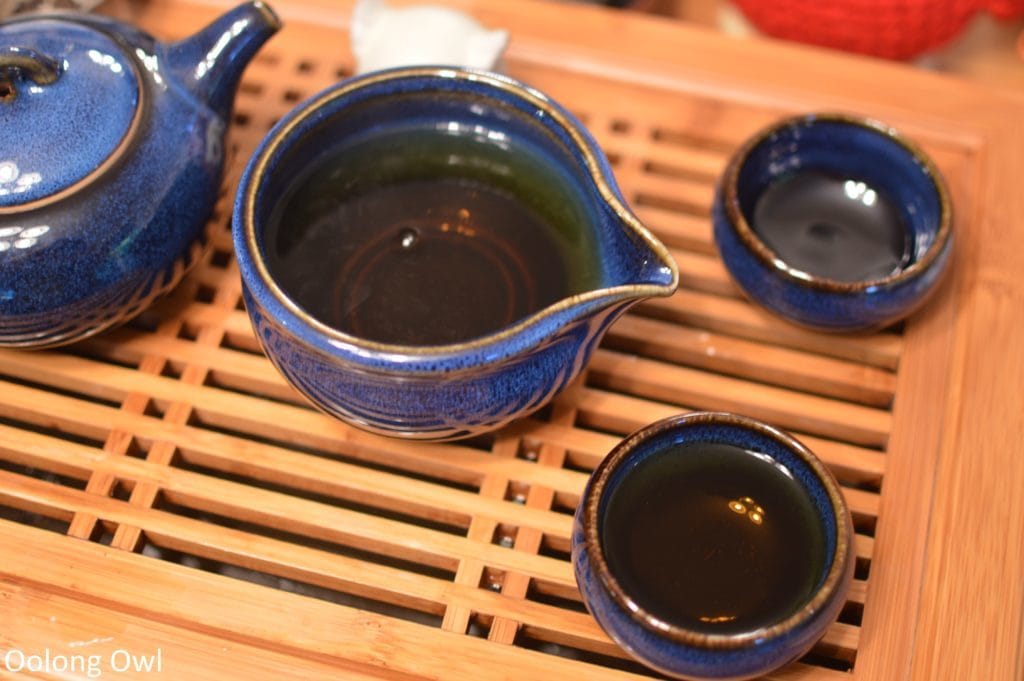 Comments
Overall, The Tea Spot's Going Gongfu tea set is very well made and excellent quality. This set is a joy to use as the quality is top notch. It is definitely targeted for someone wanting to try gongfu style with a trained stomach for western style, or for a group. This tea set does NOT have lead in it, so if you are concerned about that you definitely have this option instead of only glassware. I would suggest to purchase extra cups if you want to have a matching set for a bigger crowd – this tea pot is on the big side and can certainly accommodate it.
The Tea Spot is located in Colorado, USA, so shipping isn't far if you are within North America. At this time Going Gongfu is priced at $49.95 – which I find a deal with the quality of this tea set. The additional tea cups are $9 for 2, $19.95 for 6.
(Tea set provided for review/ Affiliate links)